"Can you freeze chicken salad?" You find yourself standing at the freezer door. Wondering if it is a good idea or not. You made a great batch of chicken salad. Best ever. You want to enjoy it again, but just not for a few days.
Taking the chance for it going bad in the fridge is not an option. So you wonder if freezing your beautiful, delicious, amazing chicken salad is even possible. Well, the answer unfortunately is not easy. Because truth be told, it depends…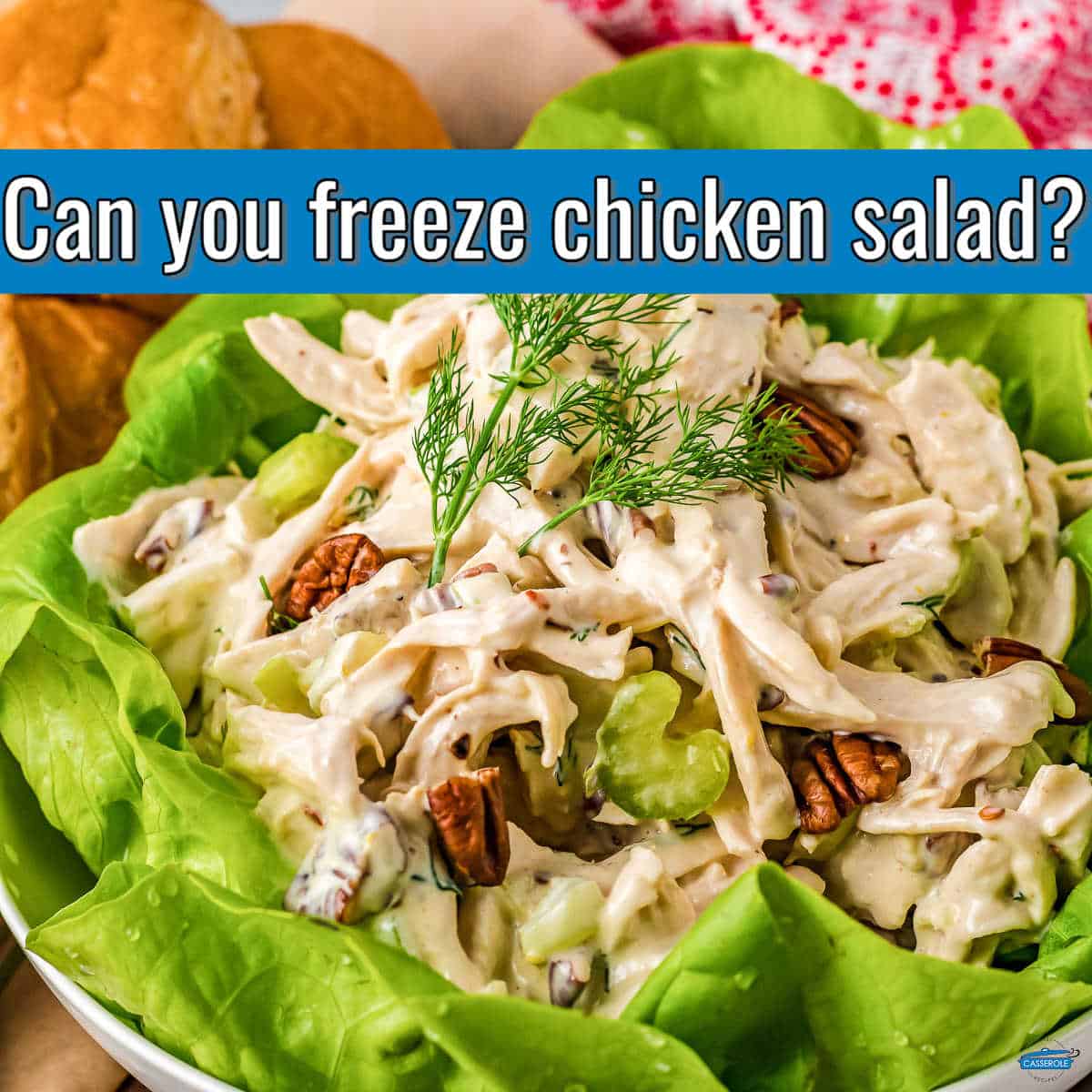 Is chicken salad freezer friendly?
Yes, there are consequences with freezing anything. Some things get watery when defrosted. Other ingredients turn into mush. But that isn't always a bad thing no matter how bad it sounds.
Soup for example. Stew. You can thaw those things, then heat them up. A few turns with the spoon and it might even turn out better than you even remembered making it.
But typical chicken salad recipes don't offer the same latitude, unfortunately. So, for that reason, you have to weigh the consequences of freezing a chicken salad.
This is about to get serious. And that freezer door is still open…
Can you freeze chicken salad with mayo?
First and foremost, did you make a classic chicken salad? You know, the old school kind your grandmother probably excelled at making. Rich and slightly creamy but with a bit of crunch from some celery. Perhaps some chopped up hard boiled eggs. Seasoned just right.
Stop right there.
Because that is exactly the sort of chicken salad that will fail miserably upon thawing after a few months in the freezer. Don't even go there.
Freezing mayo is a no-no. It just isn't designed to handle the consequences of freezing. The mayonnaise separates into its original state. Oil, lemon juice, and egg. Only you won't recognize any of it. No amount of stirring will restore them to their prior grace as mayonnaise.
So, if you have chicken salad with mayonnaise, the best advice it to just keep it in the fridge for about two days tops and finish it up right away. Keep it away from the freezer. Not unless you just want something taking up room in the freezer that you plan on throwing out… You know, when you get around to it.
This post may contain affiliate links. As an Amazon Associate, I earn from qualifying purchases. Read my disclosure policy here.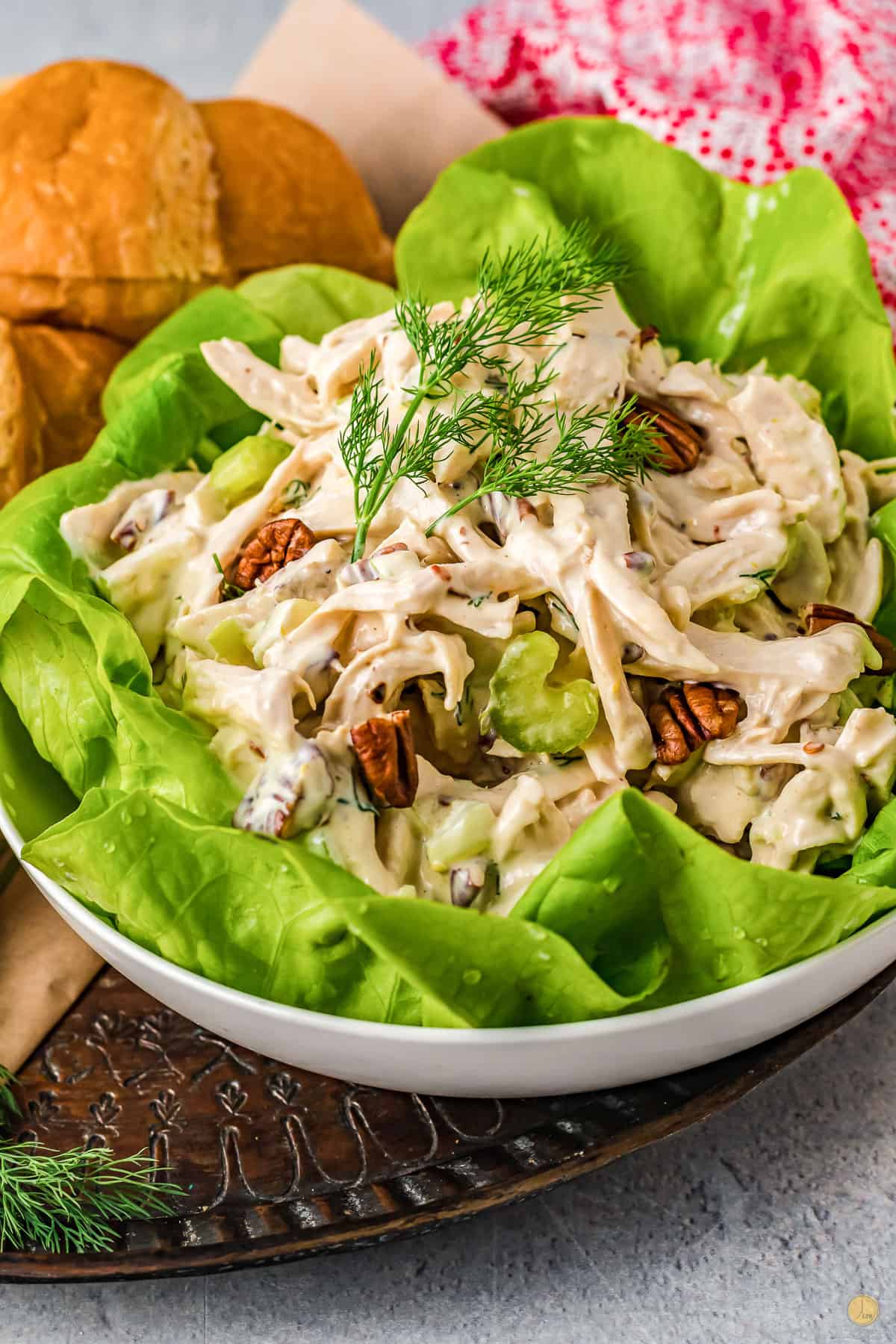 A chicken salad recipe you can freeze
Does that mean game over? No freezing your homemade chicken salad so you might as well just give it up altogether? NO WAY! Do not despair. There are ways to make a chicken you can freeze for later. It might not be quite as awesome as fresh made, but it won't be destined for the dumpster either.
Freezer safe chicken salad recipes
Ok, close that freezer door already. Time to plan ahead. Making a freezer tolerant chicken salad, or even a tuna salad, is possible. You just have to reconsider the recipe first. Have you ever made a chicken or tuna salad with Miracle Whip? What about with Greek yogurt?
Both of those ingredients will survive in the freezer much better than mayo. Some people think Miracle Whip is actually a type of mayonnaise, but it is actually a whipped oil and garlic spread. And it not only tastes different, while offering some similarities with mayo, but holds up way better in the freezer.
Greek yogurt can replace the mayo too. In fact, even if you claim not to be a yogurt fan, you might be surprised to find how good it works as a mayo substitute. Especially in chicken and even tuna salad. I like the tangy flavor of chicken salad with Greek Yogurt, probably more than with mayo.
Either way though, you can coax about a month of storage in a well-sealed airtight container or freezer bag.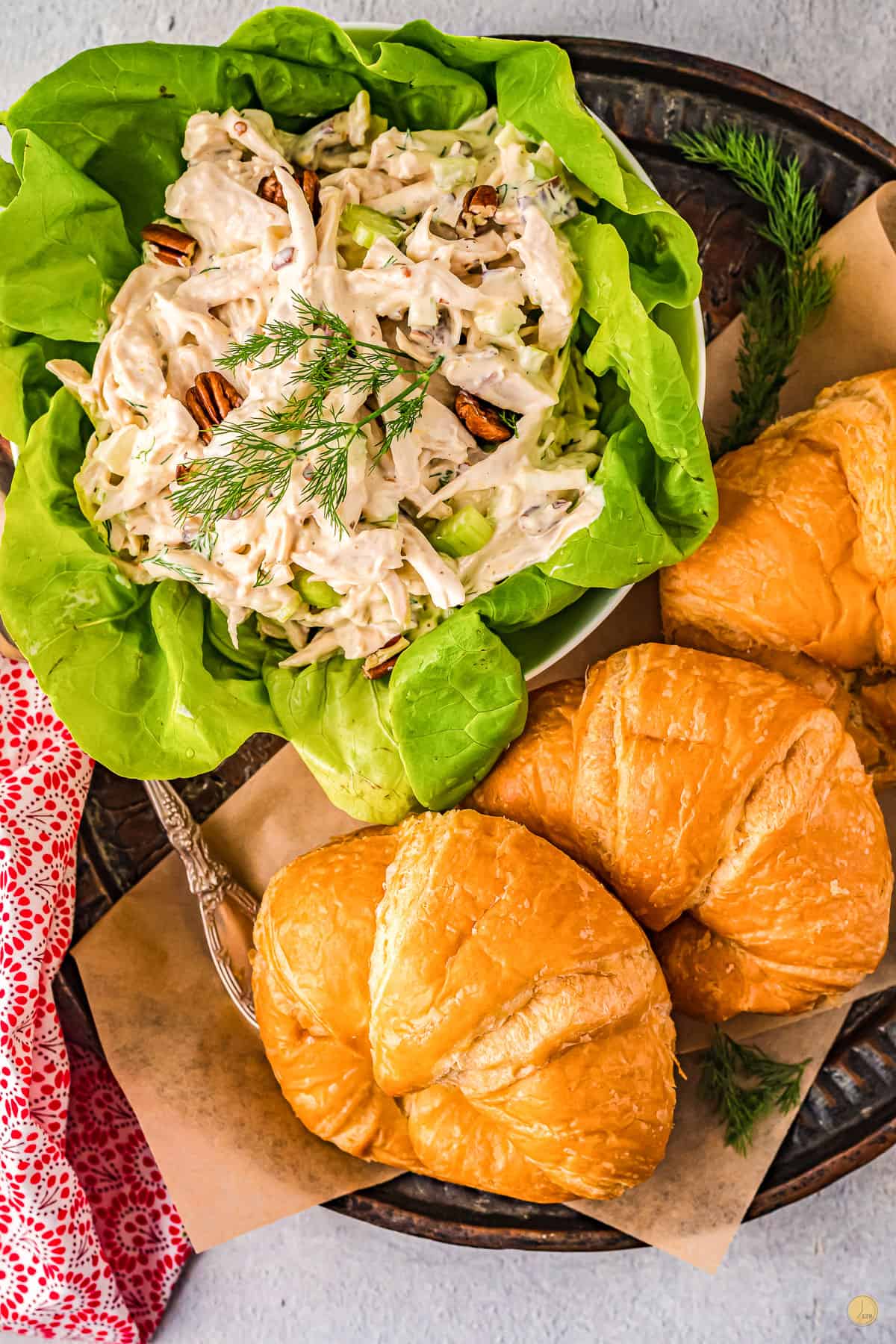 How to thaw frozen chicken salad
Hopefully you planned to defrost chicken salad by using Miracle Whip or plain Greek yogurt. If so, then to thaw and eat, just make sure to avoid the microwave. Let it thaw safely in the fridge instead.
You might need to pour off a bit of extra water, a by product of any onions, celery, and even the chicken. But it will be edible with a little stirring. Some extra seasoning might help too. Heck, at this point, you could even spruce it up with a spoon of actual mayo.
But it will be ok to eat either way.
Freezing chicken salad with eggs
Boiled egg whites become sort of dense and a bit rubbery if previously frozen. For some, that is absolutely unsettling. Others don't mind it at all. Your call. However, if you plan on freezing chicken salad or any salad with hard boiled eggs then that needs consideration.
Egg yolks are less of an issue since those typically mix in better. But the texture changes a bit, becoming almost curdled. Stirring the thawed salad though can hide that reasonably well.
Looking for more comfort food? Follow LTB on Pinterest!
Using ingredients besides mayo for chicken salad you can freeze
Another option for freezable chicken salad? Avoid freezing with mayo. Don't need Miracle Whip. And yogurt presents a bridge too far? Then make chicken salad just using a salad dressing like a lemon ginger dressing or a sesame or dill dressing instead.
Also, if you plan on making a lot of chicken salad ahead of time, and plan on freezing it, then keep the mayo or other similar ingredient out until making a serving portion. Then it is easy to stir in the mayo only to the portions you know won't return to the freezer.
Ways to restore a thawed chicken salad
To make a thawed chicken salad much more palatable, then consider adding fresh cut celery or onions and stirring in a bit of mayo or Miracle Whip to the thawed salad. It can make it almost like fresh made. Sure, some of the celery will be crunchier than the rest, but at least you still get some crunch back in there.
Keep the chicken salad in the fridge until ready to enjoy. Do not leave it at room temperature for more than 1 hour.
If you love this recipe as much as I do, please write a five-star review in the comment section below (or on Pinterest with the "tried it" button – you can now add pictures into reviews, too!), and be sure to help me share on facebook!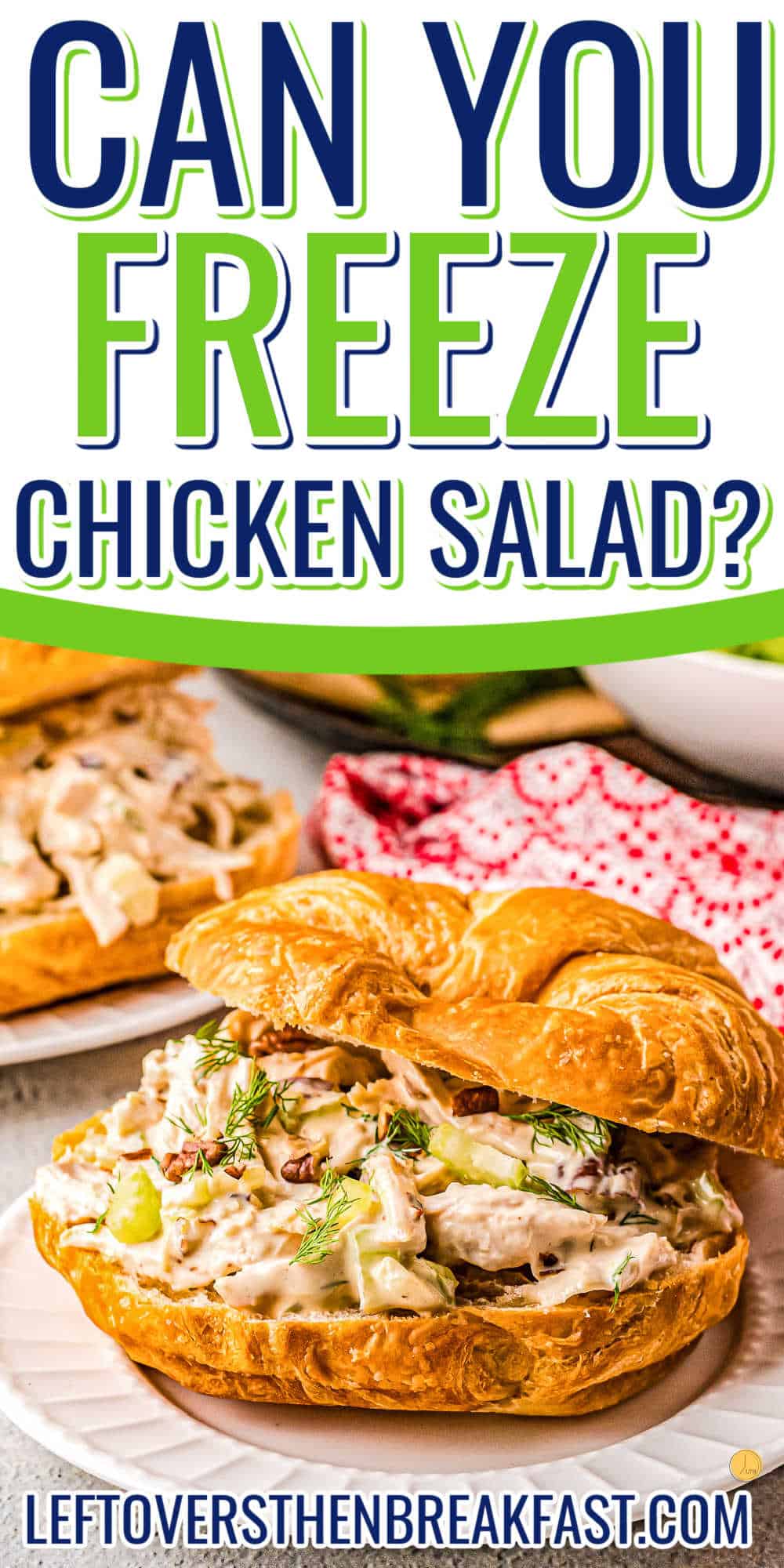 Chicken recipes to check out
Ok, hopefully you are ready to head back to the freezer, confident that you can save your delicious chicken salad to eat later. In fact, now you even have options about what kind of salad to make! Enjoy…
LeftoversThenBreakfast.com. Content and photographs are copyright protected. Sharing of this recipe is both encourages and appreciated. Copying and/or pasting full recipes to any social media is strictly prohibited.