Leftover Egg Salad is something I always enjoy which is why I always make a double batch. But I recently asked a chef, "Can you freeze egg salad?" Read on to see what I found out!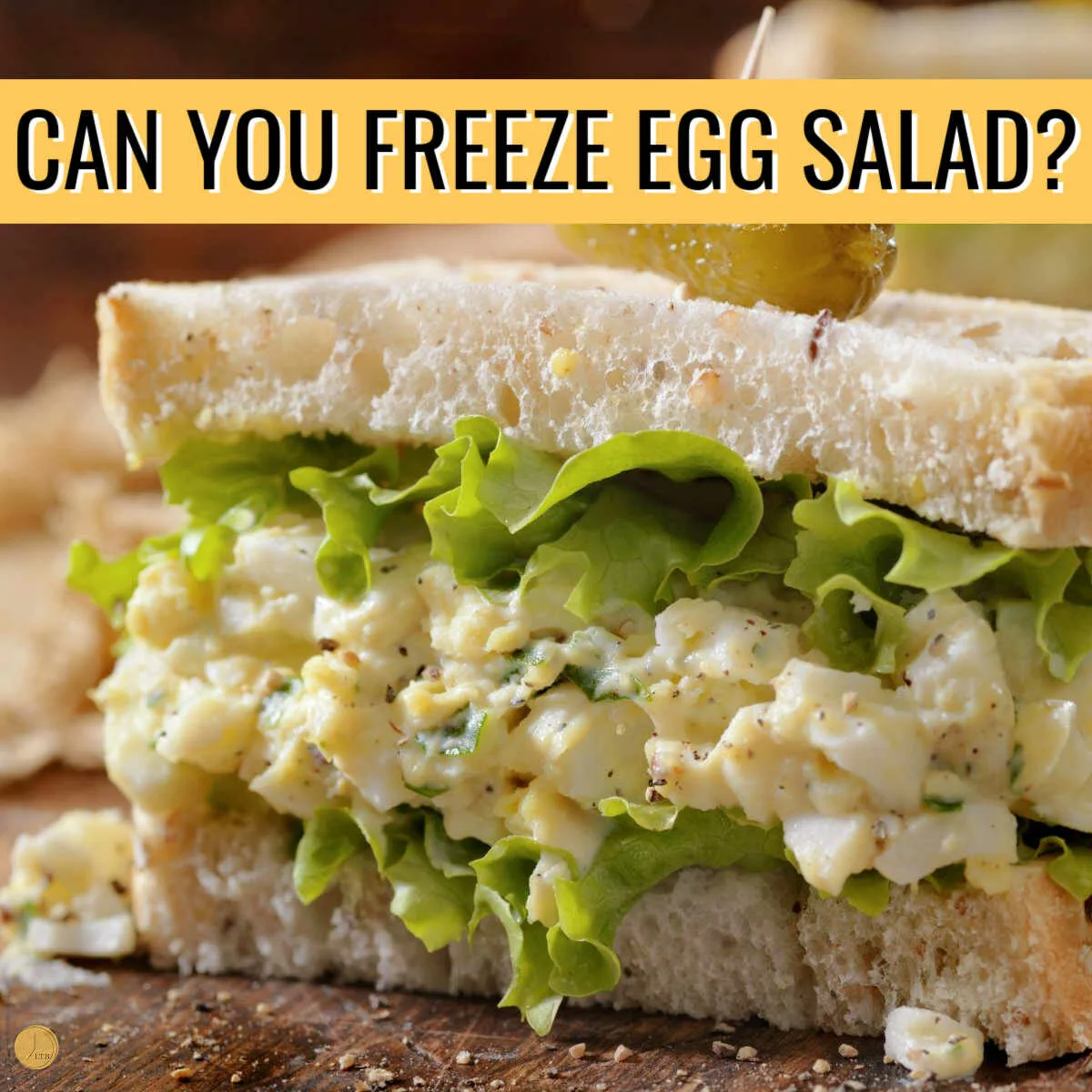 You start to enjoy your delicious egg salad between two slices of bread with a green salad. But now you realize that your eyes were bigger than your stomach and you have a lot of leftovers.
What can you do with the rest? Egg salad tends to have a short shelf life. It's usually is only good in the fridge for around 3-5 days. Egg salad ingredients are things like fresh eggs, miracle whip, and spices. Your best method if you want to enjoy it outside of that window is to freeze it.
Can you freeze egg salad?
There is a ton of information about that about how to make your egg salad last. But what's the best advice?
The next time that you make it and realize that you won't be able to finish, rather than throwing it all out, I've found a great way to extend the life of the delicate ingredients of an egg salad batch.
Although you can freeze egg salad, it's tricky to do. The egg salad may become hard in texture and the mayonnaise usually has a much more watery texture when thawed, and the whole thing can easily become a watery mess.
For the best results, make sure to follow the instructions in this guide.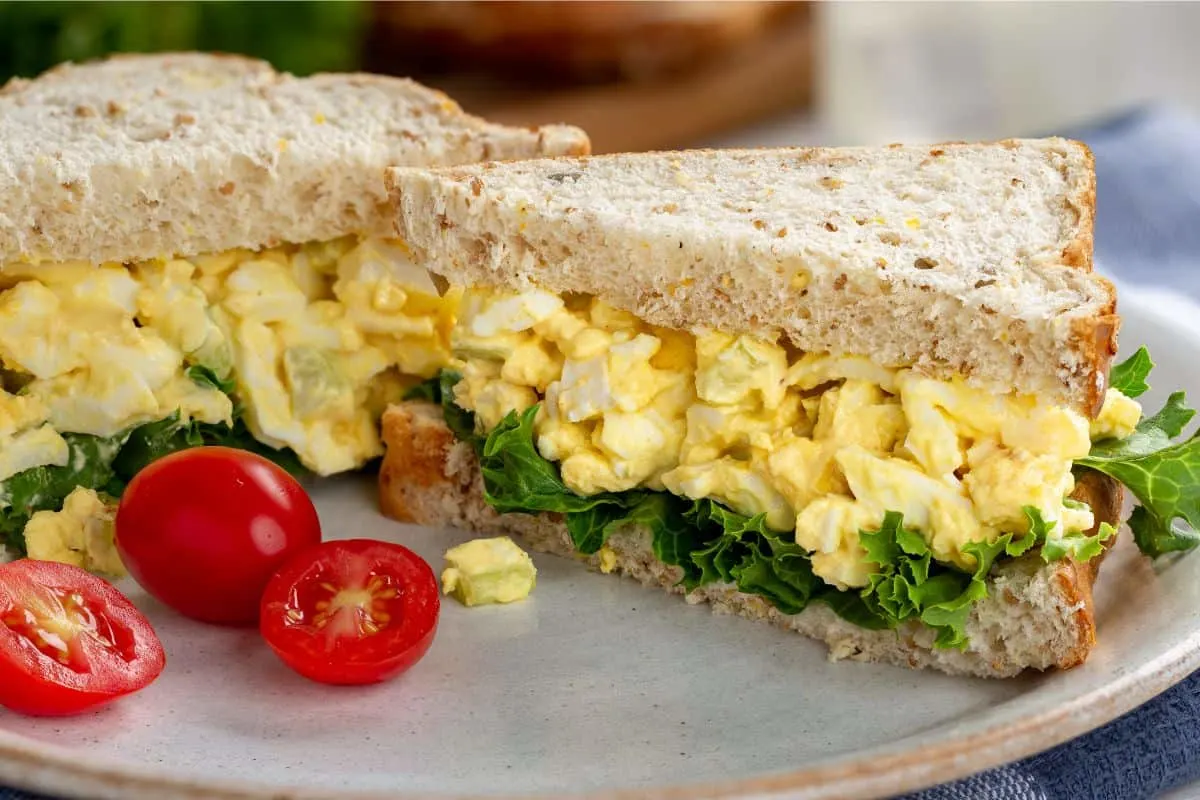 How can I freeze egg salad?
When it comes to freezing food, the biggest thing to keep in mind is what the best way to keep the food fresh and avoid freezer burn is.
With egg salad, it's particularly important to avoid bacterial growth. It is usually indicated by unpleasant odors and can lead to food poisoning if not recognized right away. All dairy products can be tricky to save, since they have a high water content.
This is the main reason that products like cottage cheese, sour cream, store-bought potato salad (which almost always contains mayonnaise), or homemade egg salad. They have a specific protocol to follow if you want to keep them fresh and safe to eat.
To freeze, your best option is to place the egg salad in a sealed container or a freezer bag to prevent freezer burn.
I recommend putting it in the freezer as soon as possible, rather than waiting a couple of days with it in the fridge. The sooner that you are able to begin the preservation process the better. Store egg salad in the freezer for up to a month.
If you start to notice freezer burn on the outside of the bag, try wrapping in a single layer of aluminum foil, to provide more of a barrier.
This post may contain affiliate links. As an Amazon Associate, I earn from qualifying purchases. Read my disclosure policy here.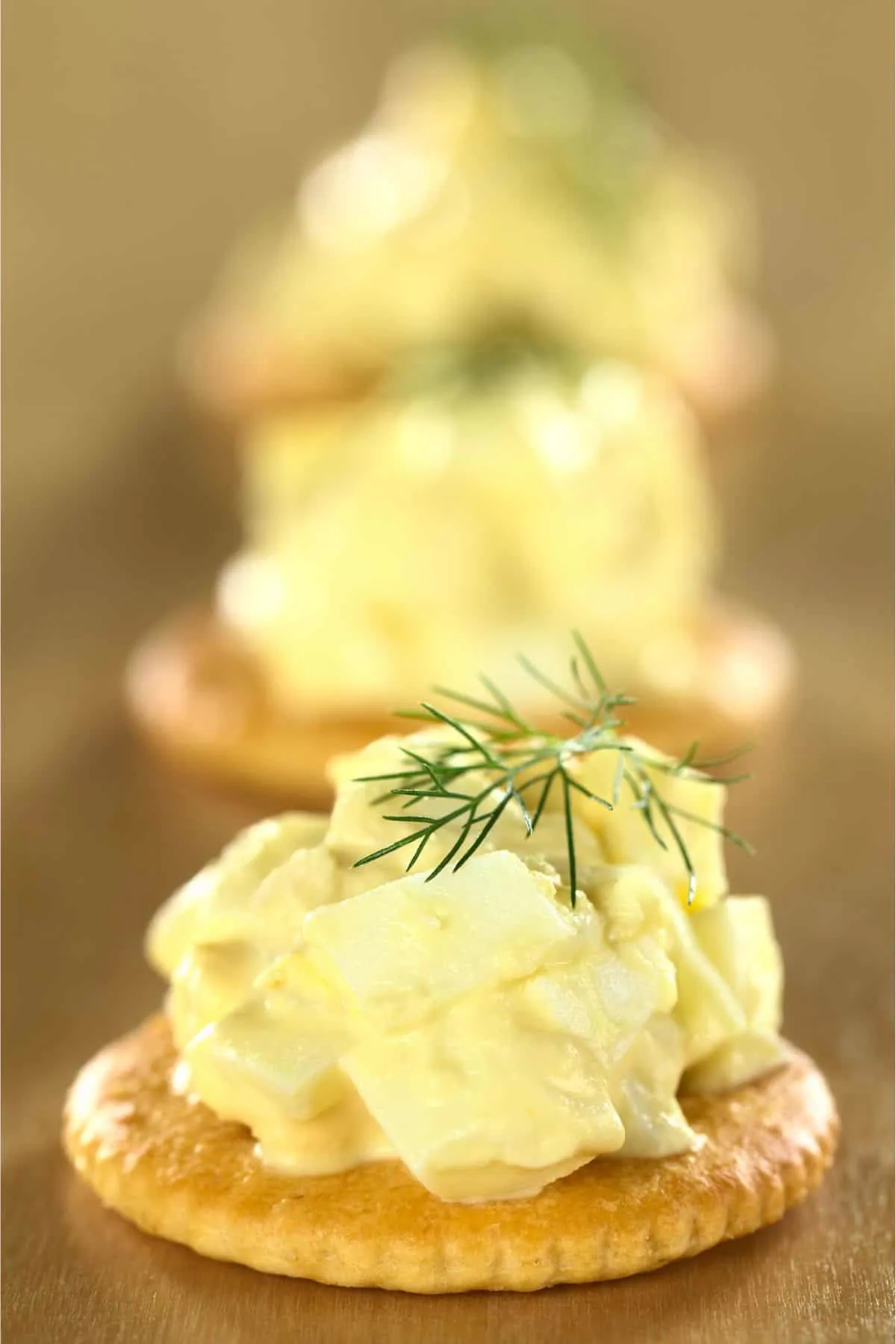 How do I know if it's still safe to eat my egg salad?
Although there are lots of signs of spoilage that you can base your decision on, I recommend first letting it thaw and reach room temperature.
Sometimes, being frozen can mask the unpleasant smell that rotten egg salad gives off, and you won't be able to tell if it's in the danger zone.
Once it is closer to the temperature that you can serve it at, you'll usually be able to tell if you have bad egg salad on your hands. Spoiled egg salad gives off a very strong smell. So if there is any question about it, it's best to air on the side of caution and make a fresh egg salad batch instead.
Love Classic Salads? Check out this Zoe's Chicken Salad, Tuna Salad, and Ham Salad.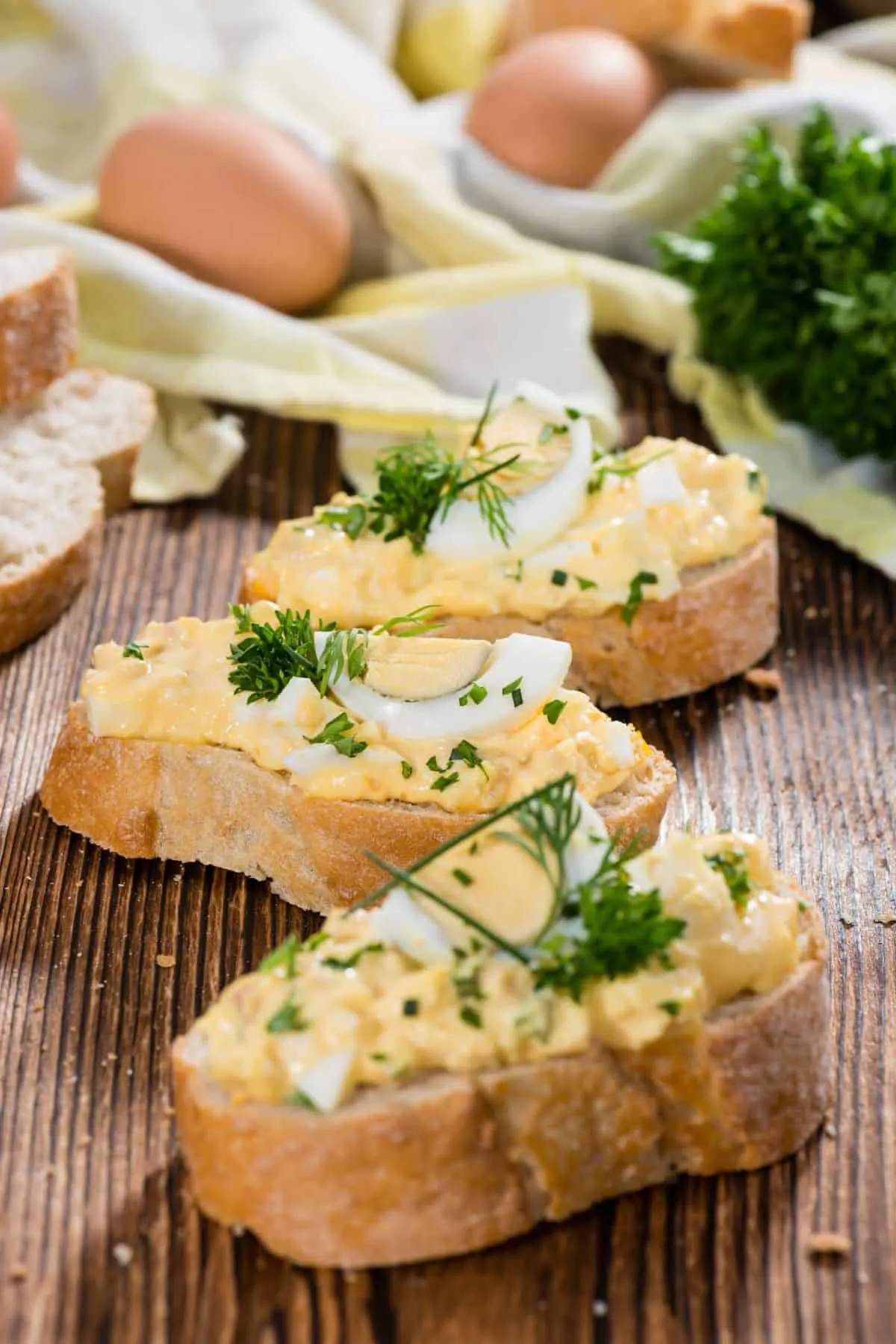 How do I get my egg salad ready to be served?
When you're ready to make that second round of egg salad sandwiches for a quick meal, the best thing to do is take the clean airtight container out of the freezer and pop it in the fridge. After removing it from the colder temperatures, allow it around 12 hours to thaw. Give it a good stir before serving.
Although the shelf life of egg salad may be up to a month, it's usually a good idea to use as much egg salad as you can within the first week or so, especially if you have a lot of egg salad leftover.
If you've ever tried to freeze egg whites or even a couple of hard-boiled eggs, you'll know that the flavor and texture of eggs changes very quickly when frozen.
Egg recipes tend to become flavorless very quickly. The perfect egg salad can quickly have a much less creamy consistency, as the freezer is not the ideal environment for preserving the texture.
To prevent food waste, it's a great idea to plan on eating it sooner rather than later.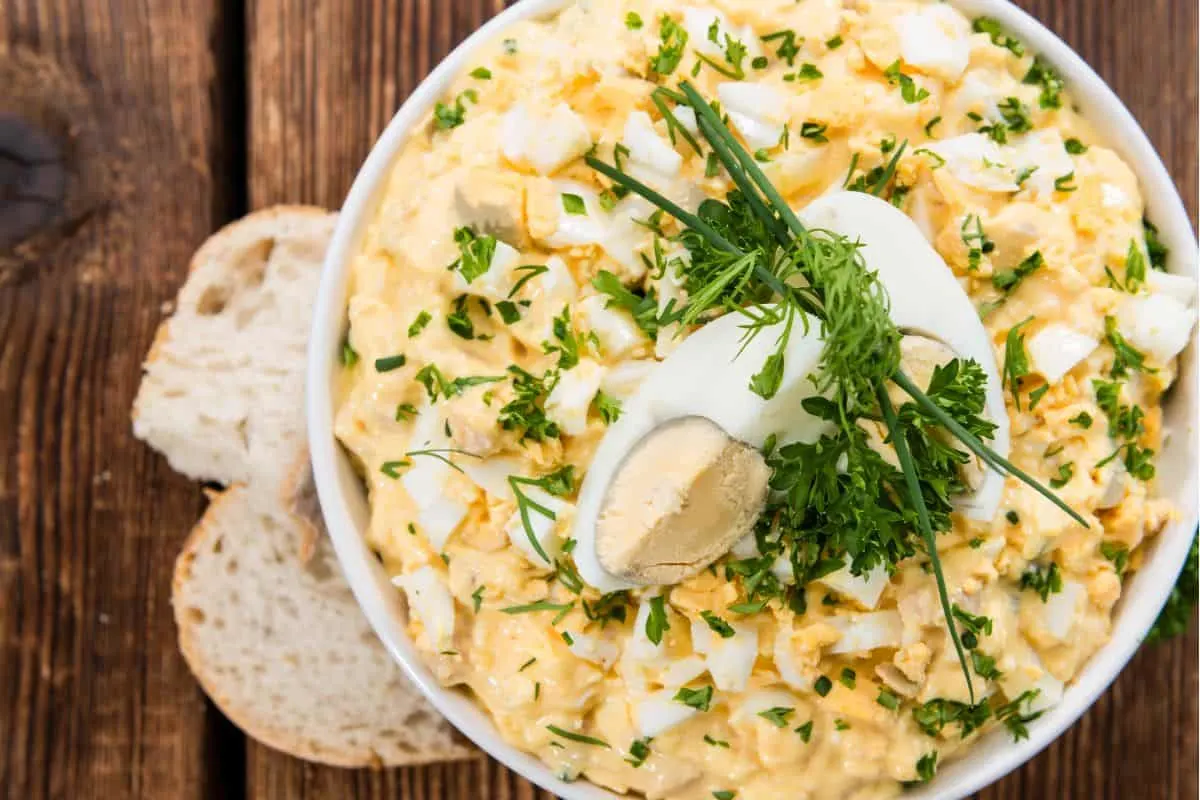 How do I make egg salad?
There are so many simple egg salad recipes out there that allow you to whip up an easy, delicious snack or main dish for a lot of people in a small amount of time.
That's the main reason that this is the best egg salad recipe that I've found, and a great option for when you want a flavorful meal without having to put in a ton of time.
8 raw eggs – The number of eggs will depend on how much you want to make. If you're making this as a side dish, consider cutting the recipe in half. You can also use precooked hard boiled eggs from the store.
½ cup mayonnaise – This can be replaced with sour cream or cream cheese if needed.
1 teaspoon yellow mustard – You can also use dijon if you prefer.
¼ cup chopped chives – Try using scallions if you don't have chives.
¼ teaspoon paprika – You can also try cayenne pepper for a little kick
Salt and pepper – These are both going to be added to your taste.
To start, place your eggs in a saucepan, covered completely with cold water. Bring to a boil, removing from heat and covering to create hard-boiled eggs for the base.
After 10 minutes, remove the hard-boiled whole eggs with a slotted spoon. Let cool before peeling.
Roughly chop the hard-boiled whites before placing them in a bowl. Combine with the egg yolks and the rest of the ingredients and stir until thoroughly mixed.
Taste to season. If it seems too rich, add a dash of lemon juice to brighten it up.
Serve!
If you love this recipe as much as I do, please write a five-star review in the comment section below (or on Pinterest with the "tried it" button – you can now add pictures into reviews, too!), and be sure to help me share on facebook!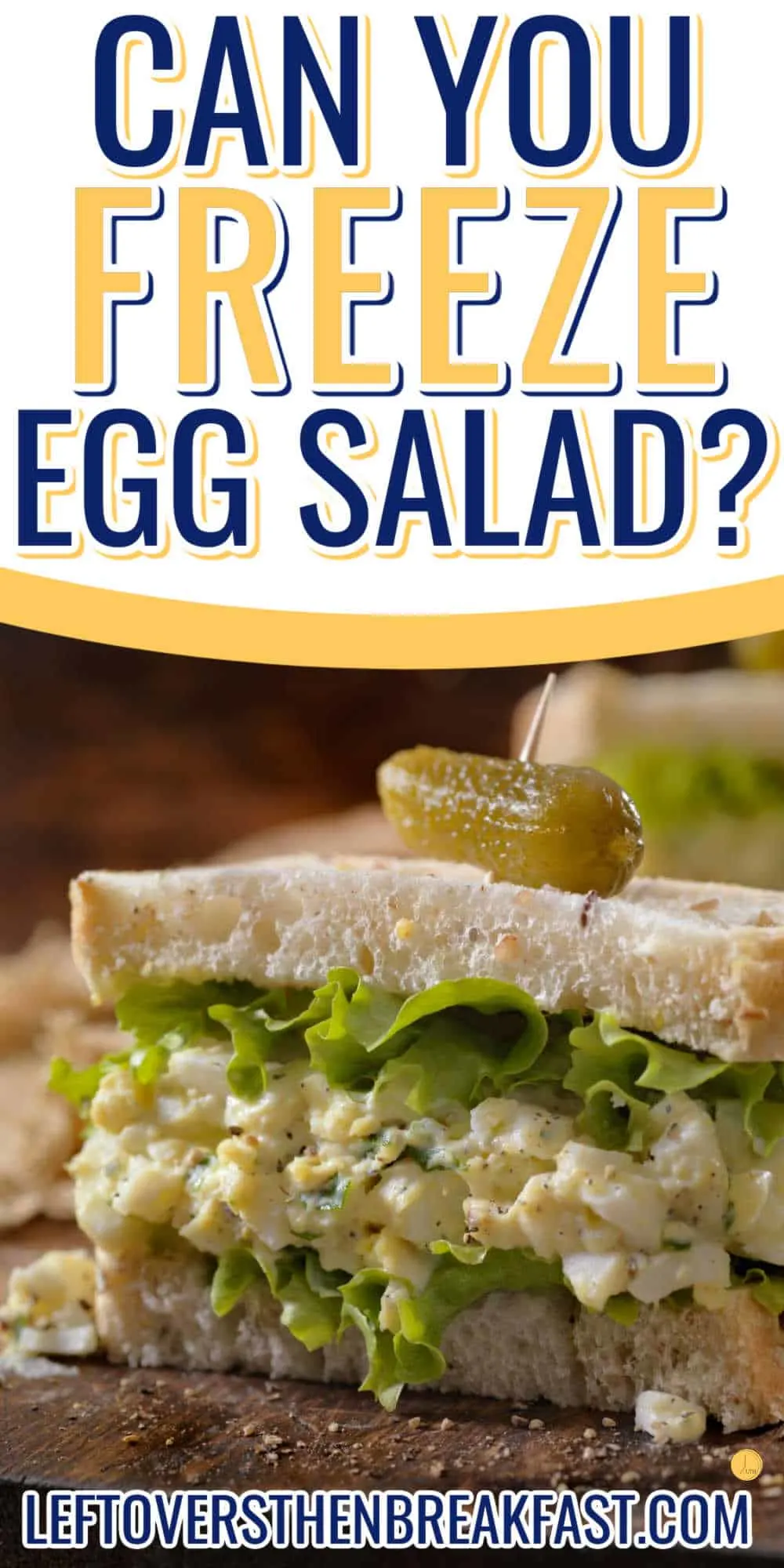 This classic egg salad recipe is the best thing for when you're in a hurry. If you're ready to freeze your easy egg salad recipe so that you can have it another day, I highly recommend following the instructions in this guide. This is a great way to make sure that you can still use that egg salad days or weeks after you make it. Then you can have a quick and easy meal on hand.
More Pantry Staples
LeftoversThenBreakfast.com. Content and photographs are copyright protected. Sharing of this recipe is both encourages and appreciated. Copying and/or pasting full recipes to any social media is strictly prohibited.