Can you freeze Hamburger Helper? Definitely! If you cook them in large batches like me, I'll share the best way to store, freeze, and reheat them. Plus, I'll share my go-to recipe that's a family favorite!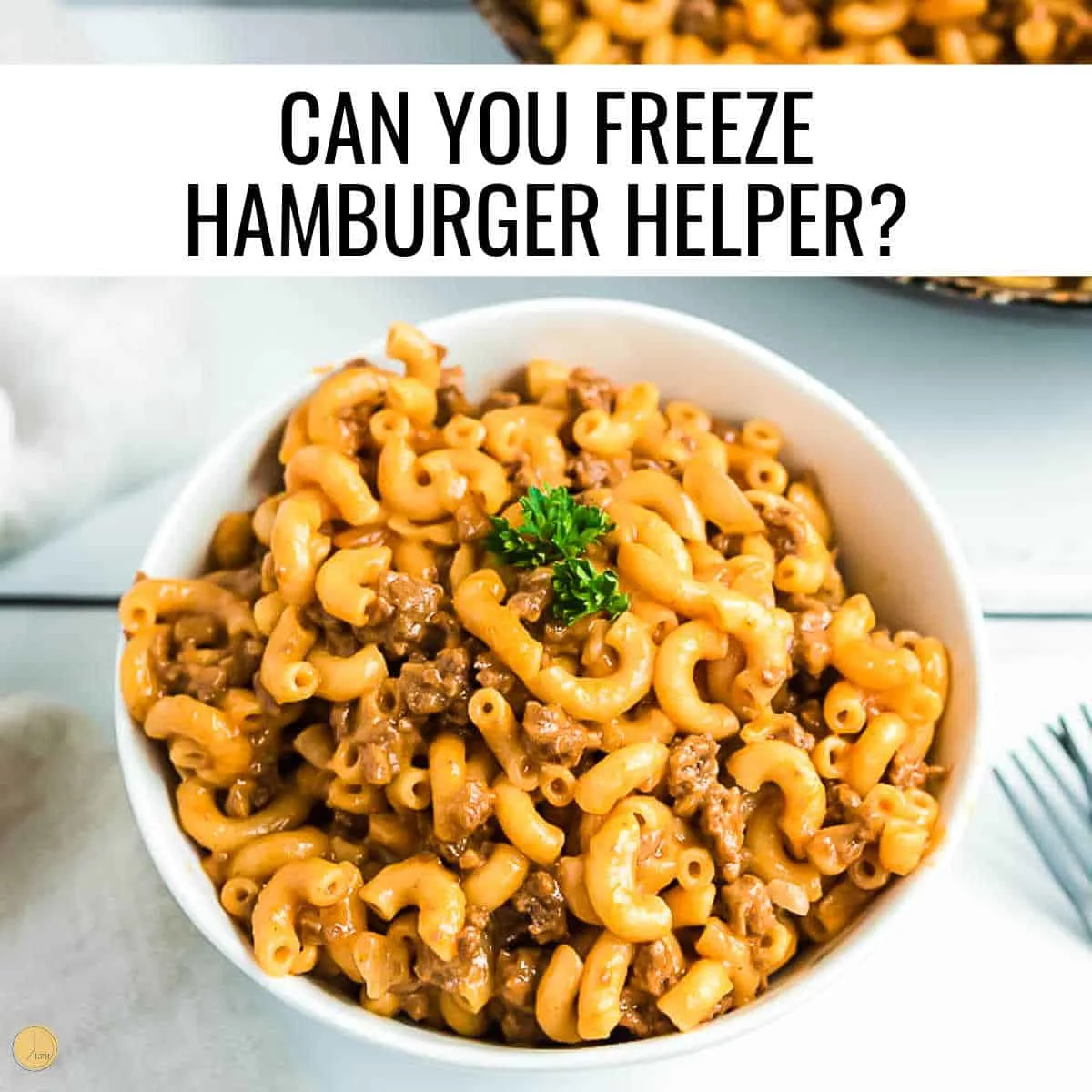 Can You Freeze Hamburger Helper?
Yes. Hamburger Helpers are one of the easiest meals to cook and freeze in large batches.
That's why they're a favorite for busy parents who like to prepare the week's food ahead of it.
Storing a Hamburger Helper meal properly in an airtight container will keep it edible for three to four months in the freezer. The recommended freezing temperature is -18°C (-0.4°F).
Freezing them is safe and will help retain the meal's flavor. However, note that frozen Hamburger Helpers can lose taste the longer you store them. So, it's best to consume them as soon as possible.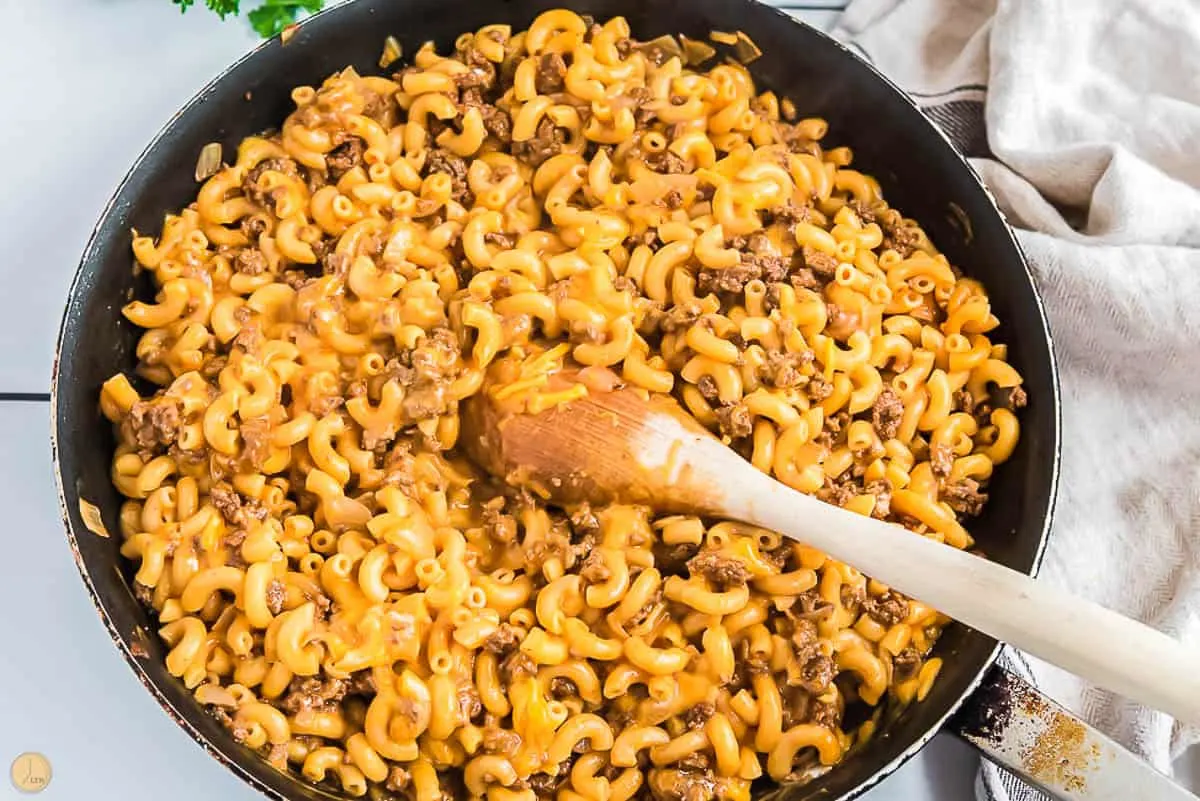 How Long Will Hamburger Helper Keep in the Fridge?
Keeping Hamburger Helpers in the fridge instead of the freezer will keep them edible for 3-4 days.
Since the recommended temperature for fridges is 2.78°C (37°F), it's not enough to prolong your leftover's shelf life.
However, leaving your Hamburger Helper in the fridge for up to four days will retain its taste and quality. Just make sure to consume it before it spoils.
How Do You Store Leftover Hamburger Helper?
To store leftovers from your Hamburger Helper, cool them at room temperature first to avoid condensation in the container.
You can also put a bit of water or broth in the bottom to keep your meal moist.
I highly recommend putting your meal inside an airtight container. You can also use freezer bags and any freezer-safe container, as long as it has a tight seal.
Using an airtight container helps lock in its freshness and prevent freezer burn.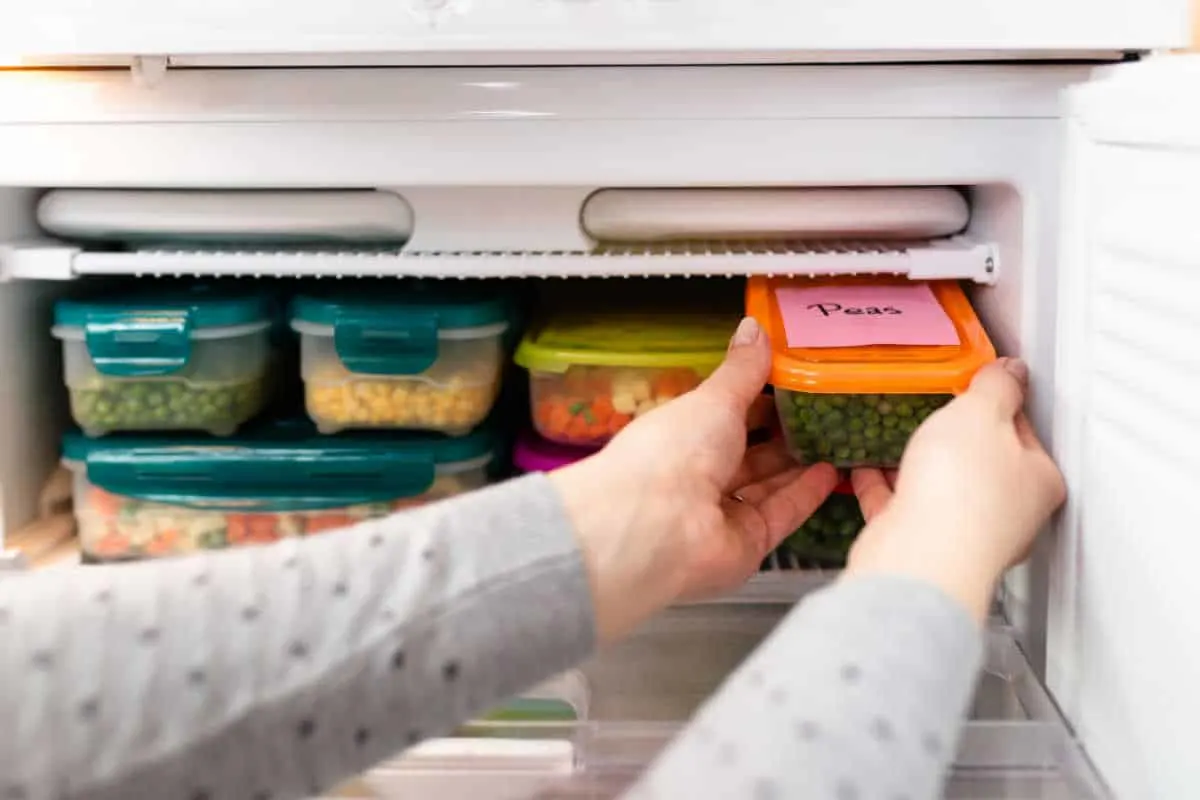 How Do You Thaw Frozen Hamburger Helper?
To thaw frozen Hamburger Helper, transfer it to the fridge, and let it thaw inside. This method is the best option since it's convenient and quick.
Another method you can try is to submerge your frozen Hamburger Helper container in water. However, you need to change the water every 30 minutes until it's completely thawed.
Remember that the amount of time to thaw your frozen Hamburger Helper depends on your food's quantity and coldness.
How Do You Reheat Hamburger Helper in a Microwave?
If you're hurrying to eat your Hamburger Helper leftovers, you can reheat them in a microwave after thawing.
Put your food in a microwave-safe container, and make a hole at the center of the container to heat the food evenly.
Then, loosely cover it with a lid or wax paper. You can also use plastic wrap and poke holes in the plastic to let the steam out.
Then, heat it for around three minutes. Finally, remove it from the microwave, let it sit for a few minutes to cool, and enjoy!
How Do You Reheat Hamburger Helper in an Oven?
Reheating Hamburger Helpers in the oven helps them taste newly cooked again. Start by preheating your oven to 350°F. Then, place your thawed Hamburger Helper in a baking dish or sheet pan.
Season it again, or mix it with butter for extra flavor. Distribute it evenly, and put it in the oven for 20 minutes. Enjoy it while it's warm!
How Do You Reheat Hamburger Helper on a Stovetop?
If you don't have an oven or microwave, you can reheat your Hamburger Helper using a pot on a stovetop. Start by heating a large pot on medium-high heat.
Then, pour your thawed Hamburger Helper, and add some milk or broth.
Stir everything while simmering it for around 15 minutes. For best results, add butter to get a richer flavor. Top it with your preferred cheese, and serve.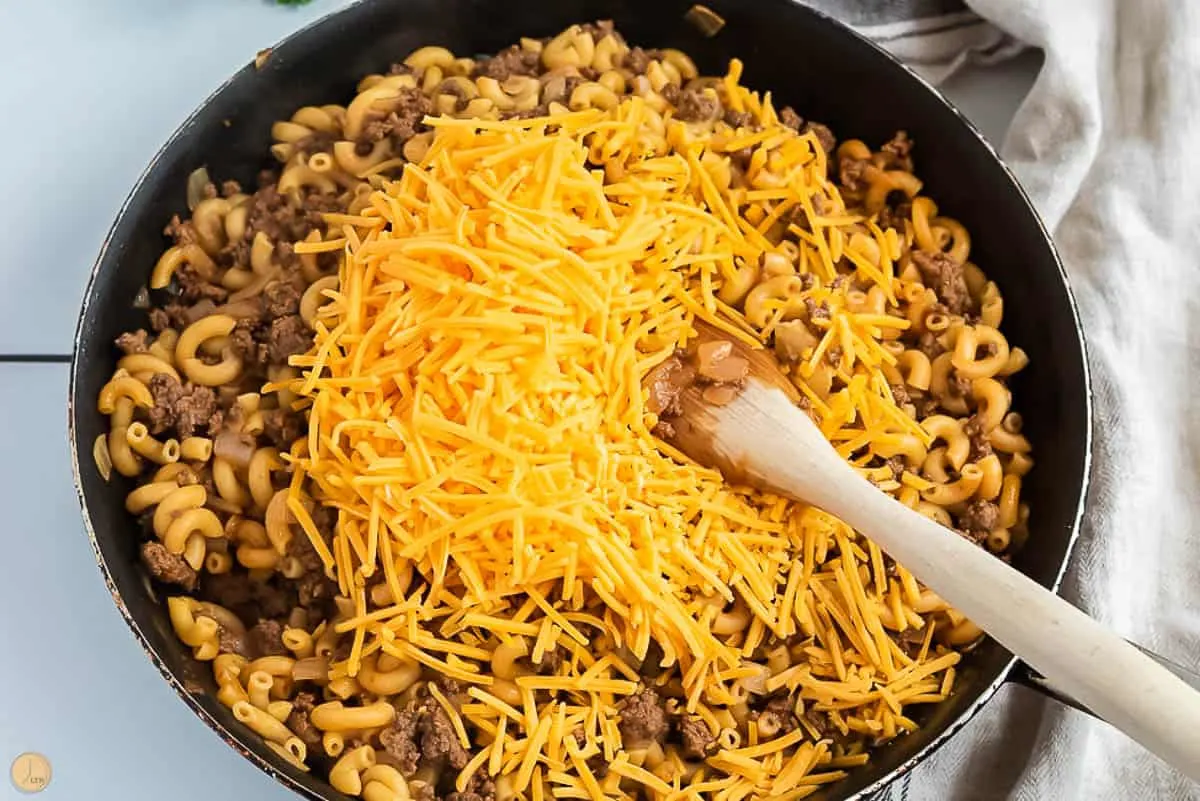 How Can You Tell if a Hamburger Helper Is Bad?
Use your senses to check for spoiled Hamburger Helpers and avoid eating them. First, look for discoloration, like black or brown spots, as it indicates the presence of bacteria in your food.
Next, check if your Hamburger Helper has any strange odor or foul smell. If it smells like sour milk, throw it away.
Lastly, try to taste it without swallowing it. Spoiled food usually tastes sour, bitter, or fermented.
So, can you freeze hamburger helper? Definitely! It's completely safe to freeze them if you know how to store them properly.
Try making this classic comfort food today, and you don't have to eat boxed meals anymore!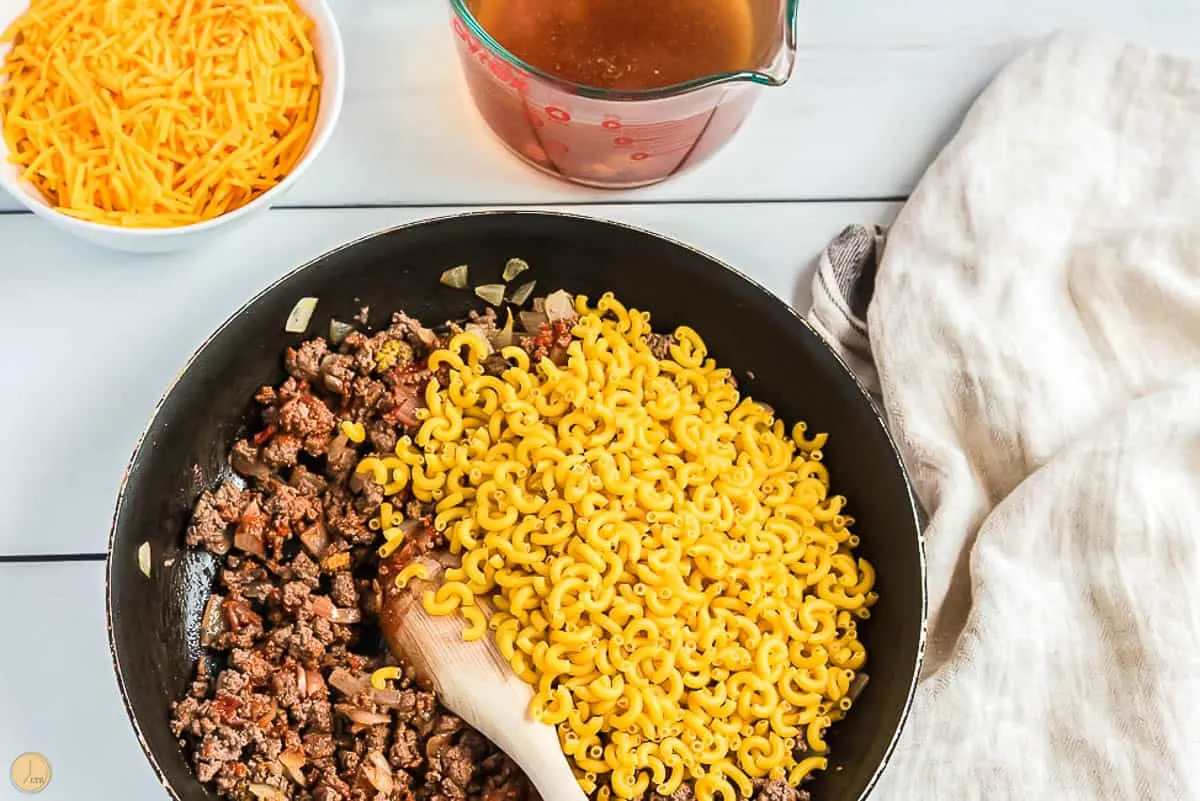 A homemade Hamburger Helper Recipe You Can Freeze!
If you need an easy dinner recipe for busy weeknights, you'll love this homemade one-pot hamburger helper recipe.
This comforting, cheesy pasta is a sure hit for the whole family, even the picky eaters. Best of all, it's tastier and healthier than the boxed version!
Serve this one-pot meal right off the stove. If you're freezing it, reheat it with a microwave, oven, or pot on a stovetop. It'll retain its flavor and nutrients if you freeze it properly.
Here are the key ingredients to the recipe, but feel free to use alternatives!
Ingredients
Lean ground beef (or ground turkey)
Medium sweet onion
Tomato paste (or tomato sauce)
Beef broth (or chicken broth)
Elbow macaroni (or your favorite pasta)
Cheddar cheese (or your favorite cheese)
Worcestershire sauce
Yellow mustard
Hot sauce
Garlic powder, onion powder
Salt
Black pepper
Follow these quick instructions to make a delicious homemade Hamburger Helper in minutes.
Instructions
Pour olive oil into a large skillet over medium heat, and cook the onion until translucent.
Add your ground meat, and cook it until it's no longer pink. Then, put your tomato paste, mustard, garlic powder, and Worcestershire sauce. Feel free to add your favorite spices, like Italian seasoning and chili powder.
Stir everything to combine. After it's well combined, pour your macaroni and broth. While the pasta cooks, stir it occasionally to keep it from sticking.
Let it simmer for 15 minutes or until the pasta is al dente.
After cooking, turn off the stove, stir your cheese, and season it with salt and pepper.
Serve and enjoy it while it's warm!
Tips for No Leftovers
Try adding some diced bell peppers
Stir in sour cream for a creamy and tangy sauce
Want it richer, try a bit of cream cheese
Switch the beef for ground chicken
Substitute the elbow pasta for rotini or ditalini.
If you love this recipe as much as I do, please write a five-star review in the comment section below (or on Pinterest with the "tried it" button – you can now add pictures into reviews, too!), and be sure to help me share on facebook!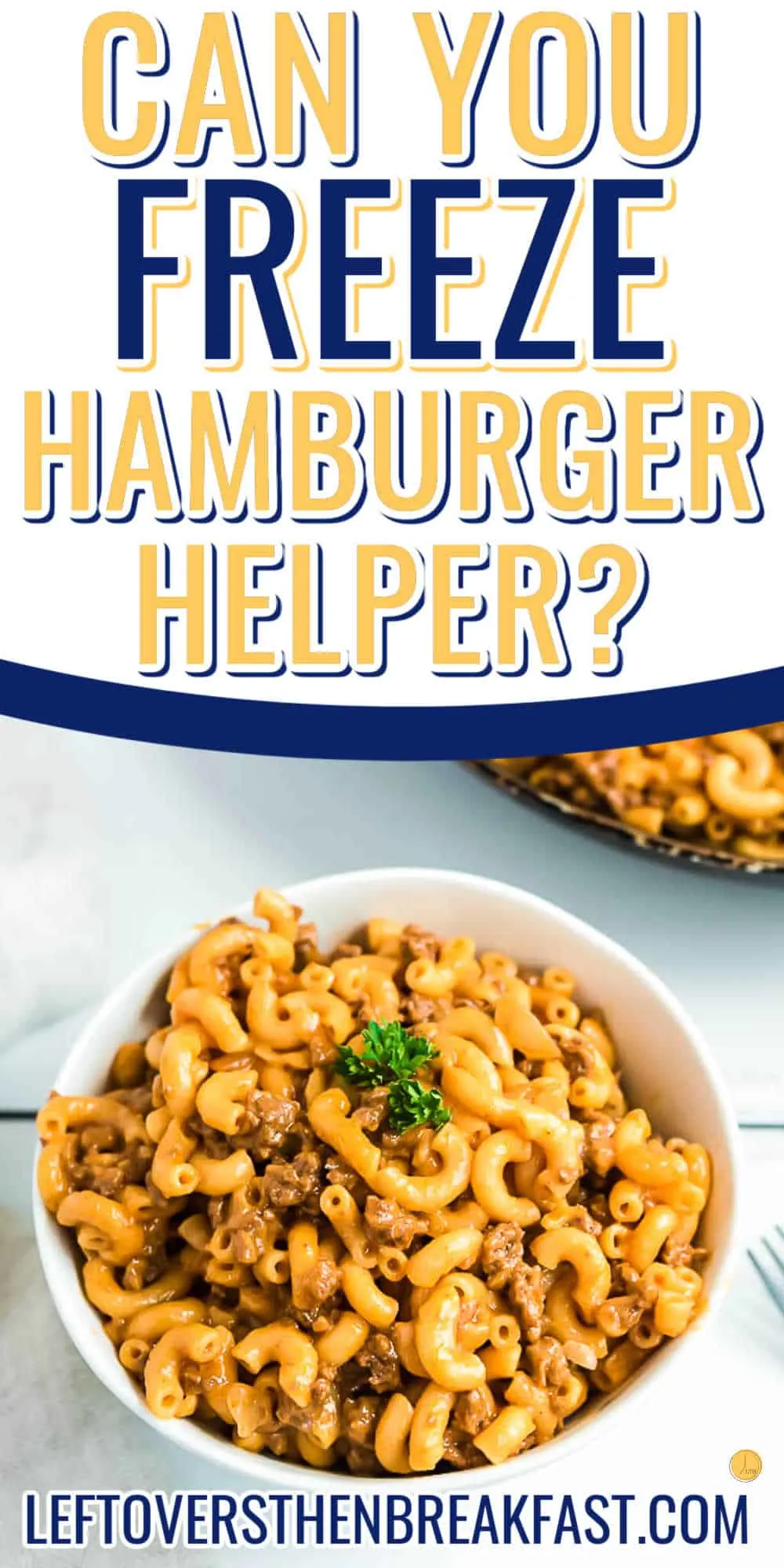 If you're craving more hamburger meals, next time try these recipes:
LeftoversThenBreakfast.com. Content and photographs are copyright protected. Sharing of this recipe is both encourages and appreciated. Copying and/or pasting full recipes to any social media is strictly prohibited.