When you're looking for a quick meal that the entire family will still enjoy, making a delicious hamburger helper dinner can be a great option. The instructions on the box tell you to add 2 cups of milk. But, what if you can't have dairy? Can you make hamburger helper without milk?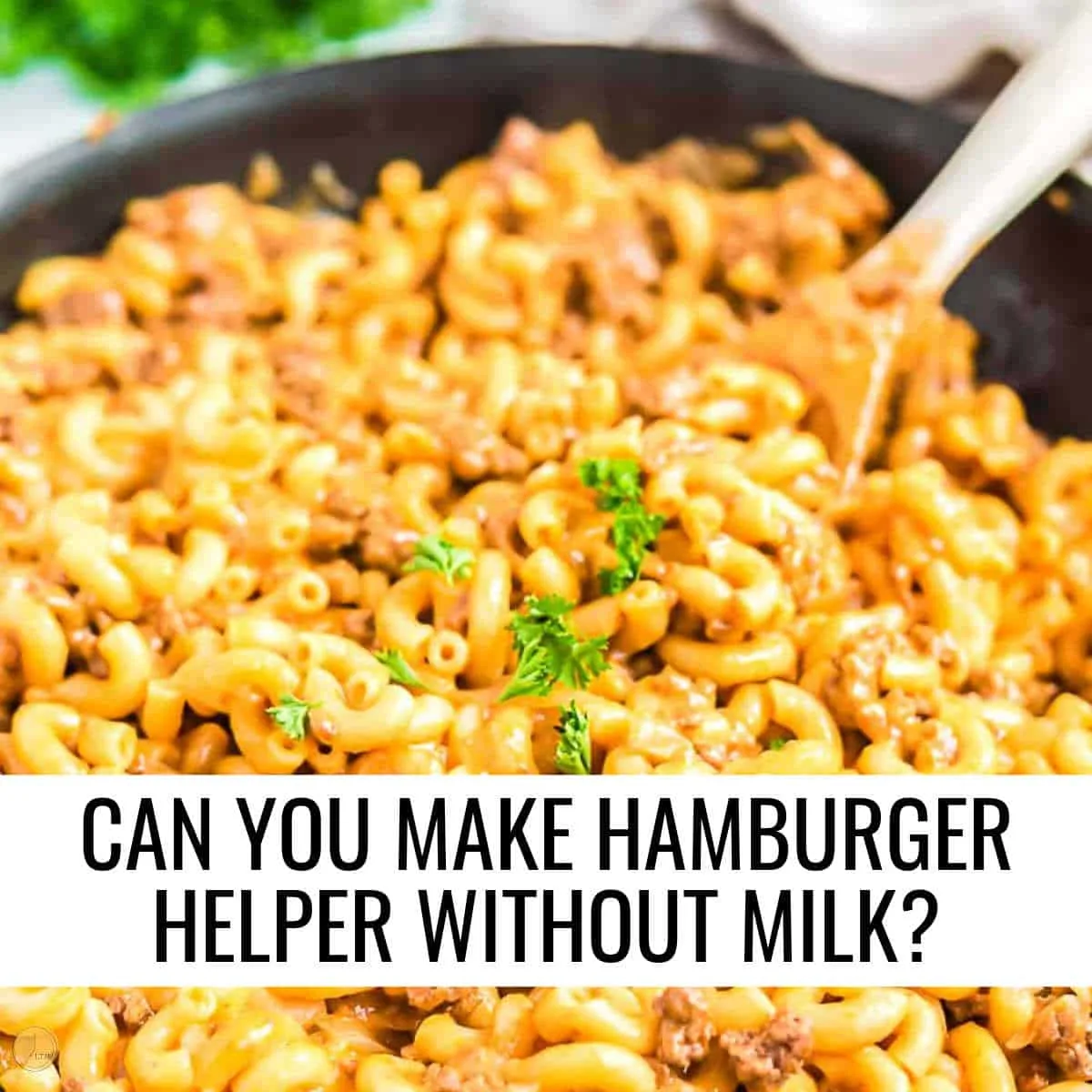 The quick answer is Yes! Read on to see how to make this easy meal without milk. Or make it homemade and skip the box all together.
The boxed version of cheeseburger macaroni is a family favorite for us on those busy weeknights when no one feels like cooking, thanks to its creamy consistency and delicious mix of ingredients.
A hamburger helper meal can be a great substitute for the homemade version, but how do you make it if you have a lactose intolerant family member?
Making Hamburger Helper Without Milk
I love a good box of hamburger helper, because they're a great option when I don't have time to cook and want to grab something quick and tasty at the grocery store.
They've become a pantry staple for me thanks to their creamy flavor and basic ingredients, so I always have one on hand for the next time I don't feel like cooking.
There were a few childhood favorites of mine that I've tried, but most rely heavily on the addition of dairy products to create a creamy texture.
The good news is that you still make a delicious meal while using milk alternatives that can work for any type of dietary restrictions.
This post may contain affiliate links. As an Amazon Associate, I earn from qualifying purchases. Read my disclosure policy here.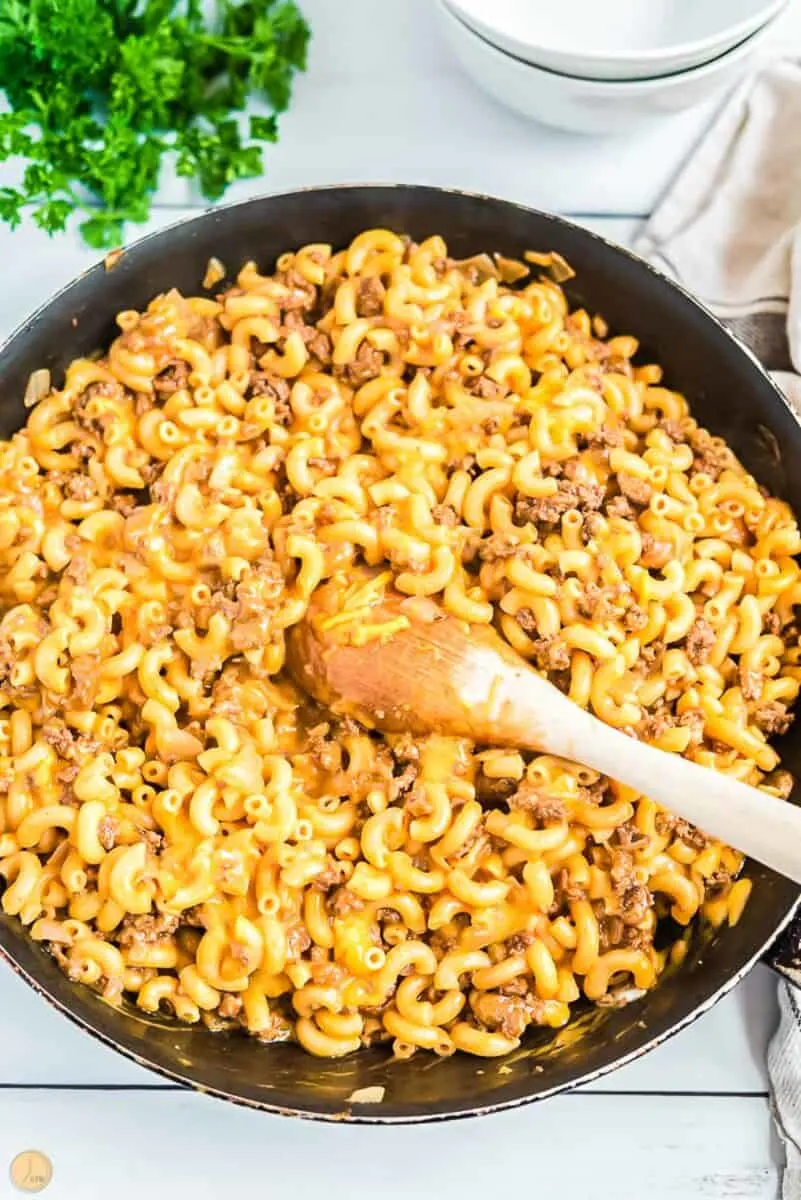 What's a good milk substitute to use in hamburger helper?
With so many different alternatives out there that can take the place of milk, how can you know which is the best option?
The first place to start when finding the best substitutes is to determine why you need a milk replacement.
Lactose Intolerant
A great option for you may be a milk substitute like Lactaid, which removes the lactose from milk without stripping away the taste.
This will have the same fat content and thick consistency of milk and generally tastes exactly the same as whole milk would.
Chicken broth or beef stock make great substitutes.
Vegan Option
Want to make a vegan hamburger helper recipe? There are a ton of plant-based milk alternatives out there for you to choose from.
I personally like almond milk because it has a similar consistency as cow's milk, along with a nutty flavor. Cashew milk will also have this taste, with a slightly thicker texture.
The easiest substitution is equal cups of water.
Milk Allergy
If you are allergic to nut milks or just don't like the taste, I personally recommend using oat milk or soy milk, since these are the most common to find.
Opt for the original flavor, rather than vanilla.
Rice milk and coconut milk are also options, depending on your preferences. If a recipe is calling for a mix of regular milk and evaporated milk or non-fat dry milk, coconut milk may be a good option.
Both coconut milk and nonfat dry milk have sweeter flavors.
The milk in all of these recipes can be swapped out for an equal amount of your chosen milk alternative.
Looking for more leftover worthy dishes? Follow LTB on Pinterest and pin to a board!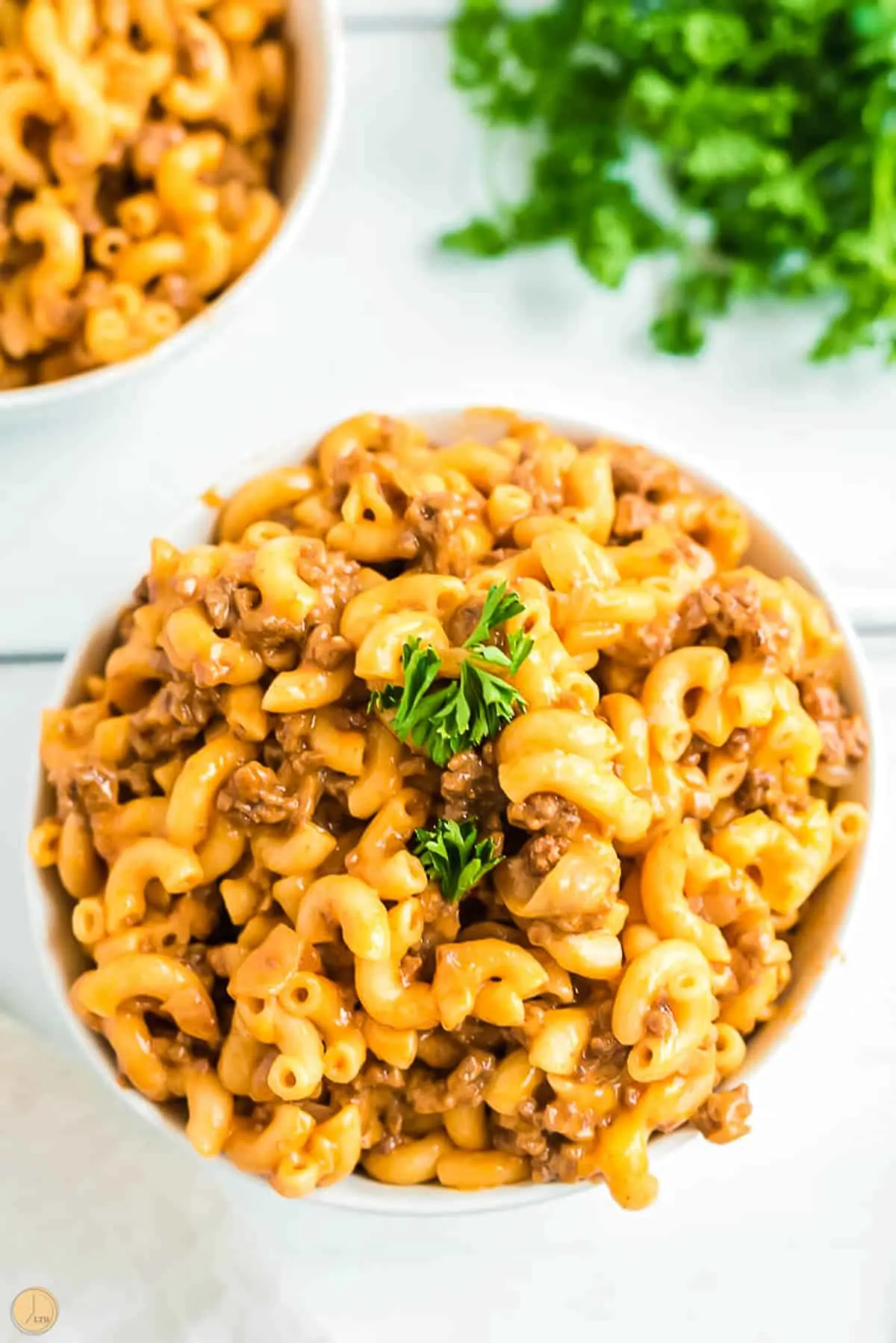 Can I replace milk with sour cream?
Sour cream is a great replacement for milk when you want a tangy flavor and a thick consistency.
You can thin out your sour cream with heavy cream or ¼ cup water to create the right texture.
Alternatively, for more protein and less fat, you can also do the same with greek yogurt (make sure that it's plain yogurt) or cream cheese.
Can I make a hamburger helper at home?
I love to make homemade hamburger helper when I need a delicious meal on the fly. This homemade recipe can work for tuna helper or chicken helper.
But I personally like to make it the traditional way with ground beef.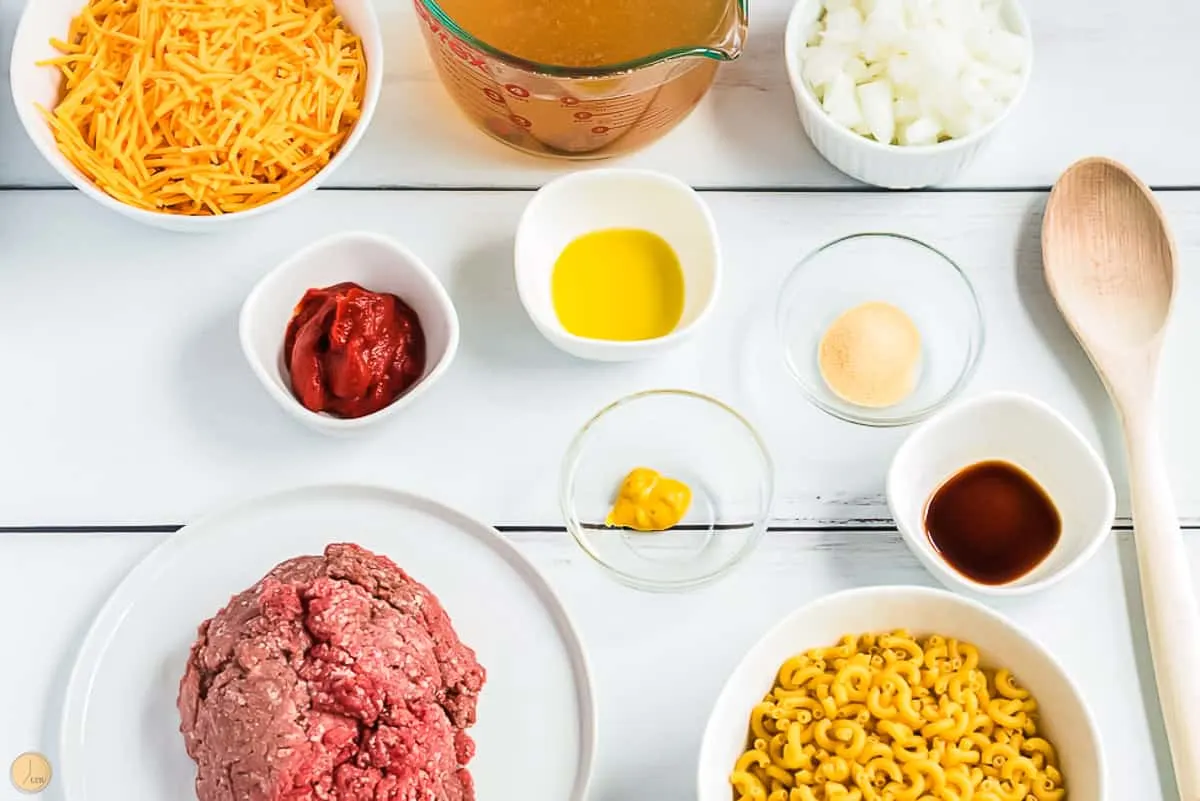 Ingredients Needed
Ground beef – I like a lean pound of ground beef, but you can use any ground meat you prefer.
Vegetables – White or yellow onion, minced garlic.
Flour – Use all purpose flour. Swap with a gluten-free almond flour if necessary.
Spices – Italian seasoning, seasoned salt, paprika, garlic powder, salt, black pepper.
Pantry staples – Beef broth, tomato sauce.
Pasta – I like macaroni noodles but you can also use penne or shells.
Heavy cream – Swap out for a quarter cup of cream cheese if necessary.
Shredded cheese – I like cheddar cheese, but you can use the cheese of your choice.
Homemade Hamburger Helper Recipe Without Milk
First: Brown ground beef in a large skillet over medium heat. Remove from pan and set aside, saving 2 tablespoons of fat.
Cook onions in fat until soft, adding in garlic for the last 30 seconds of cook time.
Second: Add in flour and stir for about 1 minute, adding in beef broth and bringing your mixture to a boil.
Stir in your tomato sauce, spices, and macaroni. Stir and cover with lid and cook for 10 – 15 minutes until your pasta is al dente.
Third: Mix in cream cheese and stir until melted. Return ground beef to pan and cook for another 3 minutes before serving.
Fourth: Top with extra cheese, hot sauce, or your favorite toppings.
Serve and enjoy or allow to come to room temperature and transfer to an airtight container and refrigerate for up to 3 days.
If you love this recipe as much as I do, please write a five-star review in the comment section below (or on Pinterest with the "tried it" button – you can now add pictures into reviews, too!), and be sure to help me share on facebook!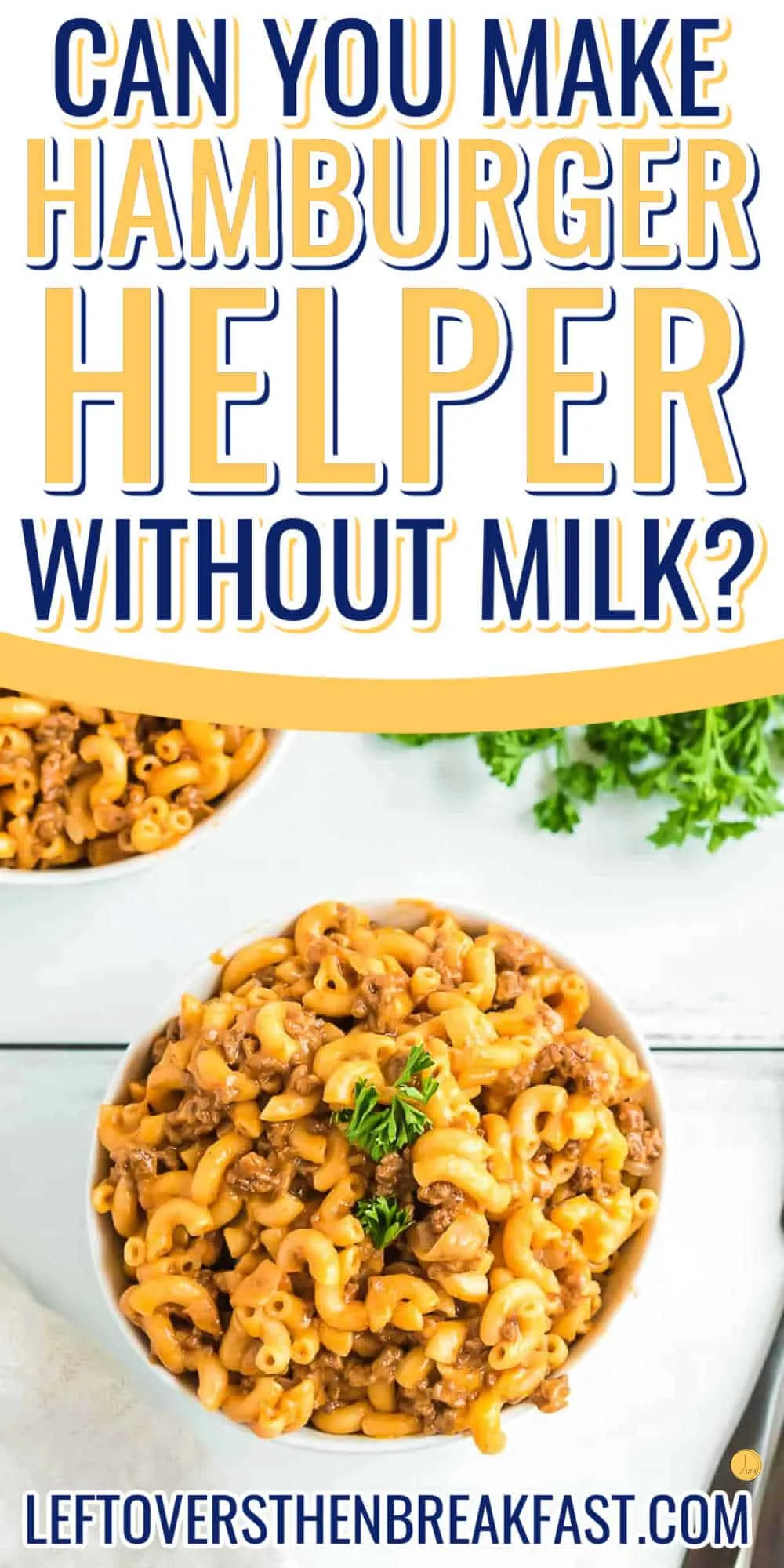 One of the best quick dinners that you can make is a hamburger helper meal, which is both fast and delicious. If the recipe calls for cups of milk, there are a few different options that you have instead. I personally like making hamburger helper style meals when I'm on the go, and I recommend trying them for your family!
More Kitchen Tips and Recipes
LeftoversThenBreakfast.com. Content and photographs are copyright protected. Sharing of this recipe is both encourages and appreciated. Copying and/or pasting full recipes to any social media is strictly prohibited.