The BEST & EASIEST M&M cookies are CHEWY with crispy edges, FULL OF M&M CANDIES, and loved by kids of all ages. Grab a glass of ice cold milk and dive right in!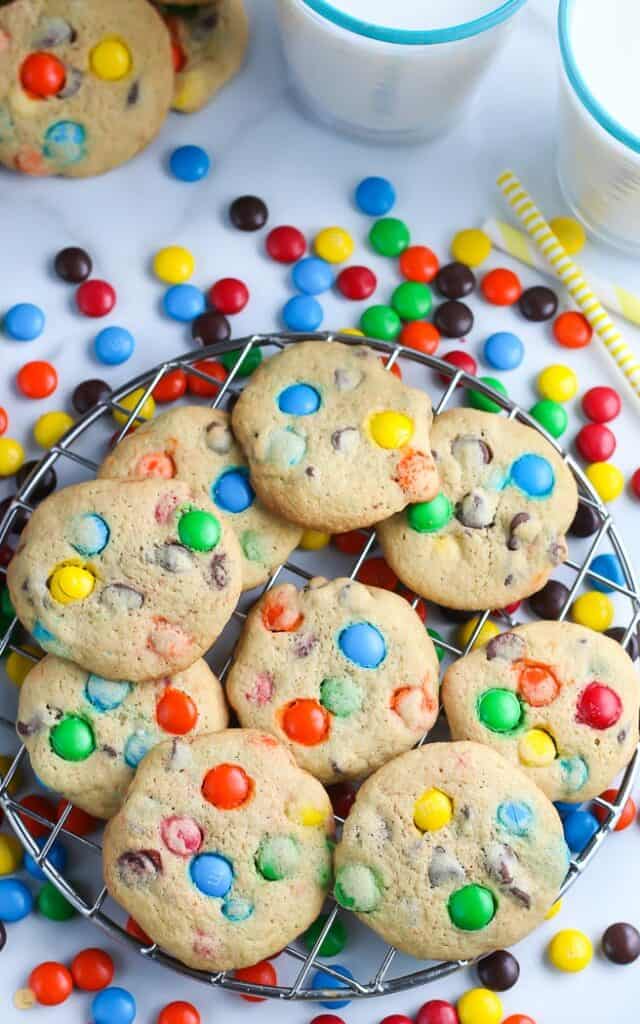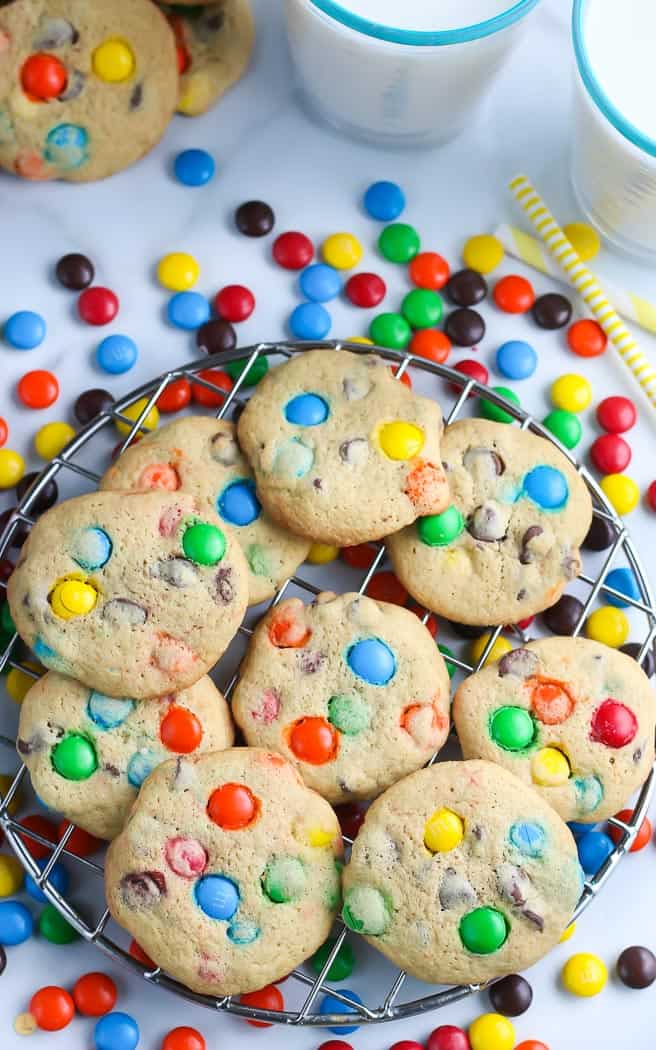 If you'd rather skip my essential cooking tips and tricks and get straight to this delicious recipe – simply scroll to the bottom of the page where you can find the printable recipe card.
M&M COOKIES
Looking for the ultimate snack that kids of all ages love? Look no further than the M&M cookie! I always loved making these as a kid.
Better yet, the bakery at our grocery store always had these available for free for the kids that shopped with their parents. First stop was always the bakery!
Even though I am WAY OLDER I still love a chewy cookie and a glass of ice cold chocolate milk for an afternoon snack. Or breakfast. No one home to see so I didn't really eat them right?
If you want to revert back to childhood and enjoy a chewy cookie with the sweet crunch of chocolate candies today, read on!
This post may contain affiliate links. As an Amazon Associate, I earn from qualifying purchases. Read my disclosure policy here.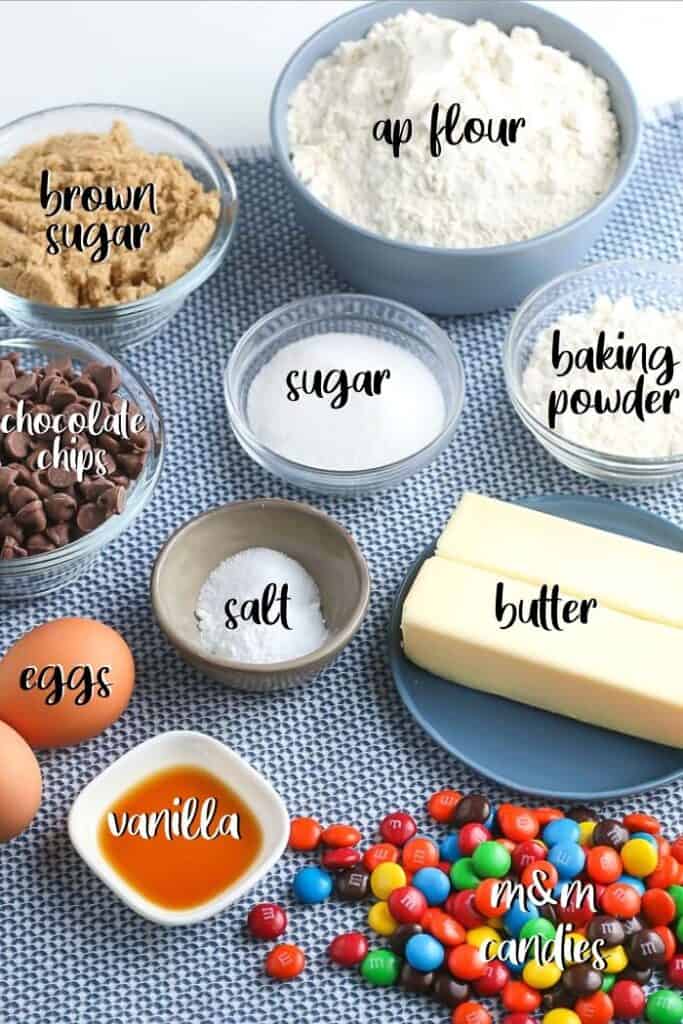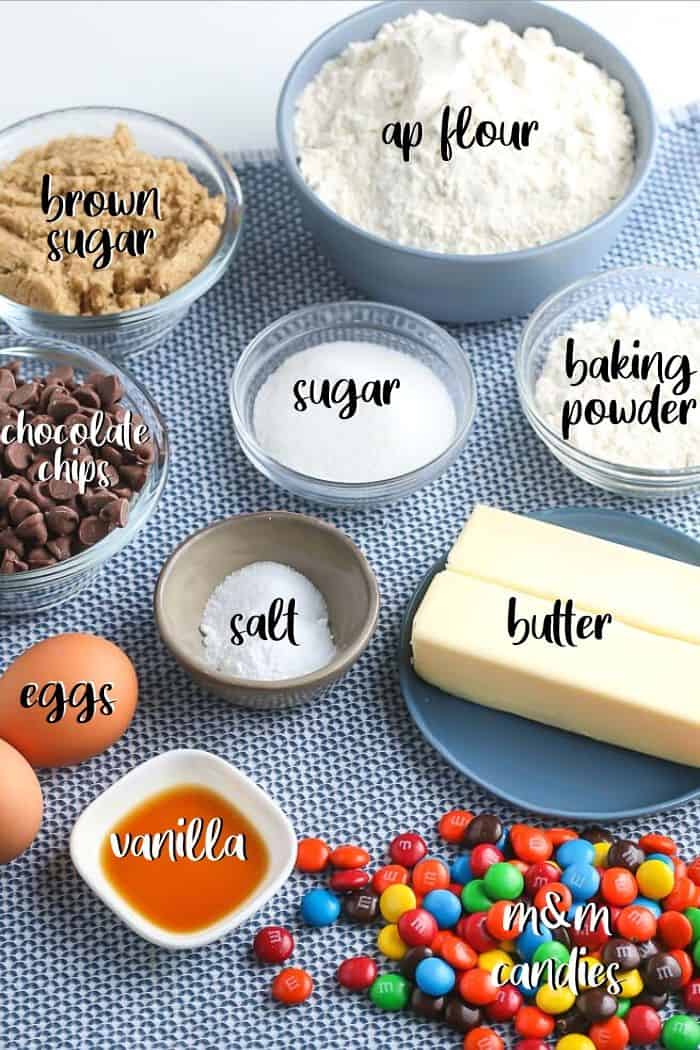 INGREDIENTS FOR M&M COOKIES
all purpose flour
salt
baking soda
unsalted butter
instant vanilla pudding
brown sugar
sugar
eggs
vanilla
chocolate chips
M&Ms
If you don't have baking soda, you can substitute baking powder. Just add 3x powder what you would in soda.
Example: Recipe calls for 1 teaspoon baking soda – use 3 teaspoons baking powder.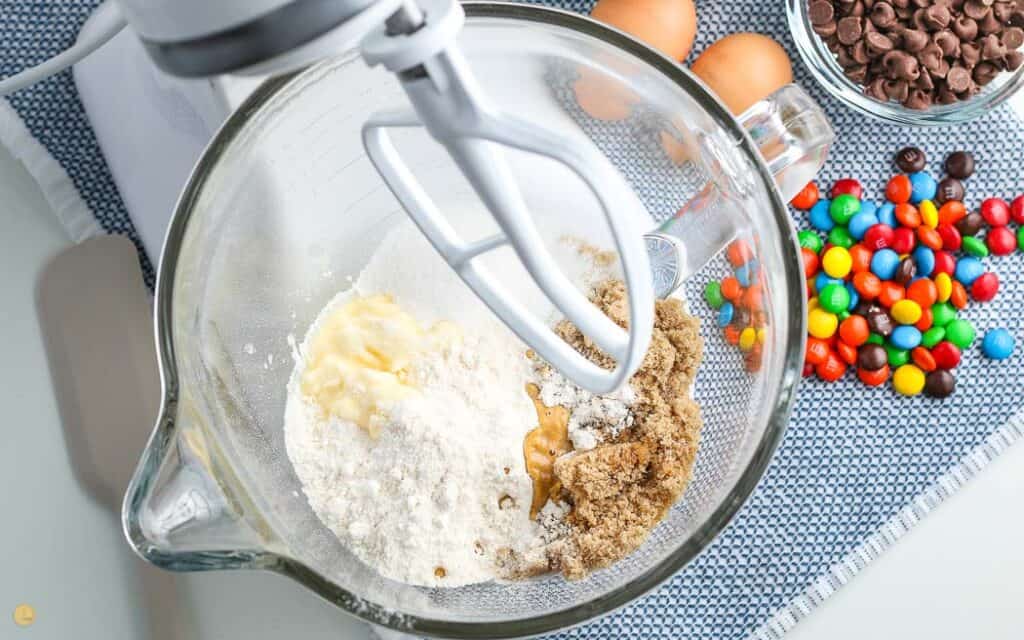 HOW TO MAKE M&M COOKIES
mix dry ingredients (flour, baking soda, salt) in a mixing bowl.
in a large bowl, cream together butter, both sugars, vanilla, and pudding mix together.
Beat in eggs one at a time.
gradually add dry ingredients to butter mixture.
by hand, stir in chocolate chips and M&M candies.
scoop the dough onto a parchment paper lined baking sheet and chill in the refrigerator for about 15-30 minutes.
preheat oven to 375F while they are chilling out.
bake cookies for 8-10 minutes or until just starting to brown.
remove from the oven and let sit on the baking sheet for another 1 to 2 minutes to set up. add more M&Ms at this point if you want.
transfer to a rack to cool completely.
enjoy with a glass of milk or store for later.
For the full recipe and detailed baking instructions, please see the recipe card at the end of this post.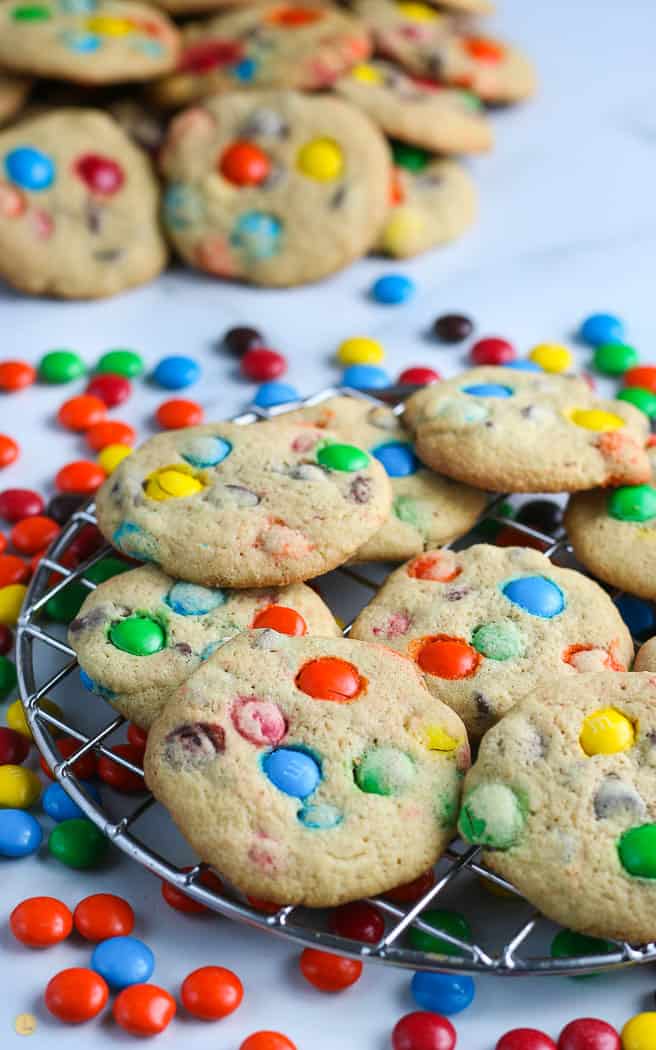 CAN YOU USE REGULAR M&MS FOR BAKING?
Not all M&M candies are created equal! If you are wondering what kind to use, stick with the regular ones, with a few exceptions, for baking.
The flavored varieties, like peanut butter, caramel, white chocolate, hazelnut, and mint are also easy to bake with because of their size.
If you use the ones with nuts like peanuts and almonds, they are larger in size and don't work well with cookies. Save these for ice cream cakes etc.
HOW DO YOU MAKE M&M COOKIES FROM SCRATCH?
Is you oven lonely today? Whip up this delicious cookie dough in just a few minutes and pop some in the oven. What better way to enjoy some family time playing games than with cookies and milk?
Start with quality ingredients. Soft creamy butter, flour, sugar, and your favorite flavor of M&Ms. You can use the regular sized ones or if you have bag of the minis already in the pantry, grab those!
Looking for more comfort food? Follow LTB on Pinterest!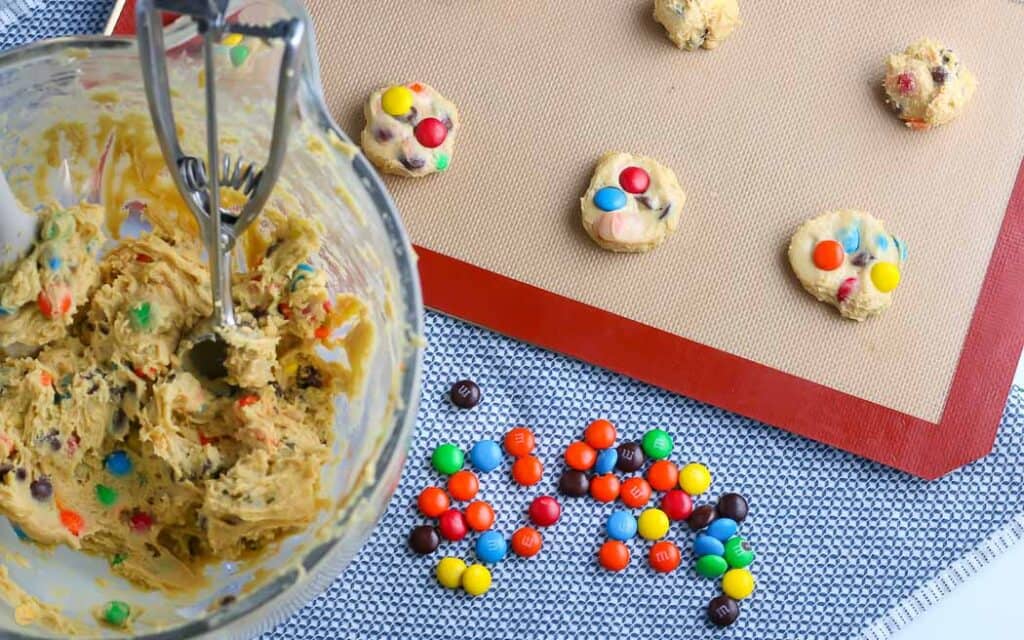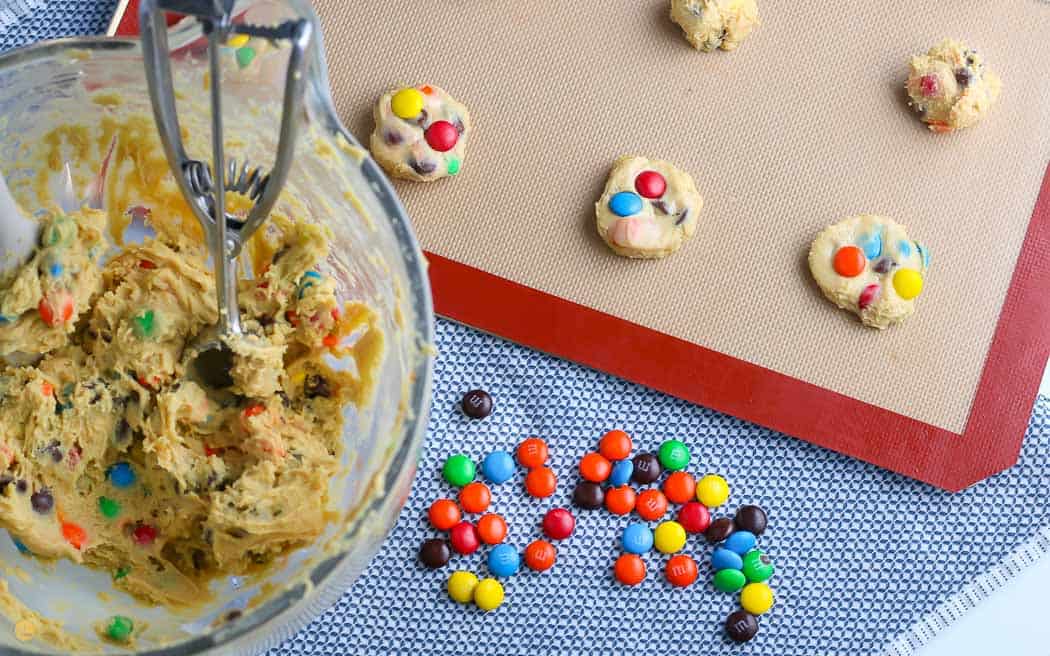 TIPS FOR NO LEFTOVERS
SOFTENED BUTTER – make sure the butter is softened but not melted. This will make the cookies spread while baking.
FRESH BROWN SUGAR – the molasses in the brown sugar keeps the cookies chewy so make sure it's fresh and not hard.
CORNSTARCH TO SOFTEN – two teaspoons of cornstarch in the dough helps to keep the cookies chewy.
ICE CREAM SCOOP – use this to portion your dough so all the cookies are the same size and cook evenly.
CHILLY DOUGH – cold dough doesn't spread when baked so make sure you chill the dough balls for at least 15 minutes before baking.
DON'T OVER BAKE – take the cookies out before they are completely brown and they will be perfectly soft. They will continue to bake a few minutes after you take them out of the oven.
DECORATE AFTER BAKING – to avoid cracked M&Ms on the top of your cookies, gently press a few into the cookie tops as soon as you take them out of the oven. Instant Pretty!
COOL COMPLETELY – cool completely before storing and they will last longer.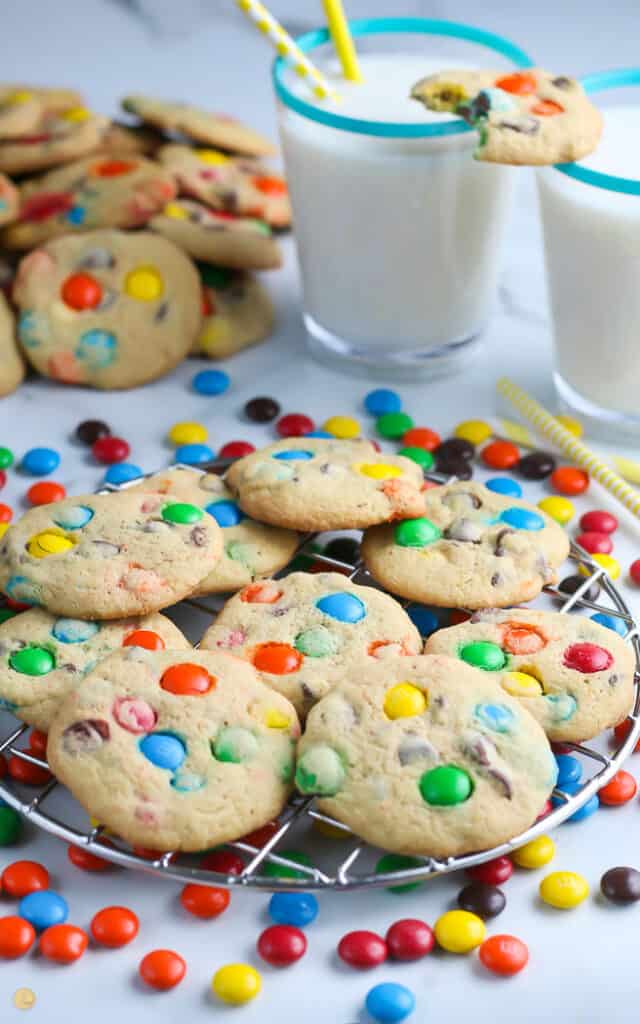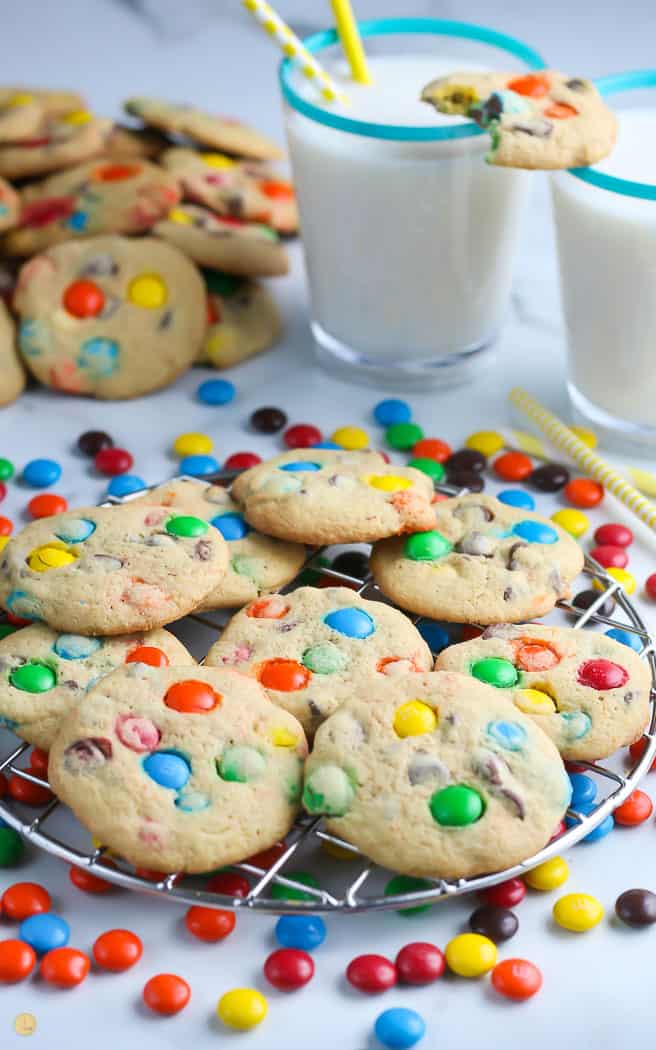 VARIATIONS
If adding additional goodies into the cookie dough, don't use more than 1.5 cups of it or it will throw off the delicate balance of dough to goodies!
NUTS – try pecans, peanuts, almonds, or walnuts
CANDY – chocolate chips, peanut butter chips, butter scotch chips
SALT/SPICES – sea salt, cinnamon
BARS – press into a pan and bake, slice into bars
DIFFERENT COLORS – pick your favorite candy colors to match the occasion. Perfect for birthdays, showers, and tailgating!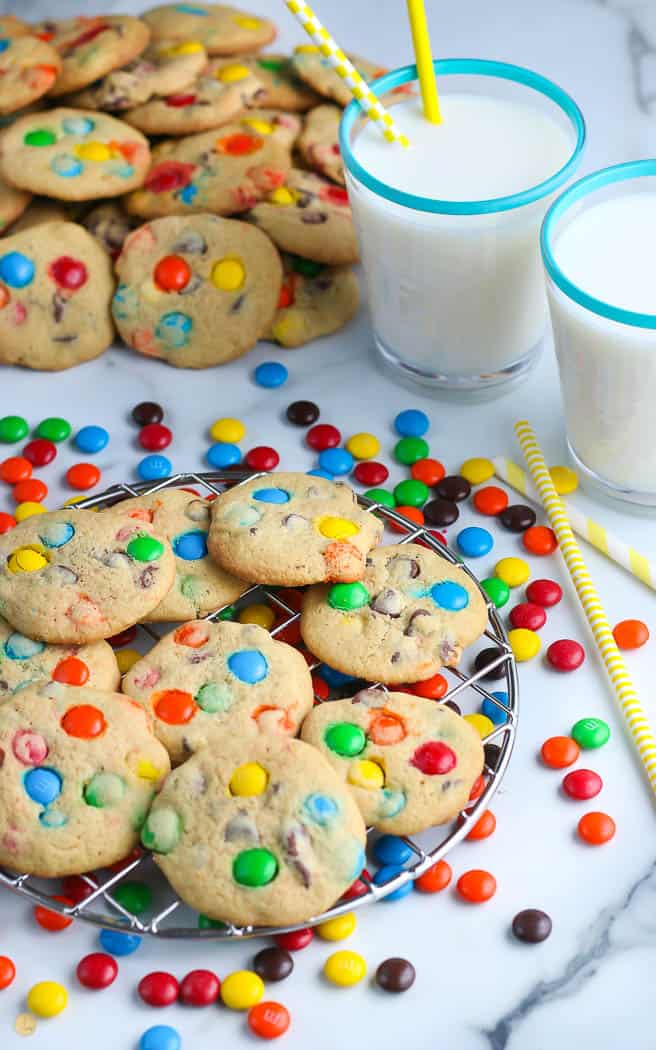 THICK OR THIN M AND M COOKIES
If you want thicker cookies, start with a ball uses 2 tablespoons of cookie dough. Be sure to chill these for 30 minutes to 1 hour before baking.
For thinner crispier cookies, start with 1 – 1.5 tablespoons of dough in you ball. This will allow the cookies to spread more while baking producing a thinner cookie.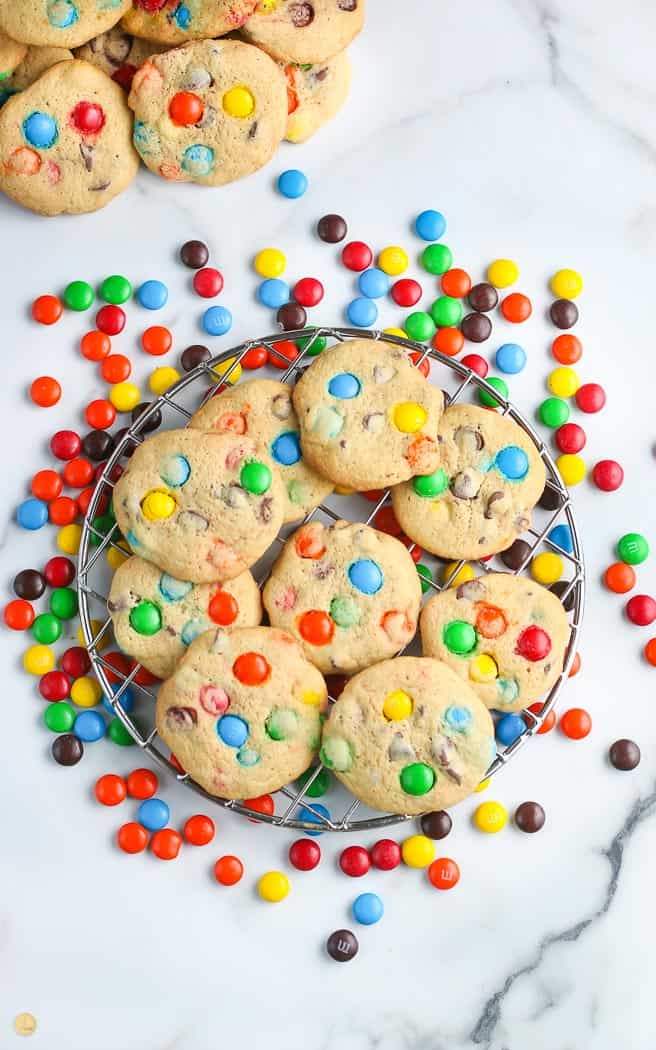 HOW LONG DO THEY LAST?
If stored in an air tight container these cookies will last 1 week at room temperature if they aren't eaten before then. For a "fresh out of the oven" warm cookie, pop in oven at 250F for 3 minutes to rewarm.
CAN YOU FREEZE THEM?
You can freeze the dough before baking and then thaw in the refrigerator before baking.
Freezing after baking is just as easy just remember when thawing the M&Ms that are exposed to the air will start to "sweat" and the color could run. I like to thaw my frozen, already baked, cookies at room temperature to keep this from happening.
If you love this recipe as much as I do, please write a five-star review in the comment section below (or on Pinterest with the "tried it" button – you can now add pictures into reviews, too!), and be sure to help me share on facebook!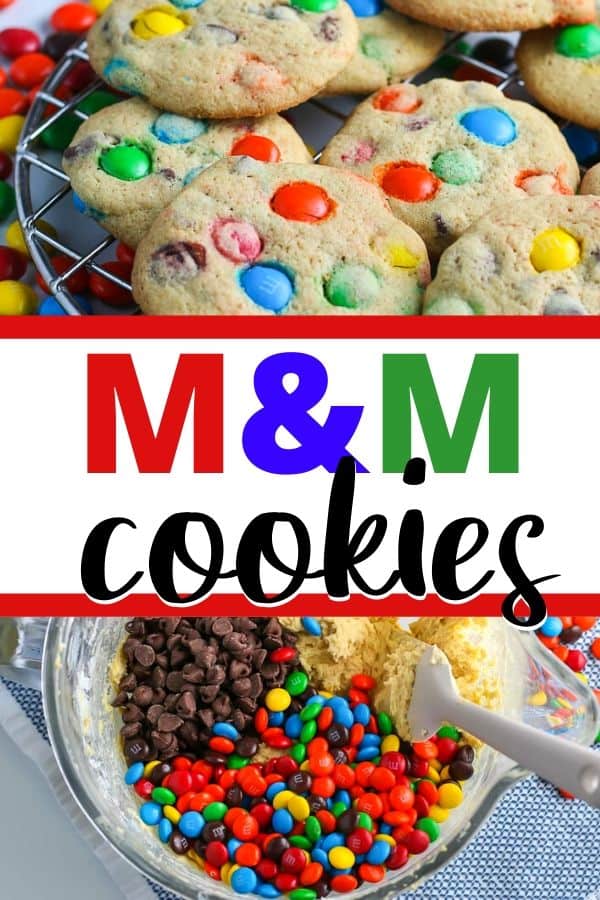 These M and M cookies have crisp edges, soft and chewy middles, are loaded with M&Ms, and are deliciously addicting! Grab this great recipes and make a few dozen today!
MORE EASY RECIPES
@LeftoversThenBreakfast.com. Content and photographs are copyright protected. Sharing of this recipe is both encourages and appreciated. Copying and/or pasting full recipes to any social media is strictly prohibited.