When you're looking for easy dinner recipes that even your picky eaters will love for those busy weeknights, a box of Hamburger Helper is your best friend. If you don't finish it in one night, how long is hamburger helper good for?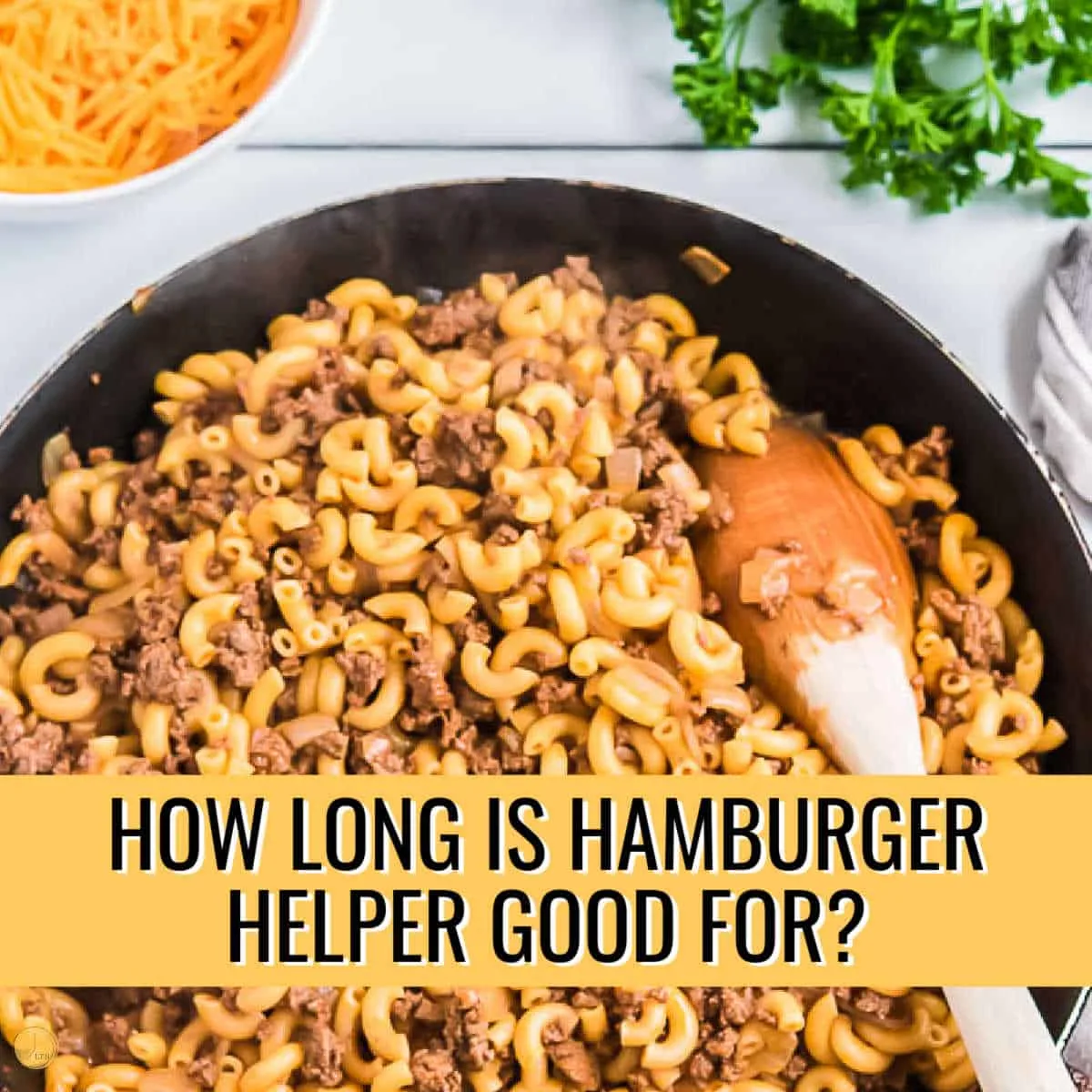 How Long Can I Store Hamburger Helper In The Fridge?
Healthy hamburger helper is a family favorite because the main ingredients are foods that are normally a smash hit. I mean, total comfort food!
If you want to try new recipes for a simple meal, you have to add a homemade version of hamburger helper to your list.
Once you've made this easy meal though, how long is it safe to store leftover hamburger helper in the fridge for?
The quick answer is 3-4 days. But, let's explore this question in more detail.
This post may contain affiliate links. As an Amazon Associate, I earn from qualifying purchases. Read my disclosure policy here.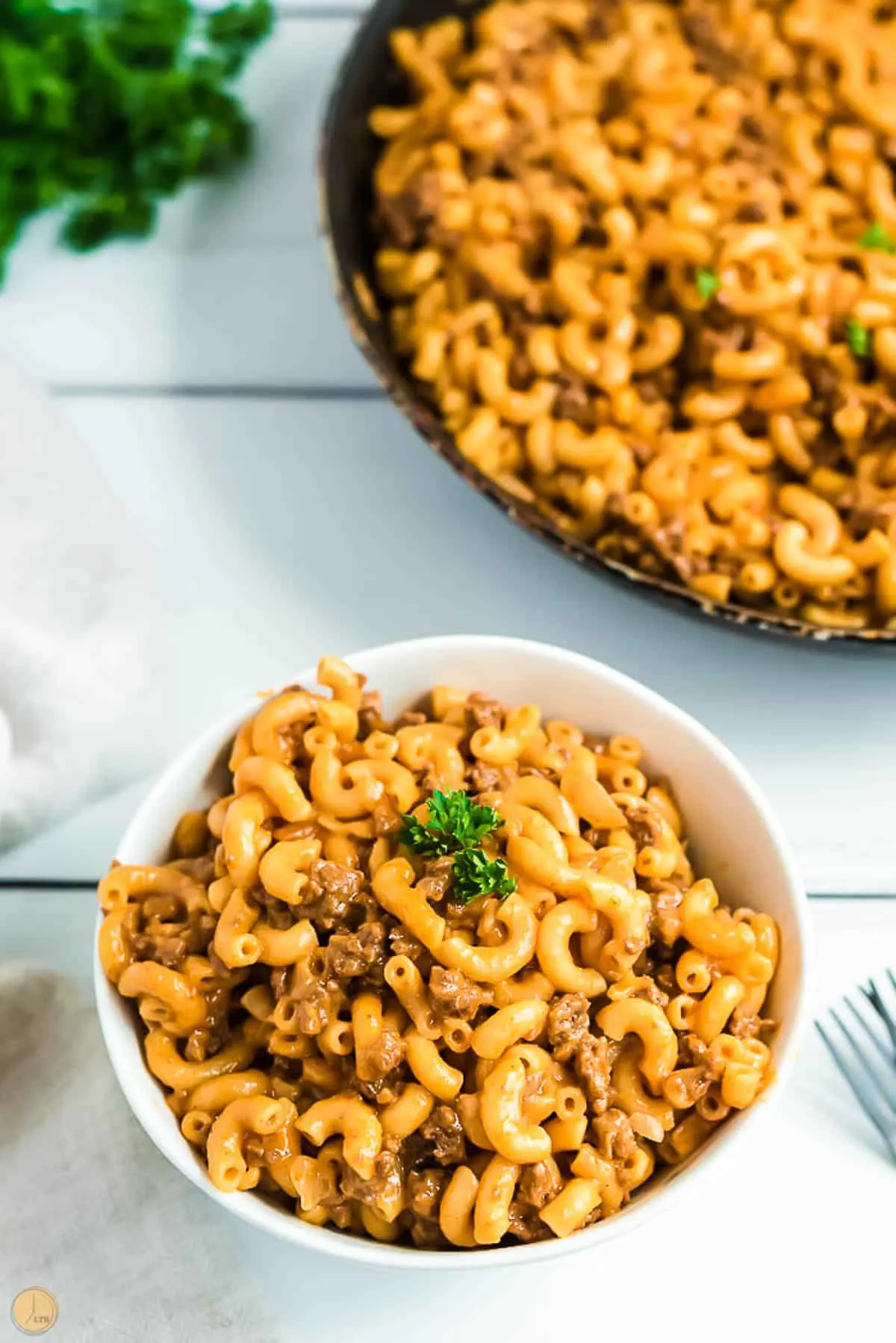 How long can you leave hamburger helper out before it goes bad?
As a general rule of thumb, the best way to avoid is spoiling is to follow the FDA food code when it comes to the expiration date.
Typically, cooked hamburger is good to be left out at room temperature for up to an hour before you need to store leftovers in the fridge.
For best results, I recommend putting it away in a proper storage container and placing it in the fridge as soon as possible.
An airtight container works best for this, so you can ensure that no air is getting inside and speeding up the bacterial growth process.
You can also place it in the freezer in the same manner, wrapping the container to plastic wrap or heavy-duty aluminum foil to avoid freezer burn.
It can stay in the freezer for up to 2 months.
Although there might be a longer use-by date on the packaging, it's best to air on the side of caution in situations where you're unsure.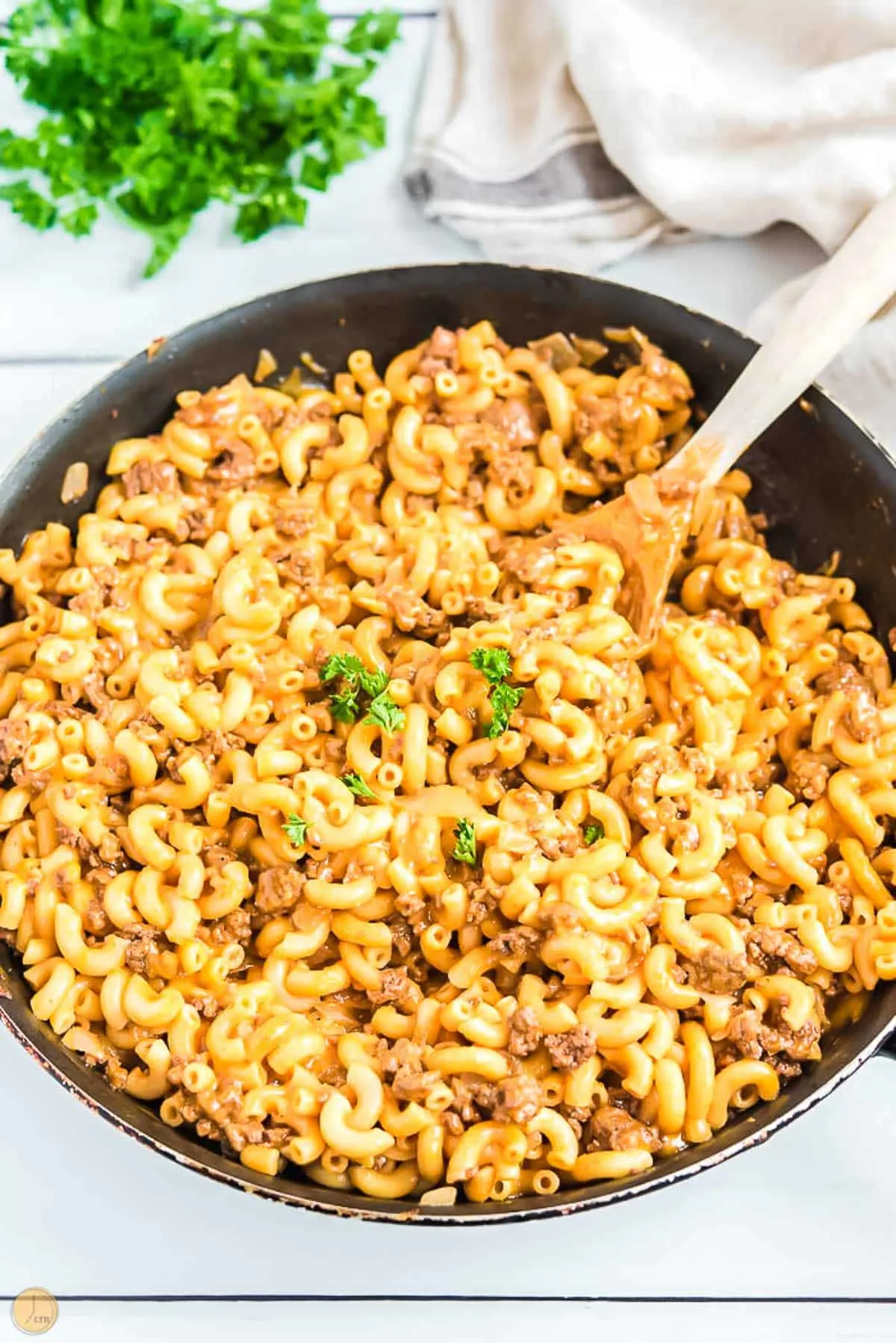 How to Reheat Hamburger Helper
Since this is a simple one-pot meal, it's super easy to reheat hamburger helper leftovers the next day. Use a large skillet or large pot over medium to medium-high heat.
Reheat it the same way that it was cooked until it's warm all the way through.
Even though you don't have to, I recommend doing so to help keep your ground beef nice and moist.
You can also use chicken broth or beef broth added to the mix to help rehydrate your beef.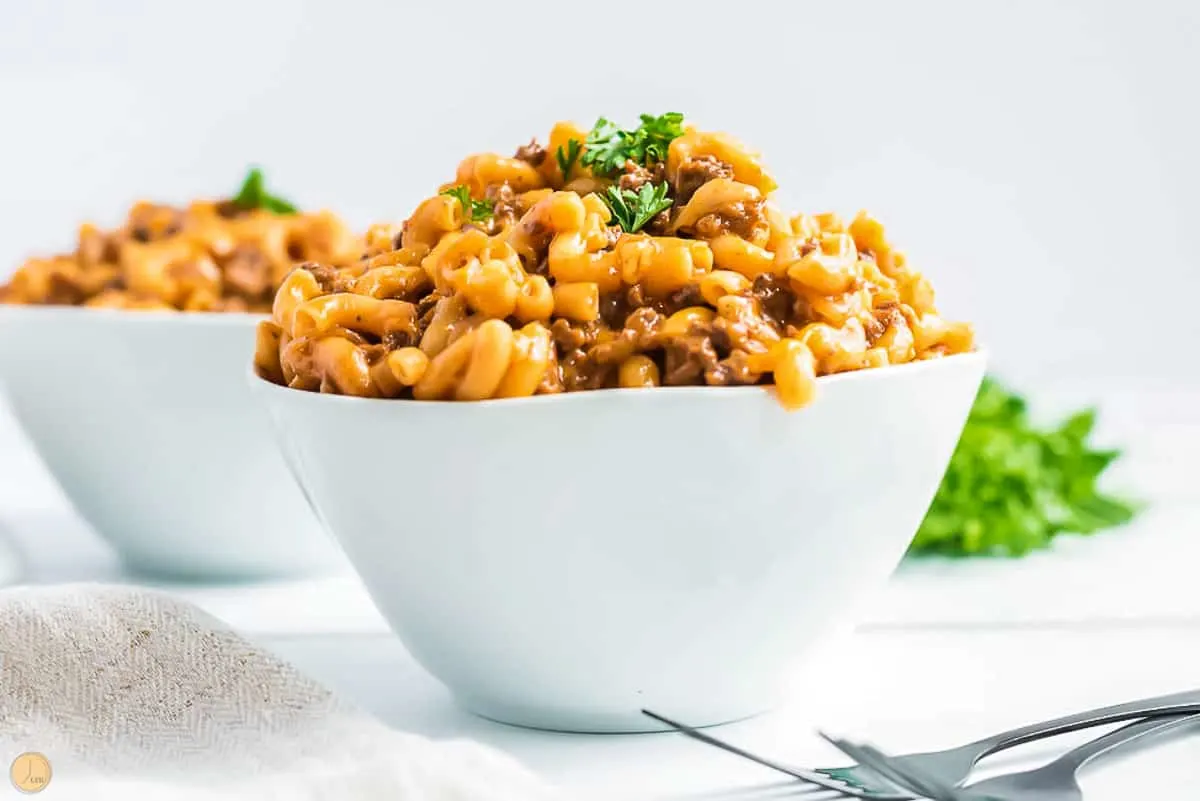 How can I make my own hamburger helper?
Step aside Betty Crocker! I've mentioned a few times how you can skip the boxed version and make homemade hamburger helper.
My family loves it and it's easier than you think. Instead of writing it on a recipe card, I just put the recipe on the blog.
It is such a great way to make a quick, easy meal during the week. This can also be used as a tuna helper or chicken helper as well.
Check out the basics here or click over to the full post for a more in-depth recipe.
Ingredients Needed
Lean ground beef – I like a lean pound of ground beef, but you can use ground chicken or ground turkey if you prefer.
Aromatics – Onion, minced garlic.
Spices – Italian seasoning, garlic powder, onion powder, smoked paprika, salt, black pepper.
Pantry staples – Flour, beef broth, tomato sauce, heavy cream.
Dry pasta – I like elbow macaroni noodles but you can use any type of pasta, including gluten-free pasta.
Shredded cheese – Cheddar cheese works best, but you can use the cheese of your choice.
Looking for more leftover worthy dishes? Follow LTB on Pinterest and pin to a board!
Overview of Homemade Hamburger Helper Recipe
First: Brown ground beef in a large skillet over medium heat. Remove from pan and, saving 2 tablespoons of excess fat. Add onions and garlic until soft.
Second: Stir in flour and cook for a minute. Add broth and bring to a boil. Add in your tomato sauce, spices, and macaroni and stir.
Cover with lid and cook for 10 – 15 minutes, making your pasta al dente.
Third: Mix cream cheese into cooked pasta mixture and stir until it creates a cheesy sauce. Add in ground beef, and cook for another 3 minutes before serving.
Fourth: Top your pasta with extra cheese, hot sauce, sour cream, or your favorite cheeseburger toppings.
Allow leftovers to cool to room temperature before storing in an airtight container in the fridge for up to 3 days.
So how long are perishable foods like boxes of hamburger helper good for? It's important to follow the rules set forth by the U.S. FDA when it comes to food, so that you can keep your family safe.
If you love this recipe as much as I do, please write a five-star review in the comment section below (or on Pinterest with the "tried it" button – you can now add pictures into reviews, too!), and be sure to help me share on facebook!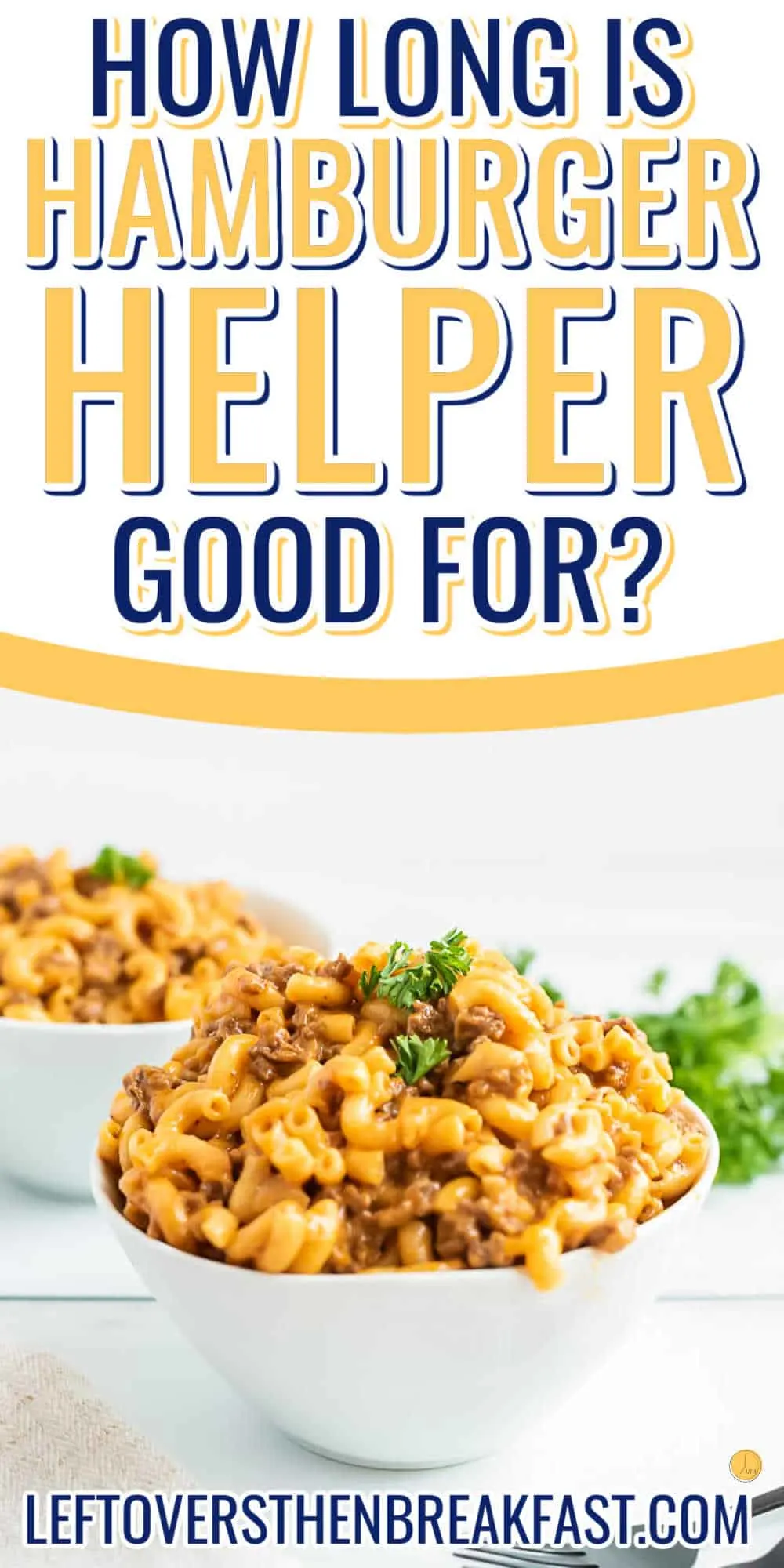 When you're looking for a quick meal that you can make, cheeseburger hamburger helper is always a good idea. With big serving sizes, you may end up making more than you need and having to store it in the fridge.
More Kitchen Basics
LeftoversThenBreakfast.com. Content and photographs are copyright protected. Sharing of this recipe is both encourages and appreciated. Copying and/or pasting full recipes to any social media is strictly prohibited.