Who doesn't love Taco Tuesday? I'll take taco night any day of the week! But if you make too much and need to store it… How long is taco meat good for?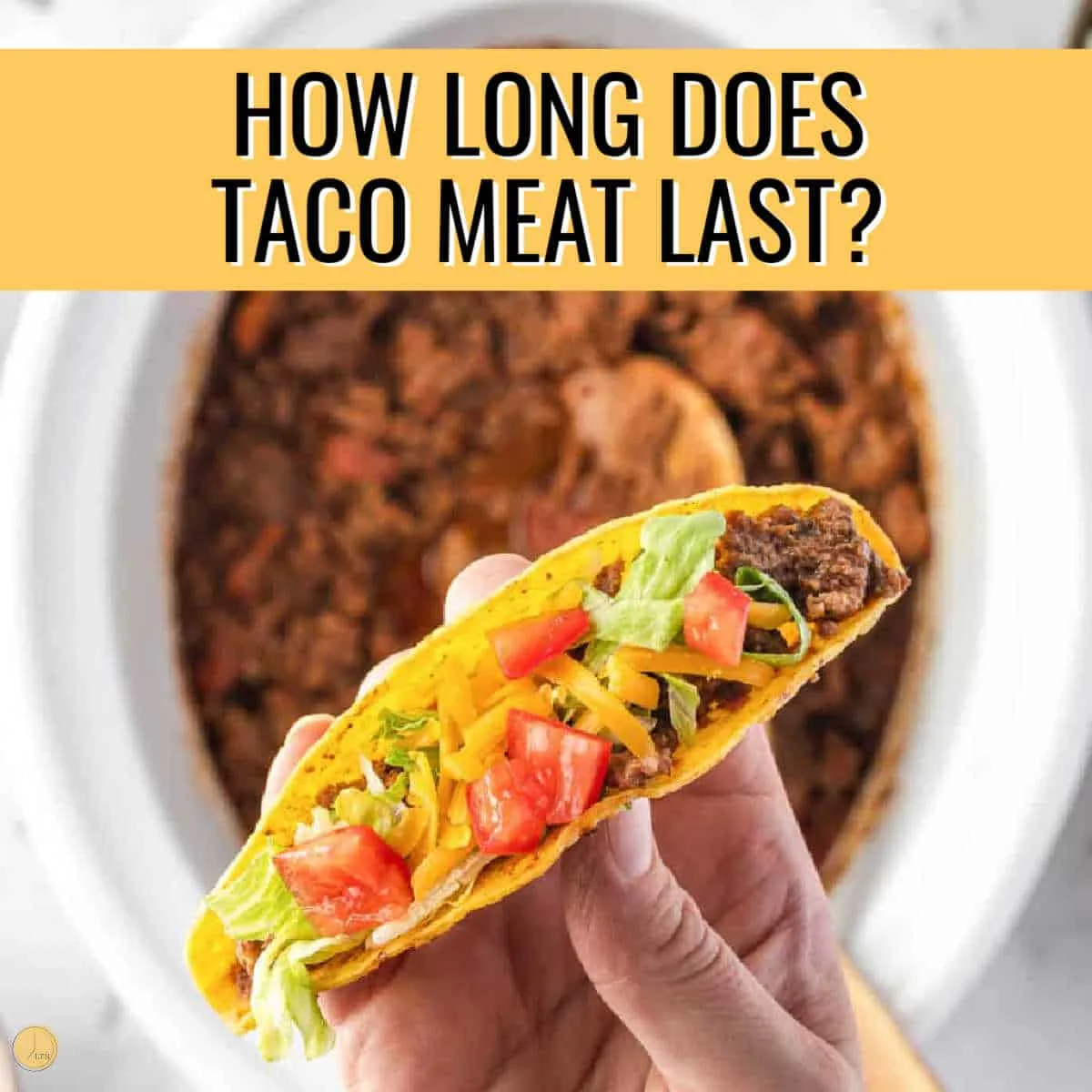 How long does taco meat last?
Every time I make tacos, there is leftover meat because I learned to cook for an army. And there's always a debate in my house about how long that meat is good for.
Which really means they want to have tacos again the next night. They are a quick meal that everyone loves. Thank goodness I have a lot of taco shells stashed away in the pantry.
Rest assured, if you follow the guidelines below, the leftover taco meat will last for 3 to 4 days in the fridge and even longer in the freezer.
So, why not cook up some extra meat so there's less work to do for your next meal!
This post may contain affiliate links. As an Amazon Associate, I earn from qualifying purchases. Read my disclosure policy here.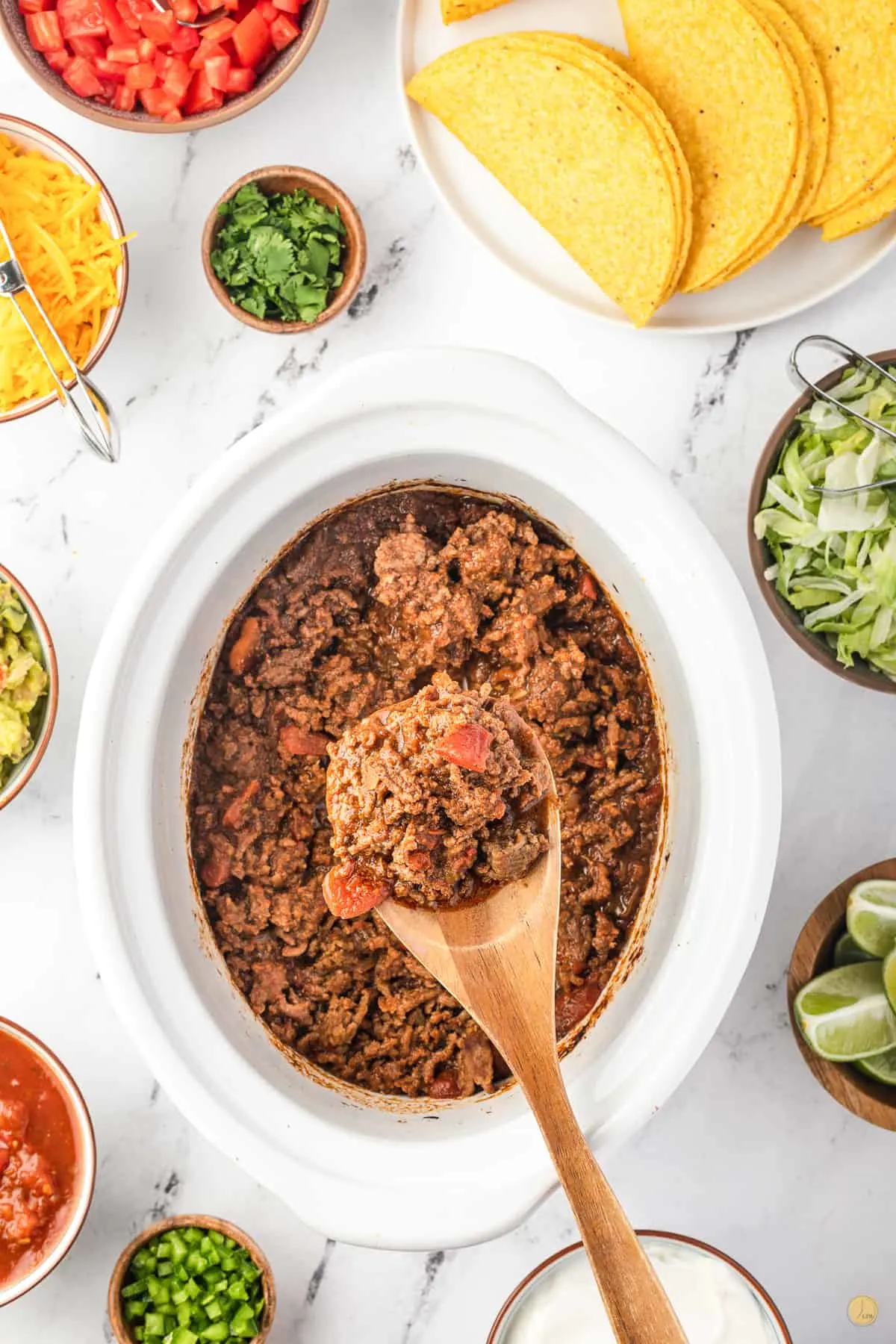 How long is taco meat good for in the fridge?
After enjoying your deliciously taco seasoned ground beef or ground turkey, store any leftovers in the refrigerator for 3-4 days.
Reheat the meat to an internal temperature of 165F and add a little water to avoid drying it out.
How To Properly Store Leftover Taco Meat:
According to the USDA, harmful bacteria can begin to develop within 2 hours so perishable foods need to be refrigerated promptly. After cooking the meat, allow it to cool completely.
I let it come to room temperature (no longer than 2 hours) and then store taco meat in the refrigerator to finish cooling. Don't leave between 40F and 140F as this is considered the "Danger Zone" where bacteria can grow.
Refrigerate: Store in the refrigerator in an airtight container for three to four days.
Freeze: For longer storage times, I choose the freezer. Portion the leftover taco meat into meal size portions (for easier use) and then store in a shallow airtight freezer-safe container or freezer bag.
A freezer bag is ideal as you can spread it flat to take up less room in the freezer.
When stored properly, leftover meat will last for 3-4 days in the refrigerator or frozen for 4-6 months in the freezer.
Be sure to thaw frozen taco meat overnight in the refrigerator before reheating for best results.
For further information on the "Four Steps to Food Safety" and how to avoid food poisoning check out USDA guidelines.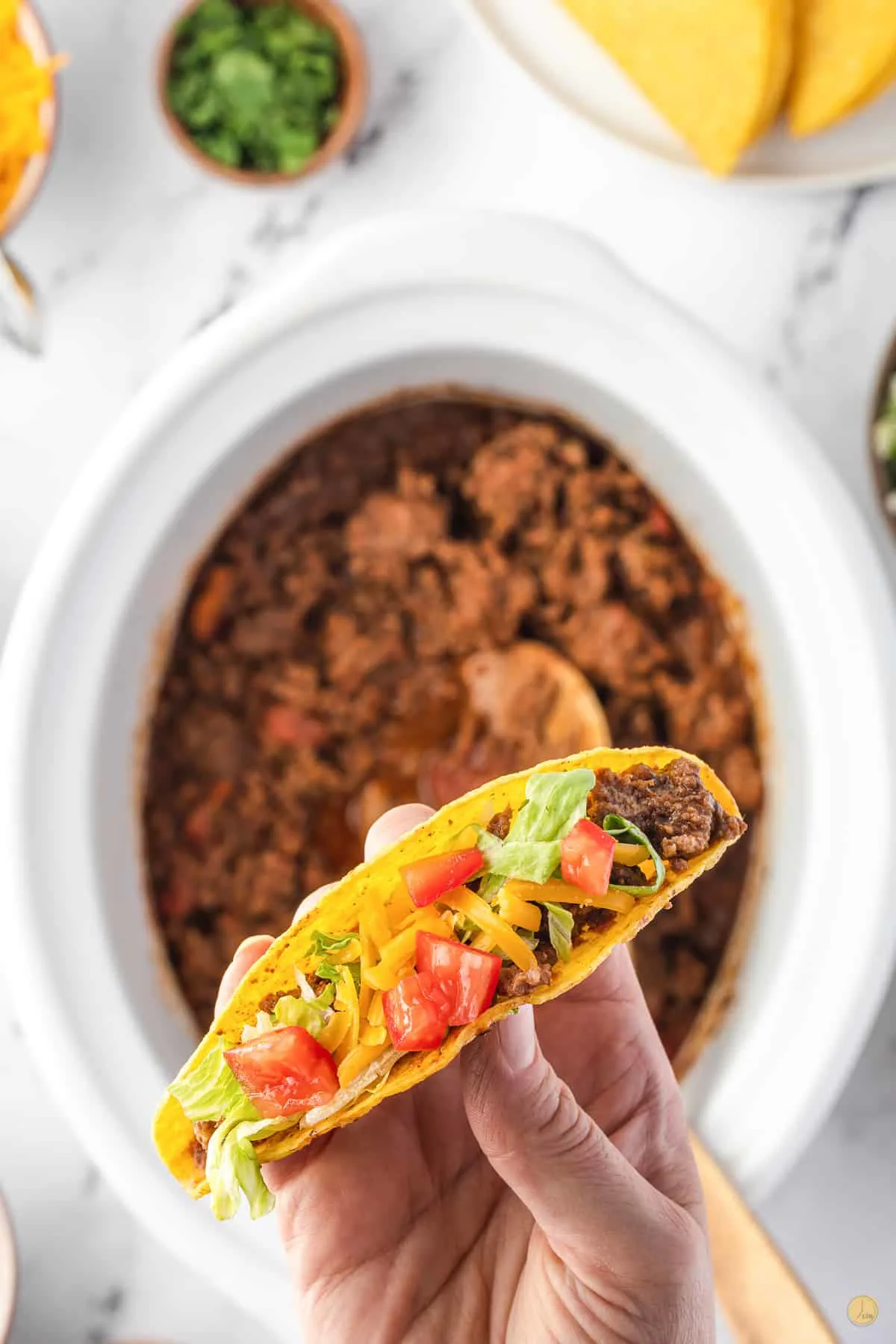 What is the right temperature to cook meat?
The first step to storing your cooked meat safely is to cook it to the right temperature. According to the U.S. Department of Agriculture you will need to cook ground beef to an internal temperature of 160 degrees fahrenheit (F).
Ground poultry such as chicken and turkey should be cooked to an internal temperature of 165 degrees.
Harmful bacteria that can cause food poisoning can develop quickly in temperatures between 40 and 140 degrees fahrenheit – these are considered "Danger Zone" temperatures.
Cooking to the correct temperature will destroy the harmful bacteria or it will be unsafe to eat. Also, keep in mind that taste, smell and appearance does not always indicate a lack of harmful bacteria.
Can you eat ground beef after 5 days?
You can make tacos with any kind of meat; beef, chicken, turkey, pork, etc. Start by choosing the freshest meat possible and use it promptly.
Fresh raw ground beef (raw meat) should be bright red in color and always refer to the sell-by-date on the packaging.
Purchase it before the expiration date on the package and store meat in the fridge. Your ground beef will be safe to eat for two days past the date. Use your meat within 2 days or place meat in the freezer to use at a later time.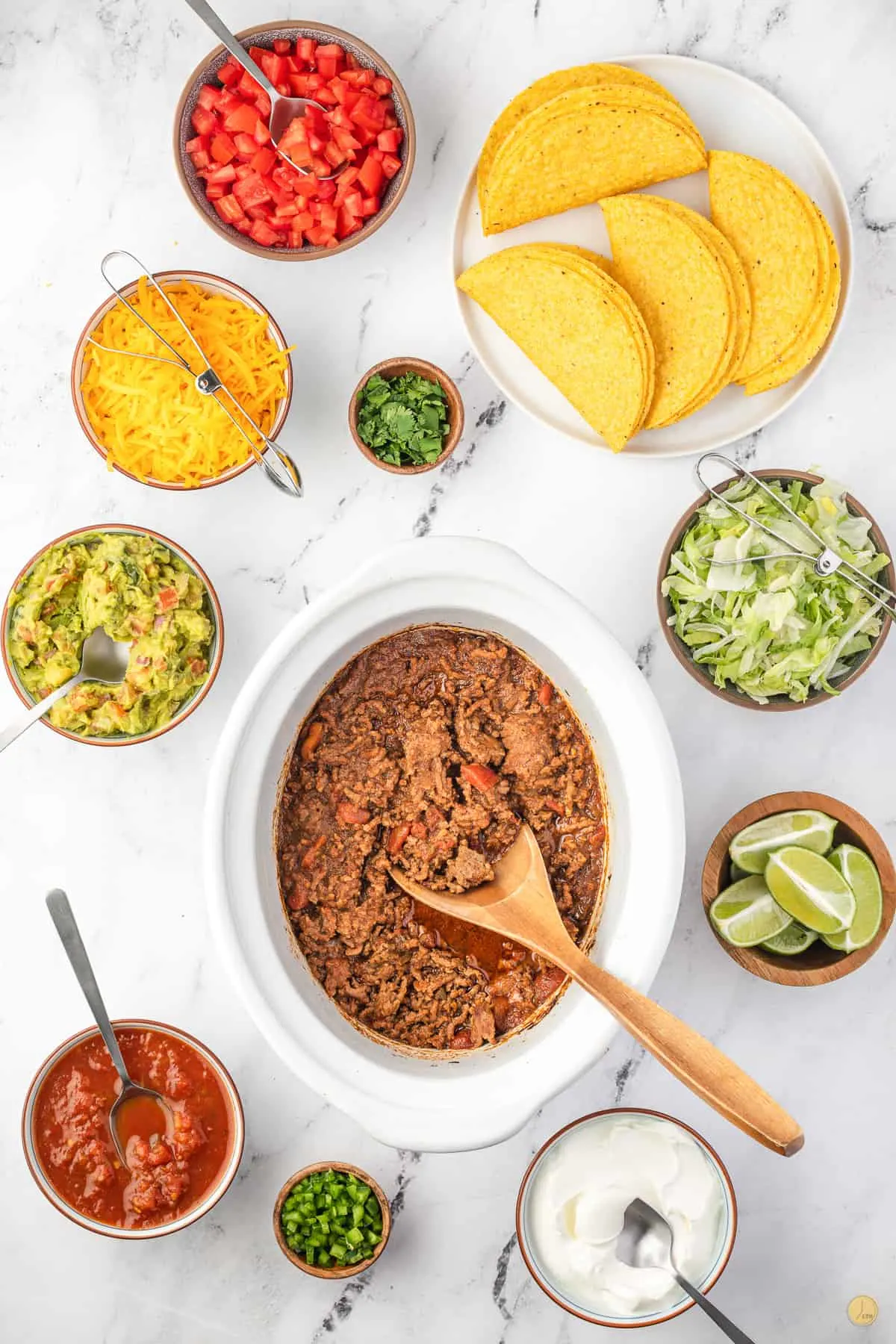 How To Cook Taco Meat
There are many ways to cook taco meat – in a skillet, instant pot, pressure cooker, or slow cooker. The crockpot is the best way to make taco meat because it keeps it tender and juicy.
Plus you can make a large batch! This is a great way to plan ahead for a party or an easy dinner for a crowd.
Regardless of the method, or taco meat recipe you use, make sure to cook to the proper temperature as described above.
Click on the following links below for recipes to cook ground beef taco meat in a slow cooker and a wonderful taco seasoning.
If you don't want that meat to sit for too long, how about repurposing it the next day into another delicious recipe such as stuffed peppers, shepherd's pie or taco casserole? Here's some more ideas:
Use extra taco seasoned ground beef or turkey in a delicious walking taco casserole, taco pasta salad, Frito pie, or a taco salad.
You can also make appetizers like Nachos Supreme, taco empanadas, or a crescent roll taco ring.
If you love this recipe as much as I do, please write a five-star review in the comment section below (or on Pinterest with the "tried it" button – you can now add pictures into reviews, too!), and be sure to help me share on facebook!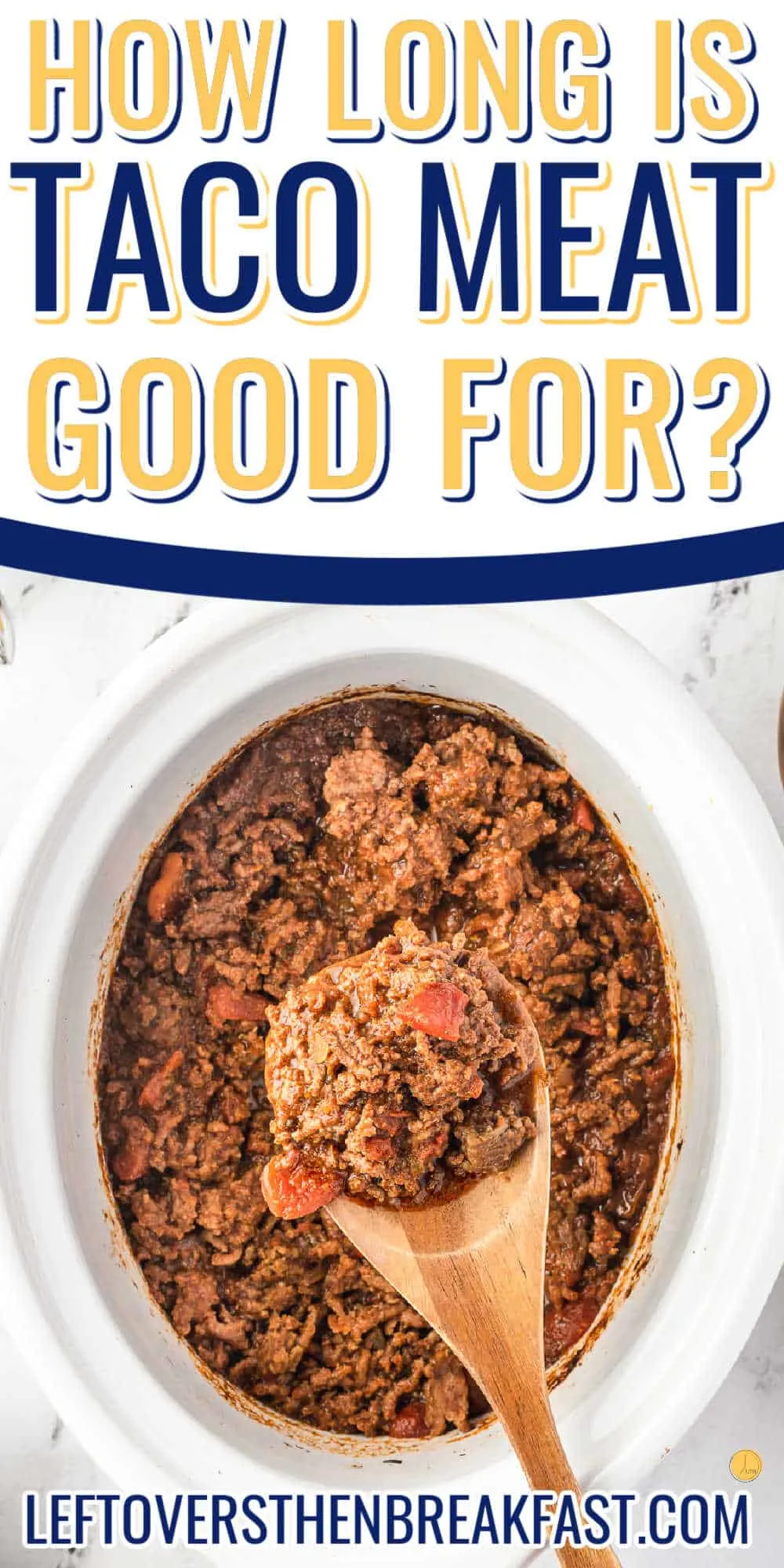 You can always go with tacos again! My favorite toppings are sour cream, red onions, and lots of jalapeno peppers. What are yours?
LeftoversThenBreakfast.com. Content and photographs are copyright protected. Sharing of this recipe is both encourages and appreciated. Copying and/or pasting full recipes to any social media is strictly prohibited.