There's nothing quite like the smell and taste of fresh-out-of-the-oven homemade biscuits, but is there a reheating method that allows you to enjoy them for days without them turning dry or hard? Keep reading to find out how to reheat a biscuit quickly and easily!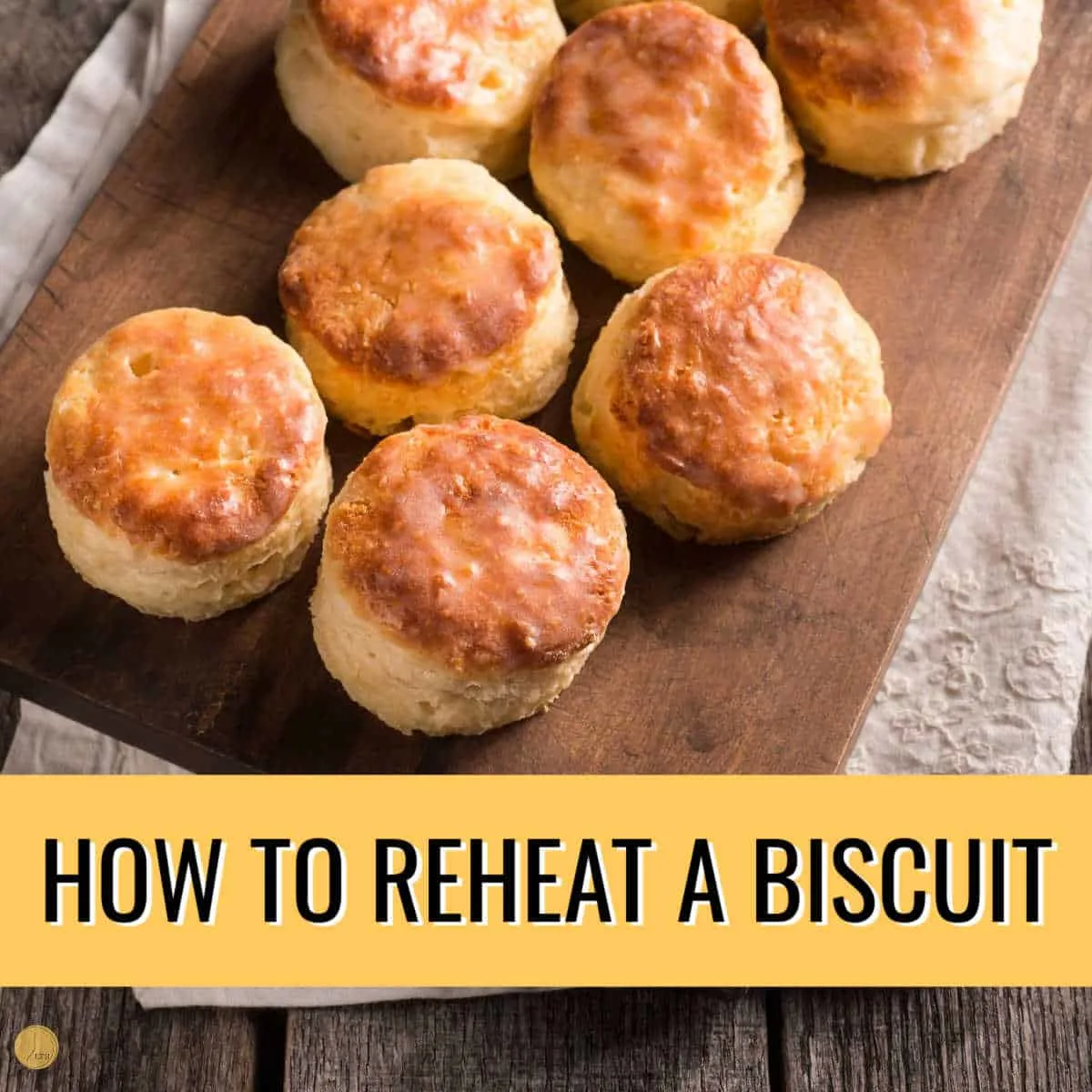 How to Reheat Biscuits in the Microwave
The quickest way to reheat biscuits is using the microwave method. The trick is to keep the treats moist. Here's what you have to do:
Dampen paper towels, but don't soak them.
Wrap each biscuit in a separate damp paper towel. This will supply moisture and prevent dryness.
Put the wrapped biscuits on a microwave-safe plate.
Cover them lightly with a microwave-safe cover, but don't seal a box over them. If you don't have a cover, place another damp paper towel over the microwave-safe container.
Place the biscuits in the microwave.
Set the microwave timer for two minutes on medium heat or the defrost setting.
Check the biscuits to see if they're hot. If not, you can reheat them for an extra 30 seconds and repeat as needed.
This post may contain affiliate links. As an Amazon Associate, I earn from qualifying purchases. Read my disclosure policy here.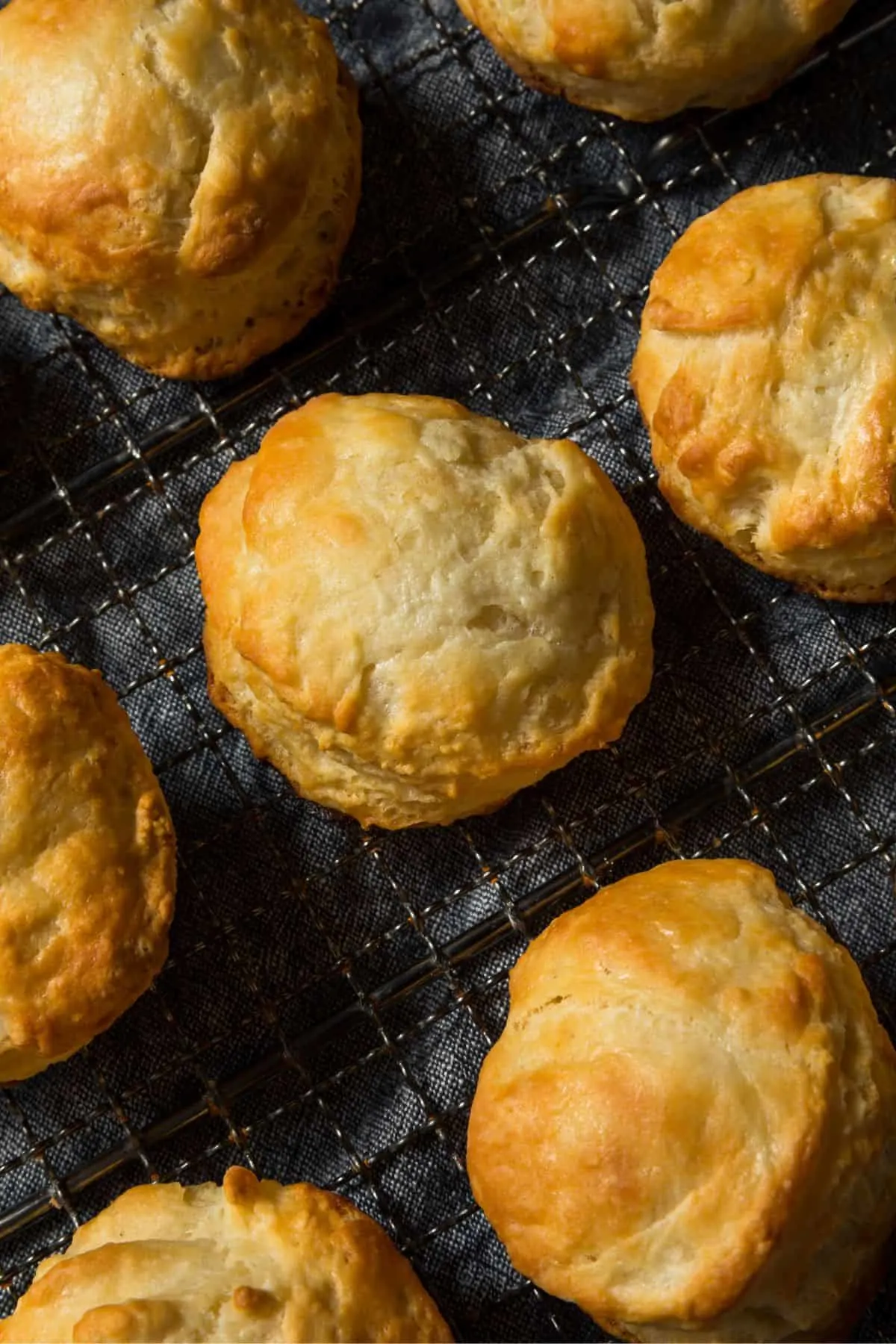 How to Reheat Biscuits in the Oven
If you have frozen biscuits, the thorough heat of an oven will get you the best results. Just like with these honey biscuits.
Also, this reheating method is convenient for a large batch of biscuits. It's a bit more time-consuming, however.
If you're already cooking or reheating other foods, you can just pop the biscuits in the oven towards the end of the cooking cycle.
There are different ways to reheat biscuits in an oven, but you can follow these simple steps:
Preheat your oven to 350°F. You don't want extremely high or low heat.
Line a baking tray or casserole dish with parchment paper.
Place the biscuits on it, and make sure they aren't touching.
Brush your biscuits with butter. This step is especially important if your biscuits are made from store-bought dough.
Bake them for three minutes if you've previously stored them at room temperature and six minutes if they're frozen.
Repeat as needed.
Alternatively, you can do this:
Wrap your leftover biscuits in aluminum foil.
Put them in the oven at 350°F for six to eight minutes.
Remove the biscuits from the oven, and peel the foil off the tops of the biscuits.
Put them back in the oven for a crunchy and crispy exterior.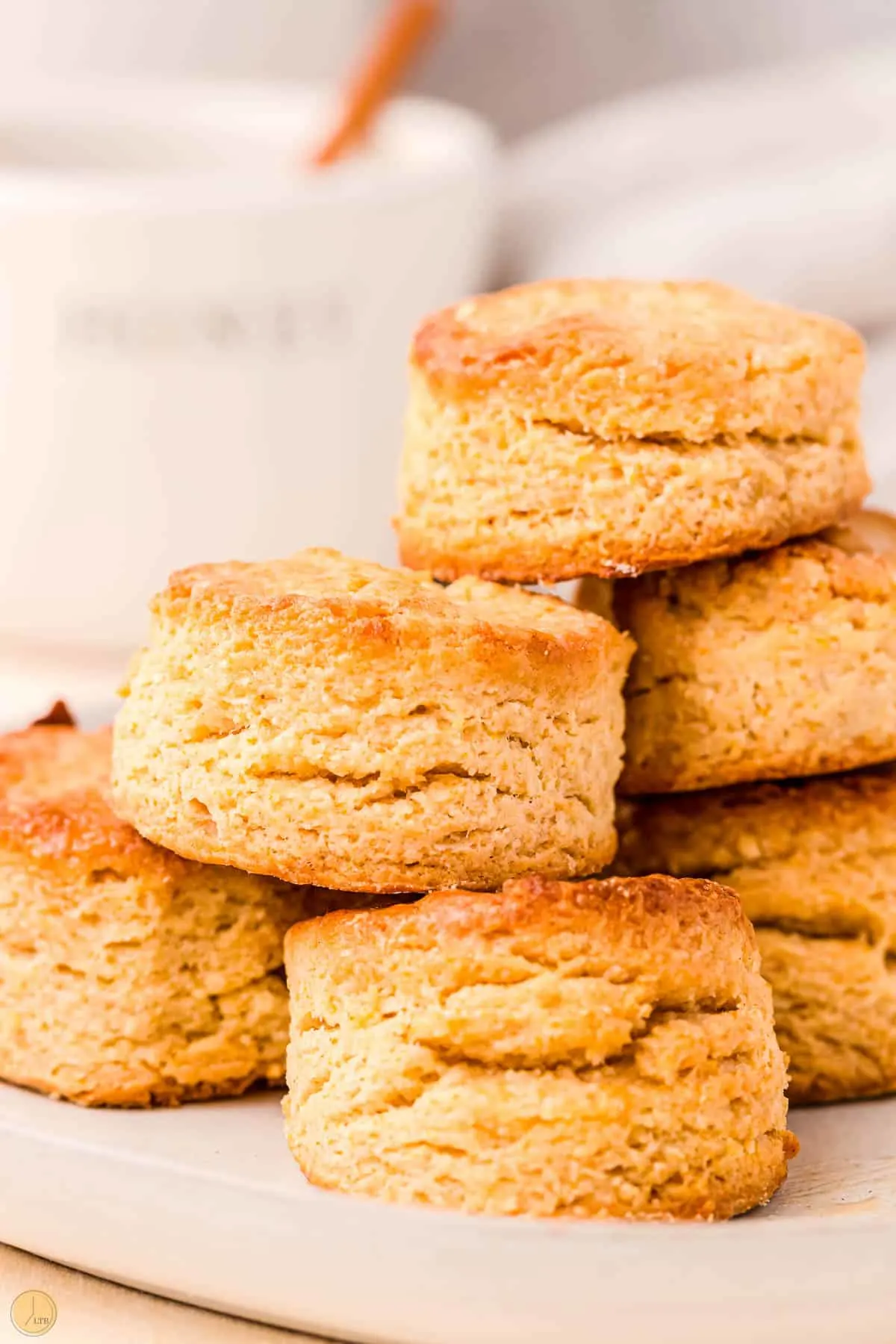 How to Reheat Biscuits in the Pan
Using a pan is one of the quick ways to reheat cookies and biscuits, but it requires some effort. This will probably become your favorite method if you love biscuits with a strong buttery flavor.
Choose the right pan size to fit the number of biscuits you have side by side.
Reheat the pan to medium temperature.
Put your pan, preferably a cast-iron skillet, on the stovetop, and let it warm up with no oil.
For extra moisture, brush your biscuits with melted butter (or olive oil if you don't mind the taste). Another option is to melt the butter in the pan up to a quarter of an inch deep.
Wrap each individual biscuit in tin foil. This will prevent burning.
Place them in the pan with a tong.
Lower the temperature a bit, and cover the pan.
Give your cold biscuits two minutes to get warm, flipping them over every twenty seconds for even heat distribution. This way, they won't be too hard on one side and too chewy on the other.
After six flips, check the inside of your reheated biscuits to ensure they're warm.
If not, keep flipping them. Note that the refrigerator dough type of biscuit may take a little bit more time.
Remove the foil before serving.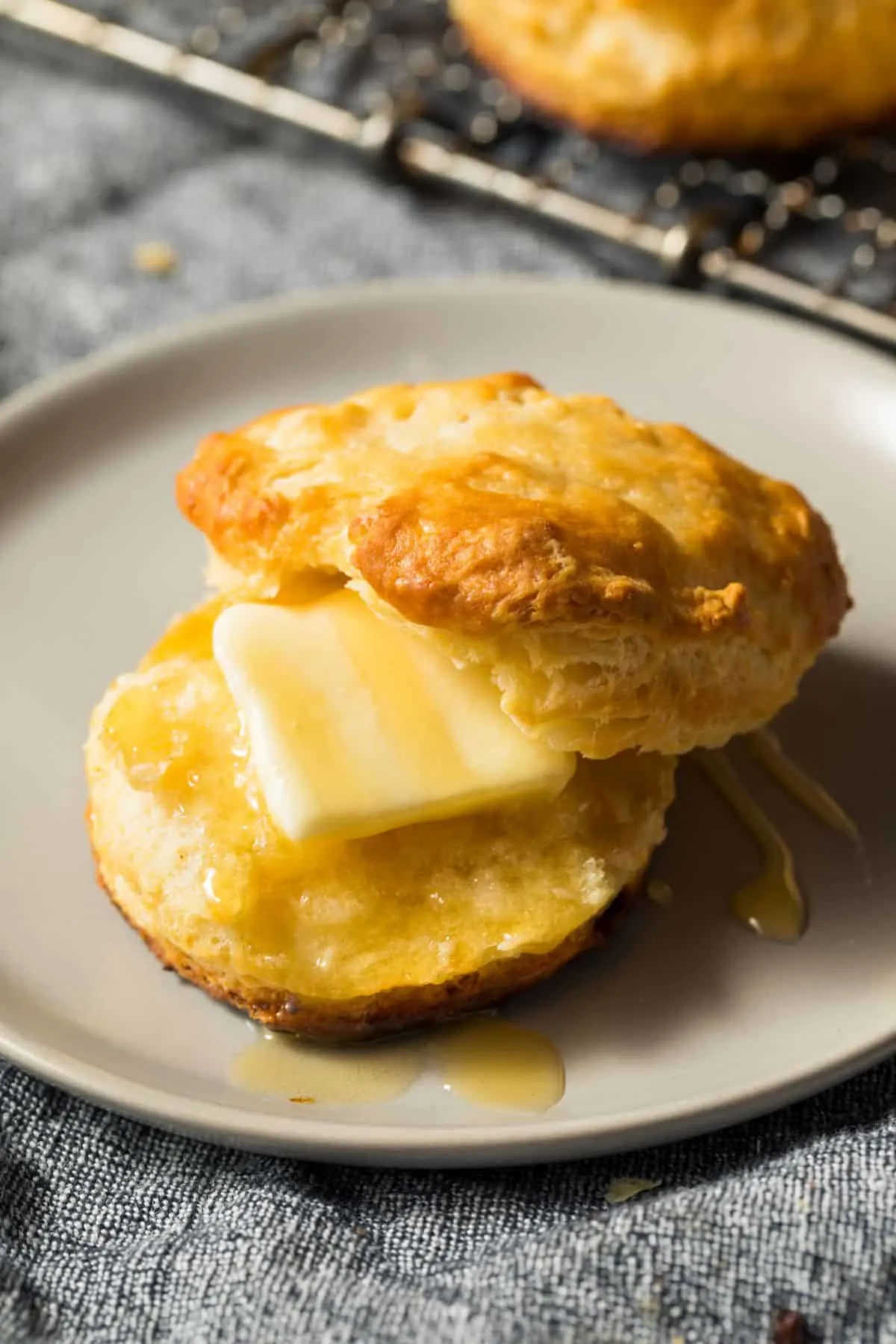 How to Reheat Biscuits in the Toaster
To warm up a small number of biscuits, using a toaster oven offers you good results! Cheryl Day, the chef and author of Treasury of Southern Baking, discloses that her favorite method of reheating biscuits is with a toaster. Here's what you should do:
Preheat the toaster oven to 350°F.
Line a baking sheet with parchment paper.
Place the biscuits on top.
Bake them for five or seven minutes or until they get warm. If they're frozen, they'll probably take double the time.
Brush the biscuits with butter.
As for the Cheryl Day way, you'll want to follow these instructions:
Cut your biscuits in half.
Put them in the toaster oven until they get warm.
Give them a coat of butter and jam, and enjoy your almost-fresh biscuits!
You can also use an air fryer at 350F for 2-3 minutes. I like to wrap mine in foil to keep them moist.
If you love this recipe as much as I do, please write a five-star review in the comment section below (or on Pinterest with the "tried it" button – you can now add pictures into reviews, too!), and be sure to help me share on facebook!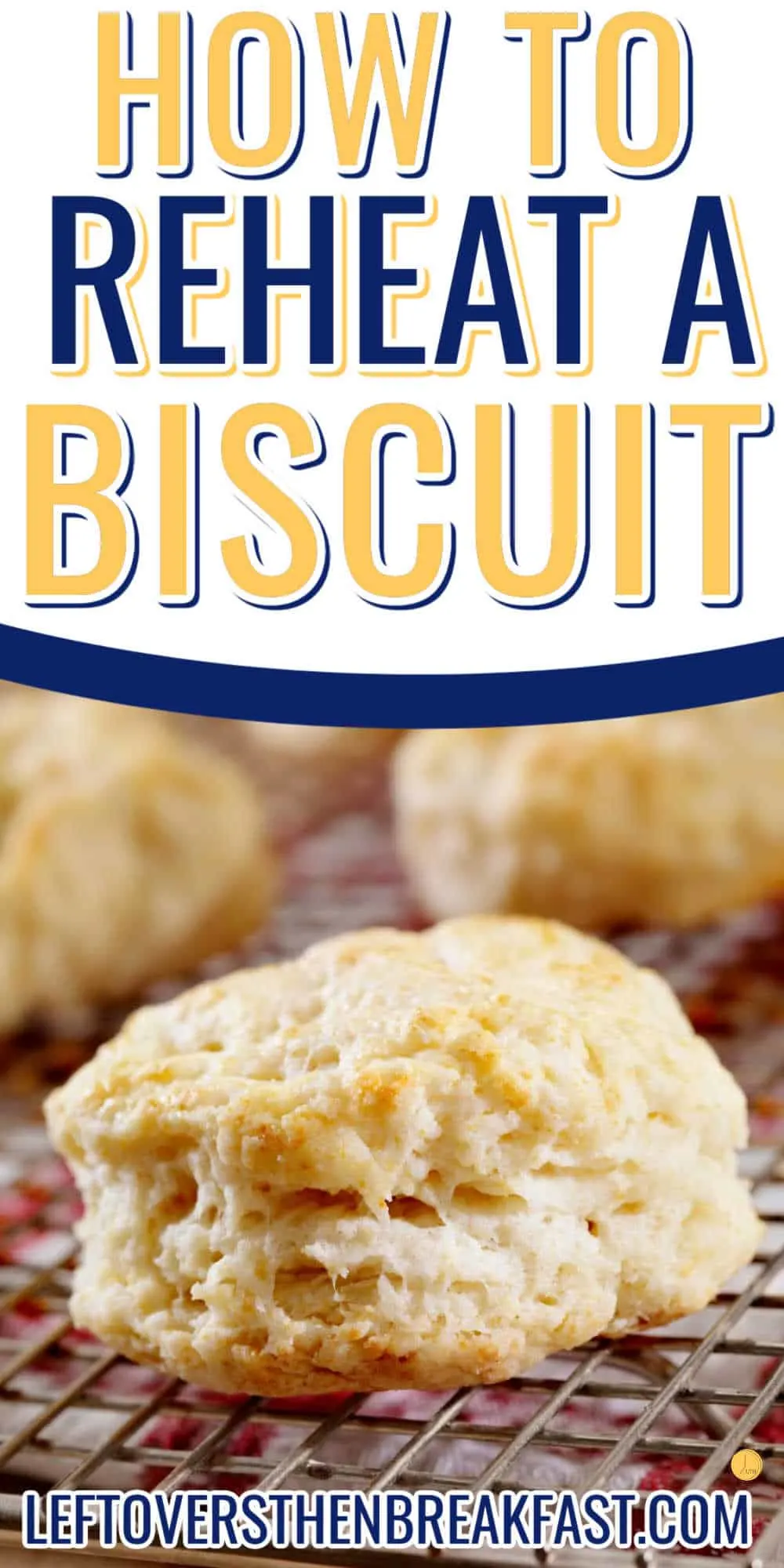 Ultimately, the reheating process is a way to savor the freshness of your biscuits. There are different ways to do that involving microwaves, ovens, stoves, and toaster ovens. Simply choose the best method according to the time you have, level of difficulty, flavor preferences, number of biscuits, dough type, and even how they're stored!
More Kitchen Basics
LeftoversThenBreakfast.com. Content and photographs are copyright protected. Sharing of this recipe is both encourages and appreciated. Copying and/or pasting full recipes to any social media is strictly prohibited.