Leftover Green Bean Casserole is definitely worth the minimal effort required to enjoy it. In fact, going to go out on a limb here and say it is even better as a leftover. So, as long as you know the basics, like how long it is good for, how to reheat it properly, and things like that, then all good!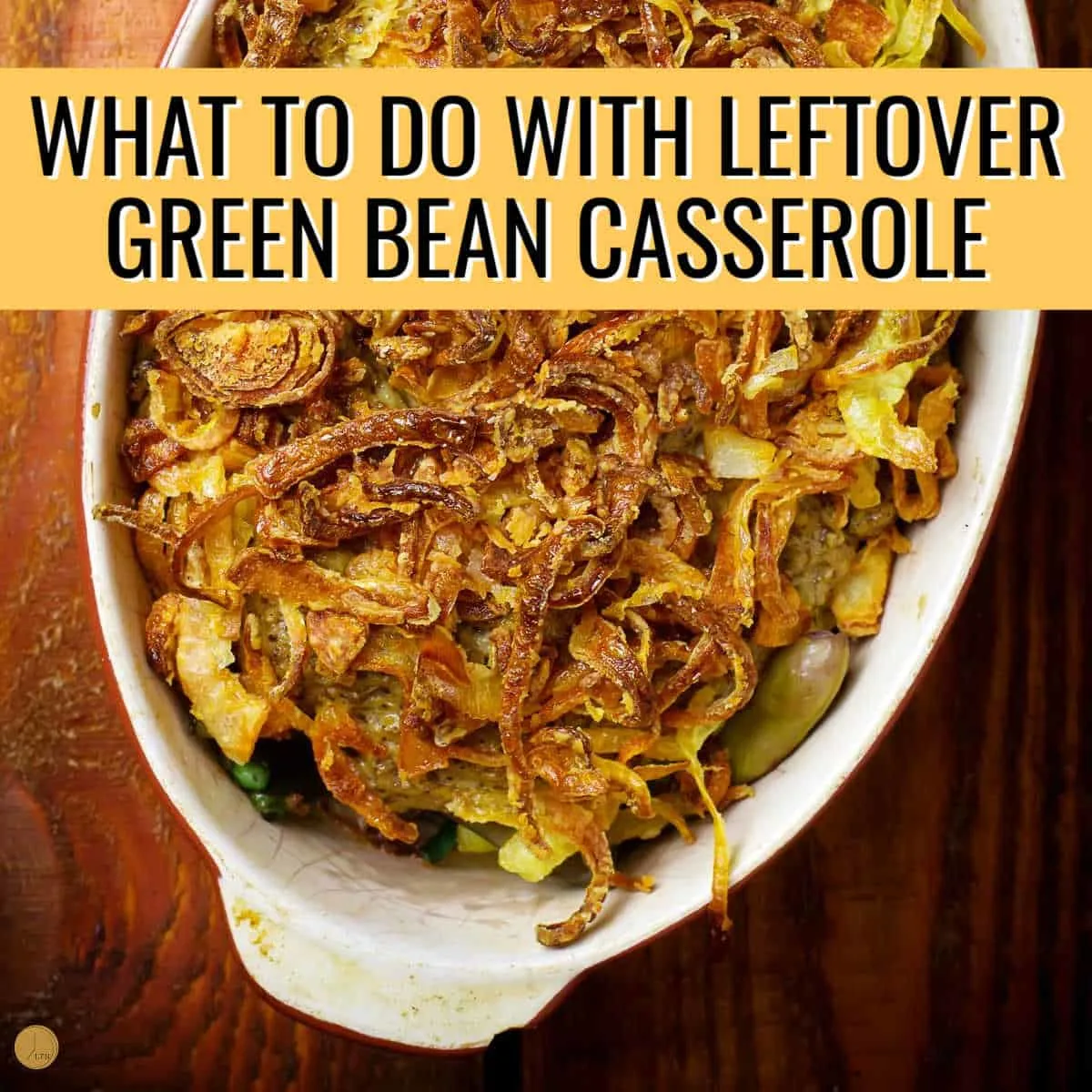 Green Bean Casserole Leftovers
I don't know about you, but even after stuffing my face on Thursday, I can't wait to get my hands on those Thanksgiving leftovers the next day.
With my full belly, I got to sleep dreaming of a plate of mashed potato, turkey, cranberry sauce and that classic green bean casserole with the crispy fried onions on top. Talk about comfort food!
But if I have plans the next day, how long will my leftover green bean casserole last?
For all your questions on this iconic dish, check out my Ultimate Guide to Green Bean Casserole!
It answers all the pressing questions like 'Can you make it ahead of time?' or 'Can you make it with cream of chicken soup?'
This post may contain affiliate links. As an Amazon Associate, I earn from qualifying purchases. Read my disclosure policy here.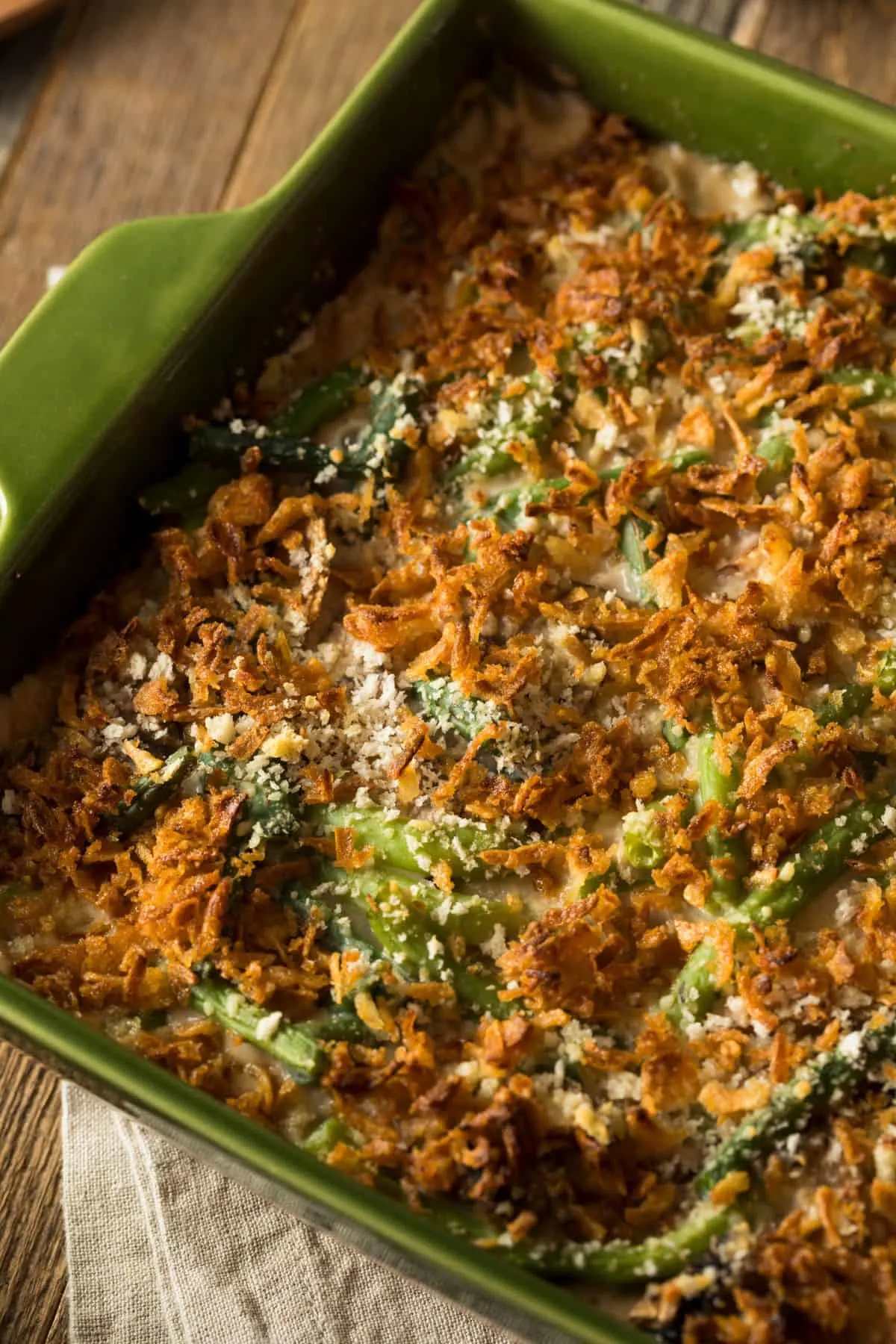 How long is leftover green bean casserole good for?
This casserole is especially popular around the holidays. Typically served next to mashed potatoes and turkey, green bean casserole made with condensed mushroom soup is a perennial favorite.
Especially with those crunchy fried onions on top!
But, those are the kind of meals with TONS of leftovers, so some things end up in the back of the fridge. Forgotten, but not gone and not the other way around.
But, don't let it go down like that. Leftover green bean casserole is wonderful. Save a few of those fried onions to add on top…
You just need to use it within 3 or 4 days time if it is out of the fridge. But, if you freeze it, then you can use it 30 or 45 days later if you want.
Is green bean casserole good reheated?
I think it is actually better to eat leftover green bean casserole to be perfectly honest. Somehow it is even more of a comfort food then.
Maybe because it reminds you how good it was when you made it.
Or maybe the seasonings and mushroom soup just blend in better. It is not just good, but great reheated.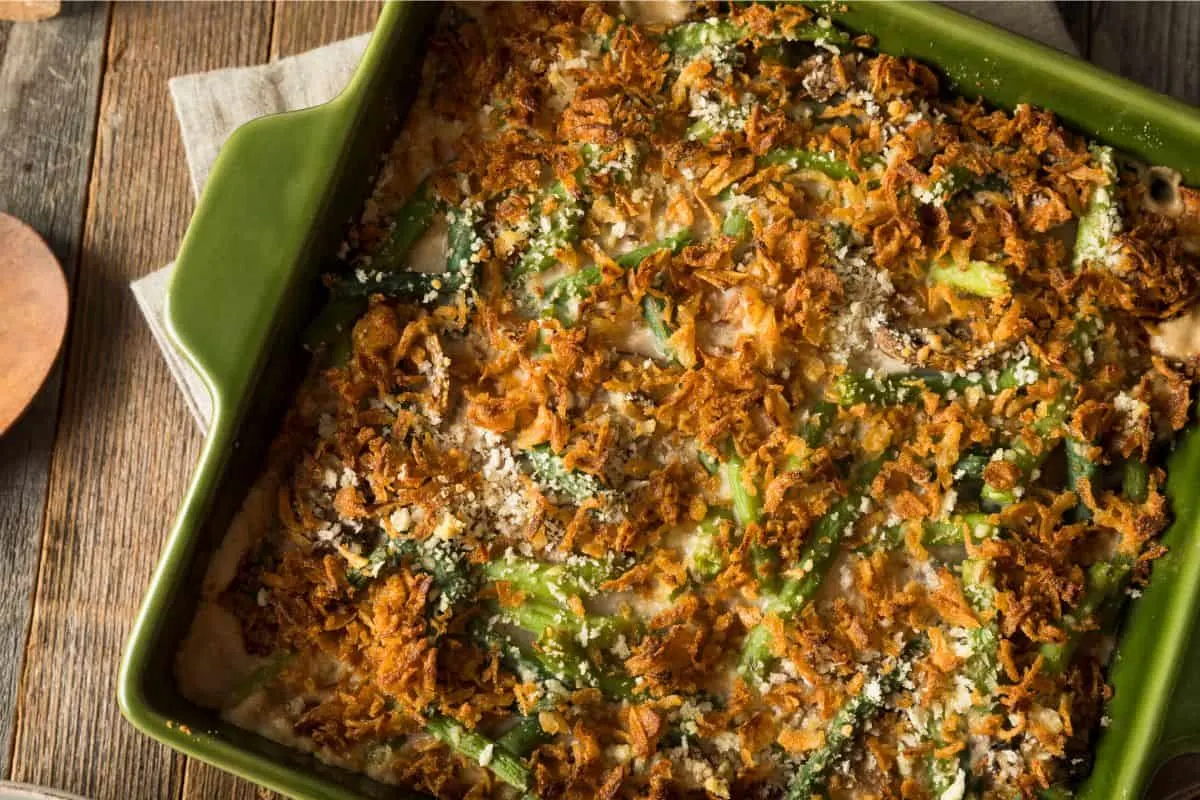 Is it good the next day?
If you want to save green bean casserole for leftovers, then next day or the day after is best. After that, the green beans do lose a bit of crunch, but the flavors are still there.
Is green bean casserole good leftover?
A green bean casserole for leftovers makes a tasty side dish or even serve it as a main course. If you did originally use fried crispy onions for a topping, then just add some more crunchy onions to the top when reheating it.
My Favorite Green Bean Casserole Recipes
Here are some tasty green bean casserole recipes from my sister site Best Casserole Recipes.
How to Store Leftovers
Storing your leftovers properly makes all the difference. If you store your leftovers properly, then they keep better and stay fresh and useable longer.
Use airtight containers to store your leftovers if possible.
Try to keep extra air out of the container. Air causes spoilage, so the less contact the surface area of the dish has with air, the better.
Store portion sizes if possible. Then you can freeze portions to keep when you want to use them.
Try to always mark the container with a "use by" date so you never have to second guess if it is still ok to eat or not.
To reheat, preheat the oven to 325. Place the casserole back in and bake for 20-30 minutes or until warmed through.
Looking for more leftover worthy dishes? Follow LTB on Pinterest and pin to a board!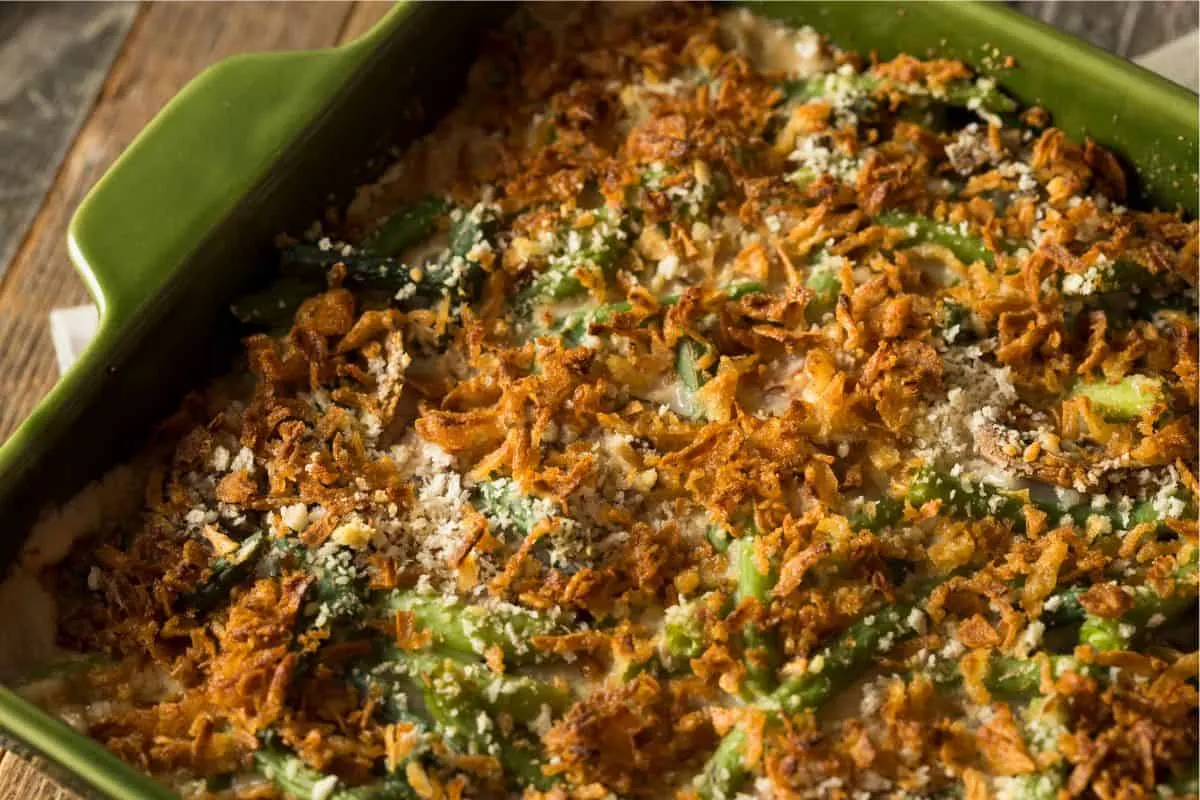 Tips for No Leftovers
To avoid leftovers in the first place, try to cook only what you plan to serve or can use within a day or two.
Take into account all the other dishes served with a dish. You can get away with smaller portion sizes if there are several courses served on the plate.
Know your diners. Are they going to appreciate what you cooked or just pick at it and pretend to eat it. If you know they love the dish, make extra. But if you have any questions how it will go over, less is more as they say.
If you love this recipe as much as I do, please write a five-star review in the comment section below (or on Pinterest with the "tried it" button – you can now add pictures into reviews, too!), and be sure to help me share on facebook!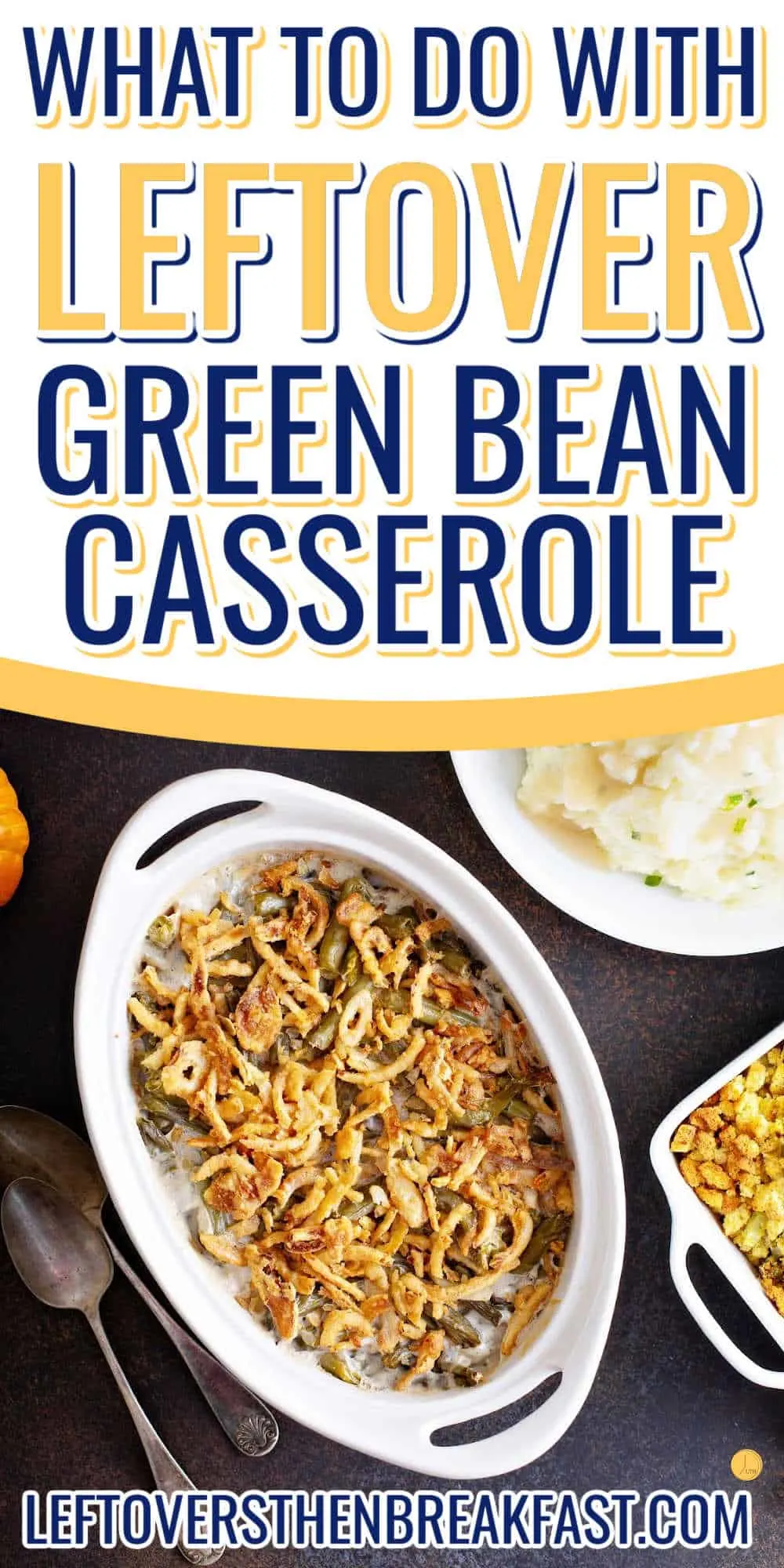 Don't cry after you are finished eating, leftover green bean casserole is good for a few days and make excellent leftovers!
More Easy Recipes
LeftoversThenBreakfast.com. Content and photographs are copyright protected. Sharing of this recipe is both encourages and appreciated. Copying and/or pasting full recipes to any social media is strictly prohibited.