If you make tacos for dinner and there happens to be leftovers, or you like to make a double batch and freeze for later, here are 30+ delicious ideas on what to do with leftover taco meat!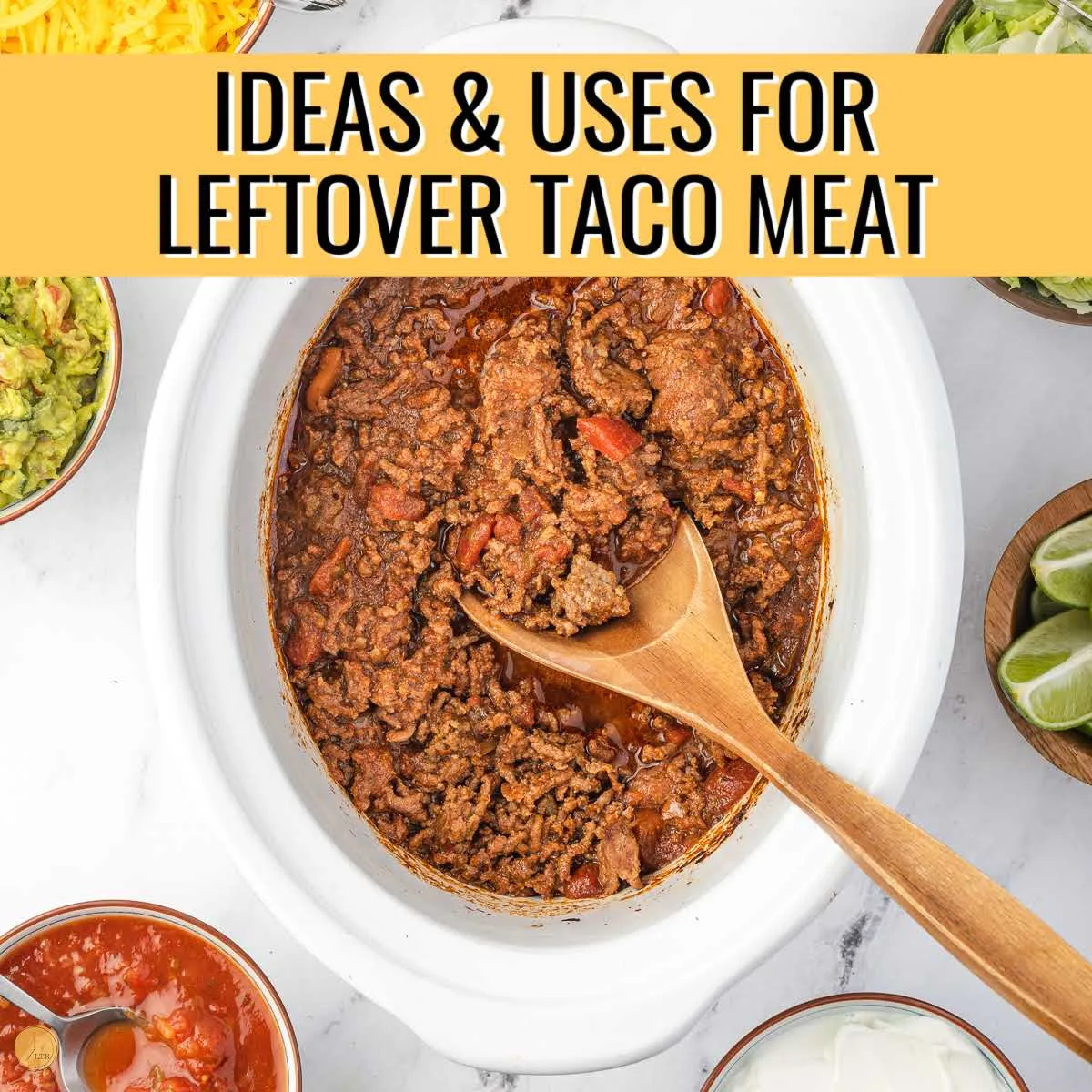 What is your favorite day of the week. I would say it's Taco Tuesday but why restrict tacos, or any other delicious Mexican food, to just one day?
Any day that ends in "Y" is a great day to cook up some tender ground beef, ground turkey, or even chicken. The smell of it simmering in homemade taco seasoning, is enough to make my mouth water!
I love to make my taco meat in the crockpot because I can make a large batch and have leftovers. I store them in 1-2 pound packages in the freezer for dinner emergencies. Now I can pull out a package and make any of these delicious dishes!
For tips and tricks on handling leftovers, check out this article on how long taco meat is good for so you can have some ready when you are.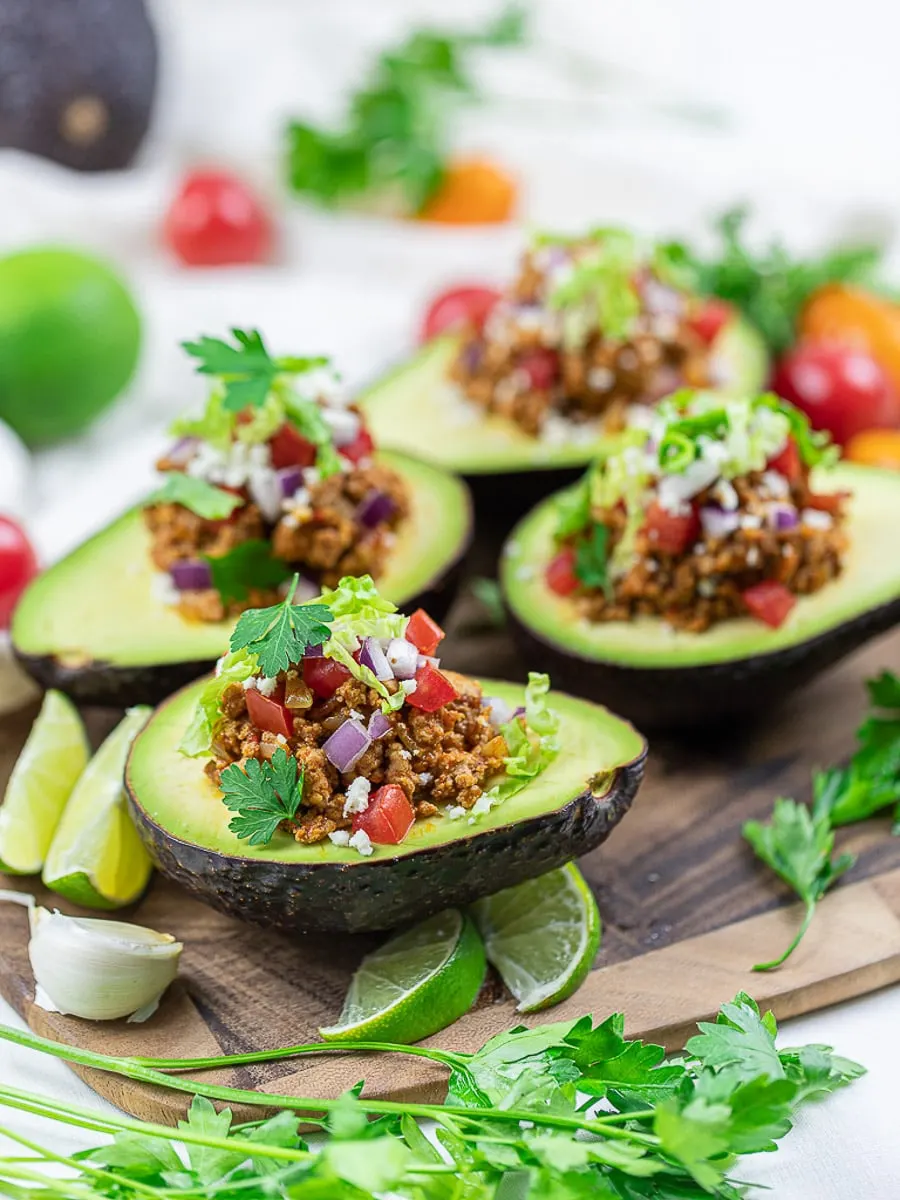 These avocado taco boats are a delicious twist on tacos! It's made with creamy avocado halves filled with taco meat and fresh toppings!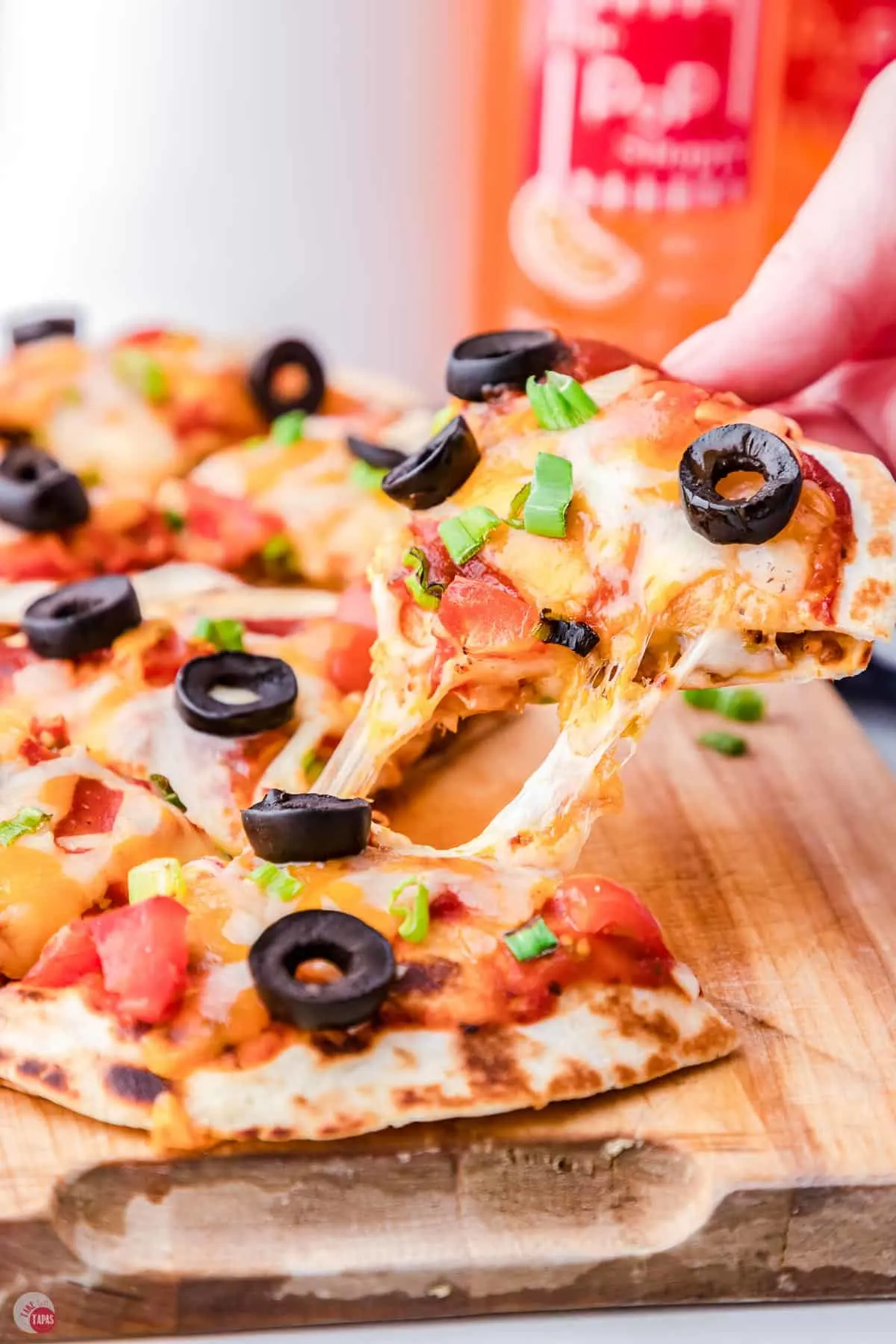 Host a build your own Mexican Pizza Party as a way to freshen up your fiesta just in time for Cinco de Mayo or anytime you are in the mood for Mexican!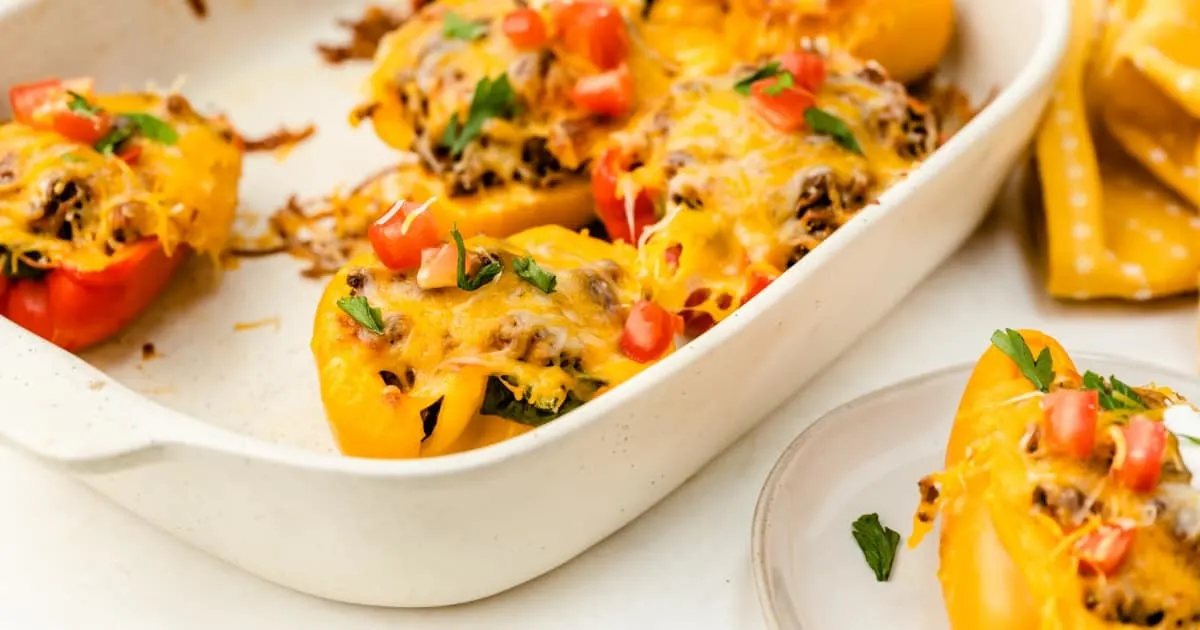 Filled with seasoned ground beef, onions, cheese and more, these Taco Stuffed Peppers are packed full of flavor. They taste so good, your family will want them for dinner every night!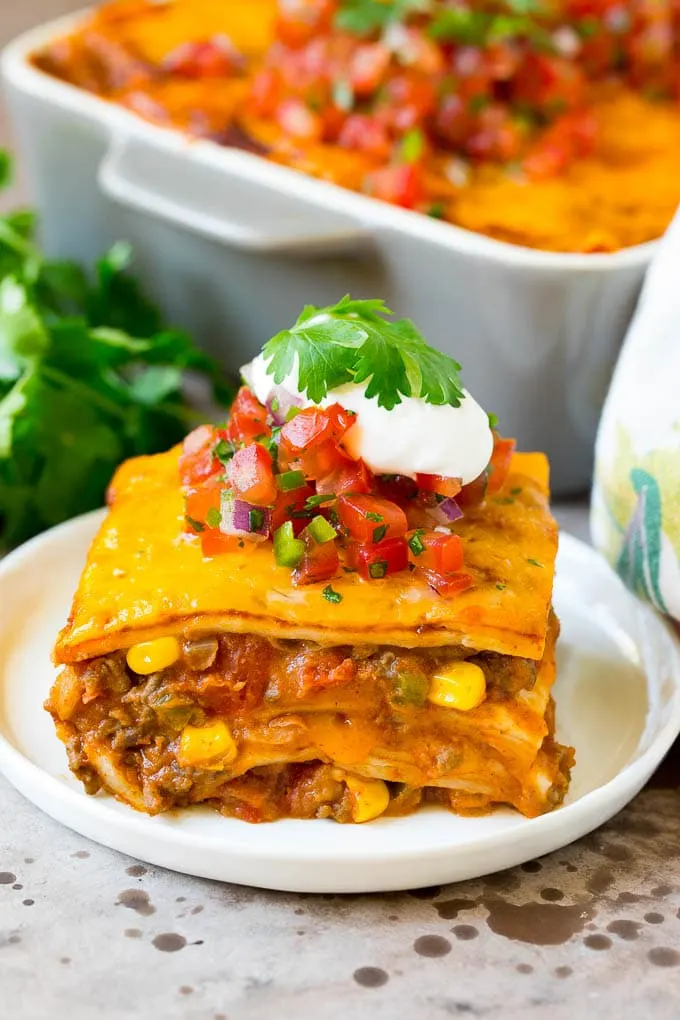 This taco lasagna is layers of flour tortillas, melted cheese, beans, veggies and ground beef, all baked together until golden brown. The ultimate Mexican casserole that is always a big hit with both kids and adults!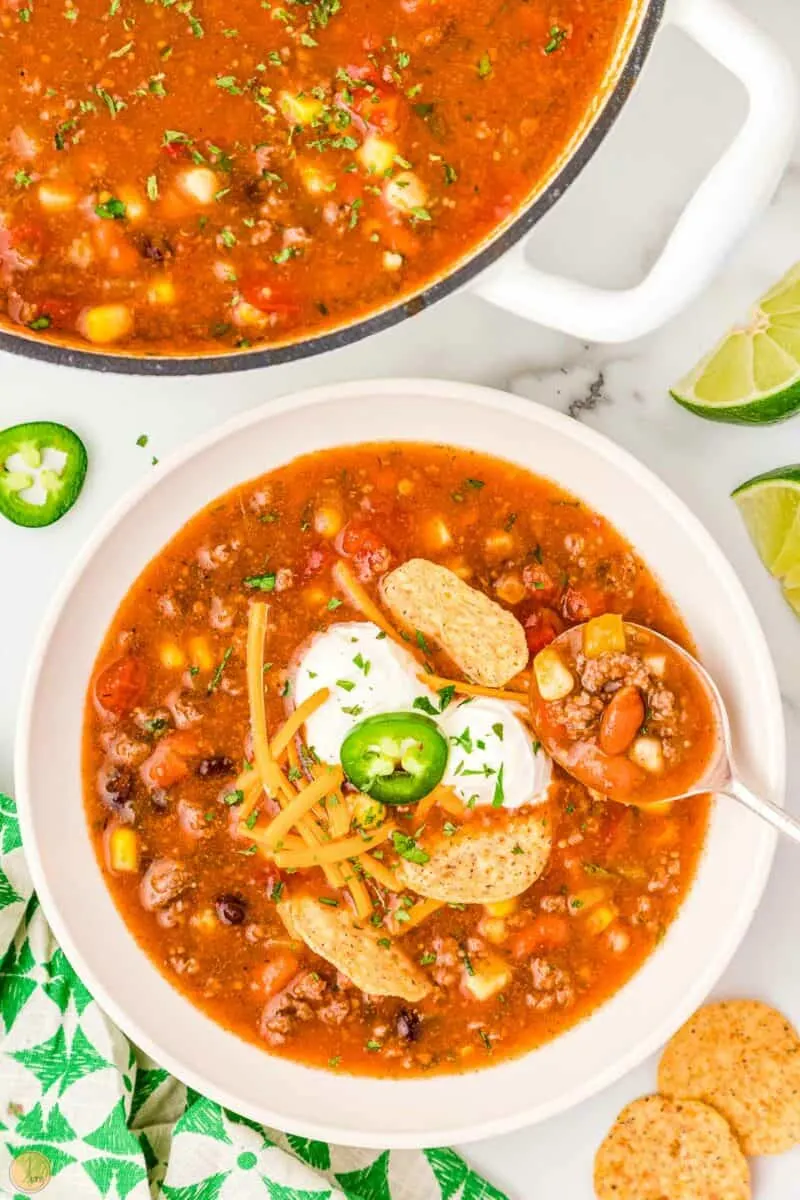 This Taco Soup recipe is easy to make with ground beef and your favorite taco ingredients. It can be made on the stove top or in the Crock Pot and also makes the best freezer meal for easy lunches and dinners.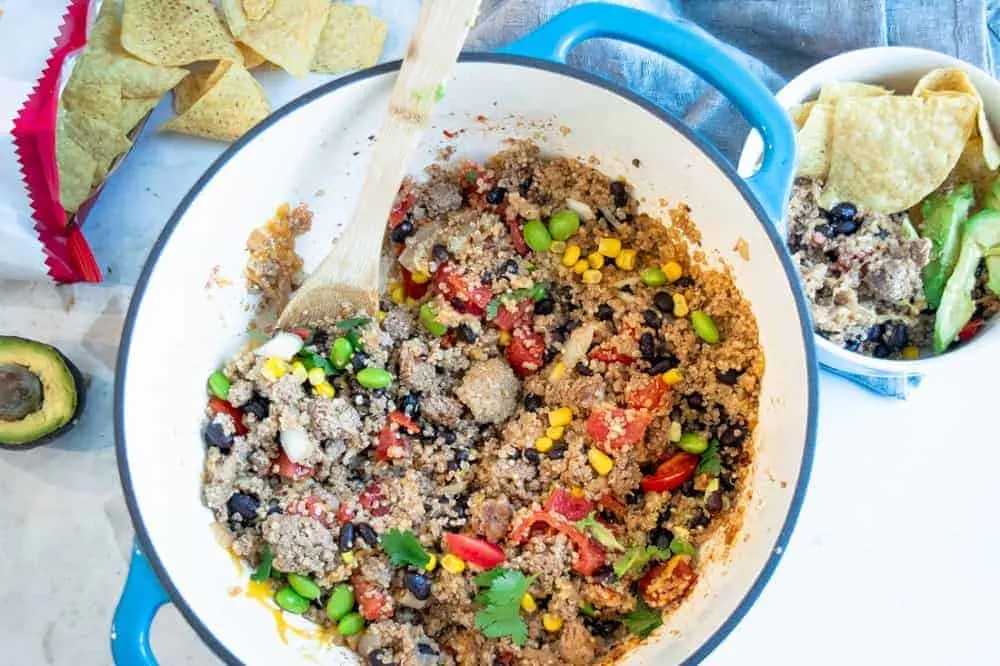 This turkey taco quinoa skillet is an easy, gluten-free, delicious weeknight meal that comes together quickly or can be made with leftover taco meat. Made with cheese, quinoa, ground turkey, black beans, veggies, these ground turkey quinoa bowls will be a new favorite!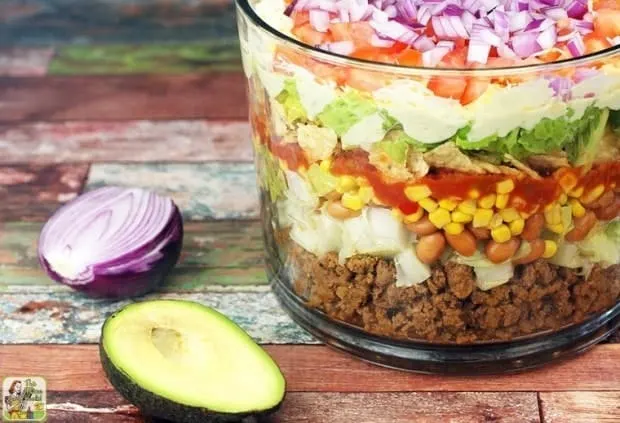 This Chopped & Layered Taco Salad Recipe is a family favorite. Serve this healthy layered taco salad at parties and potlucks.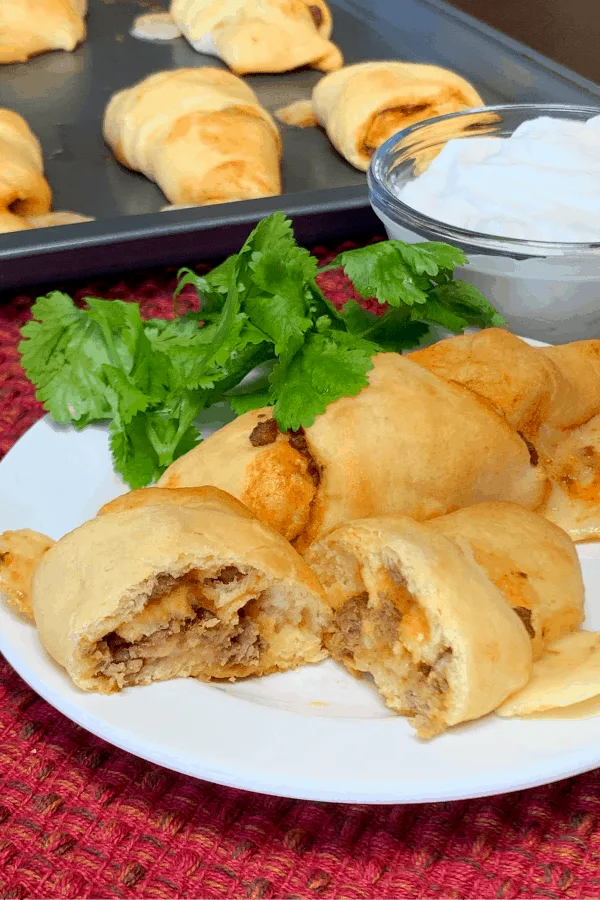 These Easy Taco Crescents are the perfect appetizer, snack, party food or easy meal! Taco meat and pepper jack cheese wrapped in crescent dough can be made in 20 minutes with only 5 ingredients. Our family relies on quick recipes like this to get us through busy weeks.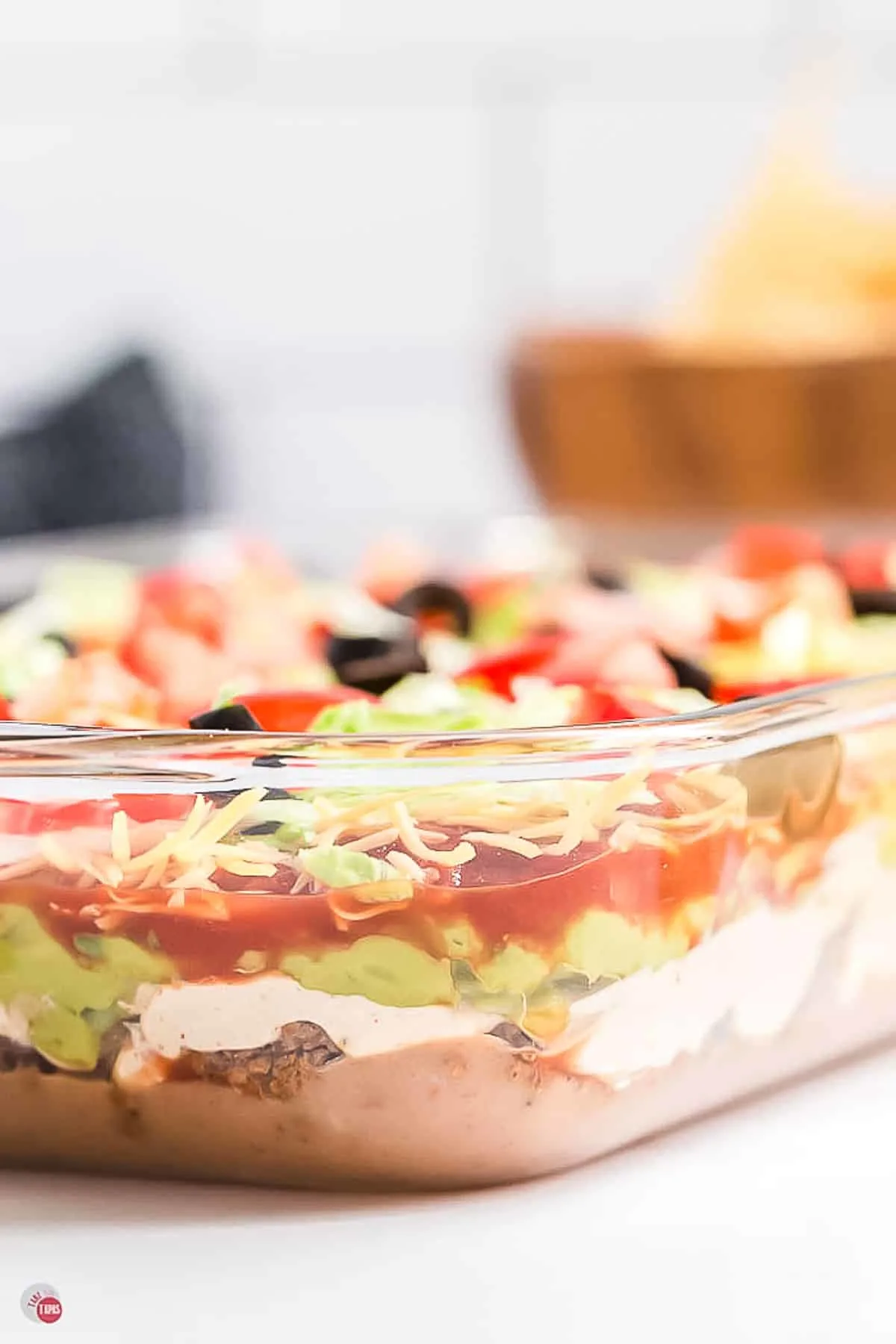 This layered taco dip is about to be your go-to dish when a potluck is in question. Make it traditionally with ground beef or go vegetarian with refried beans.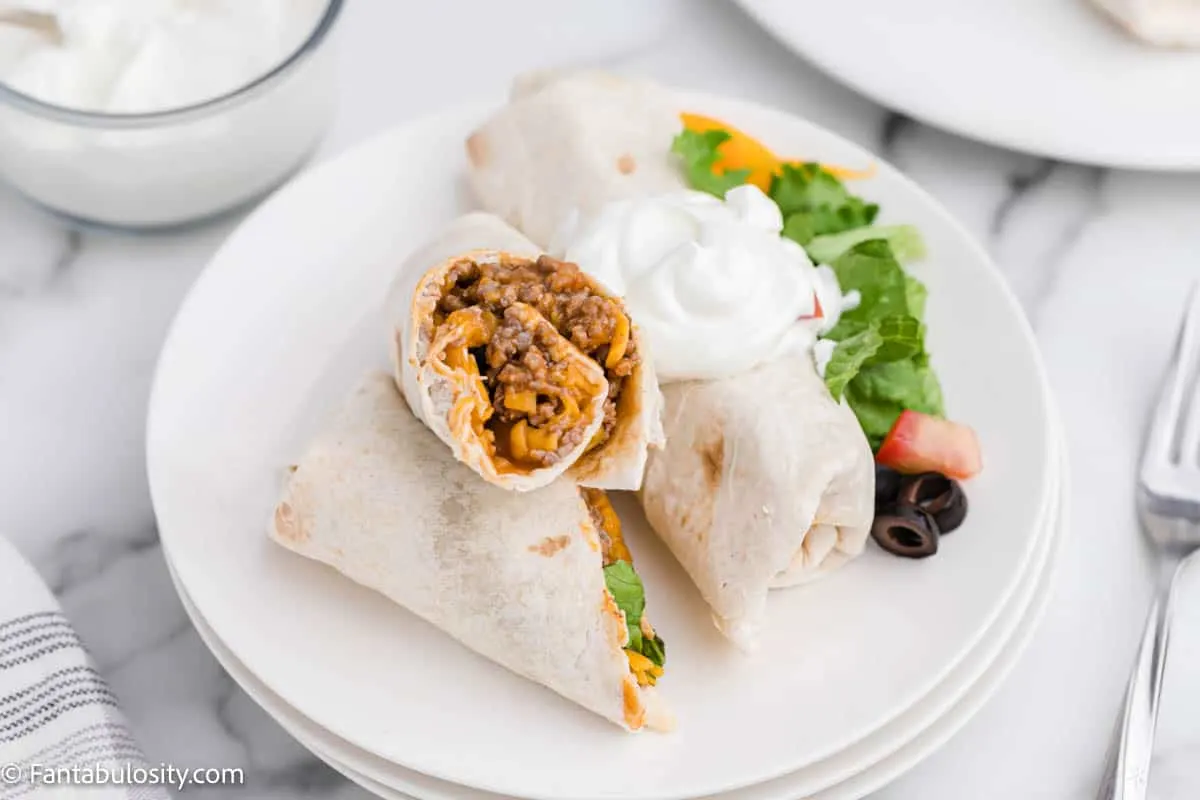 Save that leftover taco meat and turn it into burritos! This recipe is quick, easy and sure to be a hit.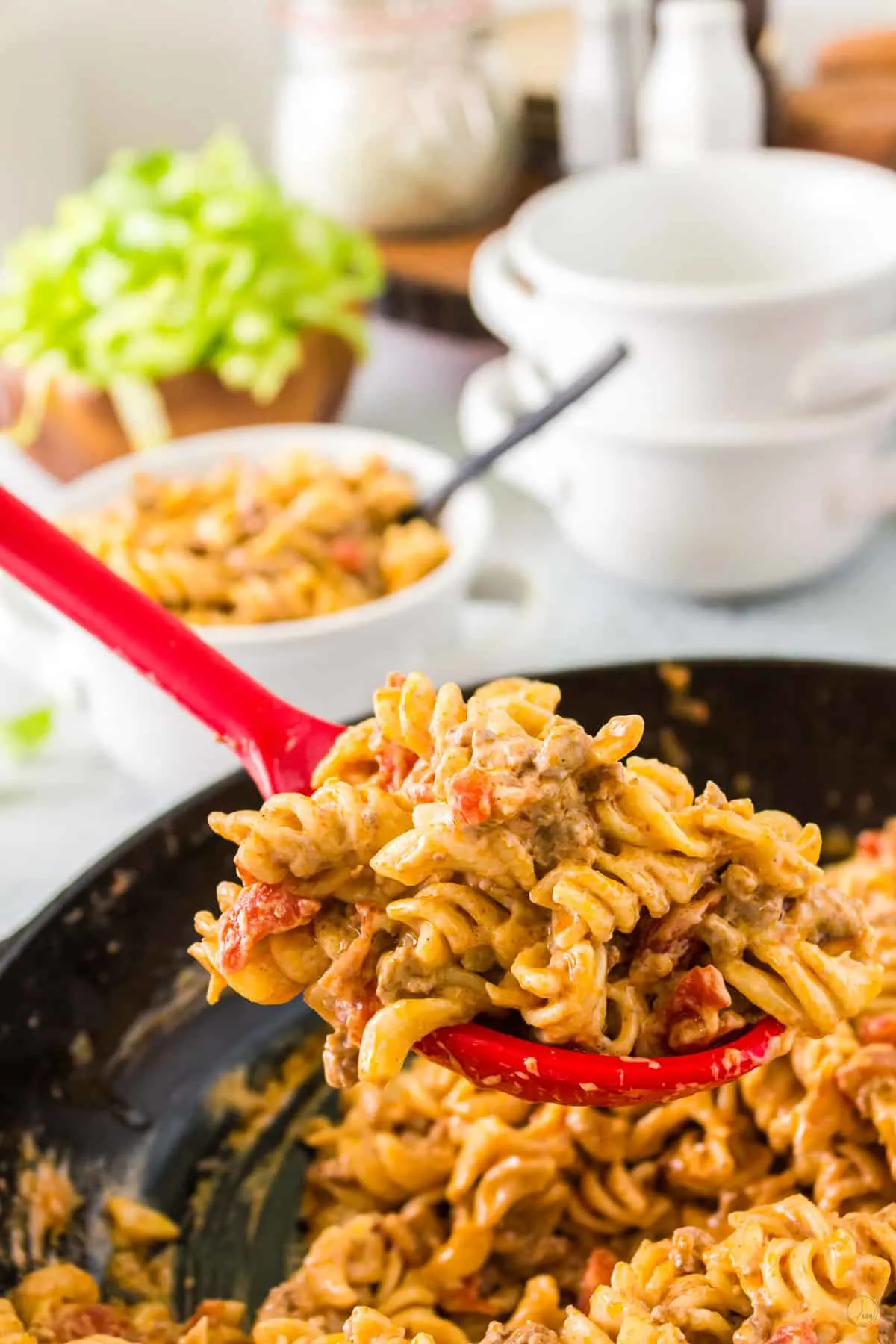 Cheesy Taco Pasta is bursting with flavor and texture and is ready in less than 30 minutes! Hearty meat, tomatoes, and pasta, smothered in a creamy taco spiced sauce, that's topped off with melty cheese makes this a meal that the whole family will love!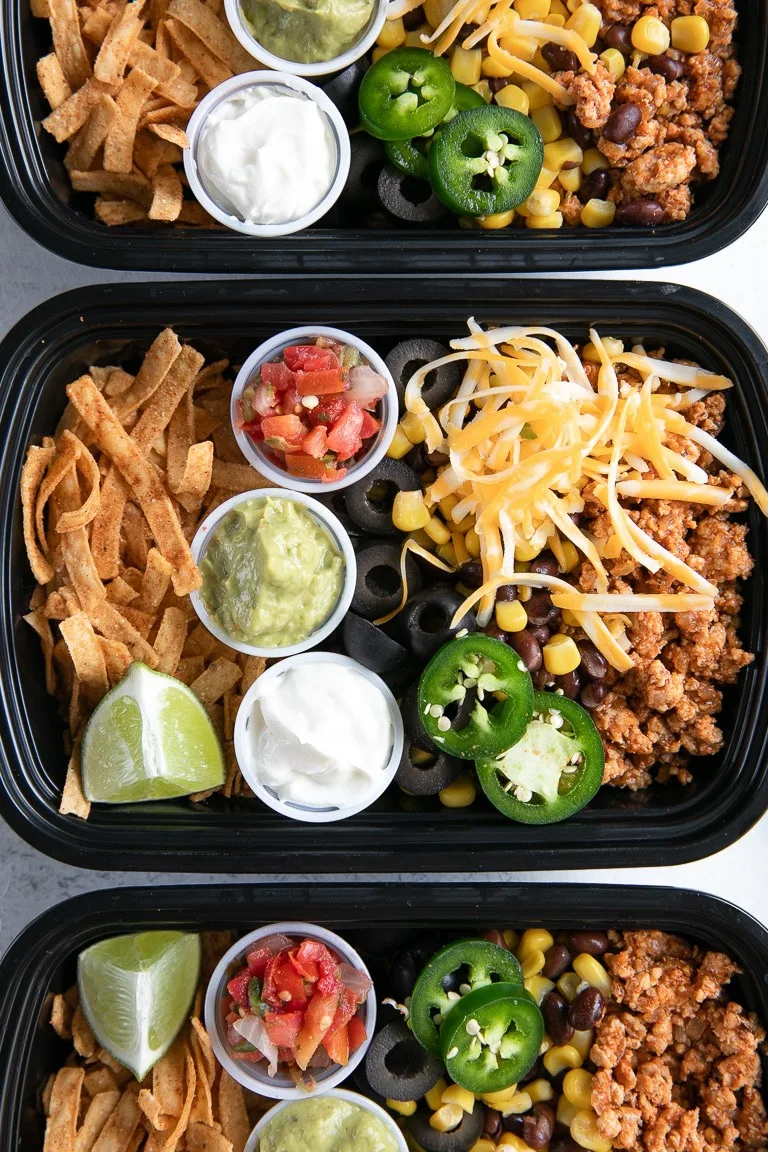 These Taco Salad Meal Prep Taco Bowls are made with healthy ground turkey and filled with black beans, sweet corn, shredded cheese, crisp lettuce, and all your favorite toppings. Enjoy these delicious Taco Bowls for dinner and repurpose the leftovers into perfectly portioned make-ahead meal prep lunches.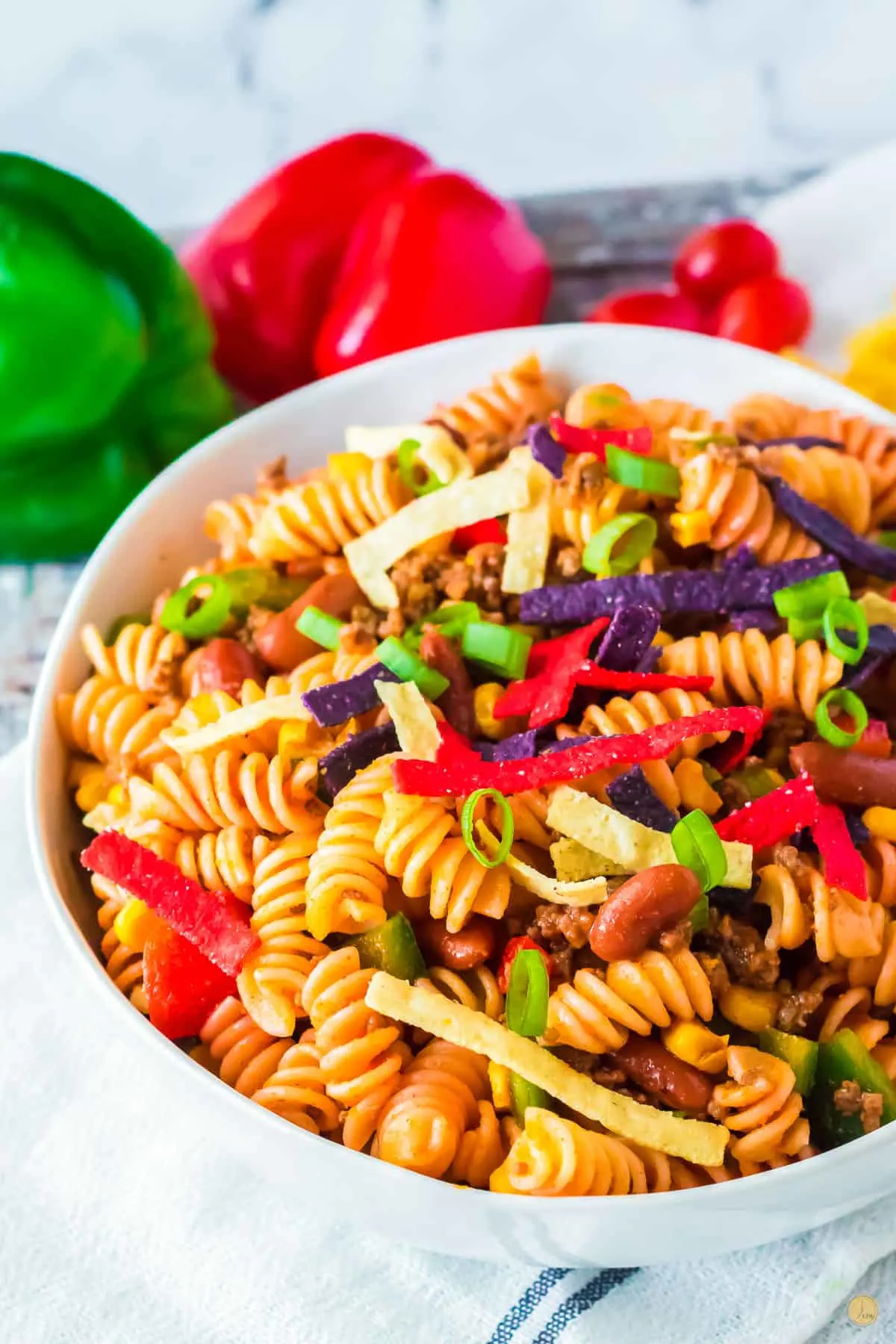 This delicious twist on a taco salad is one of my favorite recipes. Featuring seasoned ground beef, green peppers, and tangy Catalina dressing (or French dressing if you prefer), this taco pasta salad recipe is ready to serve in no time!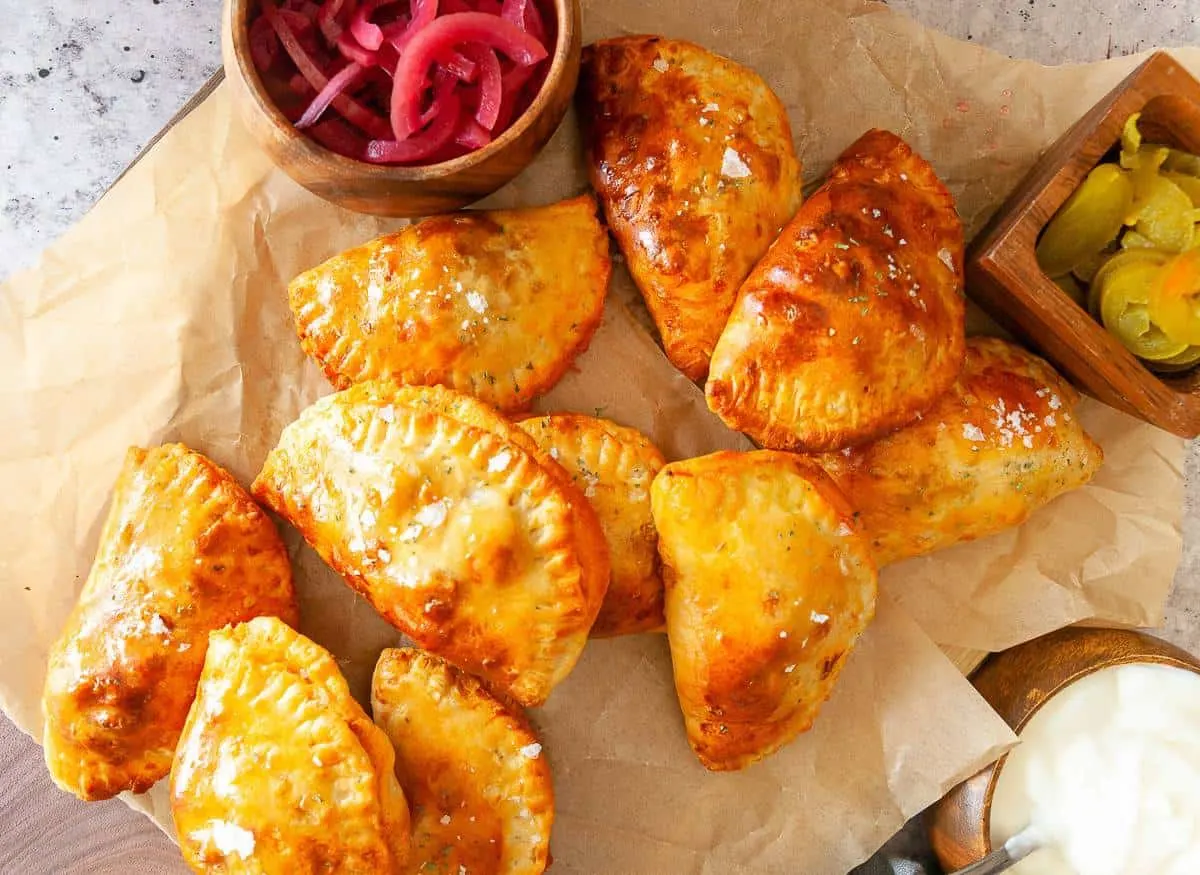 If you are looking for a handheld pocket of joy, these taco pockets are just what you need. Regular biscuit dough filled with the most perfect, savory taco filling – sounds like perfection, right?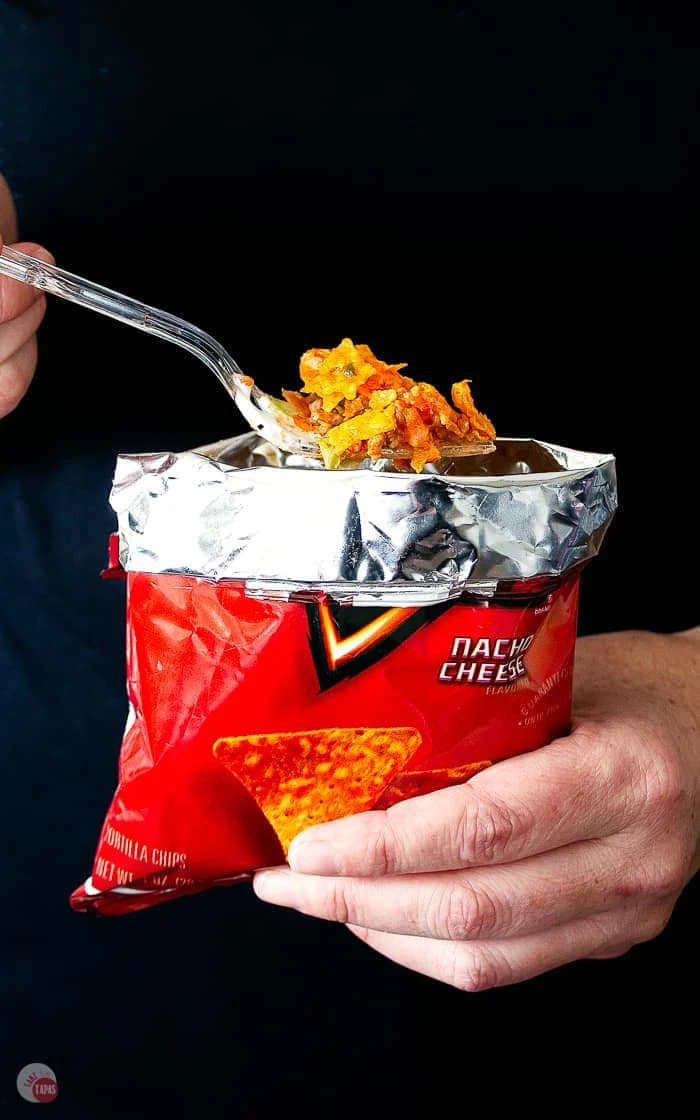 Walking Tacos are a fun, delicious, and inexpensive way to feed a crowd! The perfect portable party food and everyone can make them with all their favorite toppings!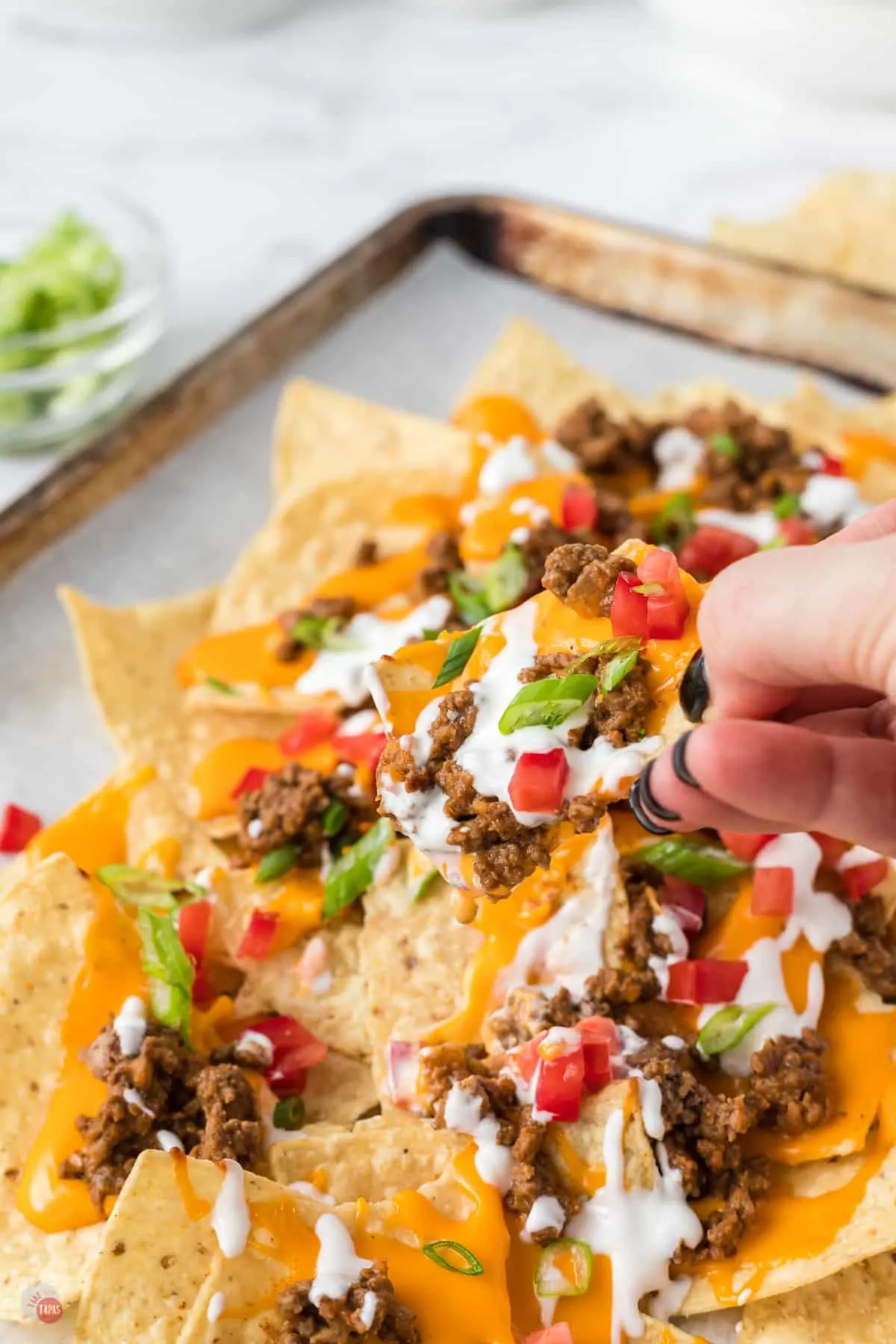 This Nachos Supreme recipe will take you back to those midnight runs to Taco Bell during your college days. But now, you can make it right in your kitchen!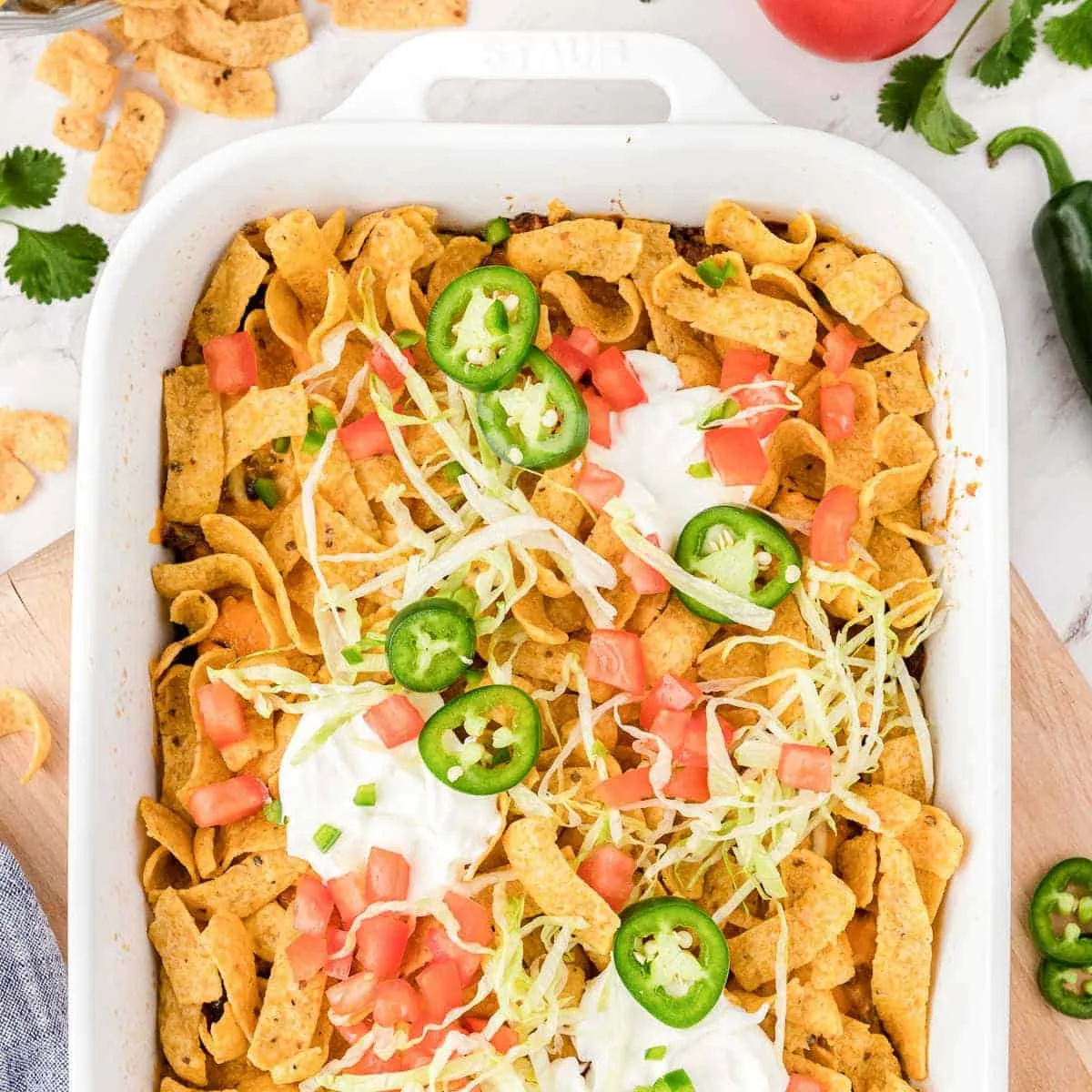 A Walking Taco Casserole takes a stroll along everything that makes a walking taco great, like quick and easy to make, delicious to eat. Serve it in individual Frito bags and make it portable, or you around the table for a delicious lunch or dinner.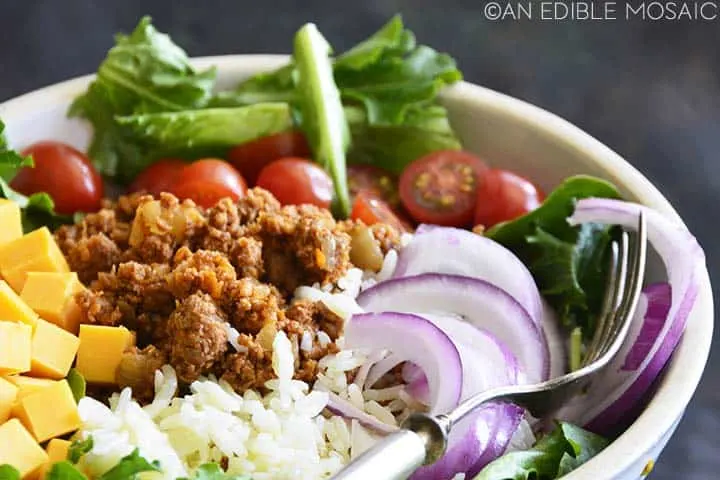 This Turkey Taco Bowl Recipe is a well-balanced, easy lunch or dinner that's perfect for meal prep and a great way to use leftover taco meat. These bowls are good for picky eaters too; you can set up a "taco bowl bar" so everyone can add their favorite toppings.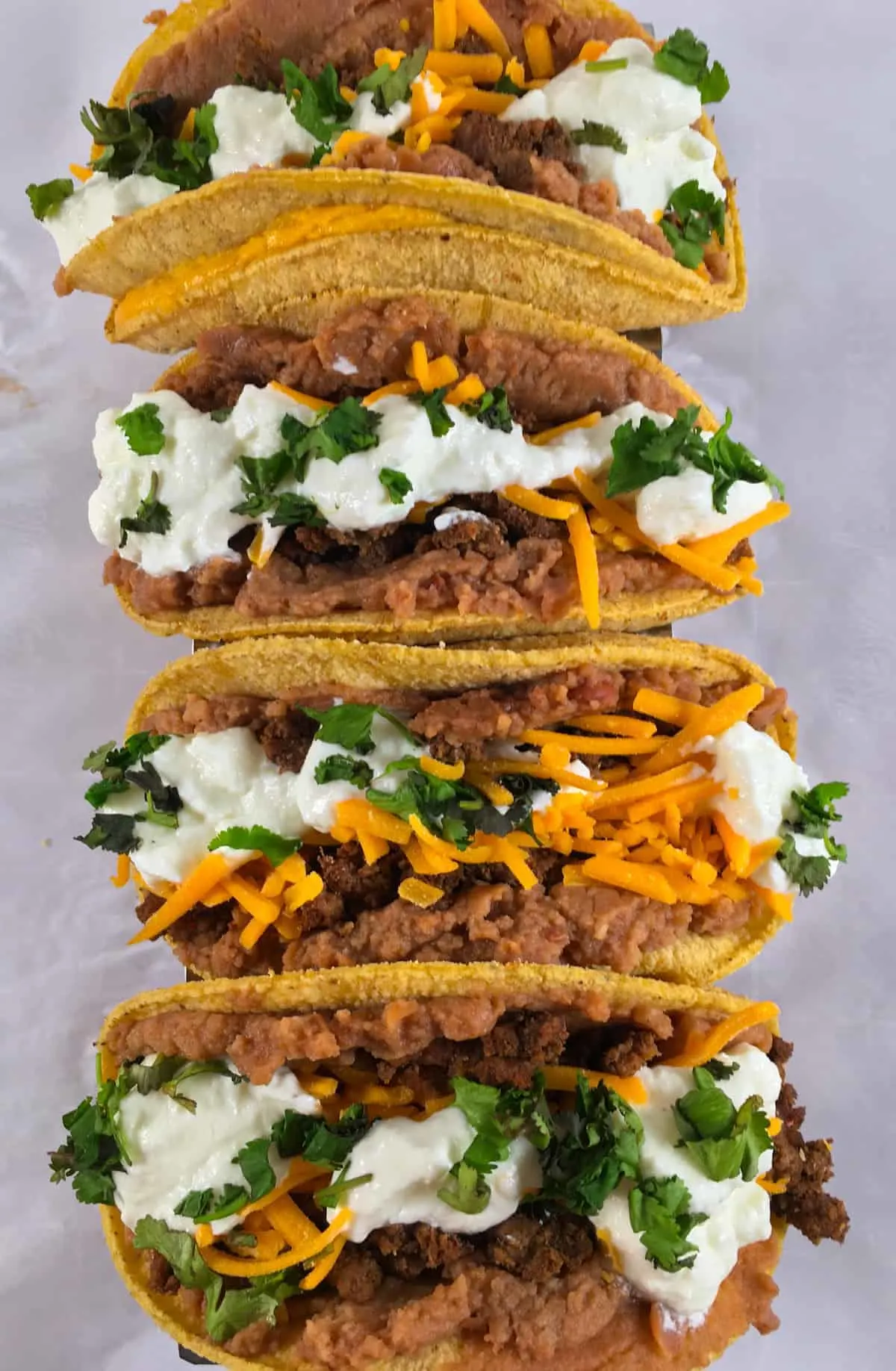 Use leftover taco meat to make this Taco Bell Beefy 5 Layer Burrito copycat the easy way! It's better than the original (at least in my very honest opinion).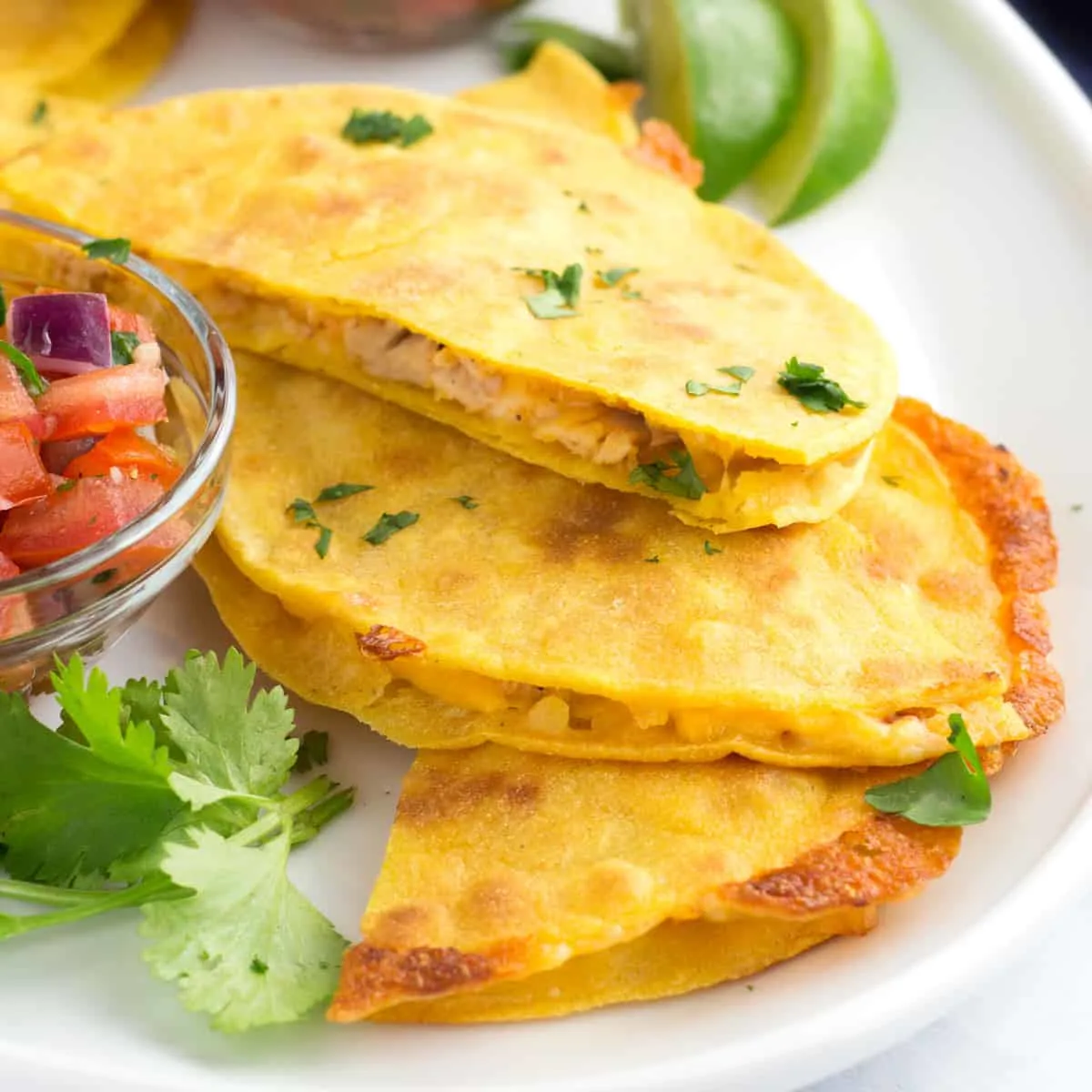 Ready in 15 minutes or less, this Easy Corn Tortilla Quesadilla (Taco Quesadilla) is a crispy tortilla loaded with a gooey melting cheese and flavorful filling – a perfect recipe for leftover taco meat or shredded chicken! It's a quick and easy weeknight dinner, delicious appetizer, or snack.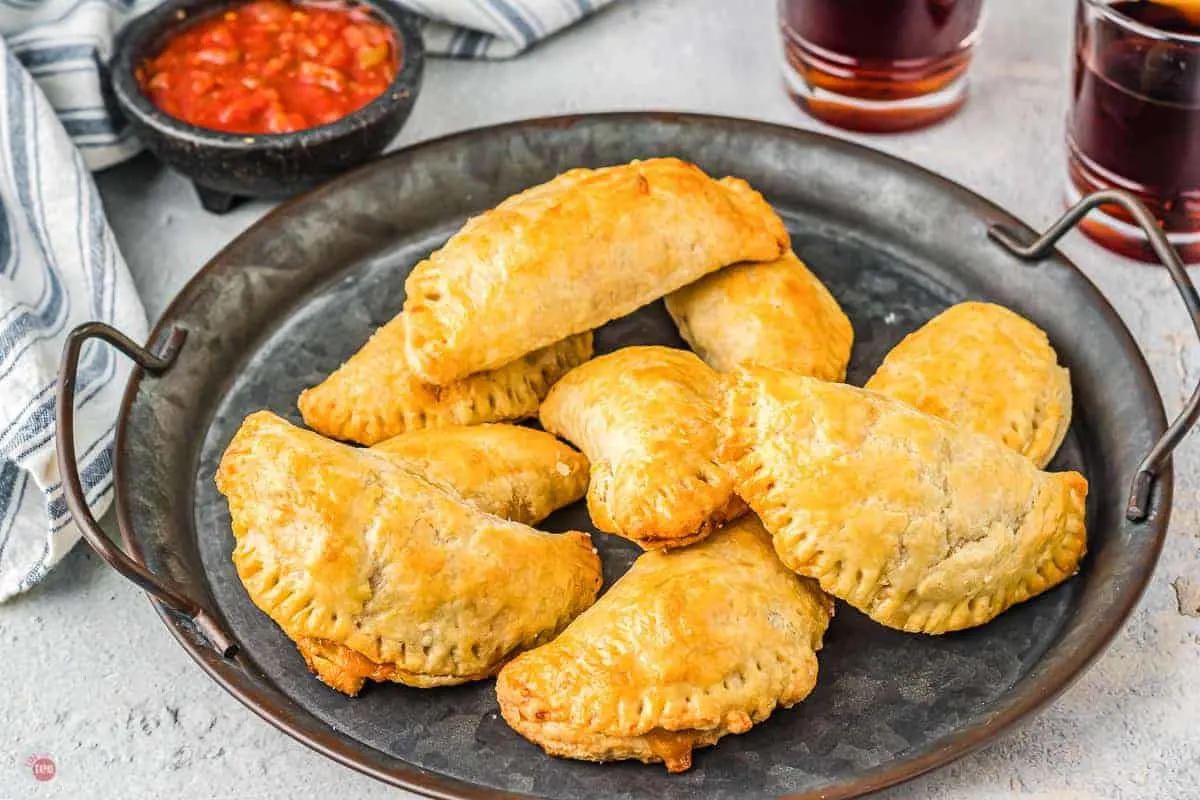 Deliciously flaky, flavorful, and spicy, Taco Empanadas are so delicious, and perfect for summer picnics and gatherings. Made with homemade empanada dough, ground beef, Mexican spices, and cheese, these Mexican hand pies are the best!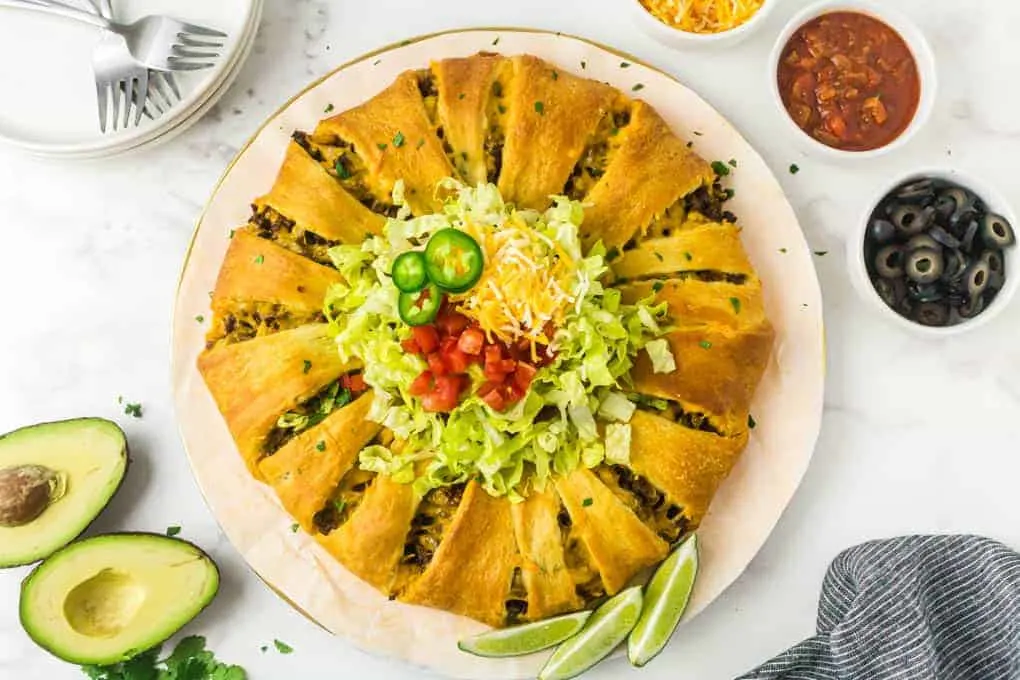 This Taco Ring is a stunning and delicious appetizer or main dish that everyone will love. Taco seasoned ground beef and melty cheese wrapped in a buttery, flaky crust of crescent rolls. Make one for Taco Tuesday or any night of the week!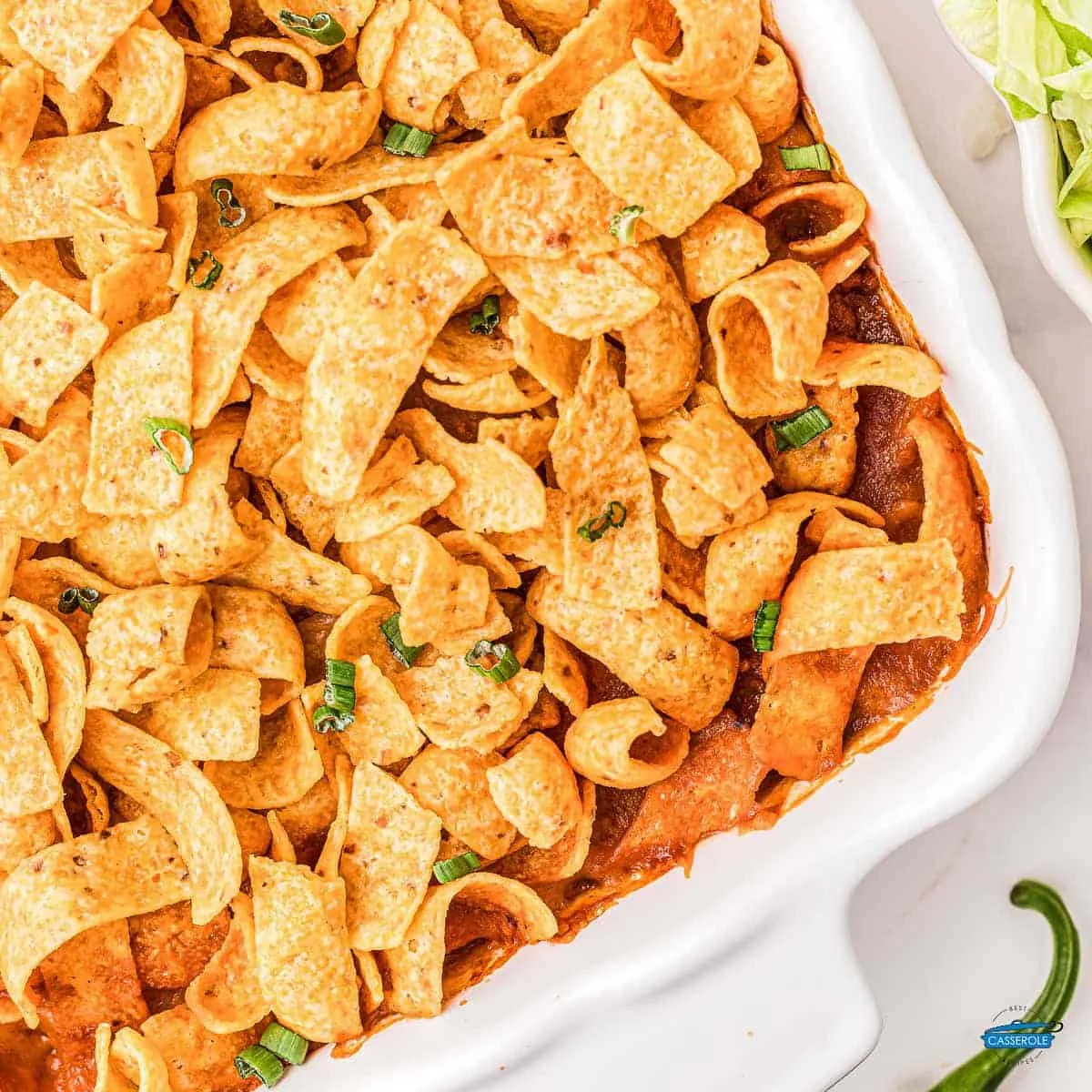 Rich and hearty beef mixed with tomatoes, green chilies, Ranch beans, and taco seasoning, topped with crunchy Frito corn chips and gooey cheese. This Frito Pie Casserole is a family favorite for sure!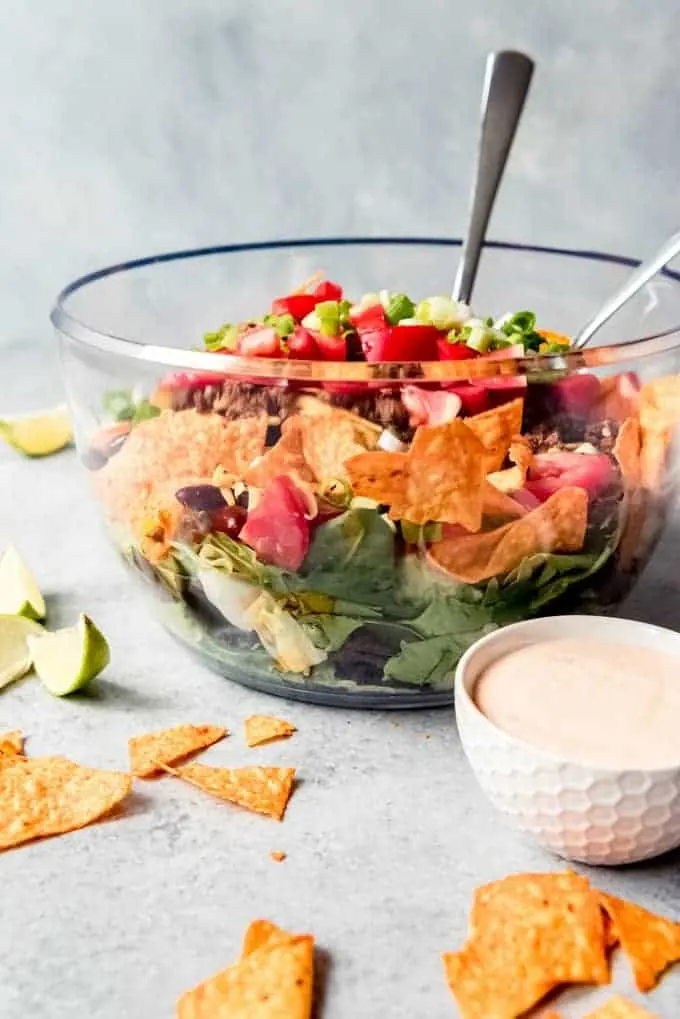 Delicious Tex-Mex Doritos Taco Salad is loaded with ground beef taco meat, kidney beans, cheese, green onions, avocado, tomatoes and Nacho Cheese Doritos. It's a family favorite that we like to serve at potlucks and family dinner on hot summer nights!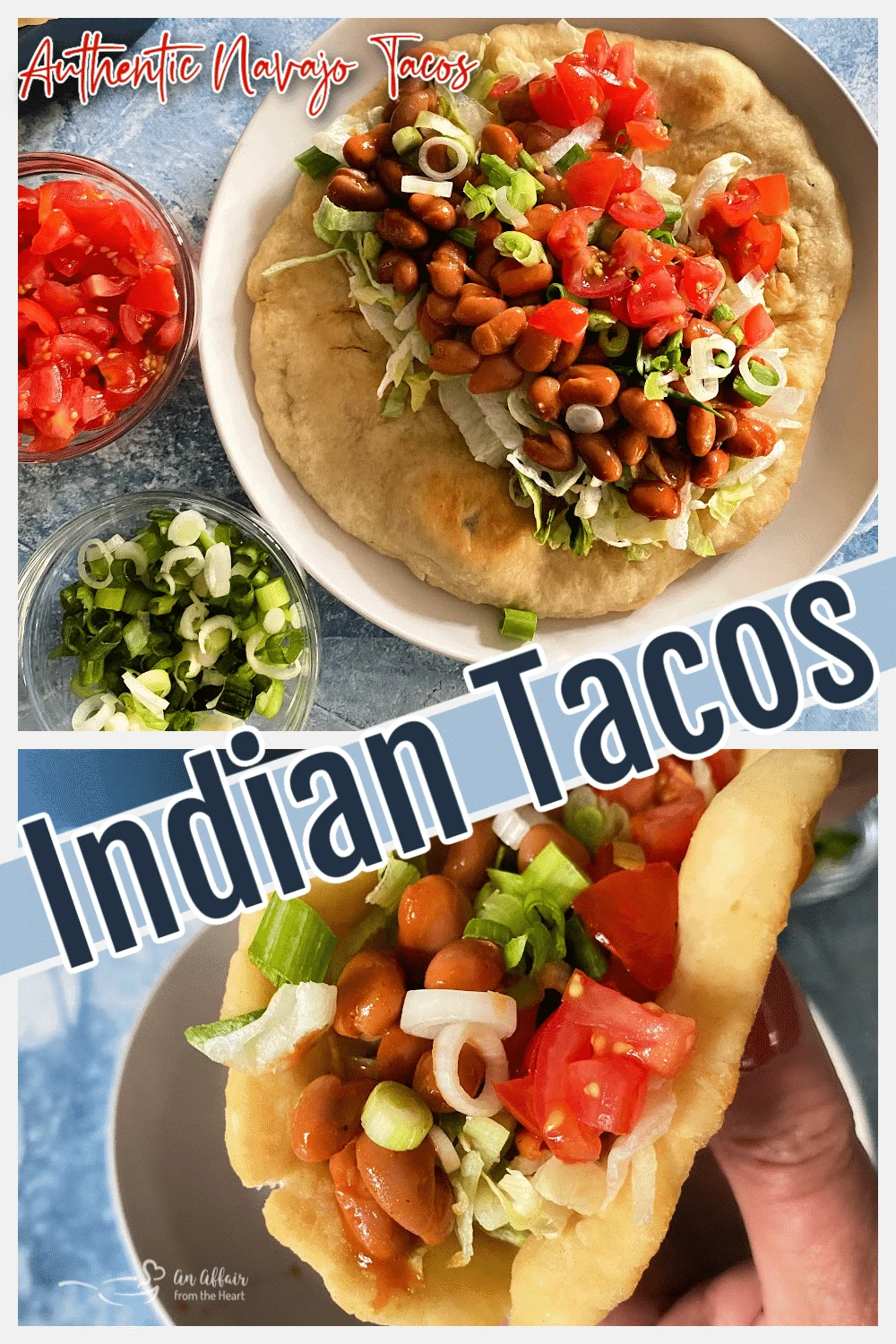 Authentic Indian Tacos made with Indian Frybread are a meal that you are going to crave over and over. Light, airy, and puffy fry bread made in a skillet or fryer, filled with your favorite taco ingredients, or dusted with cinnamon and sugar and served with honey for a scrumptious dessert.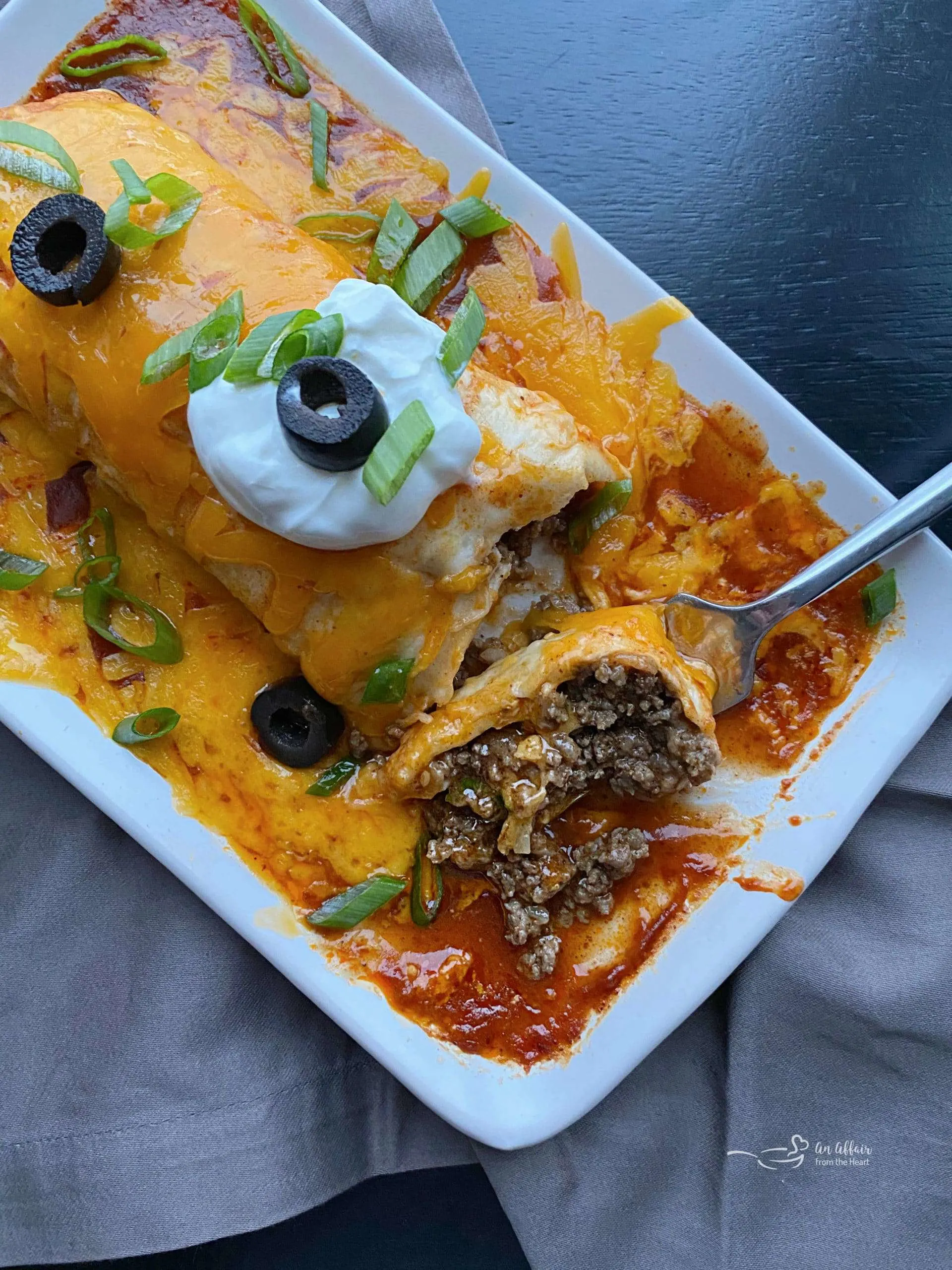 Remember the Enchiritos at Taco Bell back in the day? Soft flour tortillas wrapped around taco seasoned ground beef and refried beans, topped with a flavorful red enchilada sauce and melty cheese?
It's been a while since you could "make a run for the border" and order and Enchirito, but that's okay – making them at home is so much better anyway. Especially with these great tips and tricks!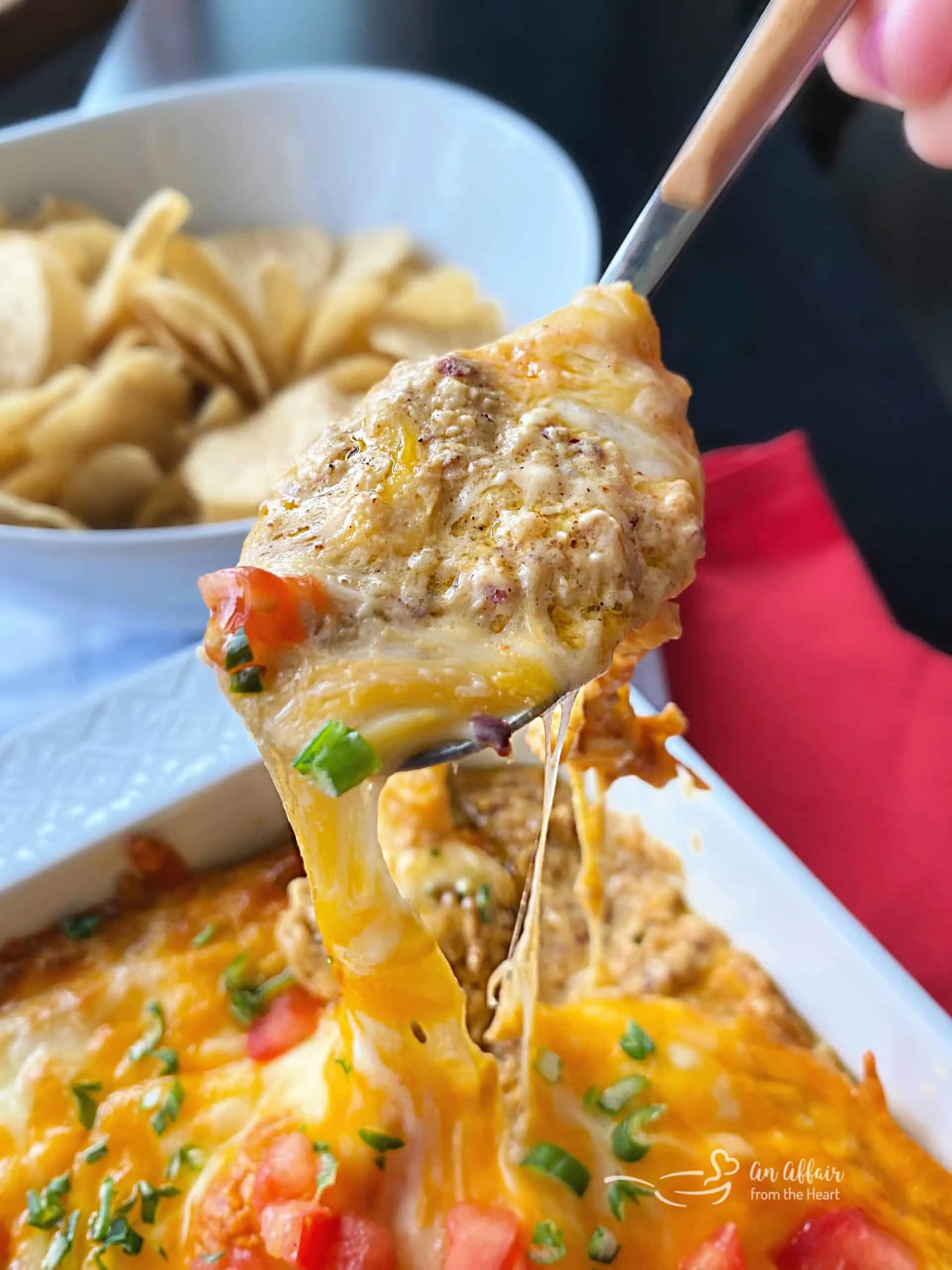 Five beans swirled together with cream cheese, Rotel and lots of cheese, baked up until hot and bubbly. Top with tomatoes and green onions before serving this Hot Taco Five Bean Dip with tortilla chips.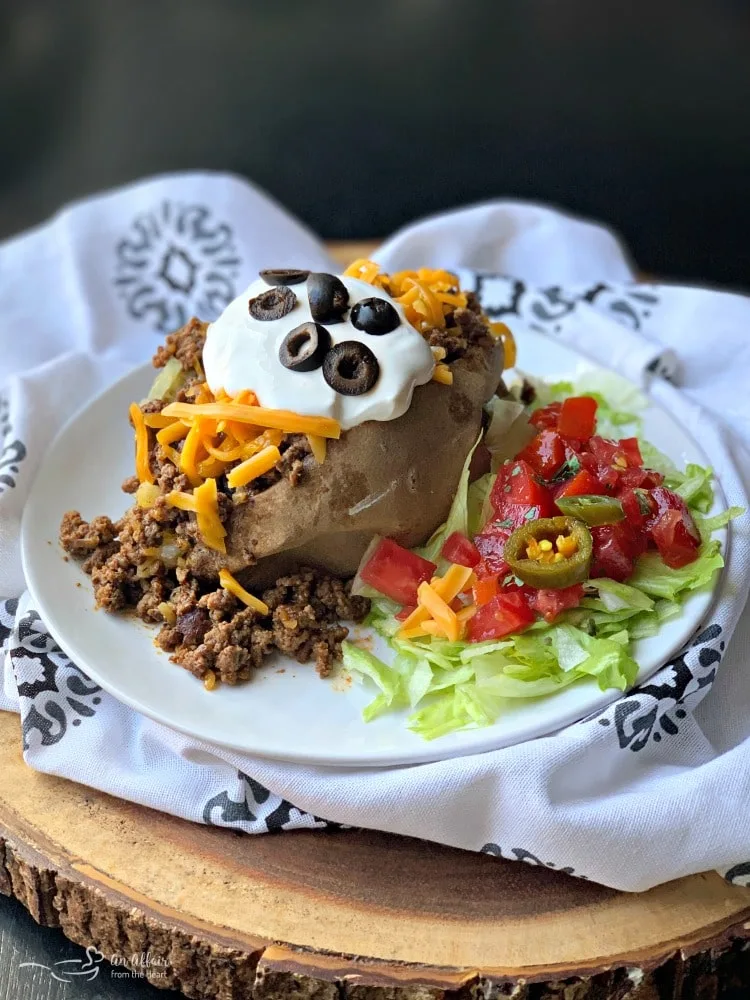 Buttery baked potatoes, loaded with taco meat, cheese and sour cream. Served up with lettuce and tomato and all of the taco toppings you can dream up!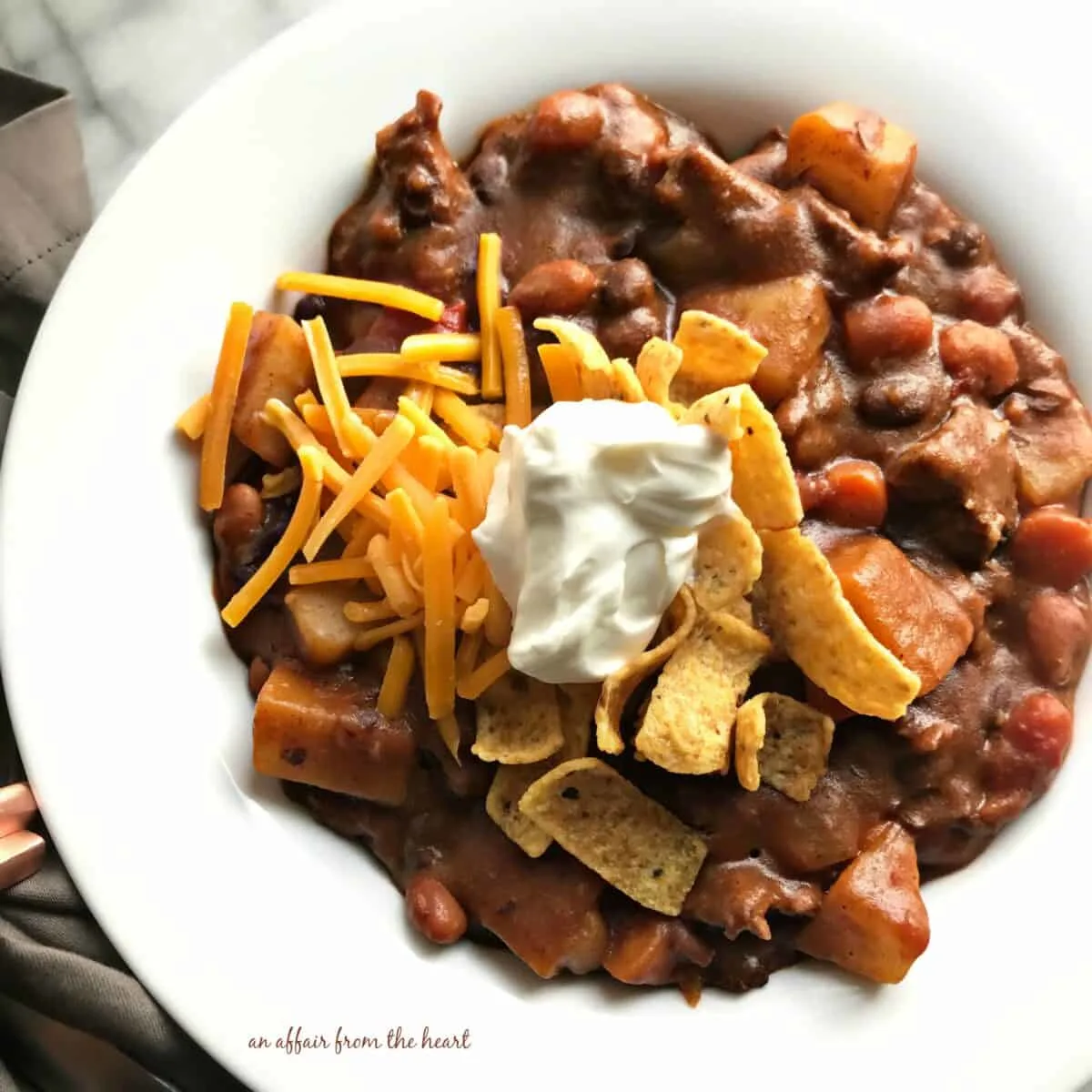 The looks of a classic beef stew, made with potatoes, carrots, onions, and chunks of beef gone Mexican style! Add in the spice of Rotel, taco seasoning, and both pinto and black beans, and you have put a new twist on Taco Tuesday! Make it on your stove top or in your crock pot. Top it with sour cream, cheese and corn chips!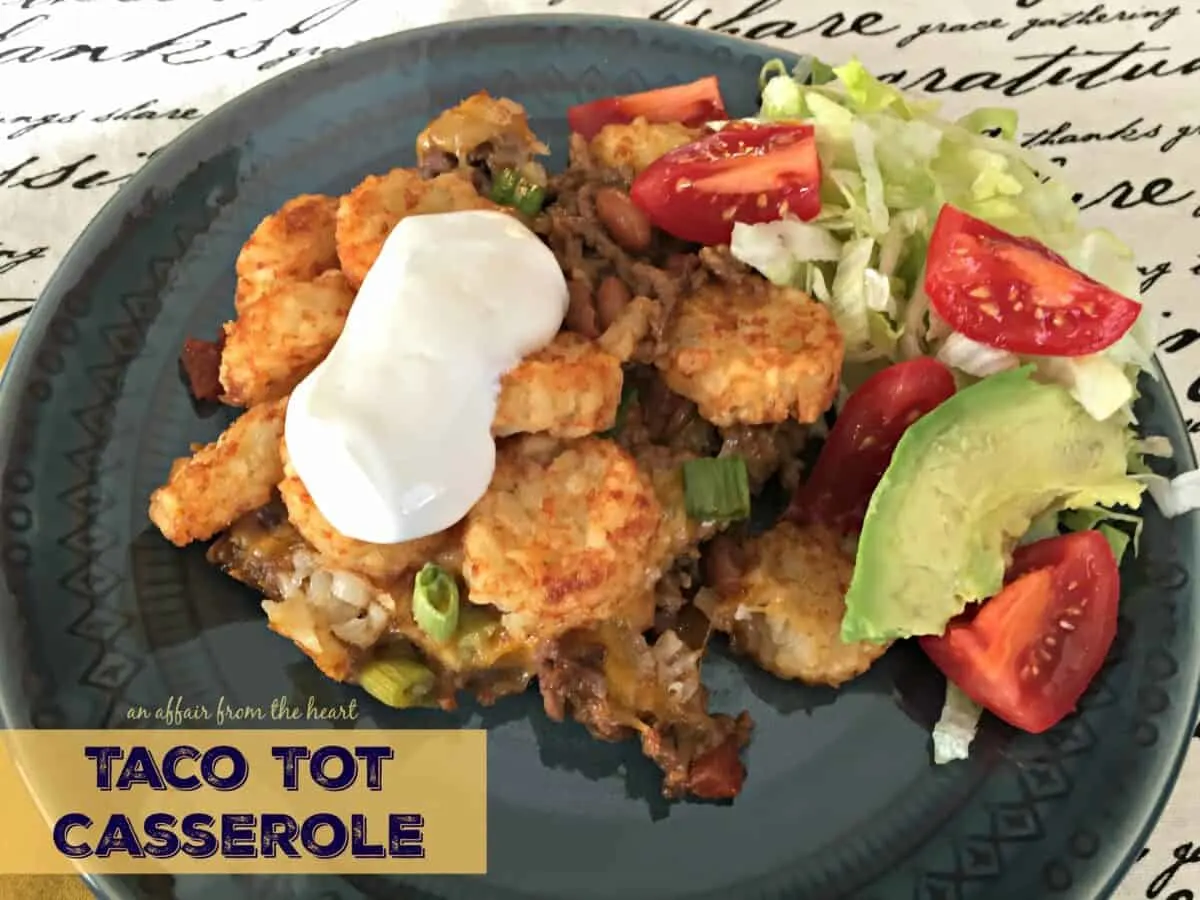 Taco Tuesday will never be the same – we have merged the taco and the beloved tater tot casserole to make this delicious (and EASY!) family meal!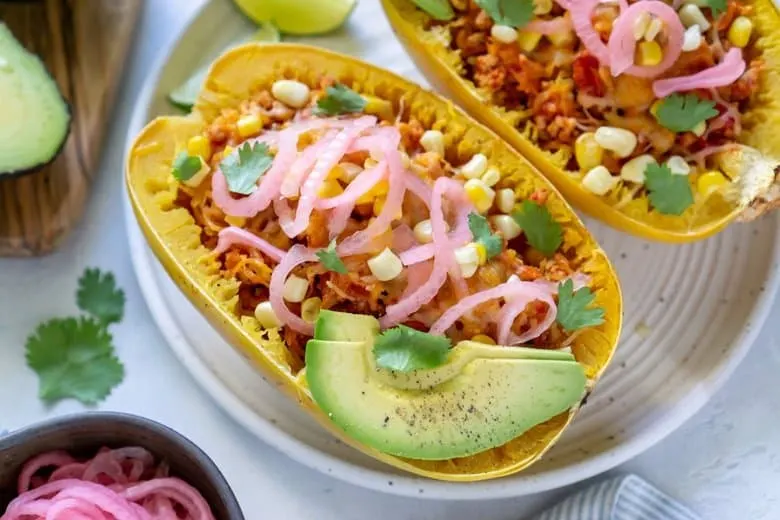 Taco Spaghetti Squash Boats are stuffed with ground chicken, diced tomatoes, avocado, and lots of cheese! They have tons of flavor and are so easy to make.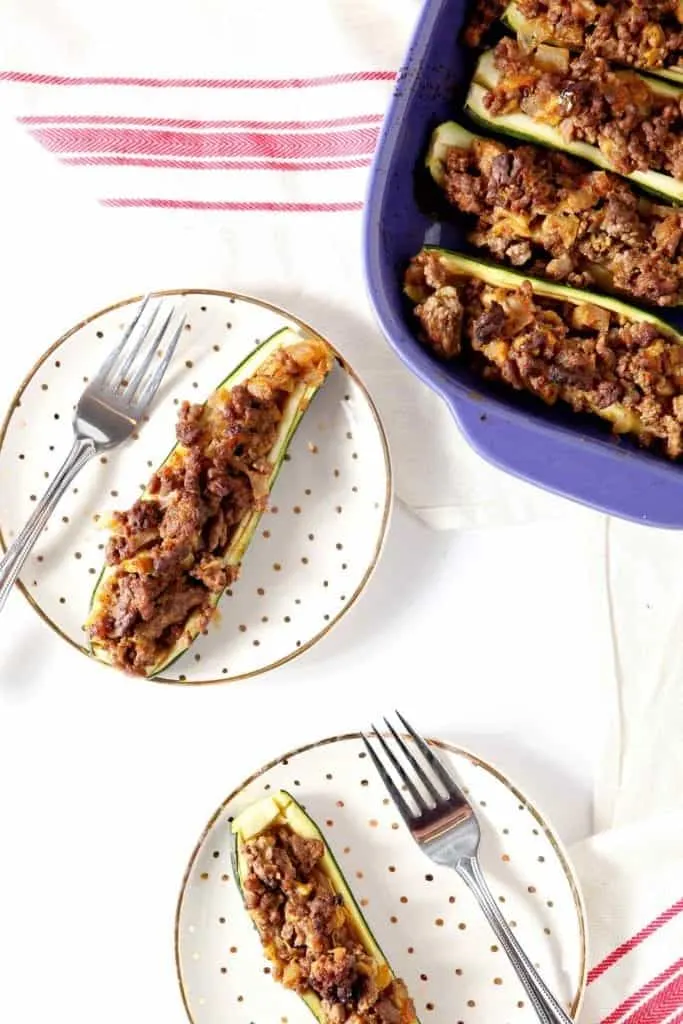 Bursting with flavor and summertime goodness, Whole30 Taco Zucchini Boats are a dinner the whole family will adore! Hollow out fresh zucchini and fill with a ground beef-onion-zucchini-salsa filling before baking to perfection. Insanely flavorful with just the right amount of heat, these satisfying Whole30 Taco Zucchini Boats bring taco flavors to the table without wheat, corn OR dairy! These zucchini boats are one of our favorite meals!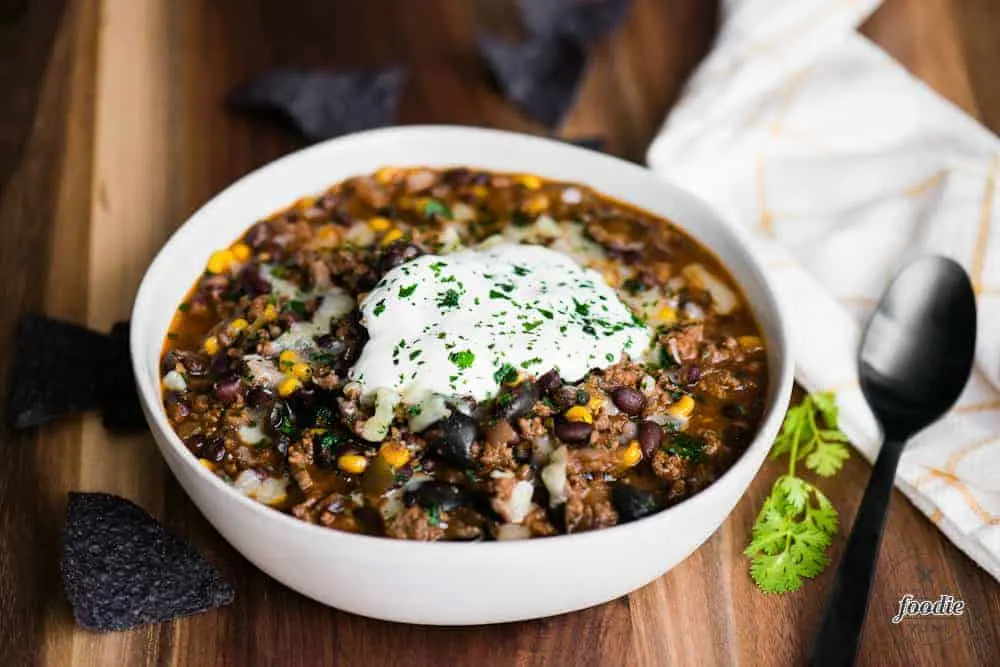 Ground beef, taco seasoning, beer, corn, olives, salsa and black beans all come together for a quick and incredibly satisfying dinner. This chili recipes has all the flavors you love in a good taco, but you'll enjoy the taste as a hearty soup instead!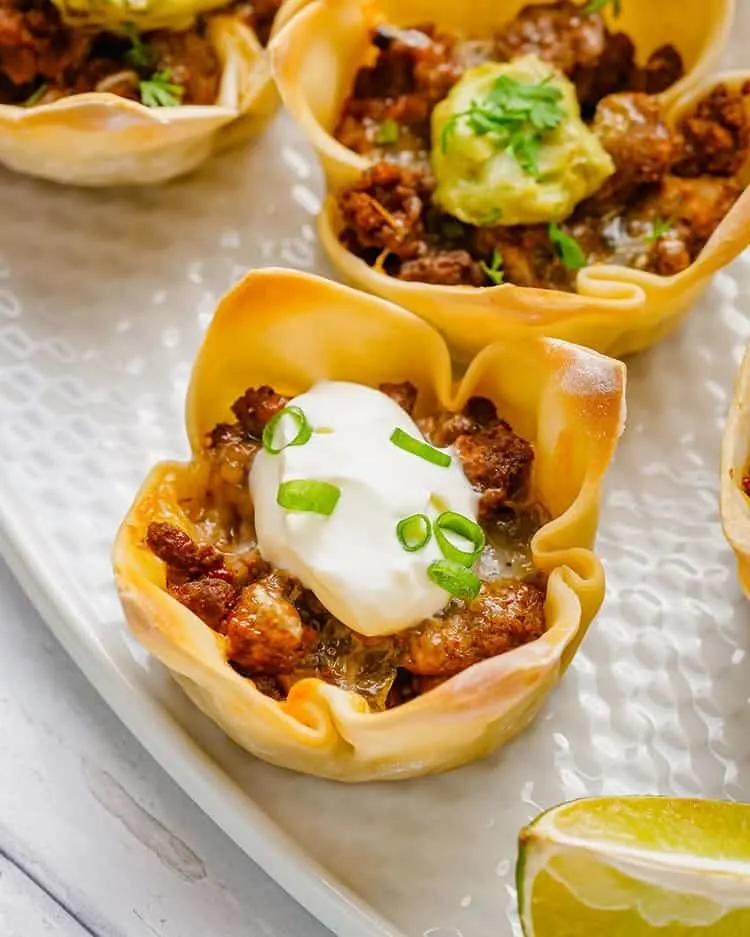 These mini wonton taco cups have layers of crunchy wonton shells, seasoned beef and melty cheese, topped with delicious things like guacamole and sour cream, they're perfect for an easy appetizer!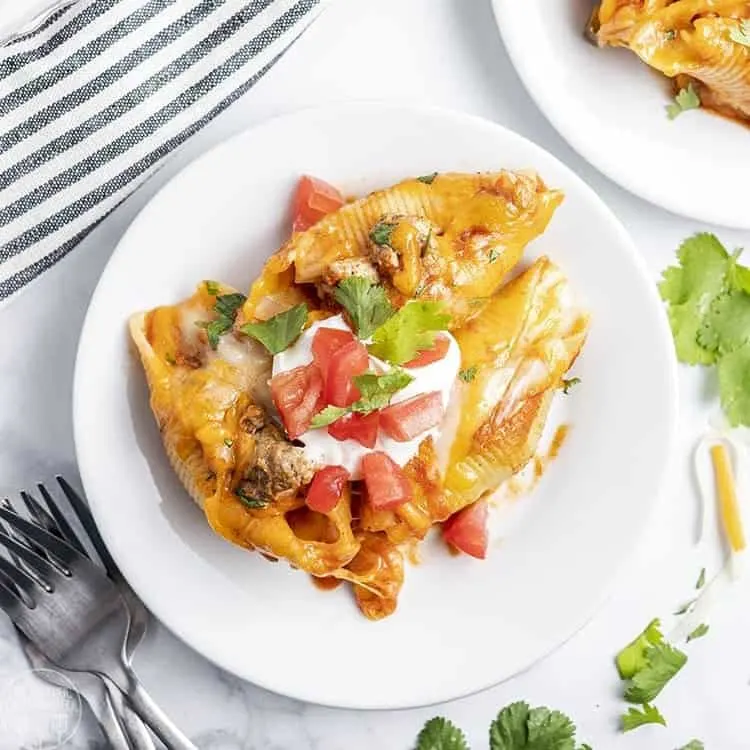 These Mexican stuffed shells are a fun twist off of traditional Italian style stuffed shells, usually filled with a mixture of cheeses and topped with marinara sauce and topped with mozzarella cheese. Instead these shells are filled with a ground beef and cream cheese mixture, cooked in a bath of enchilada sauce and salsa, all topped with cheddar cheese.
If you love this recipe as much as I do, please write a five-star review in the comment section below (or on Pinterest with the "tried it" button – you can now add pictures into reviews, too!), and be sure to help me share on facebook!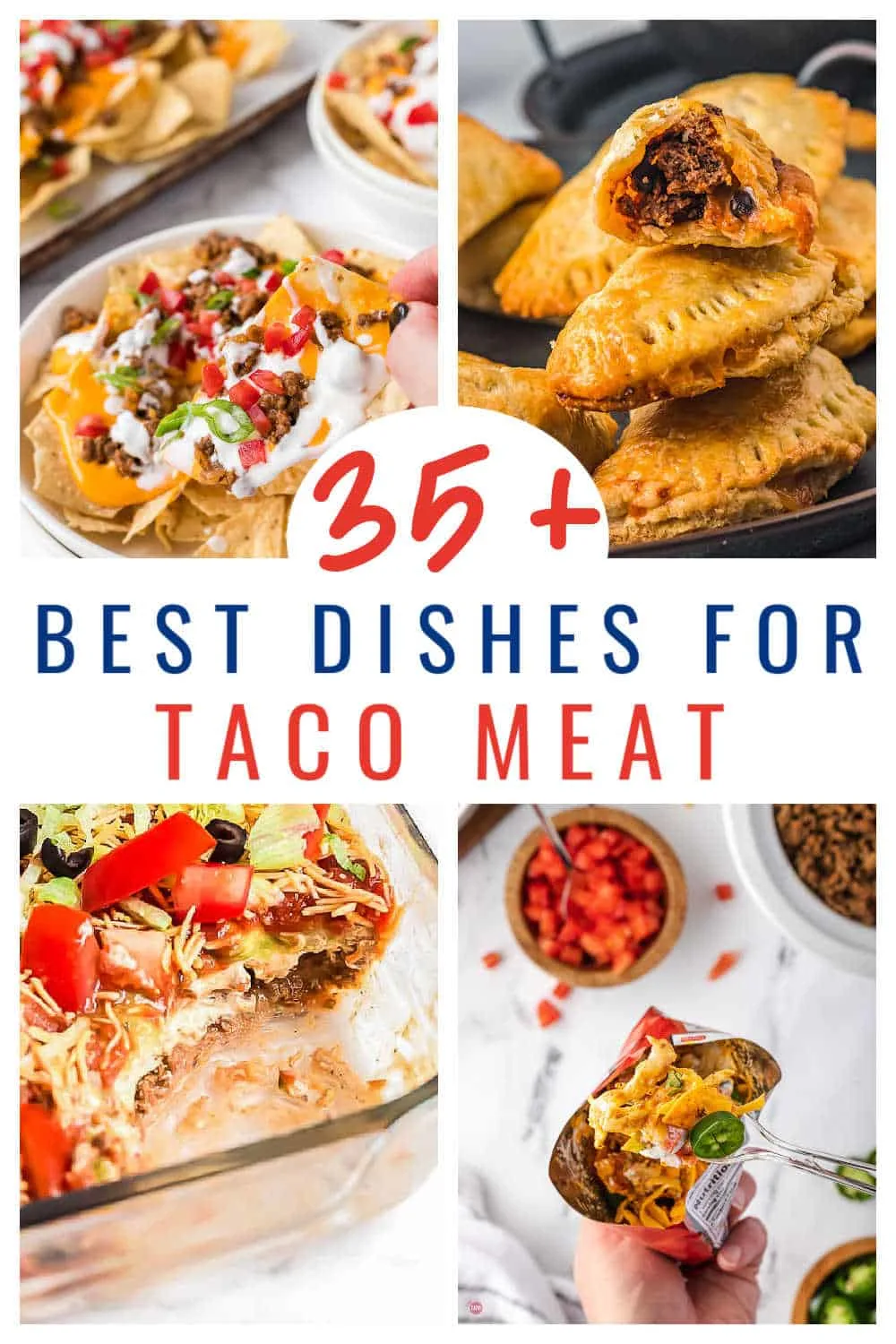 These leftover taco meat recipes are all easy to make and delicious. The whole family will want you to make double the meat so they can have tacos twice a week!
What to do with Taco Meat
More Easy Recipes
LeftoversThenBreakfast.com. Content and photographs are copyright protected. Sharing of this recipe is both encourages and appreciated. Copying and/or pasting full recipes to any social media is strictly prohibited.