If you are wondering what dish to serve with Perogies, then you have come to the right place. Whether you're thinking about classic regional pairings or trying to make something less traditional, then I have you covered.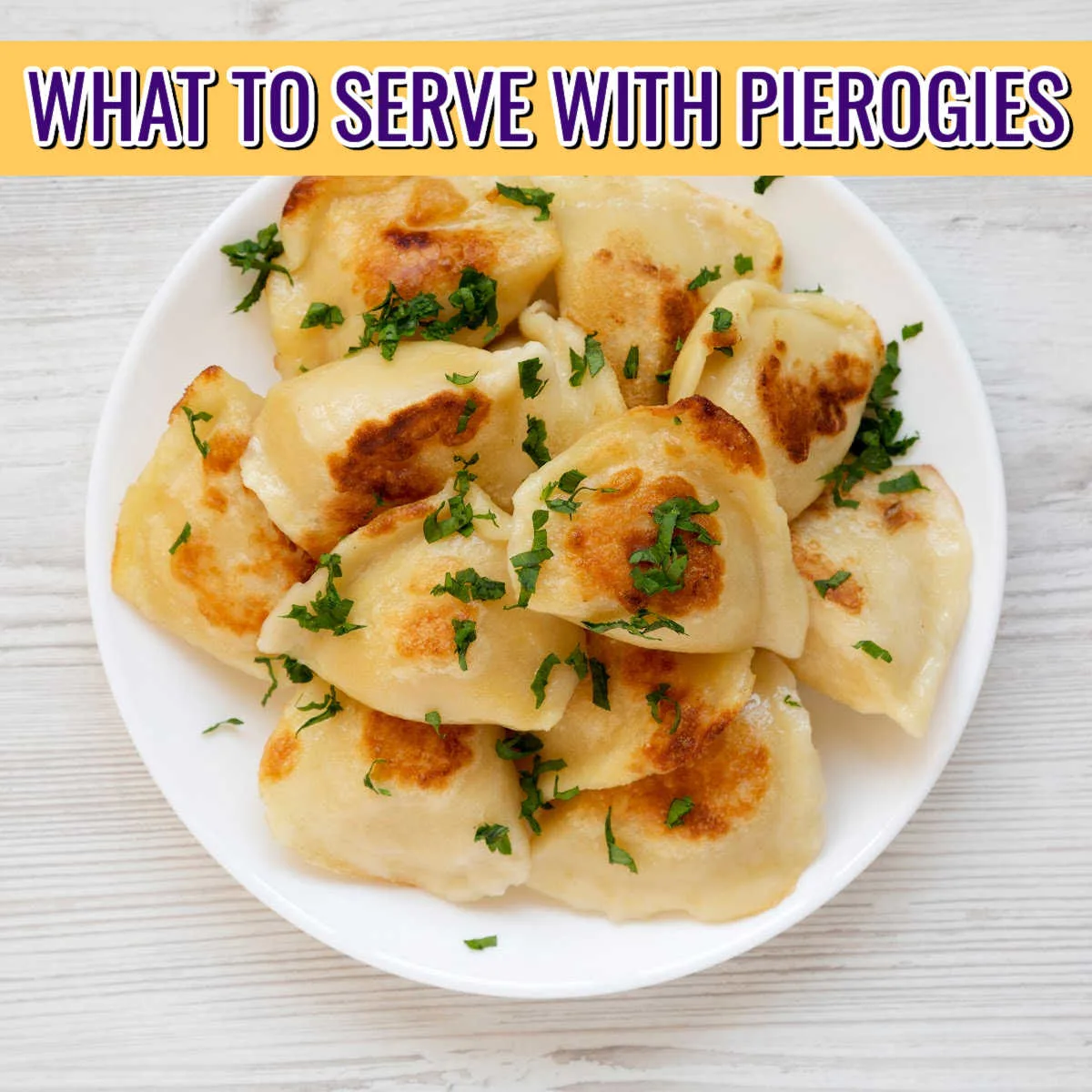 And that is a pretty wide area to cover. Because perogies come in such a variety, filled with as many ingredients as imagination and access permit.
What Are Perogies?
A pierogi is essentially an eastern European dumpling, typically boiled, then pan fried quickly before serving. Although sometimes an oven is used to broil them briefly instead.
They can be filled with all sorts of things, but typical ingredients include things like pork and sauerkraut, cabbage and mushrooms, or raisins, fruits, and marzipan. Tons of options!
If it seems similar to a Chinese dumpling, then you paid attention in world history. Remember when the teacher said Marco Polo brought pasta to Italy from his worldly exploits in China?
Well, I guess he learned a couple good dumpling recipes along the way too. So good, they were shared all the way to Poland, Czechoslovakia, and all the other eastern European countries.
How Do You Make Perogies?
Well, before I get into all the fantastic things you can serve with perogies, sweet, savory, or whatever, then best to make sure you know how to make them!
Here is a Classic Pierogi Recipe as well as some unique ones you might want to try.
What Sides to Serve with Perogies
Perogies range from savory to sweet, and of course some are somewhere, in fact everywhere, in between. That means sides that go best get equally diverse quickly.
It is also true for the condiments to use on them as well.
Sauces and dips, and other ways to dress them up wildly diverse and unique. From traditional sour cream sauces, to chili sauces, and so much more.
Luckily, rounding up this collection of recipes takes you everywhere you might want to go. So you get to decide what goes best with a spicy perogy or adding a vegetable side to balance out some meat stuffed perogies.
They are also great to serve with sweet perogies.
This post may contain affiliate links. As an Amazon Associate, I earn from qualifying purchases. Read my disclosure policy here.
Vegetables to Serve with Pierogies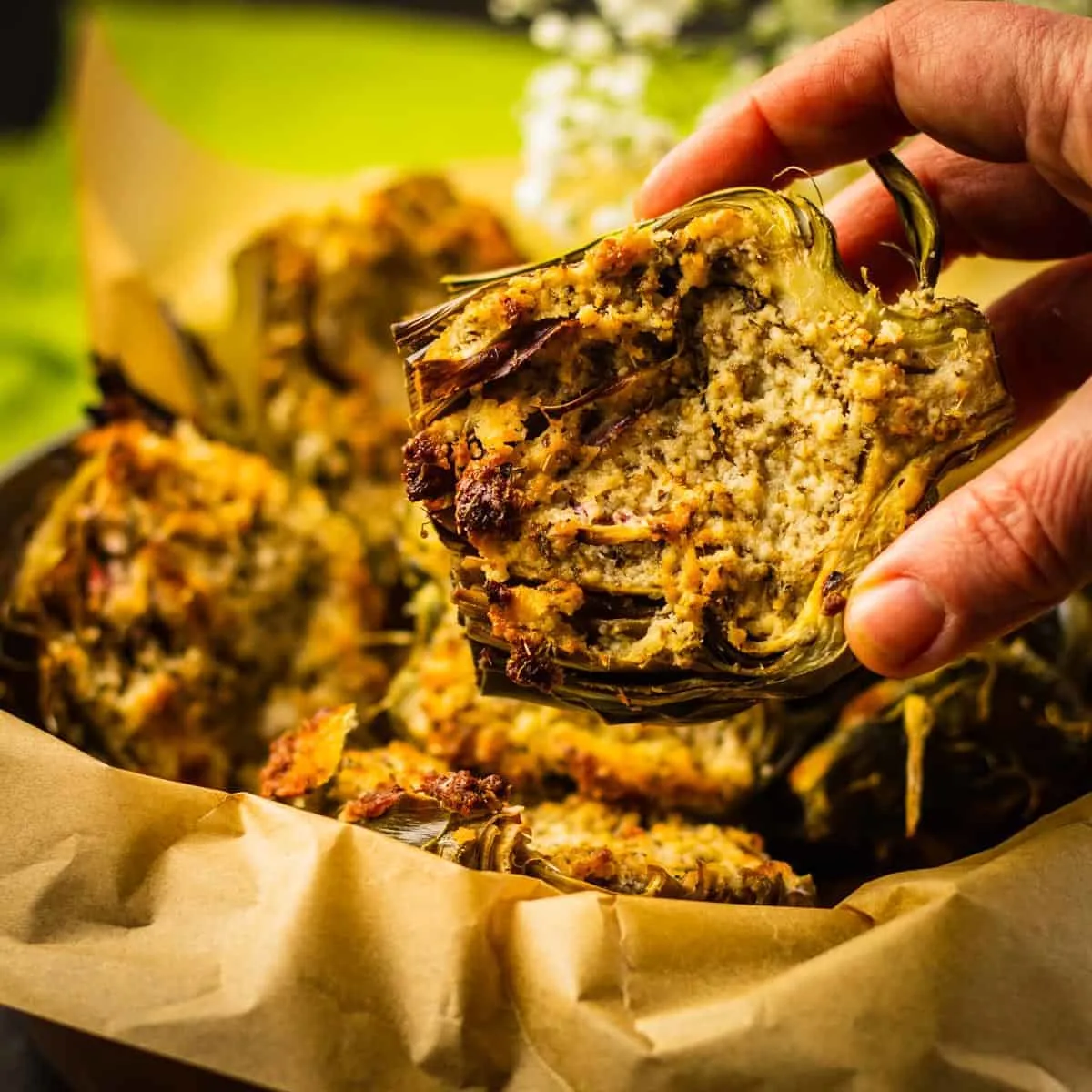 These crispy roasted artichokes with parmesan are one of the best side dishes or snacks. Whole artichokes are sliced in half and stuffed with a parmesan cheese and herb filling, then baked in the oven till tender on the inside and crispy on the outside.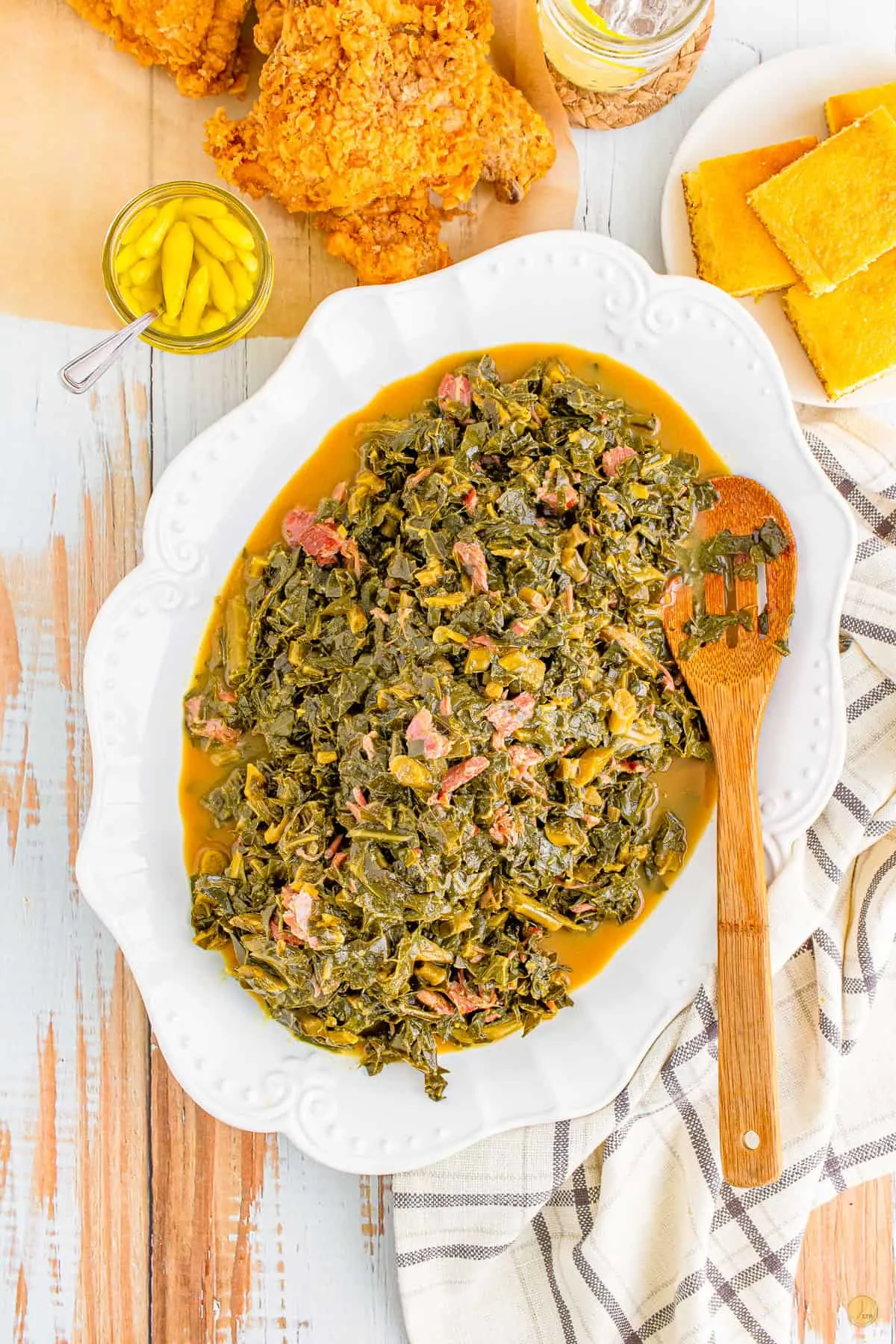 This easy-to-make recipe requires only a few simple ingredients and is packed with flavor. Serve these delicious tender greens with a rack of ribs or crispy fried chicken for the perfect soul food dinner.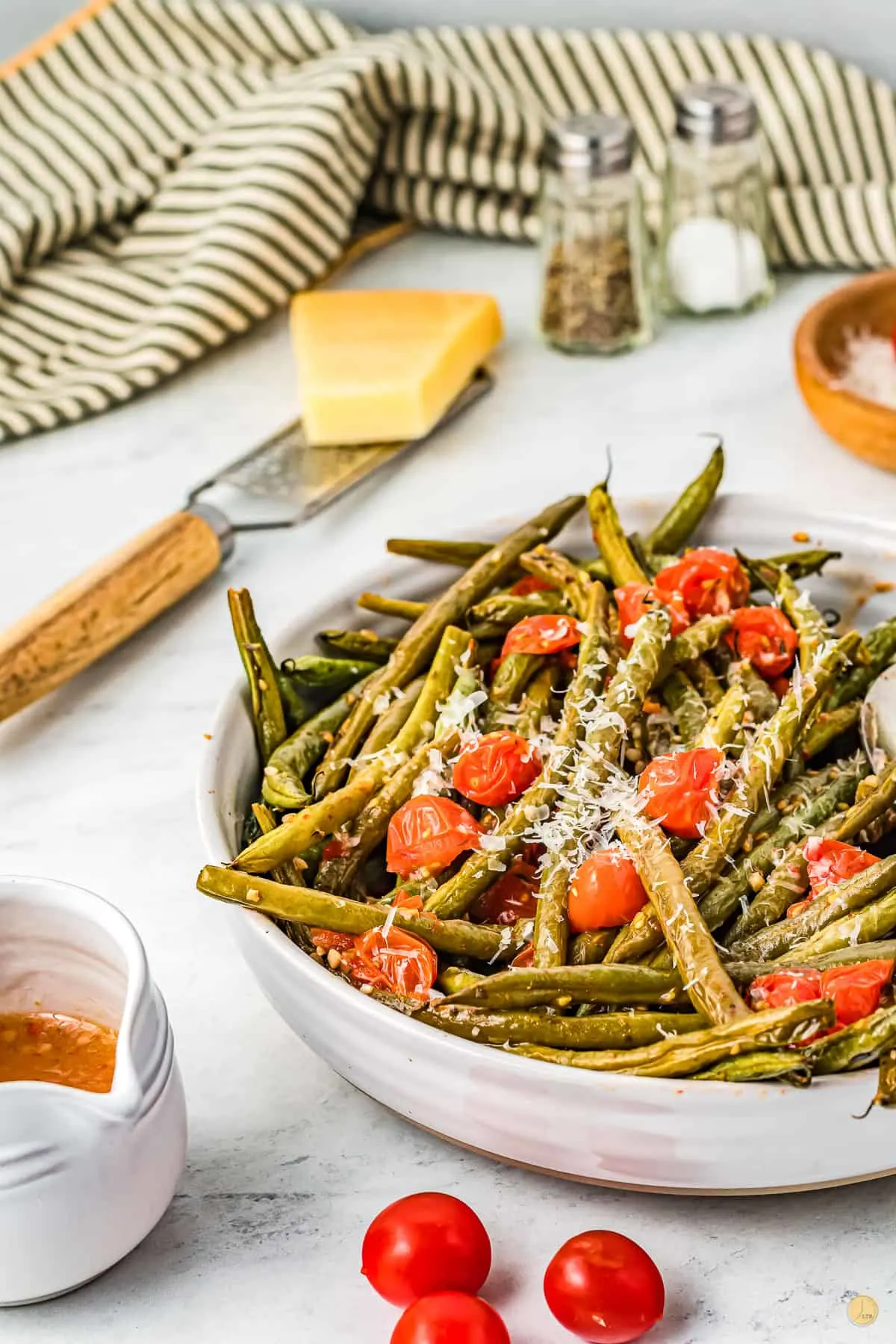 Italian Green Beans are a delicious way to enjoy a classic side dish vegetable. Roasted in the oven with juicy tomatoes and finished with grated parmesan cheese, this dish is quick and delicious.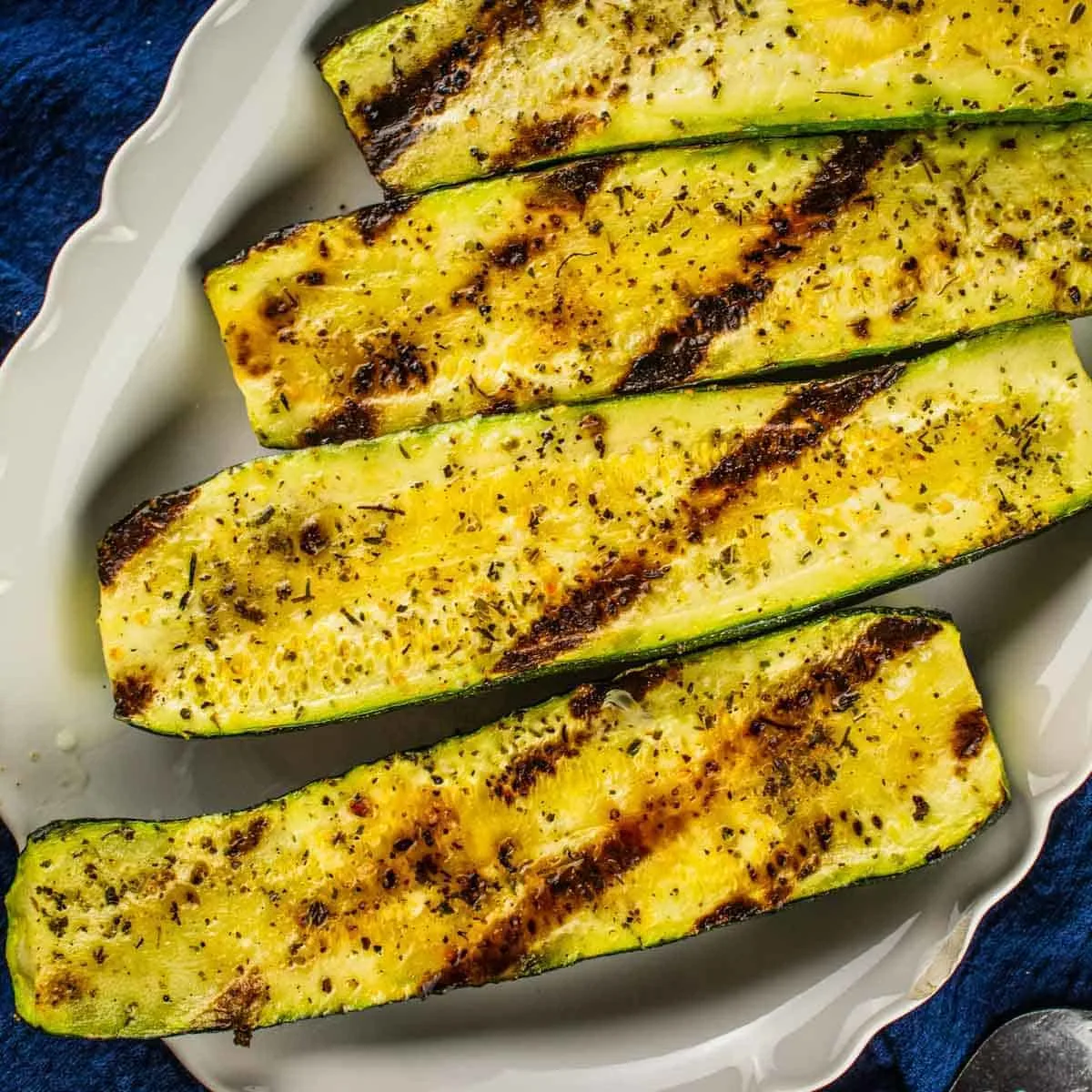 This easy grilled Italian zucchini is a fresh and delicious vegetarian side dish. Seasoned with Italian flavors and cooked perfectly on the grill, this dish takes just 20 minutes to complete!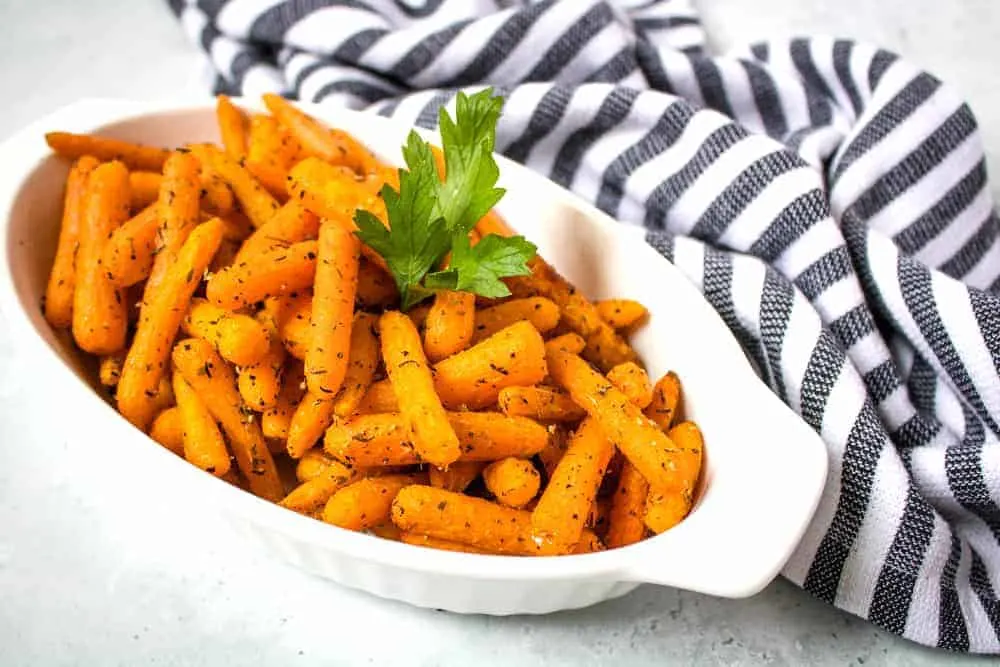 This easy roasted air fryer carrots recipe is the perfect healthy and delicious side dish for buys evenings. Here's how to make it for your family!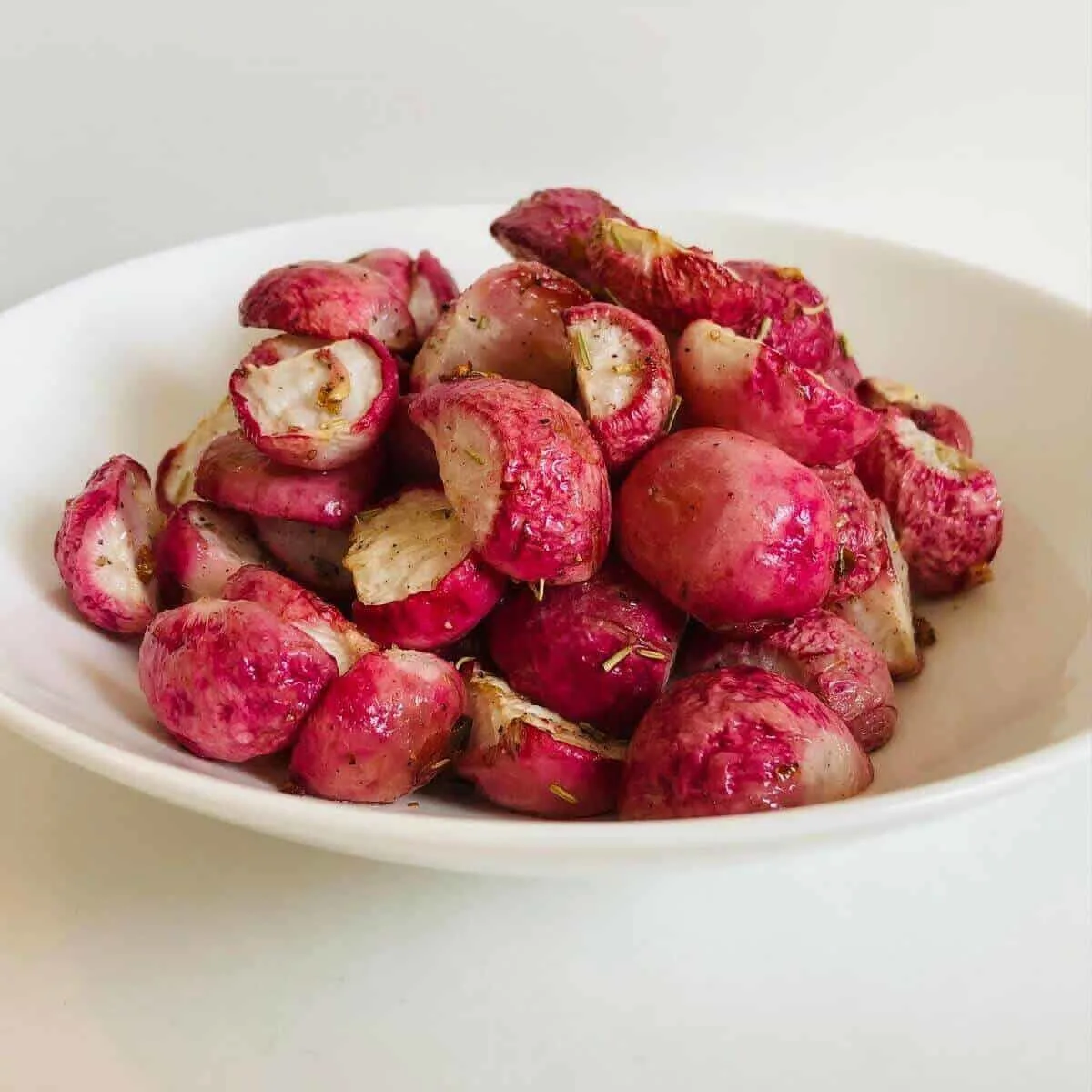 These garlicky roasted radishes are an easy, tasty side dish. They're perfect when you're in the mood for something a little different to serve with savory perogies.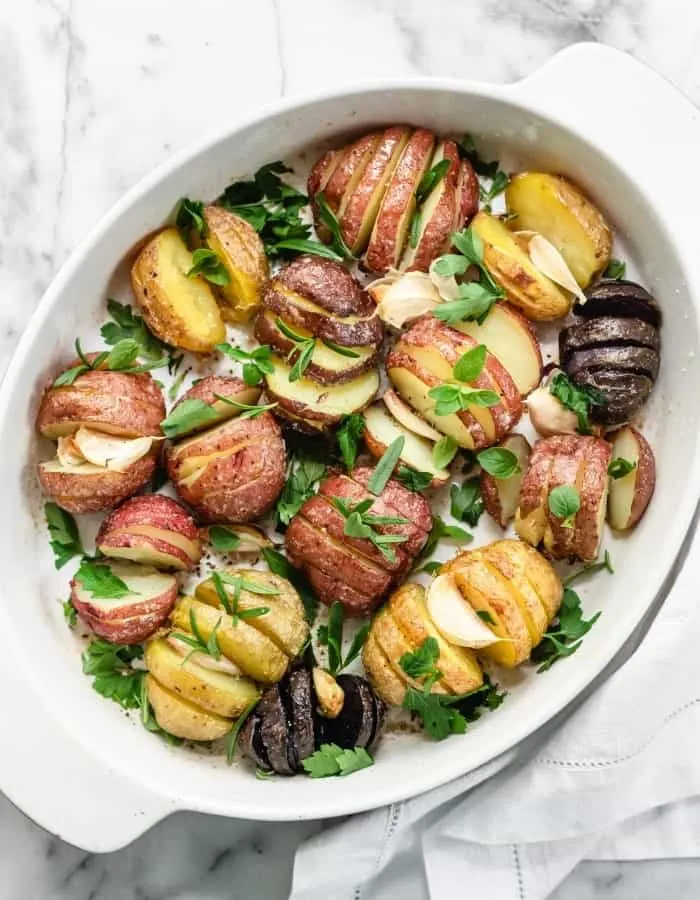 An easy recipe for making Hasselback potatoes. Halfway between a crispy roast and creamy baked potato, this recipe makes a tasty side dish or main meal.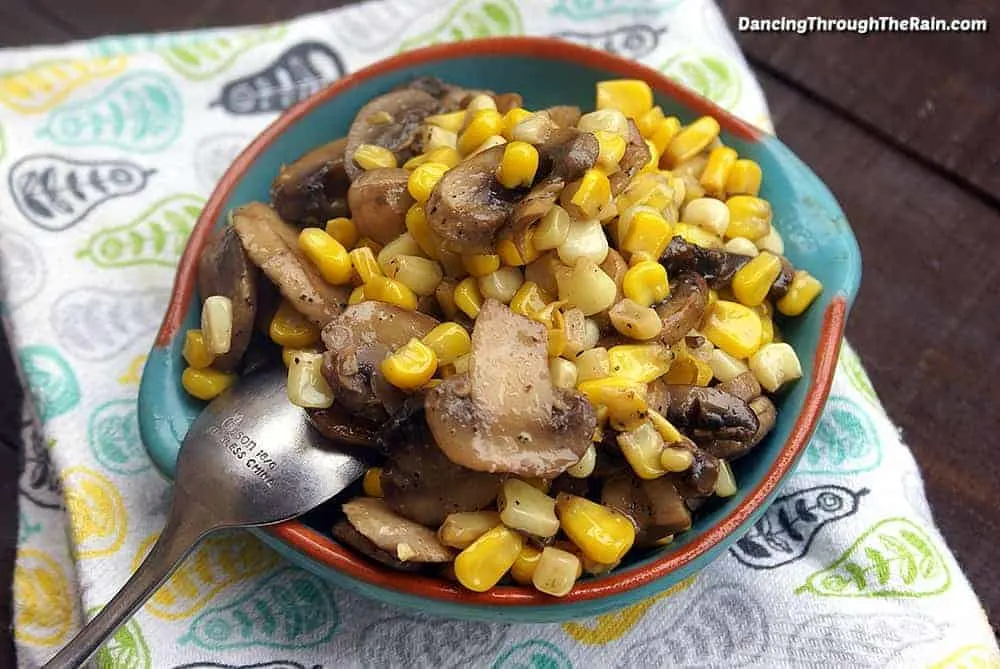 This tasty Mushroom and Corn Sauté is a quick and easy side dish that everyone can enjoy! It's naturally gluten-free and vegetarian, with ingredients that are easy to find!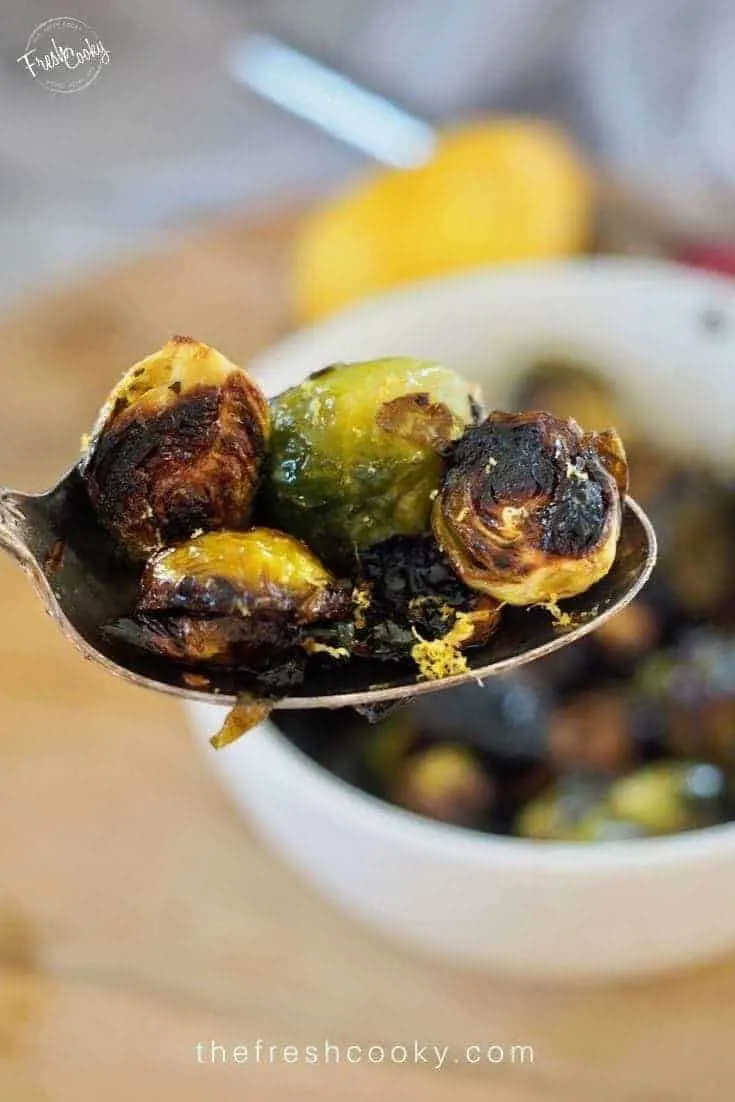 These honey balsamic Brussels sprouts are the perfect compliment to any main dish, rounding out the meal, just like at a restaurant!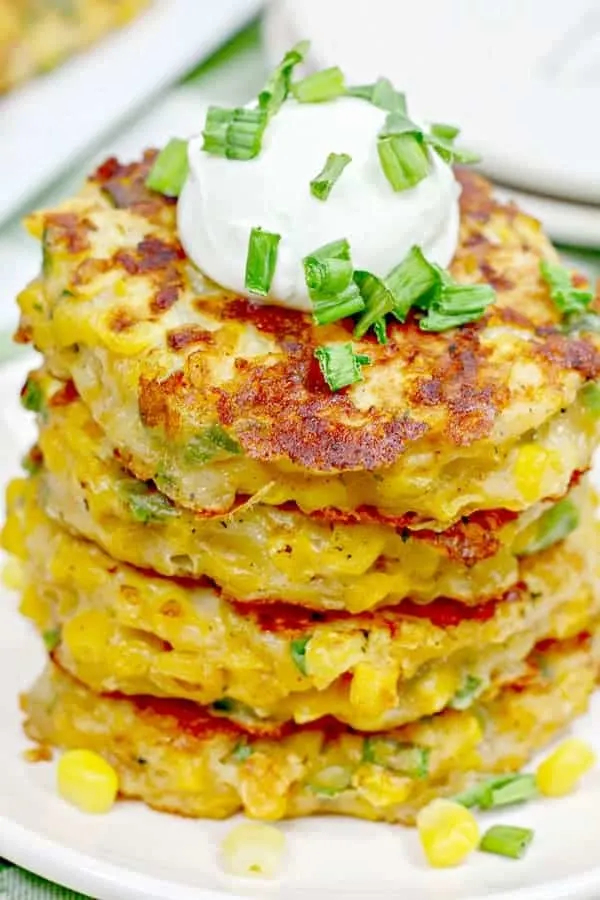 These corn fritters feature sweet corn, spicy jalapeno, and a dash of cheese. They fry up super crispy and are one of my favorite summer treats.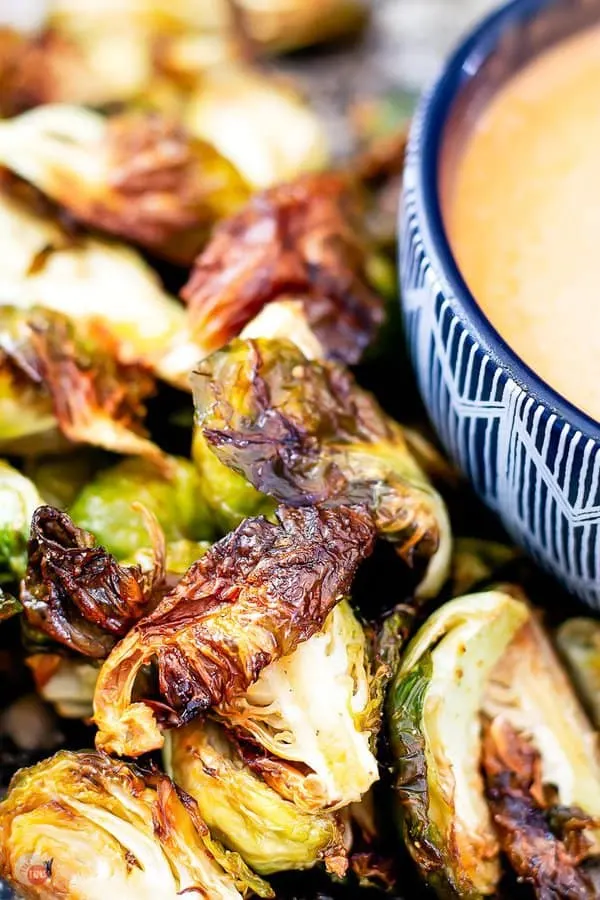 Crispy and tender Air Fryer Brussels Sprouts are crunchy on the outside and soft on the inside. A great side dish and now even easier in the air fryer! Better than the traditional cabbage and bacon.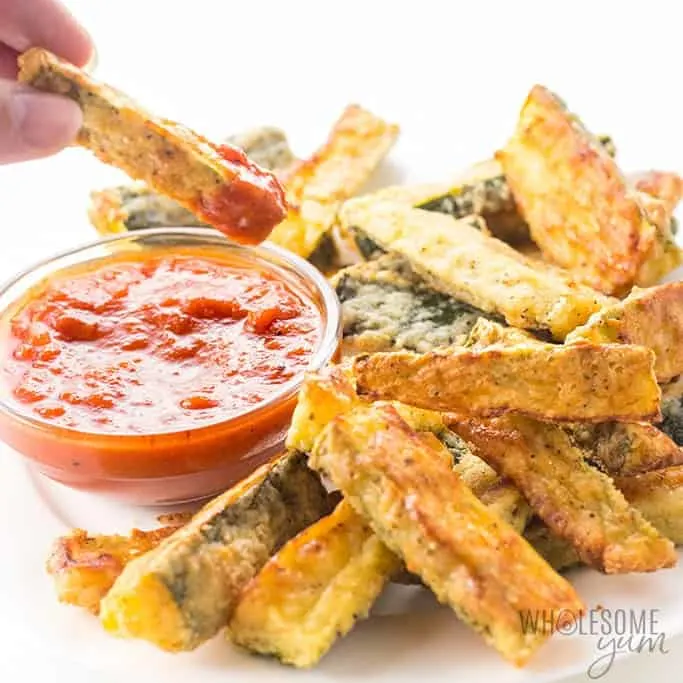 Crispy oven baked zucchini fries made with just 5 INGREDIENTS! Everyone will love this easy and healthy low carb Parmesan zucchini recipe.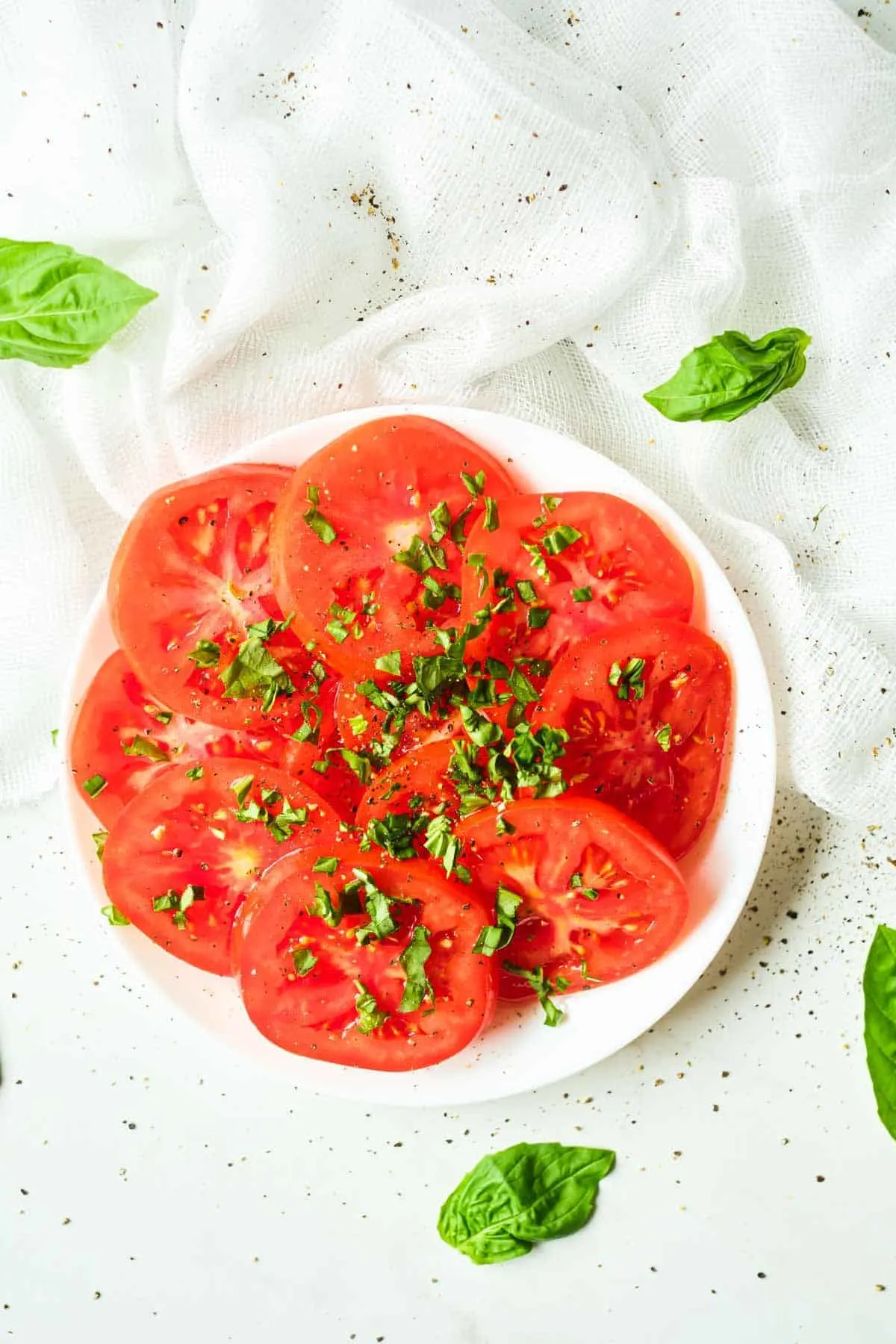 Marinated tomatoes are the perfect summer side dish. This tomato salad is so simple to prepare and goes perfect with grilled foods and tastes great on its own. You'll want to keep a bowl of this sliced tomato salad in your fridge all summer long.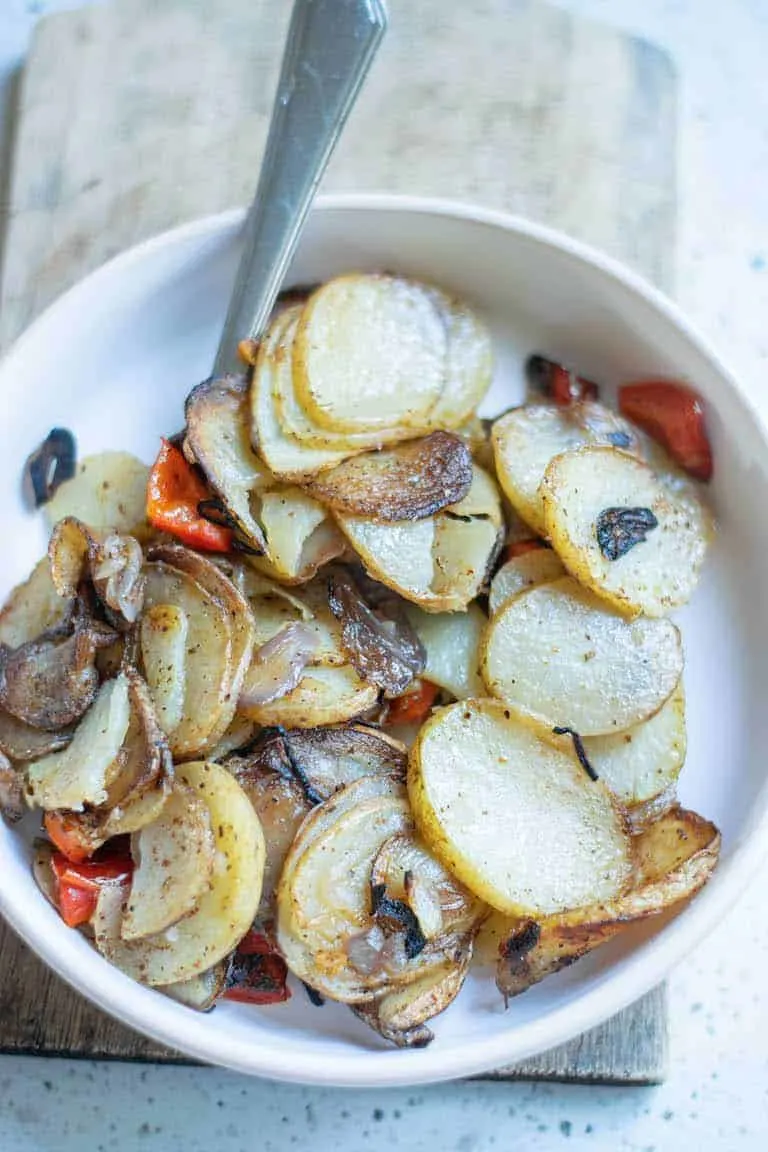 Smothered Potatoes are a classic Southern side dish made with starchy potatoes, butter, peppers, onions and fragrant Cajun or Creole seasonings.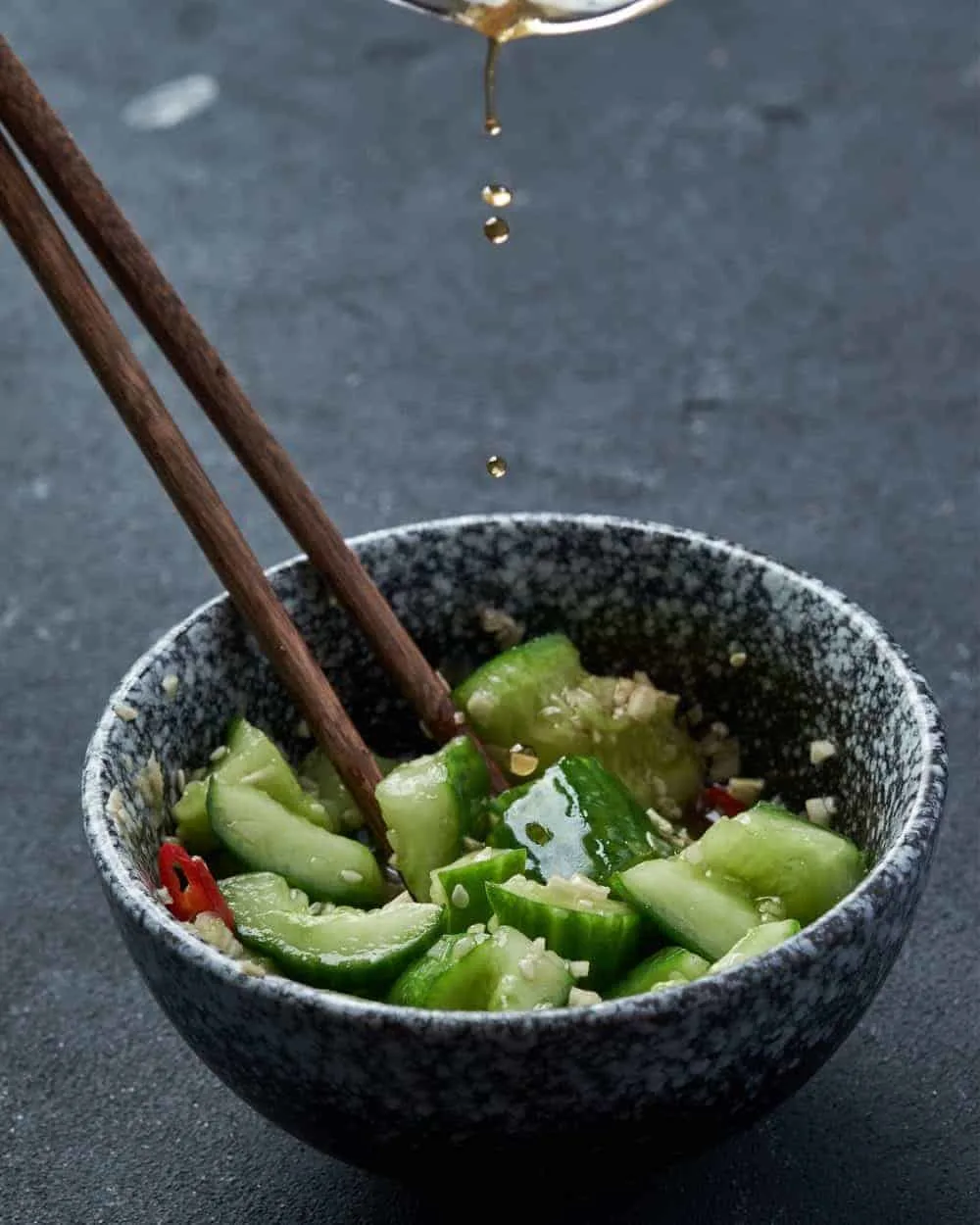 If you're looking for an explosive flavor to complement your pies, try this recipe. Sweet and sour taste of this smashed cucumber will blow your mind.
Looking for more leftover worthy dishes? Follow LTB on Pinterest and pin to a board!
Salads to Serve with Perogies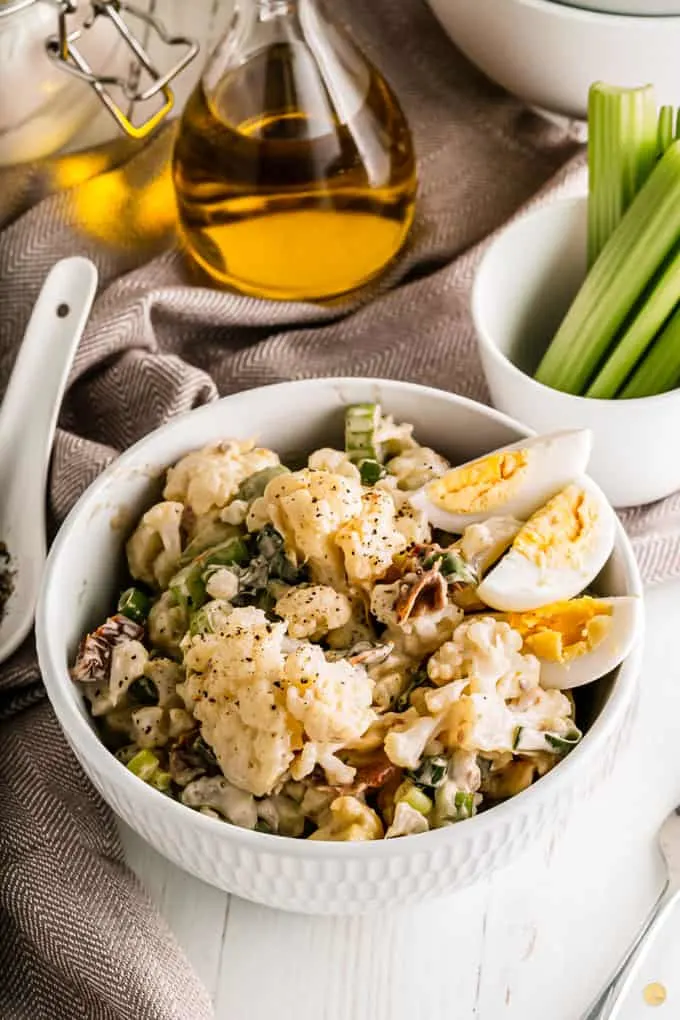 Enjoy this crispy Cauliflower Salad with pierogies. It's full of flavor and crunchy vegetables everyone will enjoy!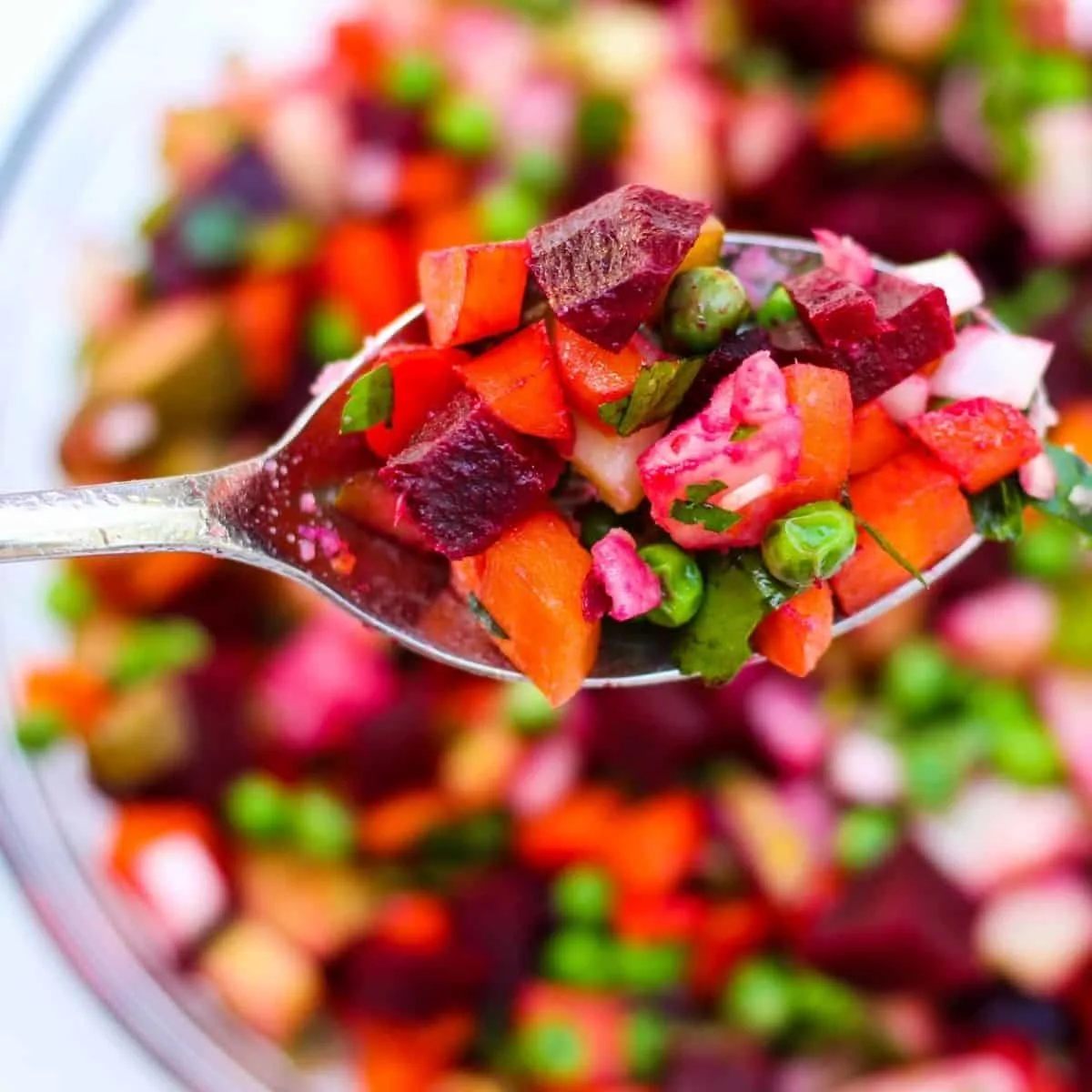 The combination of cooked beets, carrots, potatoes, peas, pickles, and green onions dressed in olive oil will create this colorful and delicious Vinaigrette salad.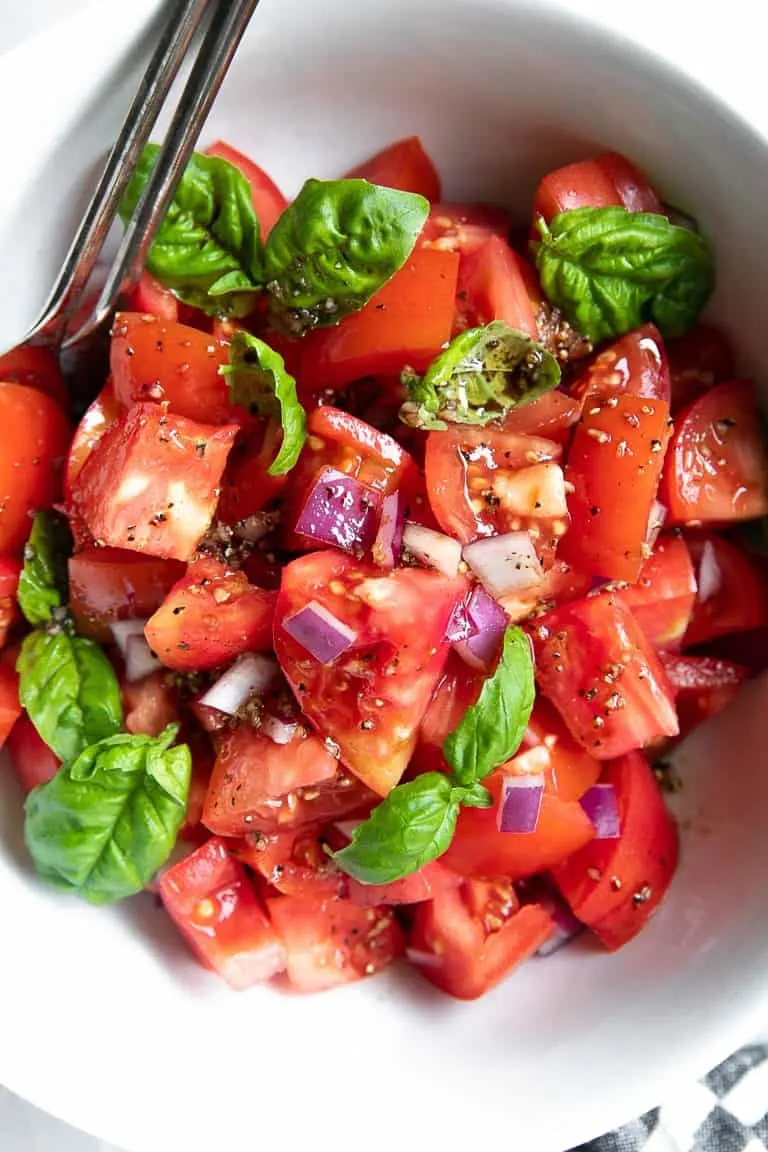 Made with garden-fresh tomatoes, spicy red onions, delicious sweet basil, and an easy three ingredient balsamic dressing, this Tomato Basil Salad takes just 10 minutes to prepare start to finish. Enjoy this gluten-free, dairy-free, and low-carb Tomato Basil Salad as a light lunch or delicious side to all your favorite main courses.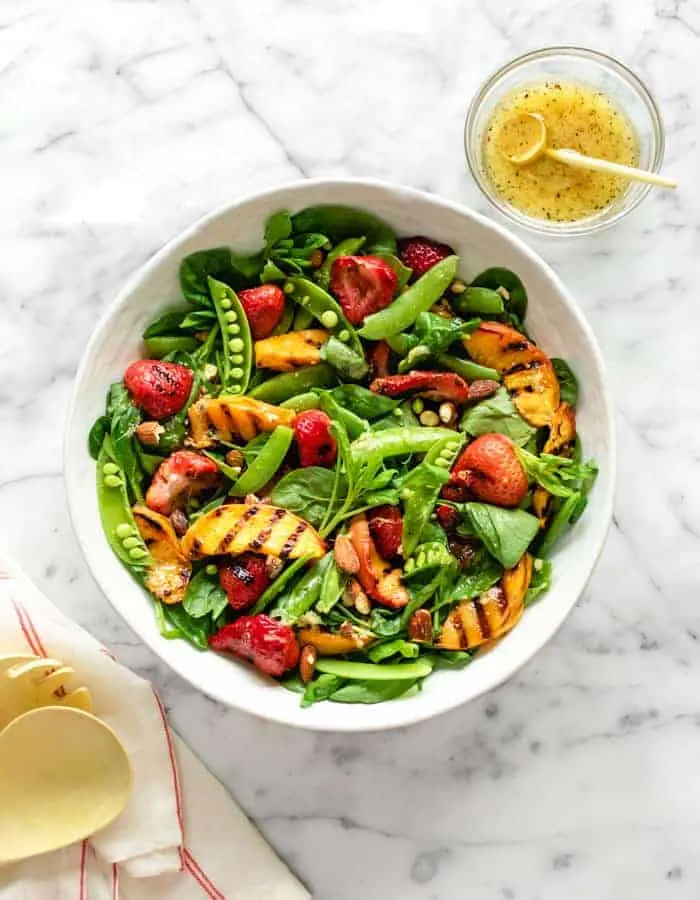 Try this bright, fresh and tasty summer salad with sweet grilled peaches and strawberries. It's a delicious way to use the grill for more than just burgers!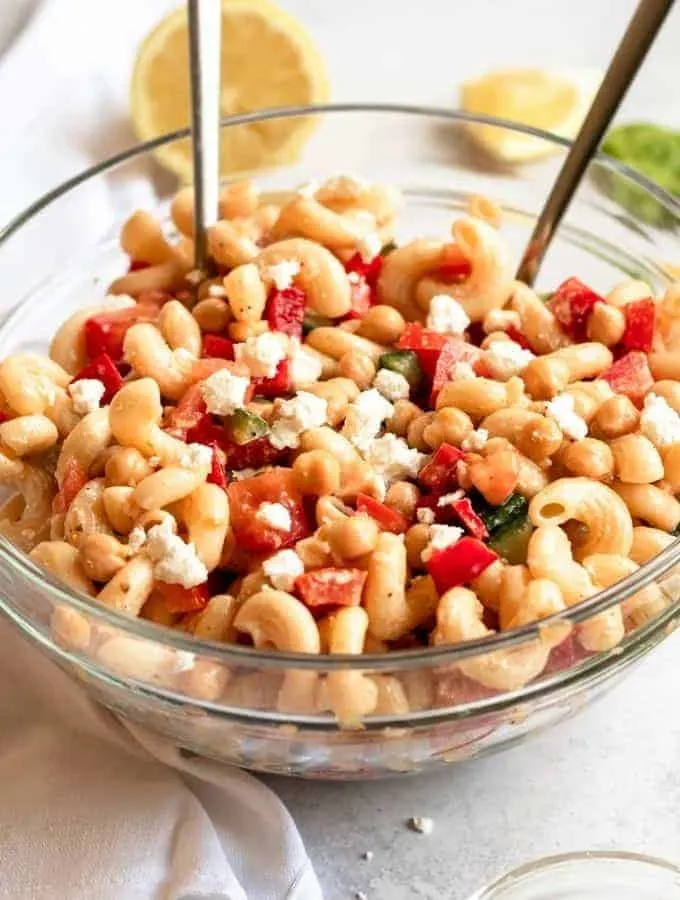 This chickpea pasta salad is made with pasta, cucumber, pepper, tomatoes, chickpeas, and feta cheese. We topped this salad with our favorite greek salad dressing.
Corn salad is one of my all-time favorite summer recipes. The sweetness of the corn cuts through the cherry tomatoes and fresh English cucumber, creating a superb plant-based salad that tastes like sunshine in a bowl.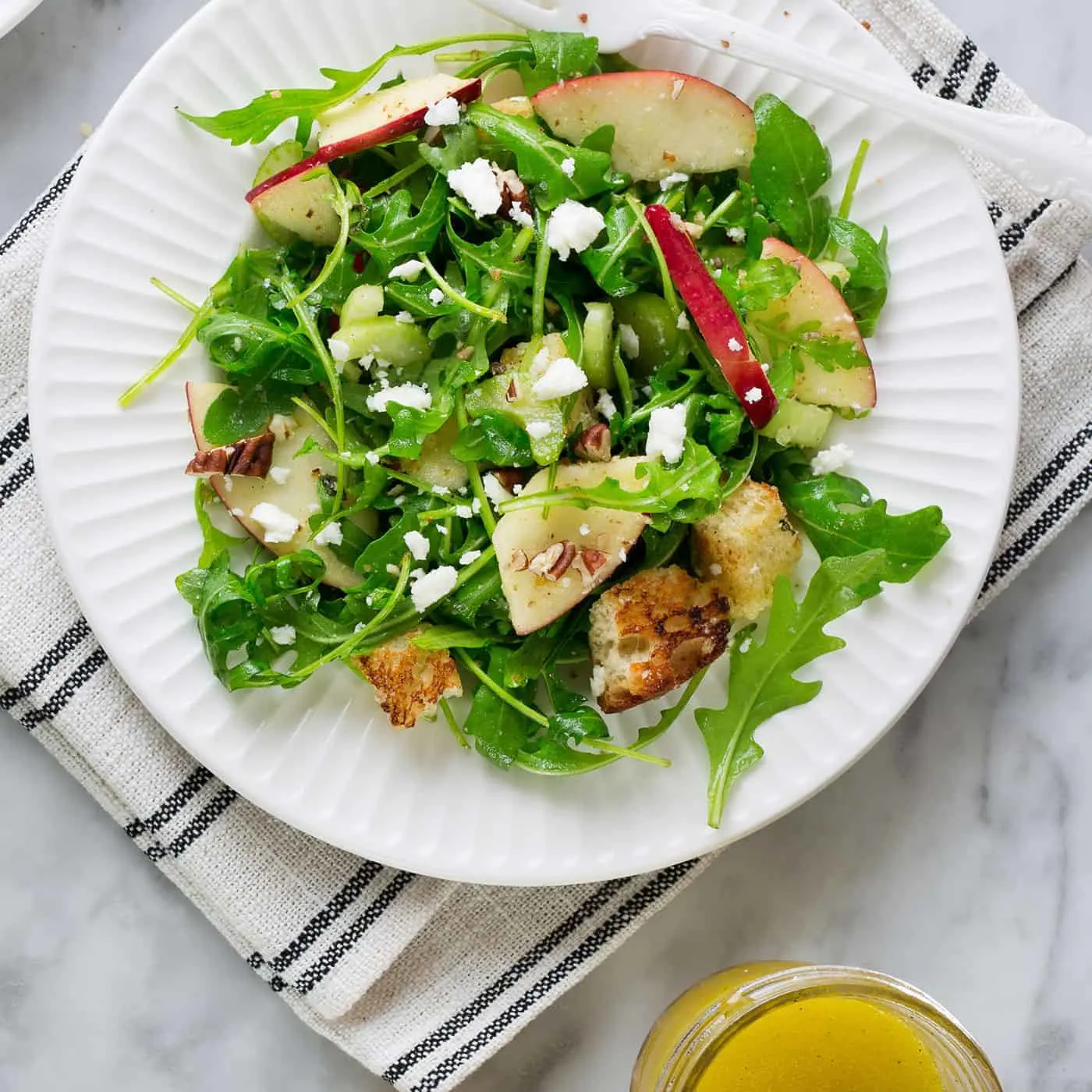 This easy arugula salad is crispy, with a perfect crunch, and delicious like no other. It makes the perfect side for pasta dishes, sandwiches, and roasted meats.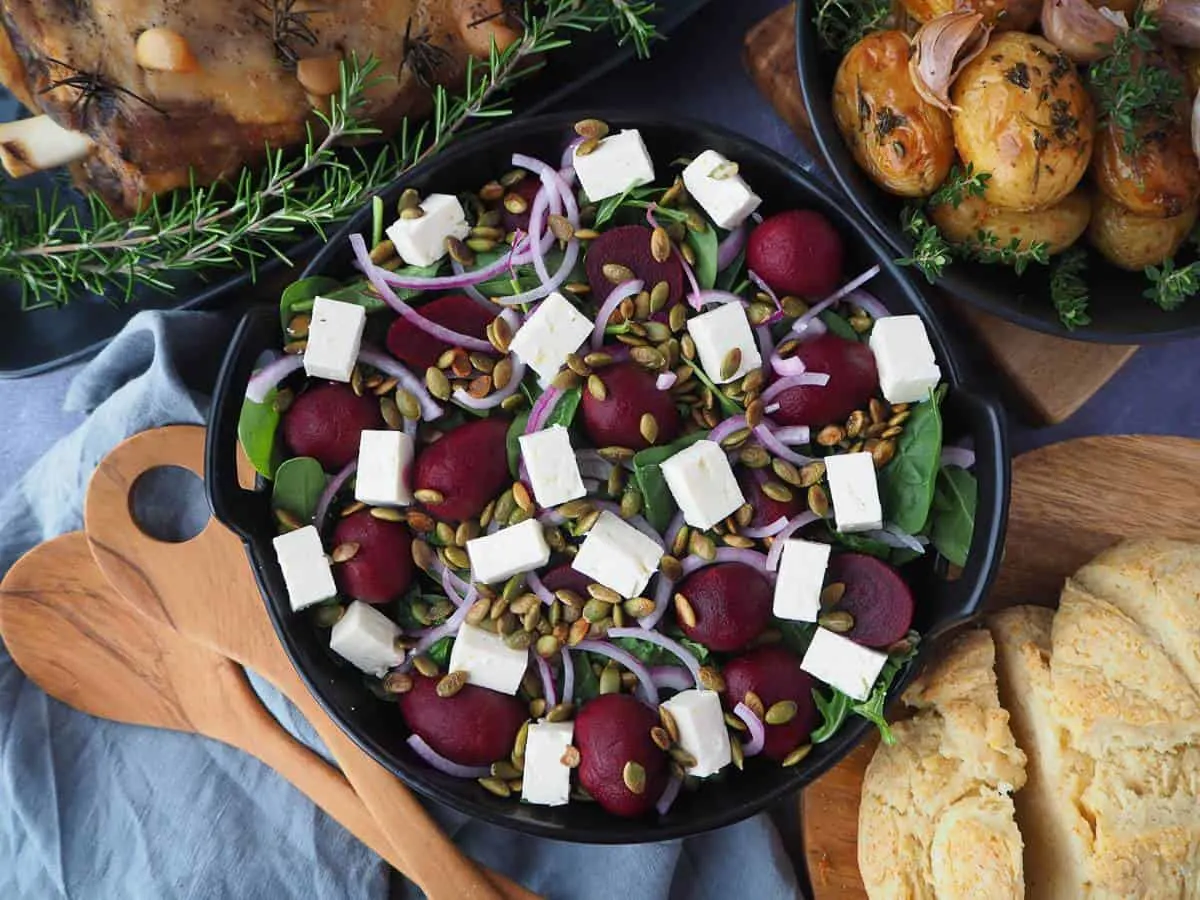 This beetroot salad makes fresh addition to your summer menu. Perfect for a BBQ or when you need something light and easy.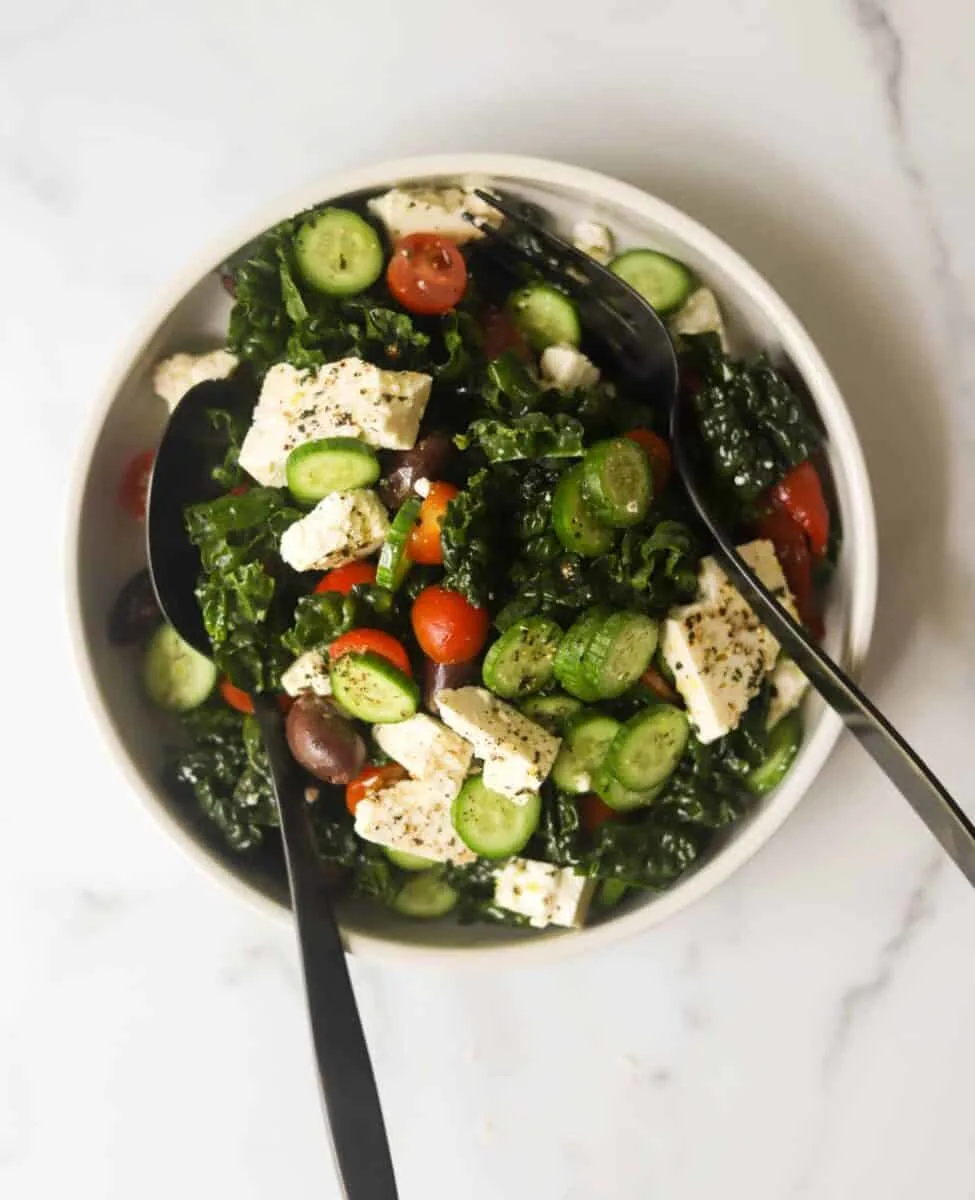 You've never had a Mediterranean kale salad like this one! It leaps out of the salad bowl with Mediterranean flavors! Big bold and briny olives, sweet tomatoes, salty feta, and crisp cucumbers.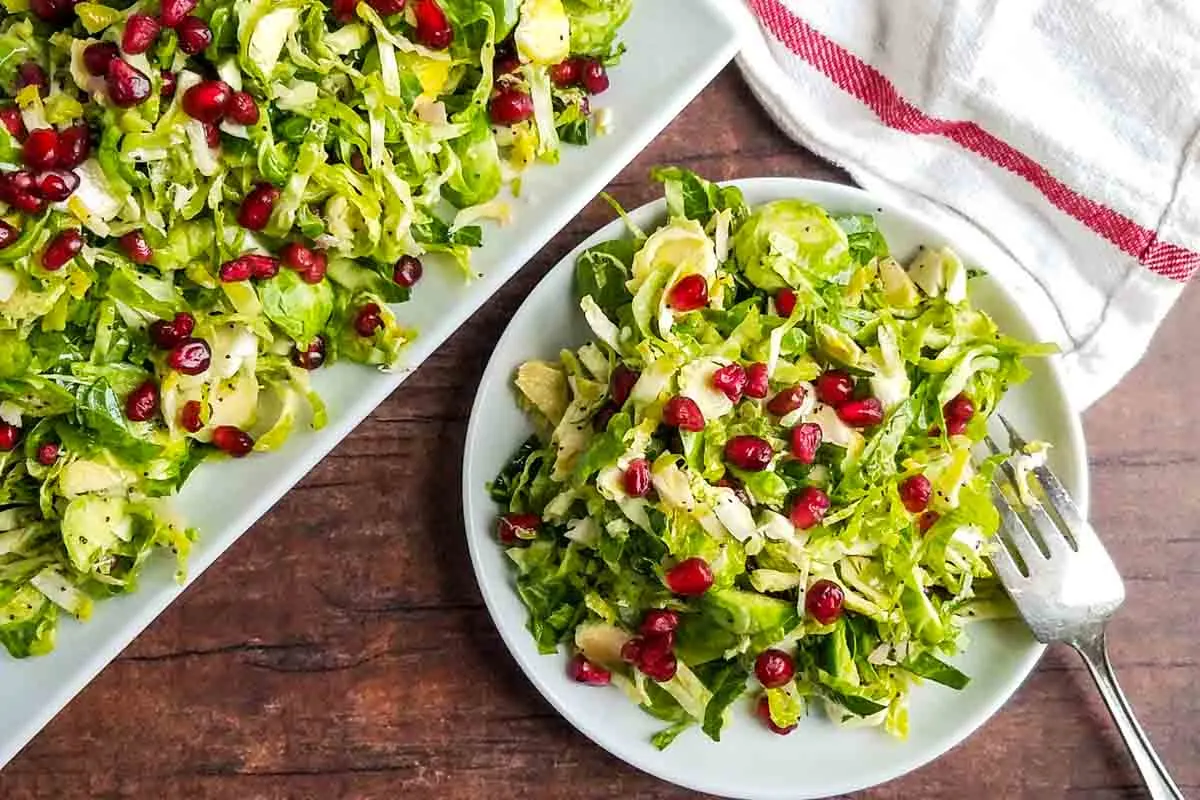 A quick an easy side salad, fresh shredded Brussels sprouts and thingy pomegranate come together for an outstanding salad.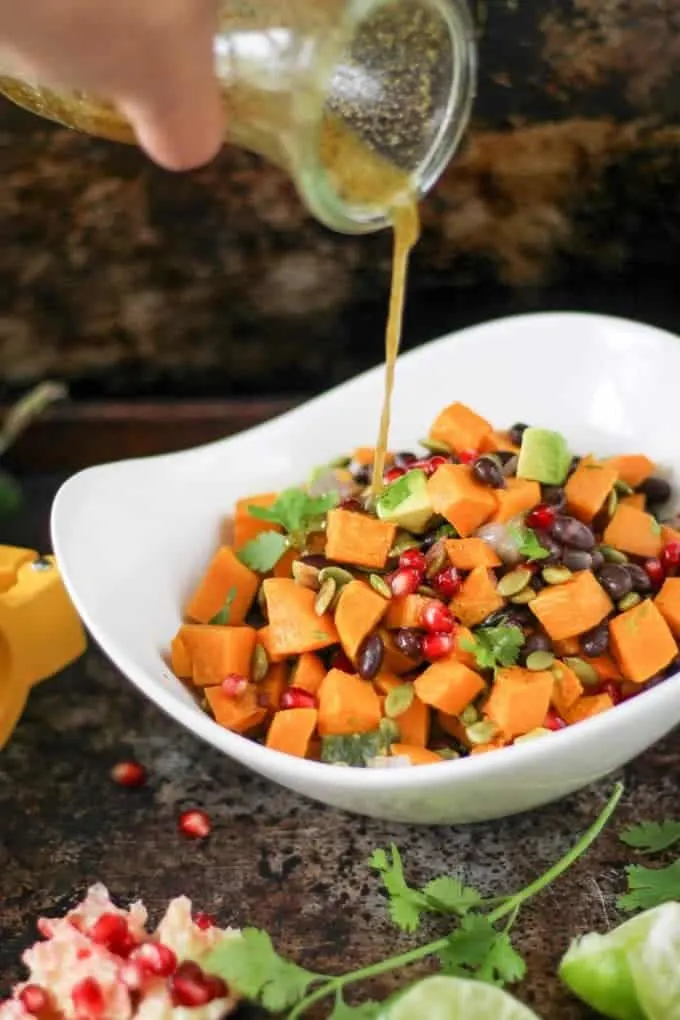 Sweet potatoes, black beans, and avocado make a power-packed salad for any season! Drizzled with a honey lime vinaigrette for a little tartness, this sweet potato salad will make your taste buds dance!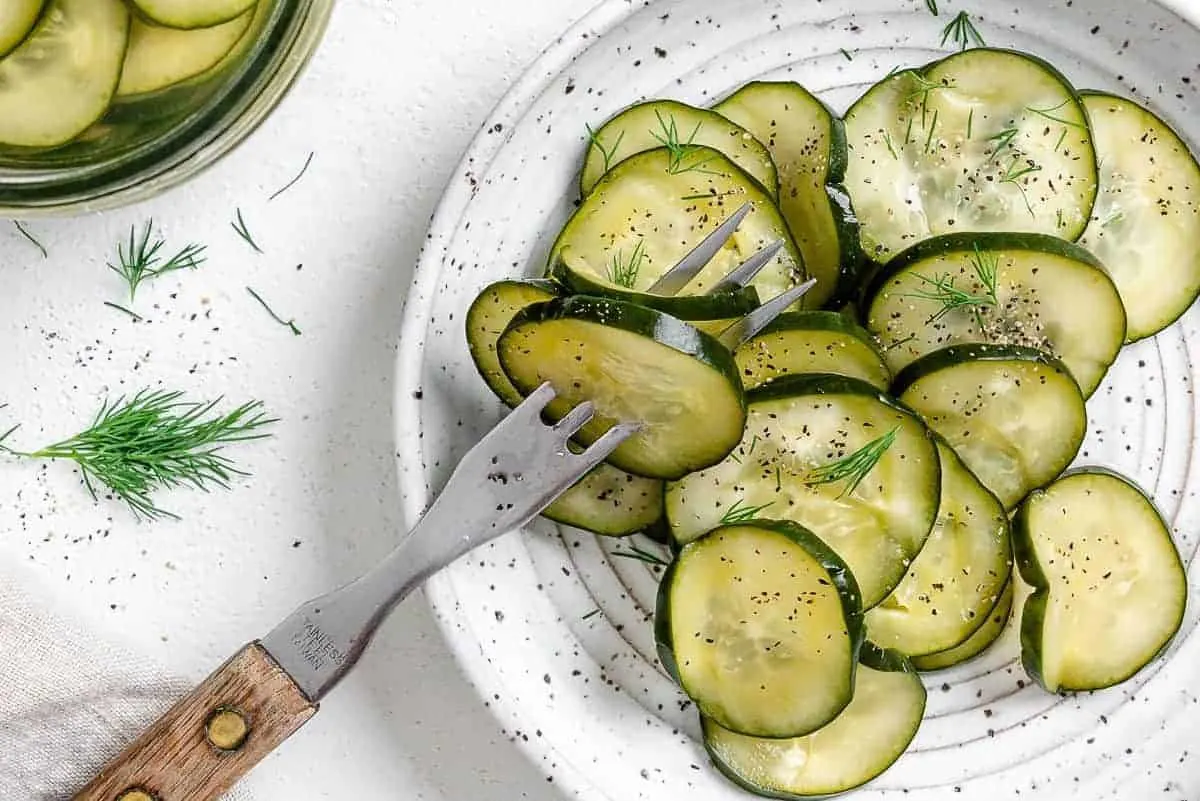 Using up summer's bounty is always a race before we get to fall. This salad captures all of those flavors and it's an incredibly easy-peasy recipe too!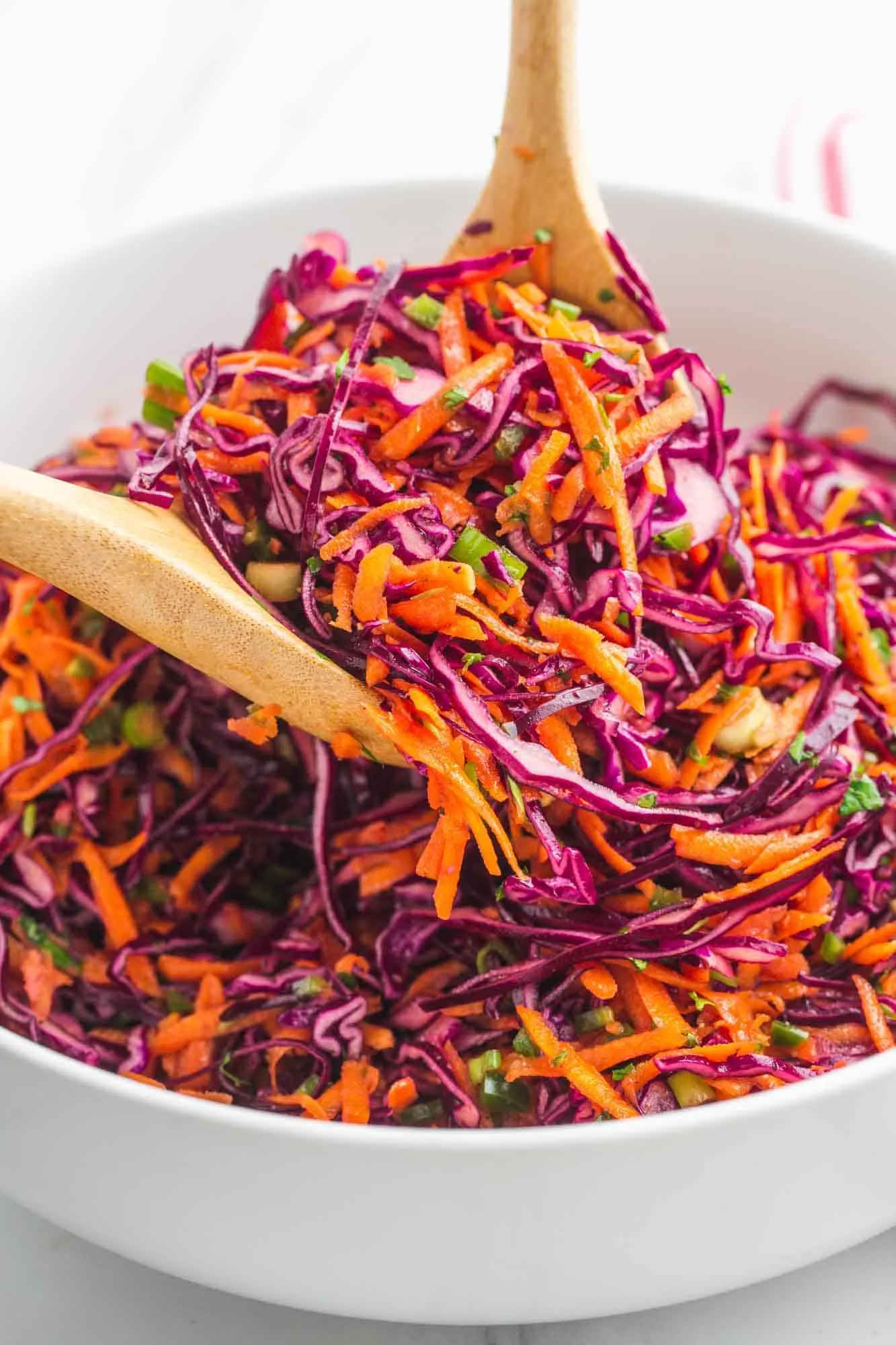 My favorite coleslaw recipe uses bright red cabbage and features a sweet and spicy dressing.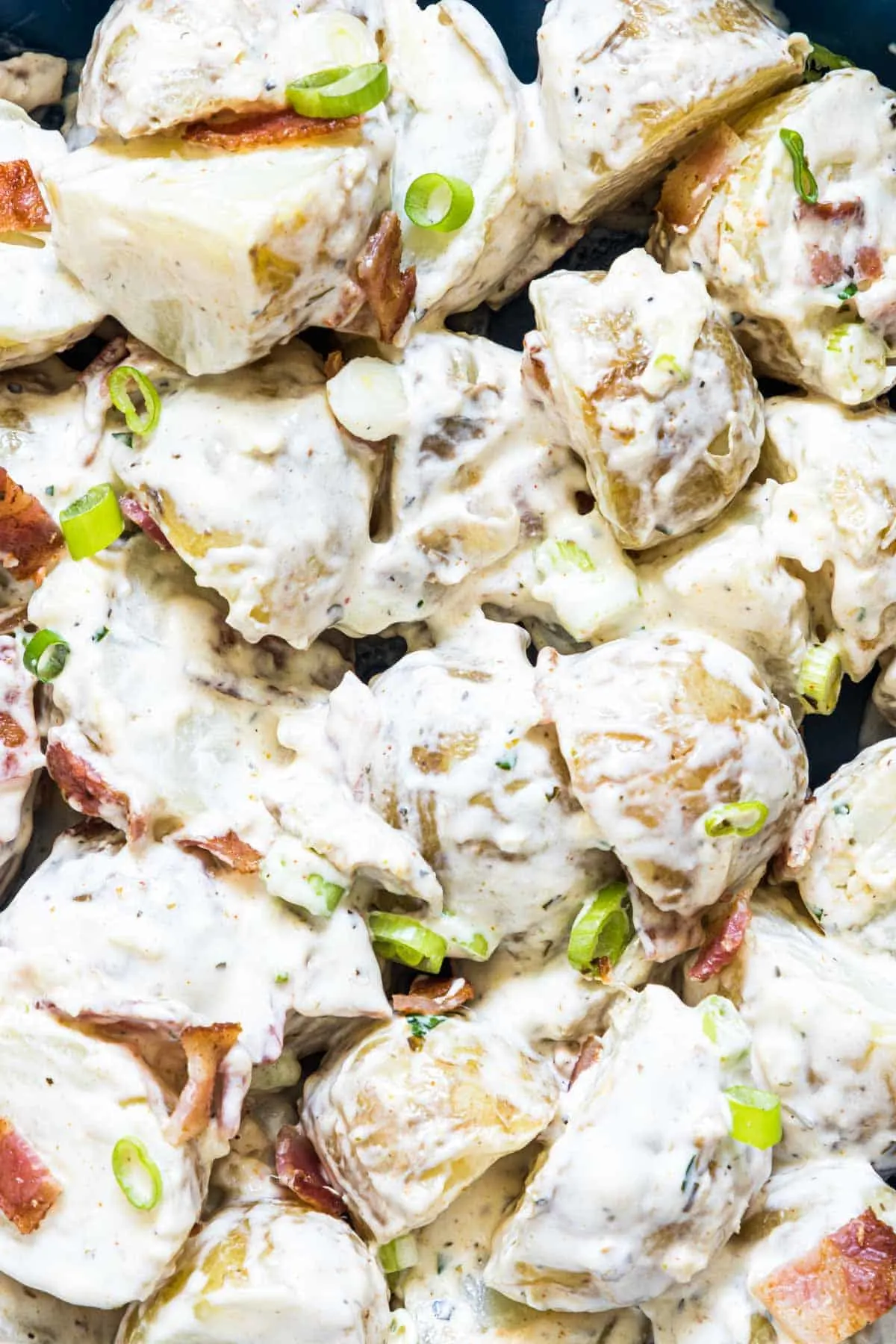 This loaded Ranch Potato Salad is an easy side dish for lunch, dinner, potlucks, and BBQs. It's quick to put together with minimal ingredients and has a delicious dressing including bacon and cheese that everyone will love.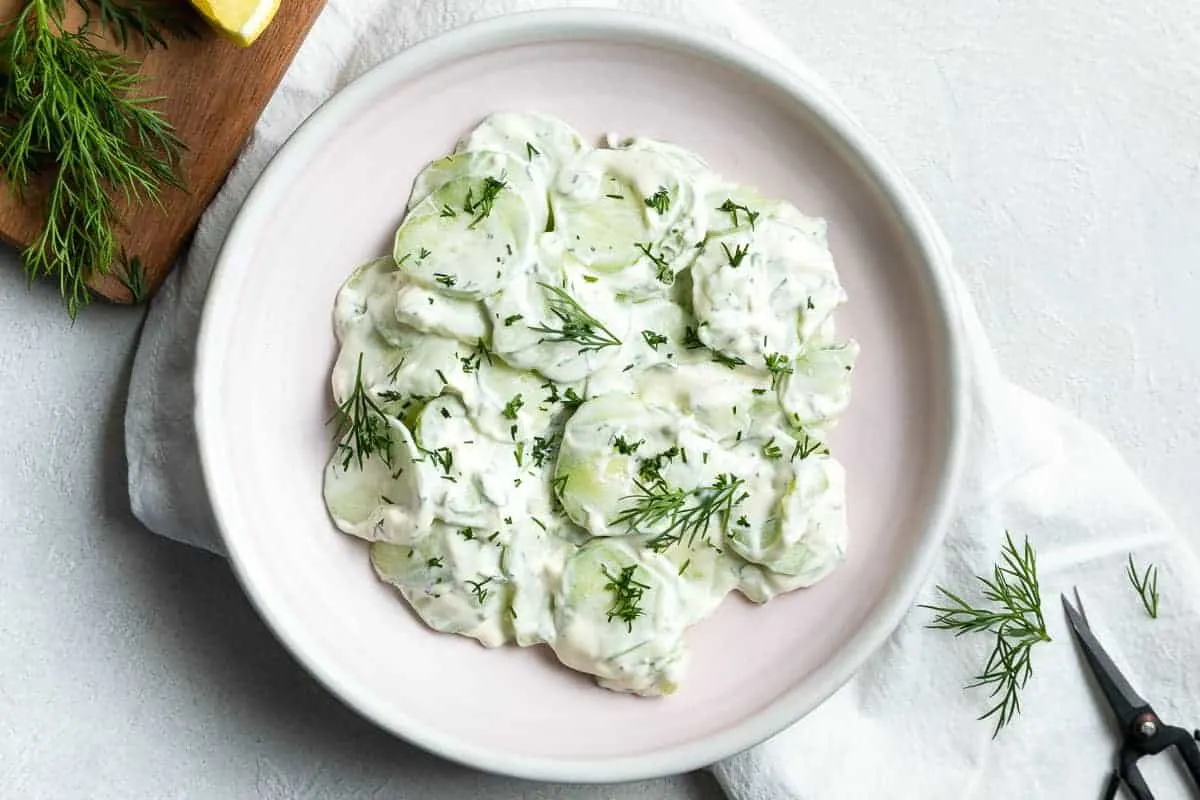 This simple Polish cucumber salad with sour cream and dill is crunchy, refreshing, and makes a delicious side.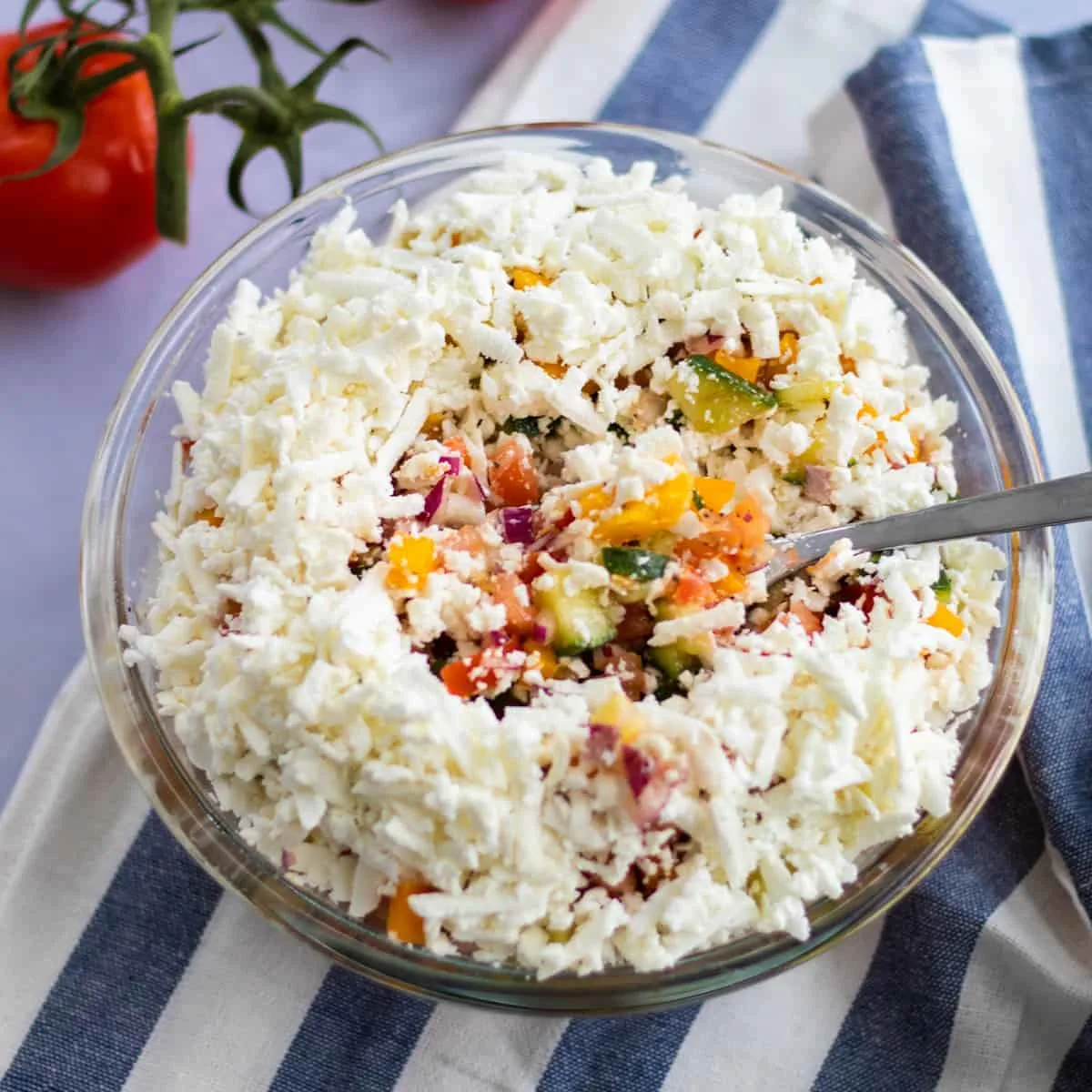 This Bulgarian Shopska salad is loaded with colorful veggies, dressed in a simple vinaigrette and topped with shredded Feta cheese. A great side for pierogies!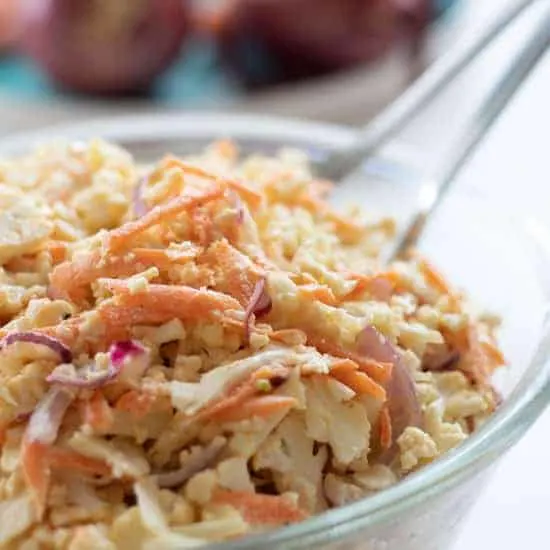 This "Caulislaw" mixes cauliflower, carrots & red onions with a perfectly balanced mayonnaise dressing. The perfect delicious & healthy side for pierogies, and easy to make ahead.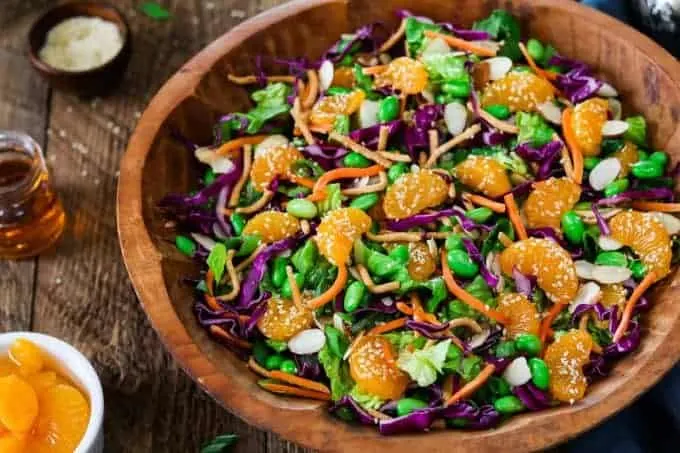 Asian Chopped Salad with Sesame Ginger Dressing – So light & refreshing, yet so satisfying! Plus, it's SO easy to put together and you won't need to cook anything!
Main Dishes to Serve with Perogies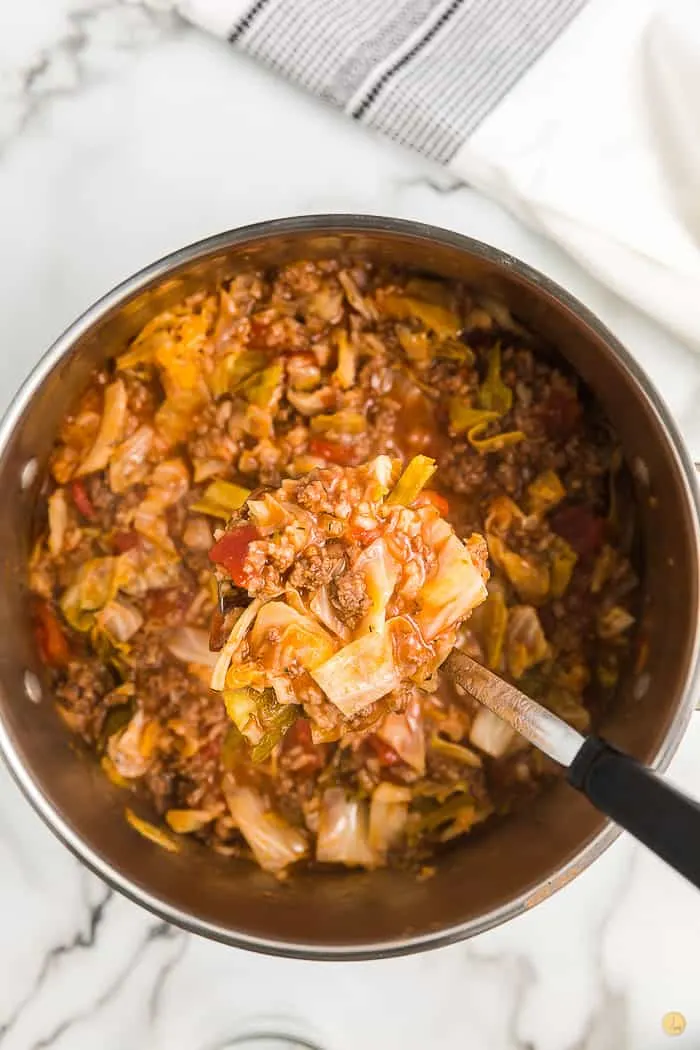 Cabbage Roll Soup is an easy way to serve your favorite stuffed cabbage rolls but without all the fuss. Hearty and full of vegetables, this soup tastes like it's been simmering all day long but made in less than 30 minutes!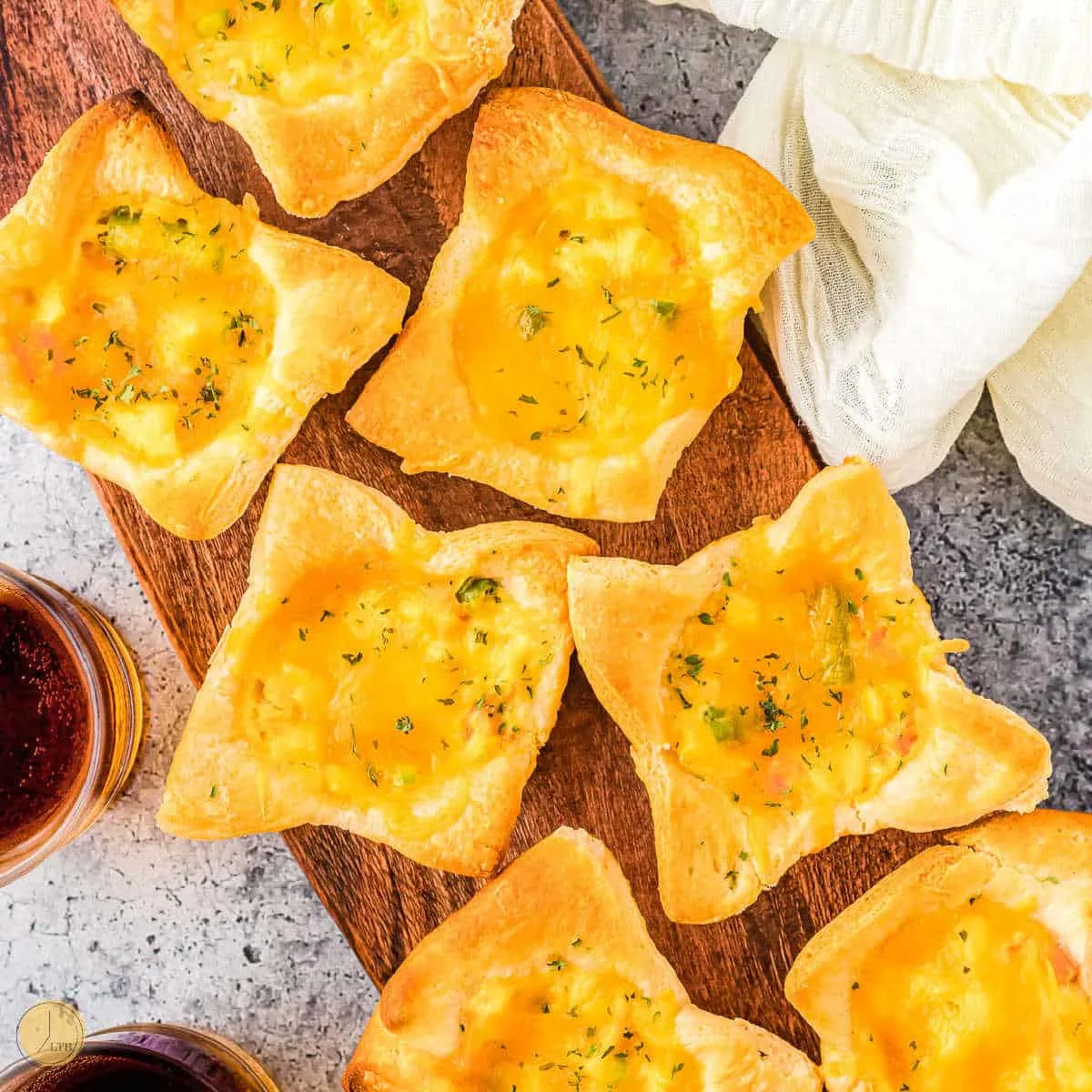 These Mini Chicken Pot Pies are the perfect portion of your favorite comfort food! With just 5 ingredients and less than 30 minutes, you will have a budget friendly easy dinner the whole family will love.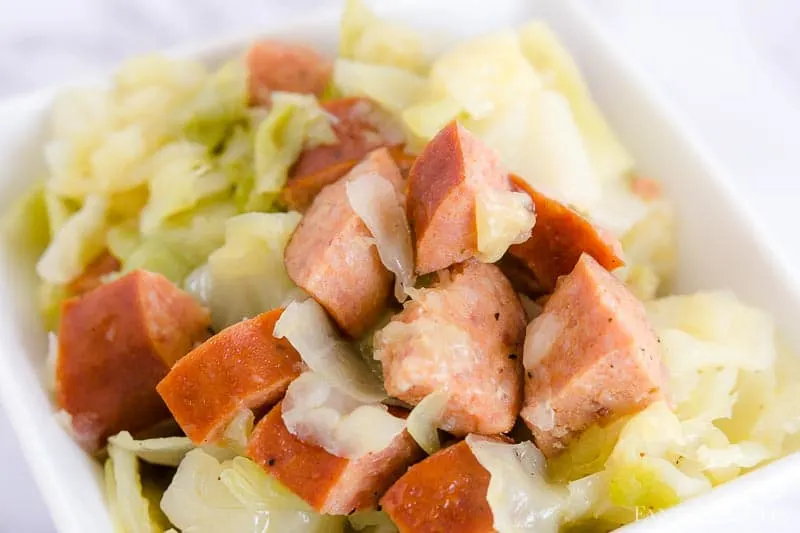 This quick and easy cabbage and kielbasa recipe is the perfect companion for your perogie night.
Pierogi Essentials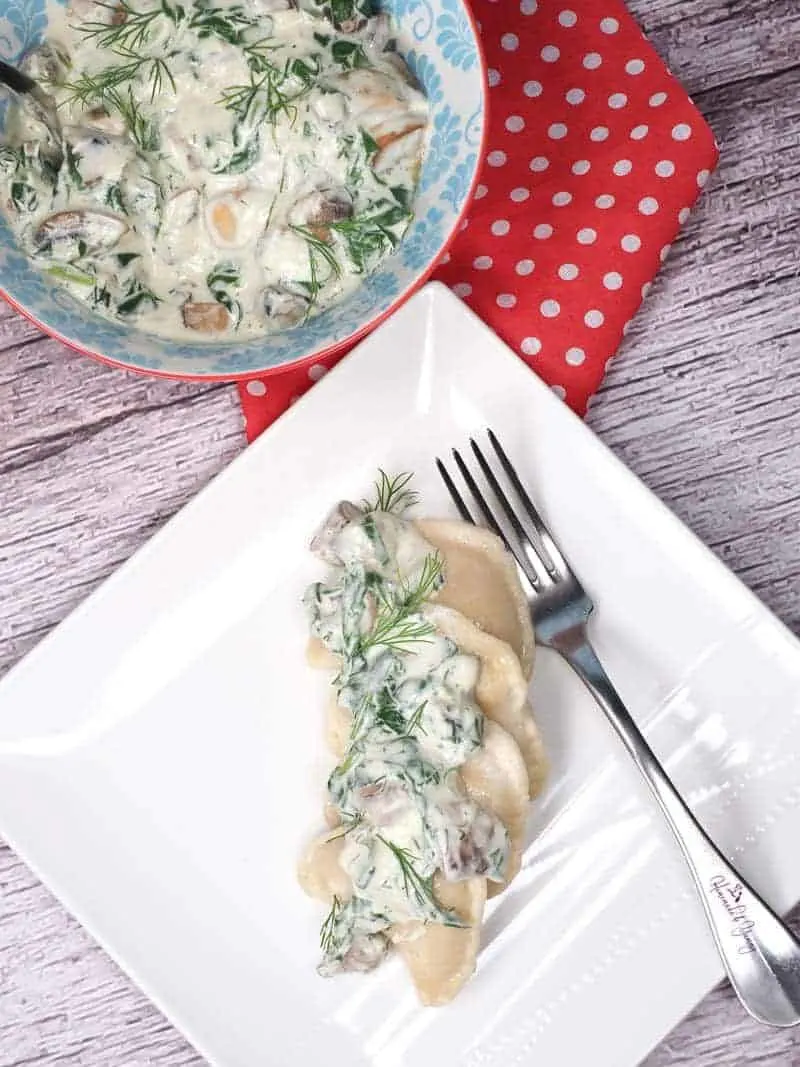 You need this mushroom dill sauce to top your pierogis. Great on steak, slow roasted tomatoes, and mashed potatoes too.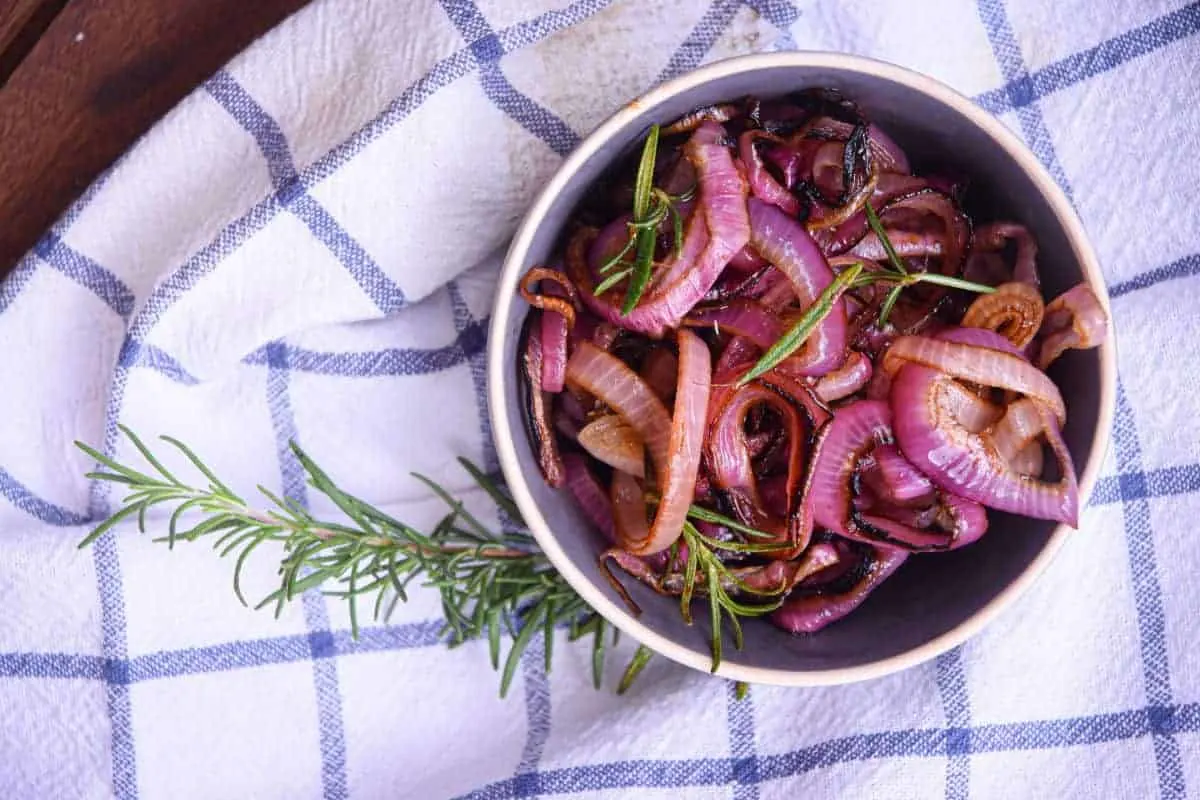 These grilled onions, better than sweet caramelized onions, add a smoky flavor and added texture to many dishes. Perogies wouldn't be the same without them!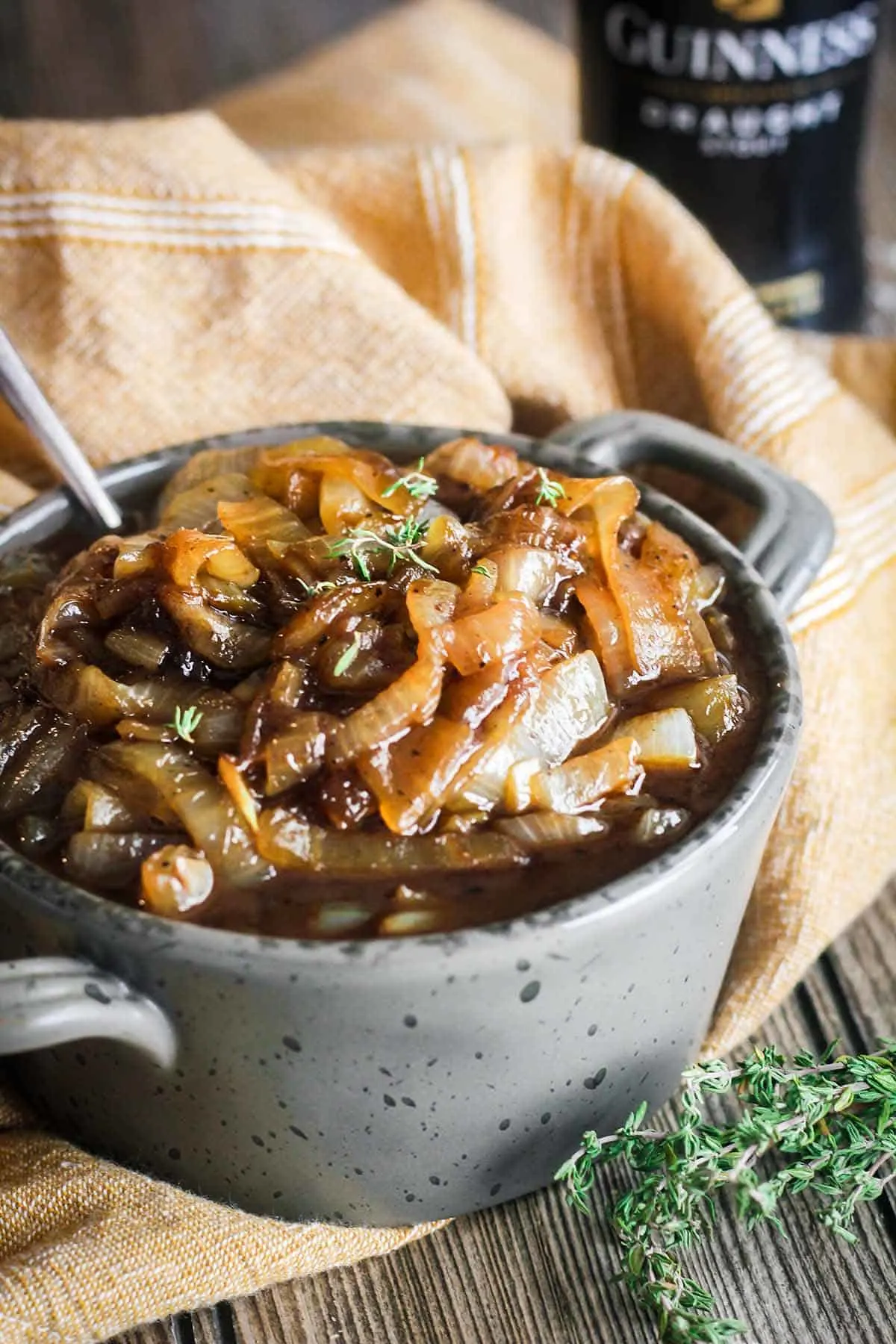 Brimming with the Guinness flavor that you know and love and sweet notes from the yellow onions, these Guinness beer braised onions are such a treat!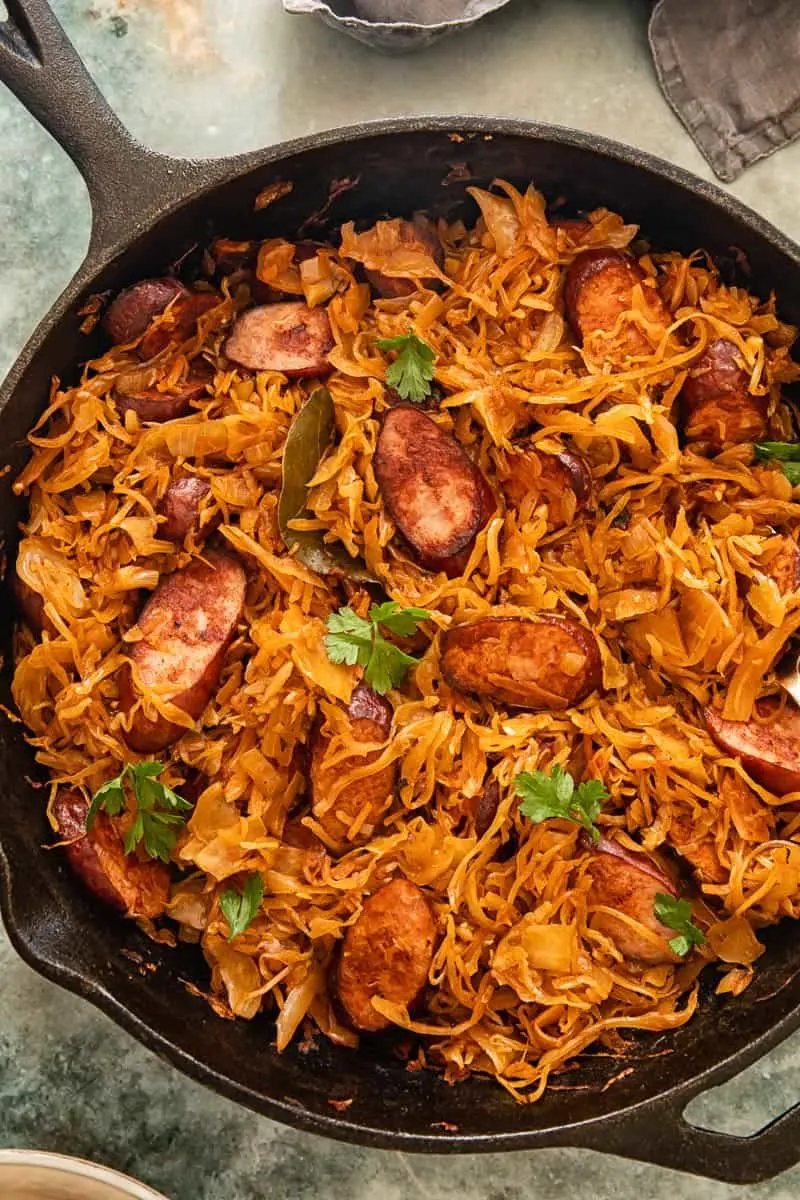 Smoky kielbasa Polish sausage and tangy sauerkraut cooked with tomatoes and apples for a touch of the sweet are a winning combination. Healthy and delicious!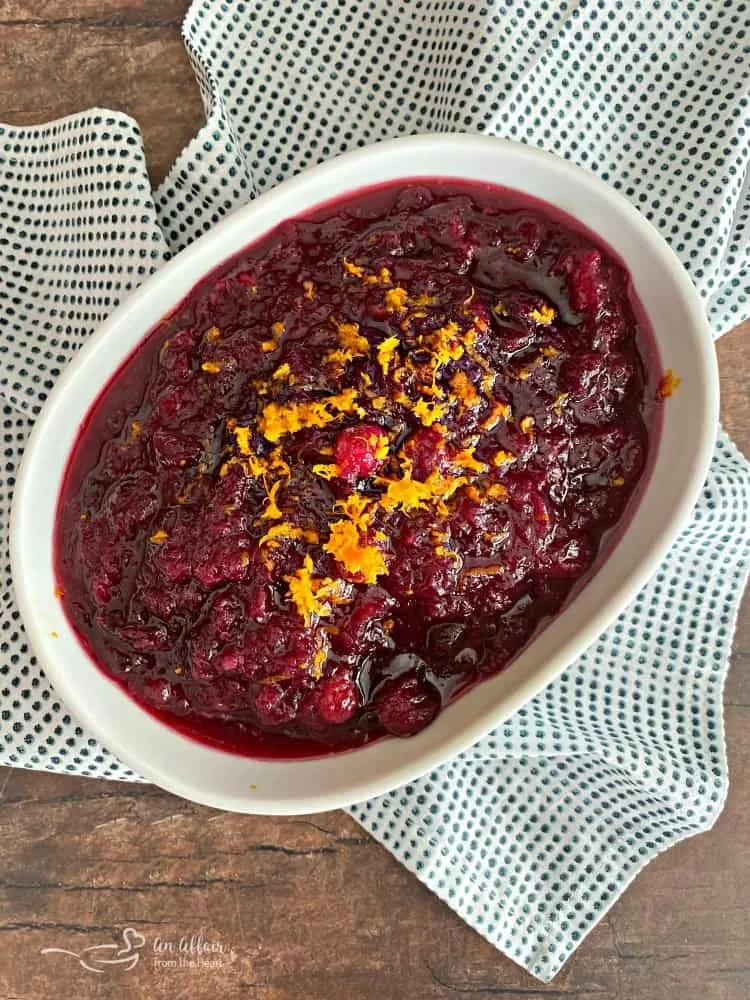 My mom's fresh cranberry sauce is the only one I will really eat. It's both sweet & tangy with the flavors of pineapple and orange. Perfect for hearty perogies!
If you love this recipe as much as I do, please write a five-star review in the comment section below (or on Pinterest with the "tried it" button – you can now add pictures into reviews, too!), and be sure to help me share on facebook!
More Easy Side Dish Recipes
LeftoversThenBreakfast.com. Content and photographs are copyright protected. Sharing of this recipe is both encourages and appreciated. Copying and/or pasting full recipes to any social media is strictly prohibited.