This Andouille Sausage Orzo Bake is the ultimate one-pot cajun sausage pasta dish.
It acts wonderfully as a main entree or also as a delicious cajun side dish.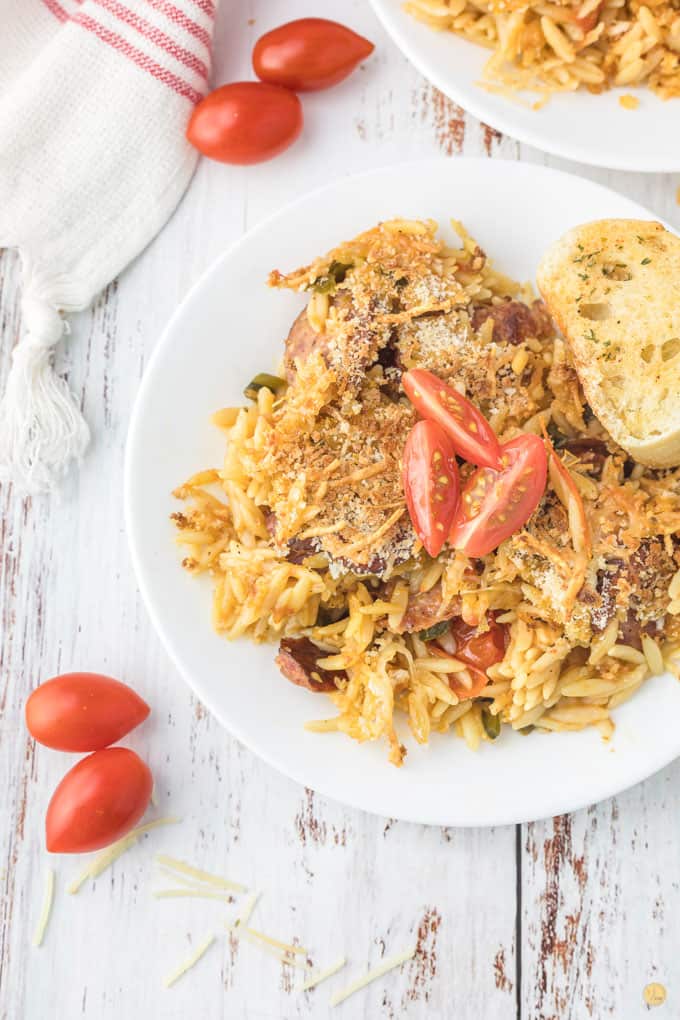 If you'd rather skip my essential cooking tips and tricks and get straight to this delicious recipe – simply scroll to the bottom of the page where you can find the printable recipe card.
Andouille Sausage Pasta Recipe is one of my favorite cajun sausage pasta dishes. It is the perfect busy summer day pasta dish, ready in only 30 minutes!
This spicy and zesty dish is seriously packed with flavor and is SO EASY! Probably one of the easiest recipes ever made in one pot.
Serve it up with a side of yummy veggies or as a side to one of your favorite family meals. It is so versatile!
Dinner becomes a breeze followed by a no fuss clean up. WIN! WIN!
This post may contain affiliate links. As an Amazon Associate, I earn from qualifying purchases. Read my disclosure policy here.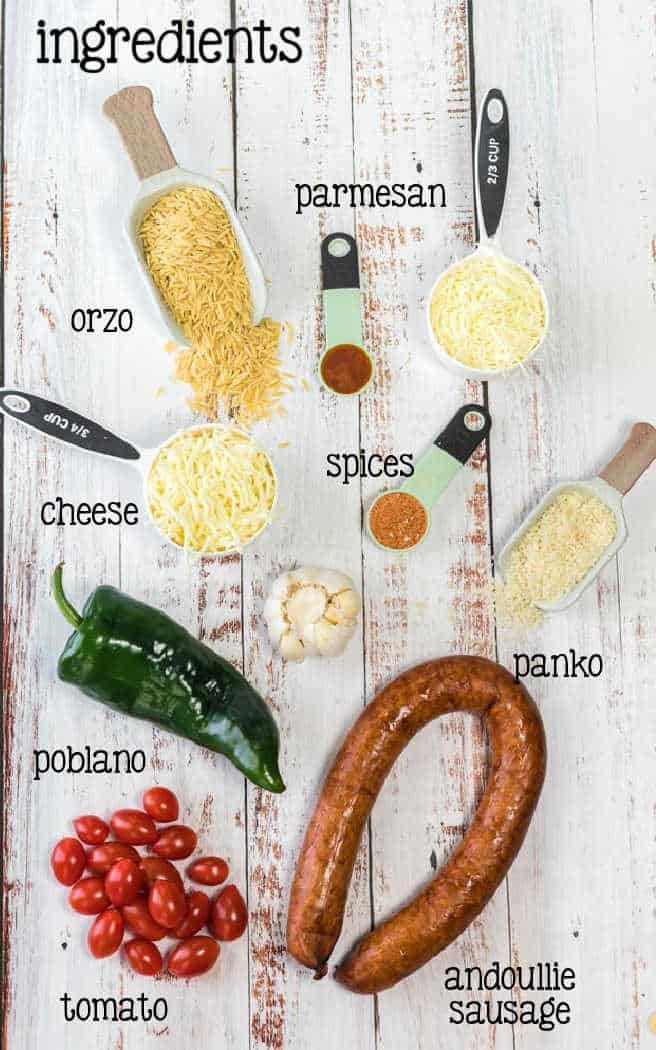 CAJUN ANDOUILLE SAUSAGE PASTA BAKE INGREDIENTS
Andouille Sausage
Tomato
Poblano Pepper
Orzo
Cajun Seasoning
Garlic
Chicken Stock
Cheese
Panko
Andouille Sausage – This is usually found by the other smoked sausage, bacon, and hot dogs in the grocery store. If you don't like the spicy cajun sausage, feel free to use kielbasa or your favorite smoked sausage. Just be sure it has been previously cooked before using.
Tomato – I like to use cherry tomatoes because they are sweet but if you don't have them you can use regular tomatoes and chop them up or canned diced tomatoes.
Poblano Pepper – Poblanos have a kick to them. If you want, you can substitute green bell pepper in its place.
Cajun Spices – I like to use a homemade Cajun Seasoning but feel free to use Tony Chachere's or Zatarains Creole seasoning. You can also use your own combination of spices with cayenne pepper and red pepper flakes for spice.
Orzo – I like the small shape of orzo and it cooks fast. Feel free to us other shapes like ditalini, elbow, or small shells. You might have to adjust the cooking time and add a little more water/broth to accommodate the extra cooking time for slightly larger shapes.
Cheese – I use a combination of mozzarella and parmesan cheese. Feel free to use your favorite cheese in this recipe.
Panko – This gives the perfect crispy coating. If you don't have panko, feel free to use breadcrumbs or cracker crumbs.
Chicken Stock – This recipe uses chicken stock powder or bouillon and water. If you don't have powdered chicken broth, feel free to use boxed or homemade chicken broth instead.
Looking for more comfort food? Follow LTB on Pinterest!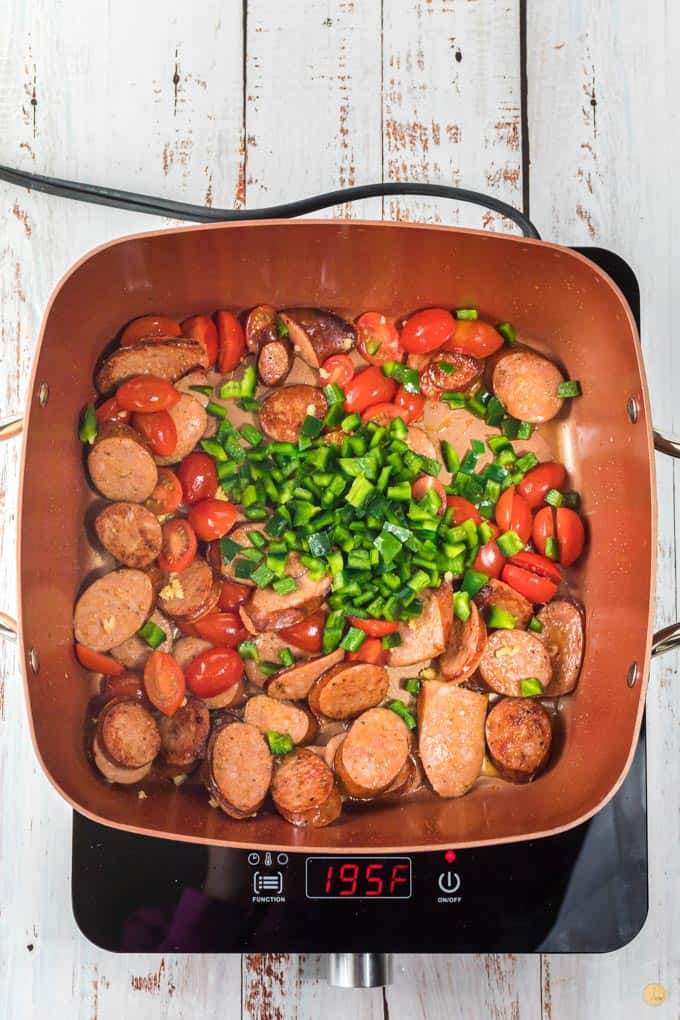 HOW TO MAKE CAJUN SAUSAGE PASTA BAKE
ONE: Preheat oven to broil on high. In a large, oven-proof skillet over medium high heat, warm up sliced sausage. Add a little olive oil if needed.
TWO: Add the tomatoes, peppers, and garlic. Cook 3-4 minutes or until the tomatoes and pepper are soft.
THREE: Add the orzo and stir to coat with pan juices. Add spices, stock, and water. Bring to a boil.
FOUR: Lower heat, bring to a simmer, and cook 10-12 minutes, stirring occasionally, until the pasta is cooked al dente or tender. Combine the cheese and Panko in a small bowl.
FIVE: When pasta is tender, stir in the mozzarella cheese. Sprinkle the panko topping over the sausage and pasta, covering the mixture. Place pan in oven and broil 2-3 minutes or until the topping starts to turn golden brown.
Remove and serve with cajun garlic bread!
For the full recipe and detailed baking instructions, please see the recipe card at the end of this post.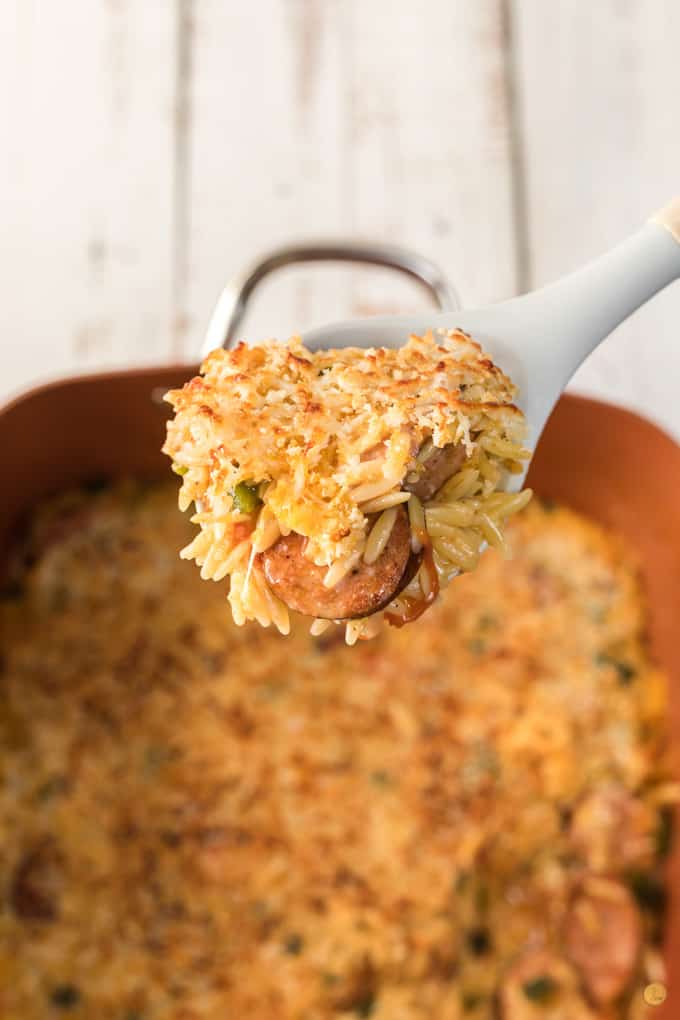 DO YOU HAVE TO PEEL ANDOUILLE SAUSAGE?
Sometimes sausage casings can seem hard and tough, but they are all designed to be eaten.
The casing actually keeps the flavor and the moisture inside the sausage. So you can just treat it as you would your hotdog or bratwurst and leave the casing on.
ARE ANDOUILLE SAUSAGES SPICY?
Yes. Andouille sausage is a spicy, smoked sausage as that is what makes its flavor unique and perfect for cajun dishes
WHAT IS DIFFERENT ABOUT ANDOUILLE SAUSAGE?
Andouille sausage is typically made of chopped pork rather than ground pork or beef which gives it its unique texture. It also is flavored with onions, garlic, cayenne, black pepper, and thyme.
HOW TO STORE LEFTOVERS
Leftovers should be refrigerated in an airtight container and will last at least 4 days.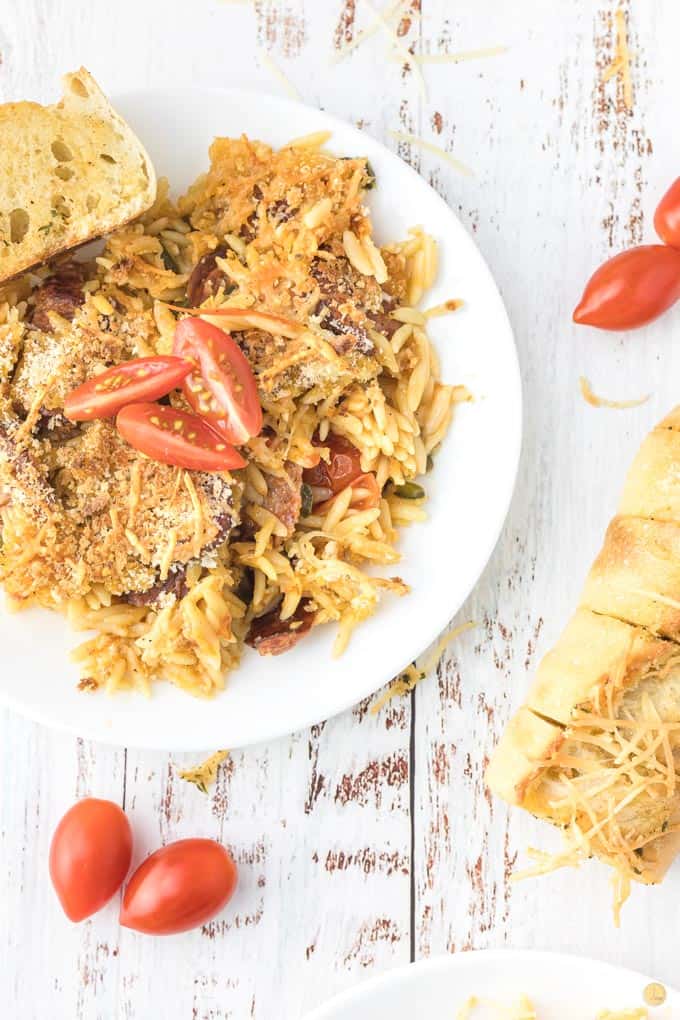 CAN I FREEZE THIS?
You can freeze this dish in an air tight container. Keep in mind, the texture might change a bit when thawing or you might have to add a little bit of water when reheating.
CAN I MAKE IT AHEAD OF TIME?
You can prep this dish ahead of time but leave OFF the bread crumbs. Store it in a casserole dish with an airtight lid.
When ready to eat, add the breadcrumbs and reheat at 350 degrees in the oven until it is warmed all the way through.
TIPS FOR NO LEFTOVERS
If the mixture seems a bit dry in steps 6 or 7 add water a tablespoon or two at a time before stirring in mozzarella cheese.
If preferred, a little more or less cajun spice can be added for more or less spice.
Goes well with garlic bread and/or a salad for a side.
Other brands of cajun seasoning can be substituted if preferred.
If you love this recipe as much as I do, please write a five-star review in the comment section below (or on Pinterest with the "tried it" button – you can now add pictures into reviews, too!), and be sure to help me share on facebook!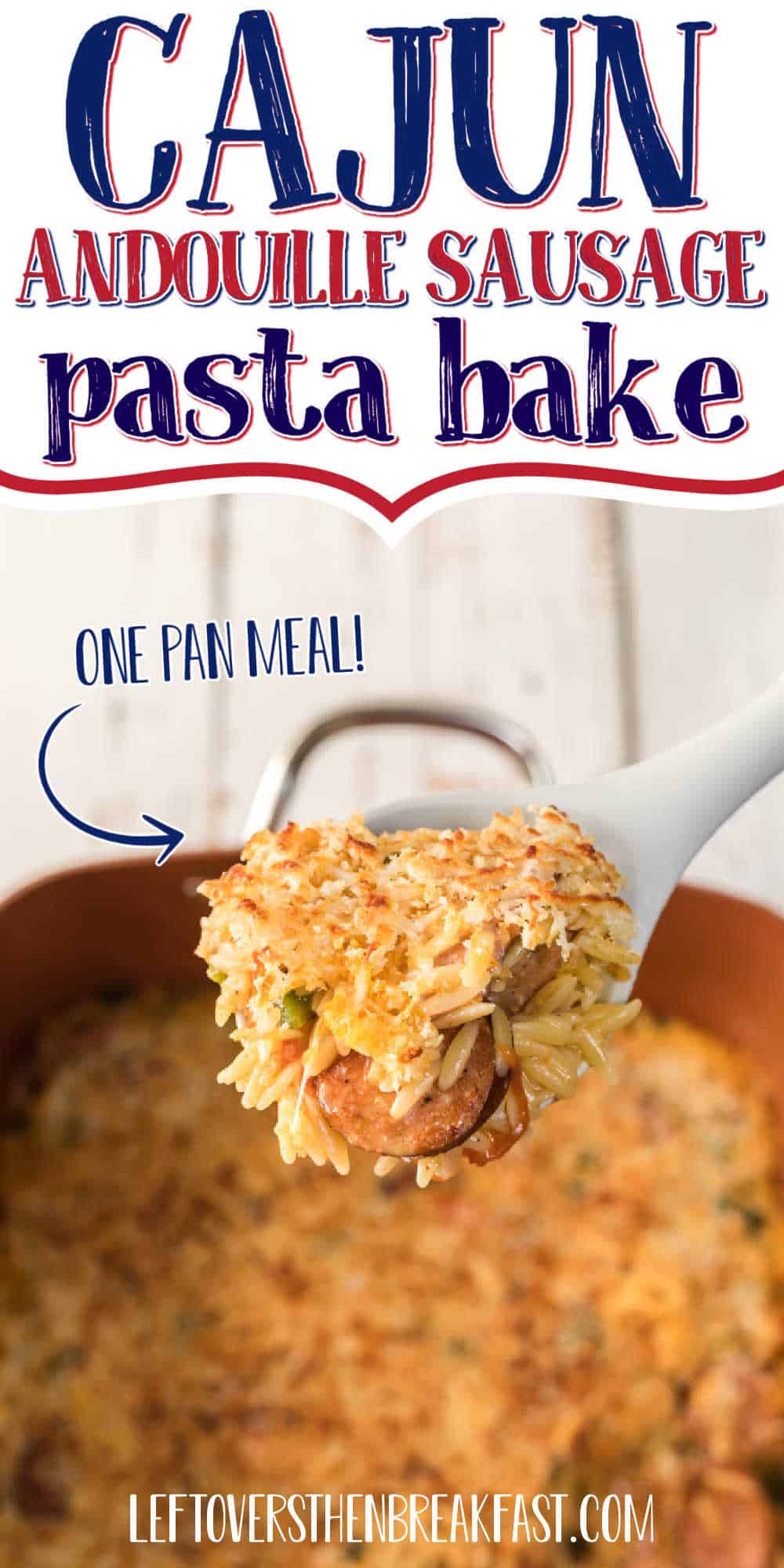 Pin this recipe to your favorite Pinterest board (NOW, before you forget!) and plan on making it for your next busy weeknight dinner.
Be sure to click on the links below for other recipes that go perfect with this dish!
MORE EASY RECIPES
@LeftoversThenBreakfast.com. Content and photographs are copyright protected. Sharing of this recipe is both encourages and appreciated. Copying and/or pasting full recipes to any social media is strictly prohibited.