The Classic Waldorf Salad is a historic combination of fruit and nuts, crunchy veggies, and creamy dressing that will always be in style! This is one of those recipes that never gets old.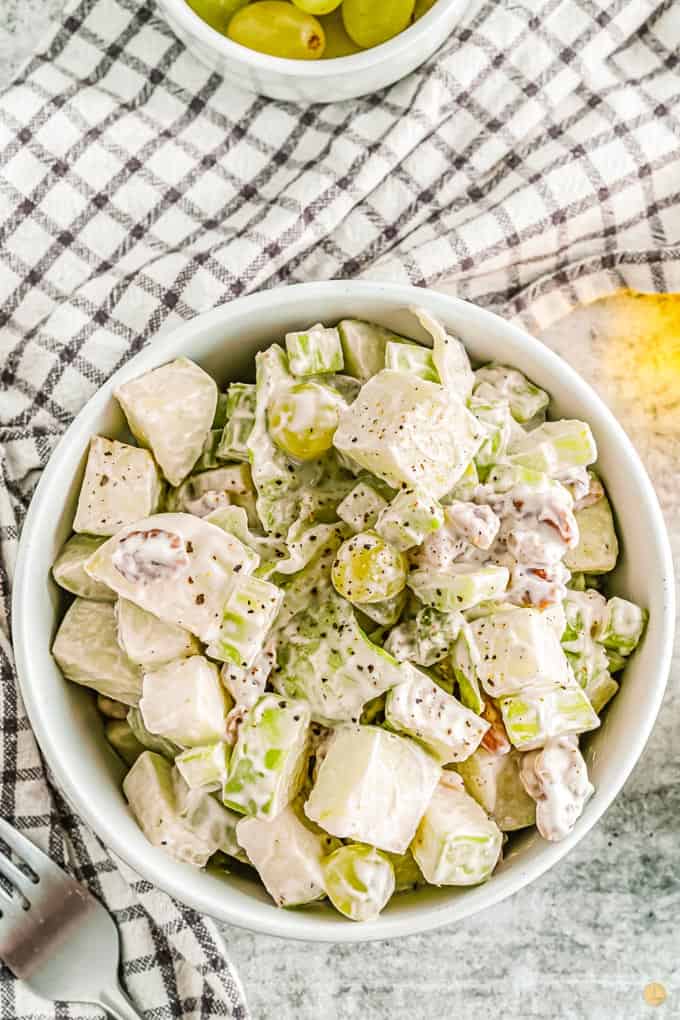 If you'd rather skip my essential cooking tips and tricks and get straight to this delicious recipe – simply scroll to the bottom of the page where you can find the printable recipe card.
WHAT IS WALDORF SALAD?
The famous Oscar Tschirky was the brains behind the delicious recipe and first created it in the Waldorf Astoria hotel in 1896.
The original recipe only included apples and celery arranged over lettuce and drizzled with mayonnaise. Over the years many people have added their special touch and flavor to this traditional salad.
This Waldorf salad recipe is a blend of crisp apples, crunchy celery, sweet grapes, walnuts, and tossed a mayonnaise dressing acting as the perfect side dish for any meal.
This post may contain affiliate links. As an Amazon Associate, I earn from qualifying purchases. Read my disclosure policy here.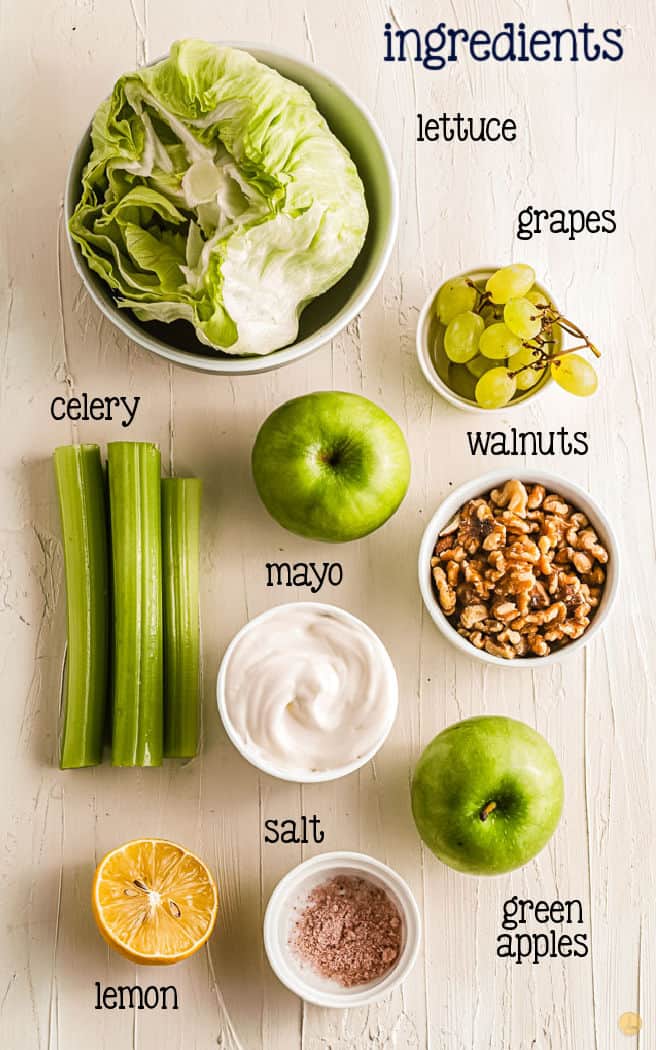 WHAT'S IN WALDORF SALAD?
green apples
celery
white seedless grapes
walnuts
lettuce
Apples – Feel free to use red apples or another variety but it will change the tart contrast of the salad. Sprinkle with lemon juice or store in water to keep them from browning.
Grapes – I like to use green seedless grapes (no one likes to eat seeds) but feel free to use red grapes if you like. Just make sure they are firm.
Walnuts – Toasted nuts are better than raw ones. It brings out their buttery nutty flavor even more. Feel free to use toasted pecans, sunflower seeds, pistachios, or your favorite nut.
Lettuce – This is just used as a base for the salad but feel free to shred and incorporate it into the salad if you like or leave out all together.
WALDORF SALAD DRESSING
mayonnaise
lemon juice
salt
The purpose of the dressing is to be simple and not overpower the flavors of the salad itself. If you want to switch it up a bit, use Greek yogurt, honey, or a pinch or two of sugar if you so desire.
Looking for more comfort food? Follow LTB on Pinterest!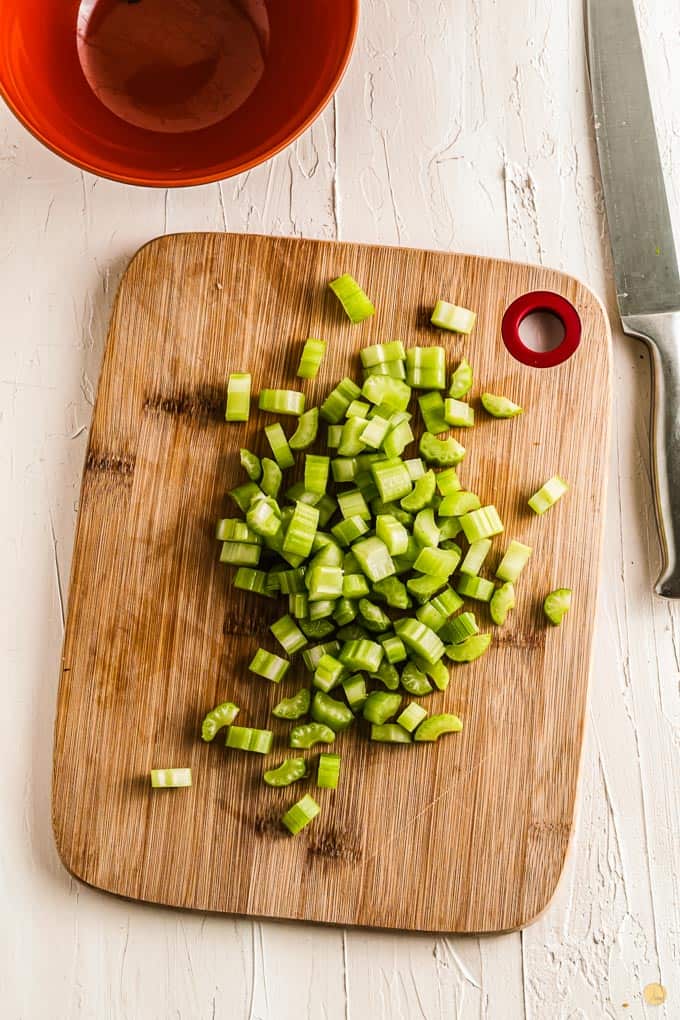 HOW TO MAKE WALDORF SALAD
ONE: Chop the apples, grapes, and celery into bite-size pieces and roughly chop the walnuts.
TWO: In a small bowl, add the dressing ingredients and whisk to combine. In a large bowl, combine the apples, celery, grapes, and nuts. Drizzle with mayonnaise mixture. Toss to coat.
THREE: To serve, layer a few lettuce leaves in the bottom of a bowl. Spoon the apples, celery, grapes, and nuts mixture onto the lettuce. Season with salt and pepper if desired. Enjoy chilled!
For the full recipe and detailed baking instructions, please see the recipe card at the end of this post.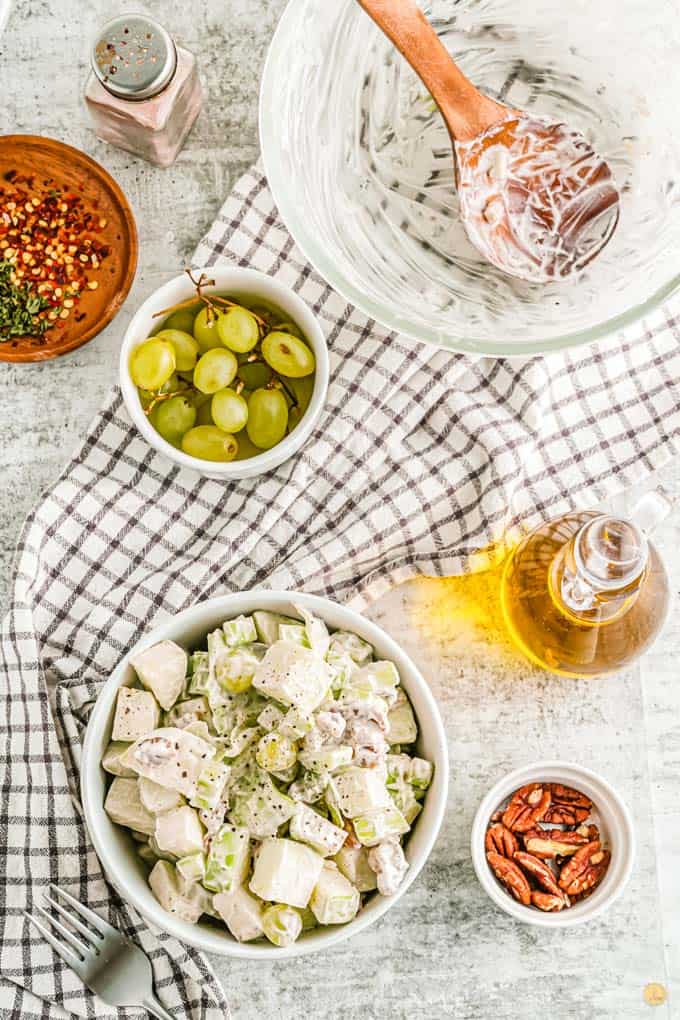 CAN YOU MAKE WALDORF SALAD IN ADVANCE?
Yes! You can make this salad up to two or maybe even three days before you need it. In fact, the combination of flavors really comes together overnight in the fridge.
HOW TO STORE LEFTOVERS
Store in an airtight container in the fridge for up to three days.
OTHER SALAD INGREDIENTS TO ADD
What is great about this recipe is that it is so versatile. You can really add any combination of sweet fruit and crunch and enjoy it! Some of my favorite additions are
cranberries
red onion
marshmallows
raisins
shredded carrots
different types of apples or grapes
different nuts like toasted pecans
grilled chicken breast or shrimp
IS WALDORF SALAD VEGAN?
This recipe is made with mayonnaise, so it is NOT vegan. However, you can easily make it vegan by replacing the mayo with vegan mayo or vegan yogurt.
CAN I FREEZE THIS SALAD?
I do NOT recommend freezing this salad. All the crunch will turn soft and the dressing will turn very watery.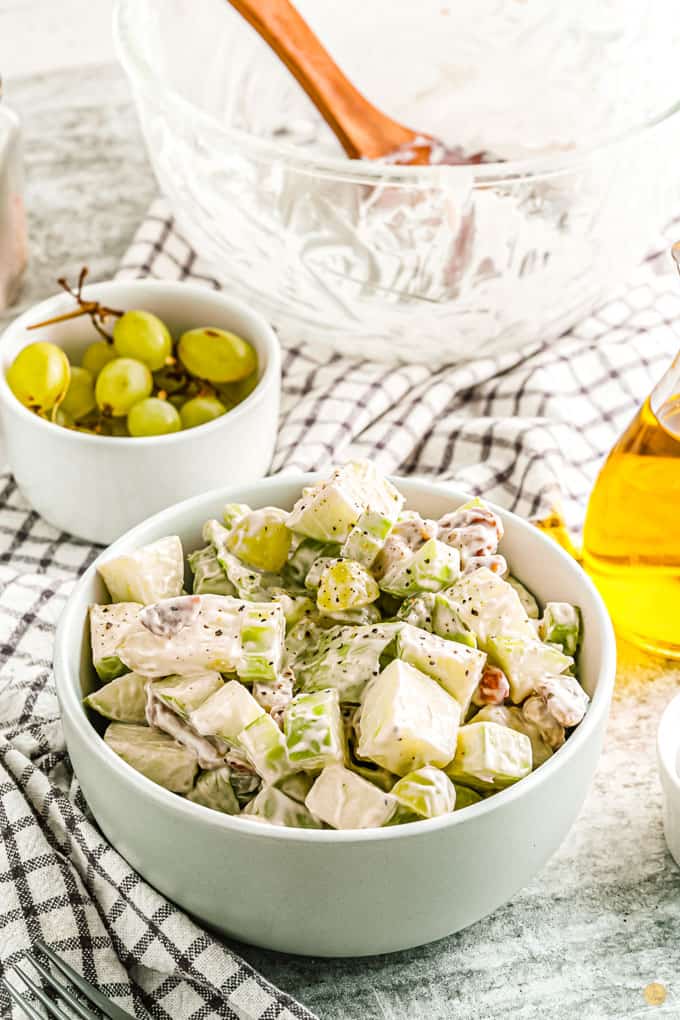 TIPS FOR NO LEFTOVERS
Chop the lettuce with the rest of the ingredients if you prefer it that way.
Use yogurt instead of mayonnaise in the dressing
Use pecans instead of walnuts or try a new nut.
Try red grapes for a pop of color
If you like your salad on the sweeter side, substitute half the mayo with whipped cream.
Sprinkle your apples with lemon juice to keep them from browning while chopping.
If you love this recipe as much as I do, please write a five-star review in the comment section below (or on Pinterest with the "tried it" button – you can now add pictures into reviews, too!), and be sure to help me share on facebook!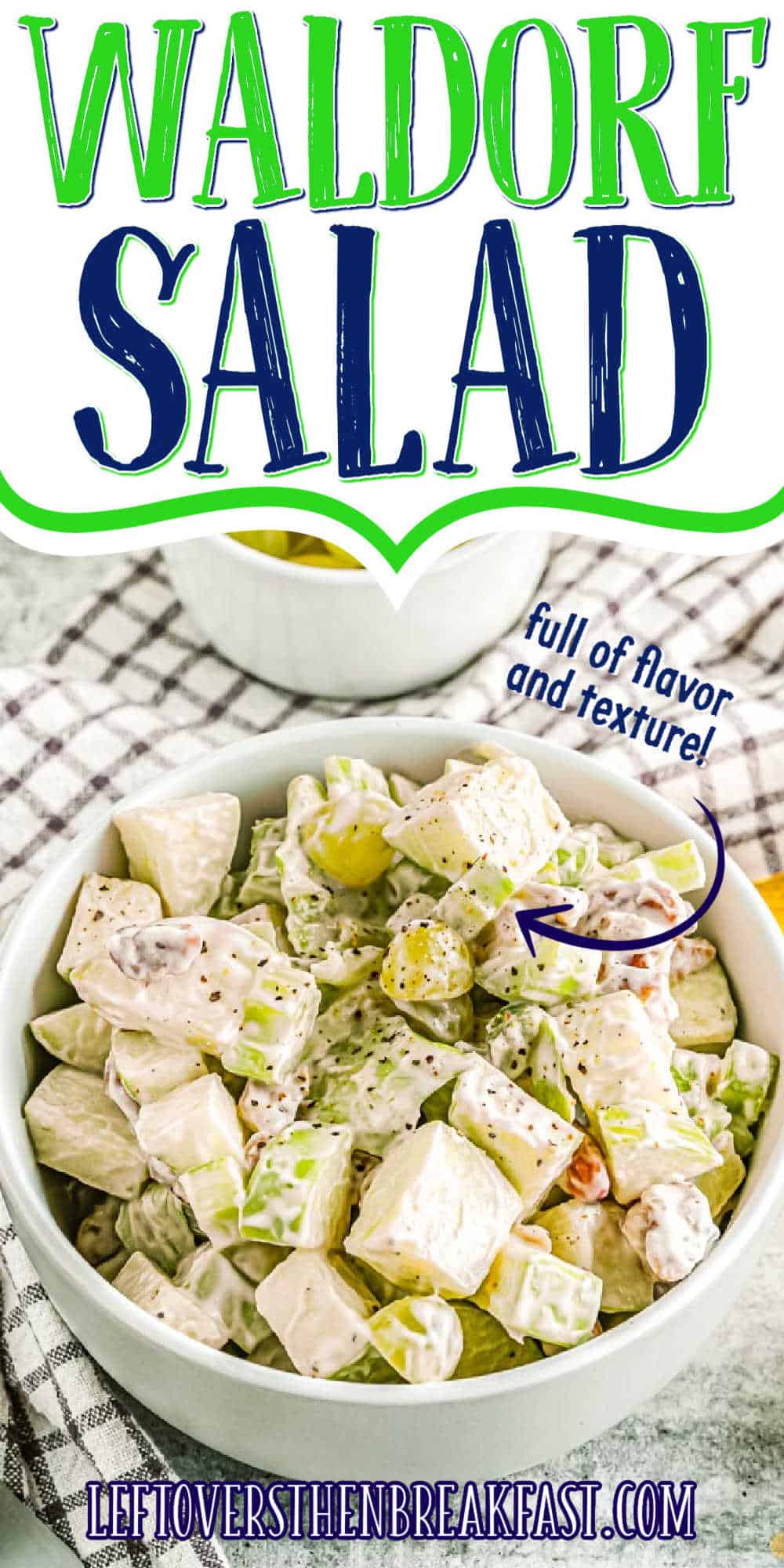 I'm obsessed with an easy side salad to complete a meal! Be sure to check out some of my other favorite easy-to-make salads below!
MORE EASY RECIPES
WALDORF SALAD RECIPE
@LeftoversThenBreakfast.com. Content and photographs are copyright protected. Sharing of this recipe is both encourages and appreciated. Copying and/or pasting full recipes to any social media is strictly prohibited.