Creamy Apple Risotto is easy to make, full of flavor, and the perfect bowl of comfort food. Topped with crispy, smoky bacon and ready in less than 30 minutes, start to finish. Serve this as the main event!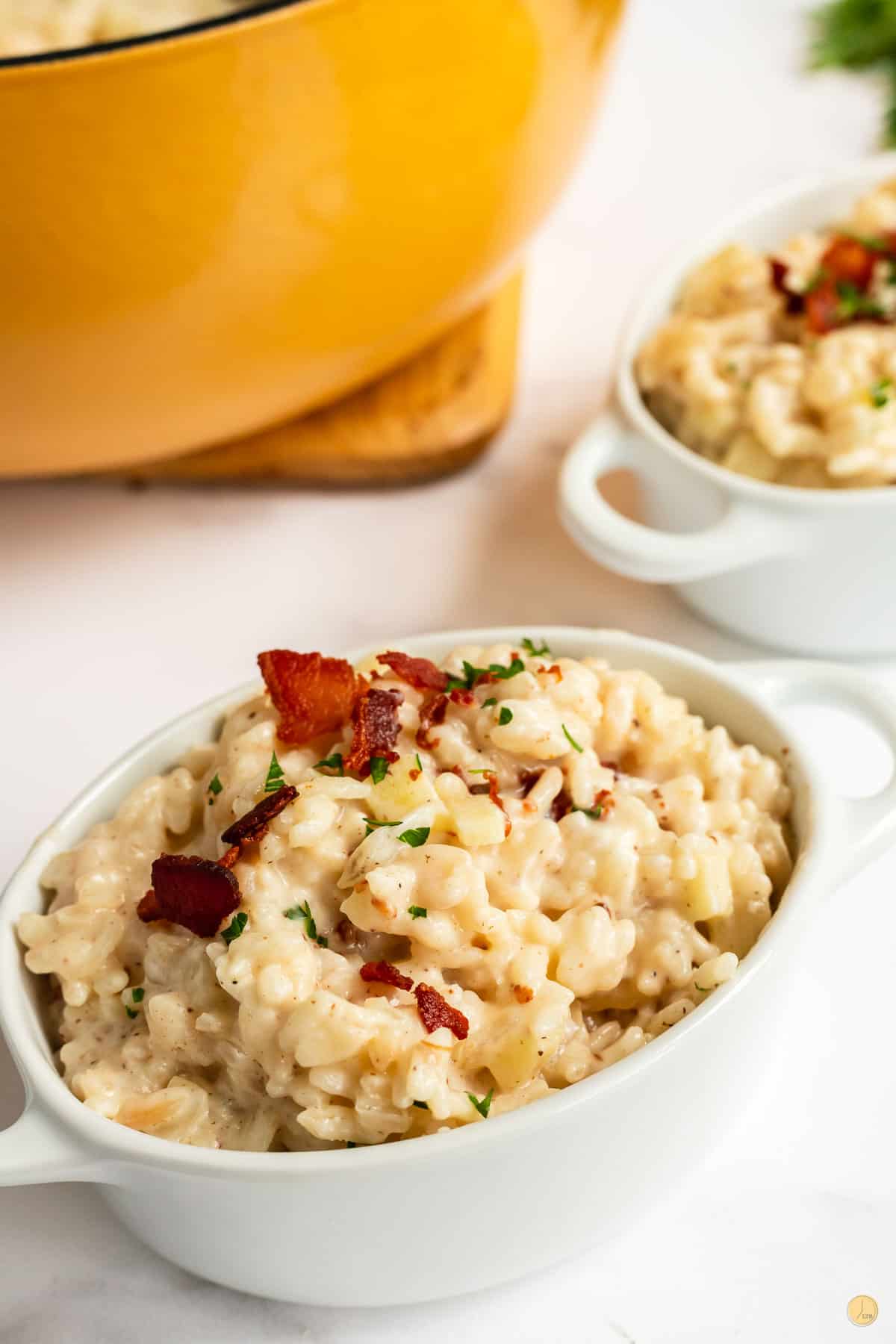 If you'd rather skip my essential cooking tips and tricks and get straight to this delicious recipe – simply scroll to the bottom of the page where you can find the printable recipe card.
APPLE RISOTTO
Whether it's fall or not, or even apple season, risotto is always on my menu! It's easy to make, versatile in that you can add just about any vegetable and flavor, and produces a delicious bowl of comfort food like no other!
It just so happens to be fall right now in my neck of the woods so I thought I an apple risotto is just what's perfect for dinner tonight.
Seem too sweet? How about some tangy goat cheese and crispy smoky bacon to up the yumminess?
WHAT IS RISOTTO?
Despite what you might have heard, risotto is a cooking technique and not an actual rice grain. It's cooking the rice slowly, by adding small amounts of liquid, until the arborio rice absorbs the stock and turns creamy and delicious.
This post may contain affiliate links. As an Amazon Associate, I earn from qualifying purchases. Read my disclosure policy here.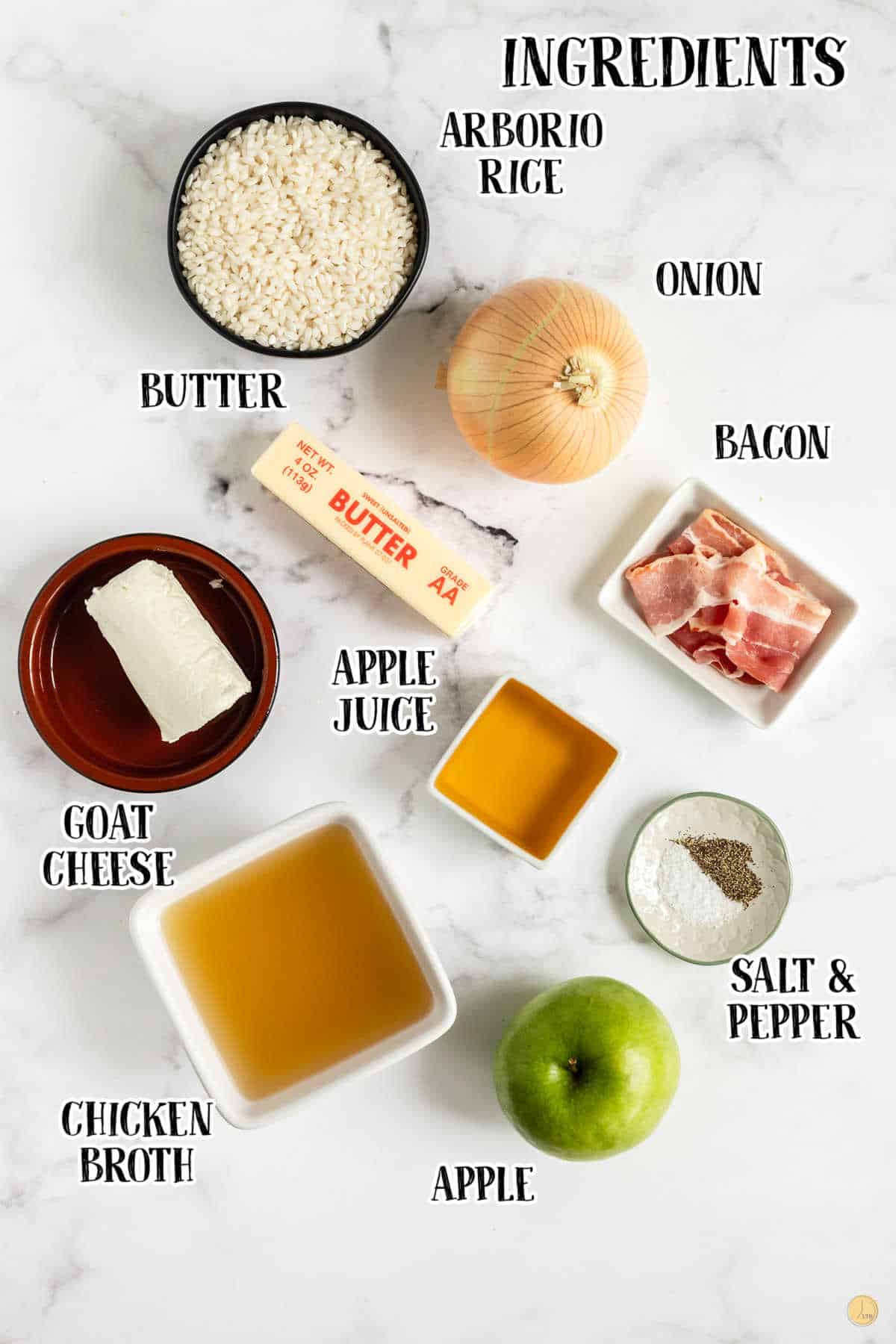 APPLE RISOTTO INGREDIENTS
apple
arborio rice
apple juice
chicken stock
butter
onion
bacon
goat cheese
Apple – I like to use Granny Smith apples as they tartness counters the sweetness of the rest of the dish.
Arborio Rice – This short grain rice is named for a a town in Italy and is high in starch which gives risotto it's creamy texture.
Apple Juice – I use apple juice or apple cider to deglaze the pan. You can also use white wine instead if you like.
Chicken Stock – Feel free to use fat free or low sodium version.
Butter – The recipe uses unsalted butter. If you only have salted, then leave out the salt in the remainder of the recipe.
Onion – A total of 1 cup of diced onion is needed. This is roughly 1 medium or 2 small ones. I used Vidalia onion but feel free to use any sweet onion.
Bacon – I like to use center cut bacon as there is less fat but use your favorite. Just try to stay away from heavily flavored bacon as it changes the flavor profile.
Goat Cheese – This tanginess is perfect to counter the sweetness of the risotto. A peppered goat cheese is also a great counter balance.
Looking for more comfort food? Follow LTB on Pinterest!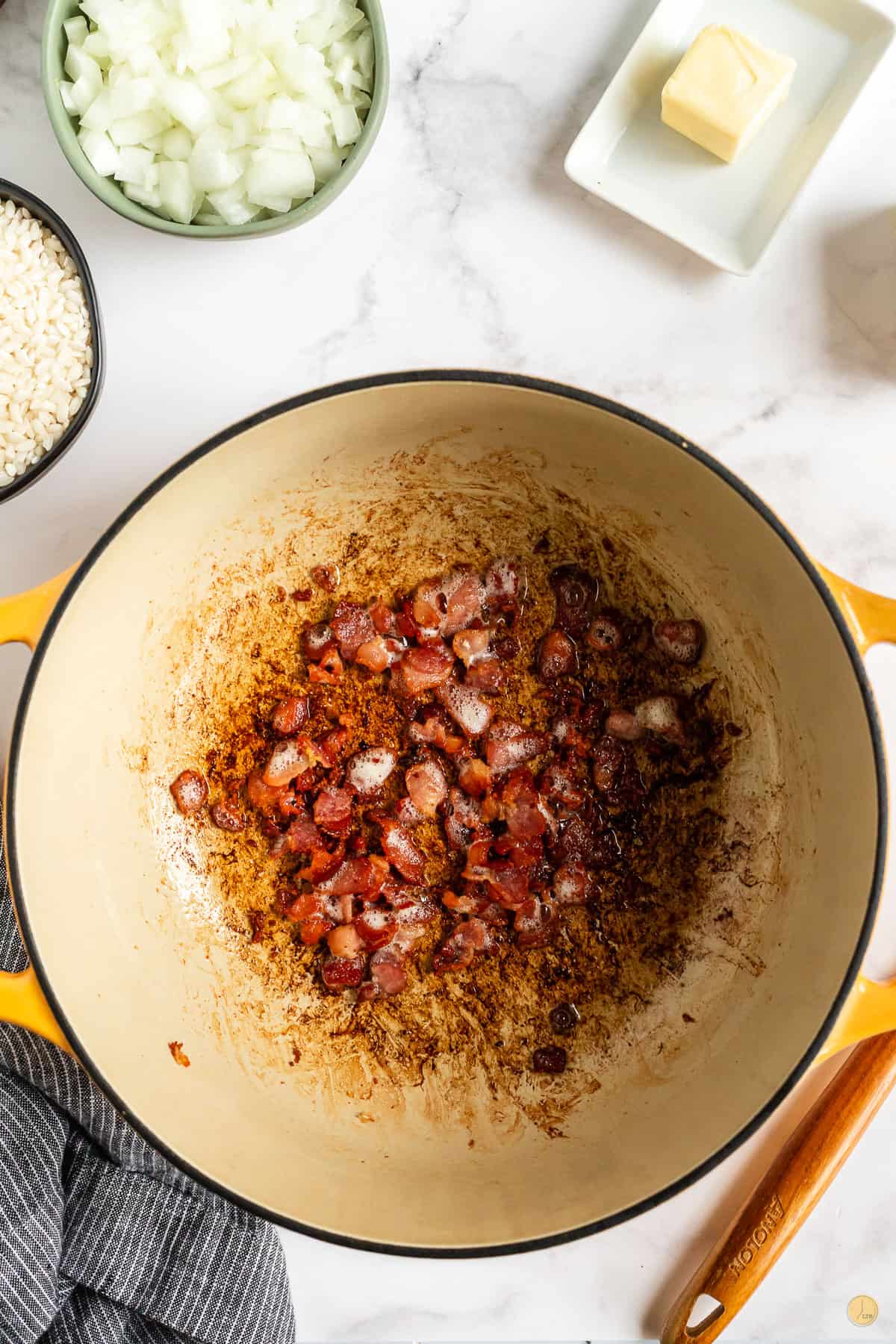 HOW TO MAKE APPLE RISOTTO
ONE: In a medium sized saucepan, add the 4 cups of stock and bring to a simmer. Cover and keep hot.
TWO: In a large saucepan, cook bacon over medium heat. Cook until crisp and remove the bacon to a paper towel lined plate and leave bacon fat in the pan. Add the rice, butter, and onion. Cook until onion is tender and rice is toasted.
THREE: Add the apple juice and stir to deglaze the pan and remove any brown bits on the bottom. Add 1 cup of the hot chicken stock. Stir to mix. Bring to a boil. Reduce heat to medium-low and stir constantly until liquid is absorbed. Add another 1 cup of stock, cook stirring until liquid is absorbed.
FOUR: Add in the diced apples and 1 more cup of stock. Cook while stirring until the stock is absorbed. Add in the remaining 1 cup and cook until rice is al dente and mixture is creamy (about 20-25 minutes total).
FIVE: Remove from the heat and stir in the goat cheese. Stir until fully incorporated and the risotto is creamy. Serve topped with crumbled bacon and season to taste with salt and pepper. Serve immediately!
For the full recipe and detailed baking instructions, please see the recipe card at the end of this post.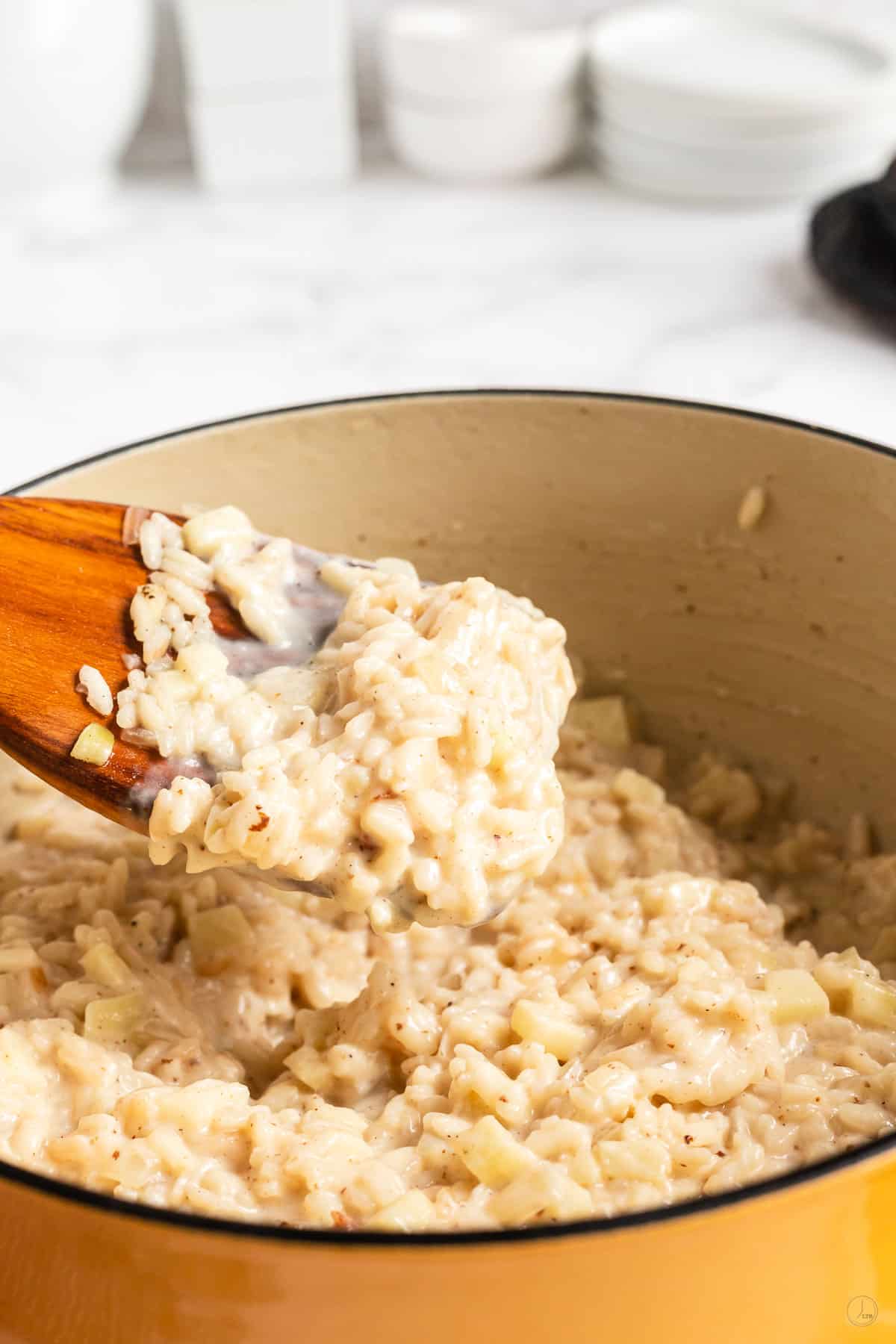 WHY IS RISOTTO DIFFICULT?
Some people think it's difficult because you have to watch it carefully, but it is really very easy. 20 minutes and little stirring will reward you with a delicious dish!
WHAT CAN I ADD TO RISOTTO TO MAKE IT FEEL BETTER?
Rice is something that needs to be seasoned just right. The use of sauteed aromatics, toasting the rice, using a stock instead of water, and a finishing of cheese are the best ways to flavor your risotto!
HOW TO STORE LEFTOVER APPLE RISOTTO
If there happens to be any leftovers, store them in the refrigerator, in an air tight container for up to 3 days.
To reheat, add to a saucepan on the stove top. A touch of broth or stock will restore all the creaminess. It is best eaten within 3 days.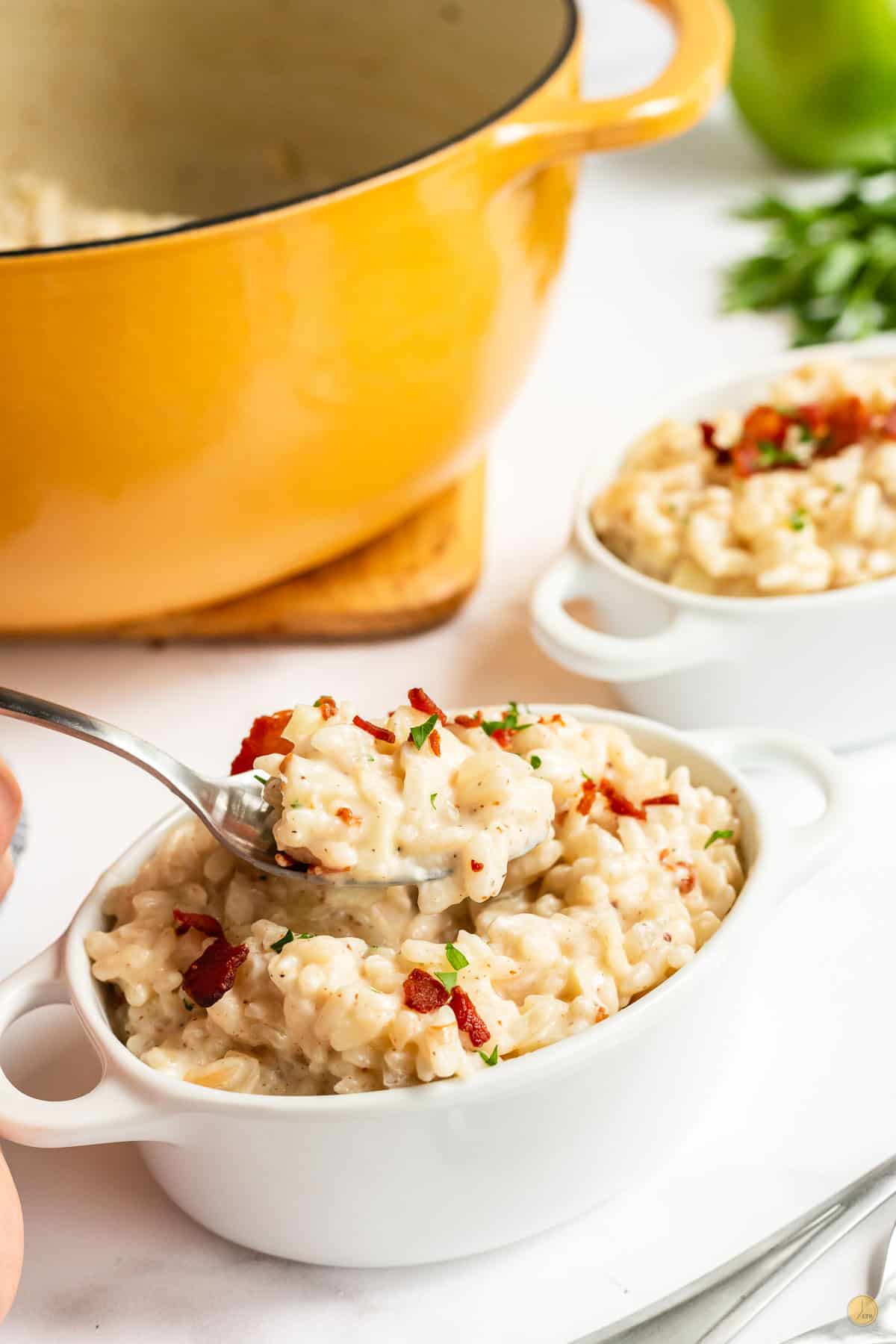 TIPS FOR NO LEFTOVERS
Don't rinse the rice. Risotto needs the starch on the rice to help keep it creamy.
Over-toasting the rice is a no-no. Too much and the rice will not cook properly.
Make sure you purchase short grain arborio rice.
Use butter instead of oil for a more creamy texture.
Don't stir too often. The risotto will turn gummy.
Add the stock slowly and wait for each each addition to be absorbed.
Wait and add the goat cheese at the end more maximum creaminess.
If you love this recipe as much as I do, please write a five-star review in the comment section below (or on Pinterest with the "tried it" button – you can now add pictures into reviews, too!), and be sure to help me share on facebook!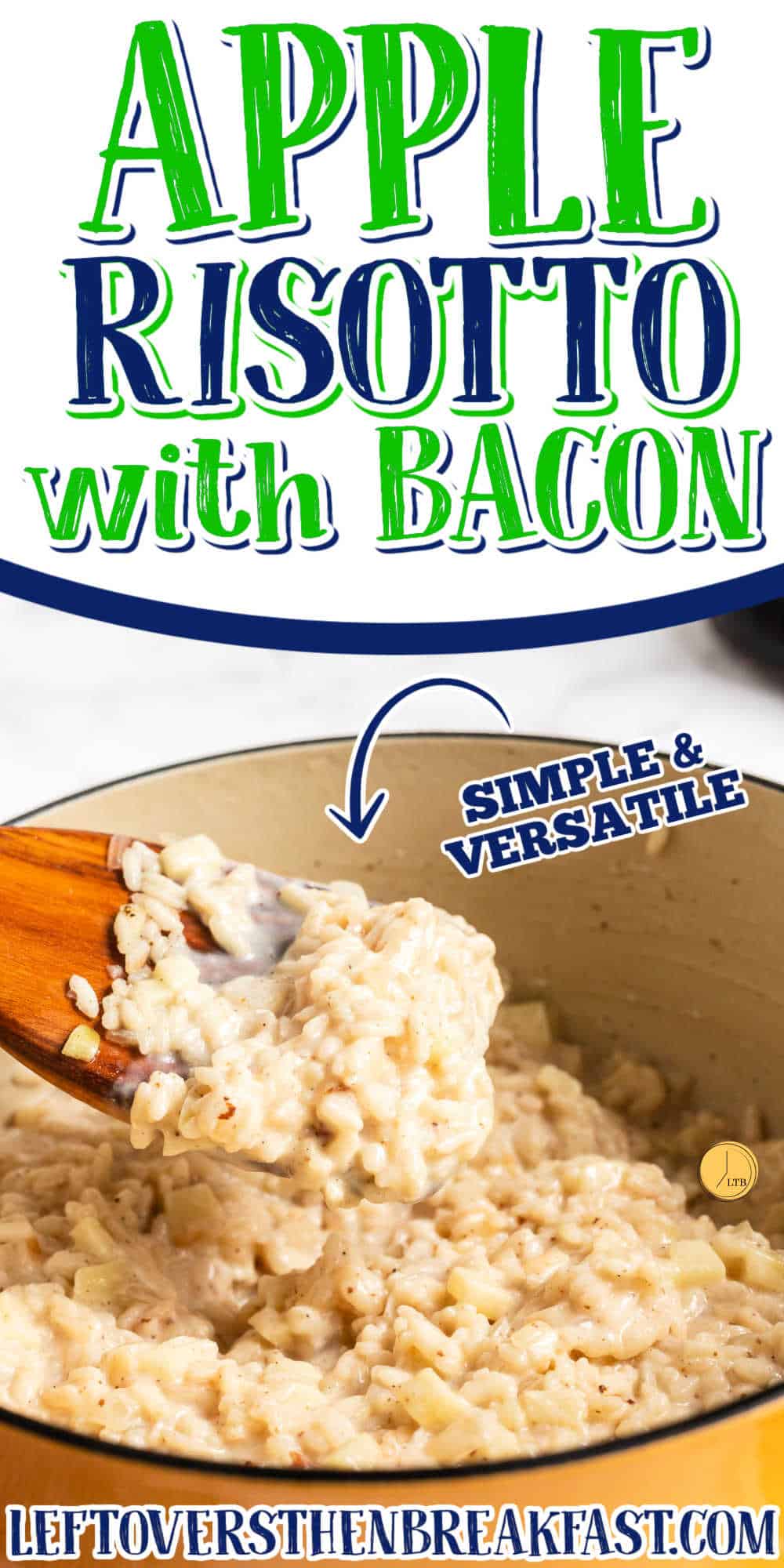 This creamy and tangy apple risotto is perfect for dinner during a busy week. Full of tart apples, creamy goat cheese, and topped with crispy bacon. Comforting and warm in the belly!
MORE EASY DINNER IDEAS
September is National Rice and National Whole Grains Month. The fourth week of September is National Wild Rice Week. Whole grains are nutritious and are great to make delicious food right from appetizers, salads, breads, and main courses to desserts. In our #FestiveFoodies, we are celebrating the grains this month by sharing our favorite recipes showcasing any grains and Radha of
Magical Ingredients
is hosting this event. We are sharing 30 different recipes using whole grains and join us in the celebration. MORE WHOLE GRAIN RECIPES
@LeftoversThenBreakfast.com. Content and photographs are copyright protected. Sharing of this recipe is both encourages and appreciated. Copying and/or pasting full recipes to any social media is strictly prohibited.