Pesto Rice is a bright and easy side dish that is full of flavor and ready in less than 20 minutes. The perfect partner to so many dinners.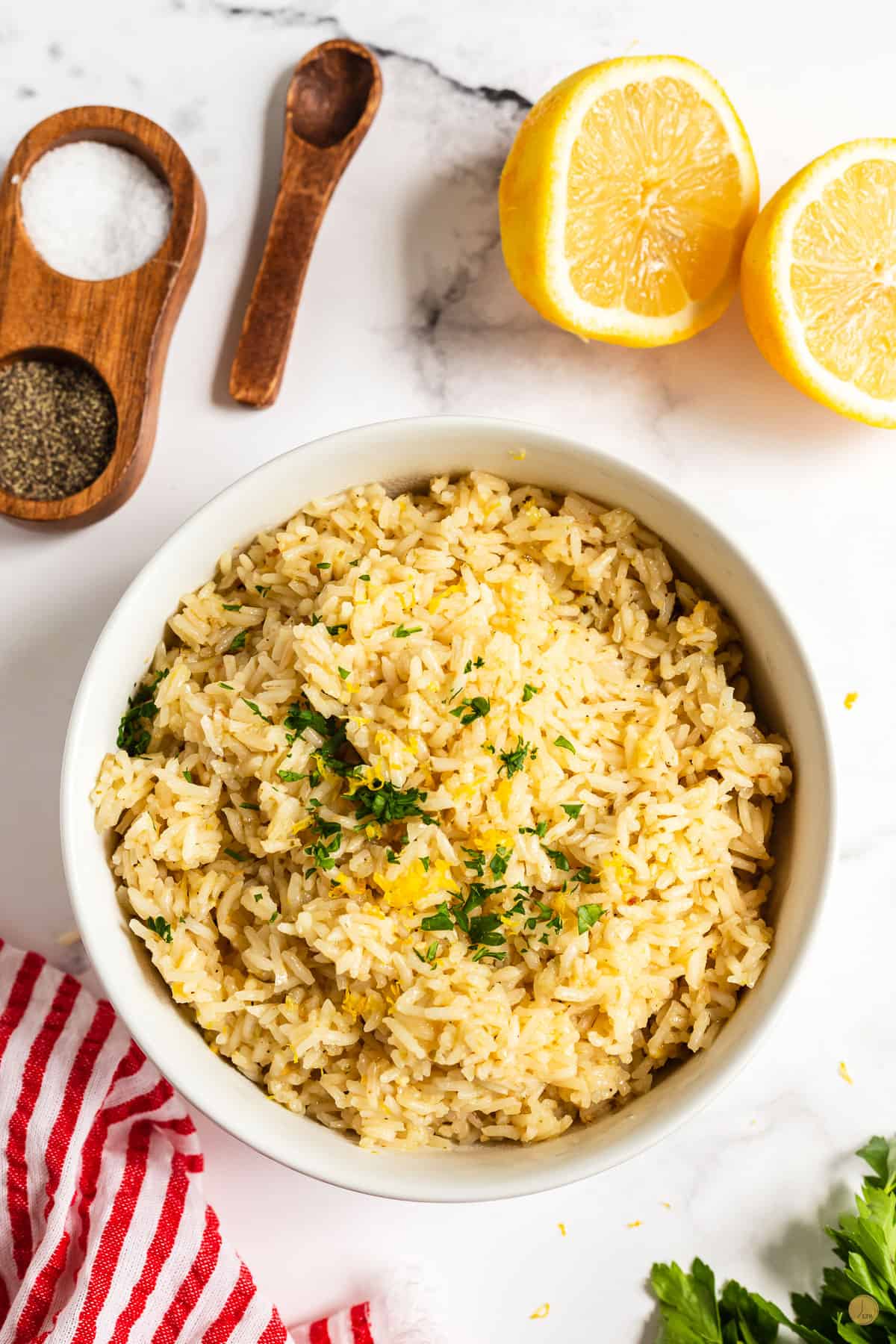 If you'd rather skip my essential cooking tips and tricks and get straight to this delicious recipe – simply scroll to the bottom of the page where you can find the printable recipe card.
I'm always looking for new and inventive side dishes that aren't the same old starch and vegetables. Getting stuck in a rut seems to happen about every 2-3 months so I am always keeping my eye out for new ideas.
This pesto rice recipe came to me while I was grocery shopping and browsing the pasta sauce aisle. The little jars of pesto caught my eye!
Armed with my new purchase and a few fresh lemons, I whipped up this quick and delicious side dish which is now a new family favorite. I know your family will love it too!
This post may contain affiliate links. As an Amazon Associate, I earn from qualifying purchases. Read my disclosure policy here.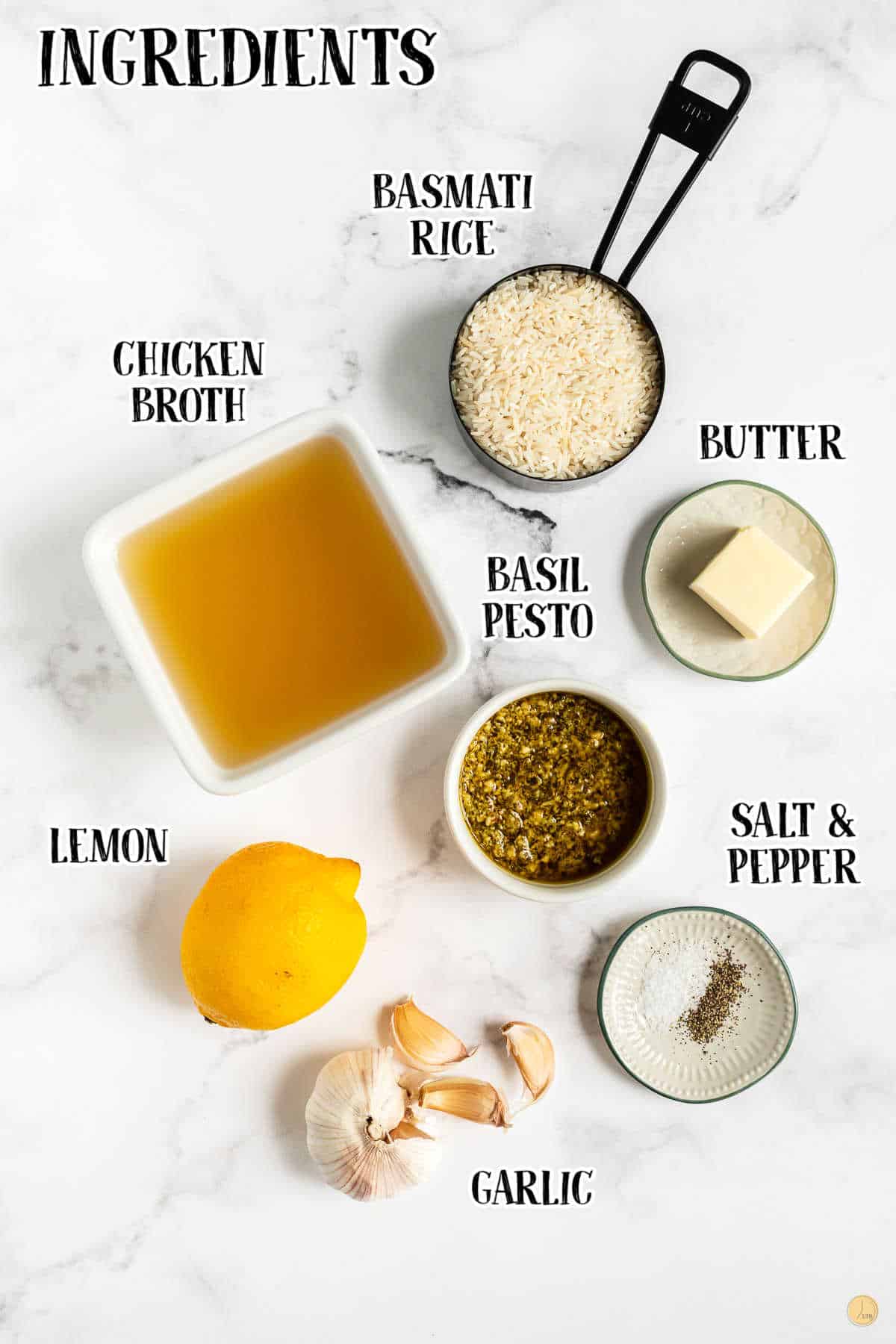 PESTO RICE INGREDIENTS
basmati rice
butter
garlic
chicken broth
pesto
lemon
salt & pepper
Rice – I used Texmati Rice for this recipe but feel free to use white rice, Basmati, jasmine, or even brown rice.
Butter – Unsalted butter is best for this recipe so you can control the salt levels but if you only have salted butter, leave out the additional salt at the end. You can also use olive oil instead of butter if you prefer
Chicken Broth – Again, I prefer low sodium chicken broth or chicken stock. In a pinch you can also use water.
Pesto – I used a basil pesto that contains parmesan cheese. If you have a favorite pesto recipe feel free to use that one.
Lemon – Lemon juice and lemon zest were both used and fresh is always best.
Looking for more comfort food? Follow LTB on Pinterest!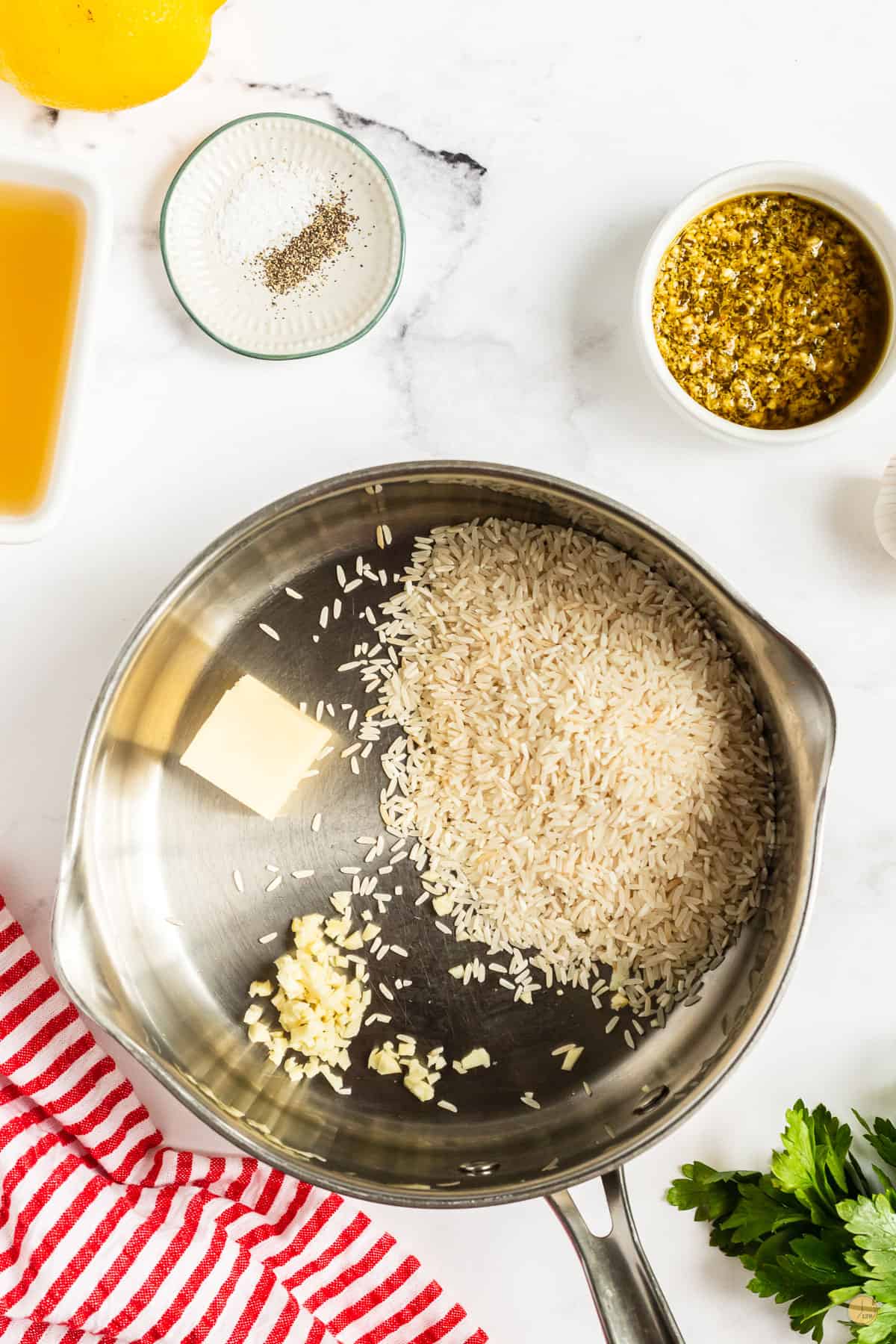 HOW TO MAKE PESTO RICE
ONE: On the stove top, in a pot with a tight fitting lid, add the rice, butter, and garlic. Over medium heat, melt the butter and toast the rice, stirring constantly, for 5 minutes or until fragrant.
TWO: Add the chicken broth and stir to combine. Bring to a boil then reduce the heat to simmer. Cover tightly and cook for 12-15 minutes.
THREE: Remove from the heat and add the lemon juice, lemon zest, and pesto to the cooked rice. Stir to combine and fluff. Serve warm!
For the full recipe and detailed baking instructions, please see the recipe card at the end of this post.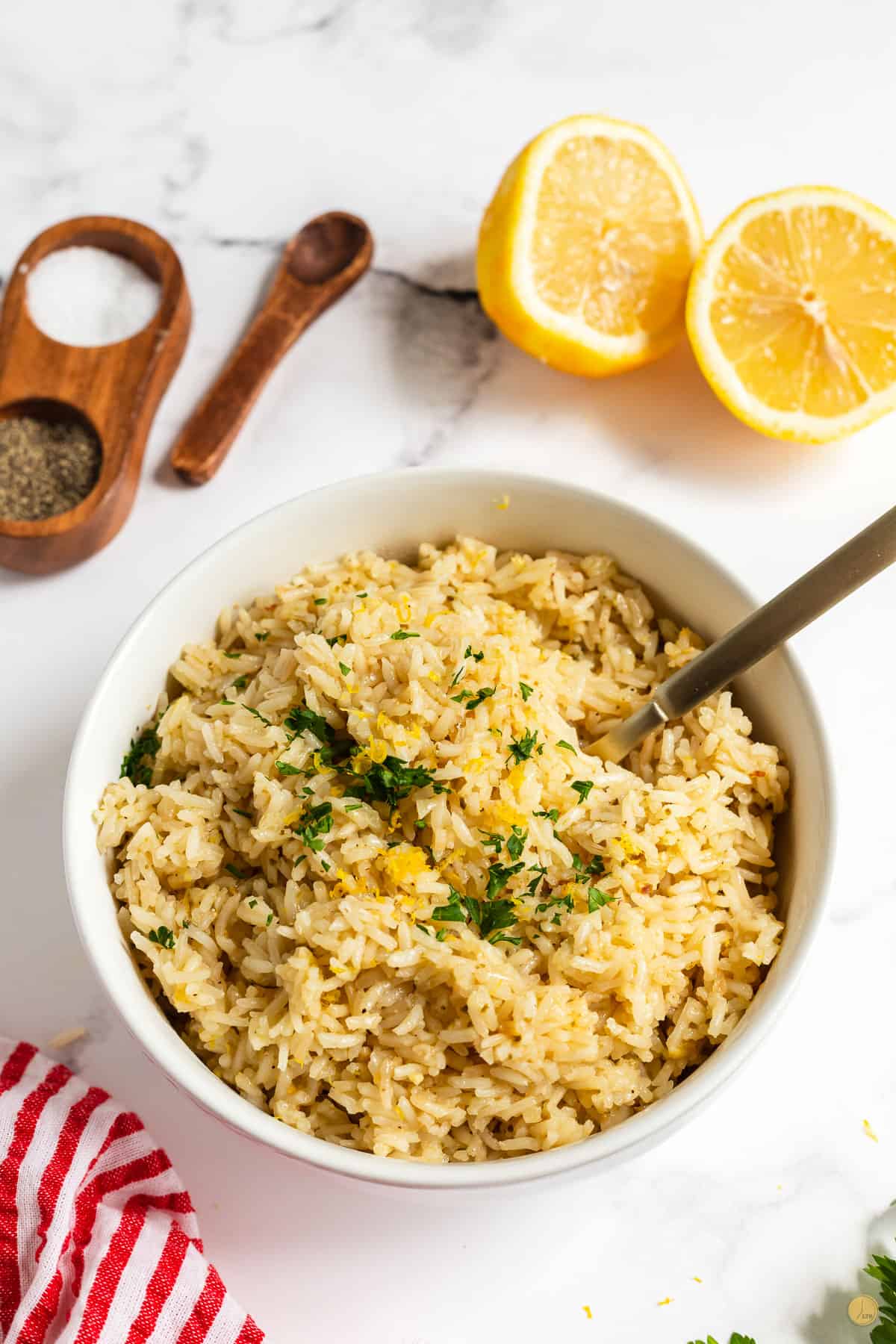 CAN I MAKE PESTO RICE IN A RICE COOKER?
You can make this in the rice cooker. Toast the rice first and then add the chicken broth to the rice cooker. Adjust the cooking time to 12 minutes. Once finished, stir in the pesto, lemon juice, and zest.
IS IT GLUTEN FREE?
Rice is typically gluten free but check the package to be sure that it is. Some manufacturers package the rice in facilities with other products that have gluten.
Also, if you are using a store bought pesto, check that label as well.
HOW TO STORE LEFTOVER RICE
Leftover rice can be stored in the refrigerator for up to 4 days in an airtight container. You can also freeze it for up to 3 months in a freezer safe container.
To reheat, microwave in 30 second intervals or on the stove top. You might need to add 1/4 cup of broth to the rice to fluff it back up.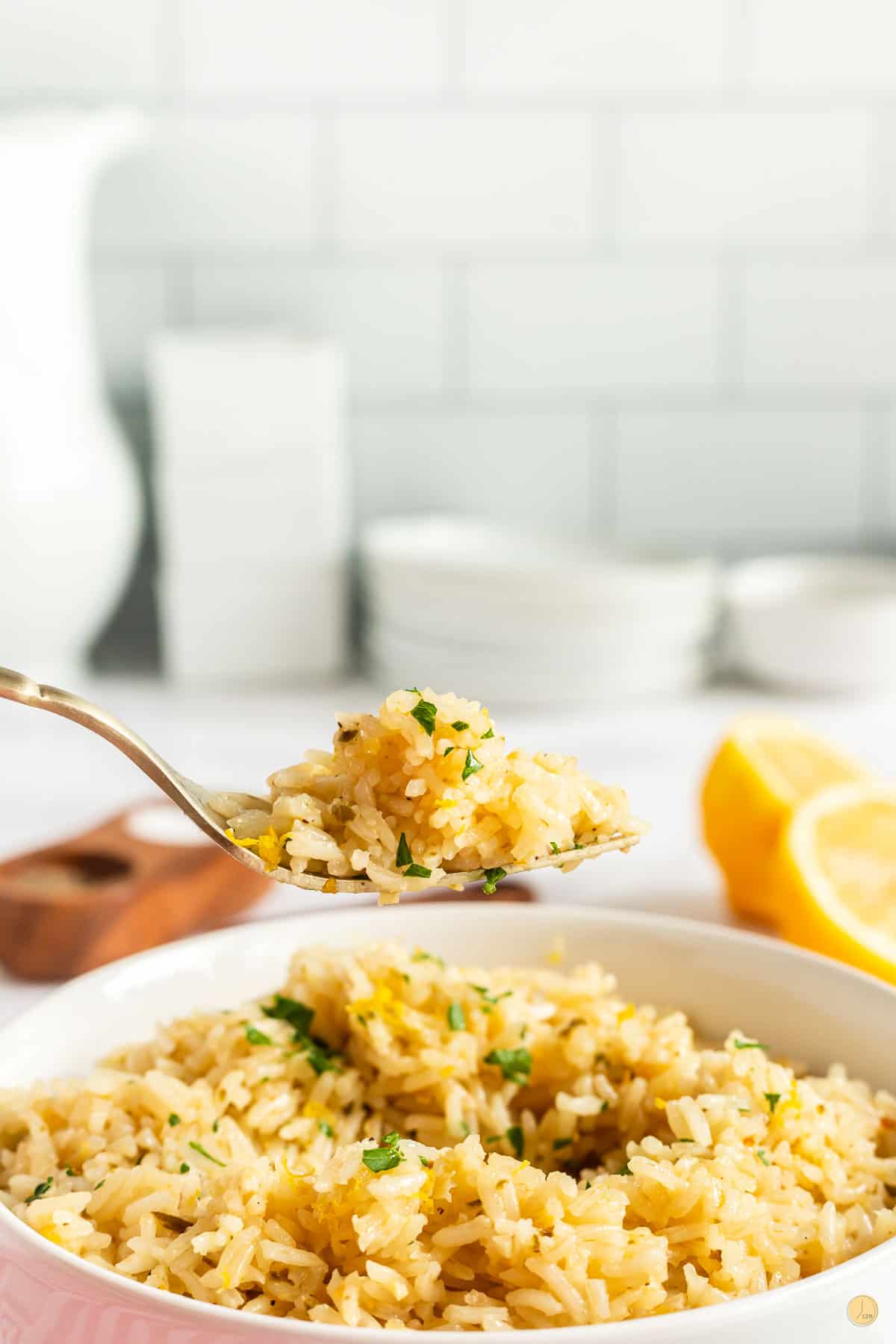 TIPS FOR NO LEFTOVERS
Toasting the rice before add the chicken broth gives the final dish so much more flavor.
You can use water to make the rice but chicken broth is best.
Use fresh lemon juice and lemon zest if at all possible. It really enhances the flavor.
Always add the pesto last as it can turn brown with the heat after a little time.
Garnish the finished pesto rice with toasted pine nuts, fresh basil, or more lemon zest.
If you love this recipe as much as I do, please write a five-star review in the comment section below (or on Pinterest with the "tried it" button – you can now add pictures into reviews, too!), and be sure to help me share on facebook!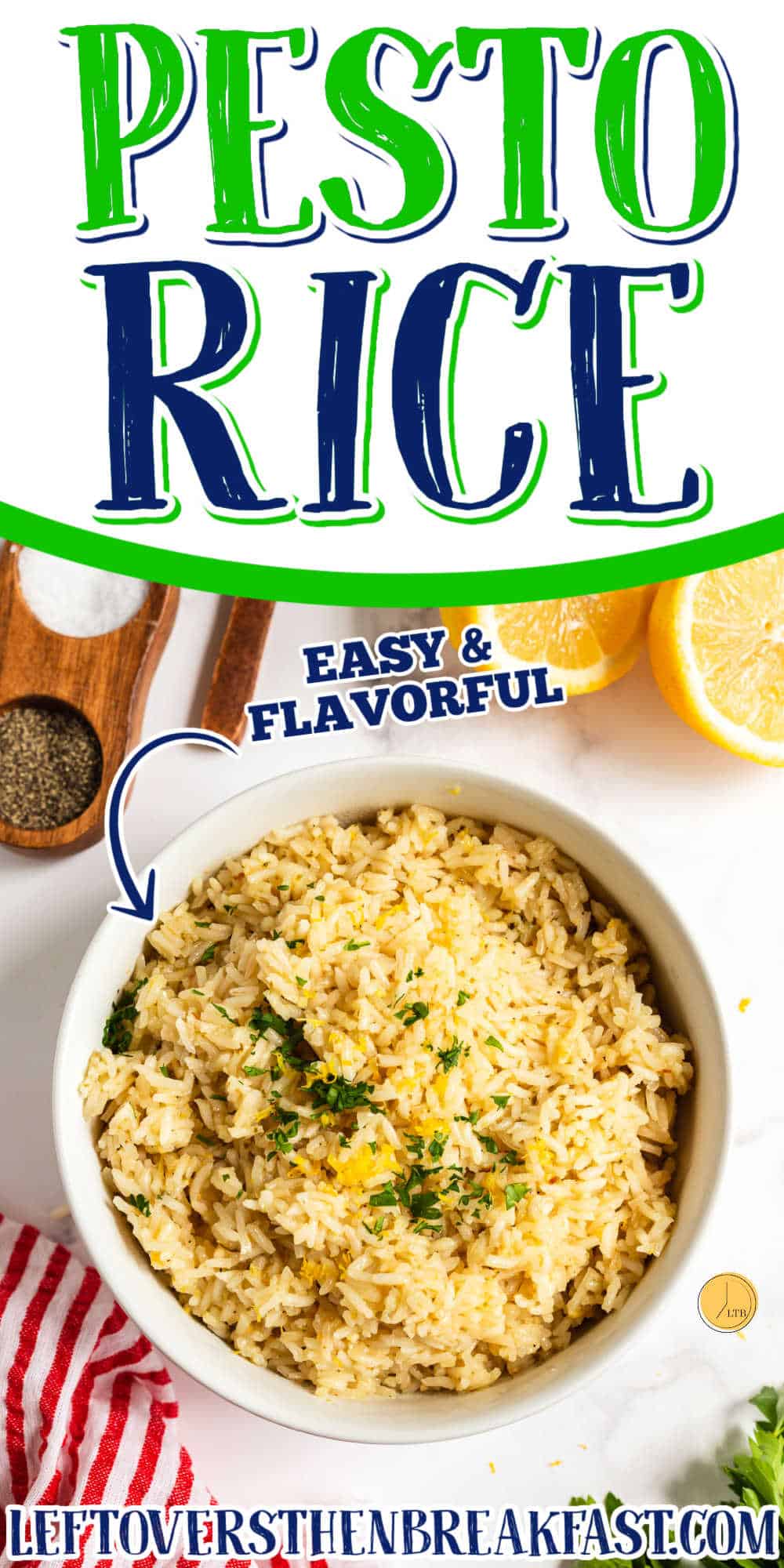 This delicious and easy pesto rice is a great addition to any table. You can even double or triple the recipe to serve a crowd.
MORE EASY SIDE DISHES
September is National Rice and National Whole Grains Month. The fourth week in September is National Wild Rice Week.
Whole grain are nutritious and are great to make delicious food from appetizers, salad, breads, main courses, and desserts.
In our #FestiveFoodies group, we are celebrating grains this month by sharing our favorite recipes showcasing a variety of grains and our Radha from Magical Ingredients is hosting this event.
We are sharing over 30 different recipes using whole grains so join us in the celebration!
Wednesday Wholegrain Recipes
@LeftoversThenBreakfast.com. Content and photographs are copyright protected. Sharing of this recipe is both encourages and appreciated. Copying and/or pasting full recipes to any social media is strictly prohibited.