Crock Pot Hot Dogs are easy to make and cook up JUICY with a SNAP! They are the perfect way to feed a crowd with MINIMAL EFFORT!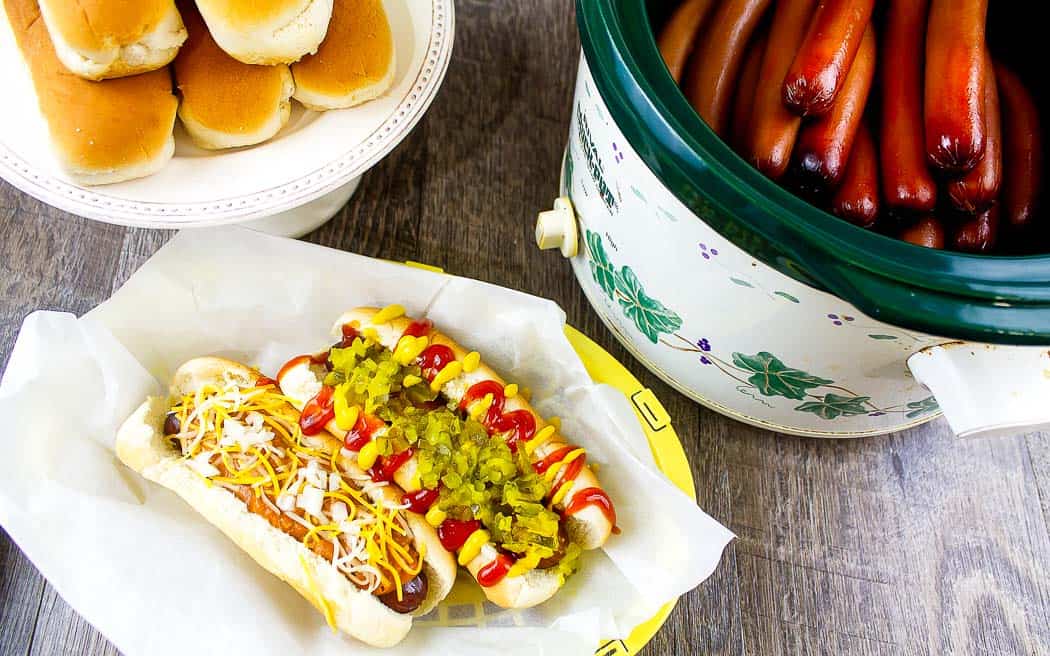 If you'd rather skip my essential cooking tips and tricks and get straight to this delicious recipe – simply scroll to the bottom of the page where you can find the printable recipe card.
CROCK POT HOT DOGS
How do make hot dogs for a crowd without handling a large pot filled with boiling water? This is how!
I have made hotdogs in a pot, on the grill, and even the air fryer, but this method is by far the EASIEST way.
Plus you can cook upwards of 60 at a time. That's a lot of dogs.
AND NO BOILING WATER NEEDED!
This post may contain affiliate links. As an Amazon Associate, I earn from qualifying purchases. Read my disclosure policy here.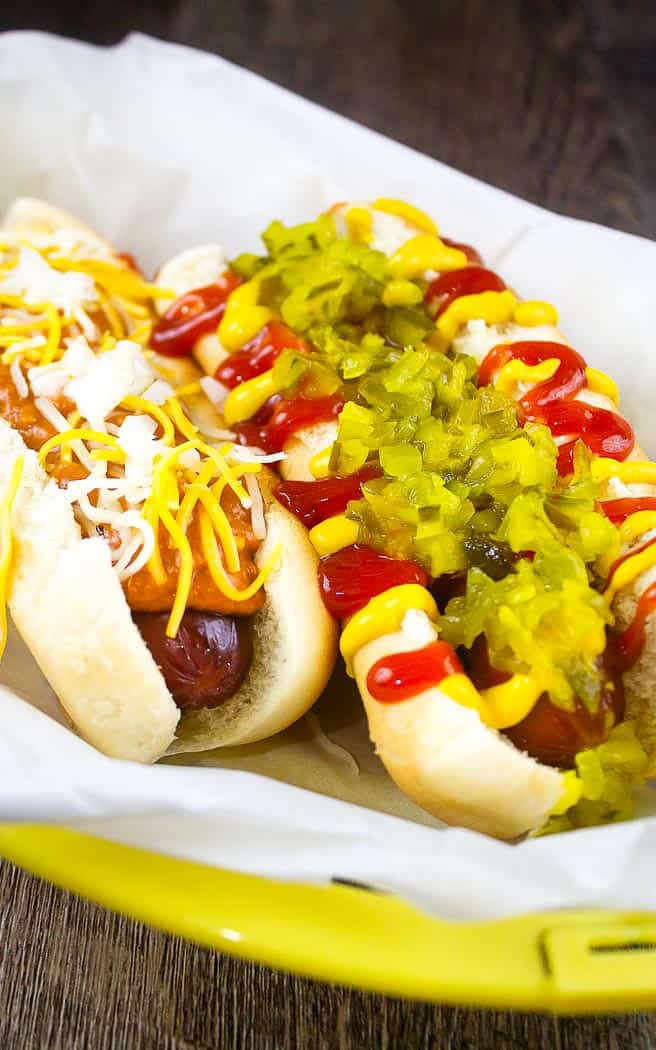 CAN YOU COOK HOT DOGS IN A CROCK POT?
Before you start, here are a few things to consider.
Are the hot dogs pre-cooked
Size of your crock pot
How many hot dogs
ARE HOT DOGS PRE-COOKED?
Most hotdogs are precooked but they still need to be heated to a safe internal temperature before eating.
My go to hotdog for cooking for a crowd is a chicken dog. They are tasty and lower in saturated fat. But this method works for beef, pork, and even sausage dogs!
Here are my favorite brands:
Chicken Dogs: Gwaltney
Beef: Hebrew National, Nathan's
Pork: Ball Park, Oscar Meyer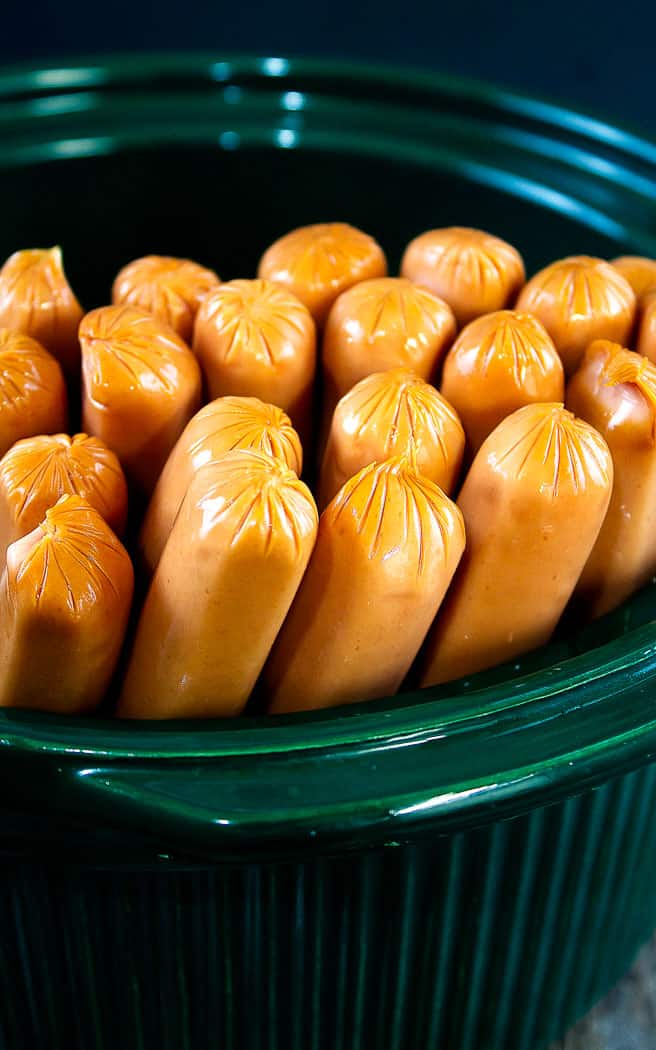 WHAT SIZE CROCK POT TO USE
I first used this crock pot I received when I got married, some 20ish years ago, and it is a round, 4.5 quart model.
Most of the models now are between 6 and 10 quart, and are oval in shape.
You can also use a divided one like this model and cook two or three different kinds of hot dogs.
DO I HAVE TO STAND THEM UP OR CAN I LAY THEM DOWN?
Depending on the length of the hot dog. Regular size, bun length, and jumbo are not created equal.
A round 6 quart can hold 60 regular size hot dogs standing up. Because they are not particularly long.
The bun length ones are too long to stand on end, so you will have to lay them flat. Because of this, it can really only cook about 40 bun length ones.
If you use a larger, oval model, you can stand them on end and cook more at one time.
Best to measure your slow cooker insert before you head to the store to get your dogs.
Looking for more comfort food? Follow LTB on Pinterest!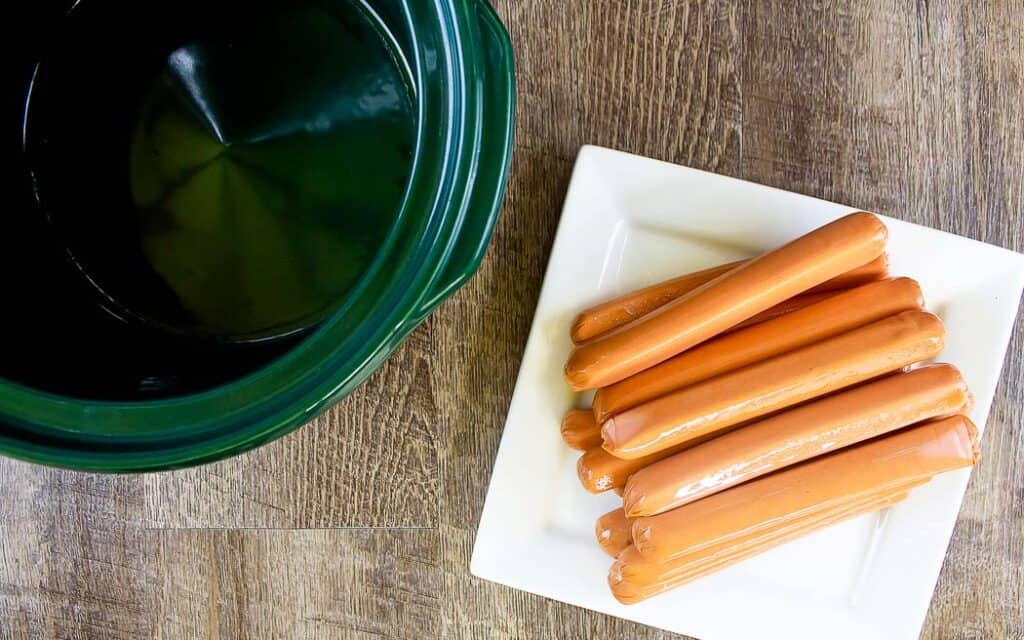 HOW DO YOU STEAM HOT DOGS IN A CROCK POT?
Just place the dogs in the slow cooker and turn it on. Cook on high for 2-3 hours, making sure to shuffle them around a little.
The ones in the center will take longer to cook.
DO YOU ADD WATER TO CROCK POT WHEN COOKING HOT DOGS?
No, they already have enough moisture in them to "steam" them in the pot. They will plump up nice and juicy with a "snap" to them.
Just the way I like them!
KEEPING THEM WARM
After cooking the hot dogs in the crockpot, turn it to warm and let them hang out. They can be kept warm for up to 2-3 hours before they start to dry out.
My old slow cooker doesn't have a keep warm setting, just a low, so I didn't keep mine for more than 1 hour.
But, they were all eaten by then anyway!
Now that you have a large amount of tender and juicy hot dogs, what are you going to do with them?
Make a hot dog bar! Since you didn't use any time cooking them, take time to set up all your favorite toppings.
Here are a few ideas!
HOT DOG TOPPINGS
Chili
Slaw
Cheese
Onion
Ketchup
Mustard
Relish
Salsa
Pico
Peppers
Lettuce
Tomato
What are you favorite hot dog toppings?
MORE EASY RECIPES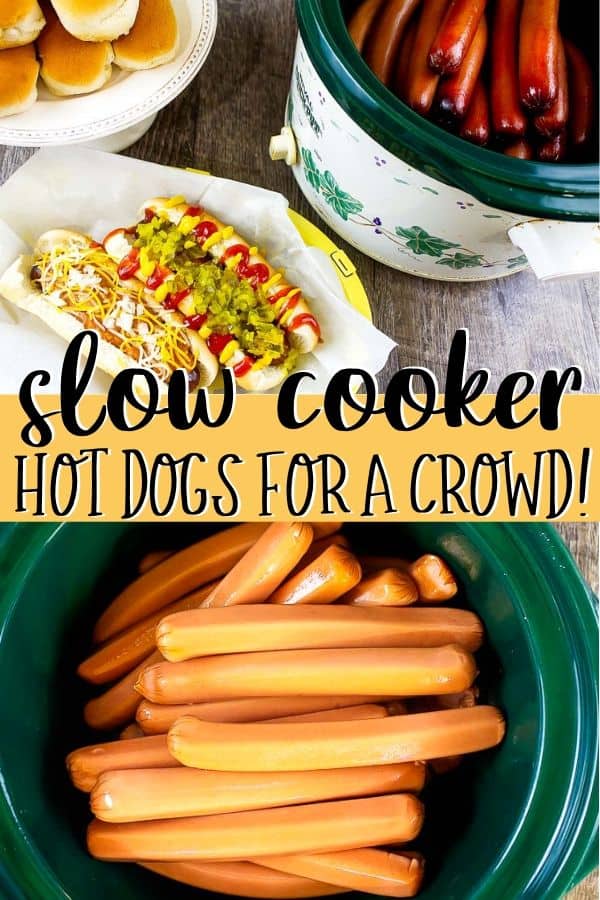 While you're at it, don't forget these!
Buns
Plates/Baskets
Side items like chips, beans, fruit,
Drinks
Tablecloth/Napkins/Cutlery
These crowd pleasing hot dogs are perfect for picnics, summer parties, birthday parties, tailgating, and sleepovers for the kids!
OTHER LARGE BATCH FOODS TO SERVE
CROCK POT HOT DOG RECIPE
@LeftoversThenBreakfast.com. Content and photographs are copyright protected. Sharing of this recipe is both encourages and appreciated. Copying and/or pasting full recipes to any social media is strictly prohibited.