A 7 Layer Salad is easily prepped the night before and full of textures and flavors. It makes a stunning centerpiece and is the perfect dish to bring to any pot luck, pitch in, or backyard gathering.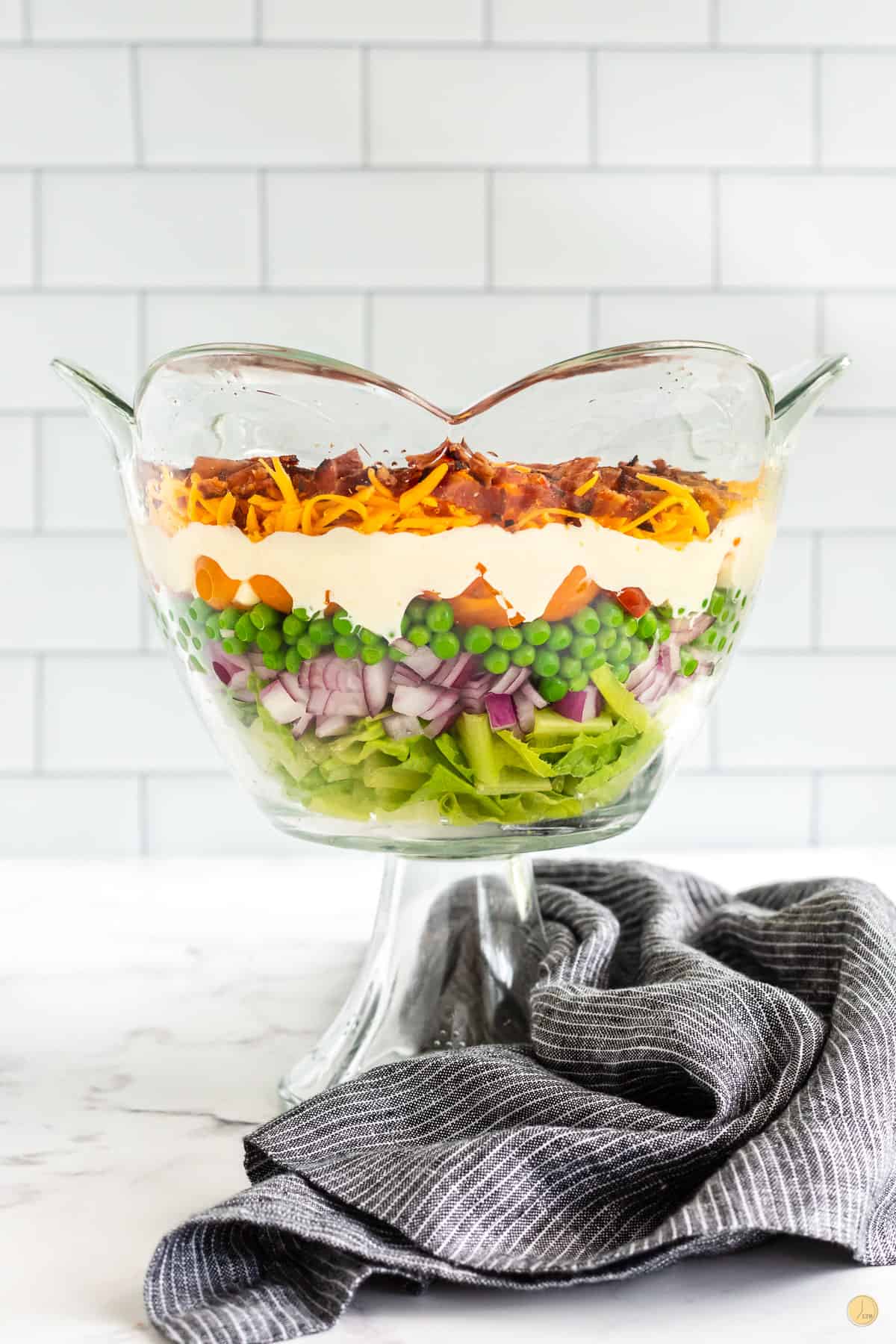 If you'd rather skip my essential cooking tips and tricks and get straight to this delicious recipe – simply scroll to the bottom of the page where you can find the printable recipe card.
A party isn't a party without a gorgeous and delicious 7 Layer Salad!
Crisp fresh veggies, layered to show off their vibrant colors, and topped with a creamy dressing.
It's stunning in it's display and mouthwatering with it's combination of sharp cheddar cheese, smoky bacon, and ripe vegetables.
Don't see your favorite salad topping? Add 1 or two more layers.
This is a great salad for feeding a crowd as a side dish or main event!
WHAT IS A 7 LAYER SALAD?
It's a dish that became popular in the 70s when dinner parties were all the rage and everyone wanted budget friendly but show stopping dishes!
It's essentially a salad that is prepped with all the toppings in layers. All the fresh ingredients are sealed in with a dressing and marinated overnight.
You can make additions to it with your favorite salad toppings and make it 8 or even 9 layers!
This post may contain affiliate links. As an Amazon Associate, I earn from qualifying purchases. Read my disclosure policy here.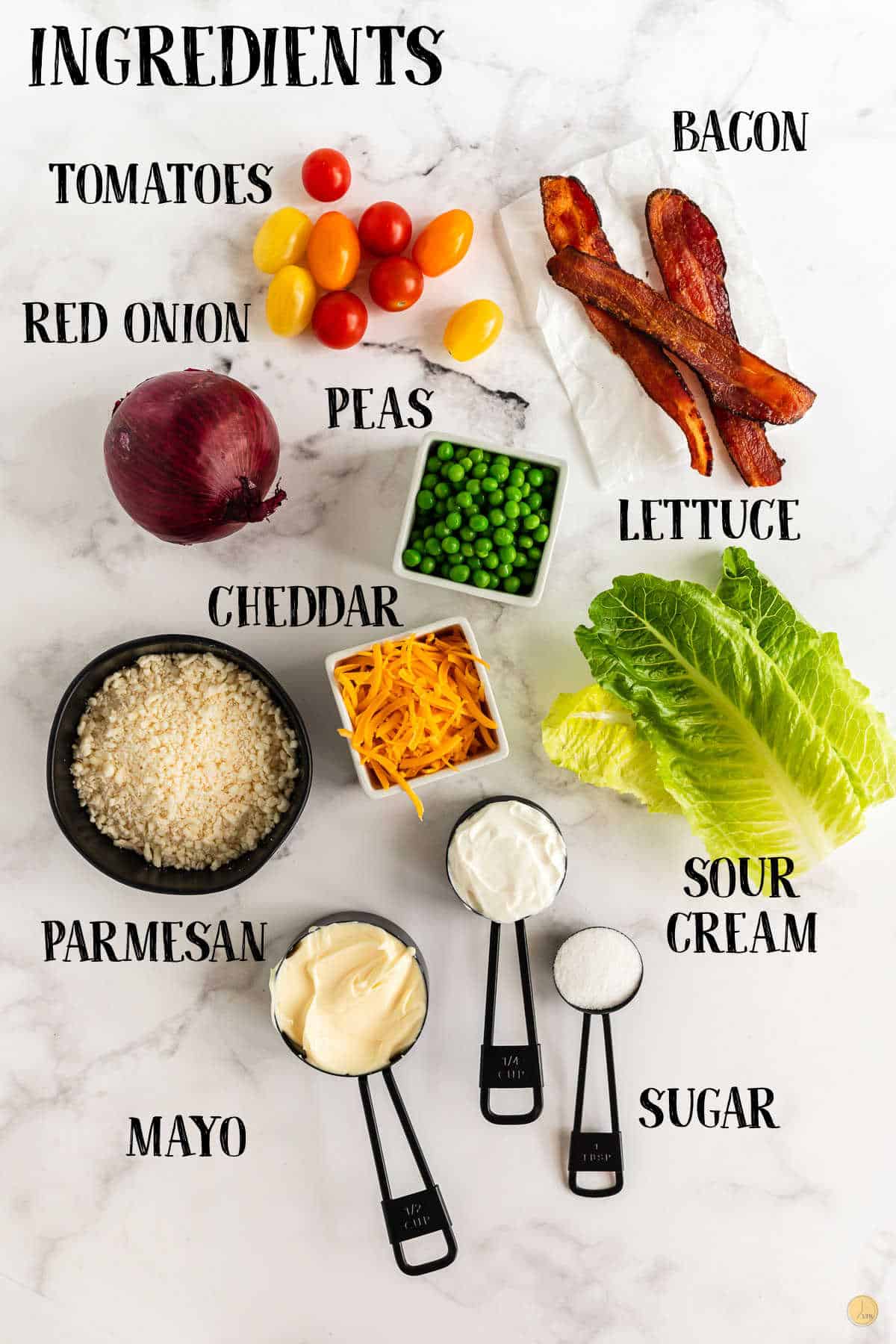 INGREDIENTS FOR 7 LAYER SALADS
LETTUCE – Iceberg lettuce is ideal but you can use romaine
RED ONION – Feel free to switch this for Vidalia or green onions.
GREEN PEAS – I like to use frozen peas for their bright color. Thaw before adding
TOMATOES – Cherry or grape tomatoes work best.
DRESSING – Recipe below
CHEESE – Cheddar is the classic cheese. Grate your own from the block for best results.
BACON – I like center cut but use your favorite.
SEVEN LAYER SALAD DRESSING
MAYONNAISE – I prefer Duke's mayo but feel free to use your favorite. Even Miracle Whip.
SOUR CREAM – This adds tang and you can use low fat or fat free. You can also use Greek yogurt.
PARMESAN CHEESE – I like to use a blend of parmesan, asiago, and romano cheeses.
SUGAR – This just adds a little sweetness but feel free to substitute your own sweetener or leave out.
This dressing is delicious and the perfect compliment to the layers. The best thing is that it's thick enough to stay in it's layer and not drip through while it's marinating.
Looking for more comfort food? Follow LTB on Pinterest!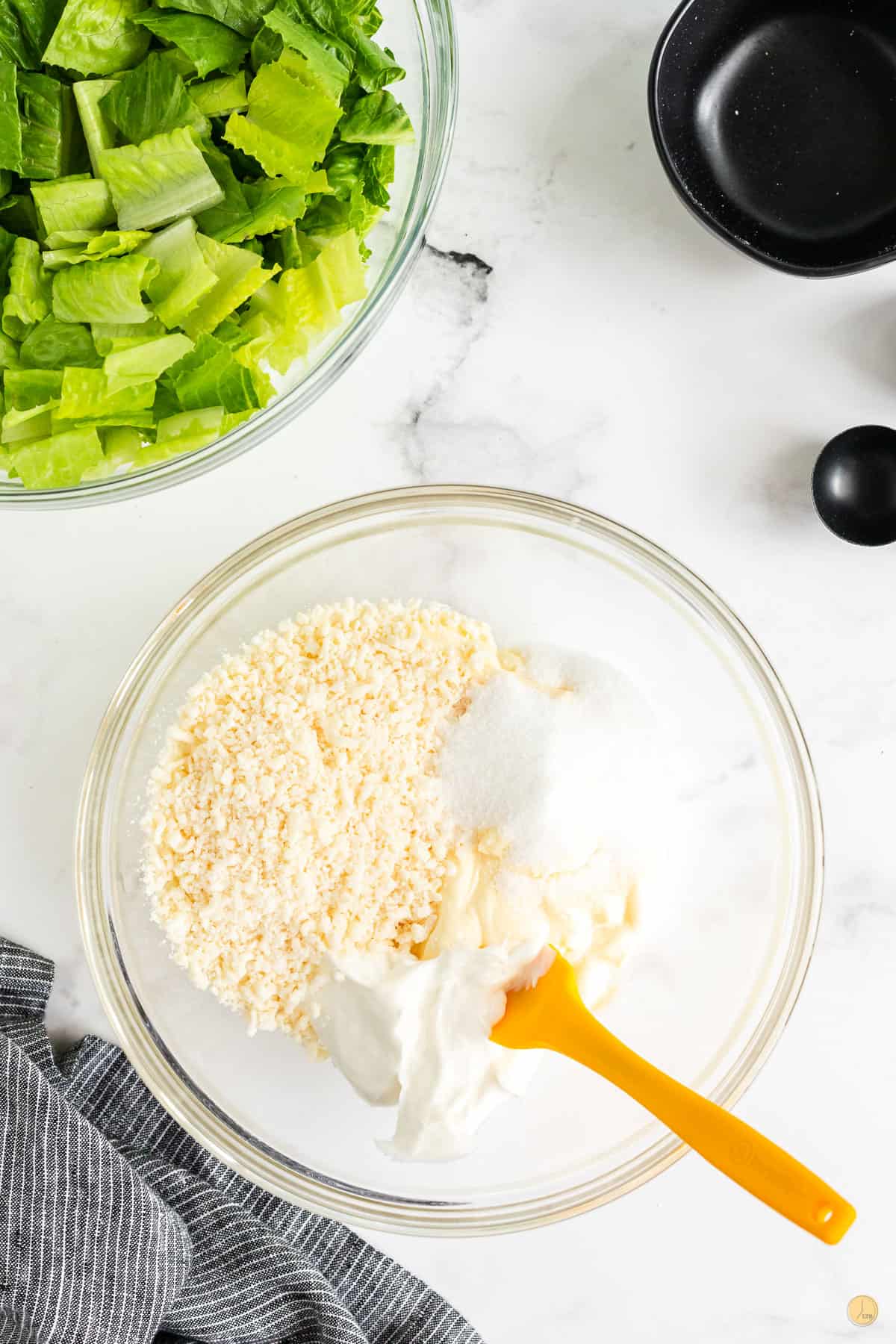 HOW TO MAKE 7 LAYER SALAD DRESSING
ONE: Combine the mayonnaise, sour cream, parmesan cheese, and sugar.
TWO: Mix to combine and set aside for sugar to dissolve.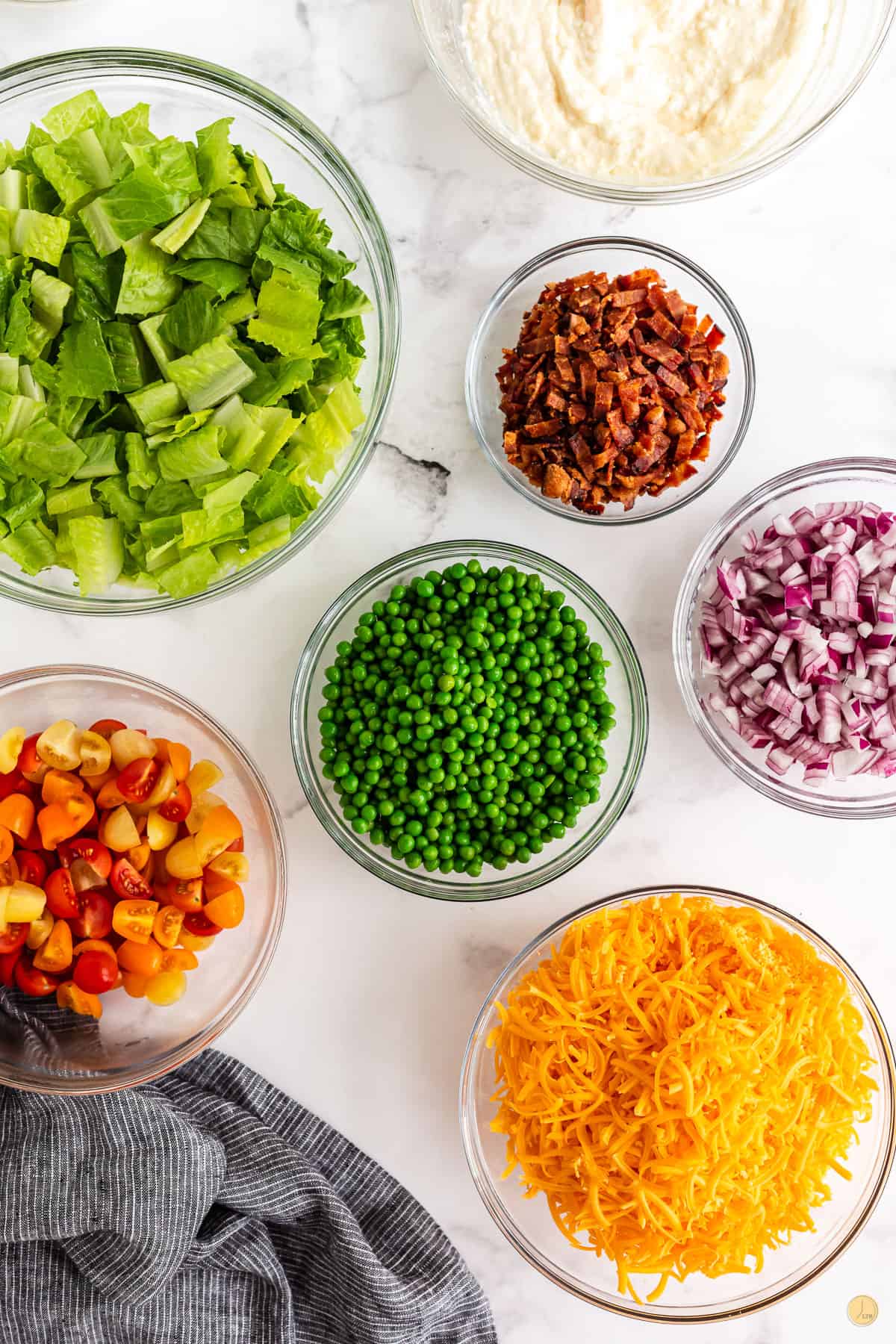 HOW TO MAKE A 7 LAYER SALAD
FIRST: Mix the dressing and set aside.
SECOND: Wash, dry, and dice all the vegetables.
THIRD: Layer the ingredients in a clear trifle bowl in the follow order: lettuce, red onion, peas, tomatoes, dressing, cheese, and bacon.
FOURTH: Seal with plastic wrap and store in the refrigerator for at least 4 hours. Enjoy!
For the full recipe and detailed baking instructions, please see the recipe card at the end of this post.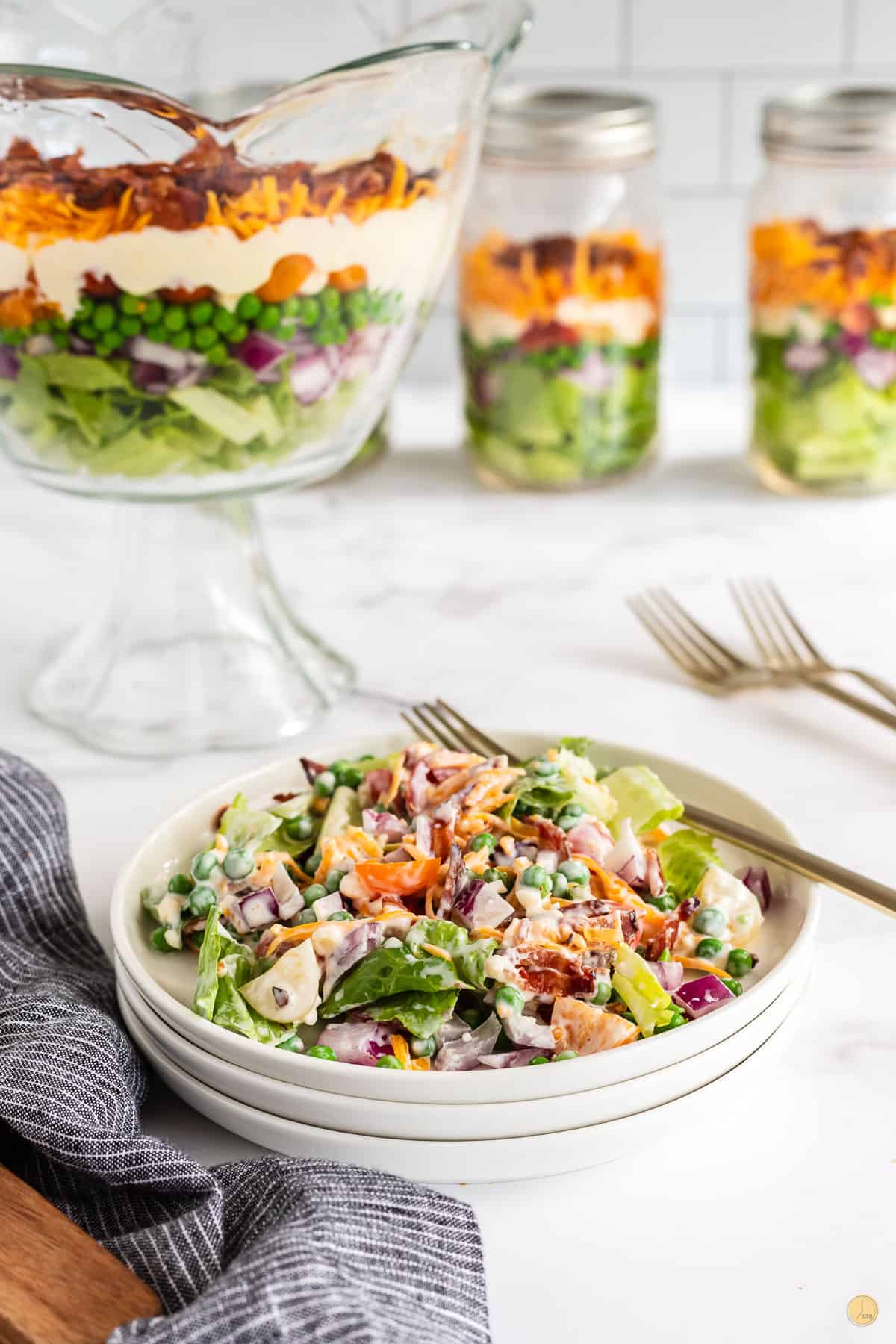 HOW LONG DOES IT LAST?
Leftovers will last in the fridge for a few days but the dressing may start to get a little watery. You might need to add a little more cheese or drain it.
I do not recommend freezing this salad with all the fresh ingredients.
CAN I USE ANOTHER DRESSING?
This is a great recipe to try with many different salad dressings. If you are using another dressing, make sure it's a thick one so it doesn't drip.
I do not recommend a vinaigrette salad dressing for this unless serving it separately.
HOW DO YOU KEEP 7 LAYER SALAD FROM GETTING SOGGY?
Make sure you thoroughly dry all the ingredients. If you are planning on slicing your tomatoes, I suggest halving them and layering them cut side up.
Wrap it tightly in plastic wrap when storing. You can also leave the dressing layer out and keep the dressing off to the side.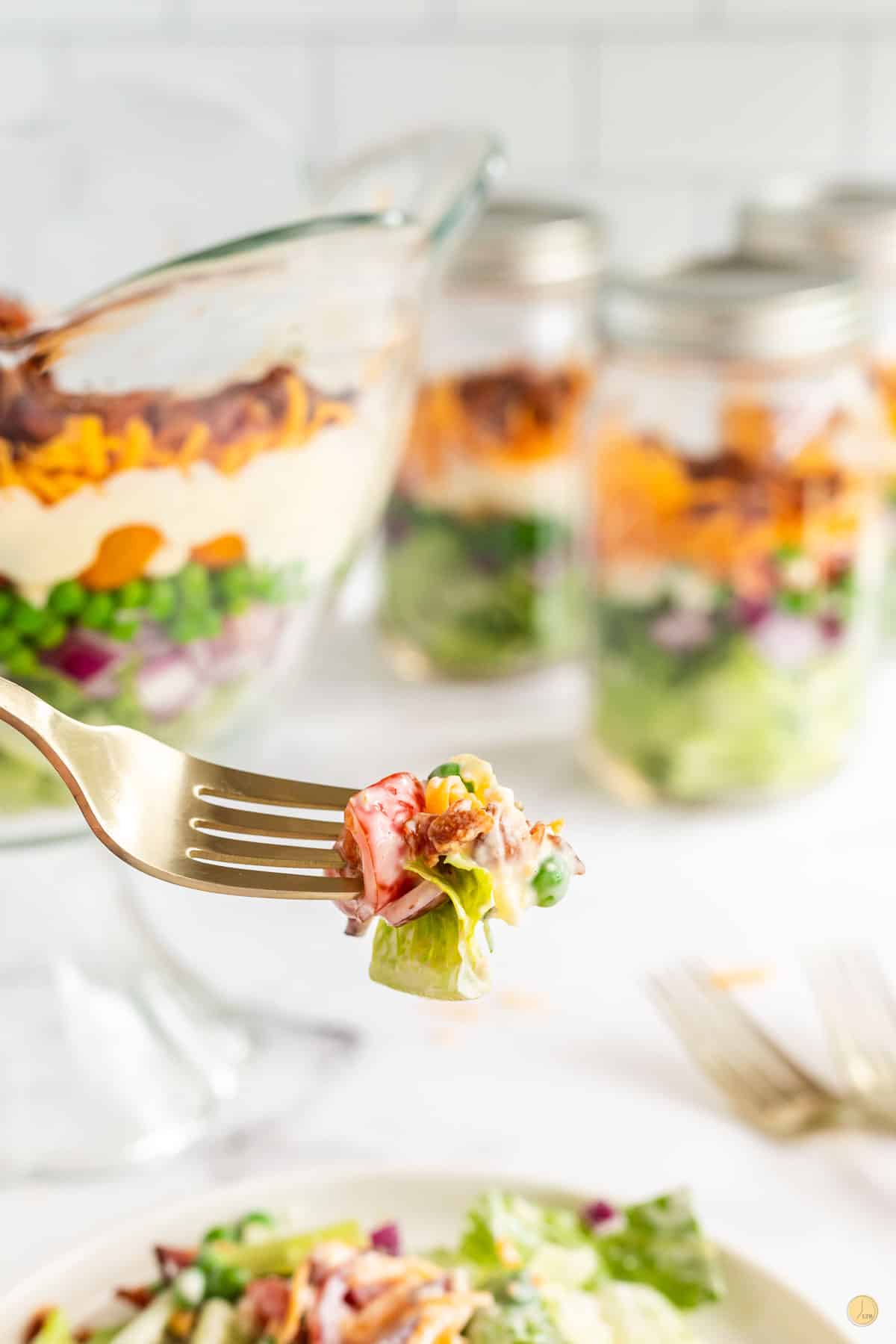 HOW FAR IN ADVANCE CAN YOU MAKE A SEVEN LAYER SALAD?
This is the perfect salad for prepping ahead of time. The optimal time frame is a day in advance but it's best if made at least 4 hours before serving.
The dressing forms a "seal" over the other ingredients to keep them fresh and crisp until ready to eat.
HOW TO SERVE 7 LAYER SALAD
This salad is best served in a clear, tall trifle dish or other clear bowl with tall sides. Roughly 4-5 quarts. You can also make individual ones in mason jars for a fun presentation.
If you don't have a tall glass bowl or trifle bowl, you can always layer it in a 9×13 casserole dish.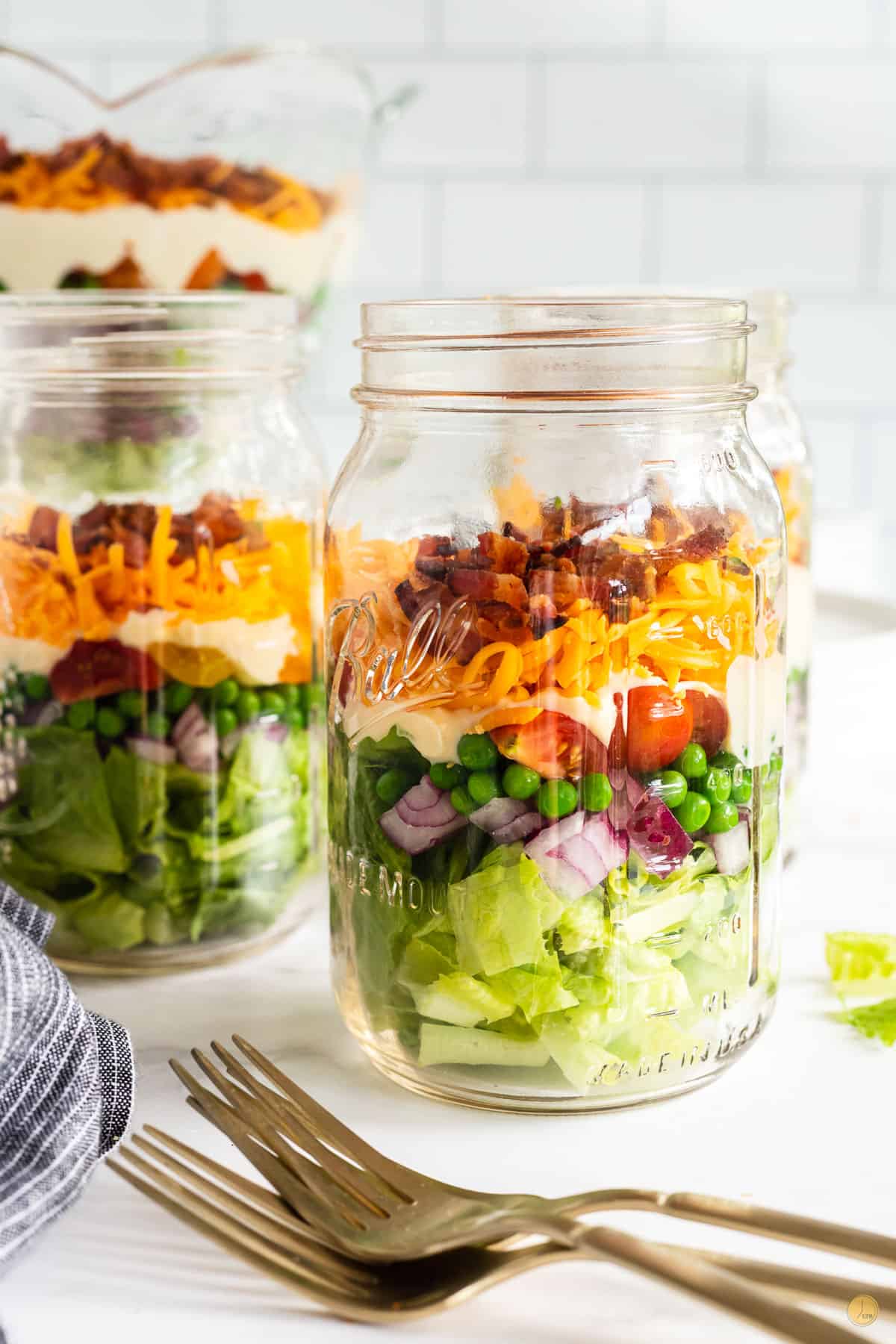 DO I STIR IT BEFORE SERVING?
It's best if served in the layered presentation for maximum effect. You can always give it a light toss when dishing it out or let everyone serve themselves.
OTHER VEGETABLES TO ADD
cauliflower
celery
red bell pepper
cucumbers
corn
broccoli
green onions
shredded carrots
olives
Want more texture? Try adding toasted pecans or dried cranberries. If you just like more in your salad, make it an 8 layer or 9 layer salad. There are no limits!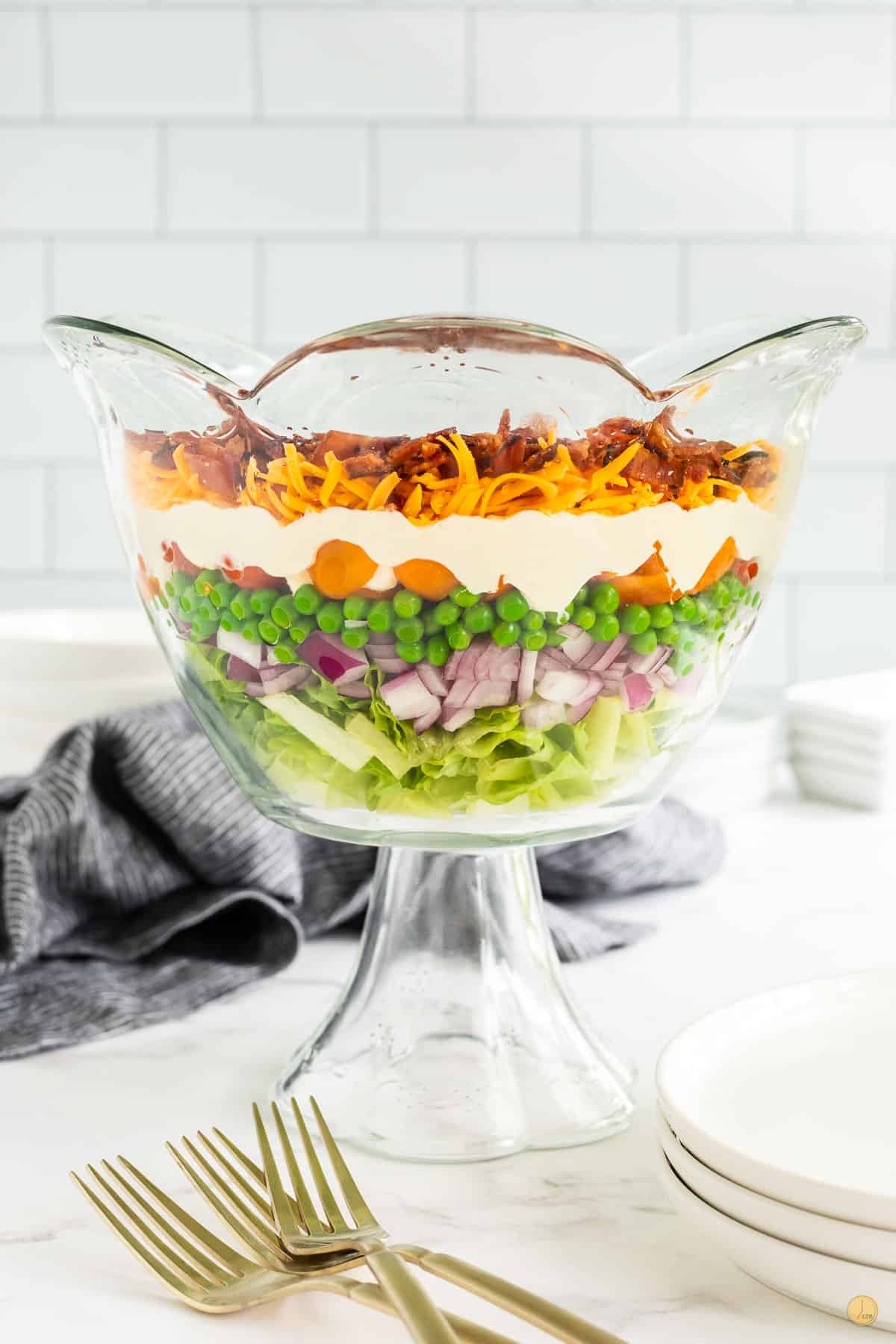 TIPS FOR NO LEFTOVERS
chop everything in similar sizes (bite-sized) so it's easier to mix and enjoy.
wash and thoroughly dry all your ingredients. the salad is meant to sit overnight and you don't want any extra water in the dish after you layer everything
make your layers even for a pretty presentation.
you can keep the bacon off until the following day of you are worried about it not being crispy.
make the dressing and store separately in case others want a different dressing.
to save even more time, use precooked bacon and already cooked hard boiled eggs.
add the dressing as the middle layer for easier distribution when mixing.
If you love this recipe as much as I do, please write a five-star review in the comment section below (or on Pinterest with the "tried it" button – you can now add pictures into reviews, too!), and be sure to help me share on facebook!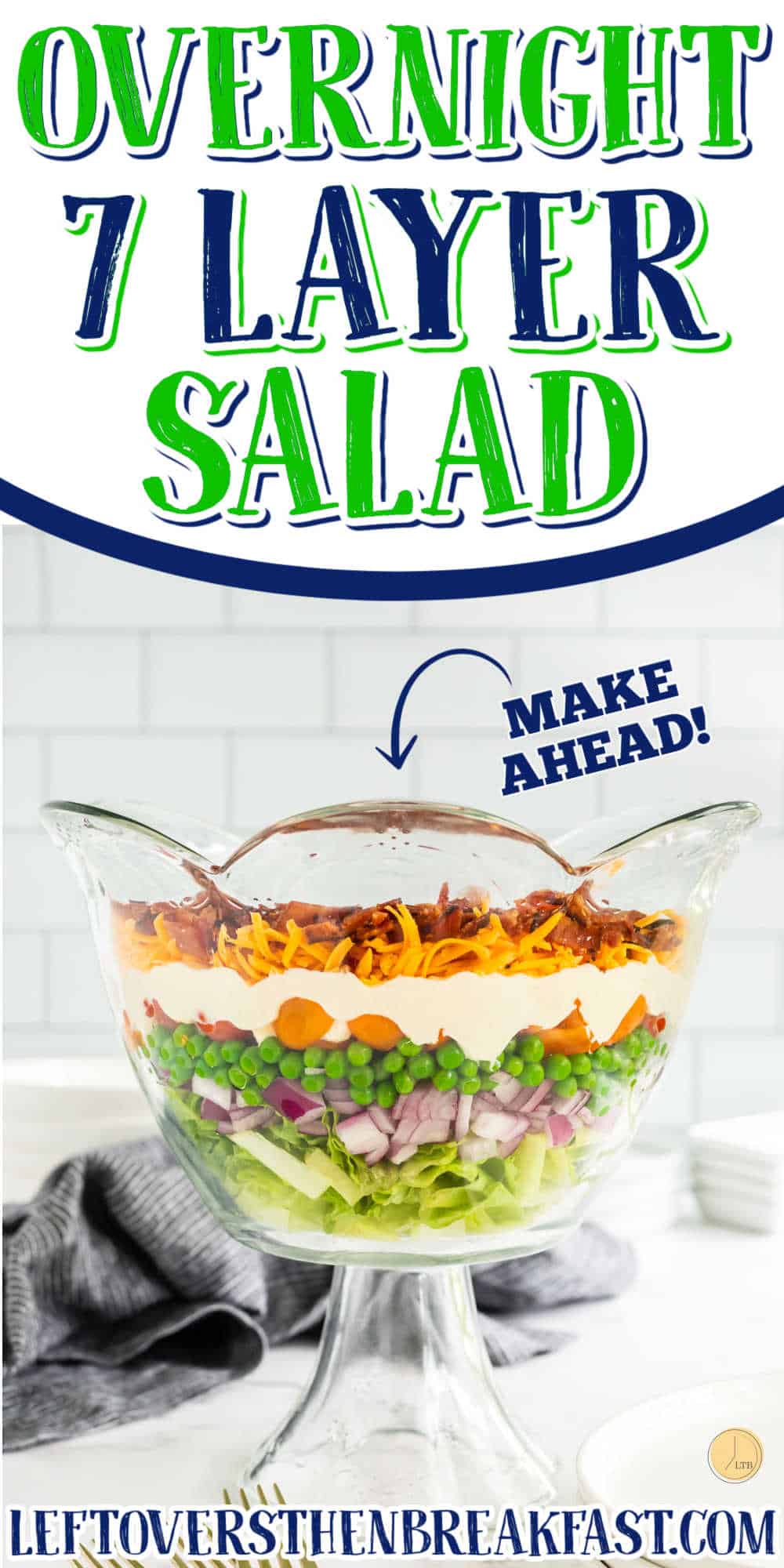 This 7 layer salad recipe is perfect for prepping ahead and makes a beautiful addition to any table. And the best part is you can make the layers with your favorite salad toppings!
MORE EASY RECIPES
Layering Up Salads

We share Recipes From Our Dinner Table! Join our group and share your recipes, too! While you're at it, join our Pinterest board, too!
@LeftoversThenBreakfast.com. Content and photographs are copyright protected. Sharing of this recipe is both encourages and appreciated. Copying and/or pasting full recipes to any social media is strictly prohibited.