Crockpot Peach Cobbler is one of my favorite crockpot desserts. Juicy slices of fresh peaches that are paired with brown sugar and cinnamon.
Topped with a flaky and tender topping, its the perfect end to any meal!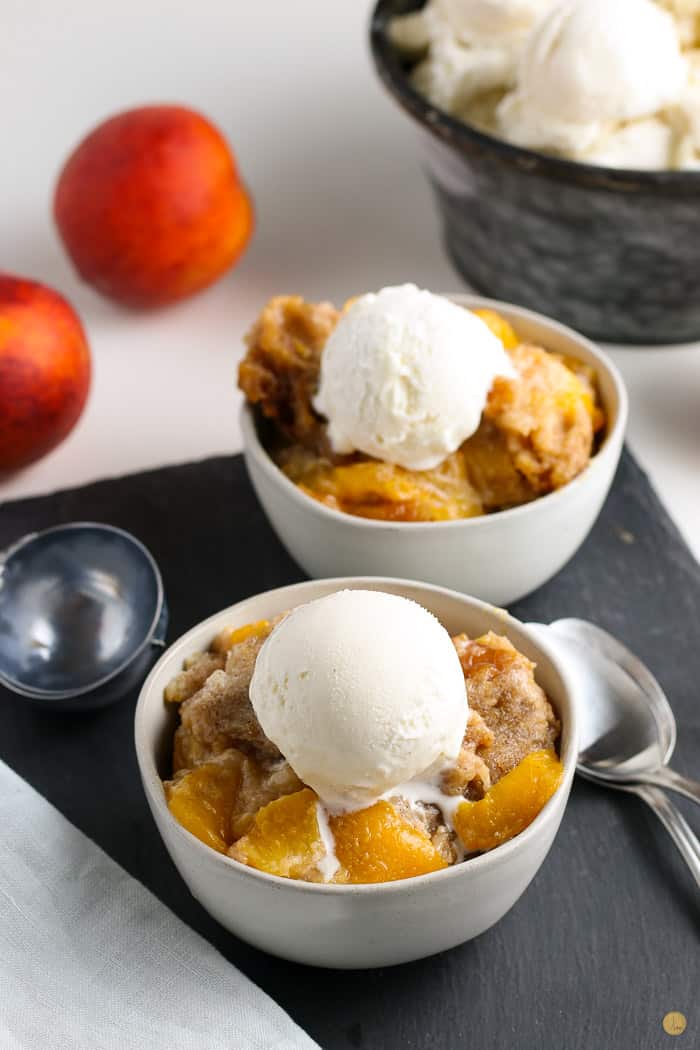 If you'd rather skip my essential cooking tips and tricks and get straight to this delicious recipe – simply scroll to the bottom of the page where you can find the printable recipe card.
CROCKPOT PEACH COBBLER
Top with a homemade cobbler topping and cooked to perfection. Crockpot cobbler is so easy to make and will also make your home smell incredible!
If you have some fresh peaches on hand, this crockpot peach cobbler from scratch is one of my absolute favorites—tons of sweetness, flaky, soft flour topping.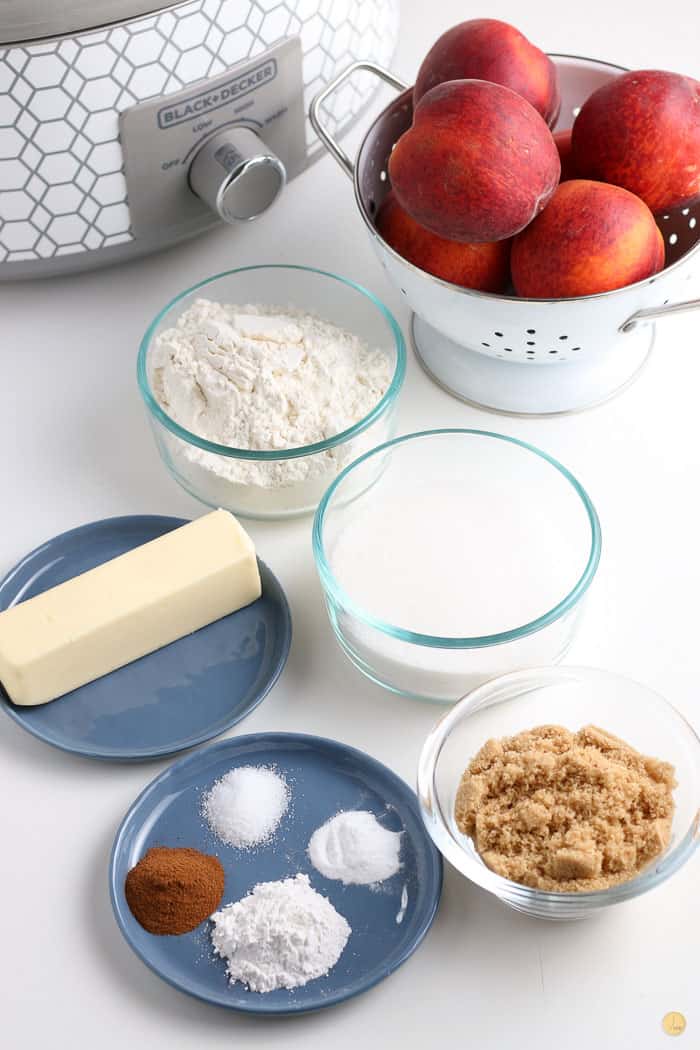 CROCK POT PEACH COBBLER INGREDIENTS
fresh peaches
brown sugar
all-purpose flour
granulated sugar
baking powder
cinnamon
baking soda
salt
unsalted butter (cool, not melted butter)
If you prefer to use yellow cake mix and canned peaches, you can substitute 2 (29 ounces) cans of peaches in heavy syrup (drain the syrup before adding) and one box of cake mix for the dry ingredients.
Just top the canned peaches with the cake mix and butter and cook as directed.
Looking for more comfort food? Follow LTB on Pinterest!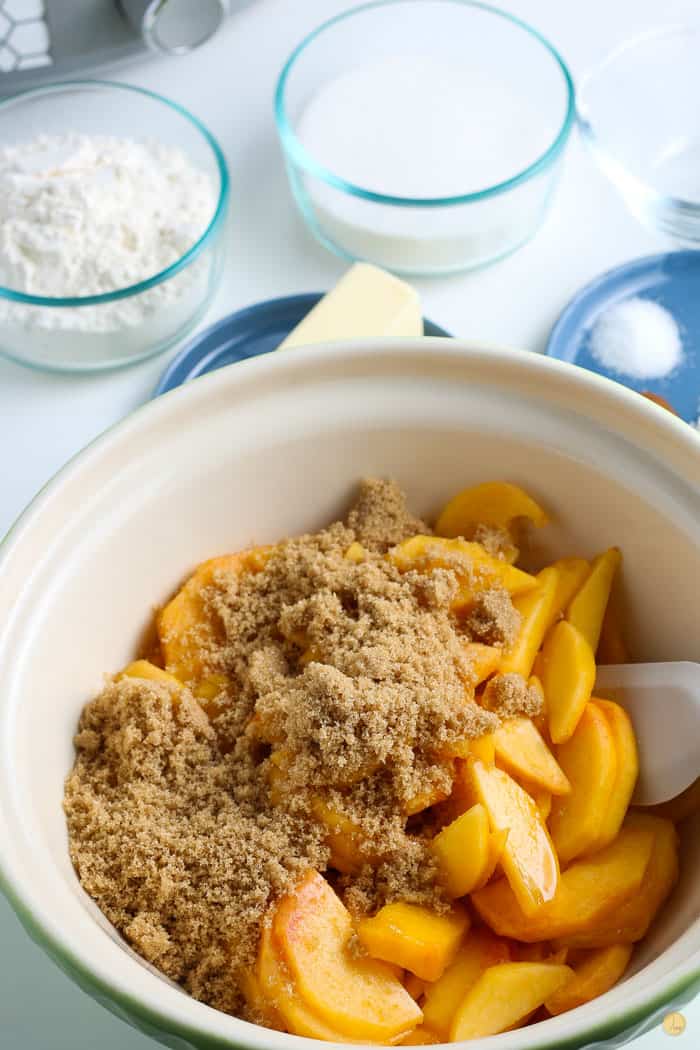 HOW TO MAKE PEACH COBBLER IN THE SLOW COOKER
ONE: Peel and slice the peaches and add into a large bowl. Add the brown sugar and stir to combine. Set aside to let the peaches release their juices.
TWO: In a small bowl, combine the flour, granulated sugar, baking powder, cinnamon, baking soda, and salt. Stir to mix evenly.
THREE: Spray the inside of the slow cooker bowl with non stick spray. Add the peaches and brown sugar mixture and spread evenly. Top with the flour mixture. Top with slices of butter.
FOUR: Place two sheets of paper towels over the top of the crockpot bowl (not on top of the peaches mixture) and place the lid on.
This will help keep the steam from escaping which keeps the cobbler moist. Cook on HIGH for 2 1/2 hours then turn on LOW for another 30 minutes.
I use a 7 quart slow cooker for this recipe. Using a liner makes for easy clean up!
For the full recipe and detailed baking instructions, please see the recipe card at the end of this post.
Serve warm with ice cream or whipped cream!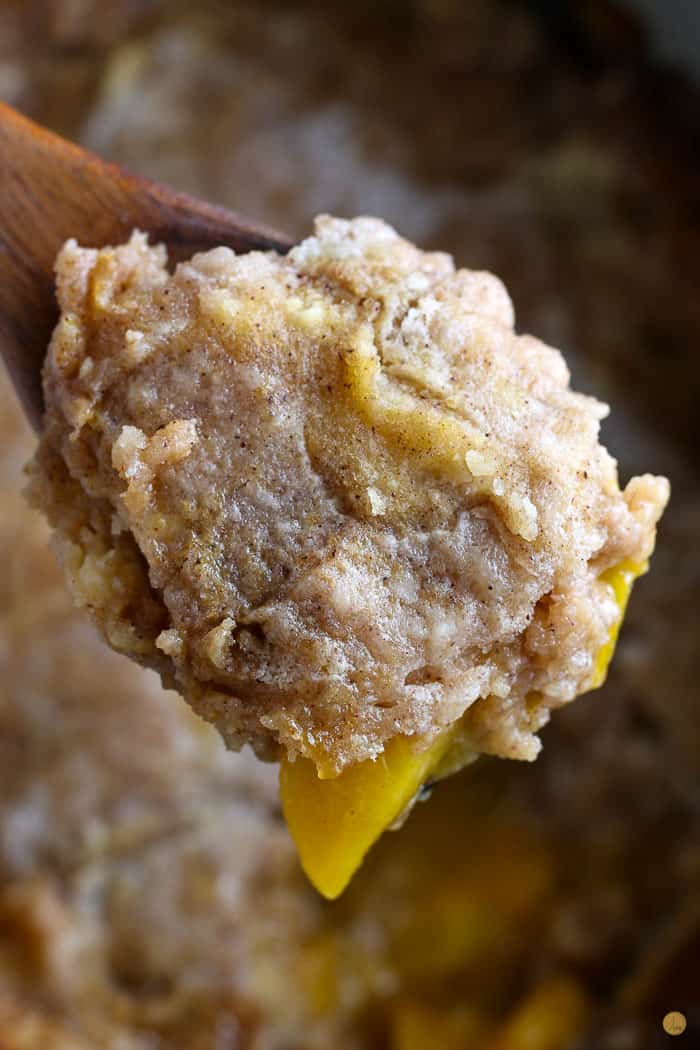 IS PEACH COBBLER SUPPOSED TO BE GOOEY?
Slow cooker peach cobbler will be gooey in texture. Your fruit filling will bubble up, leaving it a thick texture that is topped with your flakey sweet crust.
HOW RIPE DO PEACHES NEED TO BE FOR COBBLER?
When cooking with any fruit, you want to pick the best fruit possible. Underripe peaches will leave your crock pot cobbler recipe lacking in flavor.
WAYS TO LOOK FOR PEACHES
Pick peaches that are blemish/bruise-free and brightly colored.
They should be soft when you gently squeeze the peach. If it feels extra firm, it is not ripe at all. You want it to be soft, but not so soft you break the skin by gently squeezing.
Smell the peach; ripe fruit will have more fragrance than underripe.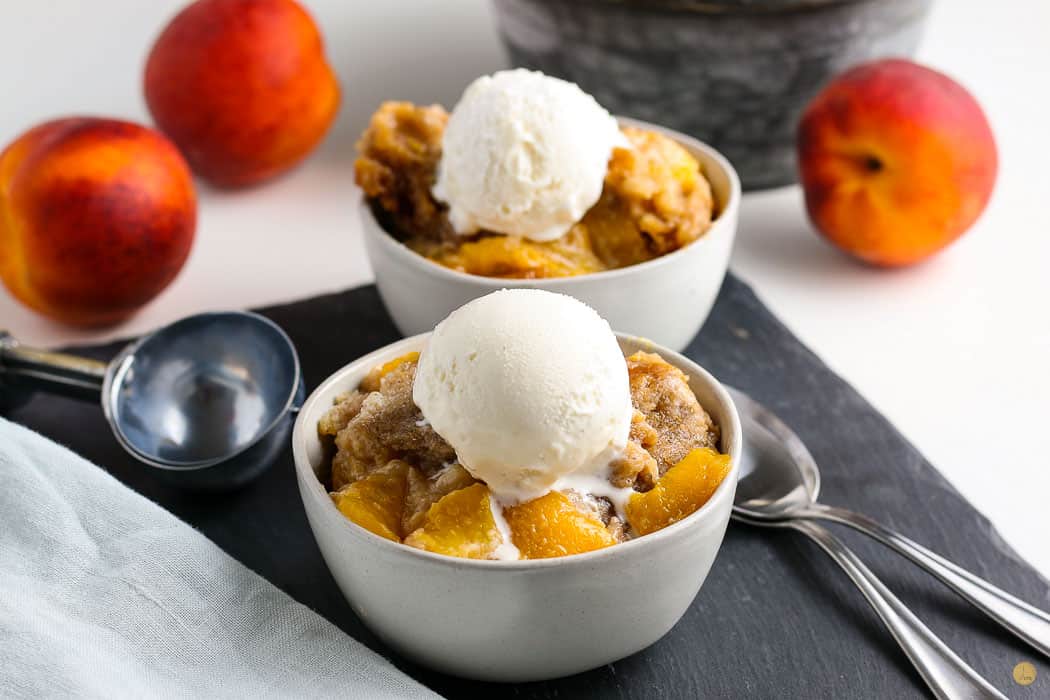 HOW DO YOU MAKE PEACH COBBLER RUNNY?
Adding in a teaspoon or so of cornstarch with your peaches, and toss them to coat. This will help your peaches to thicken up in the sauce so you don't end up with a runny fruit mixture in the bottom of the slow cooker.
HOW CAN YOU TELL IF THE PEACH COBBLER IS DONE?
The flour topping is the tell-all if your cobbler is done. Take a toothpick and stick it into the topping of the crock pot peach cobbler.
If the toothpick comes out clean, the cobbler is done. If you find it shows wet batter still, you need to cook it longer.
CAN I USE FROZEN OR CANNED PEACHES?
You can make this crockpot peach cobbler with canned peaches or frozen peaches works great. I recommend draining the juice's peaches, and then for frozen, toss them in frozen.
You will keep the cooking time the same for your homemade cobbler.
STORING LEFTOVER COBBLER
Personally, I find storing cobbler in an airtight container in the refrigerator allows the cobbler to have a longer life than on the counter. Store in the fridge for 3-4 days. Then eat cold or warm it back up in the microwave if you would prefer.
If you love this recipe as much as I do, please write a five-star review in the comment section below (or on Pinterest with the "tried it" button – you can now add pictures into reviews, too!), and be sure to help me share on facebook!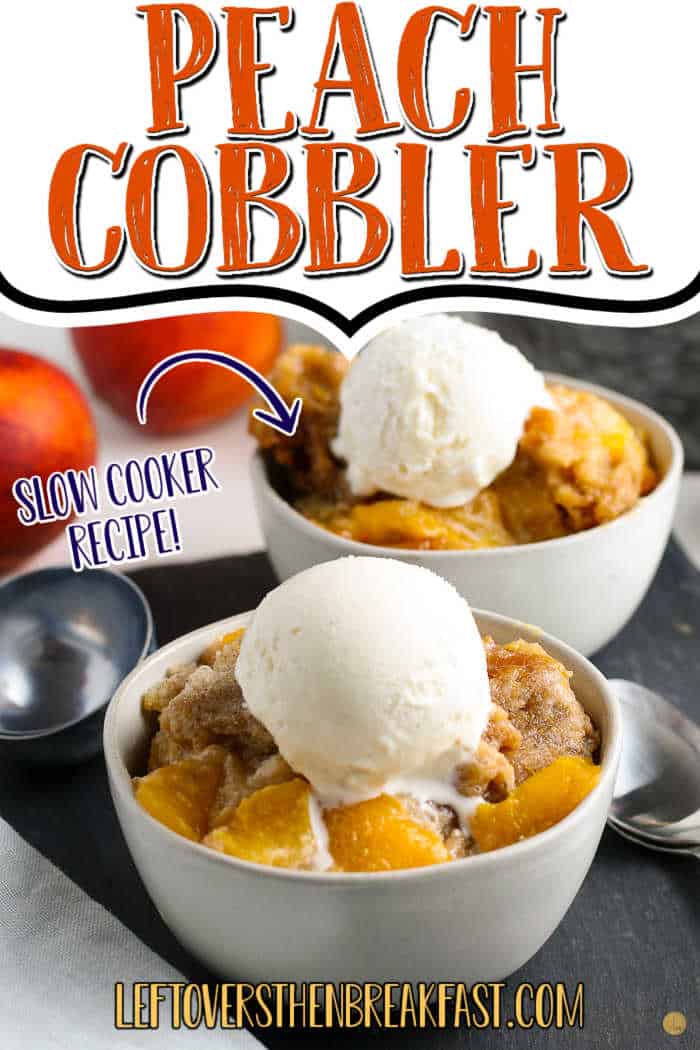 Grab a spoon and dish up this easy and absolutely delicious cobbler. Pair with a dollop of whipped cream, a dusting of cinnamon, or even a scoop of vanilla ice cream.
MORE EASY RECIPES
CROCK POT PEACH COBBLER RECIPE