Craving chewy chocolate chip cookies? This recipe right here is a bakery-style chocolate chip cookie that is going to wow your whole family or guests.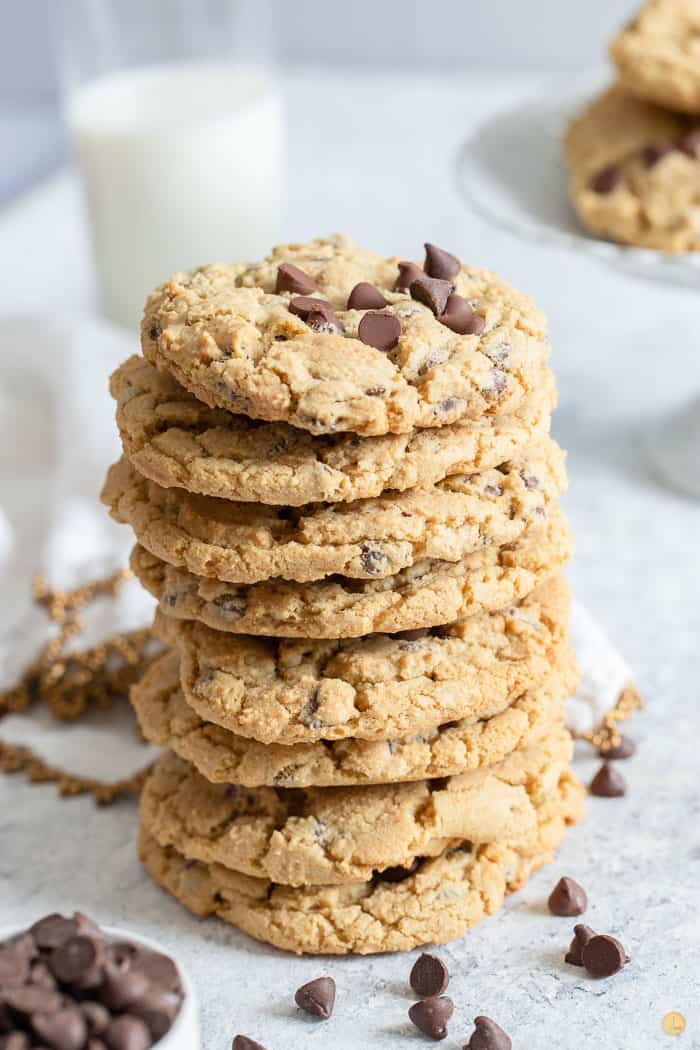 If you'd rather skip my essential cooking tips and tricks and get straight to this delicious recipe – simply scroll to the bottom of the page where you can find the printable recipe card.
THICK CHOCOLATE CHIP COOKIES
This Joanna Gaines chocolate chip cookie recipe is one of my favorites. Big, fat, chewy chocolate cookies. Great for entertaining guests, stuffing in lunch boxes, or serving up to a bake sale.
Thick and chewy, these chocolate chip studded cookies bake to perfection. Enjoy with a glass of cold milk!
This post may contain affiliate links. As an Amazon Associate, I earn from qualifying purchases. Read my disclosure policy here.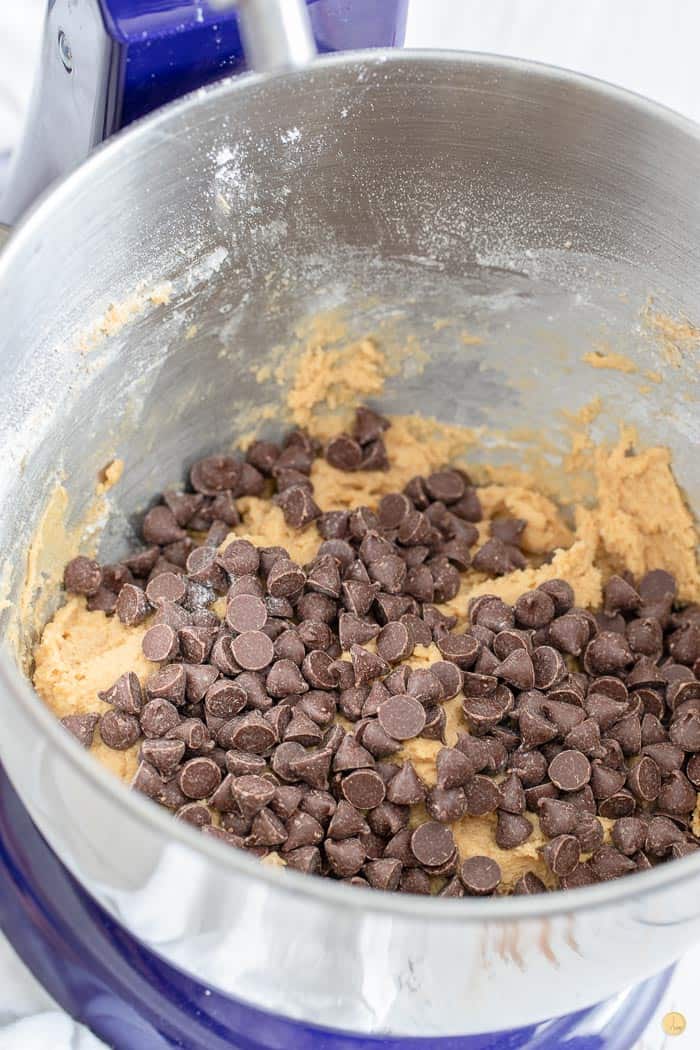 INGREDIENTS FOR PERFECT CHOCOLATE CHIP COOKIES
all purpose flour
baking soda
unsalted butter
light brown sugar
eggs
vanilla extract
semi-sweet chocolate chips
Flour – Best way to measure flour is to spoon it from your flour container into your measuring cup. Just a light tapping on the counter to settle the flour.
Brown Sugar – This makes the cookies chewy because of the molasses. If you use granulated sugar the cookies will turn out crispier than usual.
Butter – Make sure the butter is not too soft, let it sit out no longer than one hour before using. The butter needs to stay more firm so the cookies won't spread in the oven since this is a no-chill cookie dough.
Chocolate Chips – I like semi-sweet chips for this cookie to balance things out but feel free to use dark chocolate if you like. If you use milk chocolate, I like an extra sprinkle of salt to cut the sweetness.
Looking for more comfort food? Follow LTB on Pinterest!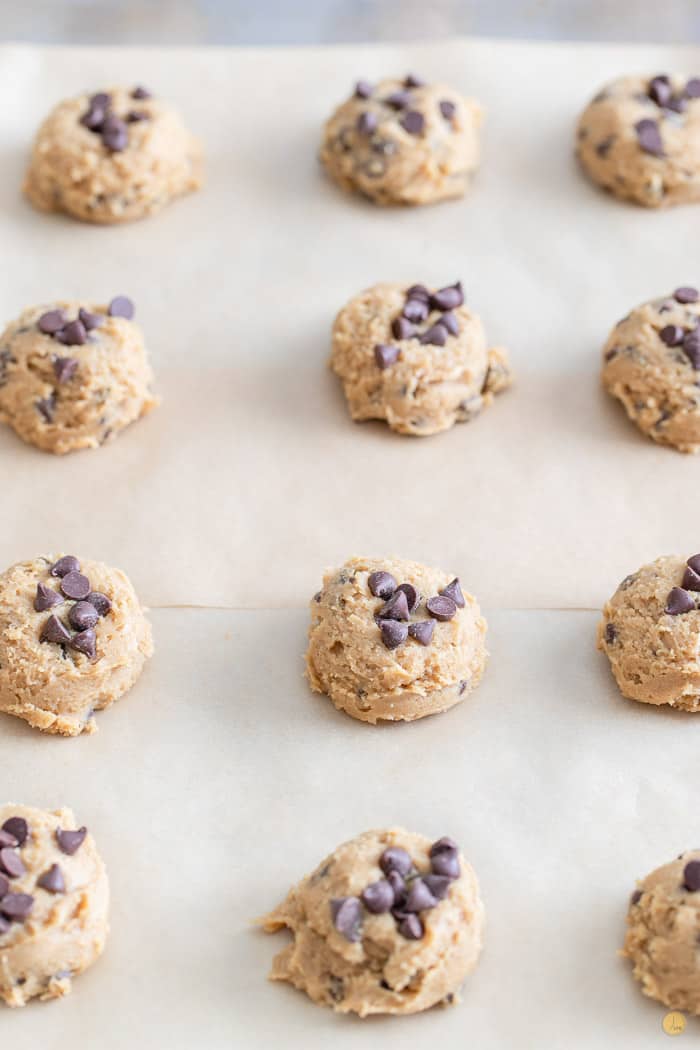 HOW DO YOU MAKE THE JOANNA GAINES CHOCOLATE CHIP COOKIES?
ONE: Start by preheating your oven to 350F degrees. Then line and prep your baking sheets with parchment paper to be ready for the cookies.
TWO: Put your softened butter and sugar in a stand mixer and beat until blended or for 2-3 minutes on medium high speed. You want it to incorporate the two and create a light and fluffy texture.
THREE: Add in eggs and vanilla and mix on low. Slowly add in the dry ingredients. Make sure to scrape down the sides as you incorporate the two.
FOUR: Add the chocolate chips, and fold them together with a wooden spoon or spatula. Leave a few chips out to top the cookies.
FIVE: Now you will form your cookie balls and place them on the prepared cookie sheets. Top with the remaining chocolate chips. Bake until lightly browned and then transfer to wire racks to cool and serve!
For the full recipe and detailed baking instructions, please see the recipe card at the end of this post.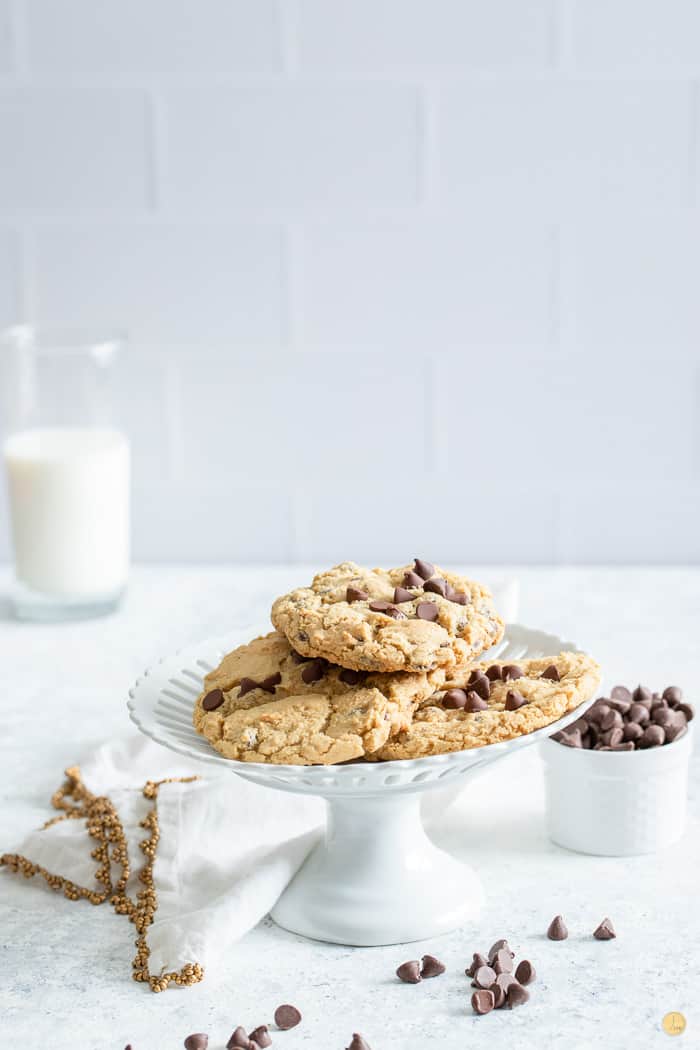 HOW DO I MAKE MY COOKIES THICKER?
There are a handful of ways to create large chocolate chips that are thick and full. You will find that mixing your butter and sugar really well helps incorporate air in your dough.
The other thing is to measure the flour right. This recipe is meant to be thicker so know the texture of the dough will be slightly different than other recipes. Use large cookie dough mounds, so as they bake they are nice and big.
HOW CAN I MAKE MY COOKIES FLUFFIER INSTEAD OF FLAT?
Aim for slightly softened butter, not melted. You will find if you pour melted butter into your cookies it will change the texture. Ensure it is butter and not margarine.
Whip the butter and sugar well, as I mentioned above.
WHY ARE MY CHOCOLATE CHIP COOKIES COMING OUT SO FLAT?
If your cookies are flat, you will find that melted butter or too soft of butter could be the culprit. To fix this issue, simply place the cookie dough covered in the fridge for an hour.
That way it firms up the dough. Then bake up your giant chocolate chip cookies. Don't feel you have to throw out the dough, just know refrigerating is key.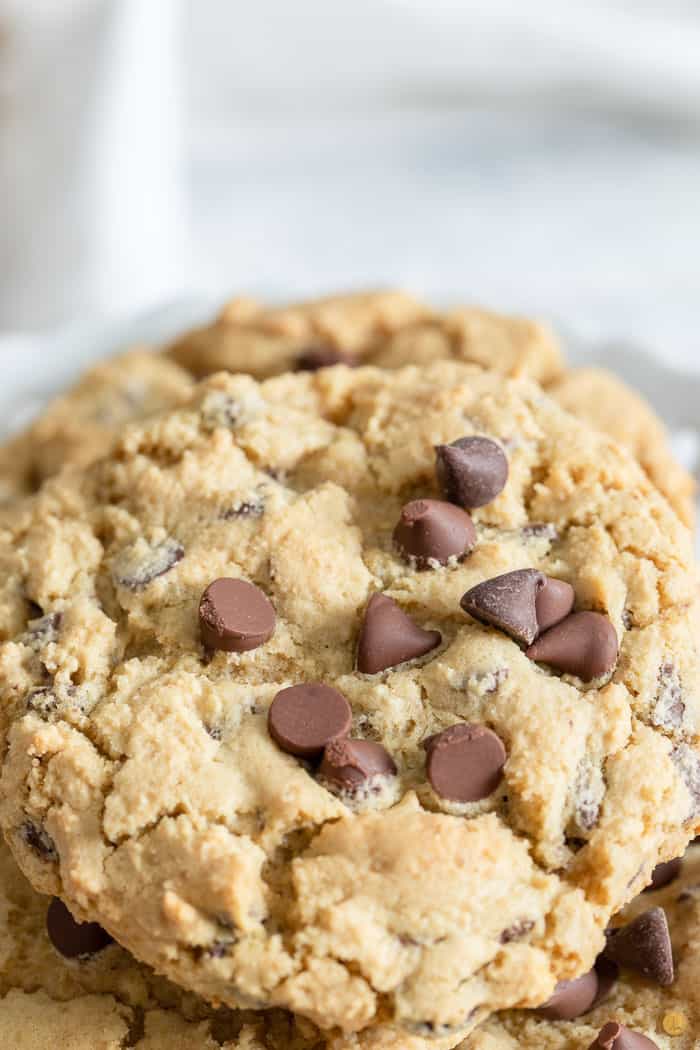 CAN YOU FREEZE JOANNA GAINES CHOCOLATE CHIP COOKIES?
You can freeze the Joanna Gaines chocolate chip cookies raw or cooked! I will show you how to freeze them both ways so you can pick and choose what you prefer.
Freezing Raw Cookie Dough – Mix up the cookie dough as directed. Then scoop up the cookies into the cookie dough balls, and place on a lined baking sheet.
Place in the freezer and freeze the cookies for around an hour. You want them to firm up a bit. Then place in a freezer bag or container.
Freeze for 3-4 months. When you want to make the cookies bake at 350 degrees in a preheated oven. Just add a couple of minutes to allow the dough to thaw a bit from being frozen.
Freezing Baked Cookies – If you want to freeze the baked cookies, just allow them to fully cool. Then place in a freezer container and store for up to 3 months. Then thaw on the counter and enjoy!
If you love this recipe as much as I do, please write a five-star review in the comment section below (or on Pinterest with the "tried it" button – you can now add pictures into reviews, too!), and be sure to help me share on facebook!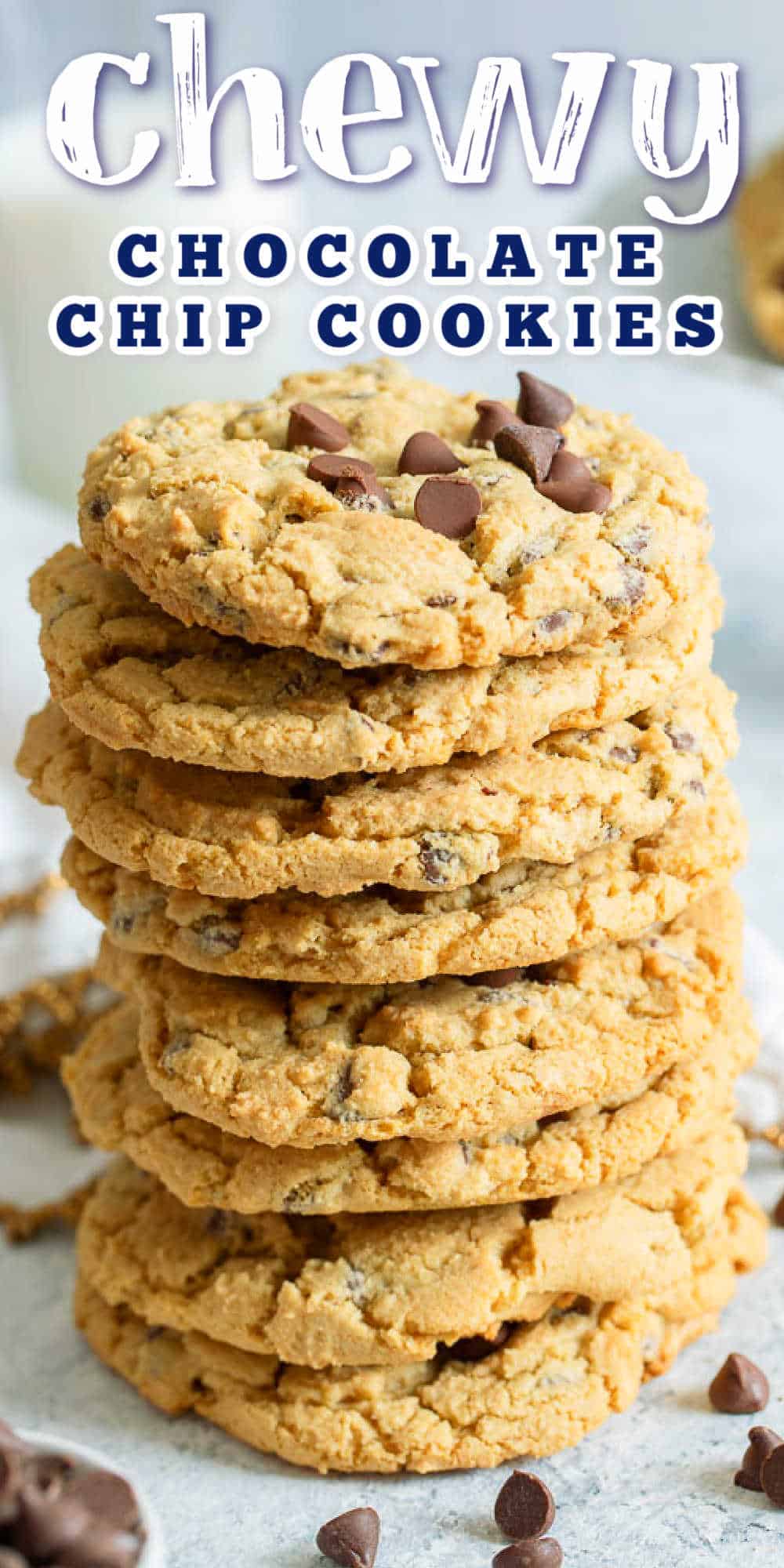 If there is one recipe I recommend it is this perfect large chocolate chip cookie one to keep on hand for the ultimate cookie dessert. Thick cookies never tasted so good.
MORE DELICIOUS COOKIES
CHEWY CHOCOLATE CHIP COOKIE RECIPE
This recipe is inspired by Joanna Gaines chocolate chip cookie recipe.
@LeftoversThenBreakfast.com. Content and photographs are copyright protected. Sharing of this recipe is both encourages and appreciated. Copying and/or pasting full recipes to any social media is strictly prohibited.