Add flavor and texture to any salad by making your own Greek Salad Dressing in minutes. This Greek vinaigrette will add all the flavors of the Mediterranean with almost no work on your part.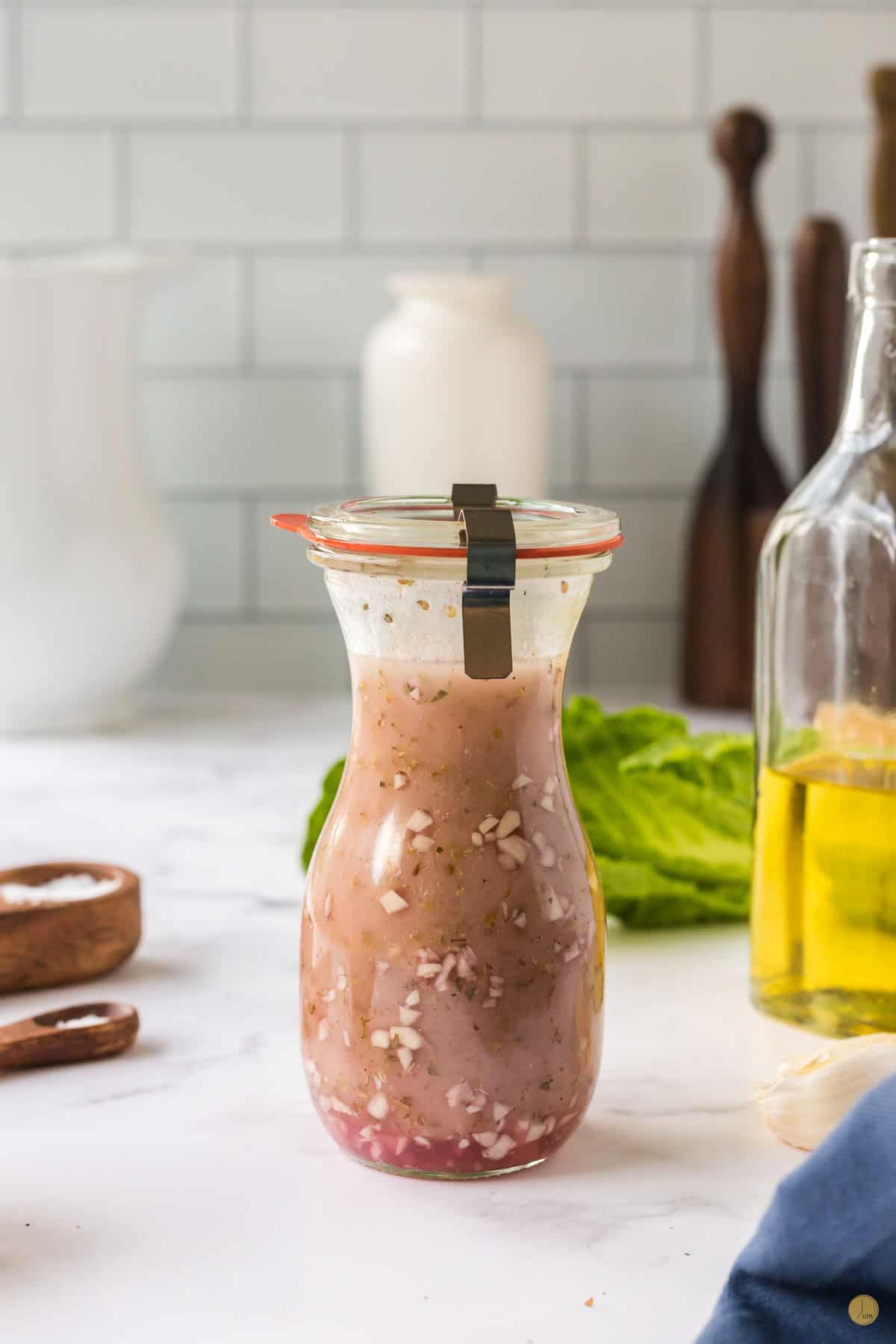 If you'd rather skip my essential cooking tips and tricks and get straight to this delicious recipe – simply scroll to the bottom of the page where you can find the printable recipe card.
Having a light salad that is lower in calories and higher in flavor can be hard to find when you add dressing, which tends to be the unhealthy part of a salad.
This dressing packs a lot of punch into a light texture and adds plenty of goodness and balance without throwing off your diet.
Traditional Greek Salad Dressing has flavors you find in most Mediterranean dishes that have ingredients from the region, olives and garlic and red wine, along with lemon and spices.
Add even more flavor by pairing with traditional Greek toppings like feta cheese or Kalamata olives. You can add some crunch and aromatic depth with a fresh red onion.
I like to make homemade dressings because I know what is in it, I don't have to worry about preservatives or fillers that they tend to put in the bottled dressings.
If you have never made your own fresh salad dressing you will be surprised at how much better the flavors are when you have the pop of freshly chopped vegetables and just mixed liquids.
The only way I can describe the difference is that a fresh homemade dressing almost sparkles on the tongue, everything is just so much more "alive" than a bottled dressing that has been in glass or plastic for possibly months or years.
This post may contain affiliate links. As an Amazon Associate, I earn from qualifying purchases. Read my disclosure policy here.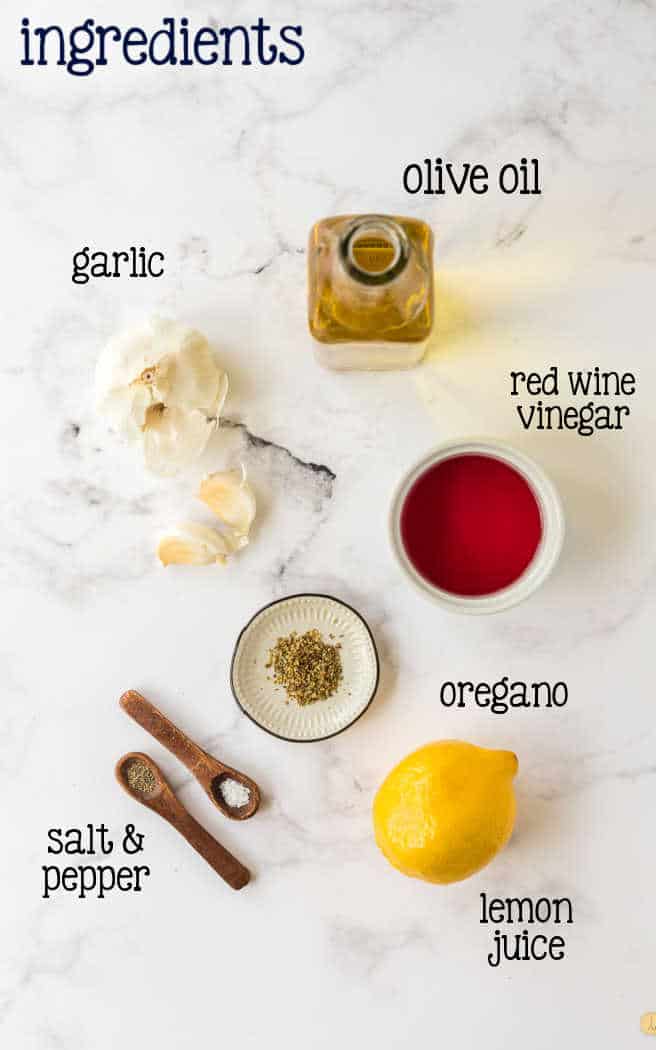 WHAT IS GREEK SALAD DRESSING MADE OF?
red wine vinegar
fresh garlic
oregano
lemon juice
olive oil
Red Wine Vinegar – If you don't have this you can use white wine vinegar and add a little red wine to it. Or you can just use white vinegar.
Garlic – Fresh is best just be sure to mince it fine. No one likes big chunks of garlic.
Oregano – Dried oregano is best as fresh can turn brown after a day or two. You can also use Greek seasoning for more flavor!
Lemon Juice – Fresh is best but bottle will work in a pinch. You can even try it with lime juice if you like!
Olive Oil – Extra virgin olive oil is best as it has a light flavor and won't overpower the other flavors.
Looking for more comfort food? Follow LTB on Pinterest!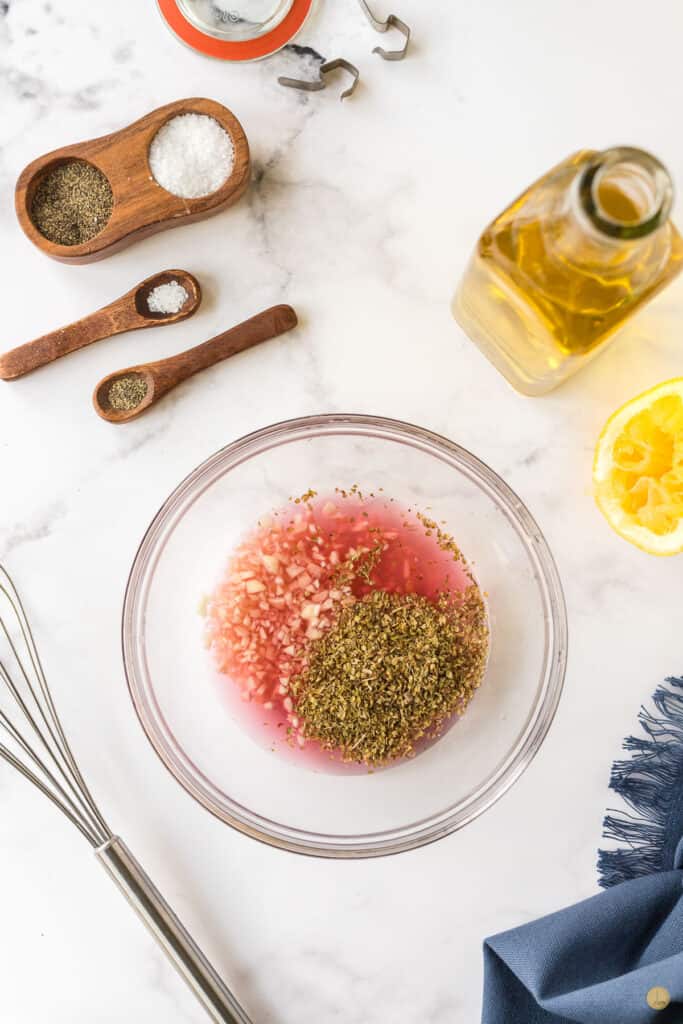 HOW TO MAKE GREEK SALAD DRESSING FROM SCRATCH
ONE: In a medium sized bowl, combine the garlic, spices, lemon juice, and vinegar.
TWO: Whisk to combine.
THREE: Drizzle in the olive oil and whisk to completely combine. Taste and season with salt and pepper if desired.
FOUR: Store in the refrigerator, in an air-tight container for up to 3 weeks.
For the full recipe and detailed baking instructions, please see the recipe card at the end of this post.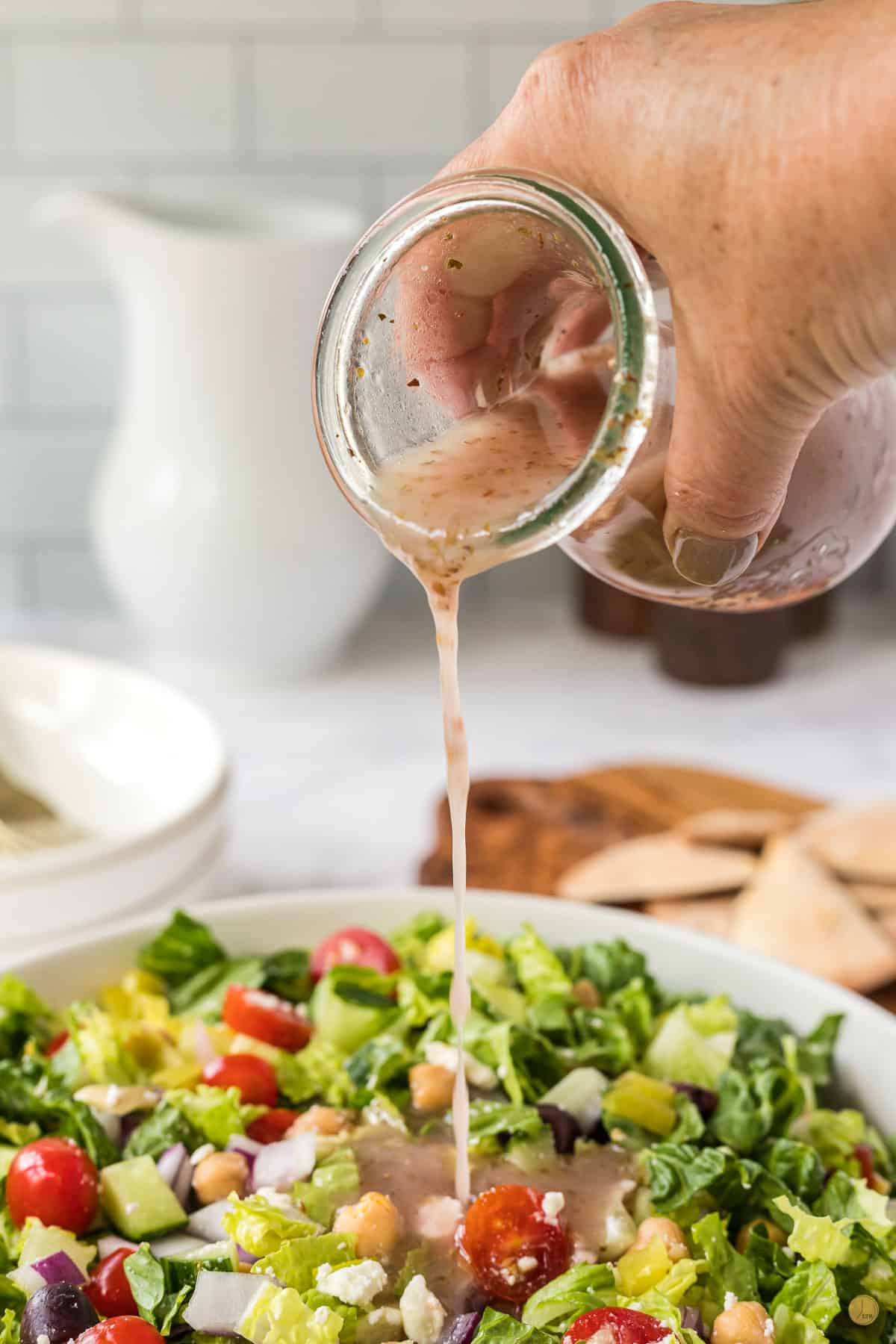 WHAT IS THE DIFFERENCE BETWEEN ITALIAN AND GREEK SALAD DRESSING?
The main difference between the two is the amount of sweetness. Italian dressing tends to have a small amount of a sweetener like sugar or honey to temper the zing of vinegar.
HOW LONG IS HOMEMADE GREEK SALAD DRESSING GOOD FOR?
Homemade vinaigrette dressings are good for up to five days if kept in an airtight bottle in the refrigerator. Shake well each time you use it.
WHAT IS VINAIGRETTE DRESSING?
At it's core, a vinaigrette dressing is a basic mixture of 3 parts olive oil and 1 part acid such as vinegar or lemon juice. Of course, once you start with the basics, you can add whatever flavors you like!
BEST OLIVE OIL FOR GREEK VINAIGRETTE
I always lean toward an Extra Virgin Olive Oil for my homemade vinaigrette dressings. This will have the most pure olive flavor and be the least processing so you get the first run of the process.
I also like the health benefits of this type of olive oil, so it tends to be the bottle you will see in my pantry.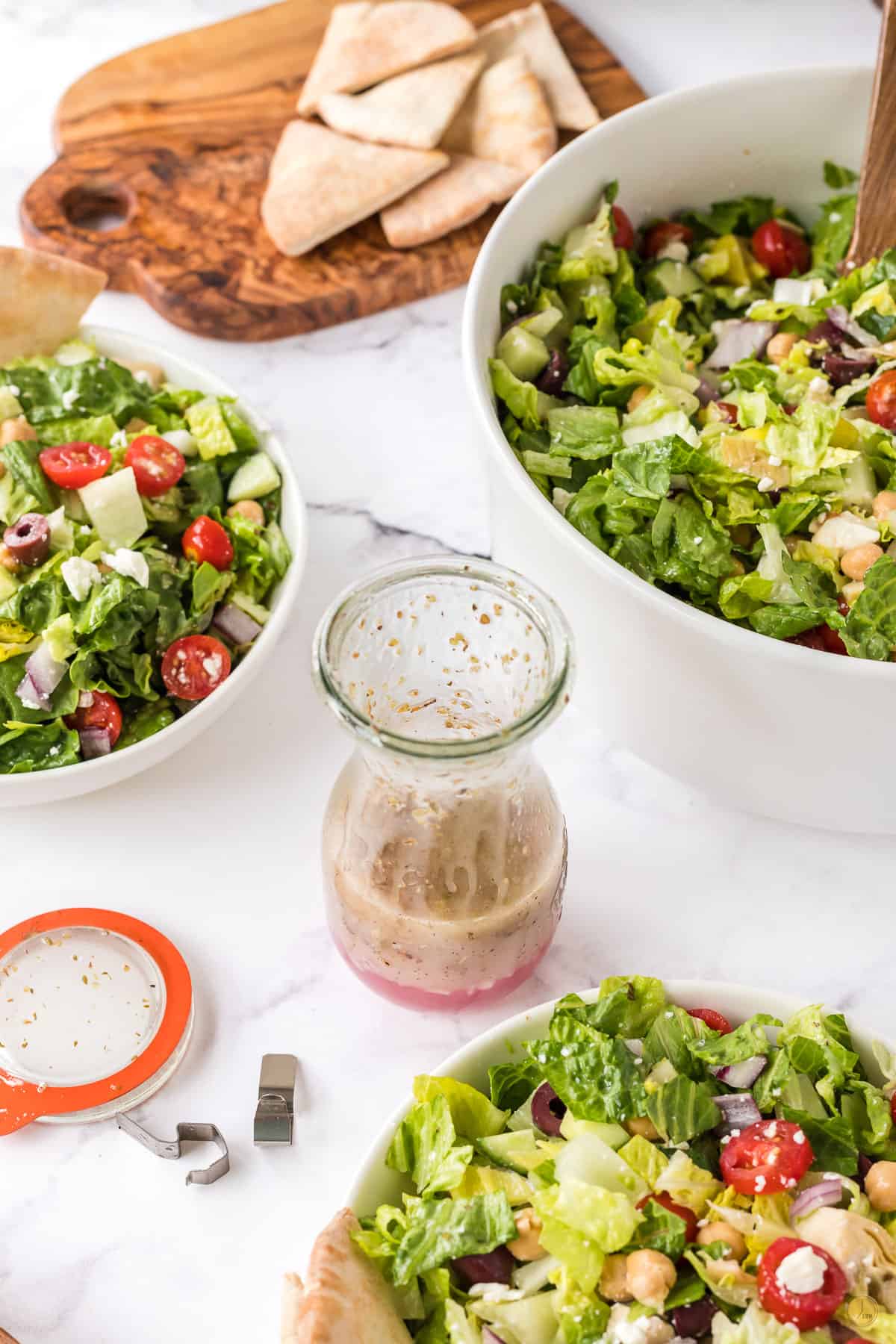 WAYS TO ENJOY THIS GREEK VINAIGRETTE RECIPE
on your chopped Greek salad, of course (or any salad you like!)
as a marinade for chicken, shrimp, and pork
toss on a pasta salad
drizzle over feta cheese and broil for a quick appetizer
dip pita bread in it for an easy snack
drizzle over tomatoes cucumbers for a quick salad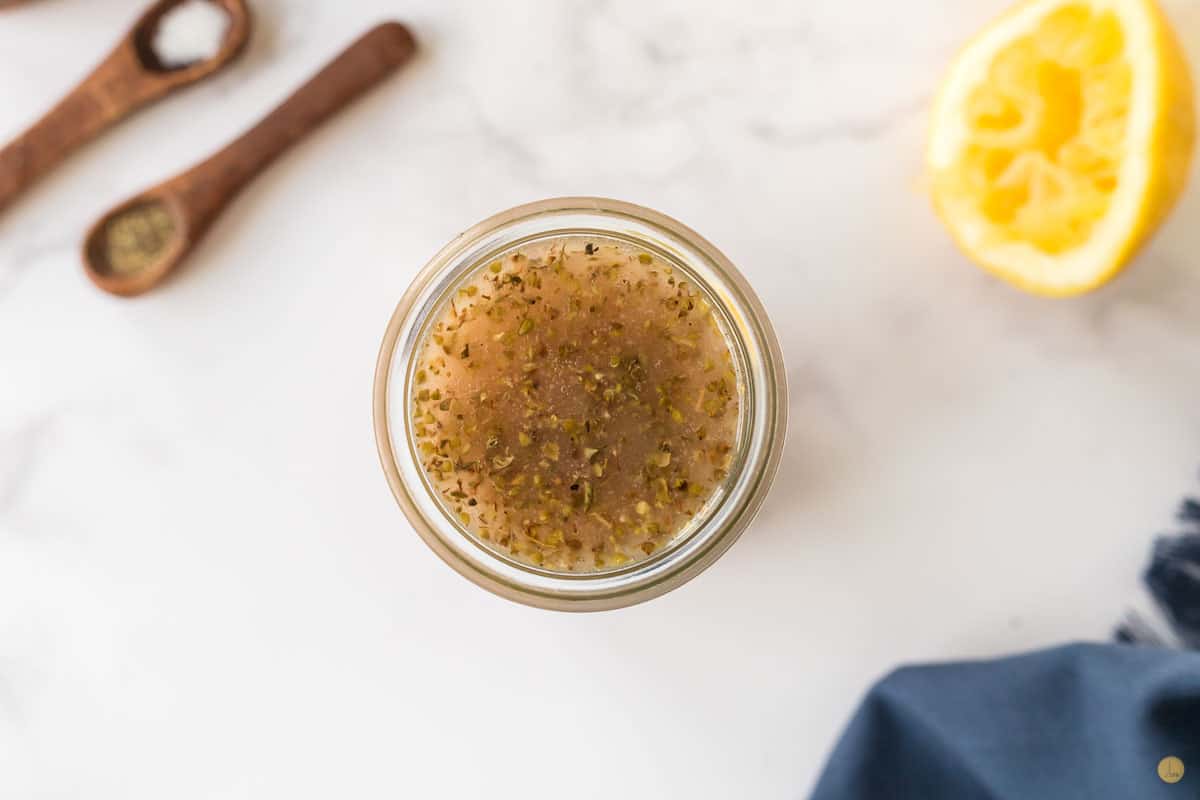 TIPS FOR NO LEFTOVERS
use dried herbs. fresh herbs aren't as strong so you will need to use double the amount and they fresh leaves can turn brown from the acidity which doesn't look pretty.
make it a creamy version by adding 1/4 cup Greek yogurt or sour cream.
add in 2 teaspoons Dijon mustard for more flavor.
using fresh garlic can be strong for some so make sure that your garlic is minced very fine so you don't get a large chunk. A garlic press is best!
if your dressing is too tangy or acidic, add a teaspoon or two of honey or sugar.
add the spices to the vinegar first to combine. If you add them to the olive oil they will be stuck in that and won't mix with the vinegar very well.
serve close to room temperature. The olive oil can solidify if too cold.
If you love this recipe as much as I do, please write a five-star review in the comment section below (or on Pinterest with the "tried it" button – you can now add pictures into reviews, too!), and be sure to help me share on facebook!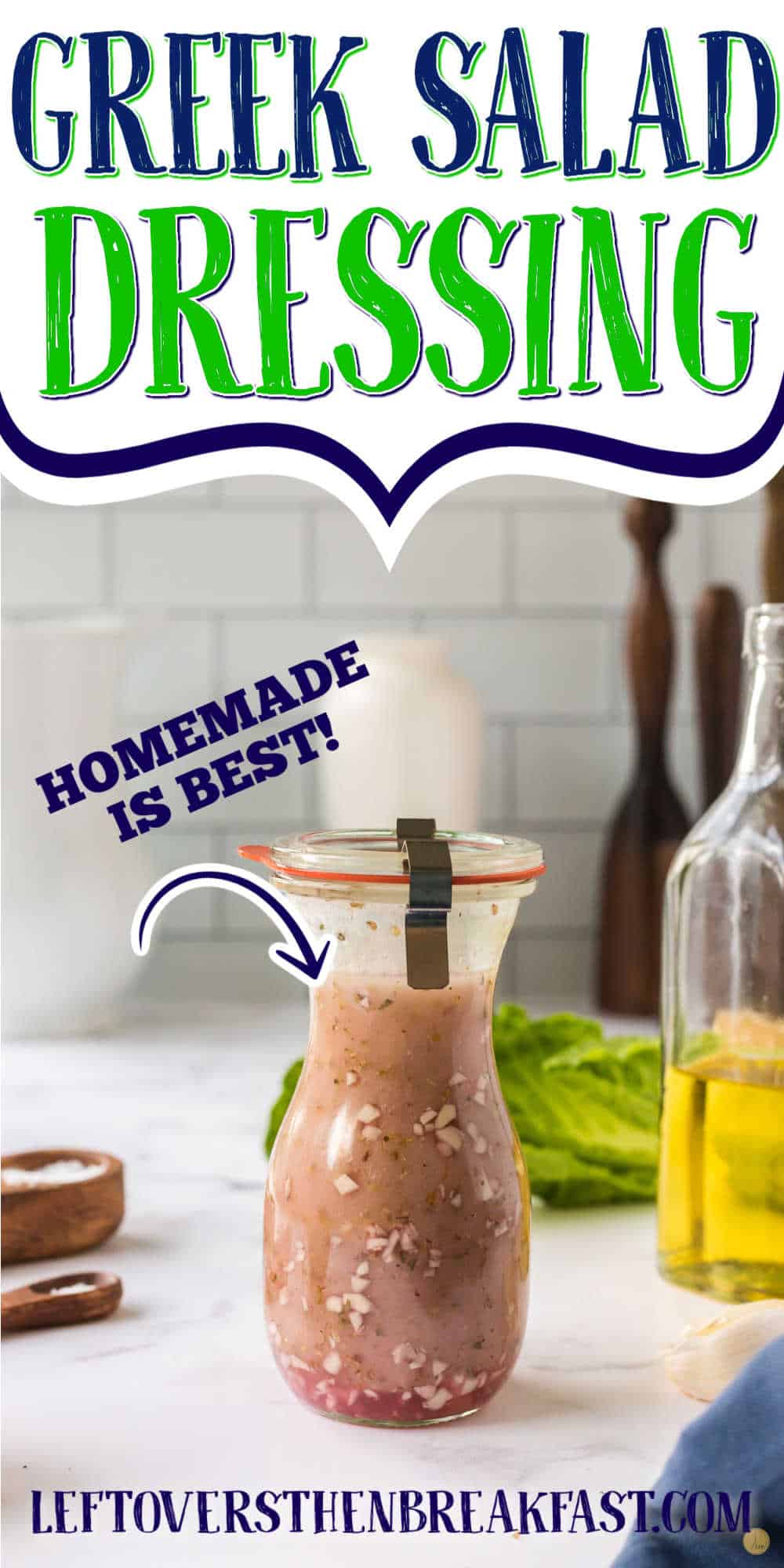 If you haven't tried this Greek Vinaigrette yet, I want you to try it instead of Italian dressing next time, it is very similar but the difference is noticeable; come back to the comments here and give me your thoughts!
MORE EASY RECIPES
@LeftoversThenBreakfast.com. Content and photographs are copyright protected. Sharing of this recipe is both encourages and appreciated. Copying and/or pasting full recipes to any social media is strictly prohibited.