This Homemade Chicken Marinade brings together the perfect flavors and adds to the tenderness and juiciness of your favorite chicken recipes.
Use it for grilling, air frying, baking, or pan roasting your chicken! Works great in the crockpot and instant pot too!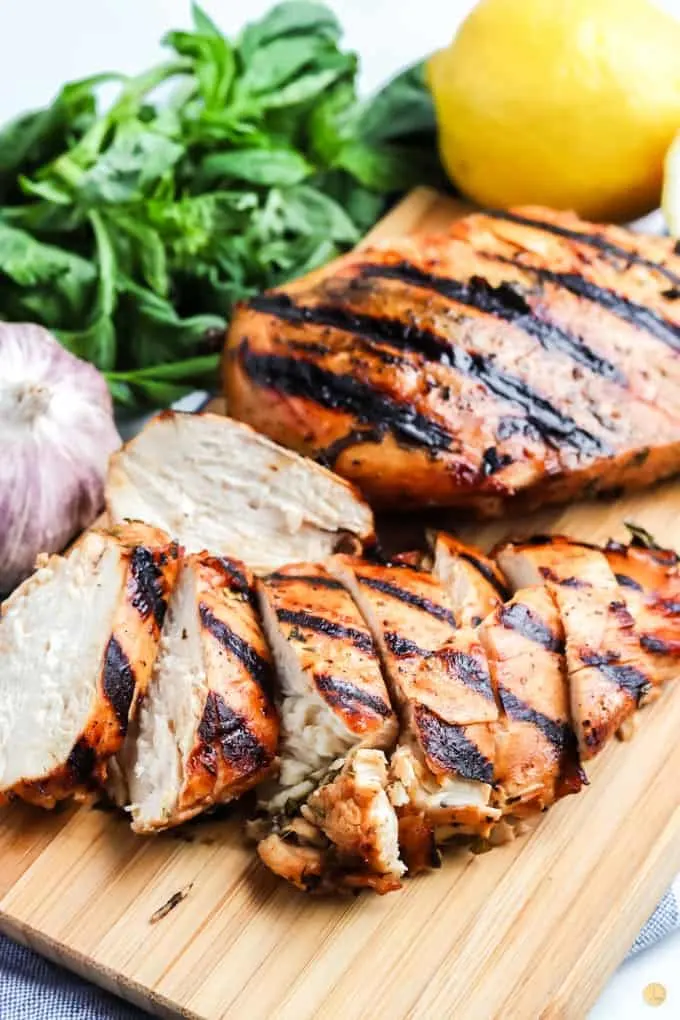 Easy Chicken Marinade
Let's talk about how boring chicken can be, and how you can sometimes feel like you have cooked chicken every way possible and you're just bored with it!
I have the solution to your problem and you can use this homemade chicken marinade to cook your protein in a few different ways. This is a healthy and flavorful way to add more flavor and tenderness to an otherwise boring protein.
You can use this easy chicken marinade on chicken thighs, chicken breast, chicken tenderloins, drumsticks, wings; literally any piece of chicken you are cooking.
One thing I would advise though, is to make sure it is skinless, the skin is a natural protective barrier to keep things OUT of your chicken, so it won't allow the marinade to get into the meat if the skin stays on.
Ingredients Needed
Olive Oil – I love to use extra virgin olive oil for dressings but remember that this is gong to be cooked so you might want to use regular olive oil for a more robust flavor and lower smoke point.
Worcestershire Sauce – If you don't want to use this you can substitute soy sauces or Tamari if you need a gluten free option.
Herbs – I like to use fresh herbs when possible but I am also a terrible gardener so I have buy them all the time which can get expensive. If you don't have fresh, feel free to substitute dried herbs. Just be sure to rub them between your fingers before adding to the marinade to active their flavors. I like to use oregano, basil, and parsley.
Spices – For a marinade I like to keep the spices basic. Just salt, pepper, paprika, and a little brown sugar for sweetness.
Lemon Juice – The lemon juice is an important part of the marinade because the acidity helps to tenderize the meat. If you don't like lemon, you can use lime juice or even apple cider vinegar.
Chicken – I like to use boneless, skinless chicken breasts. But this marinade works great on thighs, wings, drumsticks, and even whole chickens!
Looking for more leftover worthy dishes? Follow LTB on Pinterest and pin to a board!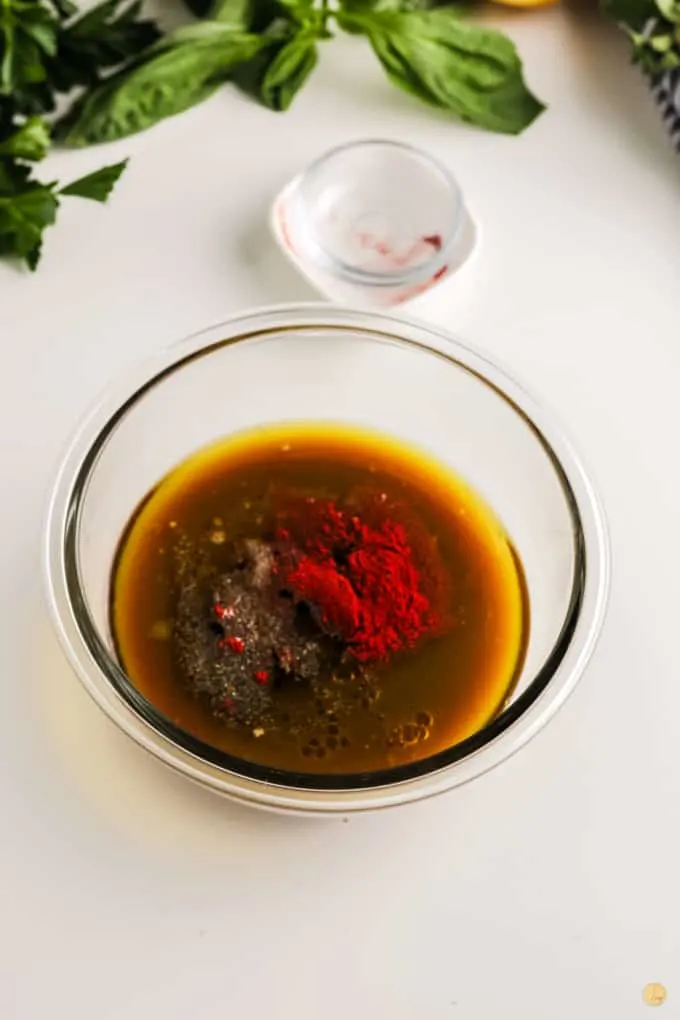 How to Marinate Chicken
First: Add all the ingredients for the marinade in a medium sized bowl. Stir to combine completely.
Second: Place the chicken in a large zip top bag or sealable container. Pour the marinade over the chicken to cover.
Third: Place in the refrigerator and chill for at least 1 hour and up to overnight.
Fourth: When ready to cook, remove the chicken and marinade from the refrigerator. Let the chicken sit so the chill is taken off (20-30 minutes). Cook as desired to an internal temperature of 165F.
For the full recipe and detailed baking instructions, please see the recipe card at the end of this post.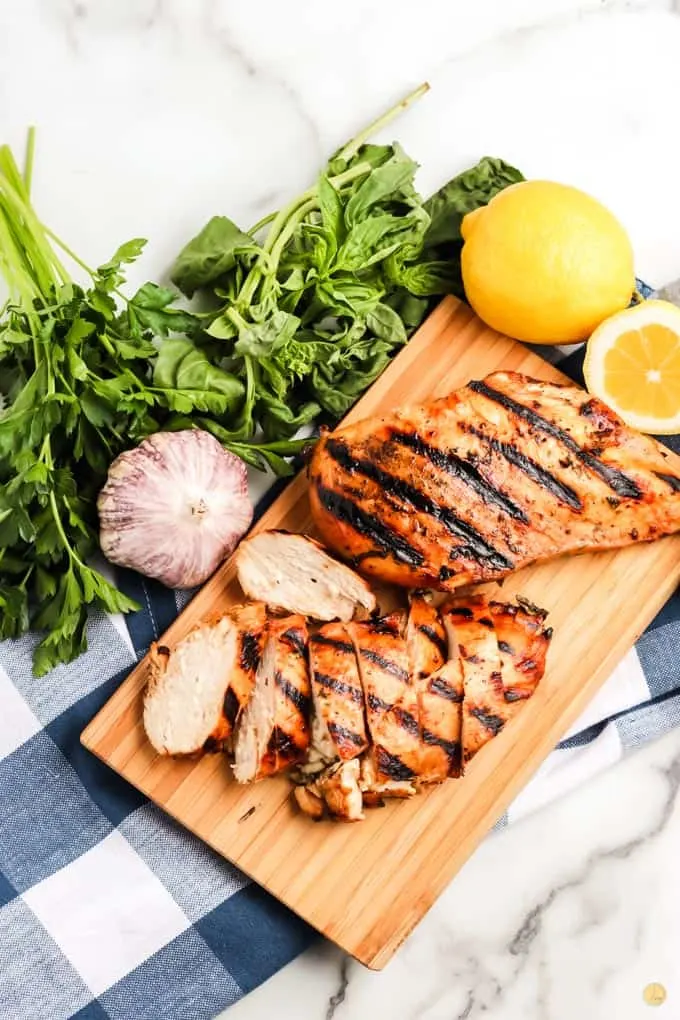 How long should you marinate chicken?
You can marinate chicken for at least 30 minutes up to overnight. It really depends on how much time you have.
What should be in a chicken marinade?
A chicken marinade should have a combination of acidic and sweet flavorful ingredients. The acidic ingredients like lemon juice and Worcestershire sauce will help to tenderize the proteins in the chicken, while the sugars and herbs will balance the flavor and add to the aromatic quality of the recipe.
The smell of the food is a big part of how you perceive the flavors, so let the herbs do their job in this marinade recipe.
Can you marinate raw chicken?
Marinating meat is done when it is raw and the skin is removed. This is so that the protein can get tenderized and the flavors can get into the fibers of the meat before they are sealed in by cooking.
Make sure that you keep the chicken in the refrigerator in an airtight container or freezer bag while it marinates, otherwise, bacteria will set in causing food poisoning.
Is marinating unhealthy?
The healthiness of the marinade depends on the ingredients used and the restrictions you have on your individual diet. If you need to keep sodium down use a lower sodium ingredient, the same with sugars and acids.
Keep in mind that the marinade is not going to be spooned into your mouth, it is going to be bathing the meat before it is cooked and only a light coating will remain after cooking.
How to store marinated chicken
Keep chicken that is marinating in an airtight container or bag in the refrigerator.
How can I marinate chicken quickly?
If you cut up the chicken into smaller pieces it increases the surface area and allows the marinade to penetrate more of the chicken in a shorter amount of time.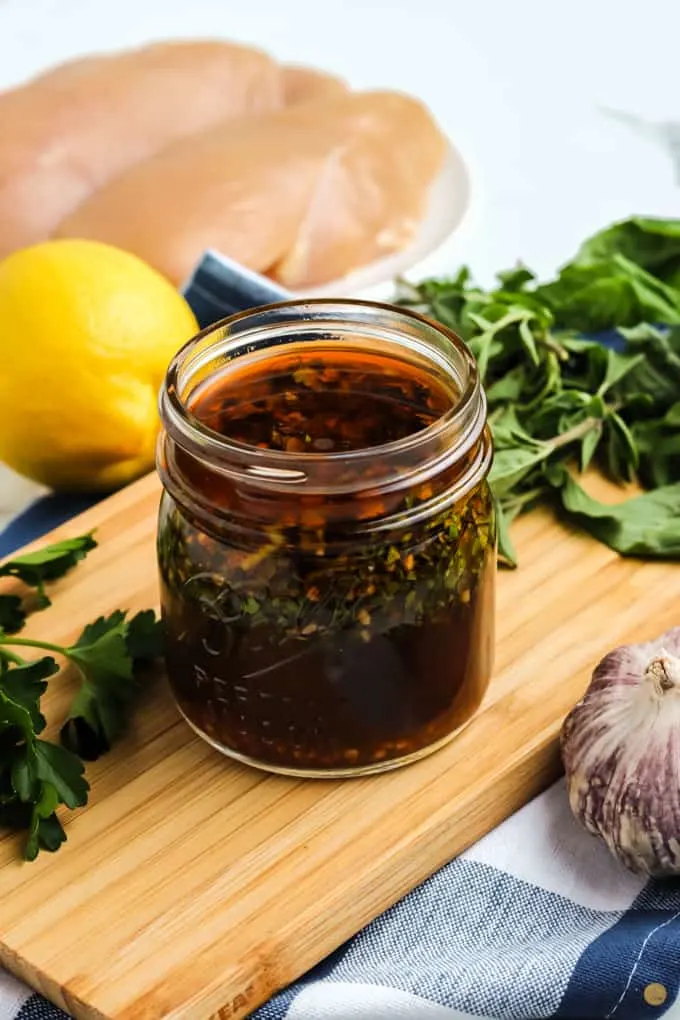 Best Ways to Cook Marinate Chicken
Baked: Bake at 375 for 20-30 minutes. Remove from oven when done.
Stove Top: Add a little oil to a skillet or pan and cook over medium high heat for 5-10 minutes each side until cooked through.
Grill: Heat the grill and add a little oil to the grates to keep the chicken from sticking. Cook for 10-15 minutes, turning halfway through. Remove when done and let rest.
Crock Pot: Place in the slow cooker (do not add the marinade) and add a little broth or water. Cook on low for 3-4 hours or until chicken is done.
Instant Pot: Place chicken in the Instant Pot. Close lid and seal the pressure valve. Cook on high pressure for 8-10 minutes. Let steam release naturally for 10 minutes. Release rest of pressure. Remove and let rest.
Tips for No Leftovers
Do not poke holes in the chicken when marinating. It allows the juices to drain out of the chicken when cooking, making it dry and no one wants dry chicken!
Do not add used marinade to your pan or cook with it. The ingredients do not kill contaminates that can contribute to food borne illnesses. Be sure to cook your chicken to an internal temperature of 165F.
Be sure to pat the chicken dry before cooking to get a good sear on the chicken.
I like to add a Dijon mustard sometimes for that extra tang!
More Marinades
If you love this recipe as much as I do, please write a five-star review in the comment section below (or on Pinterest with the "tried it" button – you can now add pictures into reviews, too!), and be sure to help me share on facebook!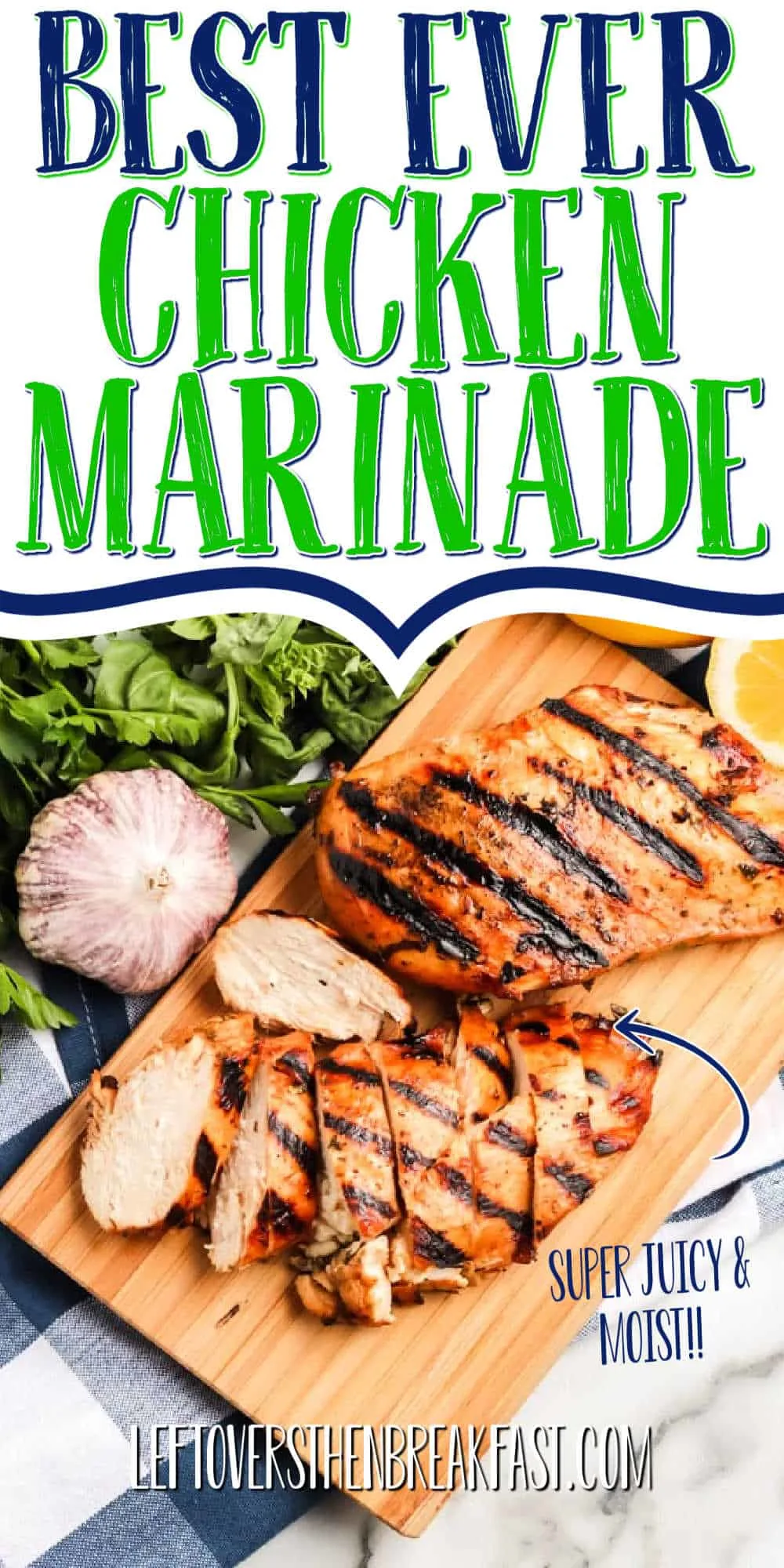 Now that you know how to add flavor and juicy goodness to your chicken I want to hear how you jazz up your next chicken recipe!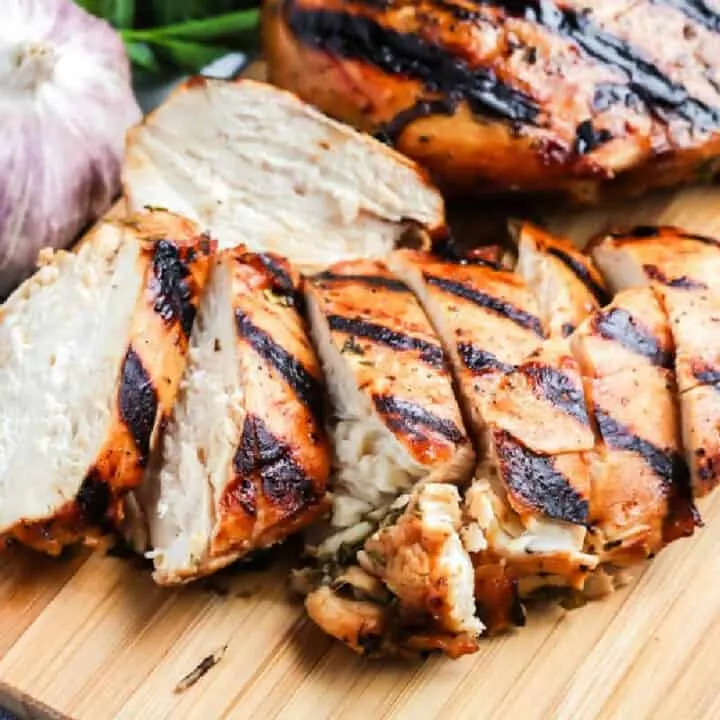 Chicken Marinade
This Homemade Chicken Marinade brings together the perfect flavors and adds to the tenderness and juiciness of your favorite chicken recipes.
Ingredients
½ cup fresh lemon juice
3 tablespoons Worcestershire Sauce
¼ cup olive oil
2 tablespoons fresh oregano (minced) or 2 teaspoons dried oregano
¼ cup fresh parsley (minced and lightly packed) or 4 teaspoons dried parsley
¼ cup fresh basil (minced and lightly packed) or 4 teaspoons dried basil
3 cloves garlic (minced)
1 tablespoon brown sugar
½ teaspoon paprika
½ teaspoon salt
½ teaspoon black pepper
Instructions
Add all marinade ingredients to a medium bowl and whisk until completely combined.
Add chicken to large resealable bag or food safe container.
Pour marinade over chicken, seal, and place in refrigerator to chill up to 4 hours.
Remove from refrigerator and set at room temperature, 20-30 minutes.
Cook using your favorite method to an internal temperature of 165F.
Enjoy!
Notes
*If you love this recipe as much as I do, please leave me a comment and rate it 5 stars. Thank you!
Nutrition Information:
Yield:

4
Serving Size:

1
Amount Per Serving:
Calories:

157
Total Fat:

14g
Saturated Fat:

2g
Trans Fat:

0g
Unsaturated Fat:

11g
Cholesterol:

0mg
Sodium:

395mg
Carbohydrates:

10g
Fiber:

1g
Sugar:

5g
Protein:

1g
This nutrition information was generated via a third party, Nutritionix, and can not be held liable for any discrepancies in the information provided.
More Easy Dinner Ideas
LeftoversThenBreakfast.com. Content and photographs are copyright protected. Sharing of this recipe is both encourages and appreciated. Copying and/or pasting full recipes to any social media is strictly prohibited.