Caprese Pasta Salad is an easy and delicious summer salad full of fresh ingredients!
A tangy balsamic dressing ties the fresh tomatoes, creamy mozzarella, and tender pasta together for the perfect side dish to any potluck or BBQ.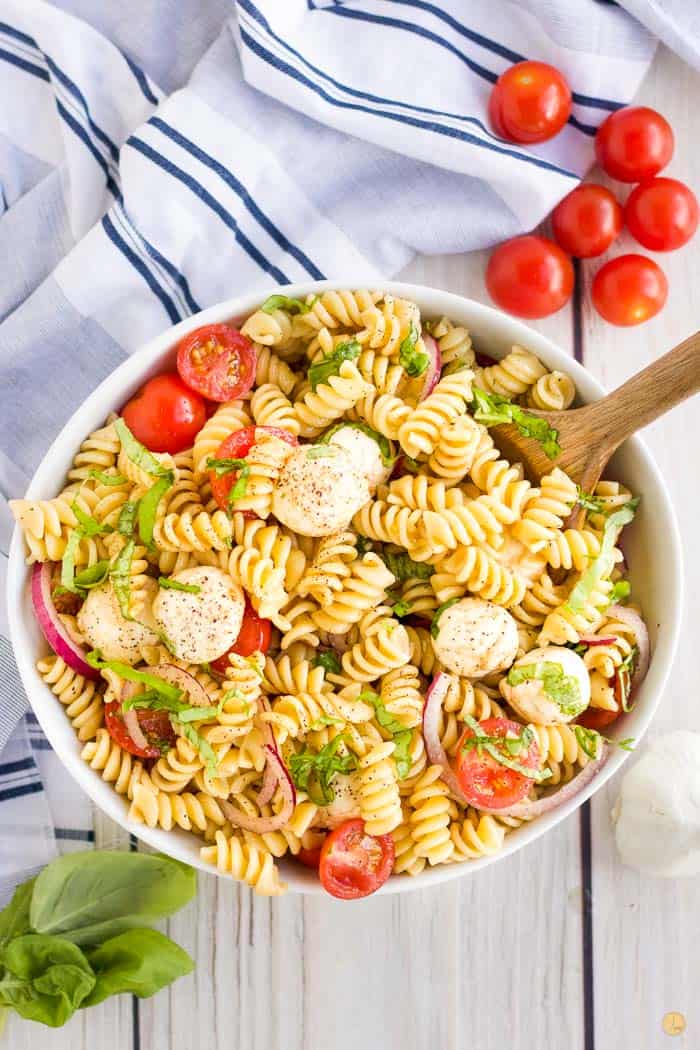 Before we dive face first into this delicious dish, let's chat about the name…
WHAT IS CAPRESE?
The term "Caprese" means salad of Capri which would lead you to think that the origins of this tomatoes caprese salad are there. But no one knows for sure.
I'm not really worried about where it came from as long as it ends up in my belly!
WHY IS IT CALLED CAPRESE SALAD?
Caprese Salad, or Insalata Caprese, is a traditional appetizer made from juicy tomatoes, mozzarella cheese, basil and simply dressed with olive oil and black pepper or a balsamic glaze.
I have enjoyed these delicious flavors for quite some time. I just really wanted to combine it with my favorite food…PASTA!
This Caprese Pasta Salad Recipe comes together in less than 30 minutes, is a great way to stretch ingredients, is full of flavors and textures, and will be a hit at your next get together.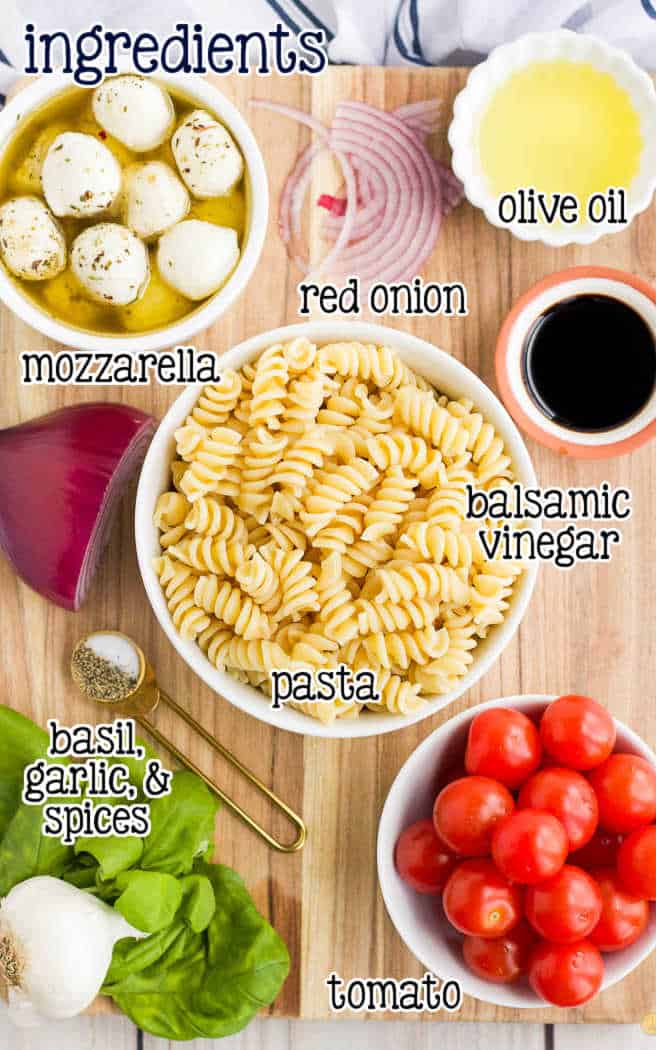 INGREDIENTS FOR CAPRESE SALAD
pasta (rotini is my fave shape!)
mozzarella (fresh)
fresh basil
cherry tomatoes
balsamic dressing
Cherry tomatoes are the best for this salad not only because they are sweet, but they are the same size as the mozzarella balls.
If you can't find them, feel free to use grape tomatoes.
I like to use the mozzarella balls but feel free to use the mozzarella pearls too. These work great for smaller sized pasta noodles.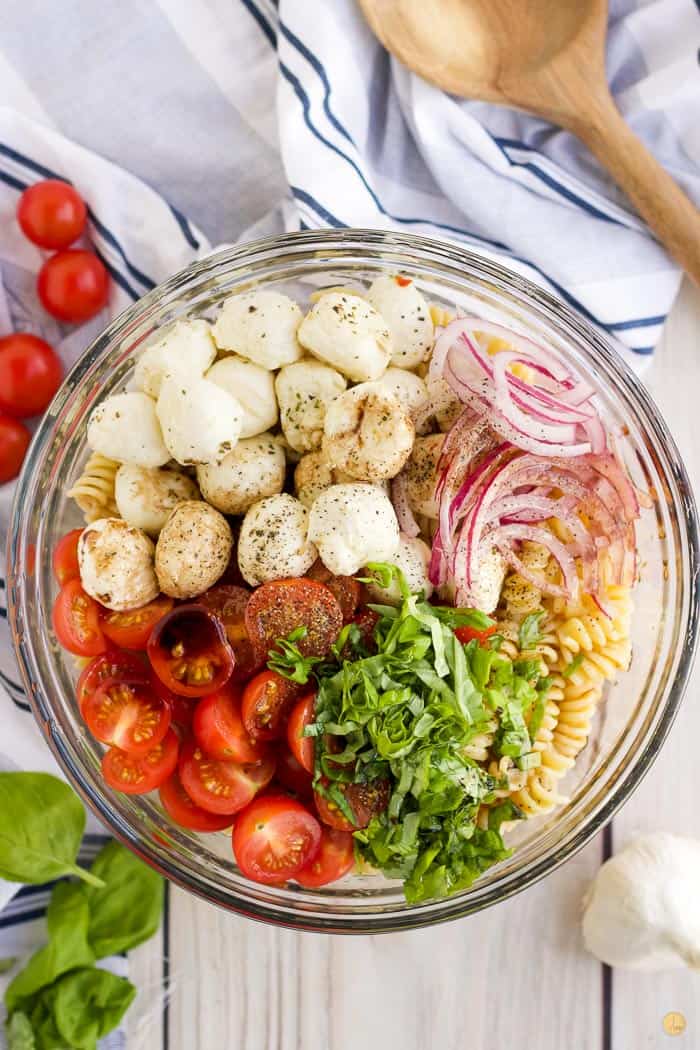 HOW TO MAKE CAPRESE PASTA SALAD
ONE: Make the dressing by combining the balsamic vinegar, olive oil, garlic, salt and pepper. Stir to mix.
TWO: In a large bowl, add pasta, tomatoes, mozzarella balls, and red onion. Toss to combine.
THREE: Drizzle with the dressing, toss to coat. Season with salt and pepper if desired.
If serving immediately, garnish with fresh basil. If not, store until ready to enjoy!
For the full recipe and detailed baking instructions, please see the recipe card at the end of this post.
Looking for more comfort food? Follow LTB on Pinterest!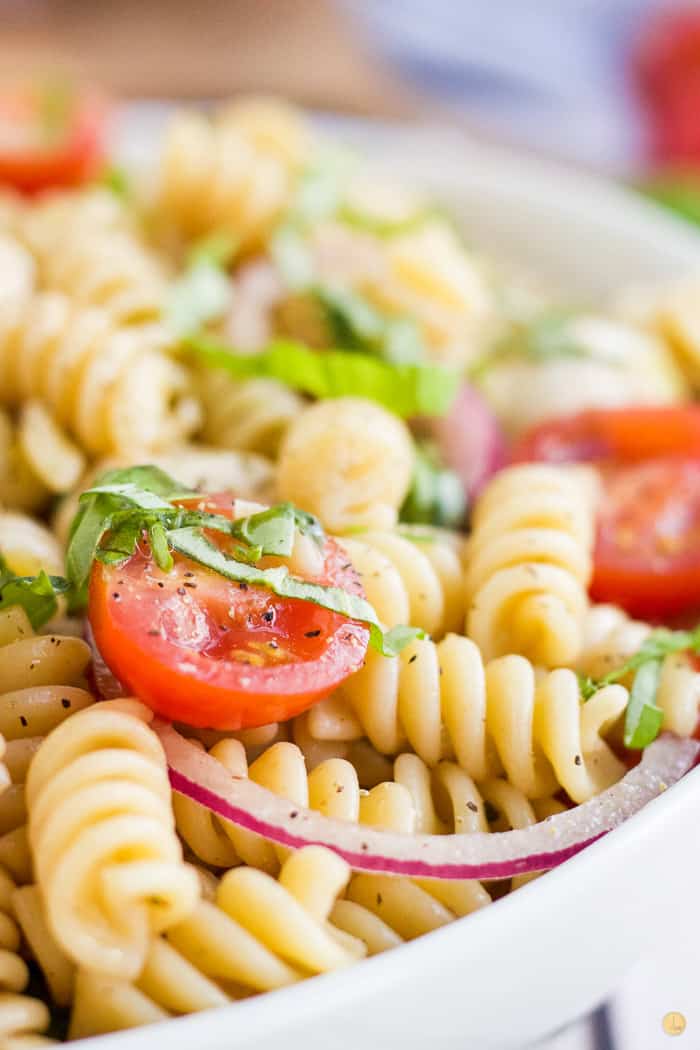 HOW HEALTHY IS CAPRESE SALAD?
Full of fresh ingredients in its original form, this salad incorporates pasta. It is still healthy, just be aware of your portions and the amount of cheese you are using.
CAN IT BE MADE AHEAD OF TIME?
You can make this up to 3 days ahead of time. The longer the ingredients sit together, the more flavor they soak up!
HOW DO I STORE LEFTOVERS?
If there are any leftovers, they can be stored in an air tight container in the refrigerator for up to 3 days. After that the pasta can become too mushy.
WHAT GOES WELL WITH CAPRESE SALAD?
Serve it as a main dish or as a side along with grilled chicken, shrimp, or even a burger!!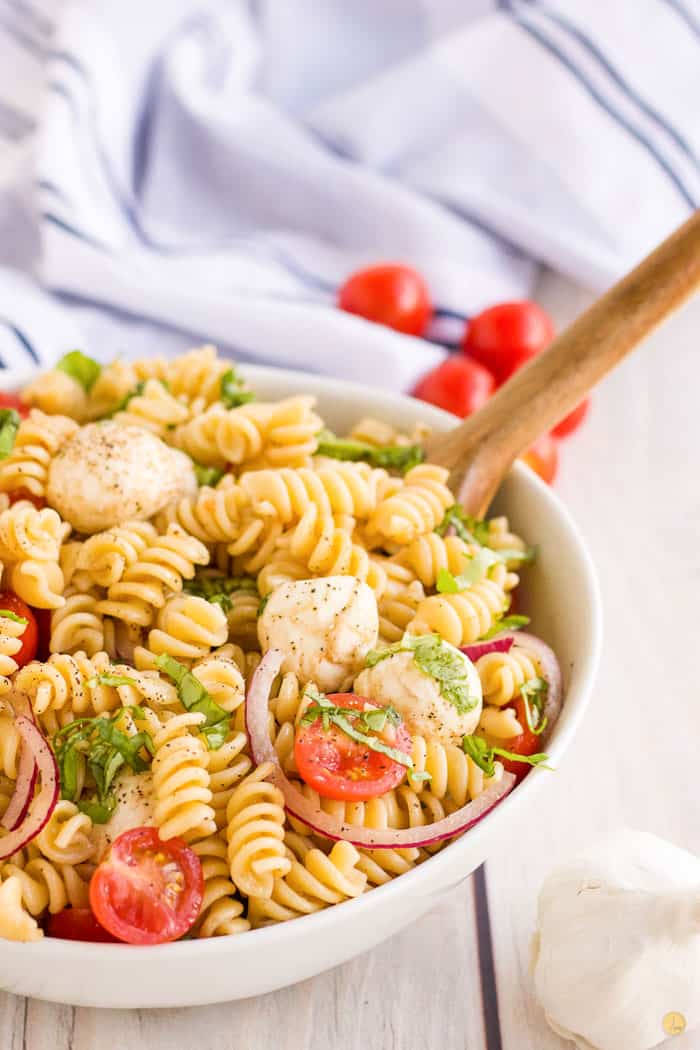 TIPS FOR NO LEFTOVERS
don't over cook the pasta. you want it to have a nice bite to it.
if making this ahead of time, reserve some of the dressing when you originally make it, and add some fresh dressing right before serving.
try different shapes of pasta to mix it up.
make sure all the ingredients are in bite sized pieces for easier serving and eating.
refrigerated is best, but this can be served at room temperature. just don't let it sit at room temp for more than 1 hour.
make sure to use FRESH mozzarella and not the pre-shredded, or block version. they are very different!
add in baked or grilled chicken to make it a meal!
If you love this recipe as much as I do, please write a five-star review in the comment section below (or on Pinterest with the "tried it" button – you can now add pictures into reviews, too!), and be sure to help me share on facebook!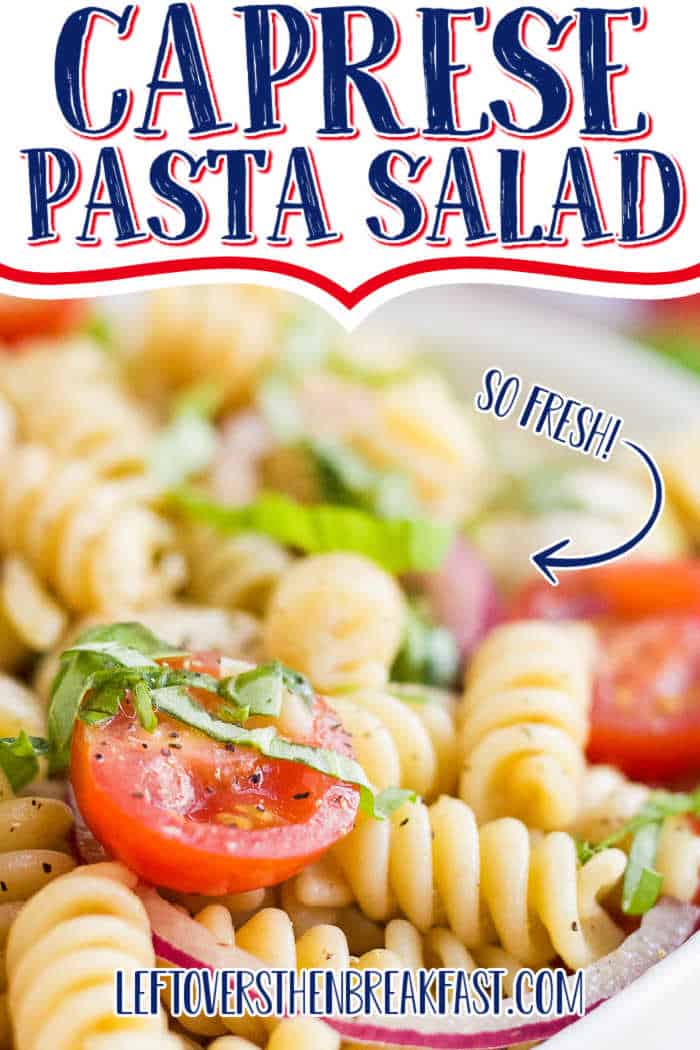 You might have tried the traditional tomato basil mozzarella salad, but the addition of pasta raises it to the level of side dish, or even main event!
MORE EASY RECIPES
EASY CAPRESE SALAD RECIPE