French Onion Chicken is not your ordinary chicken dish! Juicy chicken thighs smothered in a rich gravy full of caramelized onions and topped with gooey cheese. This dish is definitely loaded with everything you love about French onion soup, but made in an easy one pot recipe that is sure to quickly become a family favorite!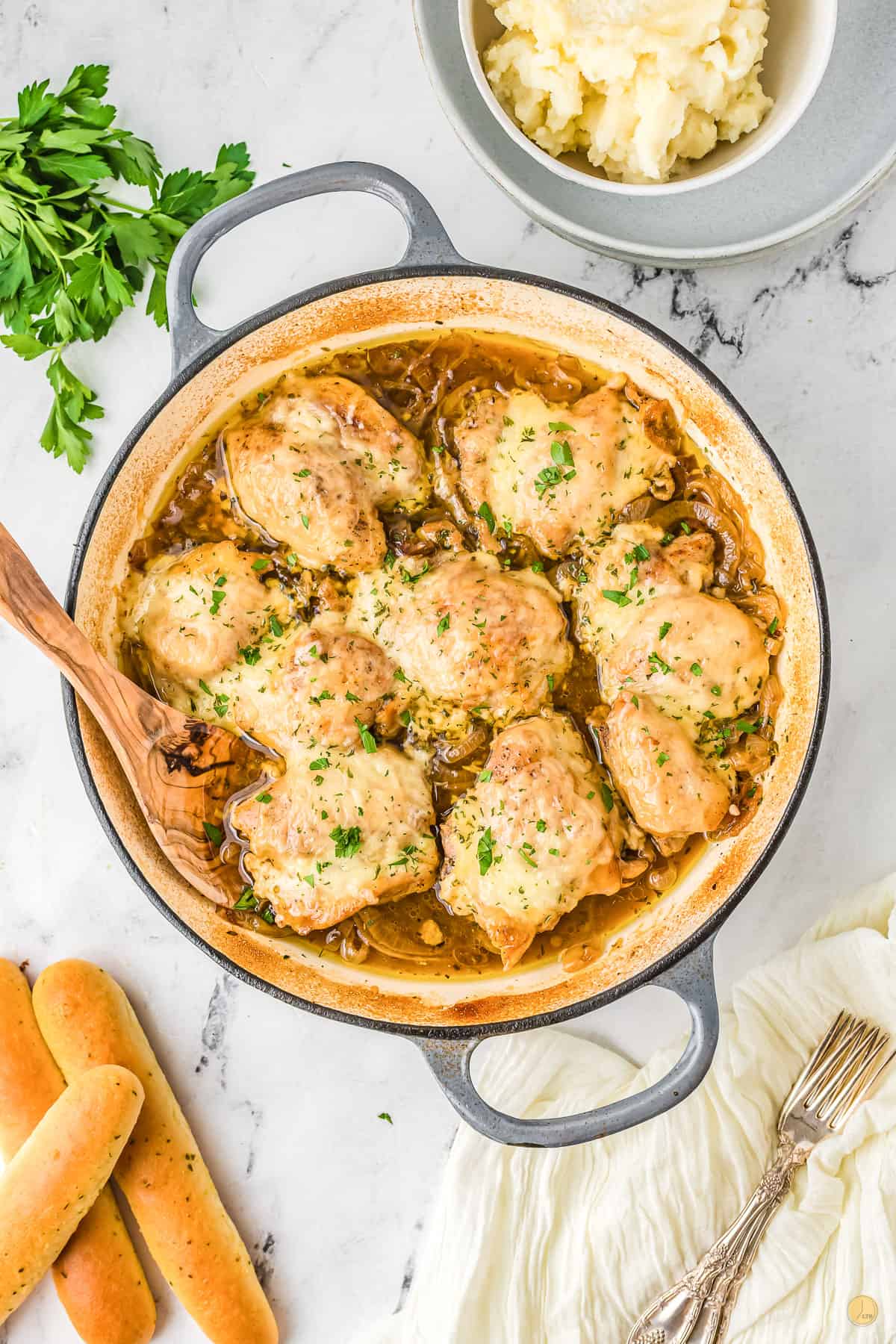 If you'd rather skip my essential cooking tips and tricks and get straight to this delicious recipe – simply scroll to the bottom of the page where you can find the printable recipe card.
FRENCH ONION CHICKEN
French onion soup is a classic recipe that so many people turn to during those cold winter months when they want a big bowl of comfort to give them a hug from the inside out.
And while this is one of my favorite soups, I often find that it's not substantial enough to be a standalone meal.
This inspired me to develop this French Onion Chicken dish.
Using tender chicken thighs for added protein, I reduced the soup to a gravy, and found a way to caramelize the onions within 30 minutes so this dish can be made any night of the week!
This dish is truly the perfect blend of sweet and savory and is tantalizing addicting. So, when you are looking to change up your weeknight meal plan, be sure to put this French Onion Chicken on the list!
You won't be disappointed that you did.
Serve with a side salad, some white rice, and homemade garlic knots for a complete meal!
WHY THIS RECIPE IS SO DELICIOUS
It's easy to make!
Cleanup is a breeze because everything is made in one pot.
Made with a handful of pantry staples so it's easy to whip up any night of the week.
All the traditional flavors of the classic favorite French onion soup but in a hearty dish.
This post may contain affiliate links. As an Amazon Associate, I earn from qualifying purchases. Read my disclosure policy here.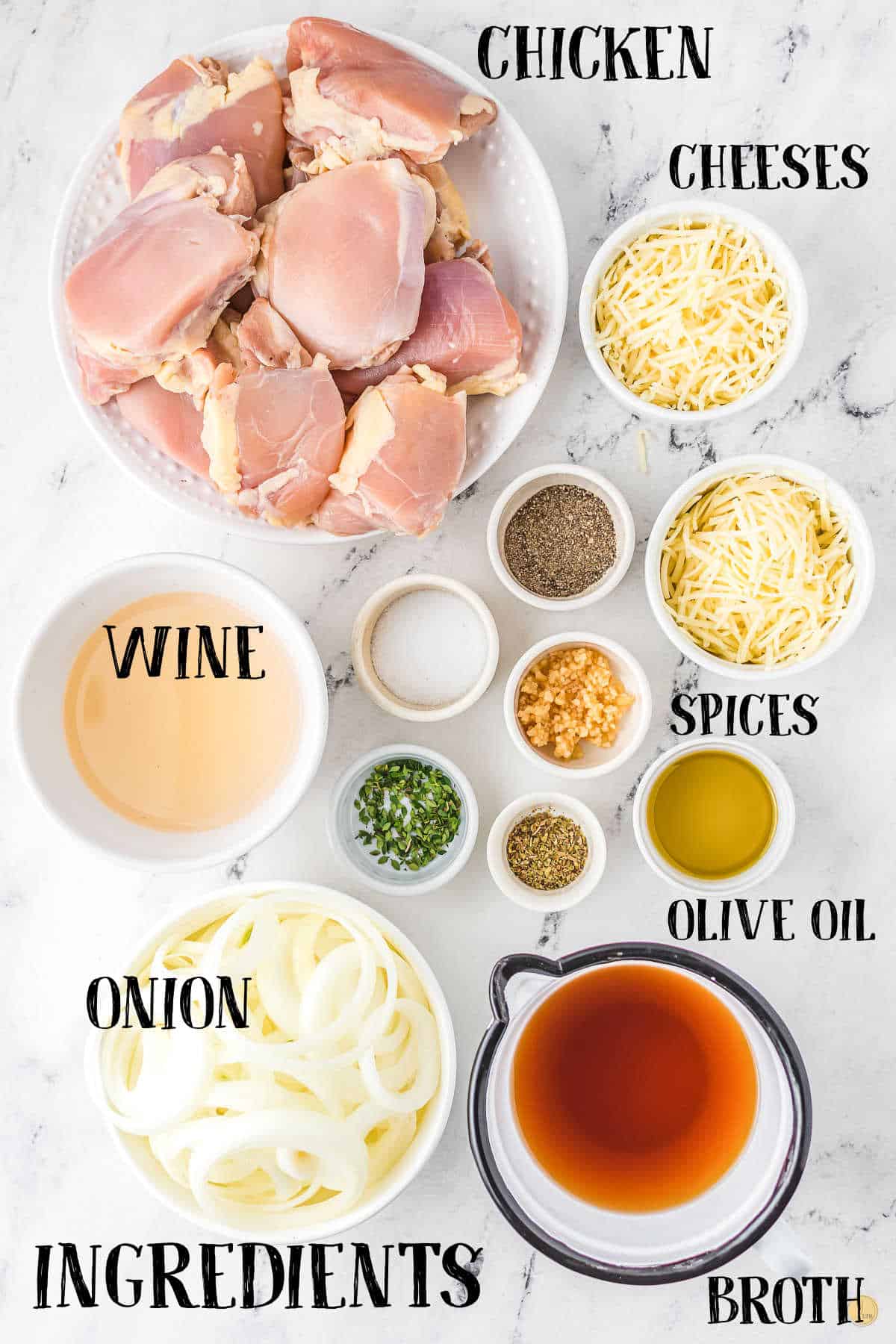 INGREDIENTS FOR FRENCH ONION CHICKEN
Butter
Onions
Thyme
Oregano
Minced garlic
Olive oil
Chicken thighs
Salt
Pepper
Dry white wine
Beef broth
Mozzarella cheese
Swiss cheese
Parsley
Butter – Be sure to use unsalted butter, not salted or margarine, for this recipe. Salt content varies from brand to brand and using salted butter can result in an overly salty dish.
If you are unable to locate unsalted butter, reduce additional salt by 1/4 teaspoon per 1 stick of butter used.
Onions – French onion soup is traditionally made with large yellow onions. However, feel free to use white, red, sweet, or a combination of all!
Garlic – Fresh minced garlic is the best but you can also use the jarred minced garlic. I don't recommend using garlic powder as the flavor isn't as robust as with fresh garlic.
Chicken thighs – While this recipe calls for chicken thighs, feel free to use legs or breasts as well. No matter the cut, you can use boneless, skinless, or bone-in and skin-on.
Just note that if you are using bone-in, you will need to cook the chicken about 10 to 15 minutes longer.
Dry white wine – I like to use Sauvignon blanc to make this recipe but feel free to omit and use all beef broth if you prefer.
Mozzarella cheese – Feel free to substitute Gruyere or Parmesan cheese for Mozzarella if you prefer.
Looking for more comfort food? Follow LTB on Pinterest!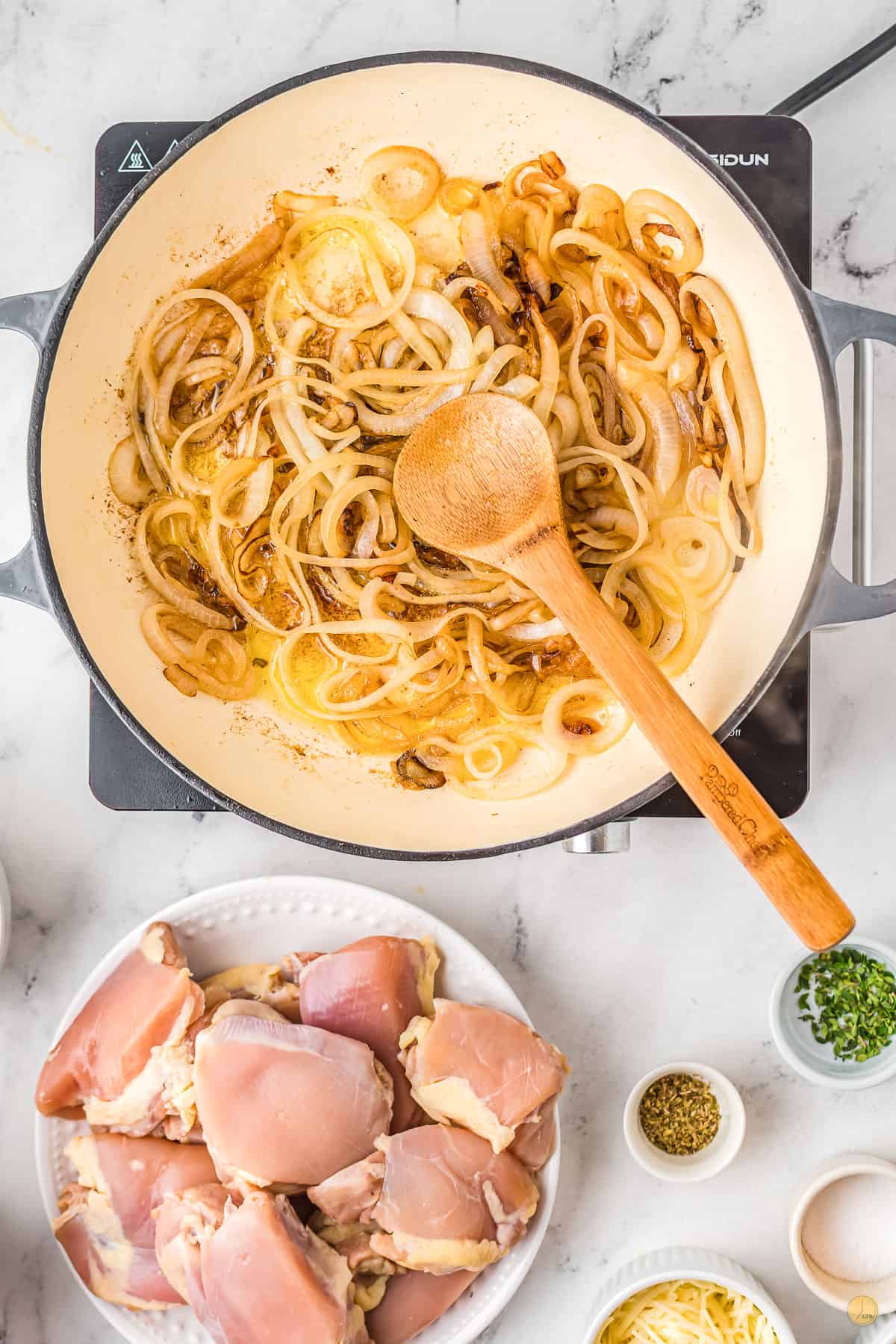 HOW TO MAKE FRENCH ONION CHICKEN
ONE: In a large oven-safe skillet over medium high heat, melt butter and add onions. Reduce heat to medium low and continue to cook stirring occasionally and allow onions to caramelize.
Add thyme, oregano, and garlic and cook for another 3-4 minutes. Remove seasoned caramelized onions from pan and keep warm.
TWO: Add olive oil to pan over medium heat. Season chicken with salt and pepper and place in hot pan. Sear chicken until lightly golden brown on each side. Remove and transfer to a plate.
THREE: Add onions back to pan and deglaze pan with white wine and beef broth. Add chicken back to pan and allow chicken to cook through and the sauce has been reduced by half.
FOUR: While chicken is in pan, preheat oven to 375. Top chicken with cheeses and place in heated oven for 5-10 minutes until cheese is melted and bubbly.
Remove from oven. Top with fresh parsley. Serve immediately and enjoy!
For the full recipe and detailed baking instructions, please see the recipe card at the end of this post.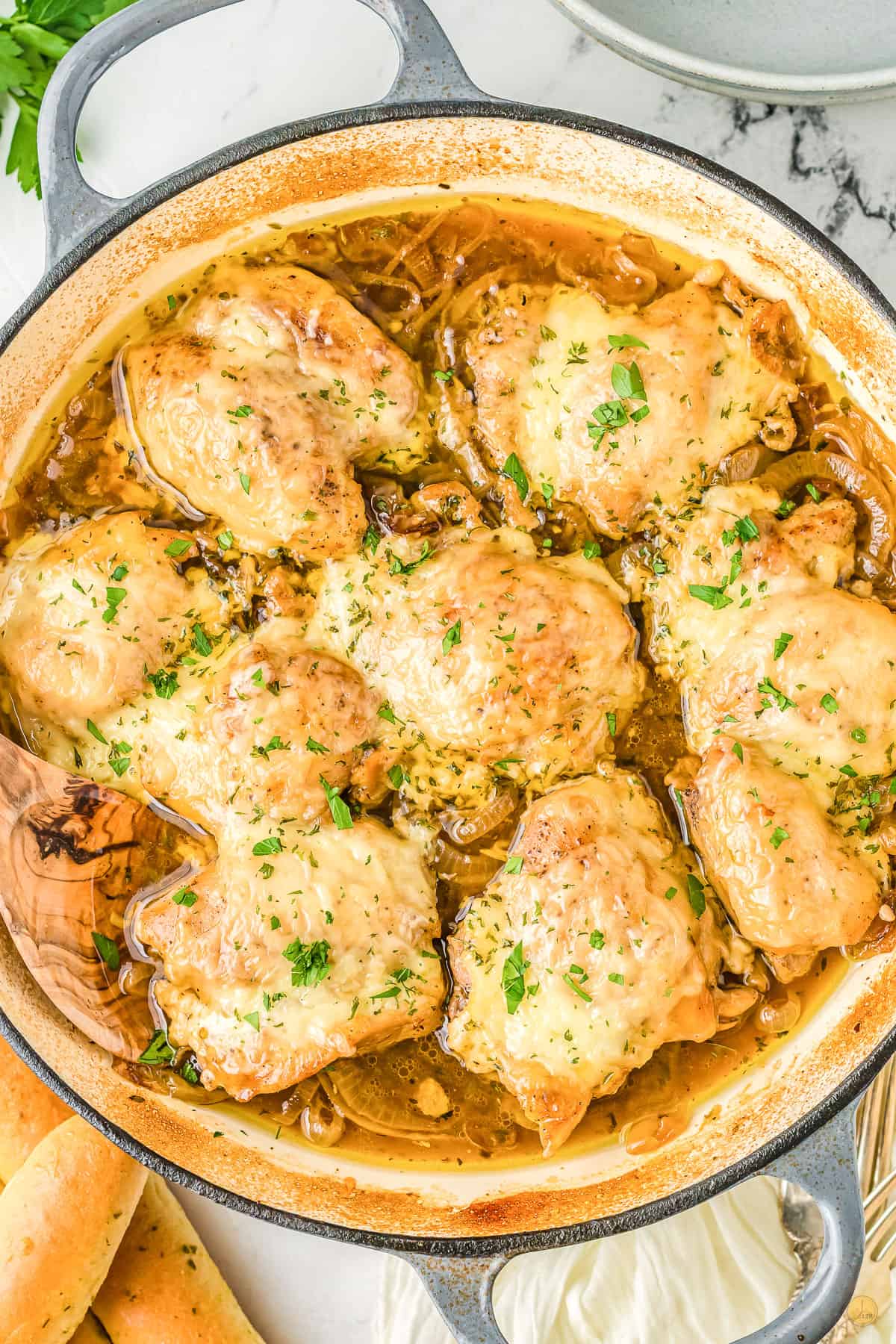 GOT LEFTOVERS?
STORE: Store any left-overs in an airtight container in the fridge for up to 3 days.
REHEAT: When ready to reheat, place French Onion Chicken in a microwaveable safe container or plate and microwave for 2 minutes. Continue to microwave in 30-second intervals until chicken is warmed through.
If reheating in the oven, place left-over chicken in an oven safe pan, cover with foil and place in a 350 °F oven until it reaches an internal temperature of 165°F.
FREEZE: Allow any left-overs to come to room temperature prior to placing in a freezer safe container. Left-over French Onion Chicken can be stored in the freezer for up to 3 months.
CAN FRENCH ONION CHICKEN BE MADE AHEAD OF TIME?
While I find that this recipe tastes best when served hot straight from the oven, there are a few steps you can do ahead of time to shorten the overall cooking time.
Trim chicken thighs of any extra fat and place in an airtight container in the fridge for up to 2 days.
Caramelize onions with garlic, thyme, and oregano and store in an airtight container in the fridge for up to 2 days.
Pre-grate the blocks of Mozzarella and Swiss cheese and place in an airtight container in the fridge for up to 7 days.
Caramelizing the onions in advance will cut your cooking time in half when you are ready to bake off!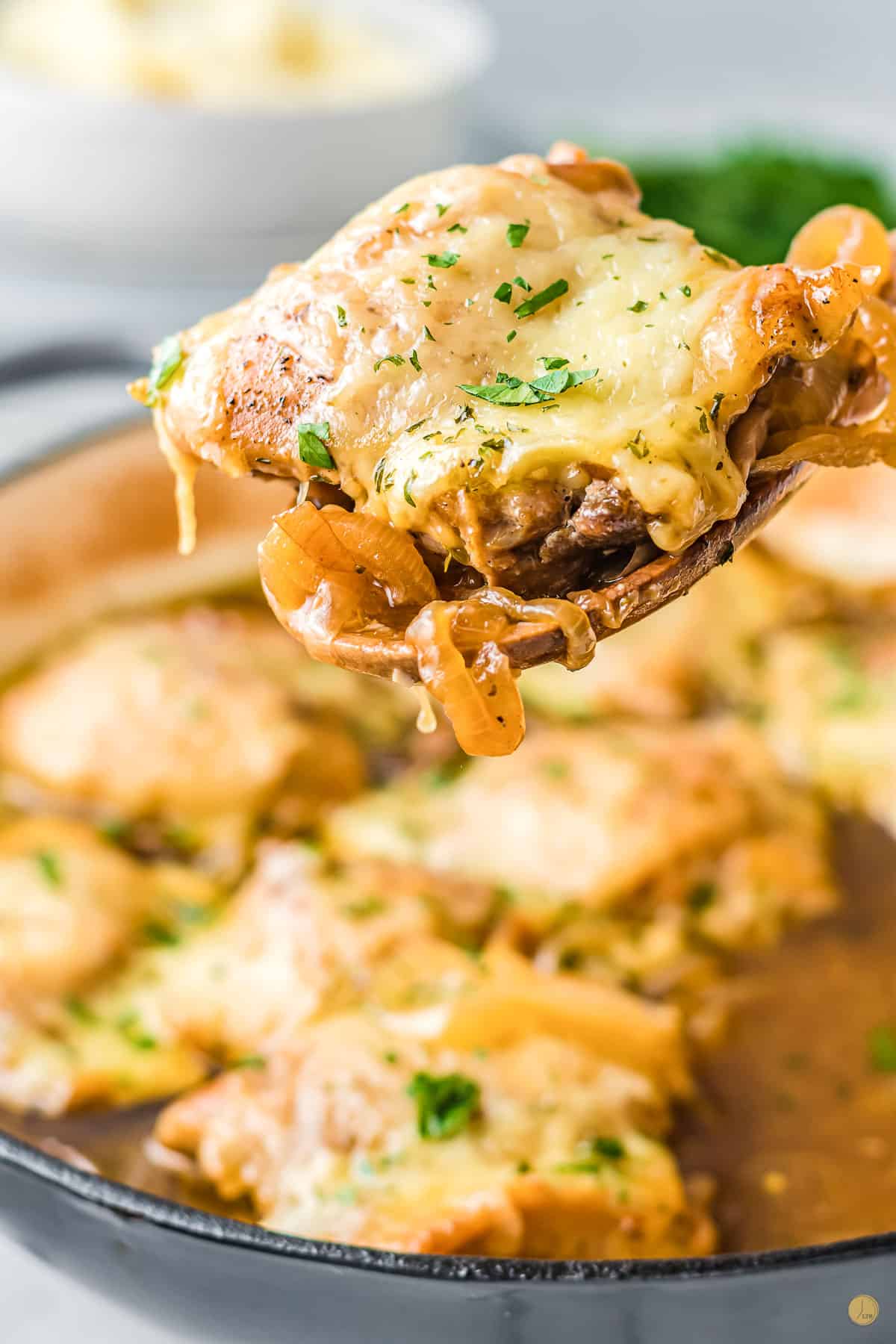 TIPS FOR NO LEFTOVERS
For richer sauce flavor or darker color, add some gravy master or kitchen bouquet.
Chicken thighs are more flavorful but feel free to use chicken breasts.
If using bone-in chicken, you will need to cook it for a longer period of time. Bone-in chicken will need approximately 10-15 minutes longer to cook all the way through.
You can skip the white wine and use more beef broth or chicken broth.
Great served over mashed potatoes, buttered egg noodles, or white rice.
Do not salt the onions. If salted, the onions will release their liquid too early and will not caramelize properly.
Caramelizing onions take time. Cook onions over medium low heat so they caramelize versus burning.
Shred your own cheese. Store bought pre-shredded cheese is packaged with anti-caking agents which impact how well they melt. For best results, buy the cheeses in blocks and shred with a box grater the amount you need.
Feel free to swap out the chicken for pork or beef!
If you love this recipe as much as I do, please write a five-star review in the comment section below (or on Pinterest with the "tried it" button – you can now add pictures into reviews, too!), and be sure to help me share on facebook!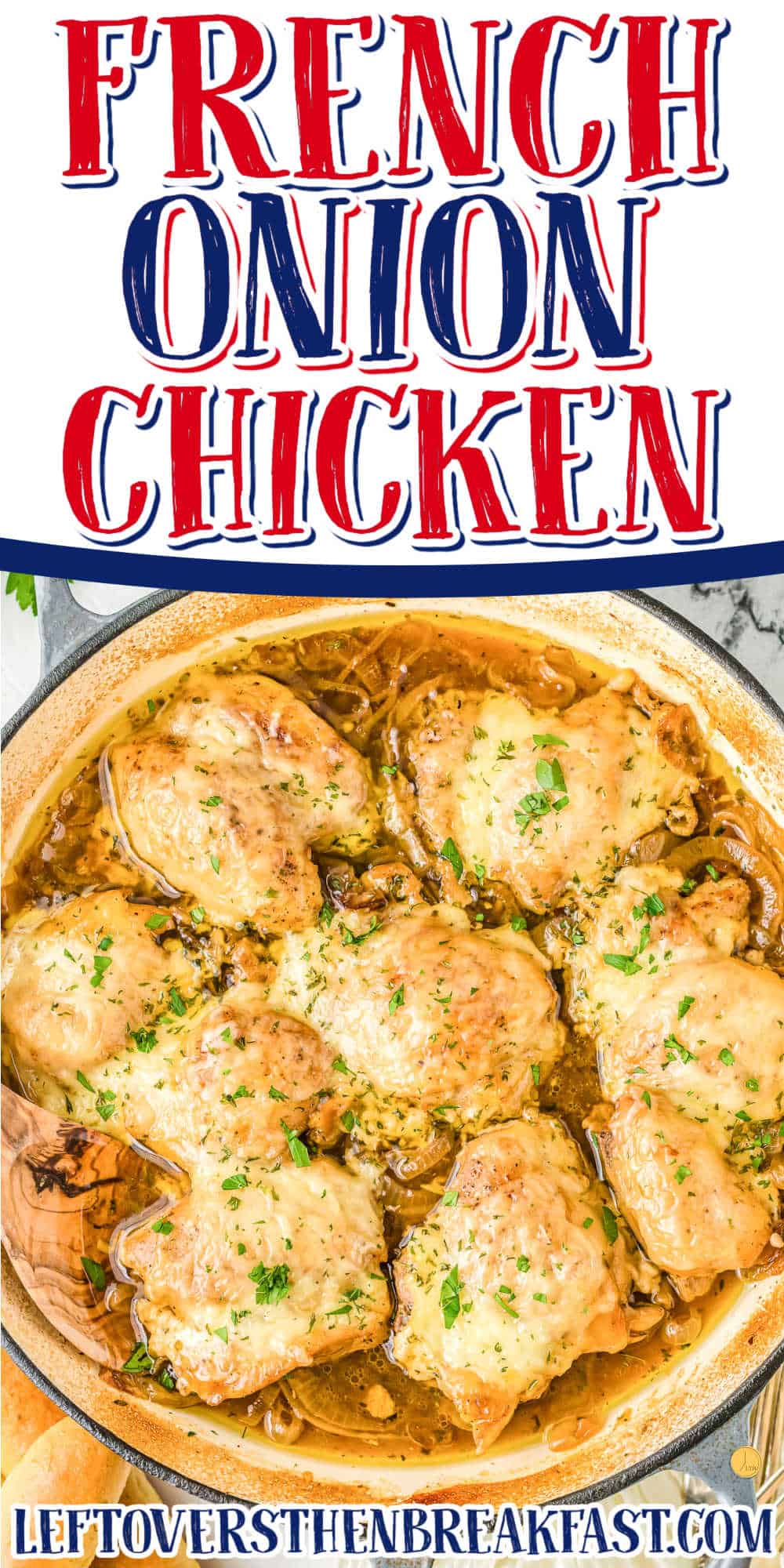 French Onion Chicken takes a classic soup and turns it into a hearty main course! This one pot dish is easy-to-make and uses a handful of pantry staples that really pack a flavor punch into every bite!
MORE EASY RECIPES
@LeftoversThenBreakfast.com. Content and photographs are copyright protected. Sharing of this recipe is both encourages and appreciated. Copying and/or pasting full recipes to any social media is strictly prohibited.