Baked Rice is a TRIED & TRUE, easy method for getting FLUFFY, PERFECTLY COOKED and fluffy rice. This pantry staple side dish is hassle free and doesn't leave a sticky mess on the stovetop.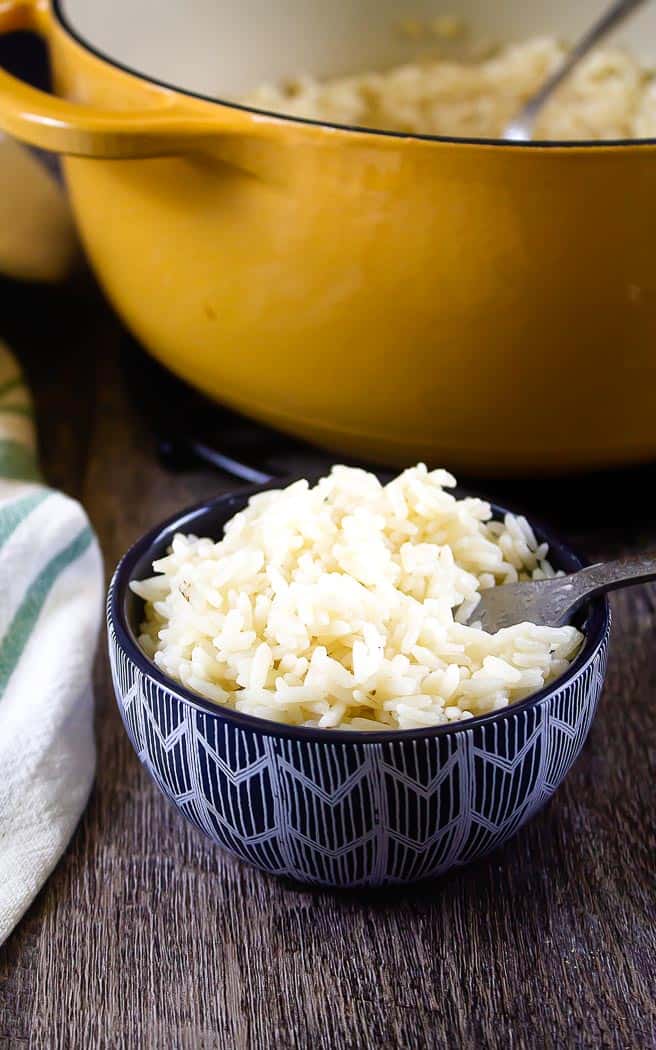 If you'd rather skip my essential cooking tips and tricks and get straight to this delicious recipe – simply scroll to the bottom of the page where you can find the printable recipe card.
Do you CRINGE at the thought of making rice?
Making a sticky mess on the stove top or digging out the rice cooker make you want to order take out?
Me too! That's why I love to bake my rice and enjoy it without all the stress.
COOKING RICE IN THE OVEN
If you haven't tried baking your rice you are in for a life-changing recipe. Some delicious benefits include:
hands free
hassle free
minimal prep
perfectly cooked rice grains
easy clean up
great for a crowd
easily adaptable with veggies and stock
This post may contain affiliate links. As an Amazon Associate, I earn from qualifying purchases. Read my disclosure policy here.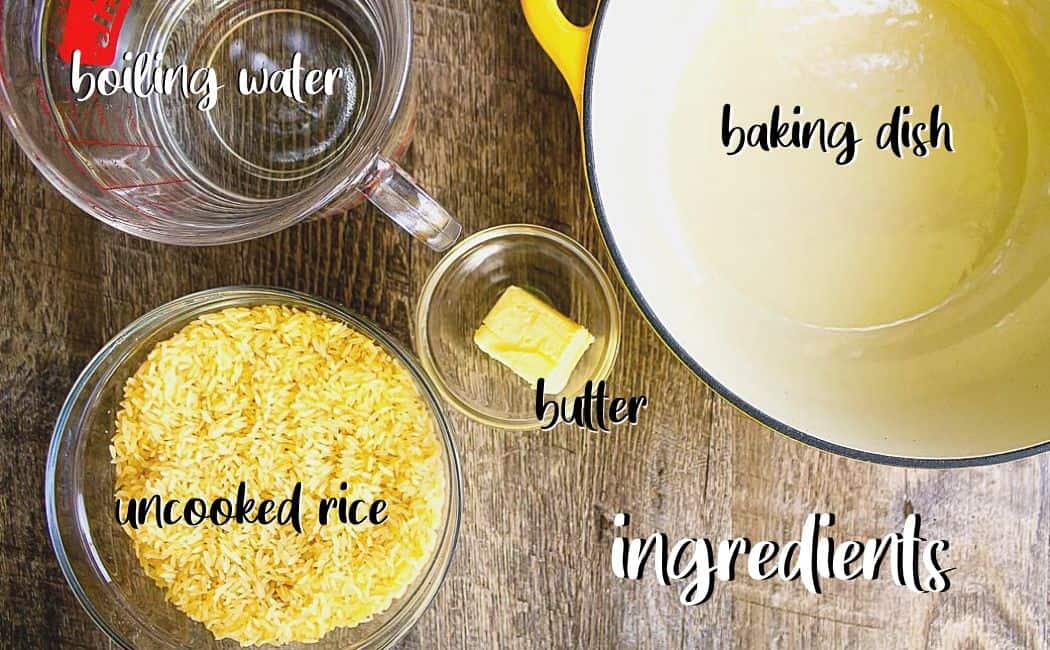 What do you need for baked rice? The same as your regular rice recipe:)
INGREDIENTS FOR BAKED RICE
uncooked white rice
boiling water
butter/olive oil
covered oven safe baking dish
salt if desired
WHAT IS THE BEST RICE FOR THE OVEN?
Most kinds of rice can be baked but they require different amounts of liquid and cooking times.
This recipe works best for white rice. I prefer Uncle Ben's converted rice but any long grain white rice will work for this recipe. Use your favorite!
Looking for more comfort food? Follow LTB on Pinterest!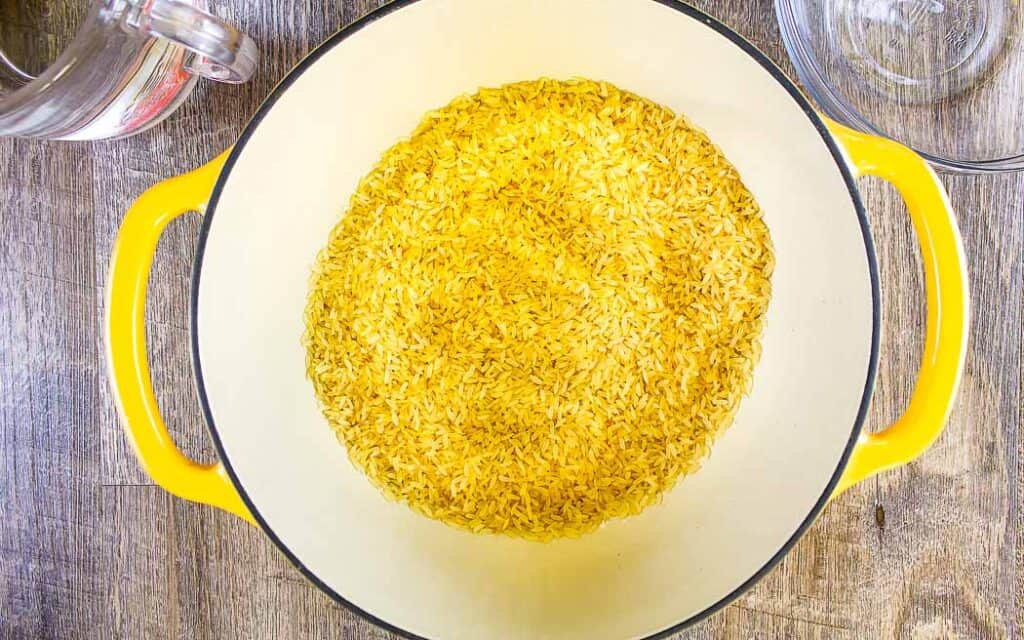 HOW DO YOU STEAM RICE IN THE OVEN?
ONE: Place uncooked rice and butter in an oven proof baking dish with a tight fitting lid.
TWO: Bring water/broth to a boil in a separate dish.
THREE: Gently pour boiling water over rice. Stir to make sure the rice is evenly coated in the water and all the clumps are broken up.
FOUR: Cover tightly with lid. (Add a layer of foil if needed). Bake until light and fluffy. Enjoy!
For the full recipe and detailed baking instructions, please see the recipe card at the end of this post.
HOW LONG DOES IT TAKE TO COOK RICE?
Baking rice in the oven takes about thirty minutes, but it all depends on how much you are making.
Most pans won't be good for anything over two cups of rice. That should be plenty. If not, then you will need a bigger oven safe casserole pan.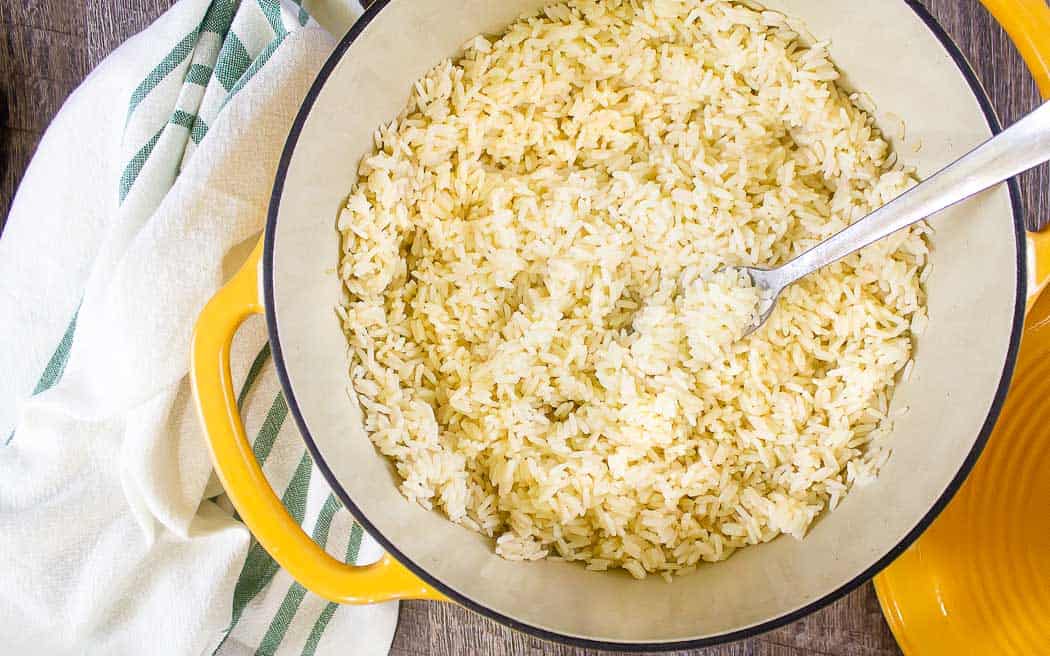 CAN YOU REHEAT BAKED RICE IN THE OVEN?
Did you make a large batch? You can reheat leftover rice easily in the oven.
Just add about 1/4 cup of water per two cups of rice. Stir and fluff. Tightly seal the container like when you initially baked it.
Bake 10-15 minutes or until heated through. Fluff and enjoy!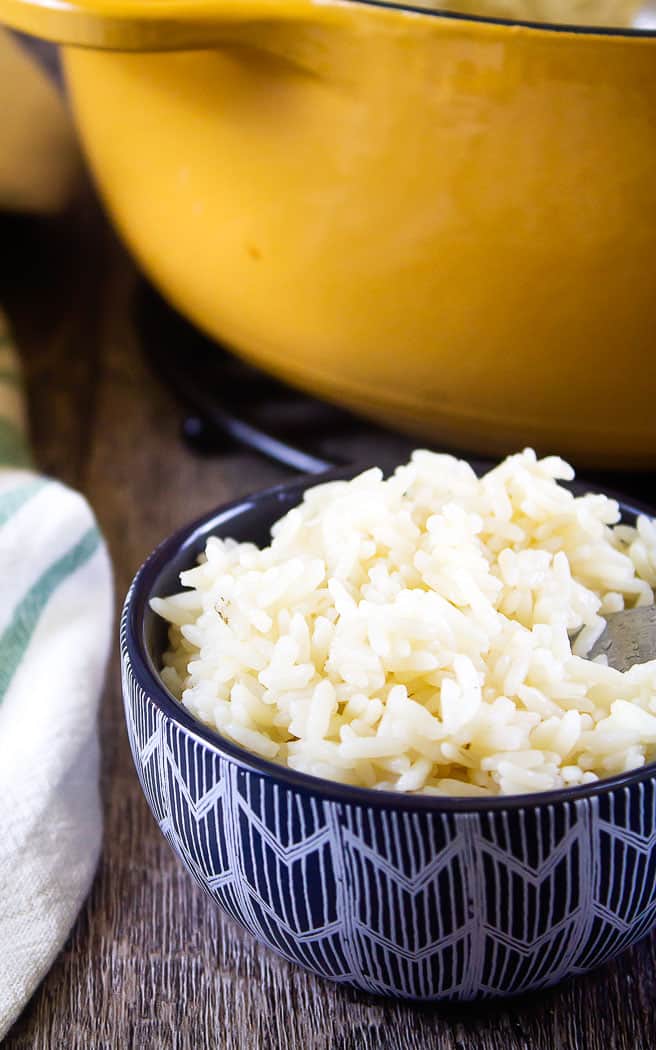 TIPS FOR NO LEFTOVERS!
When you bake rice in the oven, here are some tips to get the best rice!
Preheat the oven – start with a ready oven so cooking times are correct.
Boil the water – Make sure the water is boiling before adding to the rice so the cooking process starts right away.
Seal the baking dish – Keeping the steam in the dish is key or the water will evaporate before the rice finishes cooking. Adding a layer of aluminum foil under the lid will help keep steam from escaping if you have a loose lid.
Add some butter – The butter prevents the rice from sticking to the bottom of the pan. If you don't want to use butter, then you can use olive oil instead or a light oil. You can leave out the butter altogether if you are watching calories and fat content but the rice may stick to the bottom of the pan.
Add extra flavor – I like to use chicken broth instead of water. This adds more flavor and richness. Spice mixes like Italian seasoning are also a fun addition.
Great for a crowd – When I cooked for 120 people at church I could easily make perfect rice without it being mushy and washing all those pots.
MORE TIPS FOR BAKED RICE
Add some veggies – For each cup of rice you can add 4-5 ounces of frozen or canned/drained veggies. My fave is green peas or pigeon peas.
Stir the rice – Once the boiling water is added you need to stir the rice before baking. I like to use a whisk to break up the rice grains. If they stay in a clump in the water they will be mushy.
Don't rinse – Do not rinse the long grain white rice. The variety you buy for this recipe is already prepped. I prefer Uncle Ben's converted rice.
White rice only – This recipe will not work for brown, sushi, or Basmati rice. Those varieties require different amounts of liquid and cooking times.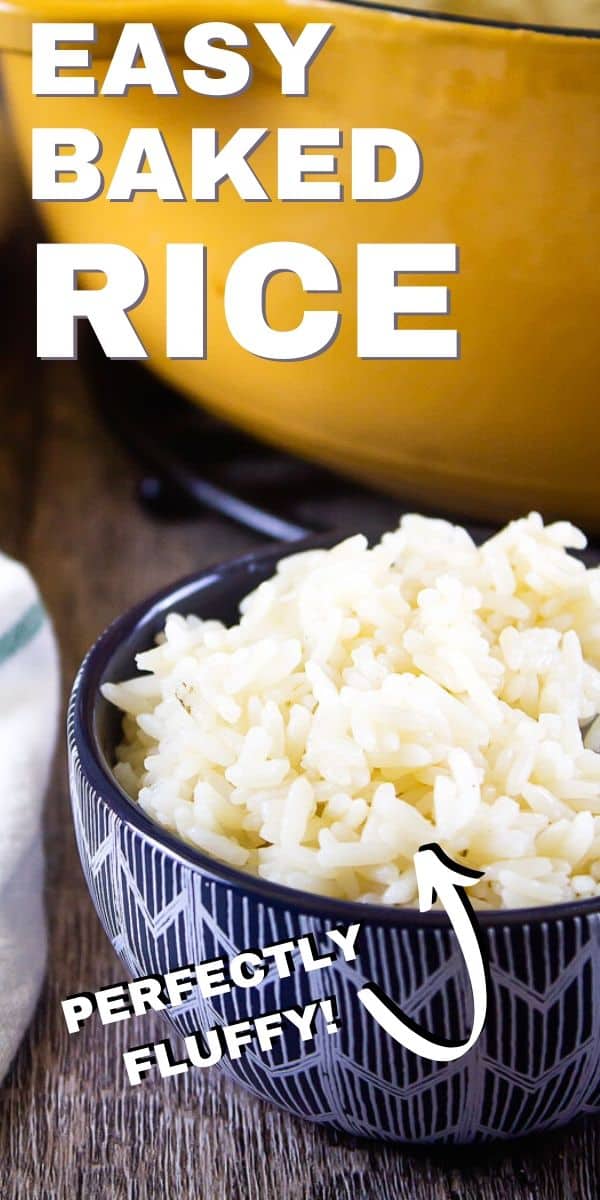 Follow these tips and you will have perfectly cooked rice anytime you need it!
MORE EASY DISHES
SUPER EASY OVEN RICE
@LeftoversThenBreakfast.com. Content and photographs are copyright protected. Sharing of this recipe is both encourages and appreciated. Copying and/or pasting full recipes to any social media is strictly prohibited.