Crockpot Peanut Clusters combine salty dry roasted peanuts, creamy peanut butter, buttery butterscotch chips, and semi-sweet chocolate chips in this easy yet decadent treat that everyone will love!
With just 6 ingredients, your trusty crockpot, and 10 minutes prep time, these peanut clusters are a fun holiday treat or edible gift for everyone of all ages!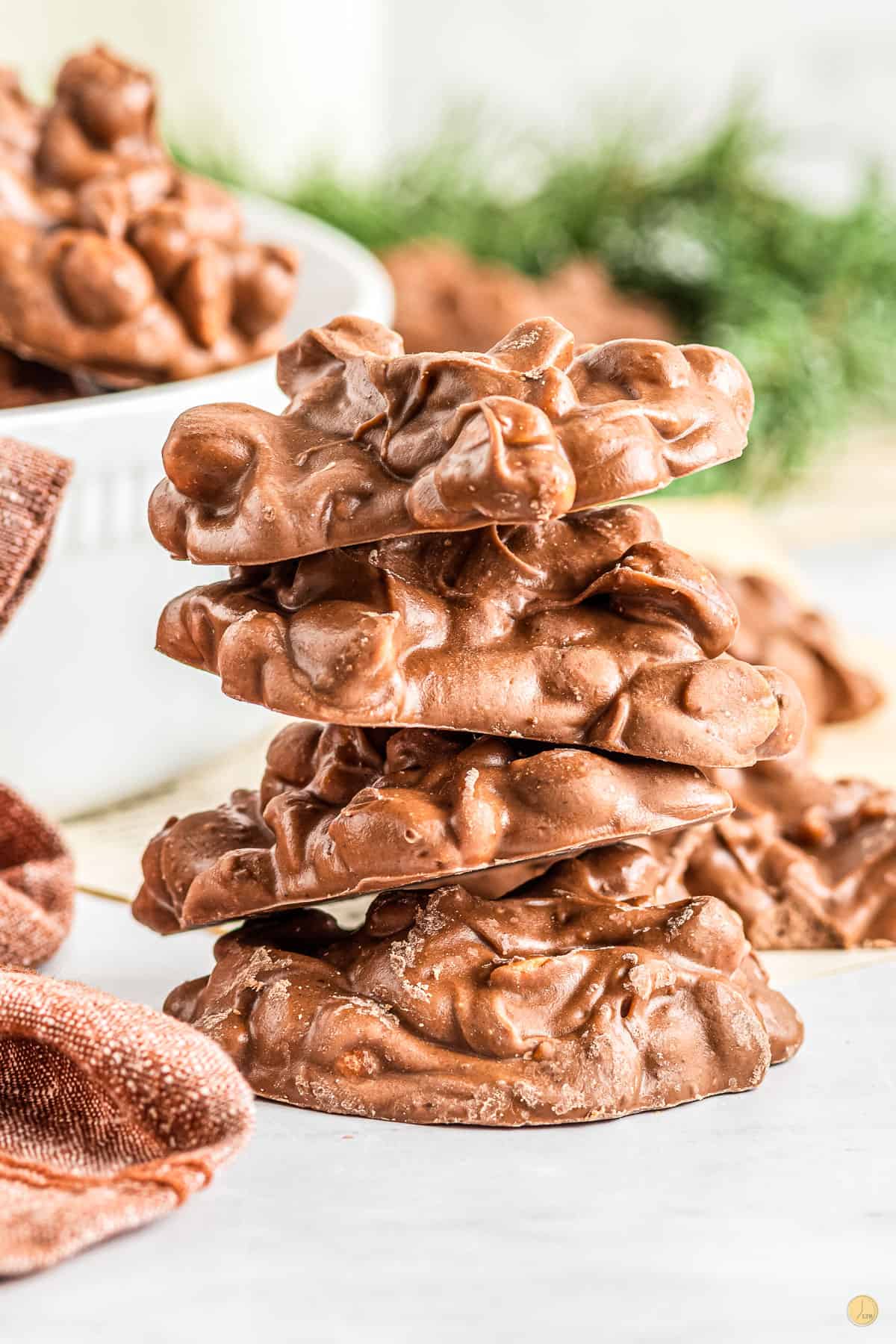 If you'd rather skip my essential cooking tips and tricks and get straight to this delicious recipe – simply scroll to the bottom of the page where you can find the printable recipe card.
CROCKPOT CHOCOLATE PEANUT CLUSTERS
'Tis the season for baking and all things sweet! But really, when is it not the season to bake? It's pretty much 24/7 365 here in my house!
Want to try your hand at candy instead of the traditional cookies this year? Try Crockpot Peanut Clusters!
Once you see how easy it is to make your own Crockpot candy, you'll be making it all year round! Even though it is known as Crockpot Christmas Crack 🙂
These peanut clusters are the perfect combination of sweet and salty. Rich chocolate is mixed with crunchy dry roasted peanuts, smooth peanut butter, and buttery butterscotch chips to make one decadent dessert that everyone will love.
Requiring just a handful of ingredients, 10 minutes of prep, these homemade candies make the perfect holiday gift for all to enjoy.
This post may contain affiliate links. As an Amazon Associate, I earn from qualifying purchases. Read my disclosure policy here.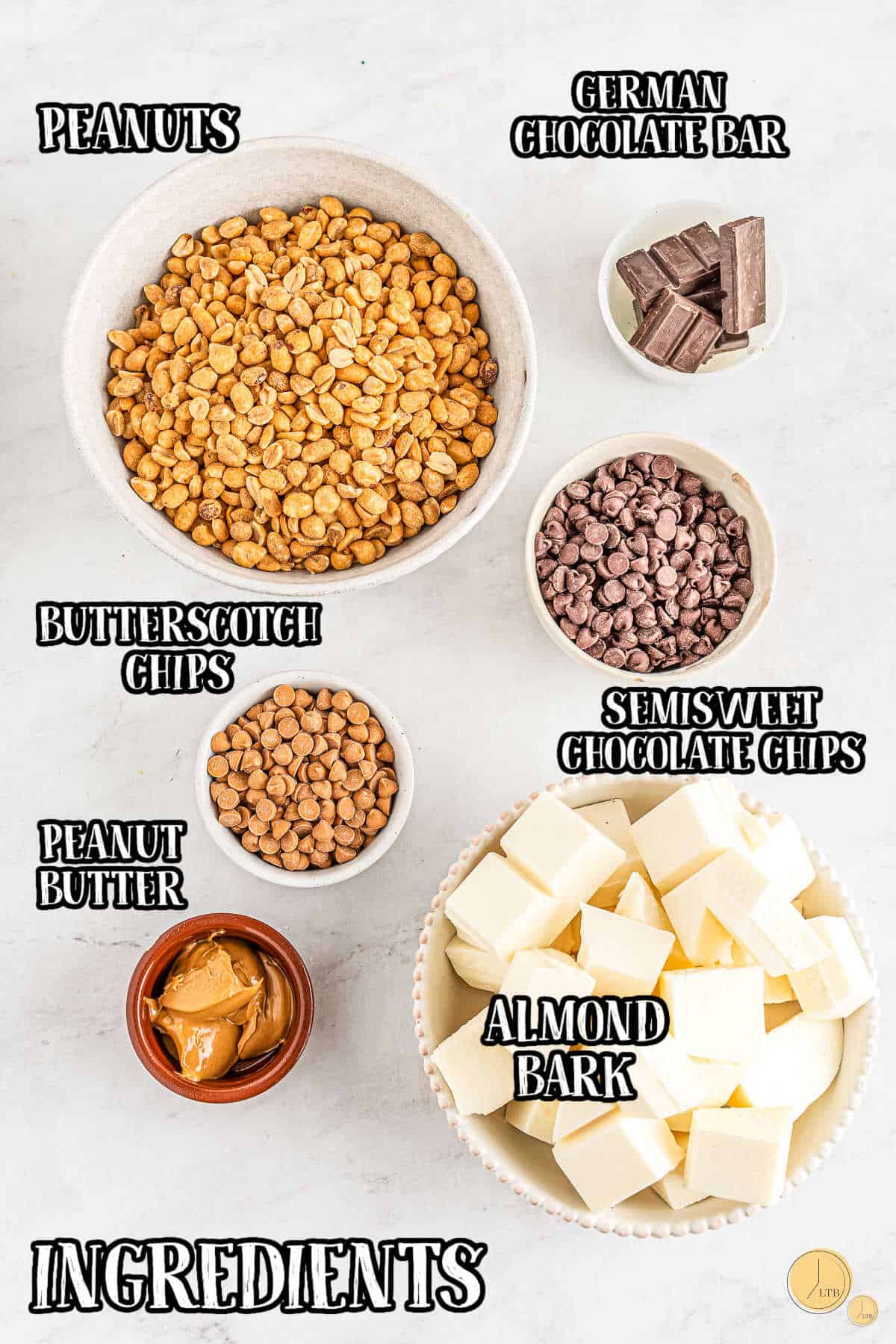 INGREDIENTS FOR PEANUT CLUSTERS
White almond bark
Peanuts
Semi sweet chocolate chips
Butterscotch chips
German chocolate bar
Peanut butter
Almond bark – I prefer to use Baker's Corner Almond Bark but feel free to use any brand that you can find at your local grocer. It's not the same as white chocolate chips so be sure to get the right kind.
Peanuts – Use your favorite brand of salted dry roasted peanuts. If you have raw, be sure to toast them first. You can also use cocktail peanuts, just be sure to remove any loose skins.
Semi-sweet chocolate chips – Semi-sweet baking chips give a nice balance of sweetness to this cluster but feel free to use milk chocolate chips or even dark chocolate.
Butterscotch chip – If you do not like the taste of butterscotch, feel free to use chocolate chips instead. You can also use peanut butter chips or cinnamon flavored chips for a new flavor twist.
German chocolate bar – While German Chocolate can be found down the baking aisle of most grocery stores, if you are unable to locate feel free to use an equal amount of a bittersweet chocolate baking bar.
Peanut butter – Creamy peanut butter is best for this recipe. Avoid "natural" nut butters as they will not mix well. You can use the chunky style peanut butter if you prefer more texture.
Looking for more comfort food? Follow LTB on Pinterest!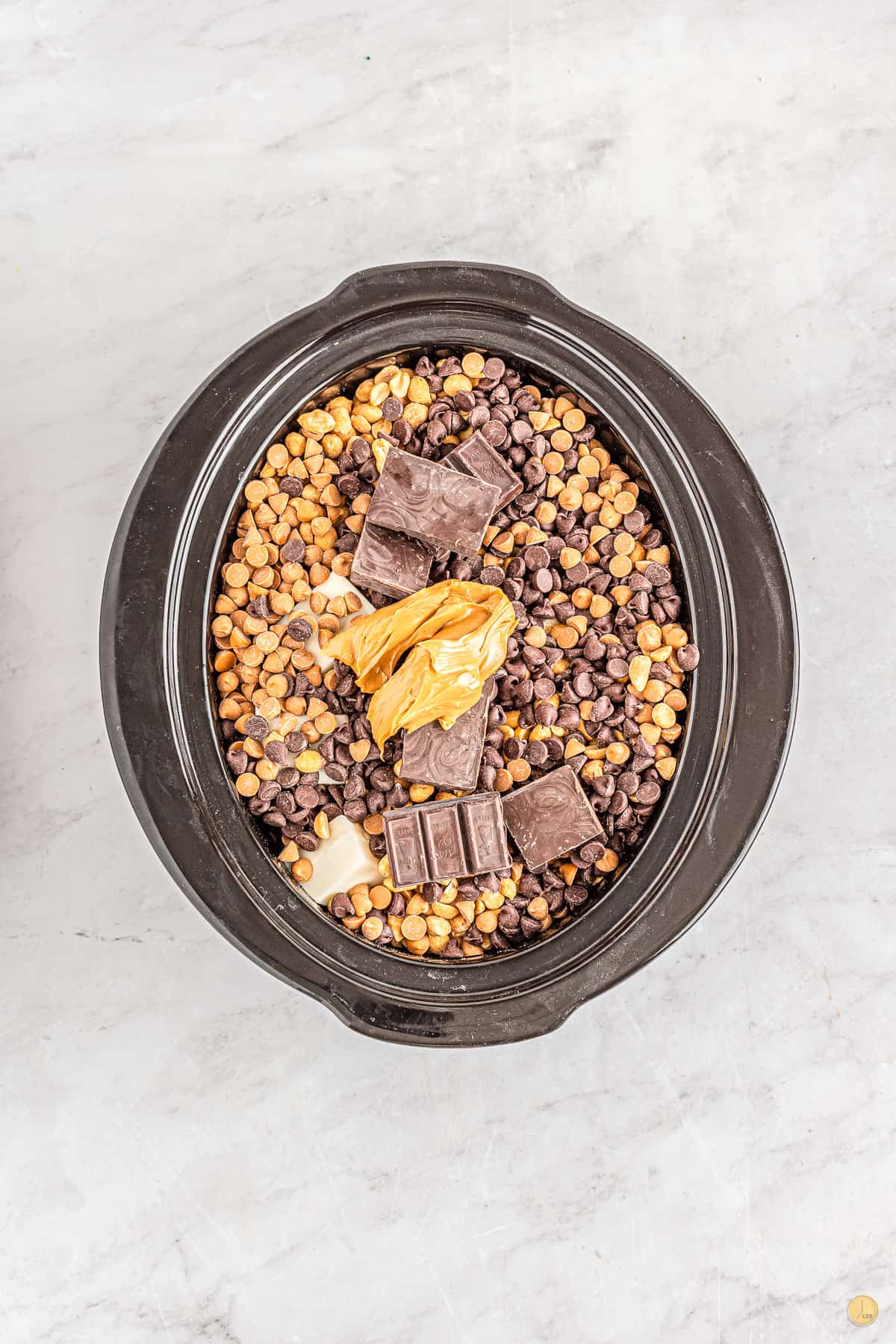 HOW TO MAKE CROCKPOT PEANUT CLUSTERS
ONE: Place all of the ingredients into a slow cooker or crock pot. Place on high and allow mixture to sit for 1 hour. I know you will want to touch it but don't:)
TWO: After the hour is up, using a wooden spoon, stir mixture together. Be sure you get all the way to the bottom and around the edges. You can also use a heat safe silicone spatula.
THREE: Continue to cook for another hour, stirring every 15-20 minutes to ensure the mixture does not burn.
Once everything is completely melted and cooked, using a tablespoon or ice cream scoop, place 2-3 tablespoon sized dollops onto a large piece of parchment paper.
FOUR: Allow candies to completely cool at room temperature for at least 1 hour or until hardened. Store in an airtight container or wrap in festive wrapping and give as an edible gift!
For the full recipe and detailed baking instructions, please see the recipe card at the end of this post.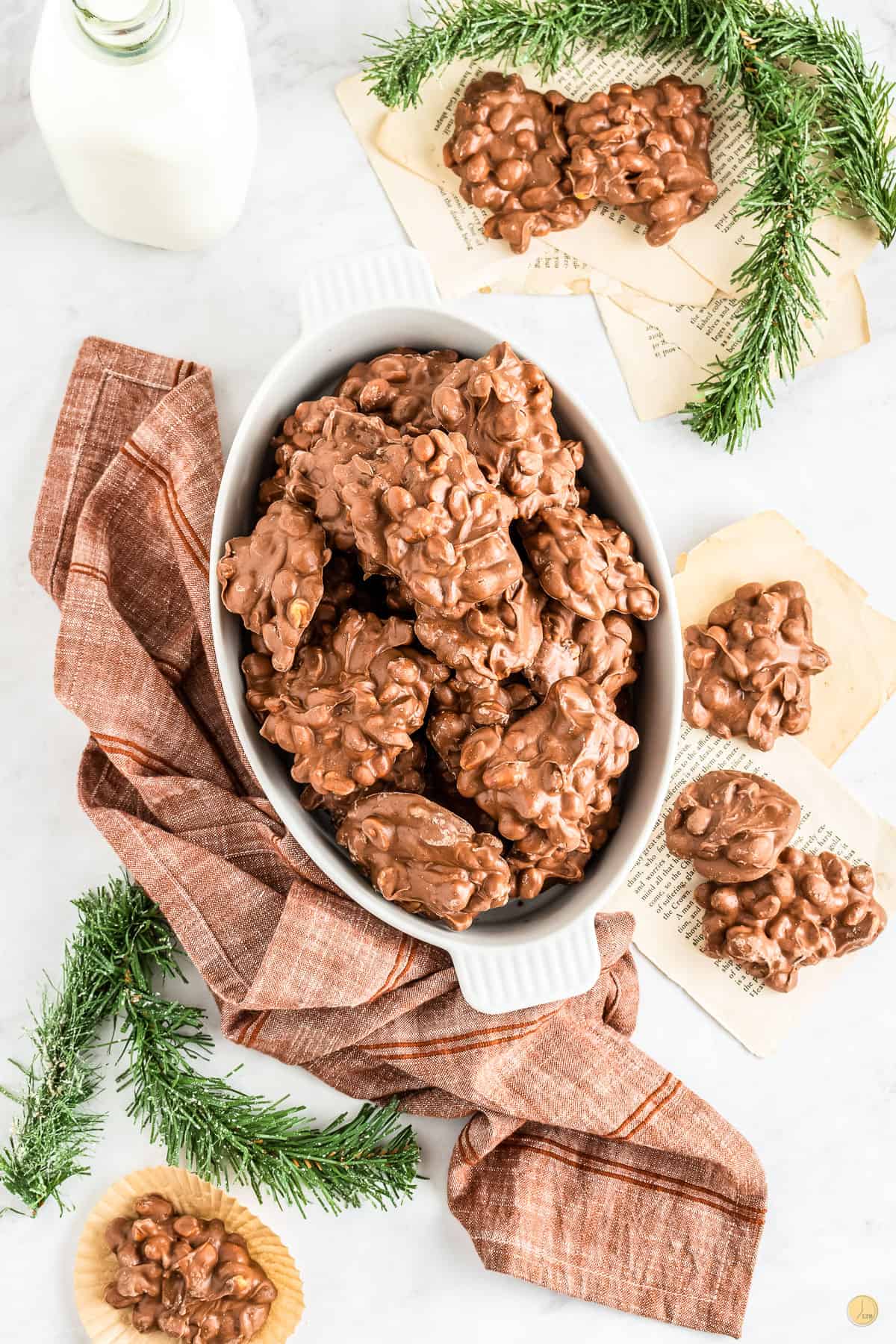 HOW DO YOU STORE PEANUT CLUSTERS?
Crockpot peanut clusters can be stored in an airtight container at room temperature for up to 2 weeks.
WHAT DO PEANUT CLUSTERS TASTE LIKE?
Salty crunchy peanuts are held together by a deliciously velvety, melt-in-your-mouth chocolate peanut butter mixture. They are truly the perfect combination of sweet and salty!
ARE PEANUT CLUSTERS GOOD FOR YOU?
Out of all the sweet treats you can enjoy, peanut clusters can be good for you in moderation.
Peanuts and peanut butter are an excellent source of protein and chocolate, depending on how dark of a chocolate you use, contain healthy antioxidants.
DOES ALMOND BARK CONTAIN NUTS?
No, contrary to its name, almond bark doesn't actually contain almonds or nuts of any kind.
It's actually a vanilla flavored candy coating, commonly used to coat nuts and other candy creations.
HOW LONG CAN YOU FREEZE PEANUT CLUSTERS?
Peanut Clusters can be stored in a freezer safe bag up to 1 month after they are completely solid.
When ready to eat, thaw in the refrigerator. Do not thaw at room temperature otherwise condensation will form.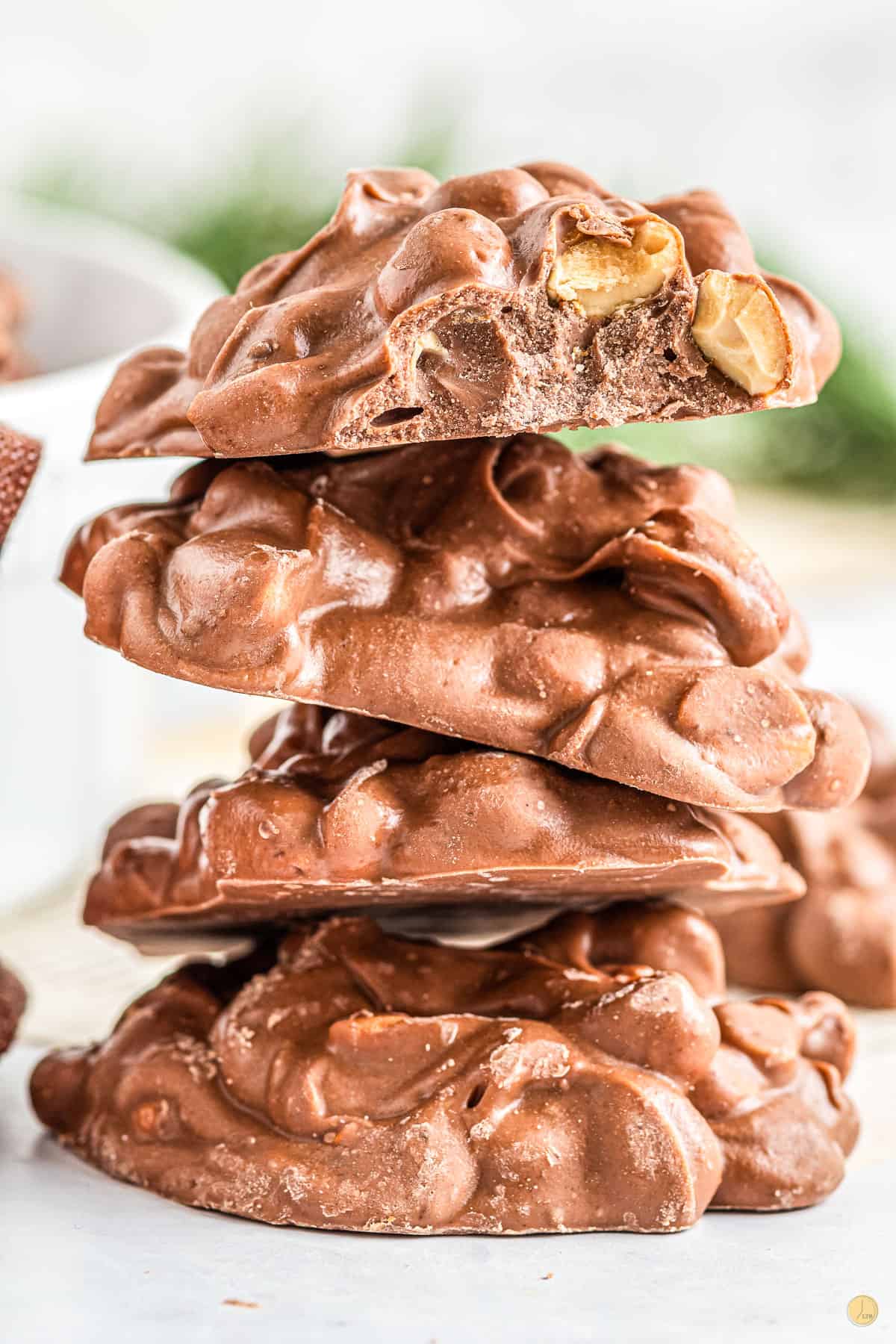 TIPS FOR NO LEFTOVERS
Be sure to stir the mixture every 15-20 minutes once everything starts to melt otherwise it can burn against the edges of the crockpot if left too long. Be sure to get the edges and the bottom.
If the mixtures does scorch slightly on the edges of the crockpot, scrap down, and stir into the mixture. Doing this will not changes the flavor of the candy.
Almond bark is a candy coating similar to melting chocolate.
If the entire batch scorches in the crockpot, try mixing everything together and test. If the candy tastes burns, I would recommend starting over.
I recommend portioning out 2-3 tablespoons, either with spoons or a cookie scoop, for each cluster but feel free to make as small or large as you like.
Peanut butter can be completely omitted without effecting the candy.
Scoop into cupcake liners for easier serving.
Sprinkle with sea salt for even more sweet and salty flavor!
Biscoff butter would be a nice substitution if you prefer the buttery, brown sugar, spice flavor of this cookie butter instead of peanut butter.
Cook time my vary slightly with older slow cooker or higher powered models.
If you love this recipe as much as I do, please write a five-star review in the comment section below (or on Pinterest with the "tried it" button – you can now add pictures into reviews, too!), and be sure to help me share on facebook!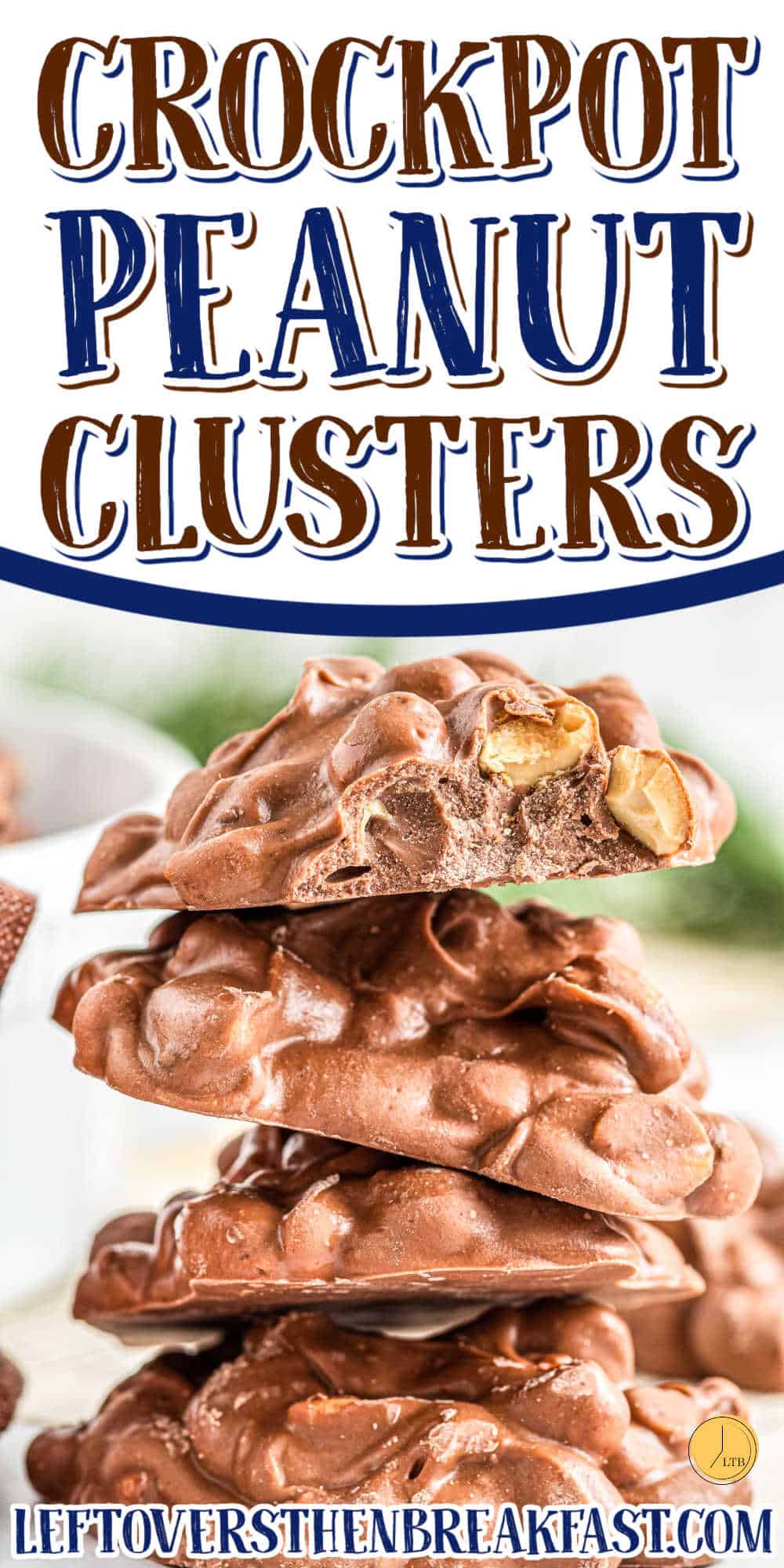 This easy-to-make Crockpot Peanut Clusters Recipe, also known as Crockpot Christmas Crack, is made with just 6 ingredients, 10 minutes of prep time, and is the perfect holiday edible gift for guests of all ages!
MORE EASY RECIPES
Welcome to #CandyFudgeFavorites Day hosted by Jennifer from Take Two Tapas! It's the holidays and we are celebrating the holiday tradition of making candy and fudge!
Join me and my fellow bloggers as we share our favorite holiday candy and fudge recipes today. I know you will see some old favorites and I hope you find some new ones!
@LeftoversThenBreakfast.com. Content and photographs are copyright protected. Sharing of this recipe is both encourages and appreciated. Copying and/or pasting full recipes to any social media is strictly prohibited.