These homemade garlic knots are extra tender and fluffy, and topped with a flavorful garlic herb mixture. Made with just 4 ingredients and ready in 15 minutes, these are the perfect appetizer or side to almost any main dish!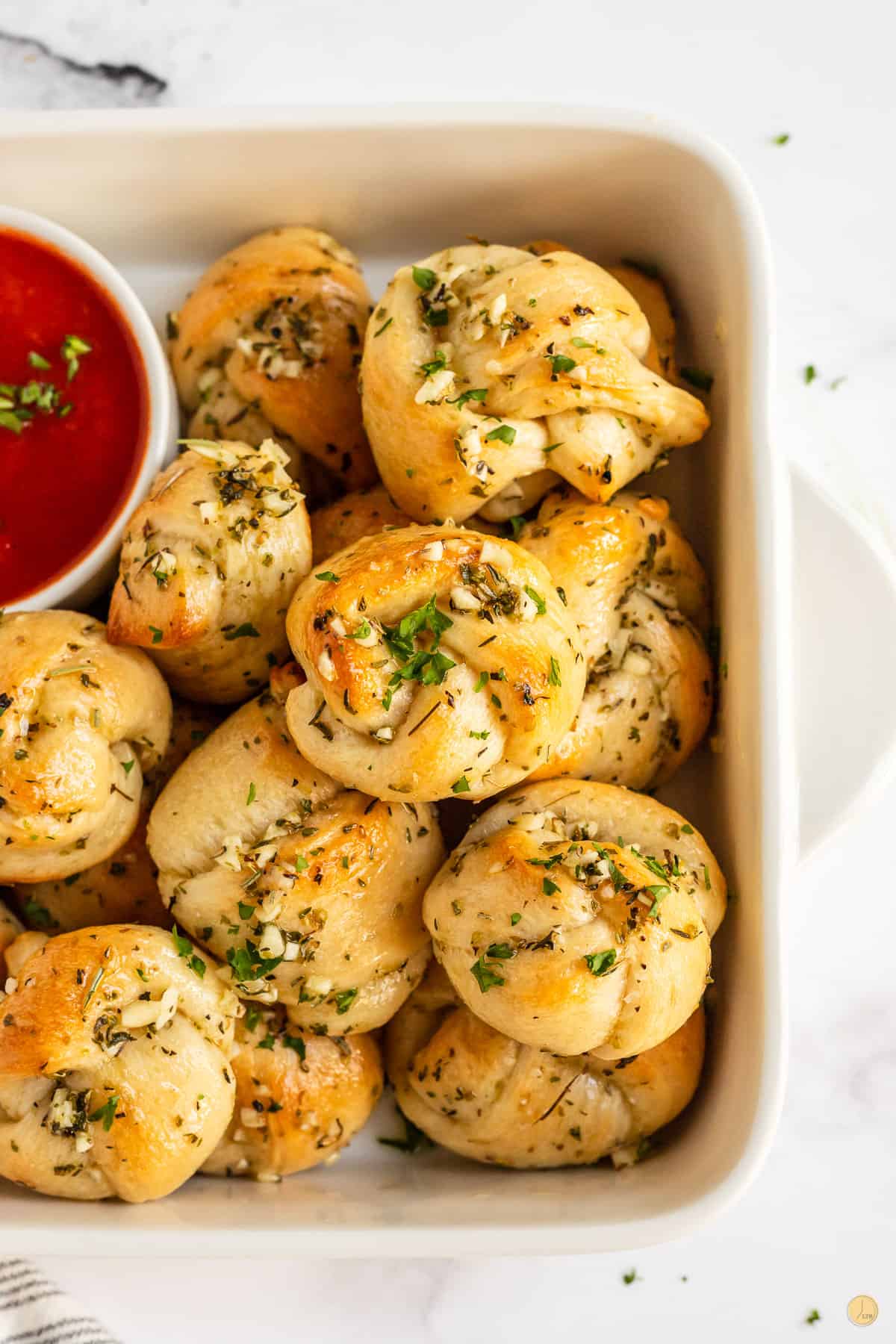 If you'd rather skip my essential cooking tips and tricks and get straight to this delicious recipe – simply scroll to the bottom of the page where you can find the printable recipe card.
There is nothing better than a hot tender roll straight from the oven. And when you throw on an Italian garlic oil mixture you have one melt-in-your-mouth delicious little bit! That is exactly what these homemade garlic knots are: a tantalizing flavor loaded little baked treat!
And if you are someone who isn't comfortable with baking with yeast, no worries! These homemade garlic knots are made with store bought pizza dough which makes them oh-so-easy to make and come together in a matter of minutes.
But really, if the smell of fresh rolls cooking in the oven isn't mouthwatering enough, the aroma of the fresh garlic oil warming on the stovetop while the knots are baking makes it nearly impossible to wait for them to be finished.
And if you're like me, you may be tempted to snatch a knot or two as soon as they come out of the oven, but trust me, spend the extra few minutes coating them in that garlic oil. Then give them a few seconds to absorb all that Italian garlicky goodness. I know it's hard to wait but trust me, you'll be so happy you did!
ARE GARLIC KNOTS A NEW YORK THING?
Garlic knots originated in Brooklyn pizzerias in the 1940s as a means to use up the left over dough scraps. While garlic knots are primarily found in pizzerias around New York City, these tasty garlic bread substitutes have made their way into the hearts of all around the country!
REASONS YOU WILL LOVE THEM
just 4 ingredients
tender and fluffy
they freeze beautifully
no waiting for the dough to rise
no messing with yeast
This post may contain affiliate links. As an Amazon Associate, I earn from qualifying purchases. Read my disclosure policy here.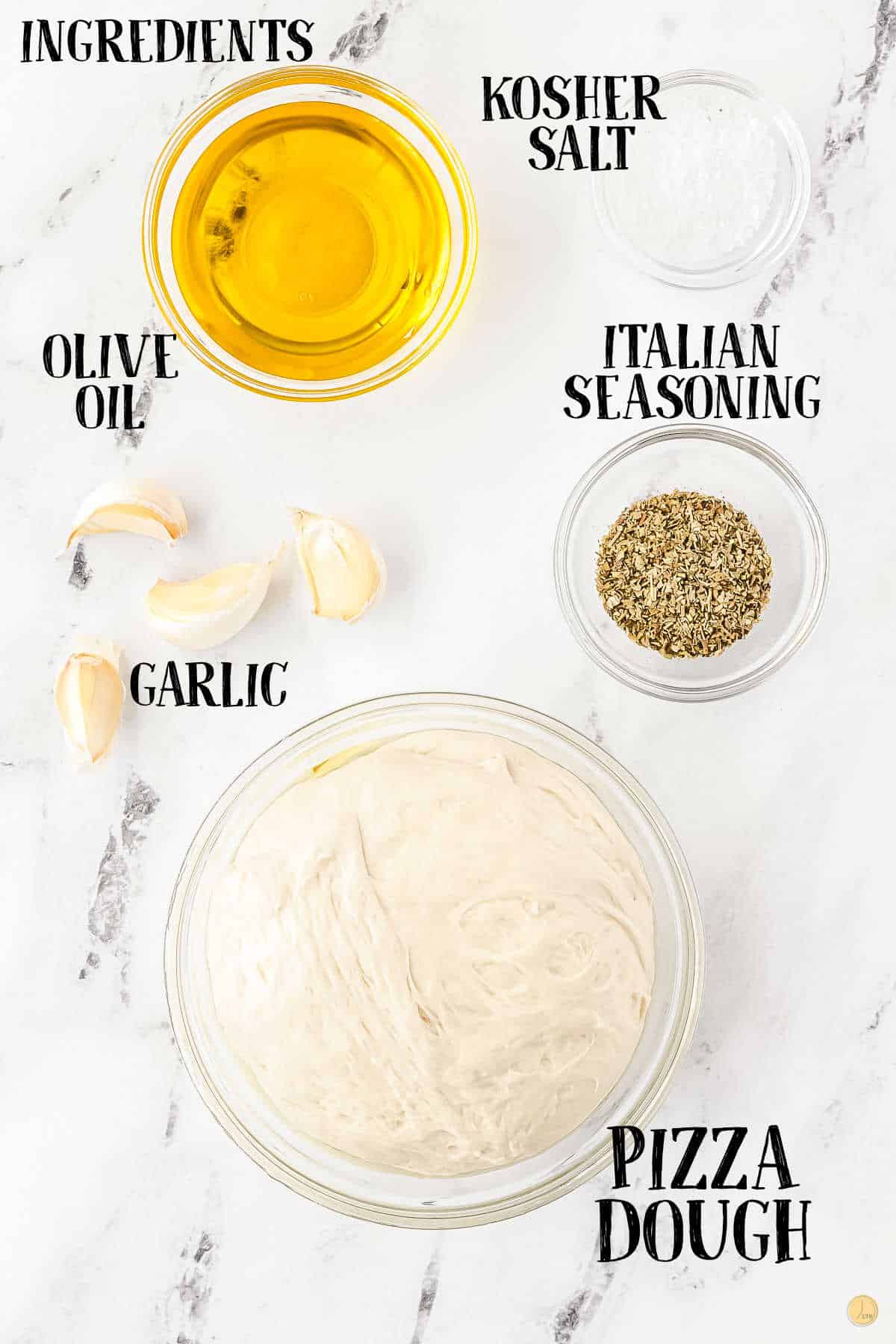 INGREDIENTS FOR GARLIC KNOTS RECIPE
pizza dough
olive oil
garlic
Italian seasoning
Pizza dough – I like the pre-made pizza dough in the refrigerated section because it rolls out into a rectangle and is easy to portion. But you can also use breadstick dough if you find it. My local market sells pizza dough in the bakery department and it will last for a few days in the fridge.
Olive oil – Use extra virgin olive oil for the best flavor. If you prefer you can substitute melted butter!
Garlic – Fresh minced garlic is the best but you can also use the jarred minced garlic. I don't recommend using garlic powder as the flavor isn't as robust as with fresh garlic.
Italian seasoning – I like to use a homemade Italian seasoning but you can also use pizza spices or your own mixture of oregano, rosemary, basil, and other spices you enjoy.
Looking for more comfort food? Follow LTB on Pinterest!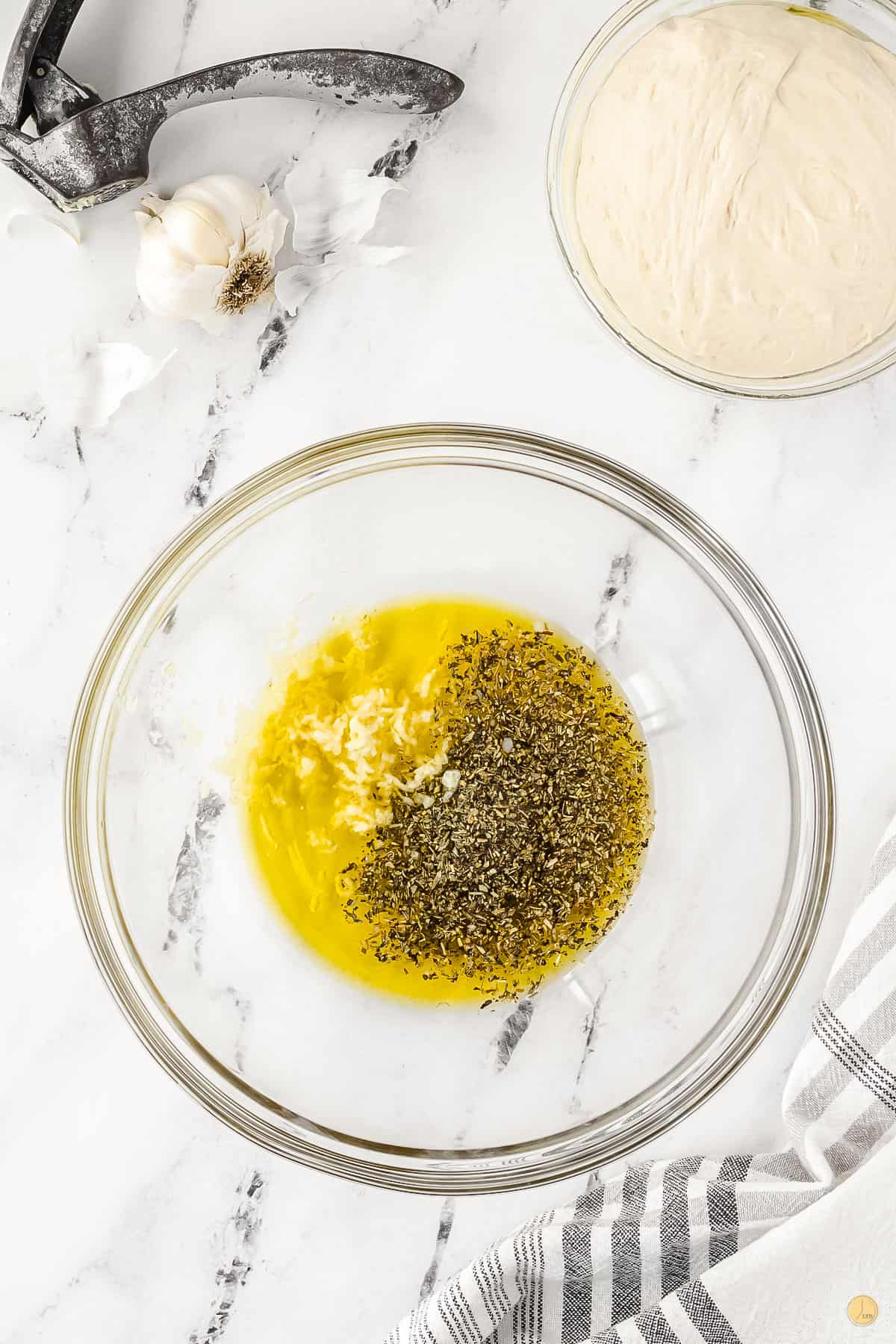 HOW TO MAKE PIZZA DOUGH GARLIC KNOTS
ONE: Preheat the oven to 375F. Line baking sheets with parchment paper or a silicone baking mat.
TWO: Mix the garlic and oil mixture in a small bowl and set aside to allow the flavors to mix.
THREE: Roll out the pizza dough on a lightly floured surface and cut into 16 pieces. Tie them into knots, much like a pretzel, and place on the prepared baking sheet. Sprinkle with salt.
FOUR: Bake the knots for 13-15 minutes or until golden brown. Remove from the oven and place in a large bowl. Pour the garlic oil mixture over the warm knots and toss to coat. Serve warm and enjoy.
For the full recipe and detailed baking instructions, please see the recipe card at the end of this post.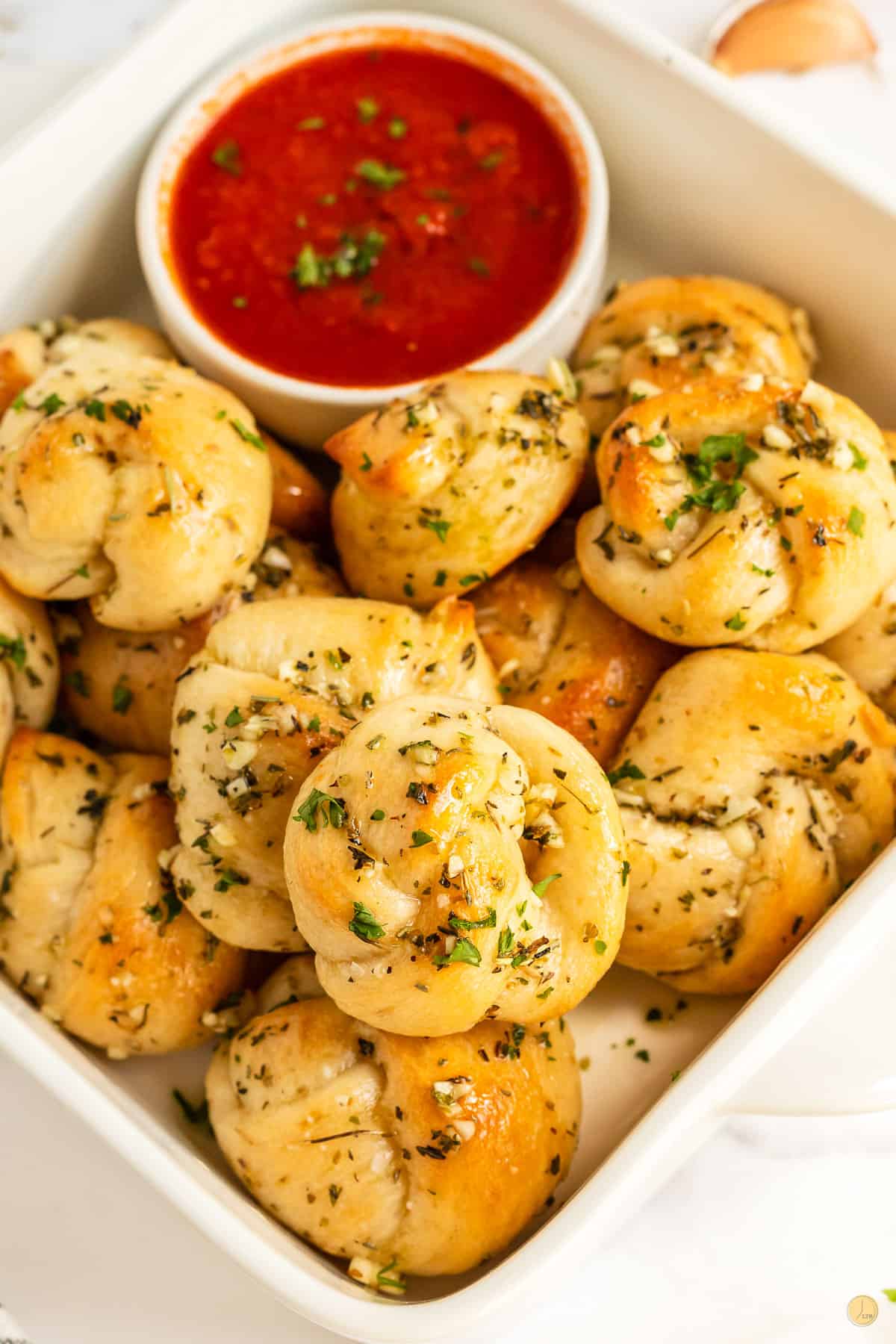 HOW TO TIE GARLIC KNOTS
Tying garlic knots is easier than you think. If you can tie your shoe, you can shape garlic knots.
Shape pizza dough: Shape the dough into a small rectangle (approximately 8″ x 12″)
Cut into strips: Cut the dough into 8 1″ thick strips. Then cut each strip in half so you have 16 total pieces.
Roll each strip into a 6-8″ rope.
Tie the rope into a knot. You can tuck the ends underneath the knot or leave them out, it's totally up to you.
CAN I FREEZE THEM?
Yes, they can be frozen. However; I recommend par-baking and then placing in freezer. If you plan on freezing, bake garlic knots at 275 degrees. With cooking at this low temperature, the knots are technically cooked all the way through, but will look pale and underdone.
Once cooled, place in a freezer safe storage container or freezer ziplock bag. When you're ready to enjoy, take them out of the freezer, bake until golden brown, coat in garlic oil mixture, serve, and enjoy!
Par-baking will ensure the flavor and texture of the knots is fresh, tender, and fluffy because you aren't browning twice.
WHAT TO SERVE WITH GARLIC KNOTS
Garlic knots are the perfect side to any salad or main dish! I love serving with Baked Rigatoni Pasta or spaghetti and meatballs. And of course, you can always serve as an appetizer before pizza!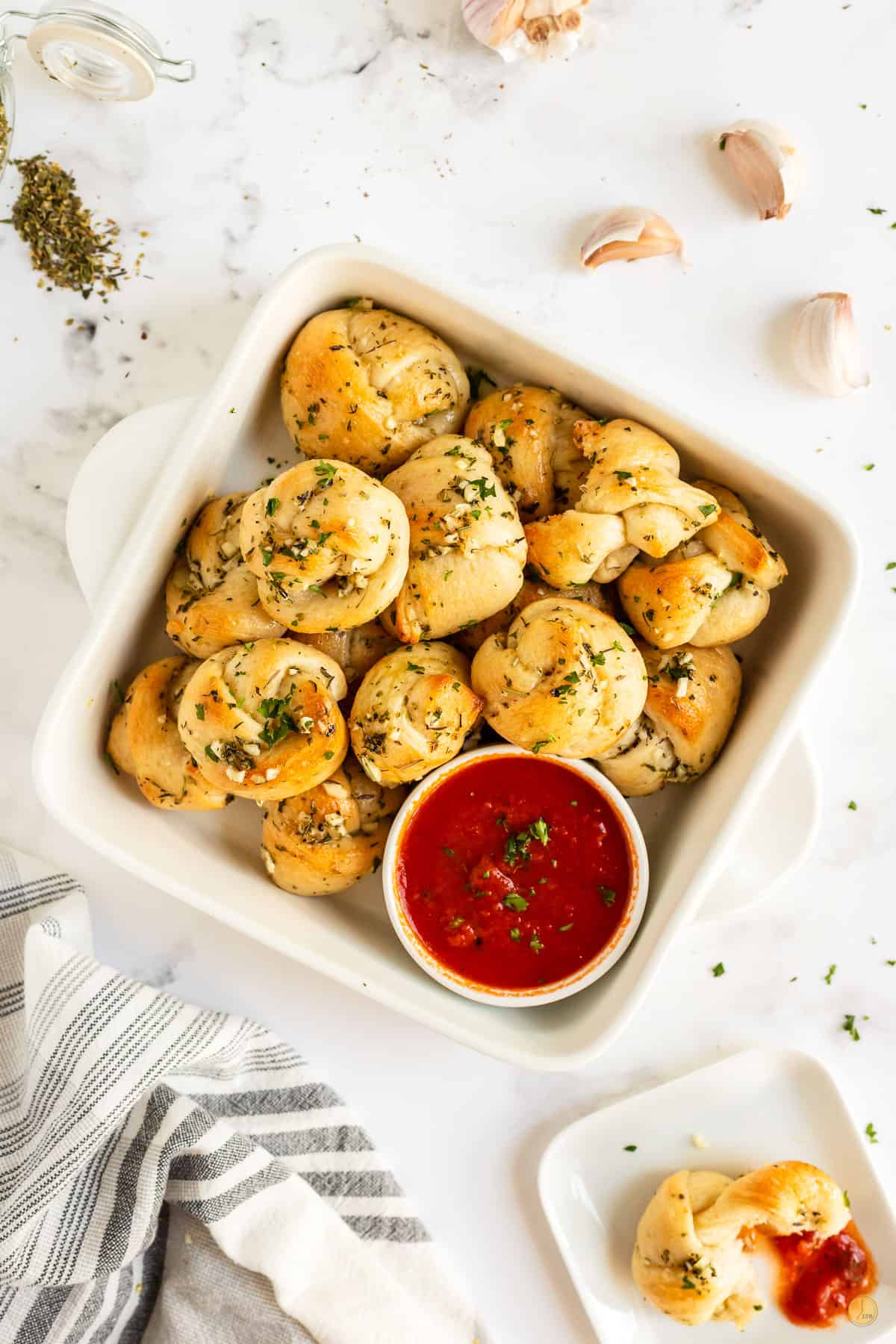 TIPS FOR NO LEFTOVERS
Homemade seasoning is best but use your favorite mix of Italian spices.
Sprinkle with salt before baking so the salt will stick to the dough better.
Toss the garlic knots in the oil mixture when they are hot so they absorb the flavors. If you baked them earlier, warm them in the oven for a few minutes before tossing for best results.
Use melted butter in place of the olive oil for a richer flavor. Bake as usual and pour the butter mixture over the warm knots.
Save leftover garlic oil/garlic butter in the fridge and toss it over some hot pasta for a quick meal!
If you love this recipe as much as I do, please write a five-star review in the comment section below (or on Pinterest with the "tried it" button – you can now add pictures into reviews, too!), and be sure to help me share on facebook!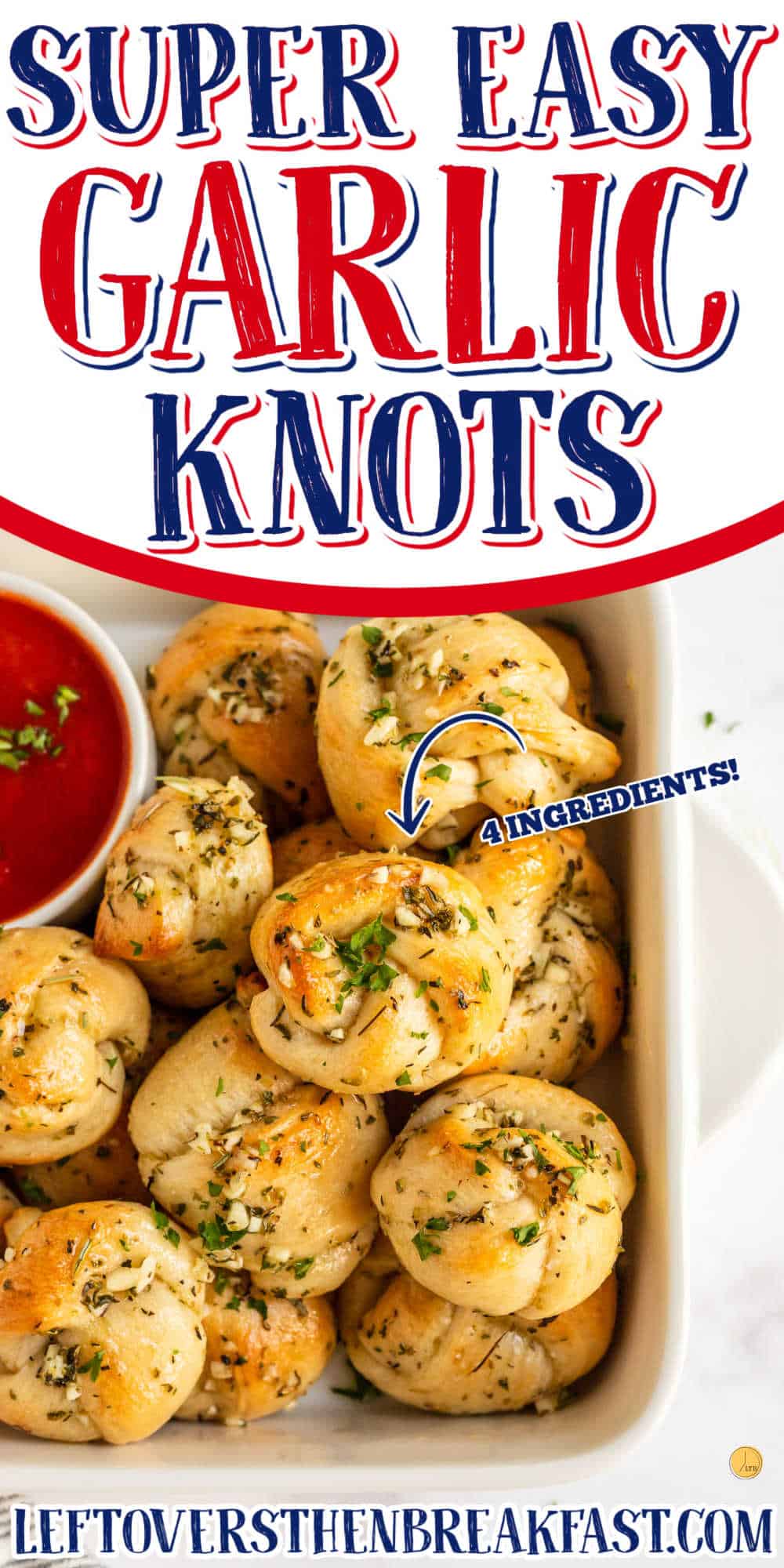 These homemade buttery garlic knots are the perfect side to any main dish. Easy to make, freezer friendly, and oh-so-addicting there's no way you're going to be able to eat just one!
MORE DELICIOUS DISHES
@LeftoversThenBreakfast.com. Content and photographs are copyright protected. Sharing of this recipe is both encourages and appreciated. Copying and/or pasting full recipes to any social media is strictly prohibited.
{Recipe originally posted on TakeTwoTapas.com, post and notes are my own}