Peach Dump Cake is just THREE INGREDIENTS! In no time you are digging into this SWEET, MOIST, & TENDER dessert perfect for any occasion.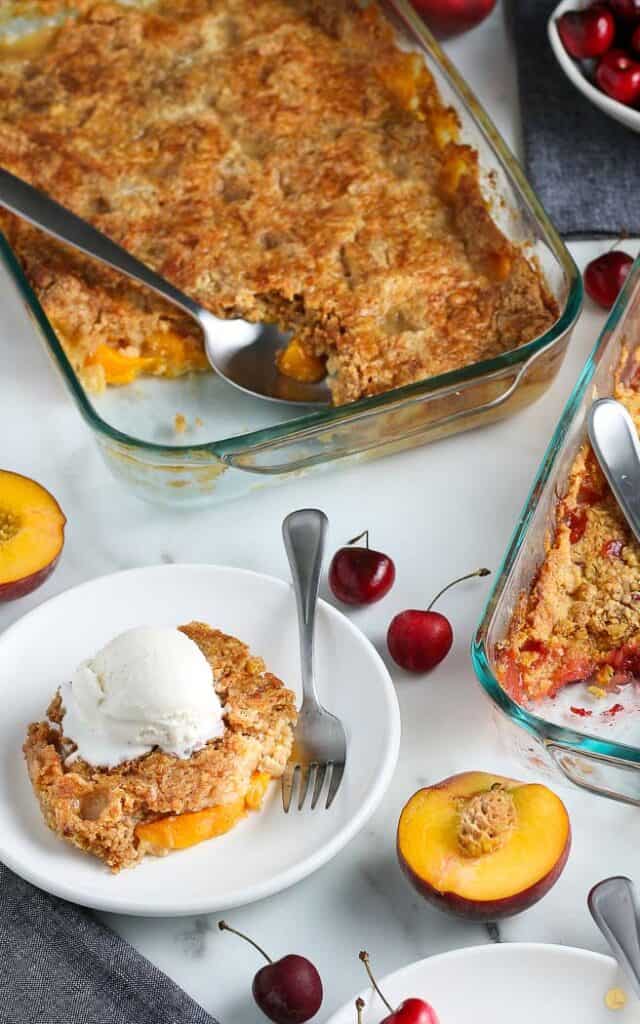 If you'd rather skip my essential cooking tips and tricks and get straight to this delicious recipe – simply scroll to the bottom of the page where you can find the printable recipe card.
What makes this dump cake different is that I add apple pie spice to mine! Apple pie spice has the perfect combination of spices to bring out the flavor of the peaches!
Have you heard of a dump cake? It's super easy and similar to peach cobbler.
So similar that they are often confused for one another.
What's the difference between a dump cake and a cobbler?
A cobbler is a dish made with fruit on the bottom and a dough topping. Usually a biscuit-like topping. The topping is slightly savory, unlike traditional pie crust.
The topping is made by mixing the batter or dough together and adding in dollops on top of the fruit.
A dump cake is made by literally dumping the ingredients in a baking dish. Then baking it. NO MIXING REQUIRED!
This post may contain affiliate links. As an Amazon Associate, I earn from qualifying purchases. Read my disclosure policy here.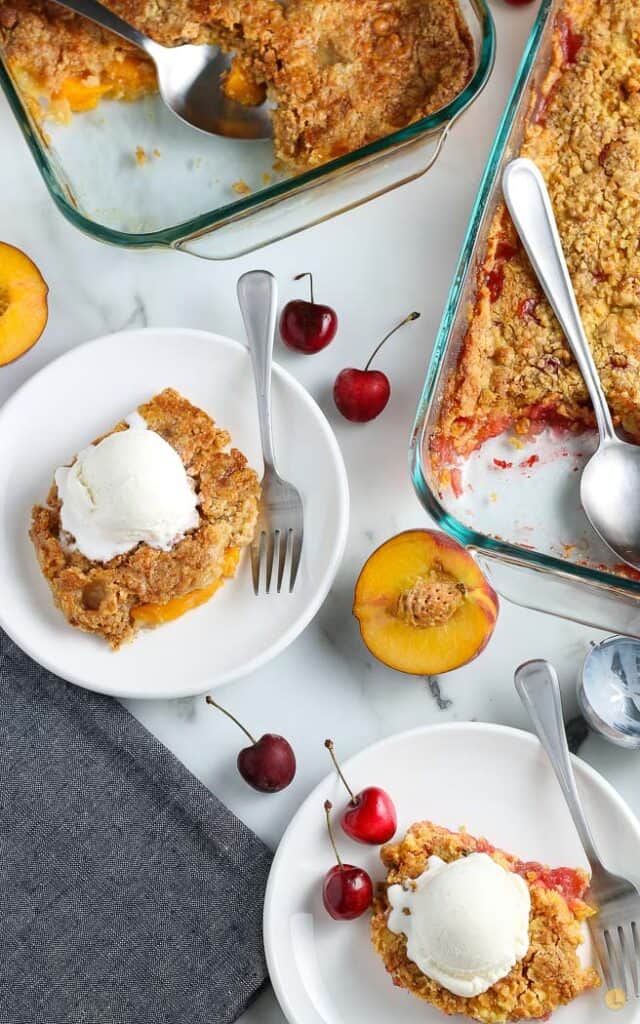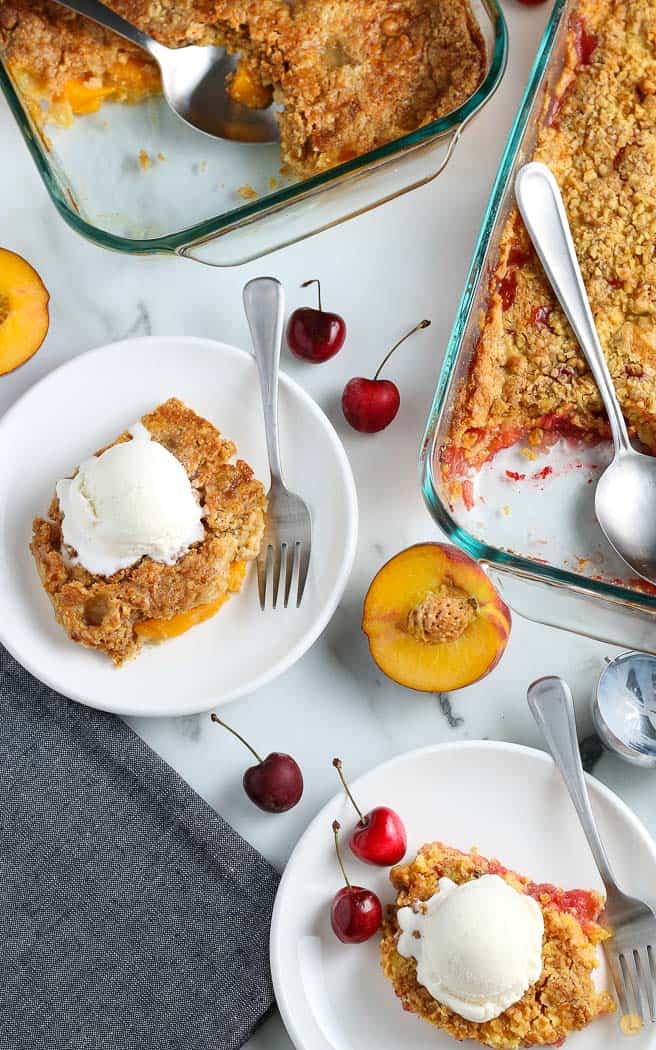 How do dump cakes work?
If you don't mix it, how does it cook right?
The juice from the fruit bubbles up from the bottom, the butter melts down from the top, mixes with the cake mix (those bubbles are really doing their job), and bakes a great cake!
Did I mention that it only uses 3 ingredients?!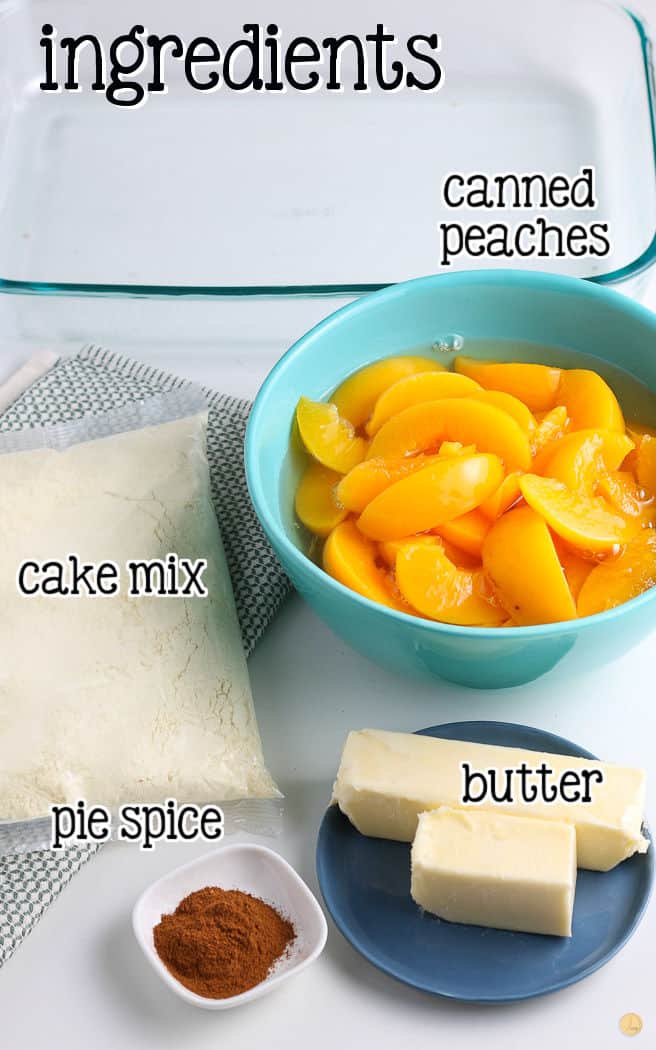 Ingredients
canned peaches
box cake mix
butter
pie spice *optional*
Can I use fresh fruit?
If you prefer to use fresh peaches, slice up the fruit and sprinkle with a tablespoon of sugar. Let sit for 10-15 minutes until the fruit gets juicy. Then add the peaches and juice to the baking dish.
You can use melted butter but I like keeping my butter cold, which makes it easier to slice. The slices make it easy to evenly place butter to cover the cake all over. This makes the cake golden brown all over!
Using a yellow cake mix or white cake mix makes no difference. If you prefer a white cake mix, you can add a teaspoon of vanilla extract to the peaches.dump cake with canned peaches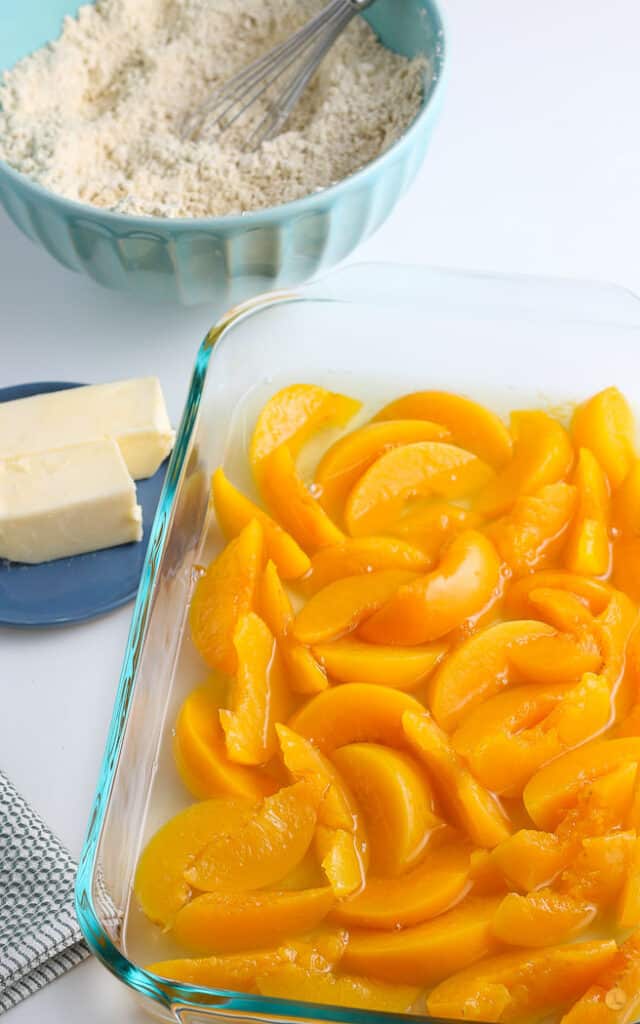 How to make a peach dump cake
STEP ONE: Preheat oven to 350 degrees and prep a oven safe 9×13 baking dish with cooking spray.
STEP TWO: Add undrained peaches to baking dish. Sprinkle dry cake mix evenly over the fruit.
STEP THREE: Slice butter sticks into thin slices and place over the top of the cake mix covering as much of the top as possible.
STEP FOUR: Bake for 45-50 minutes or until the peaches are bubbly and the top is lightly browned. Remove from the oven and cool slightly. Serve warm with vanilla ice cream or whipped topping.
Looking for more comfort food? Follow LTB on Pinterest!
Do you stir a dump cake?
No you don't! The best part of this recipe is that you just "dump" all the ingredients in the dish and bake. No stirring required!
Should a dump cake be refrigerated?
If you are planning on keeping it for more than 2 hours, or if there is any leftover after you have enjoyed some, keep the dump cake refrigerated for up to 3 days.
How do I reheat it?
Microwave individual servings or if reheating a large portion, place the baking dish int a 350F oven for 5-10 minutes or until warmed through.
Can I freeze it?
Dump cakes, once baked and cooled, can be frozen in a freezer safe dish, for up to 6 months. Thaw and reheat when ready to serve.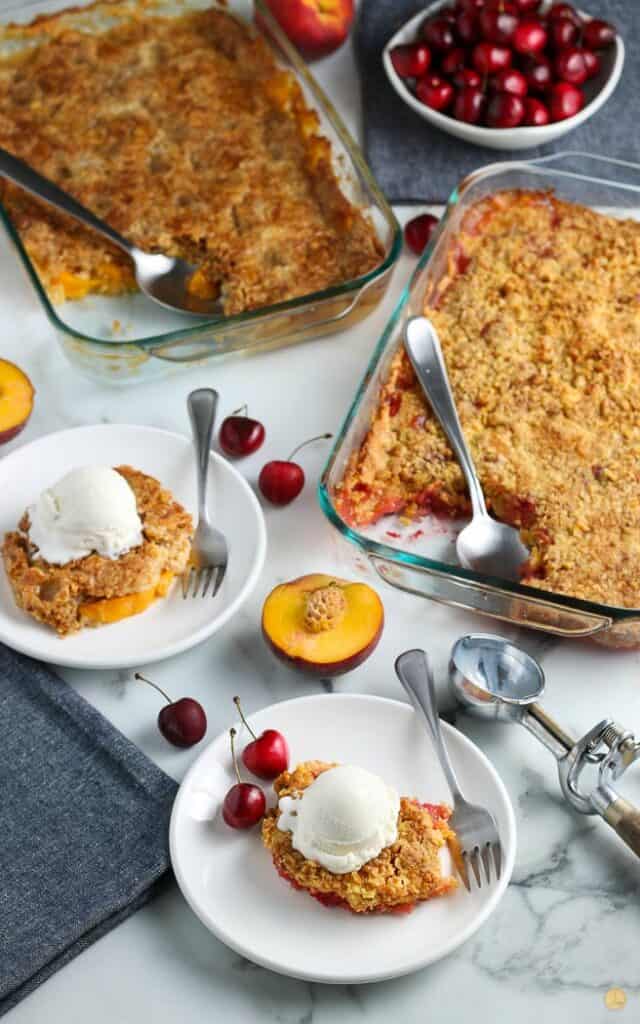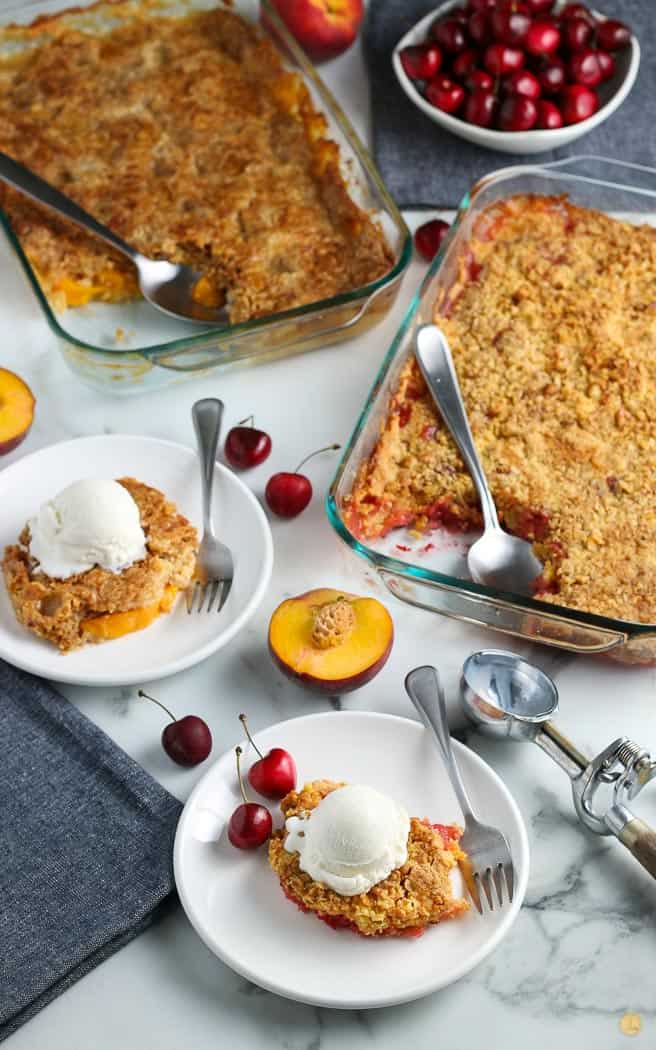 Tips for No Leftovers
Use canned peaches with light syrup. Using heavy syrup might cause the cake to burn around the edges.
Slice the butter with a fork or pastry cutter for even slices.
Spray the dish with nonstick spray to keep the crust from sticking around the edges.
This easy peach dump cake recipe made with canned peaches is similar to a cobbler but even easier to make. You are just 3 ingredients away from your new favorite dessert!
If you love this recipe as much as I do, please write a five-star review in the comment section below (or on Pinterest with the "tried it" button – you can now add pictures into reviews, too!), and be sure to help me share on facebook!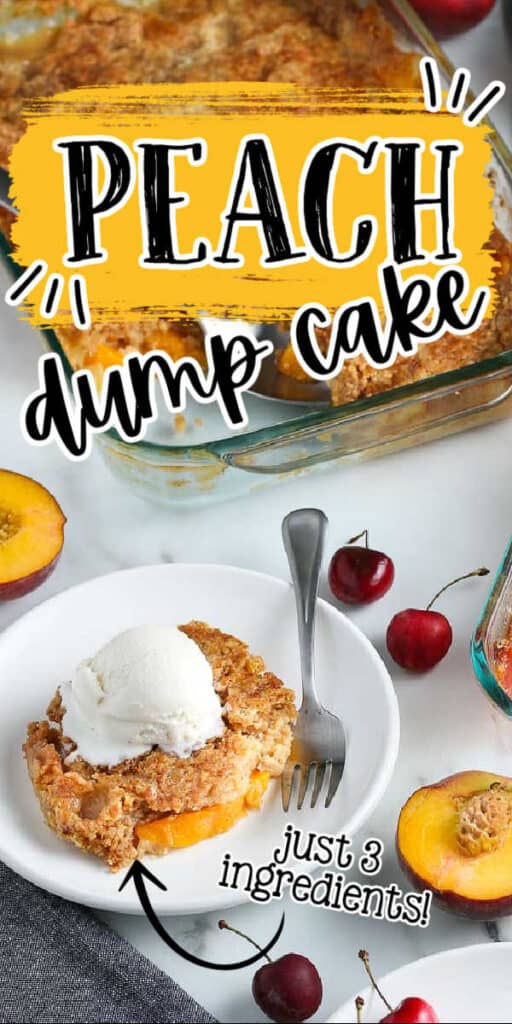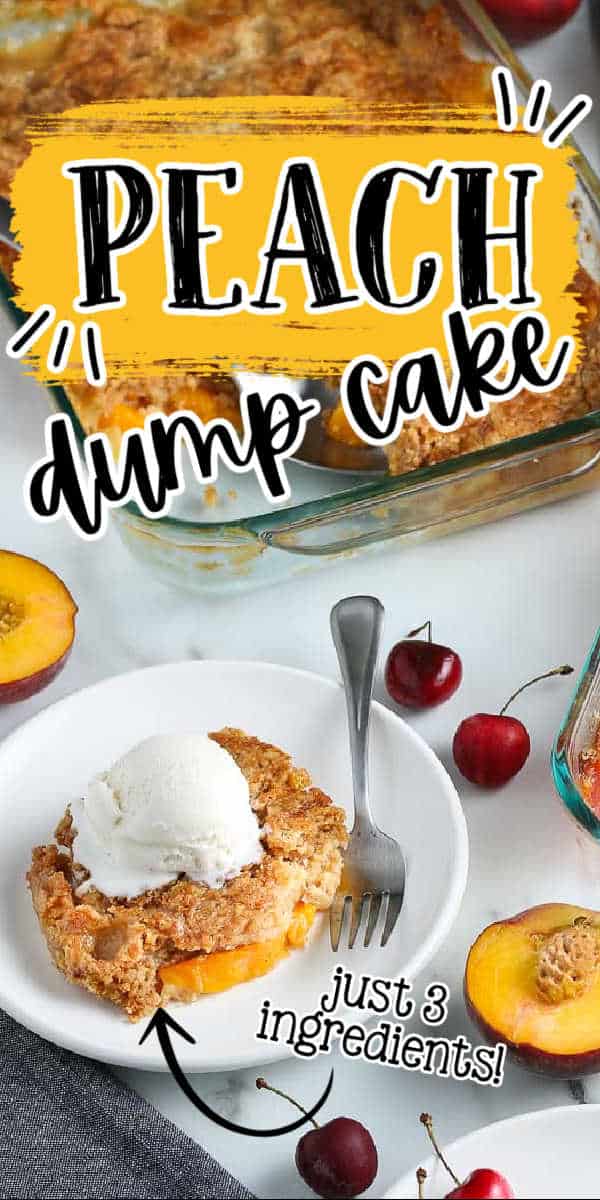 Other easy desserts to make
Easy Peach Dump Cake Recipe
@LeftoversThenBreakfast.com. Content and photographs are copyright protected. Sharing of this recipe is both encourages and appreciated. Copying and/or pasting full recipes to any social media is strictly prohibited.