Stained glass cookies are BUTTERY sugar cookies with BRIGHTLY colored glass centers. Not only DELICIOUS but make BEAUTIFUL and edible holiday ornaments!
SUPER EASY to make and so BEAUTIFUL to look at! Make them for friends, family, coworkers, and neighbors.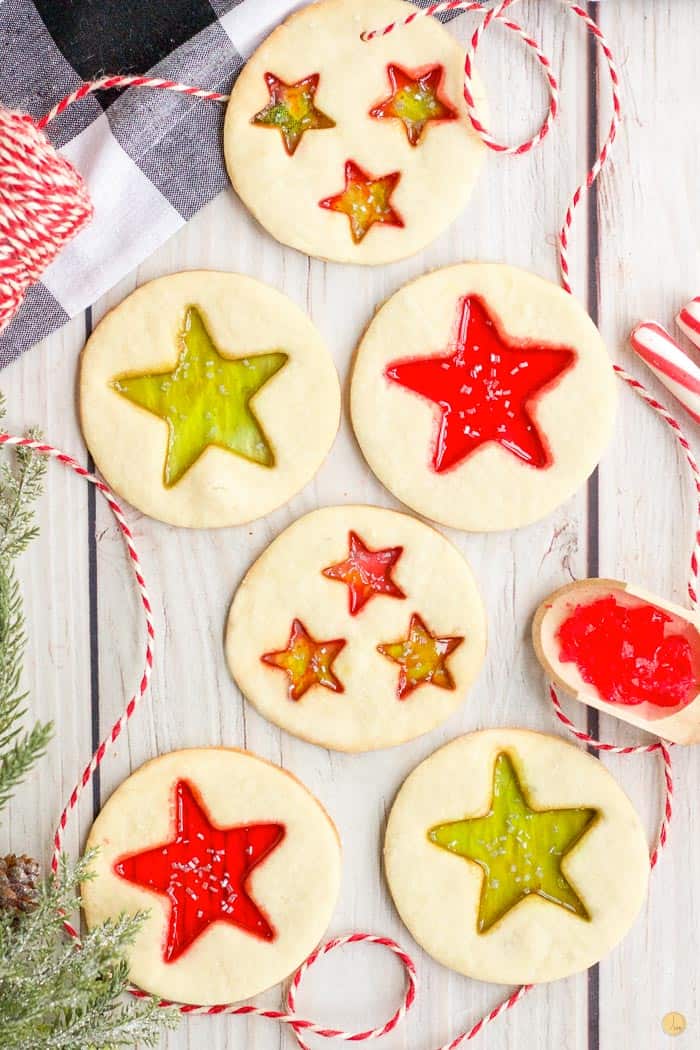 If you'd rather skip my essential cooking tips and tricks and get straight to this delicious recipe – simply scroll to the bottom of the page where you can find the printable recipe card.
STAINED GLASS CHRISTMAS COOKIES
The holidays are for being with friends and family but they are also for
BAKING!!
The older I get the more I realize that I don't need "things" I just want to spend time with my loved ones. And eat a few thousand cookies!!!
And, as I'm not one for a single use item, a cookie that can also be used as an ornament or gift tag is even better!
These Stained Glass Cookies are just that. Show-stopping decorations, ornaments, gift tags, edible gifts, and best of all, DESSERT.
Think of how impressed Santa will be with these instead of the regular cookies you leave him. You might even get a bigger gift!
This post may contain affiliate links. As an Amazon Associate, I earn from qualifying purchases. Read my disclosure policy here.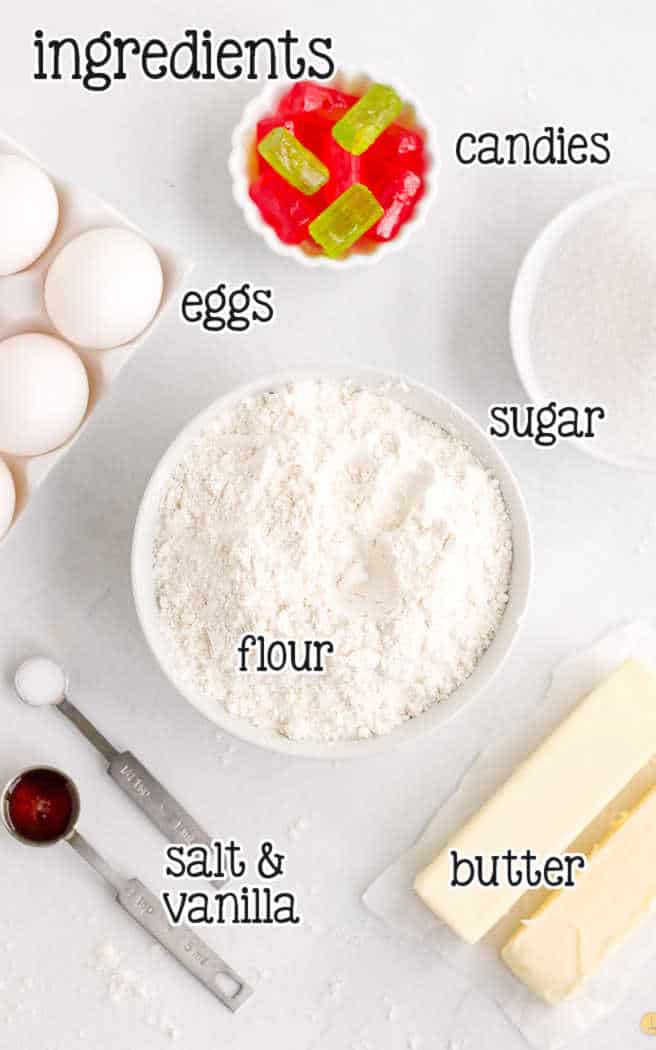 INGREDIENTS FOR JOLLY RANCHER COOKIES
flour
butter
sugar
eggs
vanilla
salt
You can also use store bought sugar cookie dough in a pinch!
Looking for more comfort food? Follow LTB on Pinterest!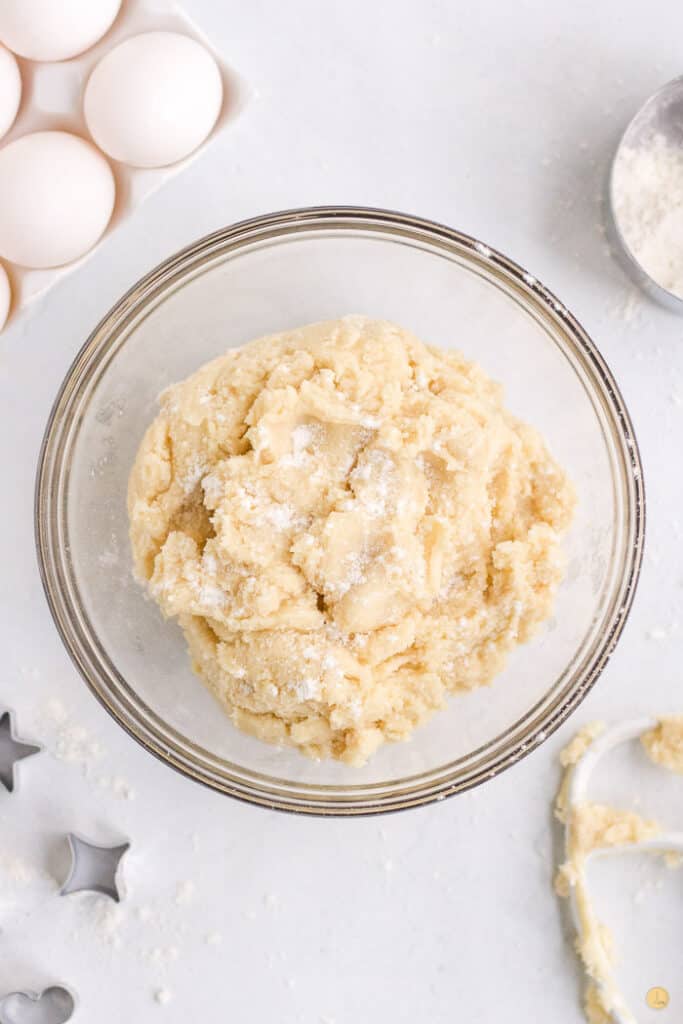 HOW TO MAKE STAINED GLASS WINDOW COOKIES
ONE: In a large bowl, cream together the butter and sugar with an hand or stand mixer on medium speed. Add the eggs, vanilla and salt and continue blending until thoroughly combined.
TWO: Slowly add the flour, mixing just until combined. Cover the dough and place in the refrigerator for one hour. While the dough is chilling, preheat the oven to 350 degrees and line a baking sheet with parchment paper.
THREE: Remove dough from the refrigerator and roll out onto a floured surface about a half of an inch thick. Cut into desired shapes, being sure to cut out hollow areas to place candy. Place shapes onto a baking sheet lined with parchment paper.
FOUR: Unwrap the hard candies and place into a plastic bag. Crush into small pieces. Place the candy in the hollowed out areas.
FIVE: Bake for 10-12 minutes or until the cookies are set and the candy centers are melted. Cool cookies completely before removing from the baking sheet.
For the full recipe and detailed baking instructions, please see the recipe card at the end of this post.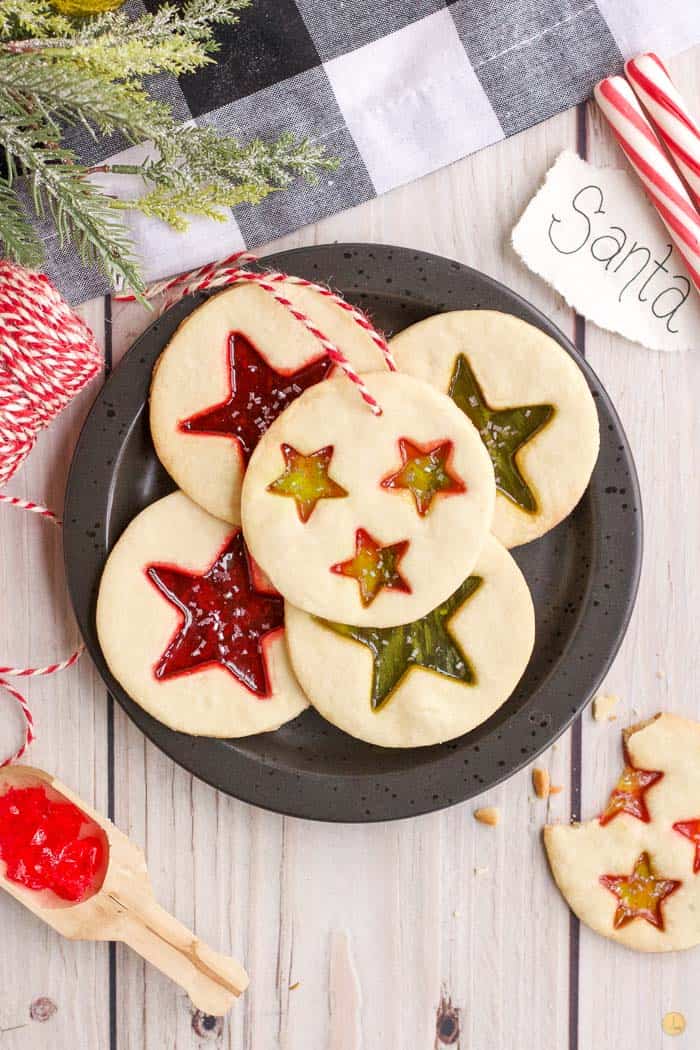 CAN I USE DIFFERENT SHAPES?
I love circles with stars in them but feel free to use your favorite shapes and cutters. Just be sure to leave enough of the cookie dough in place to hold them together.
Using a few smaller shapes is good for making sure you use all the dough and not throwing away too many scraps.
CAN I USE DIFFERENT CANDIES?
Jolly Ranchers are the best but feel free to use other hard candies. Just try to stick to the clear ones. Hard candies like peppermint and butterscotch candies come out dull after you bake them.
HOW DO YOU MAKE STAINED GLASS WITH JOLLY RANCHERS?
Crush them with a kitchen mallet or rolling pin, but a food processor is the best. Whichever method you use, be sure to separate the candies by color so you have total control over how your colors look in the cookies.
Aside from the fun of melting Jolly Ranchers and other hard candies, these cookies will have all those fun flavors. Think of the crazy sour ones!
HOW DO YOU MELT JOLLY RANCHERS?
Make sure you get the candy crushed into the smallest pieces possible. The closer they are in powder form, the easier and faster they will melt. This keep the cookies from burning too.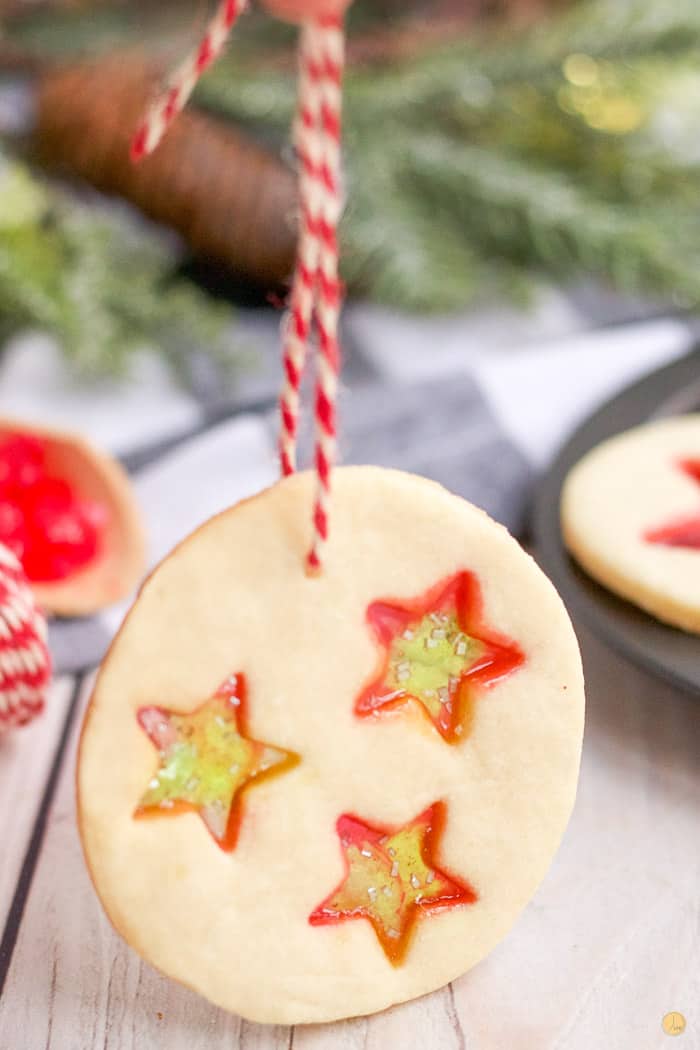 TIPS FOR NO LEFTOVERS
HANG: If you want to hang your cookies, make sure to poke the hole before you bake the cookies or you might break them trying to cut one after they are cooked. A straw works best for larger holes!
CANDY: I love the flavor of Jolly Ranchers but you can use any clear hard candy like life savers, lolly pops, or sanding sugar. Use a brush to remove any crushed candy on the cookies before baking. Make sure you keep the crushed Jolly Ranchers separated to keep the colors clean.
CHILL: Make sure the cookie dough is nice a chilled so they don't lose their shape and distort the candy. Roll them to equal thickness. I use this rolling pin because it has spacers.
BAKE: Only bake until they just start to brown. Too much longer and the candy will caramelize or burn. If there are bubbles in the candy when you pull the cookies out, immediately, but gently, pop them with a small pin.
COOL: Leave the cookies on the parchment paper or silicone mat to cool completely. If you move them too soon they will tear and the candy will stick as it will still be soft.
If it's humid outside, the candy might be a little tacky or take a while to completely harden. Be sure to keep an eye on the weather.
If you love this recipe as much as I do, please write a five-star review in the comment section below (or on Pinterest with the "tried it" button – you can now add pictures into reviews, too!), and be sure to help me share on facebook!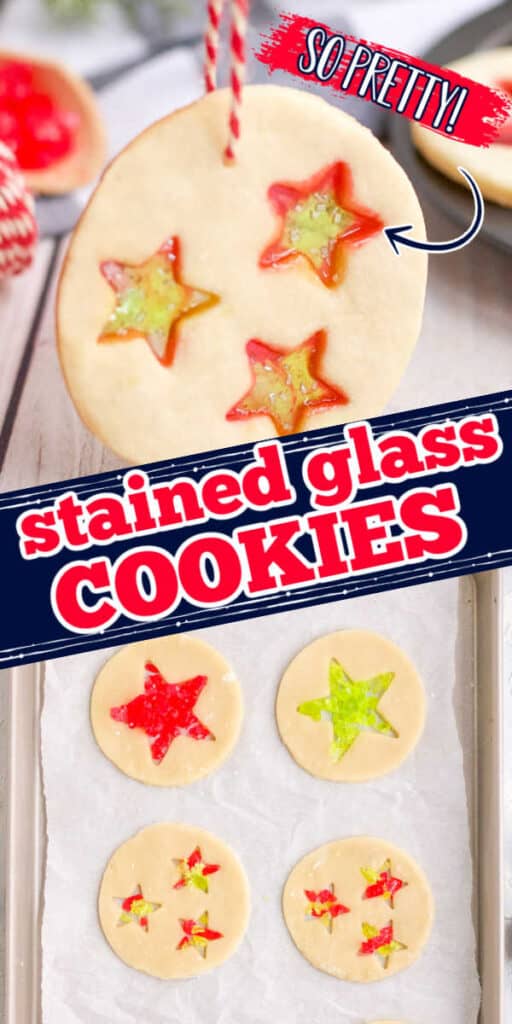 A gorgeous cookie, perfect for your cookie trays and sharing tins this year. Save a few for decorating the Christmas tree or hand in your windows!
MORE EASY COOKIE RECIPES
STAINED GLASS COOKIES RECIPES