Brussels Sprouts Slaw is a vibrant combination of shredded Brussels sprouts, crisp cabbage, fresh herbs, and a light and tangy dressing.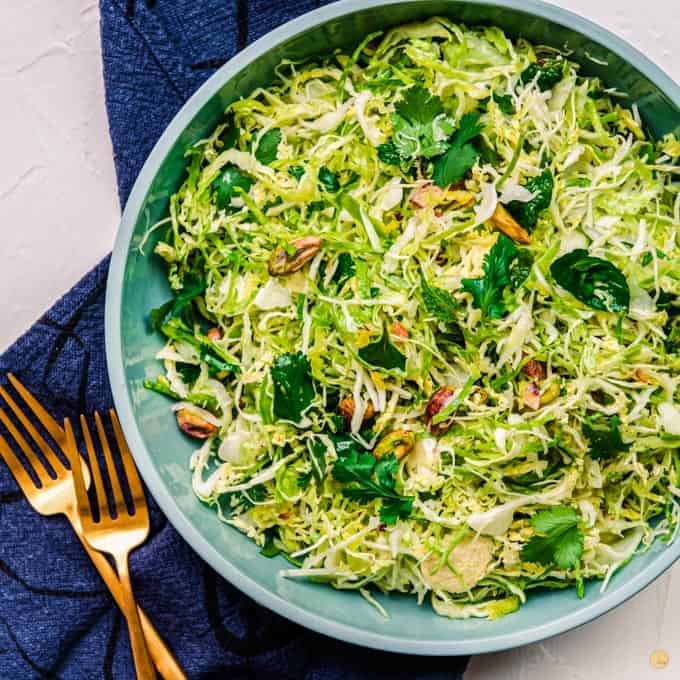 If you'd rather skip my essential cooking tips and tricks and get straight to this delicious recipe – simply scroll to the bottom of the page where you can find the printable recipe card.
There are so many fun things about this sprouts salad!
Aside from the incredible nutritional value of all the greens, it's the perfect side dish, or main dish if you're like me, for any occasion!
The vibrant, bright green colors, are so enticing and also all the different flavors and textures. This recipe sticks to the basic ingredients, which are so delicious on their own, but is also very adaptable.
Try different toasted nuts like almonds or pecans. Add in some dried cranberries or golden raisins for an additional tart flavor.
Of all the shaved Brussels sprouts recipes out there, this one is my favorite!
This post may contain affiliate links. As an Amazon Associate, I earn from qualifying purchases. Read my disclosure policy here.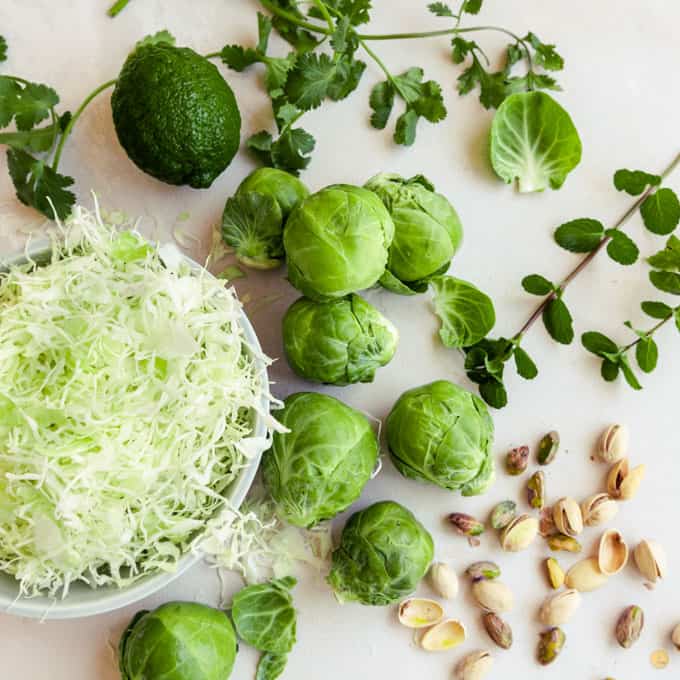 INGREDIENTS FOR SPROUTS SLAW
brussels sprouts
green cabbage
cilantro
mint
pistachios
dressing (recipe below)
Brussels sprouts – Make sure and get bright green sprouts with tight leaves. Shave them on a grater or make very thin slices with a sharp knife.
Green cabbage – Get a head with tight leaves or buy a bag of the pre-shredded for easier meal prep. I like purple cabbage in this too.
Cilantro – Be sure to rinse and dry the leaves. If you don't have cilantro, you can use parsley.
For the full recipe and detailed baking instructions, please see the recipe card at the end of this post.
Looking for more comfort food? Follow LTB on Pinterest!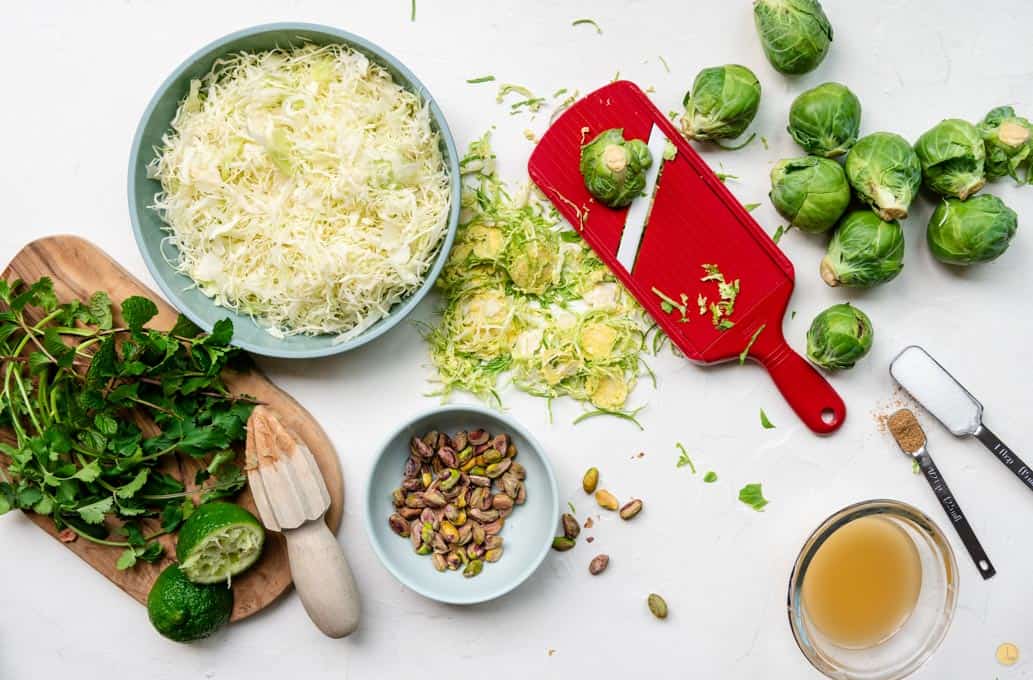 HOW TO MAKE BRUSSELS SPROUTS SLAW
ONE: Shred or shave the raw Brussels sprouts and the cabbage if not already done so. Set aside in a large bowl
TWO: In a small bowl or dressing container, mix the olive oil, apple cider vinegar, sugar, lime juice, coriander, and salt and pepper. whisk or stir to combine evenly.
THREE: Roughly chop the fresh mint and cilantro. Add to the cabbage and sprouts.
FOUR: Add the dressing tot he greens, tossing to combine the dressing evenly. Refrigerate until ready to serve. Enjoy!
For the full recipe and detailed baking instructions, please see the recipe card at the end of this post.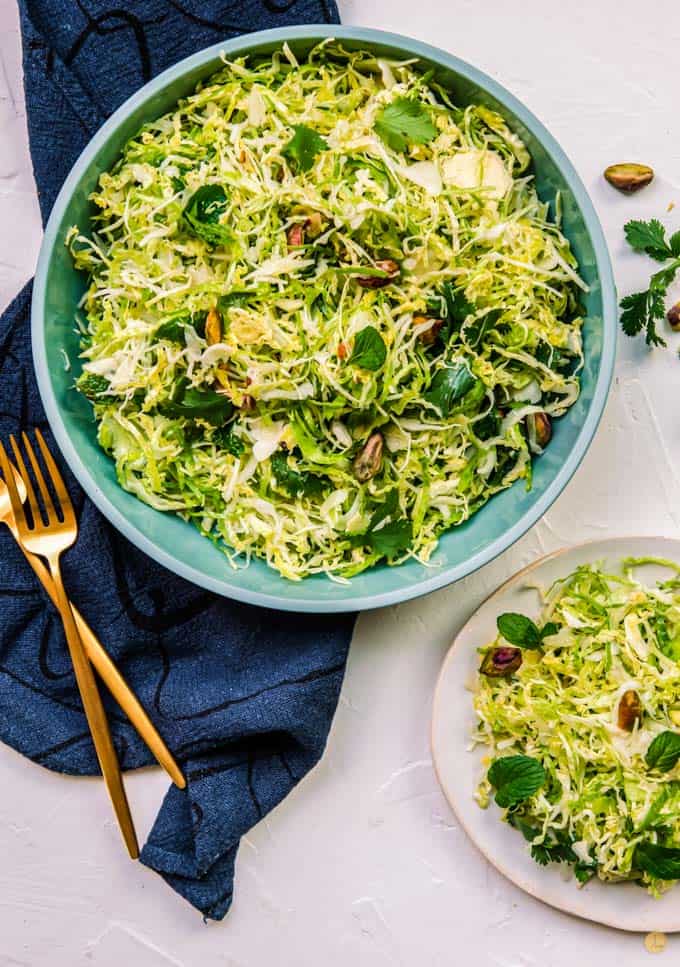 WHAT IS THE BEST WAY TO SHRED BRUSSELS SPROUTS?
The easiest way is with a food processor, especially if you have a large amount. But you can use a mandoline slicer or a sharp knife.
ARE BRUSSELS SPROUTS HEALTHIER THAN CABBAGE?
Sprouts may have a slightly higher calorie content than cabbage but they are richer in vitamins and other nutrients so they are worth every one!
ARE BRUSSELS SPROUTS JUST SMALL CABBAGES?
They are not cabbages but come from the same plant family. Cabbages grow in a head that we eat whereas sprouts are smaller buds that grow on a stalk.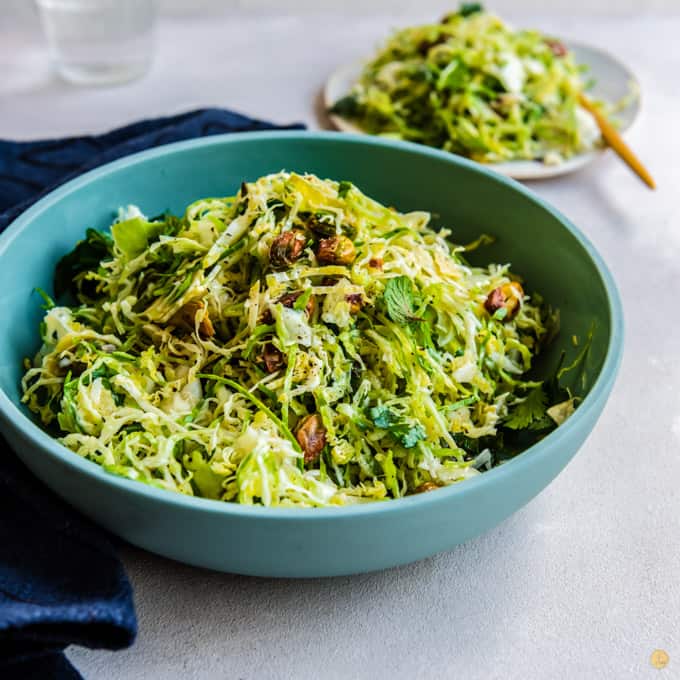 HOW DO YOU KNOW IF BRUSSELS SPROUTS HAVE GONE BAD?
They will start to have a sulfur smell to them and will be sour to the taste. Be sure to check the expiration date on any bagged sprouts.
HOW LONG WILL IT LAST?
This salad will last for 3-4 days in the refrigerator if tightly wrapped. Just be sure to give it a quick toss before enjoying the leftovers.
CAN I FREEZE IT?
I do not recommend freezing this slaw. If frozen, the slaw will be very watery when you thaw it as the greens will not hold up.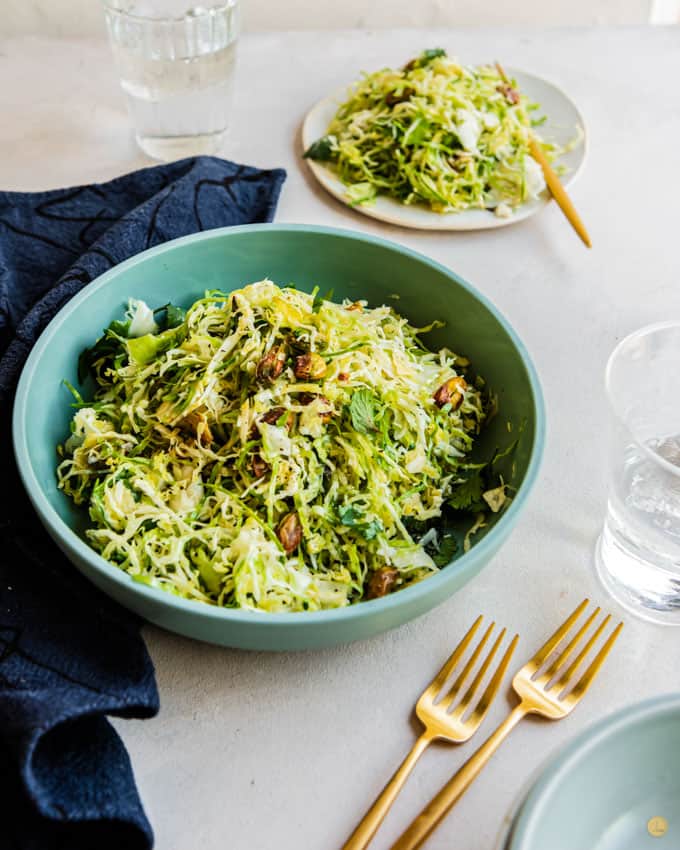 TIPS FOR NO LEFTOVERS
you can buy green cabbage already shredded fine in the produce section if you don't want to buy a full head.
try purple cabbage for a change of vibrant colors.
if you don't have apple cider vinegar, feel free to use balsamic vinegar. I like a white balsamic best!
add a tablespoon of honey mustard to the dressing for even more flavor.
the longer the salad and dressing sit together, the more intense the flavor gets. Let sit at least an hour for best results.
use a food processor or mandoline slicer for easier shredding of the sprouts and cabbage.
flavor intensifies with time. Make a day ahead for more robust flavor.
If you love this recipe as much as I do, please write a five-star review in the comment section below (or on Pinterest with the "tried it" button – you can now add pictures into reviews, too!), and be sure to help me share on facebook!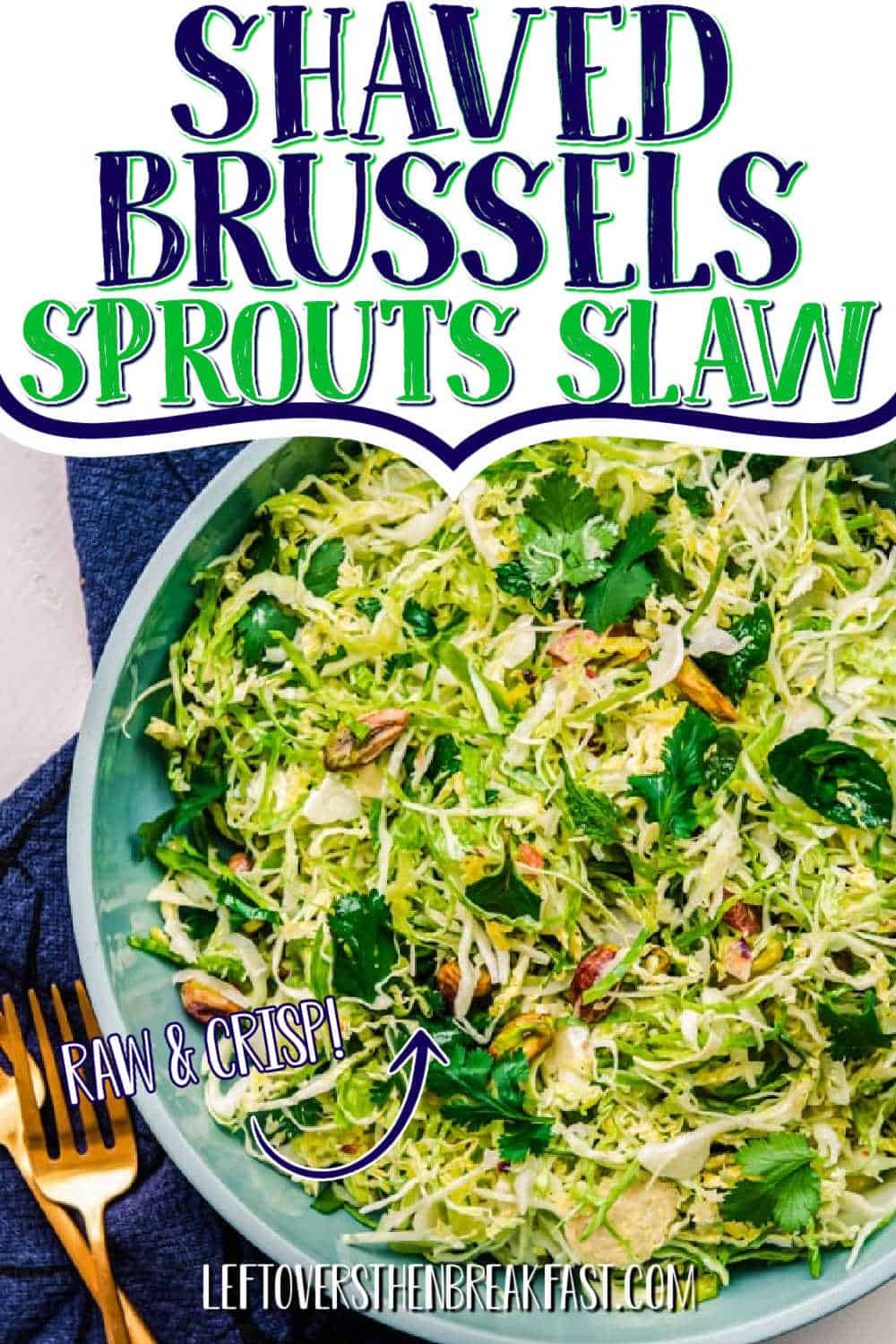 This shaved Brussels Sprouts salad is the perfect side dish to any main dish or you can enjoy it on it's own! Great for meal prep for the week too!
MORE EASY RECIPES
BRUSSELS SPROUTS SLAW RECIPE