Roasted Brussels Sprouts Salad with SWEET cranberries, CRUNCHY walnuts, and CRISP apples is perfect for a light and delicious weeknight meal or a new go-to side dish for your next holiday celebration. Gluten-free, keto friendly, and vegan this simple salad is sure to be a hit with everyone at your dinner table!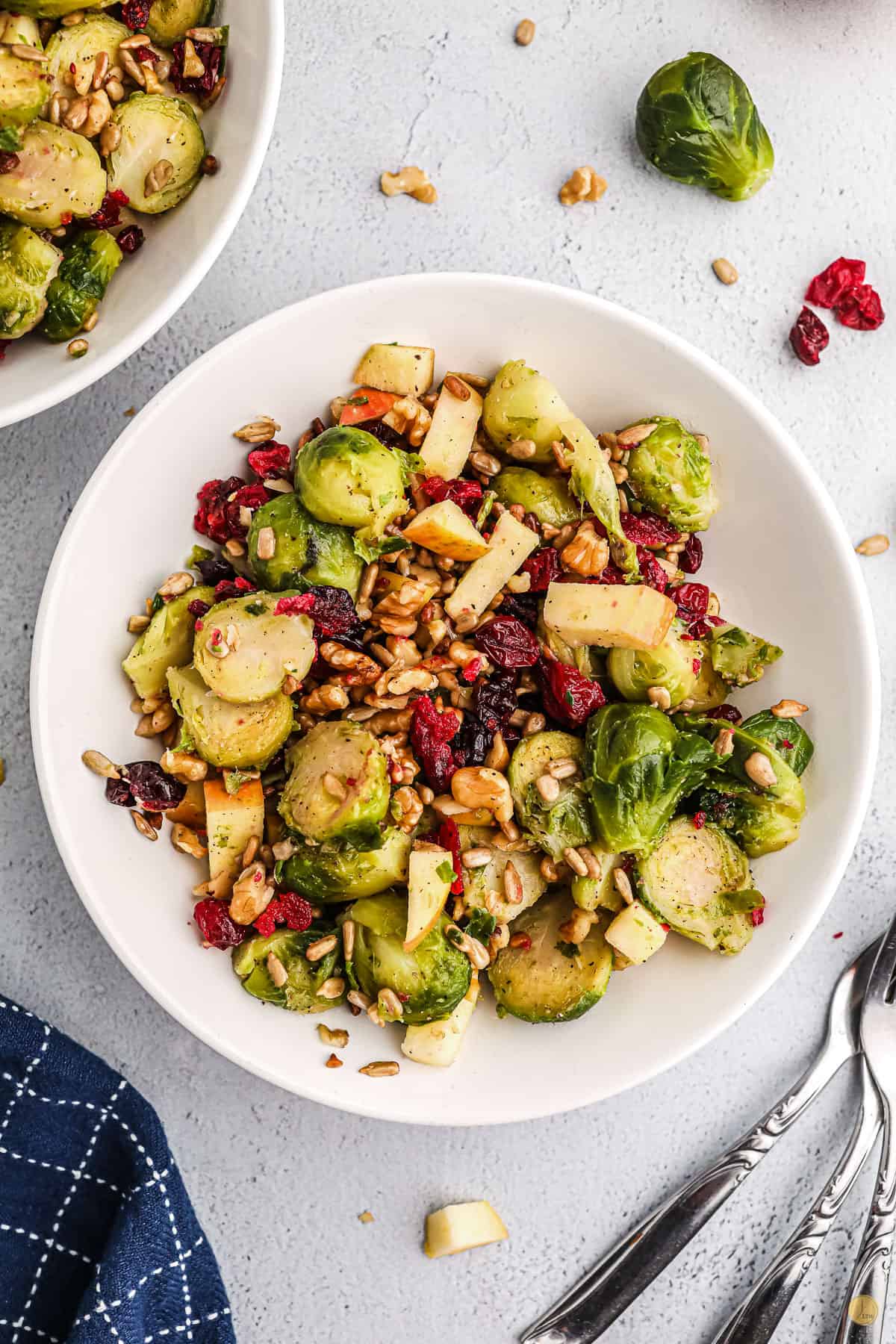 If you'd rather skip my essential cooking tips and tricks and get straight to this delicious recipe – simply scroll to the bottom of the page where you can find the printable recipe card.
My family and I are always on the go; especially in the summer. So, I am always looking for quick, easy, healthy, AND tasty dishes to make them. Bonus if I can save some and serve it as leftovers the next day.
Let me tell you, this delicious salad does just that. Packed full of flavor, can make ahead (it will last in the fridge for up to 3 days), AND makes the BEST leftovers. Hello, healthy and tasty lunch!
Yup, this salad hits all the marks!
My roasted Brussels sprouts salad will change your mind on how you feel about Brussels sprouts.
When roasted, the sprouts have a wonderful sweet, nutty, almost smokey flavor that pairs perfectly with the sweetness of the cranberries, the buttery flavor of the walnuts, and the crisp taste of the apples.
All the flavors and texture in this dish will make your taste buds sing and will have your family asking you to make over and over!
This post may contain affiliate links. As an Amazon Associate, I earn from qualifying purchases. Read my disclosure policy here.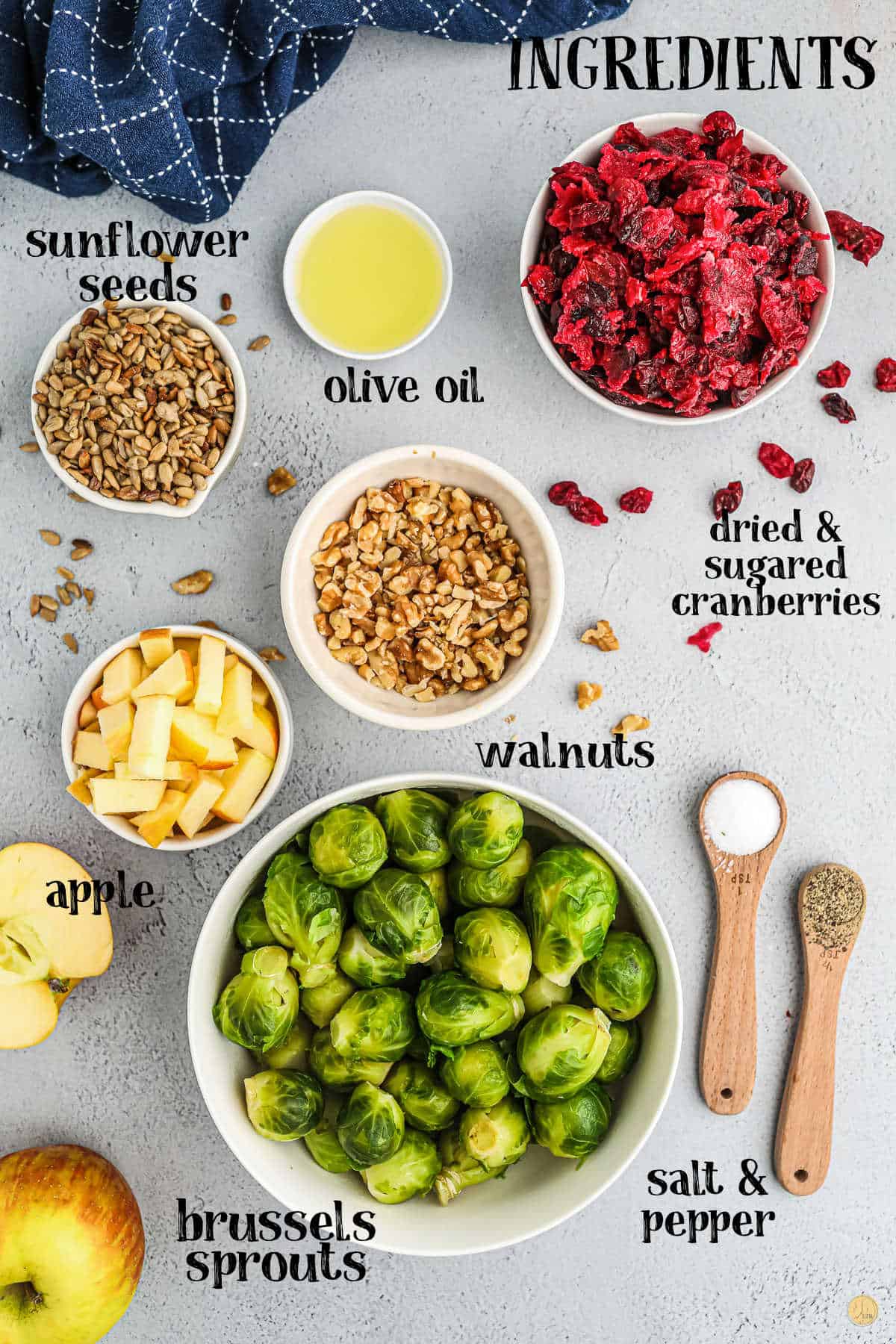 ROASTED BRUSSEL SPROUTS SALAD INGREDIENTS
Brussels Sprouts
Olive Oil
Salt
Ground Black Pepper
Toasted Walnuts
Apples
Sunflower Seeds
Fresh Cranberries
Powdered Sweetener
Coconut Oil
Brussels Sprouts – This recipe calls for fresh, whole Brussel sprouts that you thinly slice. However; if you are strapped for time, I know stores like Trader Joes have bags of pre-sliced Brussel sprouts which can be a huge time saver!
Cranberries – While I prefer to make dried cranberries myself (this recipe details how to make your own), you can certainly use store bought dried cranberries. Just be aware that store bought are NOT keto friendly.
Walnuts & Sunflower Seeds – These are my favorite nuts for this salad but feel free to use your favorites like almonds or toasted pecans.
Apples – I love a great Granny Smith because it's tart but a Fuji or Gala apple work best with this salad.
Looking for more comfort food? Follow LTB on Pinterest!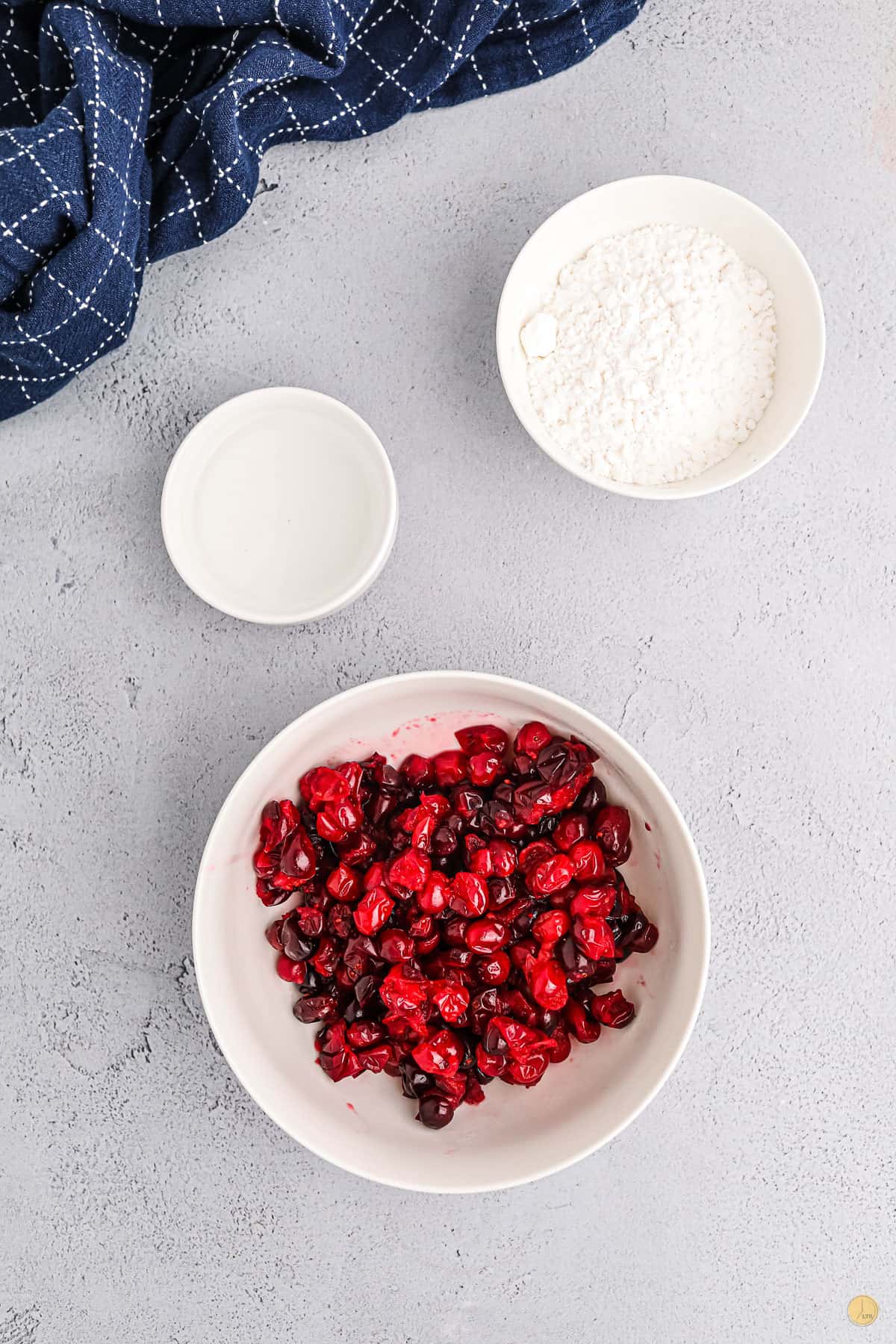 HOW TO MAKE ROASTED BRUSSELS SPROUTS SALAD
ONE: Preheat oven to 200°F. Line a baking sheet with parchment paper.
TWO: Place cranberries in a medium sauce pan with enough water to cover. Bring to boil and then allow to simmer for 2-3 minutes to allow cranberries to "pop". Once "popped" place in a bowl and toss together with coconut oil and sweetener. Transfer to lined baking sheet and dehydrate for 4-5 hours.
THREE: Once cranberries are done; heat olive oil in skillet over medium heat. While skillet is heating up, thinly slice your Brussel sprouts. When pan is hot, add Brussel sprouts, salt, and pepper and cook for 3-4 minutes or until your sprouts turn bright green.
FOUR: Add the cranberries, apples, sunflower seeds, and walnuts, to the warm Brussel sprouts tossing a little to combine the ingredients, before serving.
For the full recipe and detailed baking instructions, please see the recipe card at the end of this post.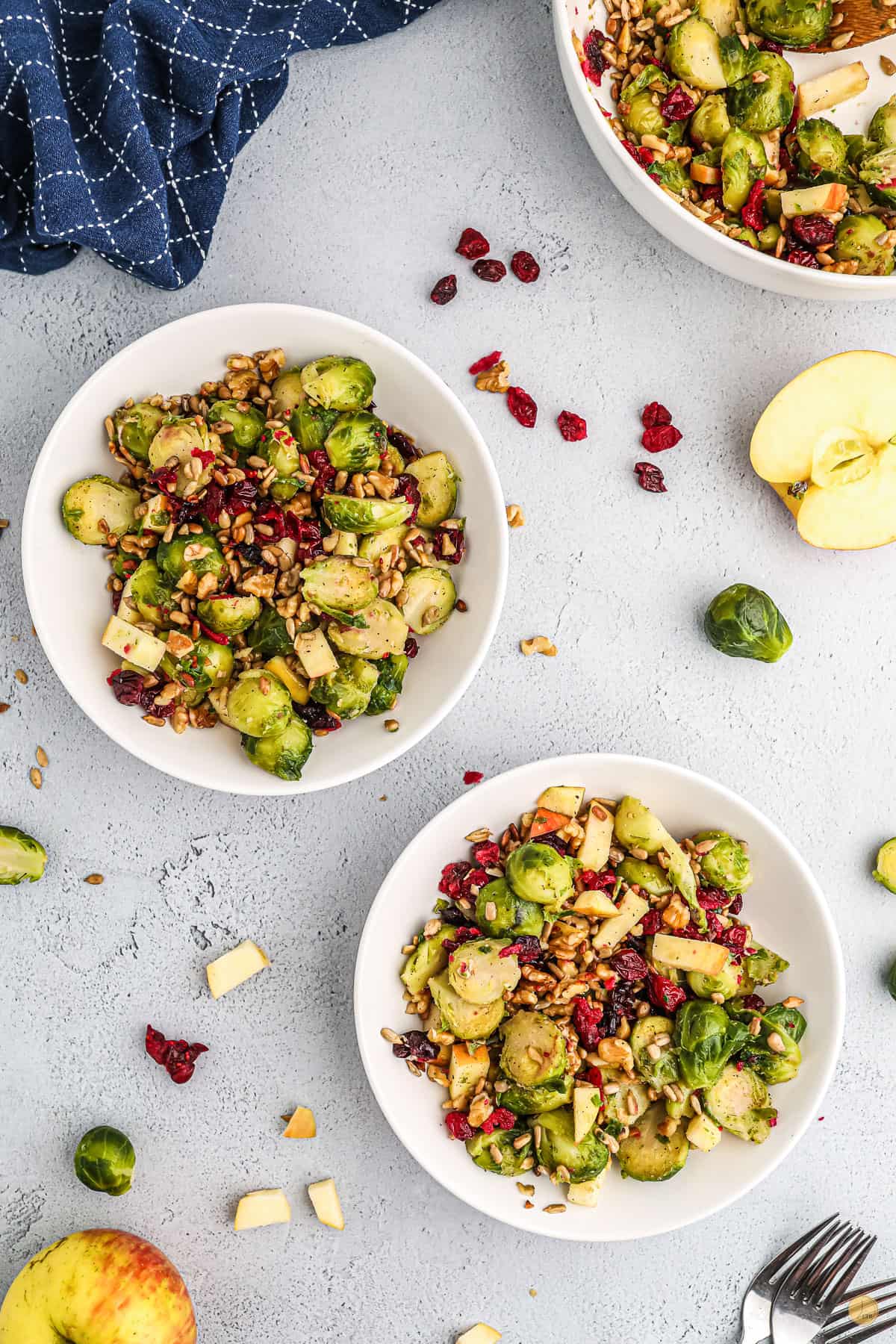 HOW DO I STORE ROASTED BRUSSELS SPROUTS SALAD?
You can store the salad in an air-tight container in the fridge for up to 3 days.
CAN I EAT THIS SALAD WARM OR COLD?
You can eat it either way! My family and I love this salad right off the skillet or once it's been chilled in the fridge. This salad also makes great leftovers for lunch!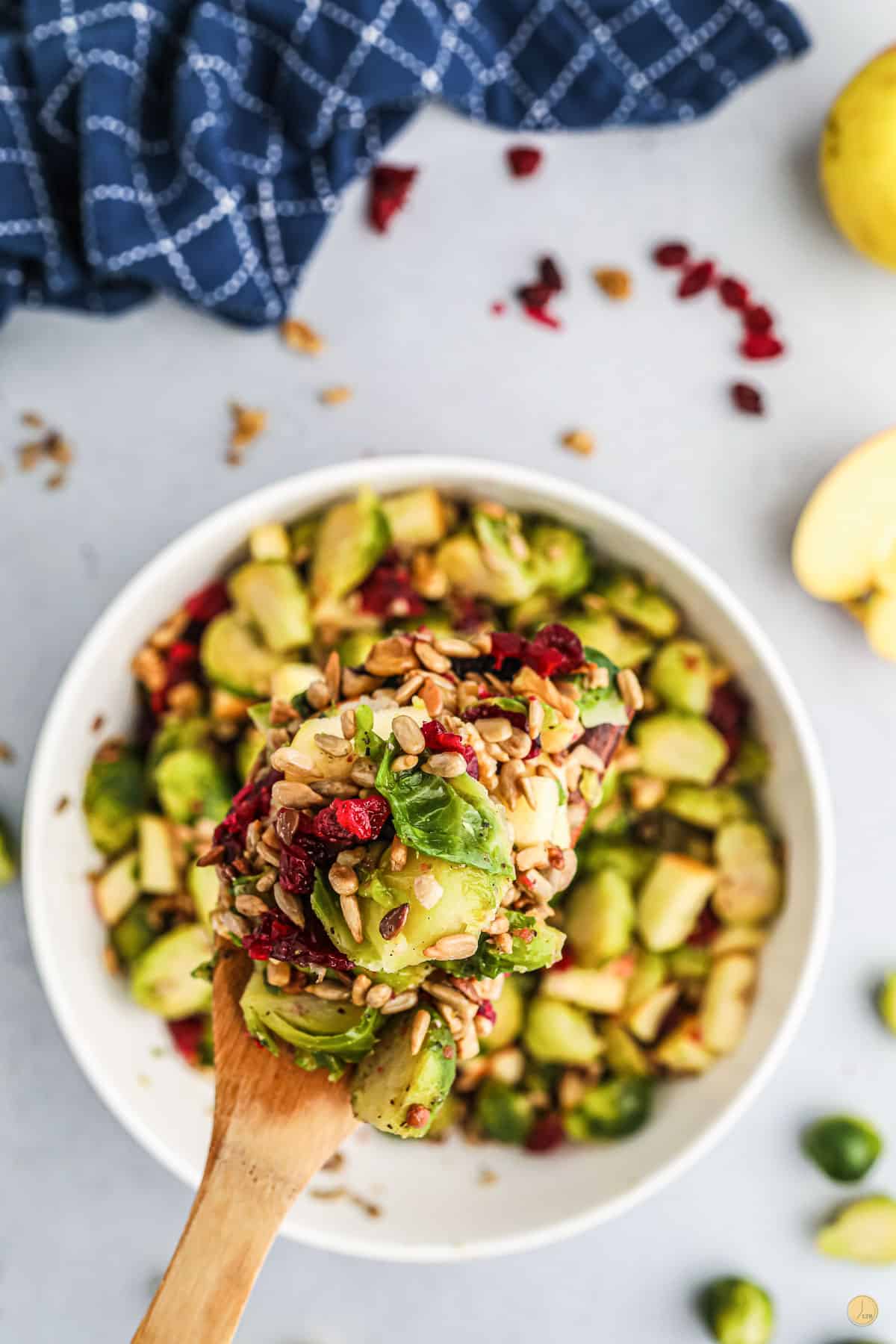 HOW DO YOU SHRED BRUSSELS SPROUTS?
Shredding Brussels sprouts by hand is fairly simple. First, cut off as little as possible of the sprout's stems. By doing this, the sprouts will stay together which is easier to work with.
Next, remove any brown, bruised, or damaged outer leaves. Once you have a beautiful little bud, cut in half, length wise, right down the middle.
Then, place the sprout horizontal on your cutting board with flat side down and slice in thin strips from root to tip. Finally, pull apart all the layers until they're loose. Use immediately in your salad or place in air-tight container in your fridge for up to 3 days.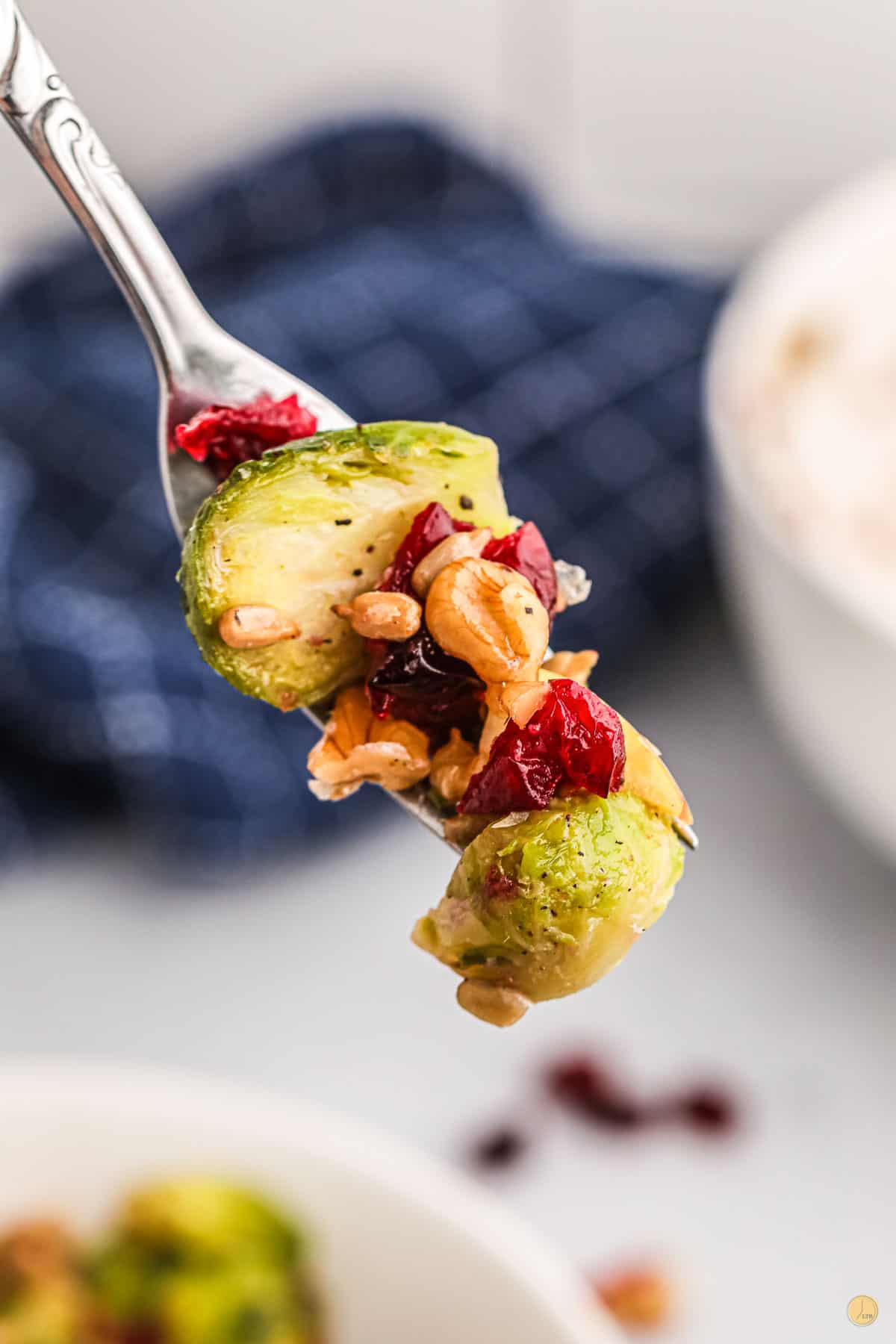 TIPS FOR NO LEFTOVERS
Allergic to walnuts? Just leave 'em out! You could also try and substitute chopped peanuts if you can handle them!
Not worried about keeping this salad dairy free and vegan friendly? Add shaved Parmesan cheese for an extra salty nutty note that really kicks the flavor up a notch.
Looking to dress this salad up a little more? Add a light and delicious vinaigrette (pick your favorite!) to this salad no earlier than 30 minutes before serving.
A few pieces of goat cheese add a little creaminess to this salad!
If you love this recipe as much as I do, please write a five-star review in the comment section below (or on Pinterest with the "tried it" button – you can now add pictures into reviews, too!), and be sure to help me share on facebook!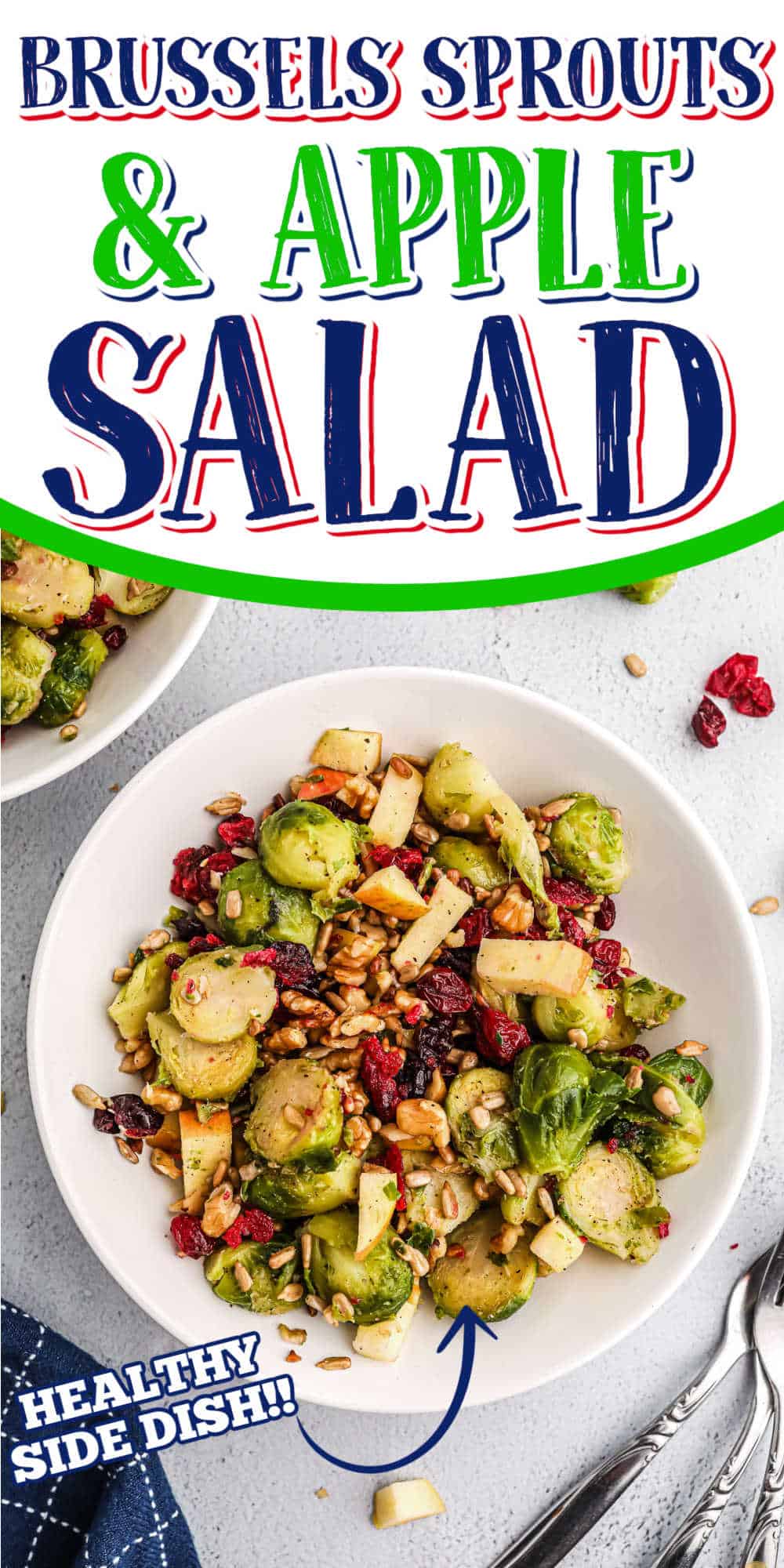 Add this delicious salad or side dish to your weekly meal plan! Made this salad and loved it? Let me know by leaving a comment and a rating below!
MORE EASY RECIPES
@LeftoversThenBreakfast.com. Content and photographs are copyright protected. Sharing of this recipe is both encourages and appreciated. Copying and/or pasting full recipes to any social media is strictly prohibited.