These Baked Crab Cakes are made Maryland-Style and are unbelievably easy and delicious. Made with sweet flaky lump crab meat, Old Bay seasoning, and very little filler, these golden brown baked crab cakes are served with a slice of lemon and an incredibly flavorful tartar sauce.
If you love simple and delicious crab recipes, this will be one that you'll want to keep on hand!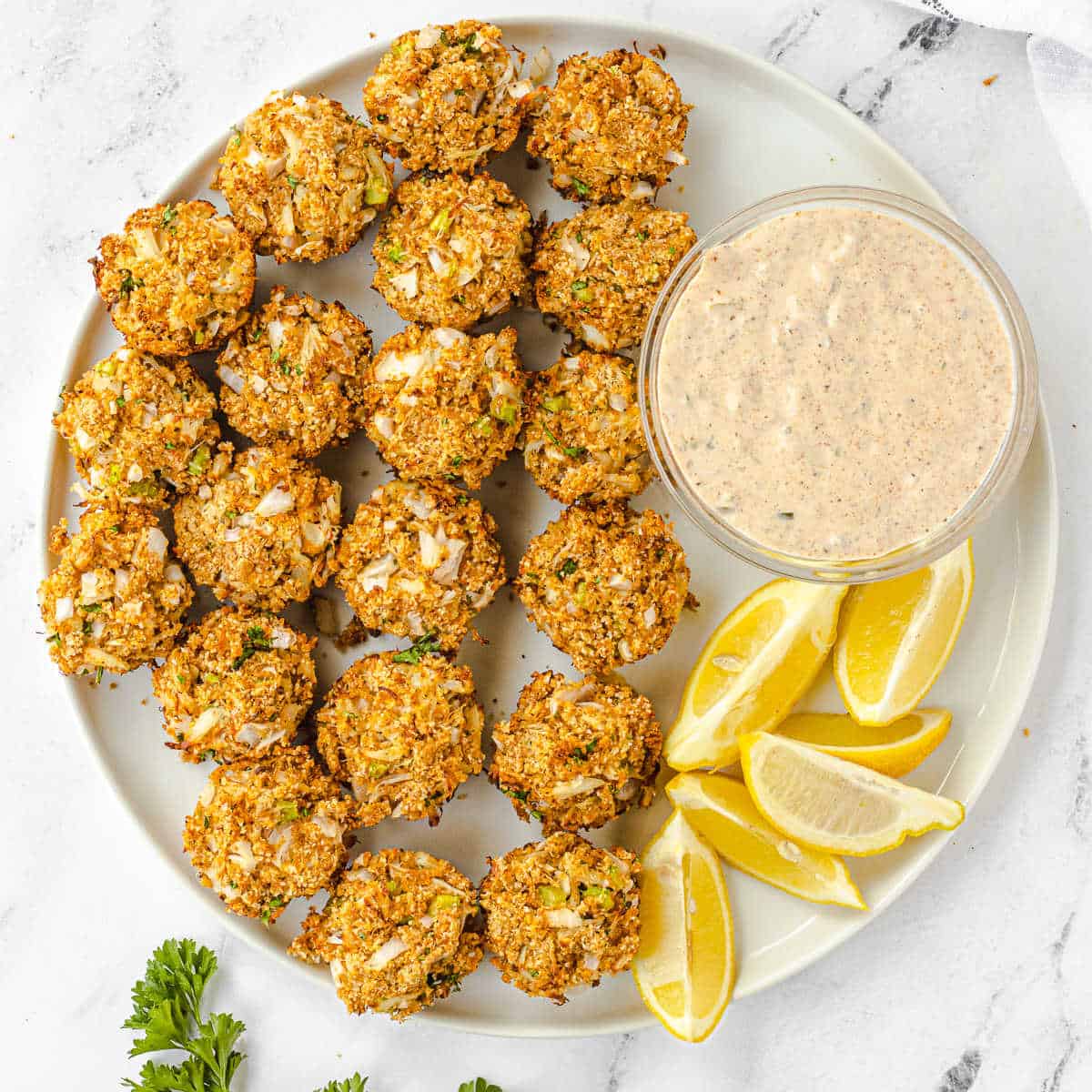 If you'd rather skip my essential cooking tips and tricks and get straight to this delicious recipe – simply scroll to the bottom of the page where you can find the printable recipe card.
Once you start baking crab cakes in mini muffin pans, you'll never make them any other way!
Most people will agree that the best crab cakes are ones that are made with fresh jumbo crab meat, is packed with very little filling, and is loaded with lots of flavor. And these Maryland crab cakes are just that.
Full of wonderful texture, tons of crab meat, packed with flavor, with the best part being that they are oven baked not fried.
So, when you're looking for an amazingly quick appetizer, snack, or light dinner, grab some fresh lump crab and a few pantry staples, form into mini cakes, pop into your oven, and viola!
In less than 30 minutes, your baked crab cakes will have a delicately crispy exterior and that perfect flakey flavorful interior. Serve with an Old Bay flavored or Old Fashioned tartar sauce and enjoy!
This post may contain affiliate links. As an Amazon Associate, I earn from qualifying purchases. Read my disclosure policy here.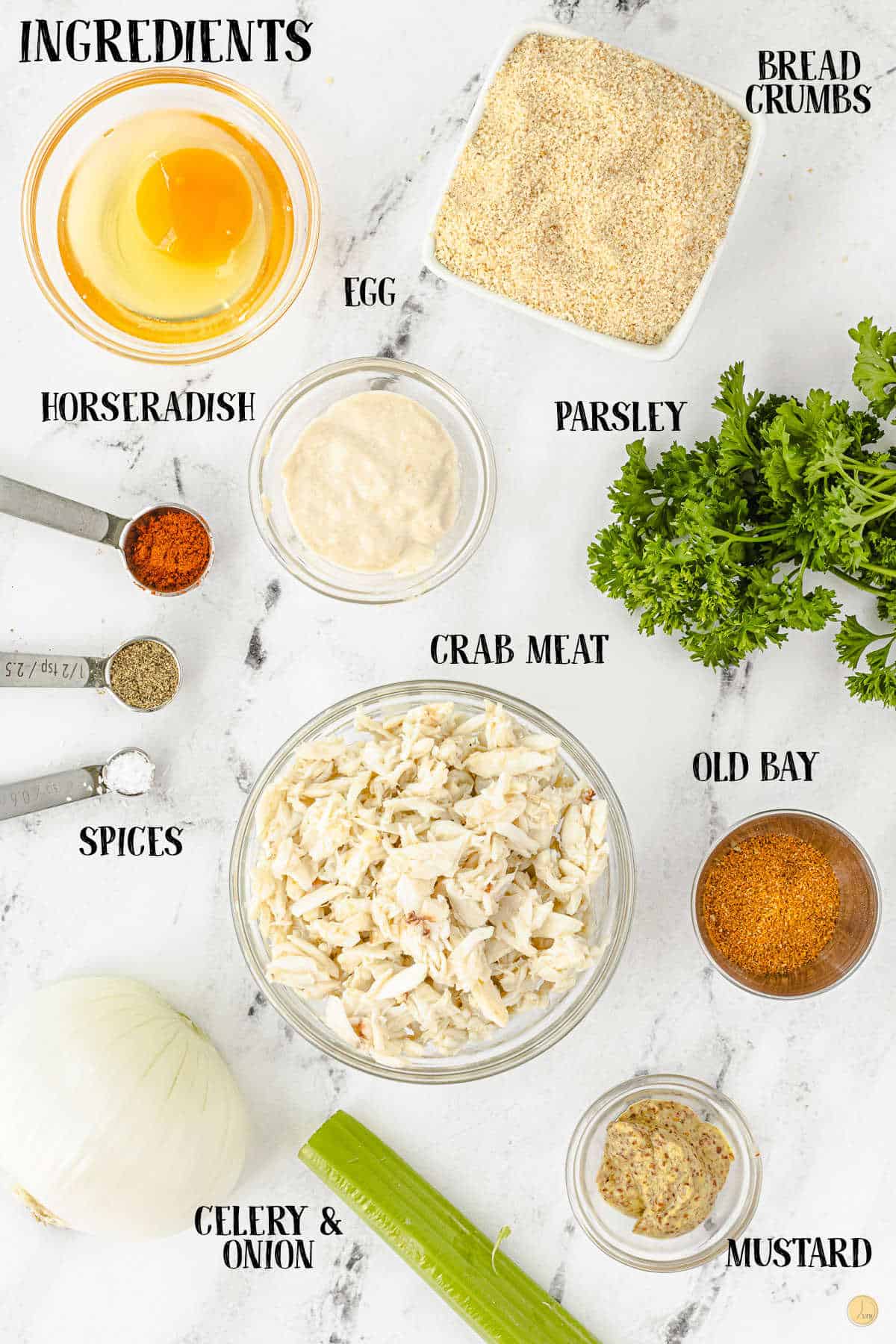 BAKED CRAB CAKES INGREDIENTS
lump crab meat
celery
onion
prepared horseradish
egg
breadcrumbs
parsley
paprika
Old Bay Seasoning
salt& pepper
Lemon wedges
Lump crab meat – I prefer to use fresh crab claw or jumbo lump crab meat that is purchased from the seafood counter or from the local fish monger.
In a pinch using pre-packaged crab meat is fine as long as it's from a reputable source packaged with only lump or claw meat.
Onion – I used white onion but feel free to yellow or even a sweet onion.
Breadcrumbs – Be sure to use any plain style bread crumbs. Just try to stay away from seasoned breadcrumbs as it changes the flavor profile. You can also use cracker crumbs!
Looking for more comfort food? Follow LTB on Pinterest!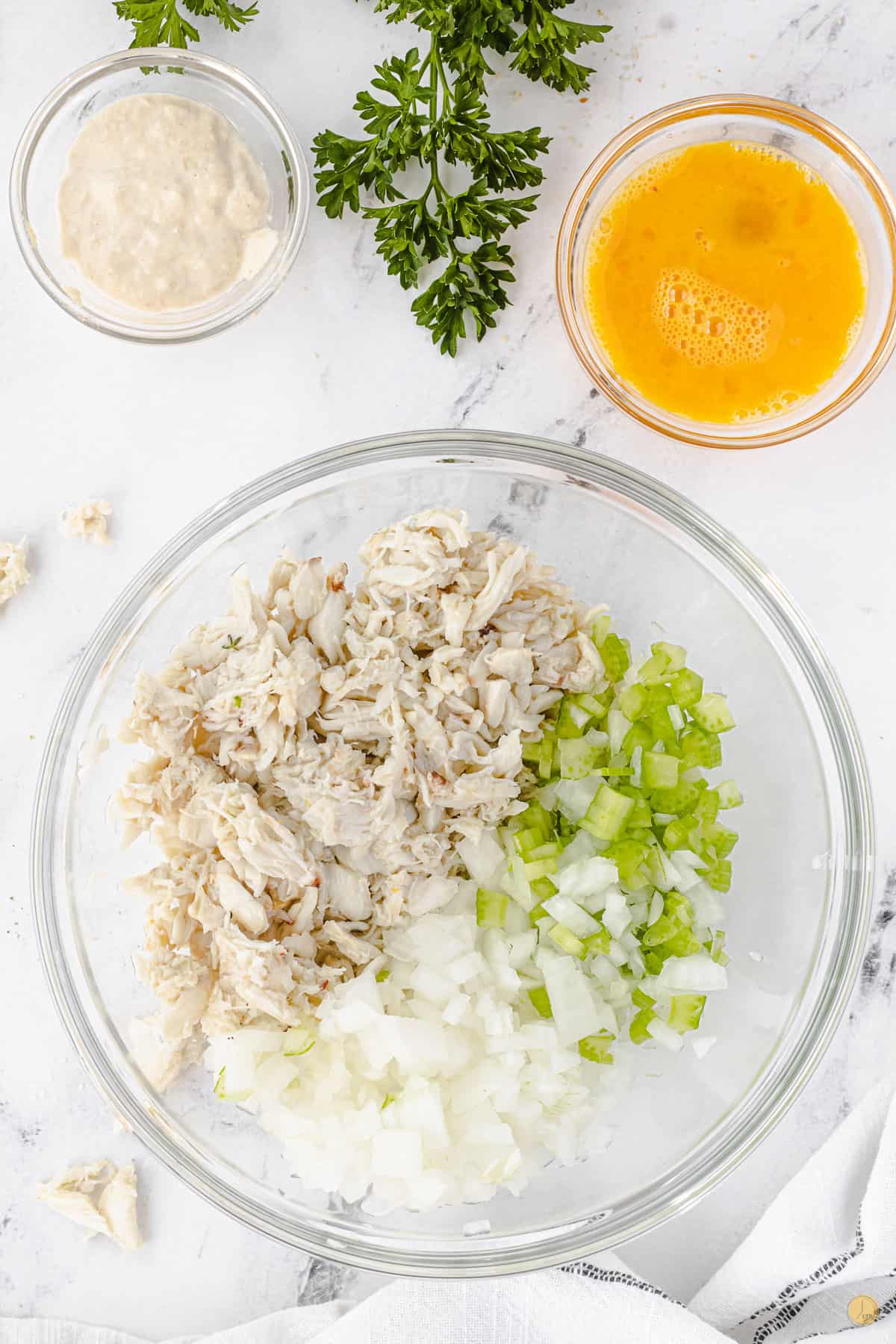 HOW TO MAKE BAKED CRAB CAKES
ONE: Make the crab cakes: In a large mixing bowl, combine all of the ingredients for the carb cakes being careful not to overwork the mixture or break up the crab too much.
TWO: Press crab cake mixture into a prepared mini muffin pan. You will fill 20 spaces.
THREE: Bake at 375°F for 15 minutes. Remove from oven and allow cakes to cool. Once cooled, run a knife around the edges of the crab cakes to loosen from the muffin pan. Be careful not to cut or break the crab cakes.
Once they are cooled, it's time to serve on platter with tartar sauce and lemon wedges!
OLD BAY TARTAR SAUCE INGREDIENTS
mayonnaise
Dijon mustard
prepared horseradish
lemon juice
pickled jalapeno
Old Bay Seasoning
capers
Mayonnaise – Feel free to use regular or light versions of your favorite real mayonnaise. You can also substitute plain Greek yogurt.
Old Bay Seasoning – You should be able to find Old Bay Seasoning in the spice aisle of your local grocer.
If you are unable to locate it, feel free to make your own homemade version by combining celery salt, paprika, black pepper, cayenne pepper, ground dry mustard, ground mace, ground cinnamon, ground cardamom, allspice, cloves, and ginger.
HOW TO MAKE OLD BAY TARTAR SAUCE:
ONE: While the crab cakes are baking, make the Old Bay tartar sauce.
TWO: Mix all the ingredients in a small bowl until fully combined. Keep chilled until ready to serve.
For the full recipe and detailed baking instructions, please see the recipe card at the end of this post.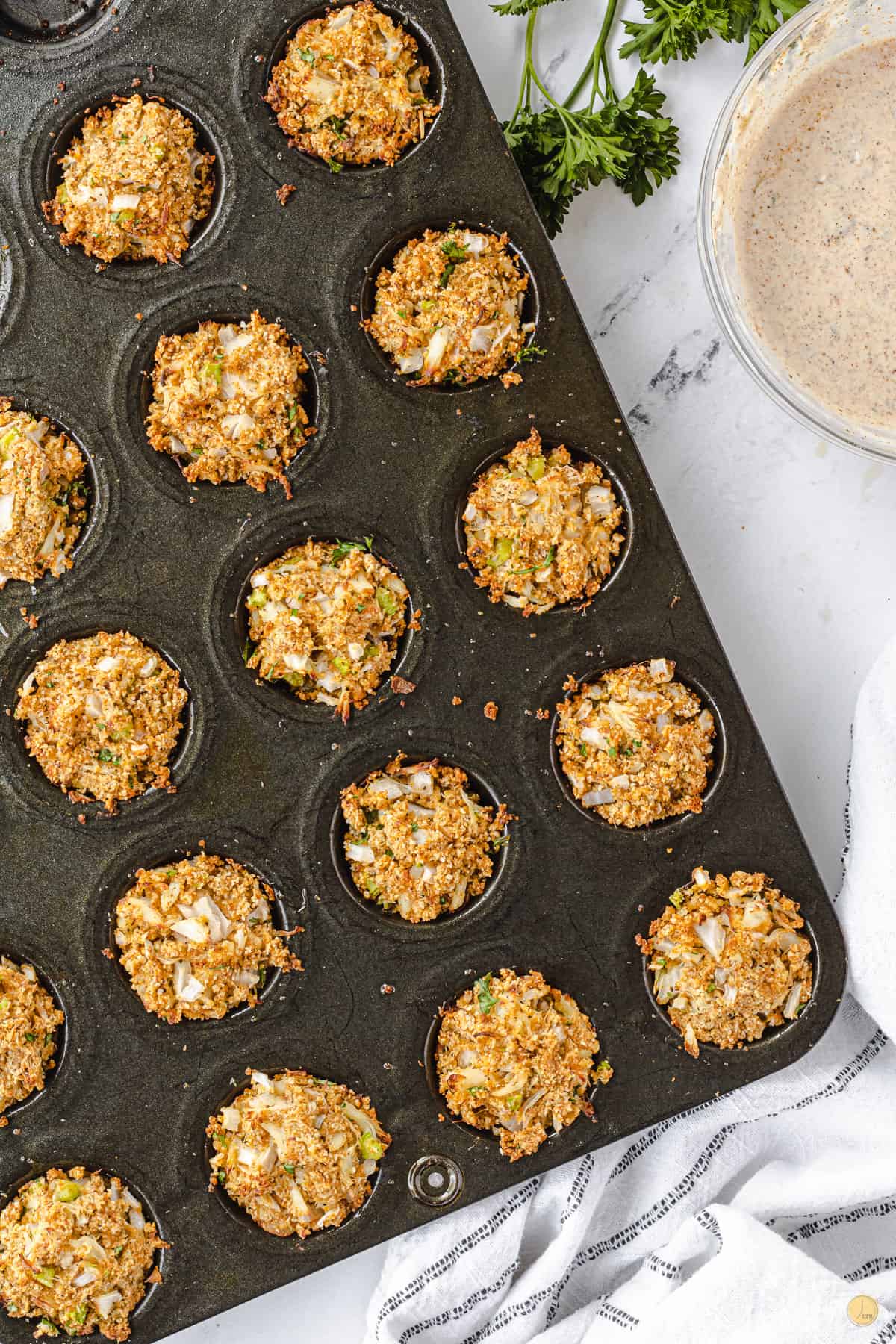 CAN I USE IMITATION CRAB MEAT?
While you can use imitation crab meat if you are in a bind, I would advise against it. The main ingredient and flavor of this dish comes from the crab which means you'll want to use fresh, real crab.
Imitation crab meat isn't crab meat at all, instead, it's white fish compressed into a crab-like shape and tinted orange.
CAN THESE BE MADE AHEAD OF TIME?
Of course! Make the crab cakes according to recipe, place them in pan and cover. Refrigerate for up to 24 hours. When ready to make, bake according to directions.
WHAT CAN I SERVE WITH THESE BAKED CRAB CAKES?
If you are looking to keep in line with Maryland tradition, then serve these crab cakes with a shrimp boil, corn on the cob, and French fries.
However, I enjoy them with crispy celery slaw or traditional cabbage slaw for a light and flavorful meal.
CAN I FREEZE CRAB CAKES?
There are two ways you can freeze a crab cake.
First: Cook crab cakes according to directions, allow them to cool completely and then place in a freezer safe storage container or zip-top bag and freeze for up to 3 months.
Second: way, is to freeze the crab cakes raw. Portion out 20 cakes and place onto a baking sheet lined with parchment paper and freeze, uncovered, for approximately two hours.
Once frozen, place in a freezer safe storage container or zip-top bag and freeze for up to 3 months.
I like to use my food saver for best results!
When ready to make, allow crab cakes to defrost in the fridge overnight and then bake.
HOW TO STORE LEFTOVERS
Store any leftovers in an airtight container in the fridge for up to 5 days. When ready to reheat, bake at 375°F until warmed through and serve.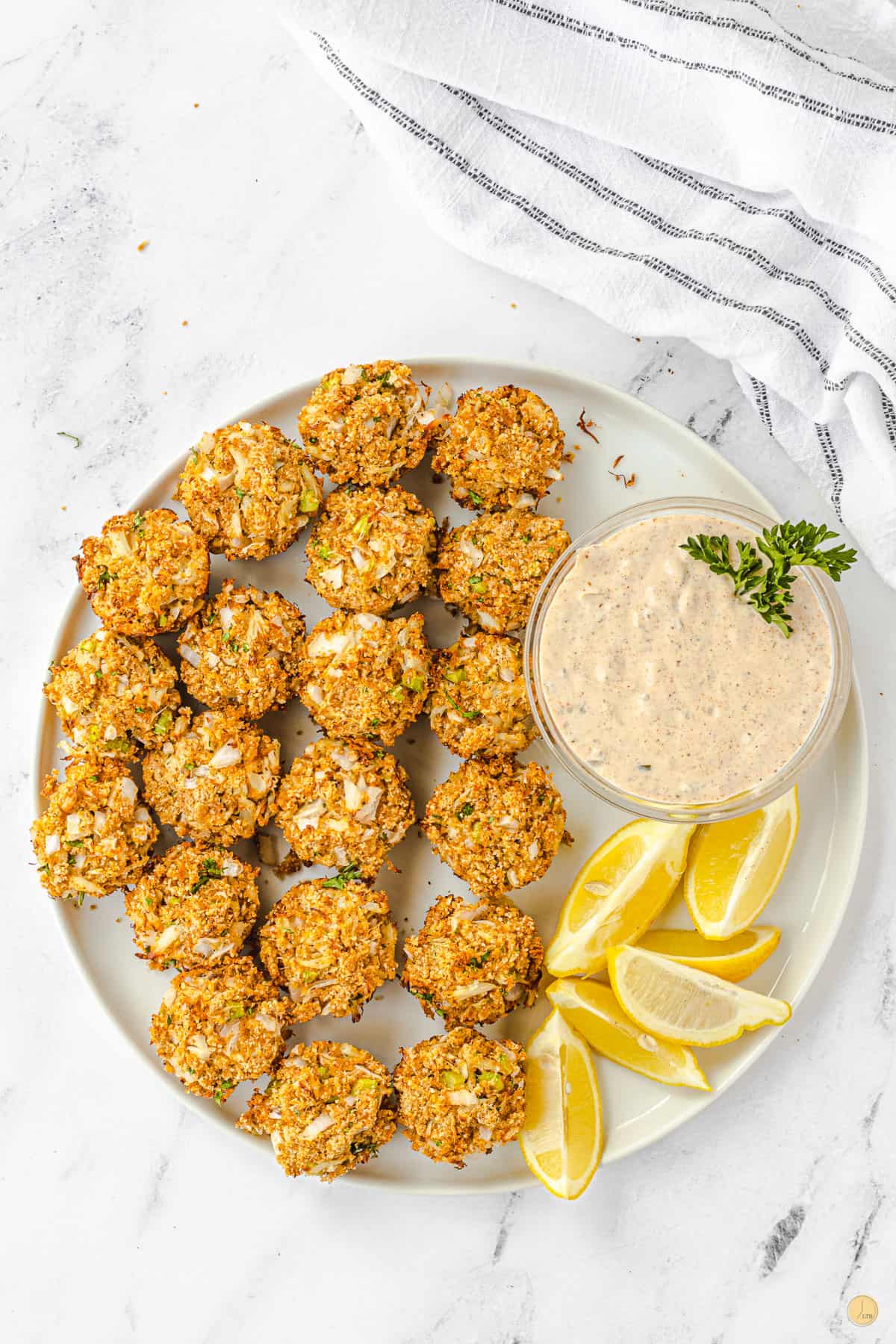 TIPS FOR NO LEFTOVERS
Serve multiple types of dip with crab cakes. This Old Fashioned Tartar Sauce is delicious with this recipe.
If you do not have a mini muffin pan, feel free to use a regular size muffin pan. Just adjust the cooking time to 25-30 minutes.
If you prefer frying the crab cakes, heat a skillet over medium heat with a little oil. Fry the crab cakes until crispy on the outside and cooked to 145F on the inside.
If you cannot find fresh lump crab meat, use pre-packaged lump or claw meat from a reputable source.
Seafood seasoning or even a Cajun blend could be used in place of Old Bay seasoning.
According to the USDA, seafood is safe to eat when the internal temperature reaches 145 degrees Fahrenheit.
Gently pack the mixture into the muffin tins. Don't compact the crab cakes too tightly as this will produce an overly dense cake.
To make gluten-free, swap out regular breadcrumbs for gluten-free breadcrumbs.
If you love this recipe as much as I do, please write a five-star review in the comment section below (or on Pinterest with the "tried it" button – you can now add pictures into reviews, too!), and be sure to help me share on facebook!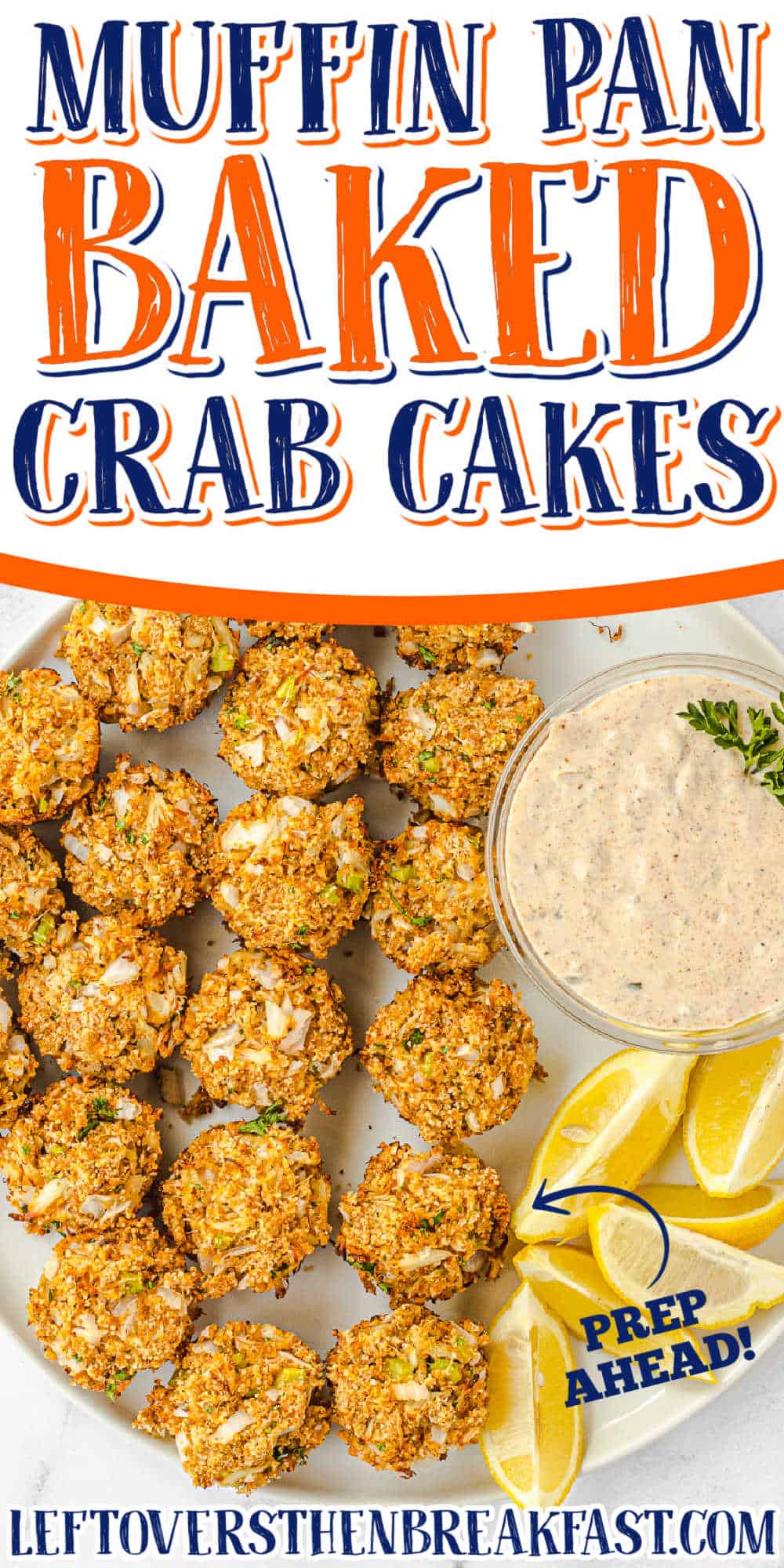 This baked crab cake recipe is quick and easy to make. They are perfect as a crowd pleasing appetizer, snack, or light dinner!
MORE EASY RECIPES
@LeftoversThenBreakfast.com. Content and photographs are copyright protected. Sharing of this recipe is both encourages and appreciated. Copying and/or pasting full recipes to any social media is strictly prohibited.