Sheet Pan Lemon Chicken is the perfect weeknight meal! Minimal prep, one pan, and on the table in less than 30 minutes!
Made with tender and juicy chicken, crisp tender veggies, all drizzled with a sweet and tangy honey lemon sauce and seasoned with a homemade spice mix.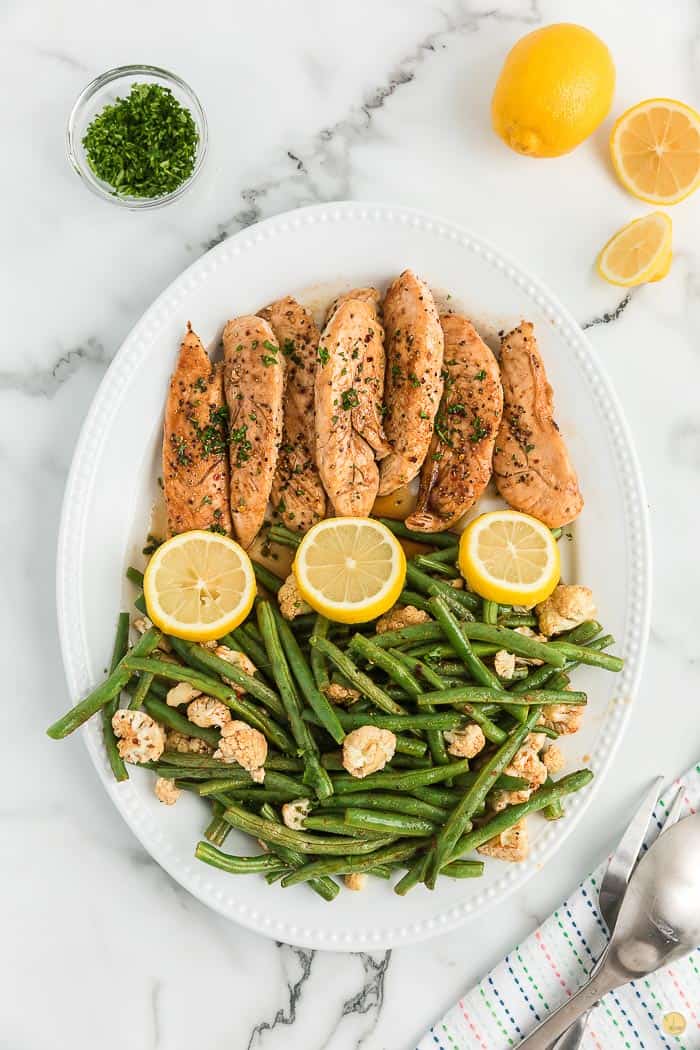 If you'd rather skip my essential cooking tips and tricks and get straight to this delicious recipe – simply scroll to the bottom of the page where you can find the printable recipe card.
SHEET PAN LEMON CHICKEN
Whip up this lemon chicken sheet pan dinner tonight. Tender and juicy seasoned chicken, cauliflower, and green beans all baked on a sheet pan, A simple and easy baked lemon chicken dinner the whole family can enjoy.
Sheet pan recipes are one of my favorites. When you want a simple prep dinner, this sheet pan lemon chicken is always a great one.
SHEET PAN CHICKEN
Plus, you can toss on any of your favorite veggies to create a meal in one. Chicken and veggies that get baked on one sheet. A quick and easy cleanup for you.
If you enjoy meal prepping, consider making this up and tossing it in single-serve containers to use for lunches, quick grab and reheat dinners, and more.
This post may contain affiliate links. As an Amazon Associate, I earn from qualifying purchases. Read my disclosure policy here.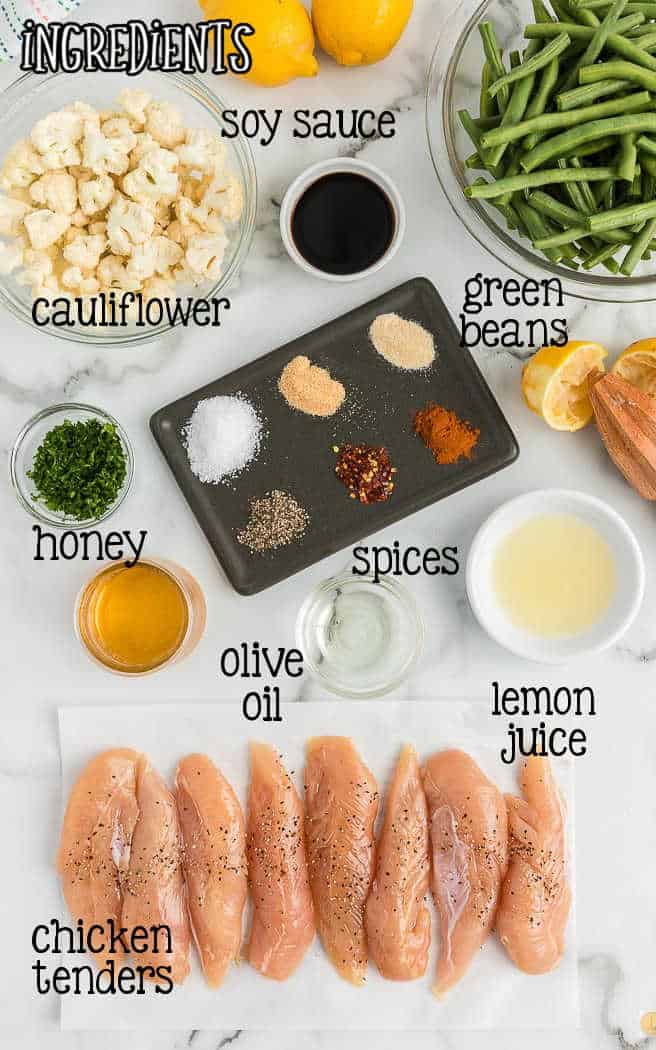 ONE PAN LEMON CHICKEN INGREDIENTS
chicken
soy sauce
lemon juice
honey
spices
green beans
cauliflower
Chicken Tenders or Breasts: If you use breasts, make sure to cut them horizontally to help them cook fast. If you use a thicker cut chicken, the cooking time will vary.
Vegetables: I used green beans and cauliflower. Now, if you want, get creative and reach for broccoli, diced sweet potatoes, Brussels sprouts, etc. The sky is the limit.
Liquid Sauce: I made a liquid sauce to drizzle over the baked chicken and vegetables. It adds a sweet and savory flavor to the dish. The lemon juice is a nice citrus twist.
Spice Blend: I also created a spice blend that I sprinkled over the chicken to add a mix of spices to the chicken. We loved this recipe with the spices but feel free to swap out with what you prefer or have on hand. You can also use a chicken seasoning or a chicken marinade.
Looking for more comfort food? Follow LTB on Pinterest!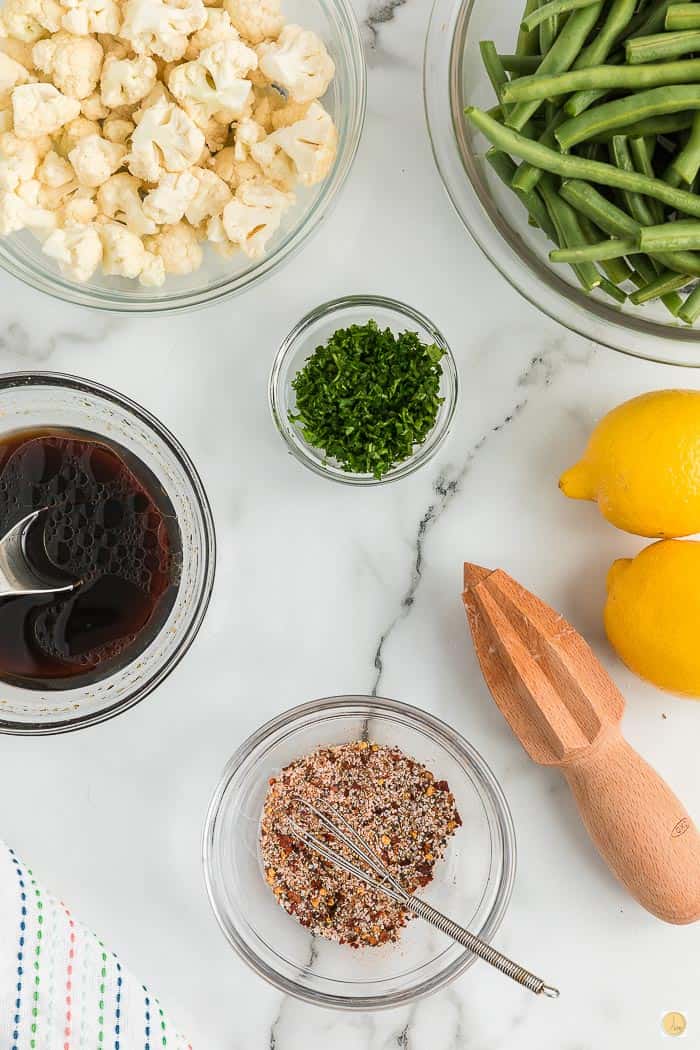 HOW TO MAKE BAKED LEMON CHICKEN
ONE: Prepare the baking sheet with foil or non-stick spray. Place chicken on prepared sheet pan. Season with salt and pepper. Combine the liquid ingredients to make the lemon sauce and drizzle 1/3 over the chicken.
TWO: Bake the chicken in a preheated oven for 10 minutes. Remove and turn the chicken over. Arrange the vegetables on the pan and season everything with spice mix. Drizzle with 1/3 of the sauce.
THREE: Return the pan to the oven and bake for another 10 – 15 minutes or until the chicken has reached 165F. If the veggies are done but the chicken is not, you can remove the veggies to a bowl and return the chicken back to the oven until finished cooking.
FOUR: Drizzle the chicken with remaining lemon sauce and turn the oven to broil. Broil for 2-3 minutes (watching carefully) until the chicken is a golden brown color. Remove the chicken from the oven and let rest for 5 minutes.
Serve warm garnished with parsley if desired!
For the full recipe and detailed baking instructions, please see the recipe card at the end of this post.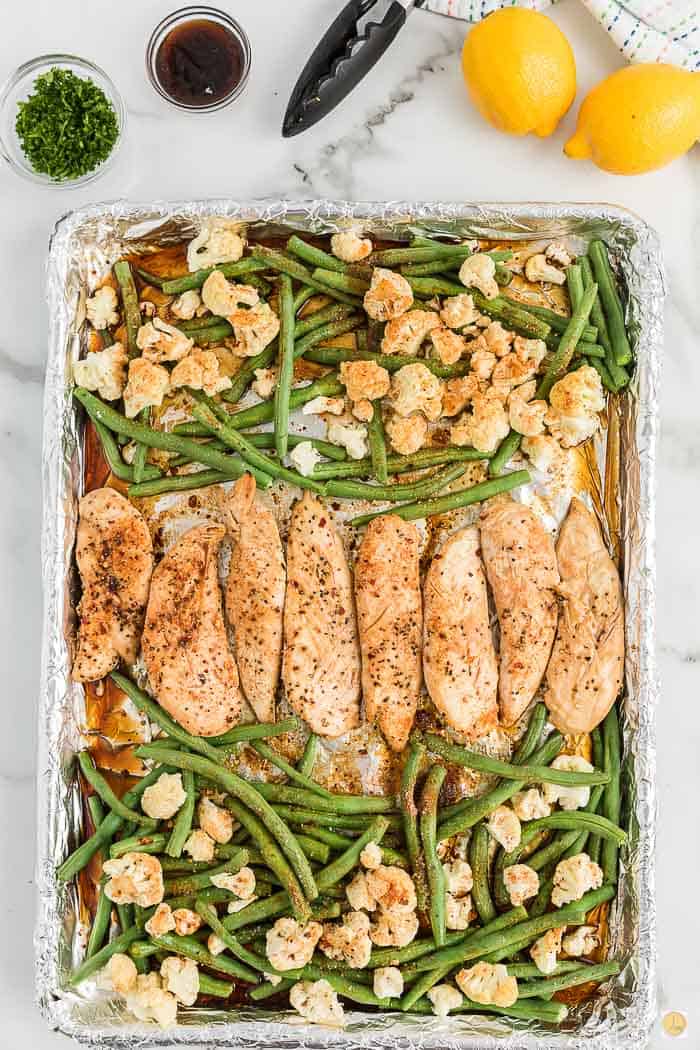 HOW TO KNOW WHEN THE CHICKEN IS DONE
I recommend buying a meat thermometer and test the chicken to ensure it reads an internal temperature of 165 degrees Fahrenheit. Raw chicken can make you sick, so make sure to take the time and ensure the chicken is fully cooked.
HOW DO YOU KEEP CHICKEN FROM DRYING OUT?
Using a sauce can help to keep moisture in the chicken as it cooks. Also, making sure your chicken does not over-cook is another way to make sure the chicken doesn't dry out.
Another tip I use all the time is to brine the chicken for at least 1 hour in a salt water solution. My favorite is 2 cups of water and 2 tablespoons salt. Mix and submerge the chicken. Drain and pat dry before cooking the chicken.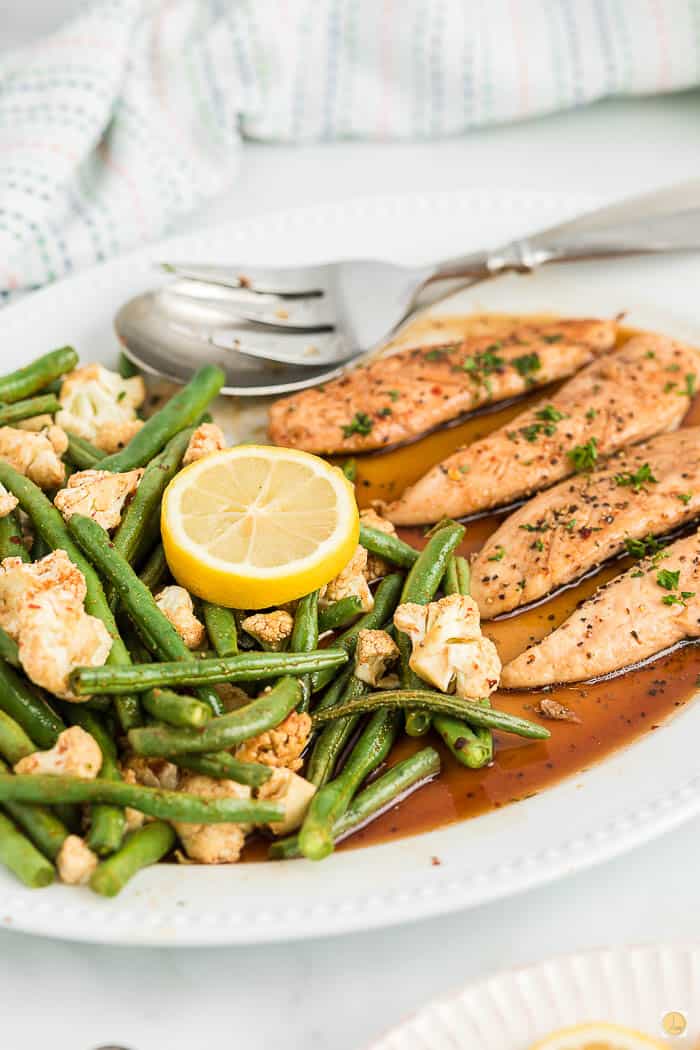 BESST WAY TO STORE LEFTOVERS
If you happen to have leftovers or use this recipe for meal prep, it will store for around 3 days in the refrigerator. Just be sure to store the chicken separately if it is not cooked.
Once cooked, store the chicken and vegetables in air tight containers. Pair it with cooked brown or white rice or even some quinoa.
Reheat in the microwave until warmed through, or place in the oven covered with aluminum foil and reheat until heated through.
SERVE SHEET PAN LEMON CHICKEN WITH
Cauliflower rice, classic Jasmine or Basmati rice, dinner rolls, green salad, and more. Essentially this recipe can be paired with so many of your favorites.
Or call it a genuine one-pan meal, and serve as is!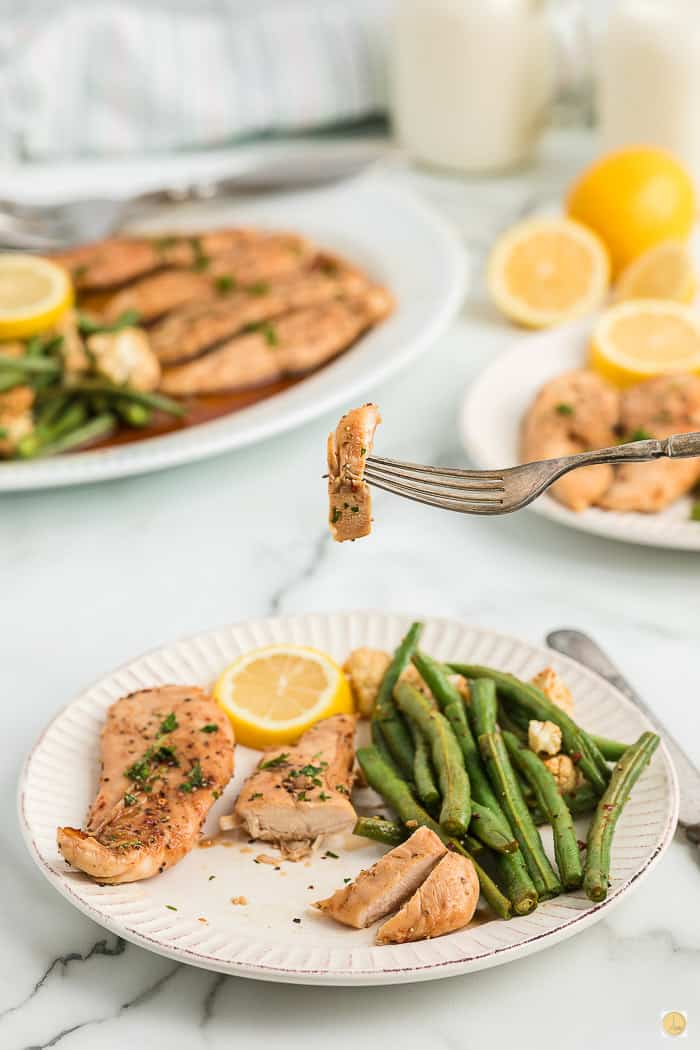 TIPS FOR NO LEFTOVERS
cover your baking sheet with foil for easy clean up!
use boneless skinless chicken breasts if you have them. just be sure to slice lengthwise into a few strips for even baking.
to ensure even baking, try and get all ingredients in a single layer on the baking pan.
if you don't have chicken breasts, use tenders or cutlets
baked with a few lemon sliced thin on the pan.
for more lemon flavor, add some lemon zest to the sauce.
if you don't have a big enough sheet pan, feel free to use a roasting pan or larger baking dish.
start checking the chicken early, they don't usually take more than 20 minutes to cook through.
add some sliced red, yellow, or orange bell peppers for more color and crunch.
If you love this recipe as much as I do, please write a five-star review in the comment section below (or on Pinterest with the "tried it" button – you can now add pictures into reviews, too!), and be sure to help me share on facebook!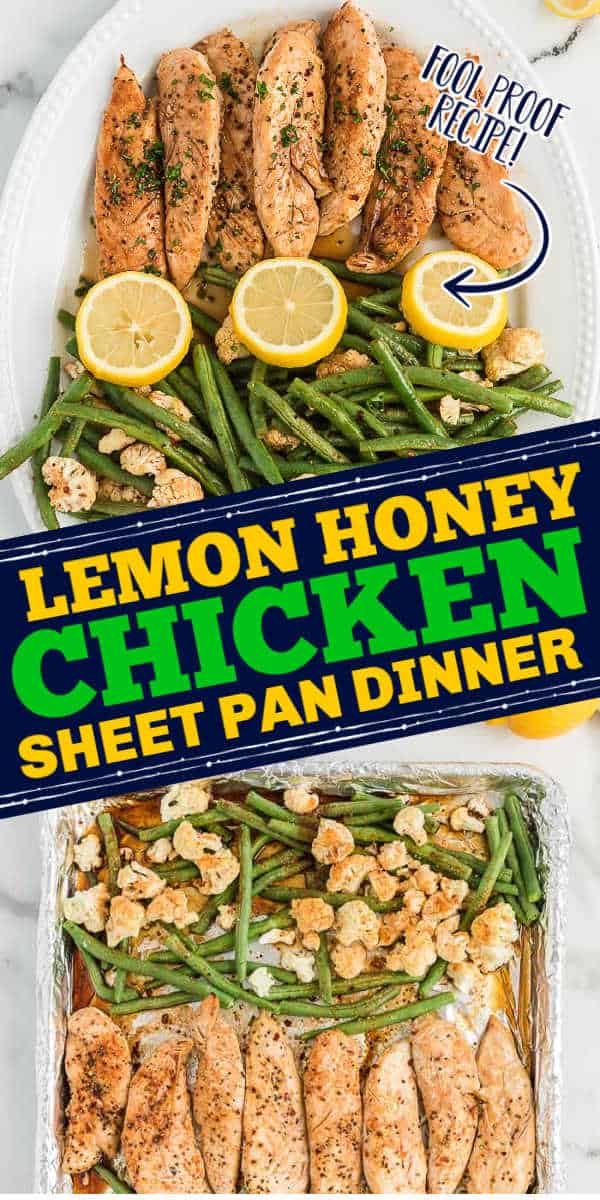 This baked lemon roasted chicken is great for meal prep or making an easy healthy dinner for a busy weeknight. Better than your usual boring baked chicken breasts!
MORE EASY DINNERS
@LeftoversThenBreakfast.com. Content and photographs are copyright protected. Sharing of this recipe is both encourages and appreciated. Copying and/or pasting full recipes to any social media is strictly prohibited.