Make your own tangy and creamy Old Fashioned Tartar Sauce for your favorite fish and seafood dishes, this recipe is far better than bottled!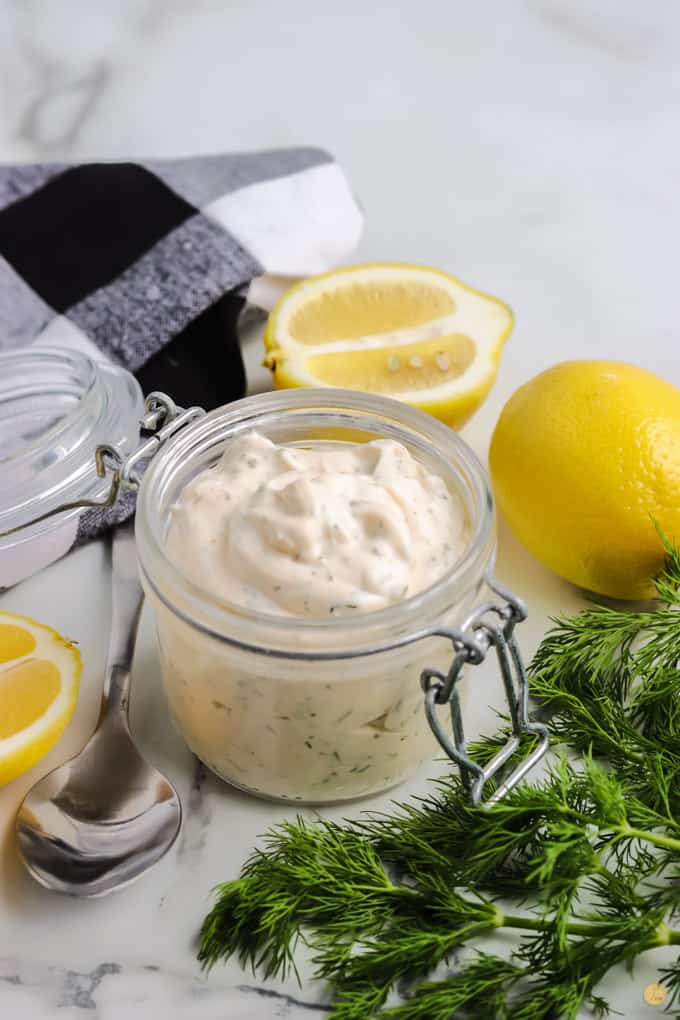 If you'd rather skip my essential cooking tips and tricks and get straight to this delicious recipe – simply scroll to the bottom of the page where you can find the printable recipe card.
Fresh tartar sauce is much better than the bottled stuff, and you can really tell the difference. This is seaside fish market type quality made at home to go with your favorite fish and seafood recipes.
This Old Fashioned Tartar Sauce recipe has the perfect balance of creamy and tangy flavors with a fresh bit of dill, and a little crunch from crisp pickles.
WHAT IS TARTAR SAUCE?
Tartar Sauce is the perfect companion to fresh fish and seafood. It has creamy mayo, crunchy pickles, fresh lemon juice, tangy dill weed, and a little salt and pepper. Combine them and you have just the right flavor combination to serve along with crunchy fried fish and shrimp.
This post may contain affiliate links. As an Amazon Associate, I earn from qualifying purchases. Read my disclosure policy here.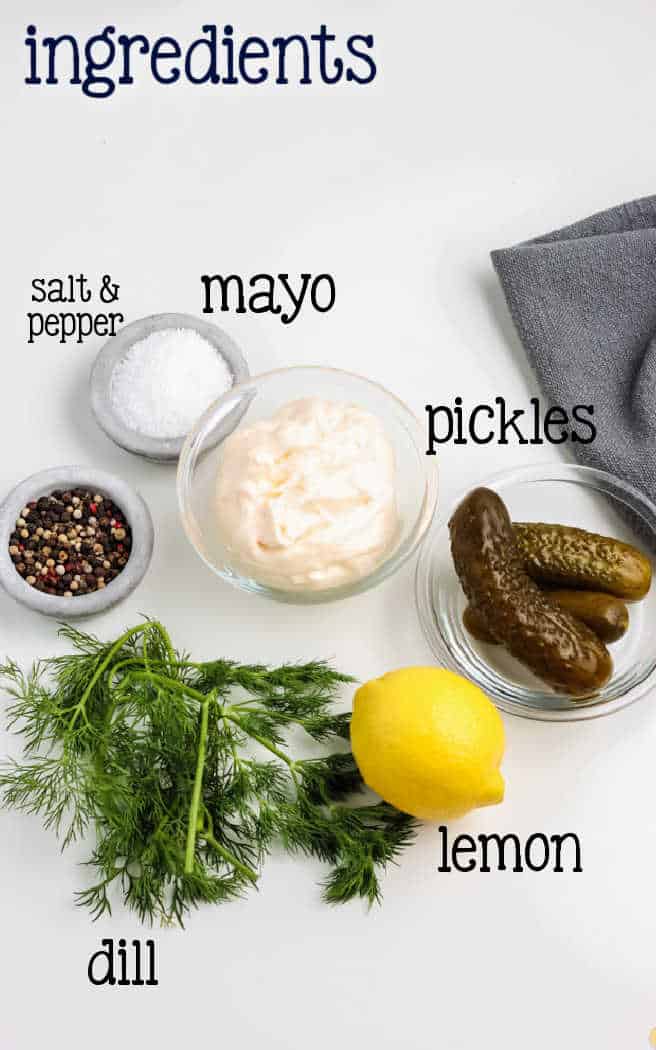 So what's in tartar sauce? So glad you asked! This old-fashioned recipe has just a few ingredients that you probably already have on hand!
TARTAR SAUCE INGREDIENTS
mayonnaise
dill pickles
dill
lemon juice
salt & pepper
Mayo – I like to use Duke's or Hellman's for my sauce but if you have a favorite feel free. Just don't use Miracle Whip as it has other ingredients that can muck up the flavors.
Dill Pickles – I like to use finely chopped sour dill pickles but feel free to use sweet if you like. Or if you are not for chopping, pickle relish works just as easily!
Dill – Fresh herbs are always the best but if you can't find any, use dried dill. Just use half the amount to start with as dried herbs are stronger than fresh.
Lemon – I like to use fresh lemon where I can but if you only have the bottled stuff that's ok too!
Looking for more comfort food? Follow LTB on Pinterest!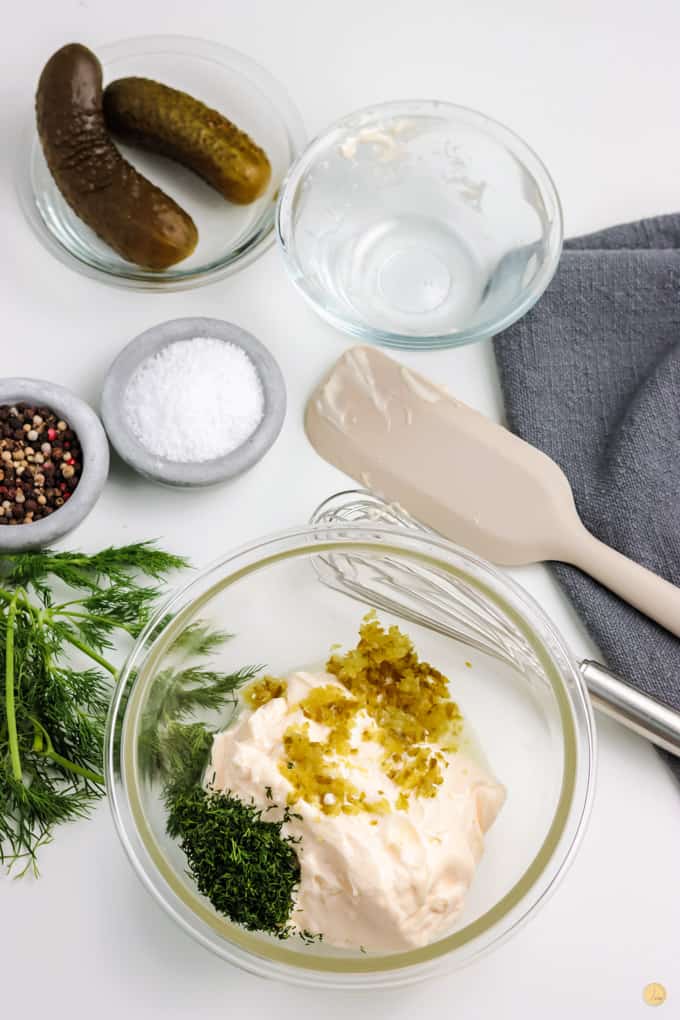 HOW DO YOU MAKE TARTAR SAUCE?
ONE: In a small bowl, combine all the ingredients.
TWO: Store in an air tight container in the refrigerator until you are ready to enjoy!
THREE: Serve with your favorite fried fish recipe or dip your fries in it! I love that!
For the full recipe and detailed baking instructions, please see the recipe card at the end of this post.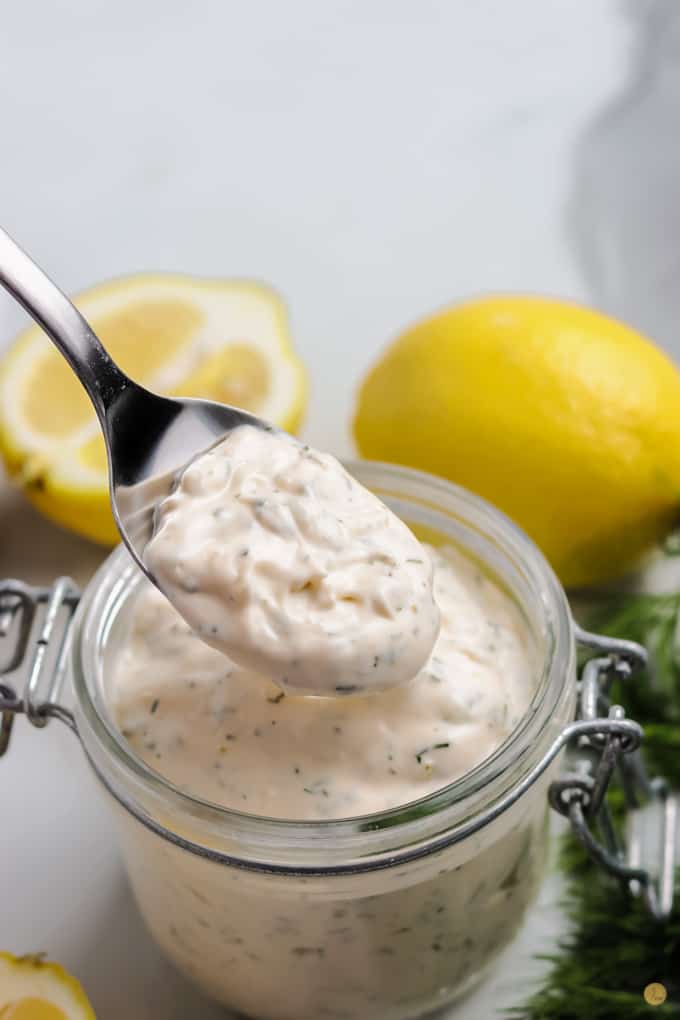 HOW LONG DOES IT LAST?
You can keep this sauce in an airtight container for up to a week. Make sure to give it a good stir each time you use it because ingredients will naturally separate a little.
HOW DO YOU USE TARTAR SAUCE?
You can spread it on a bun for a sandwich or use it as a dip on the side of your main dish. Make sure it doesn't sit out very long as it will spoil due to the mayonnaise as the main ingredient.
I know a few people who love to have fresh tartar sauce on burgers and chicken sandwiches too, some even like it as the filling to put in deviled eggs! To each their own, I'm not here to tell ya how to eat! Tartar Sauce is even good as a dip for fresh vegetables or flatbreads.
TIPS FOR NO LEFTOVERS
Add a little Dijon mustard for a little more tang!
I like to add a little pickle juice to mine if it gets too thick.
If dill pickles aren't your thing, try sweet relish.
If you don't have fresh lemon you can use bottled lemon juice.
Fresh dill weed is best but if you don't have any feel free to use dried dill. Just use about half the amount.
If you like yours spicy, add a dash of hot sauce!
Minced onion is also a great addition to add even more flavor!
MORE SAUCES TO MAKE
If you love this recipe as much as I do, please write a five-star review in the comment section below (or on Pinterest with the "tried it" button – you can now add pictures into reviews, too!), and be sure to help me share on facebook!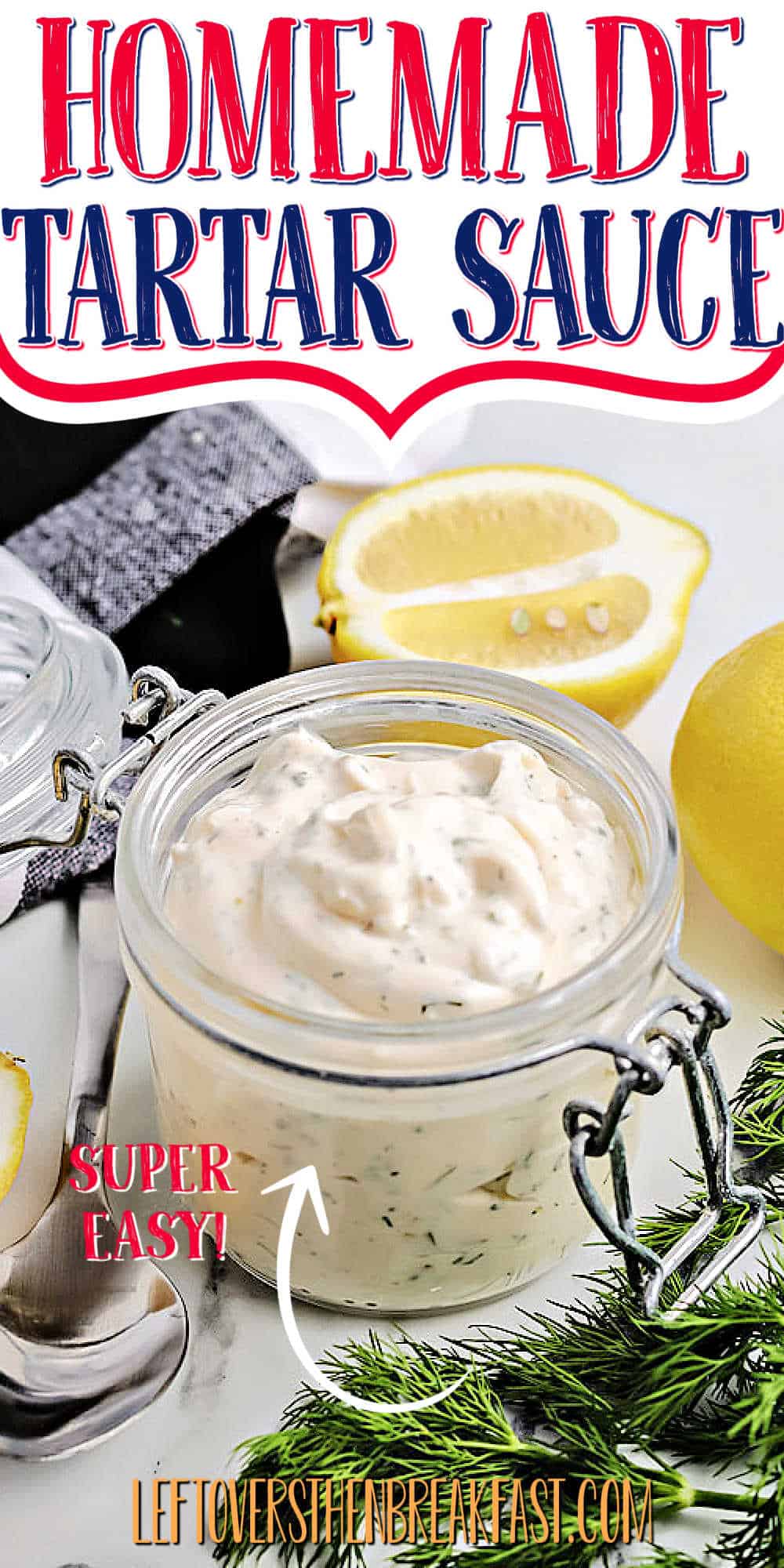 When you whip up this delicious easy tartar sauce for your next freshly caught dinner I would love to hear how you like it and what you served it with!
MORE EASY RECIPES
@LeftoversThenBreakfast.com. Content and photographs are copyright protected. Sharing of this recipe is both encourages and appreciated. Copying and/or pasting full recipes to any social media is strictly prohibited.