Homemade Lasagna is the king of pasta casseroles. The layers of noodles, the ricotta cheese, and an easy bolognese sauce, crowned with a layer of melted cheese. It never fails to please!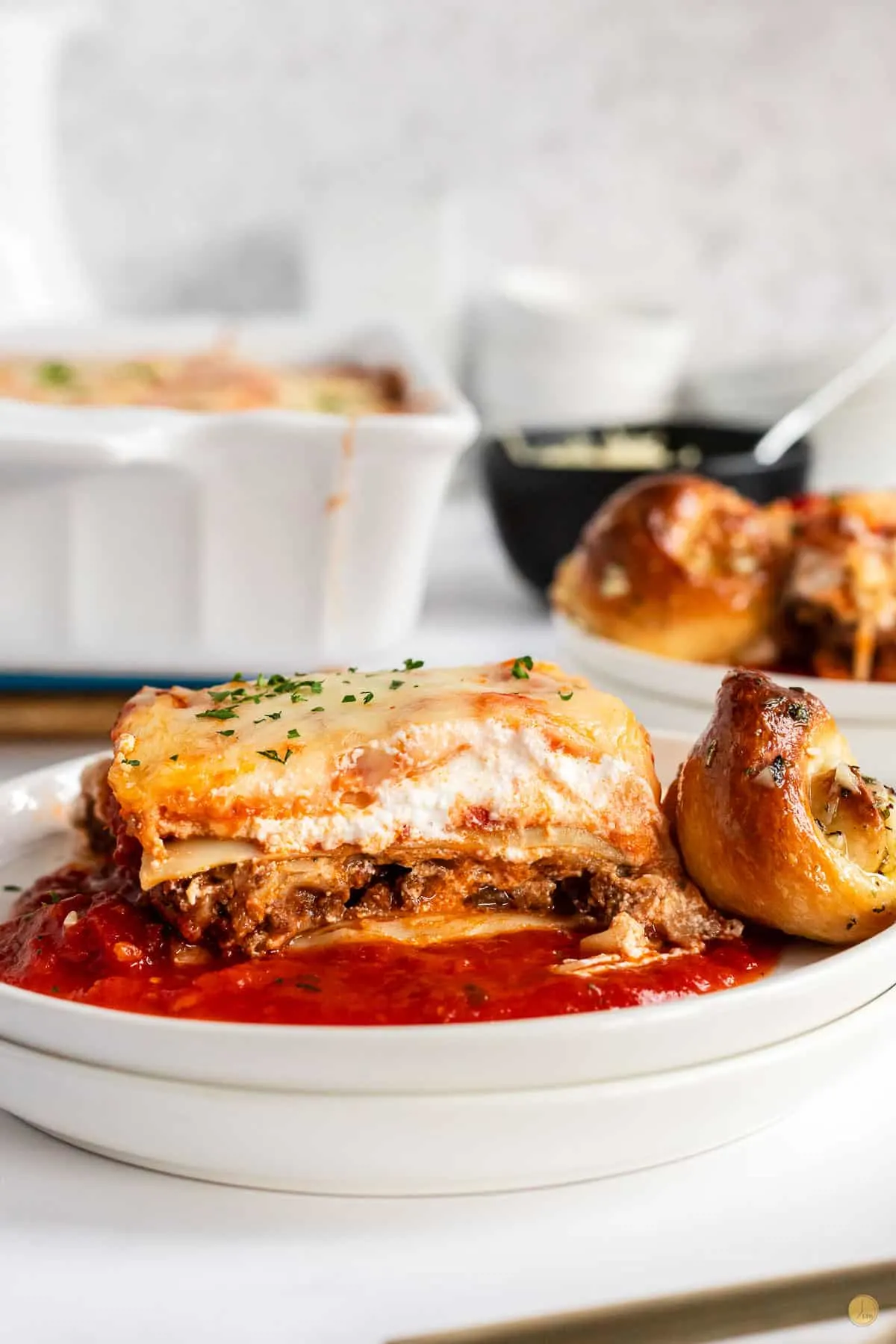 Classic Homemade Lasagna
Lasagna is a word loaded with meaning. The word refers to a particular type of noodle, the lasagne, in its plural form.
However, the noodle is so well known for the classic Italian noodle casserole, it also means the layered dish known the world over.
Serve it alongside an Italian Chopped Salad and my easy Garlic Knots.
If you want it fast, since this can be a labor of love on a busy weeknight, try my skillet lasagna instead.
This post may contain affiliate links. As an Amazon Associate, I earn from qualifying purchases. Read my disclosure policy here.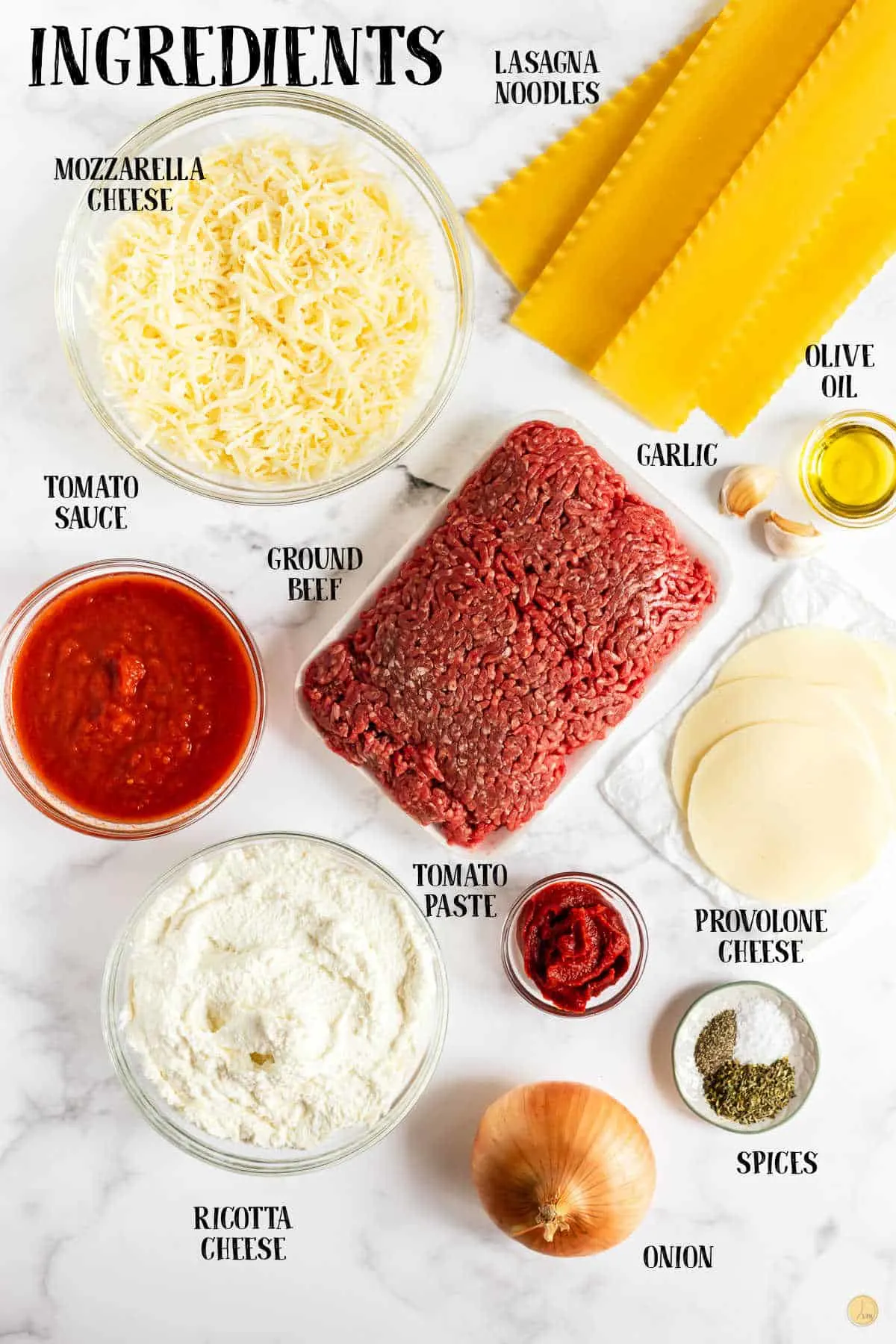 Ingredients Needed
Noodles – Use regular lasagna noodles not the oven ready ones. They are ok but because they are meant to go in the oven uncooked, they tend to be very thin. This gives them a weird texture and won't hold up well with the thick layers.
Ground beef – I like to use a lean ground beef (93/7%) but you can also use ground turkey.
Tomato sauce/paste – Use your favorite tomato sauce (I like an arrabbiata sauce) and tomato paste.
Onion – A yellow onion has a nice flavor but feel free to us a sweet one if you prefer.
Italian seasoning – I like to use homemade Italian seasoning but if you don't have any, you can use a combination of oregano, basil, and rosemary. I also add a bay leaf while cooking the meat sauce.
Ricotta cheese – I prefer whole milk ricotta because it is creamier and not as watery but use your favorite. You can also use cottage cheese, and if you do, use the large curd. You can also pulse the cottage cheese in a food process to smooth out the texture if you want.
Cheese – This recipe uses a combination of shredded mozzarella and non-smoked provolone slices.
Pantry staples – Olive oil,
Looking for more leftover worthy dishes? Follow LTB on Pinterest and pin to a board!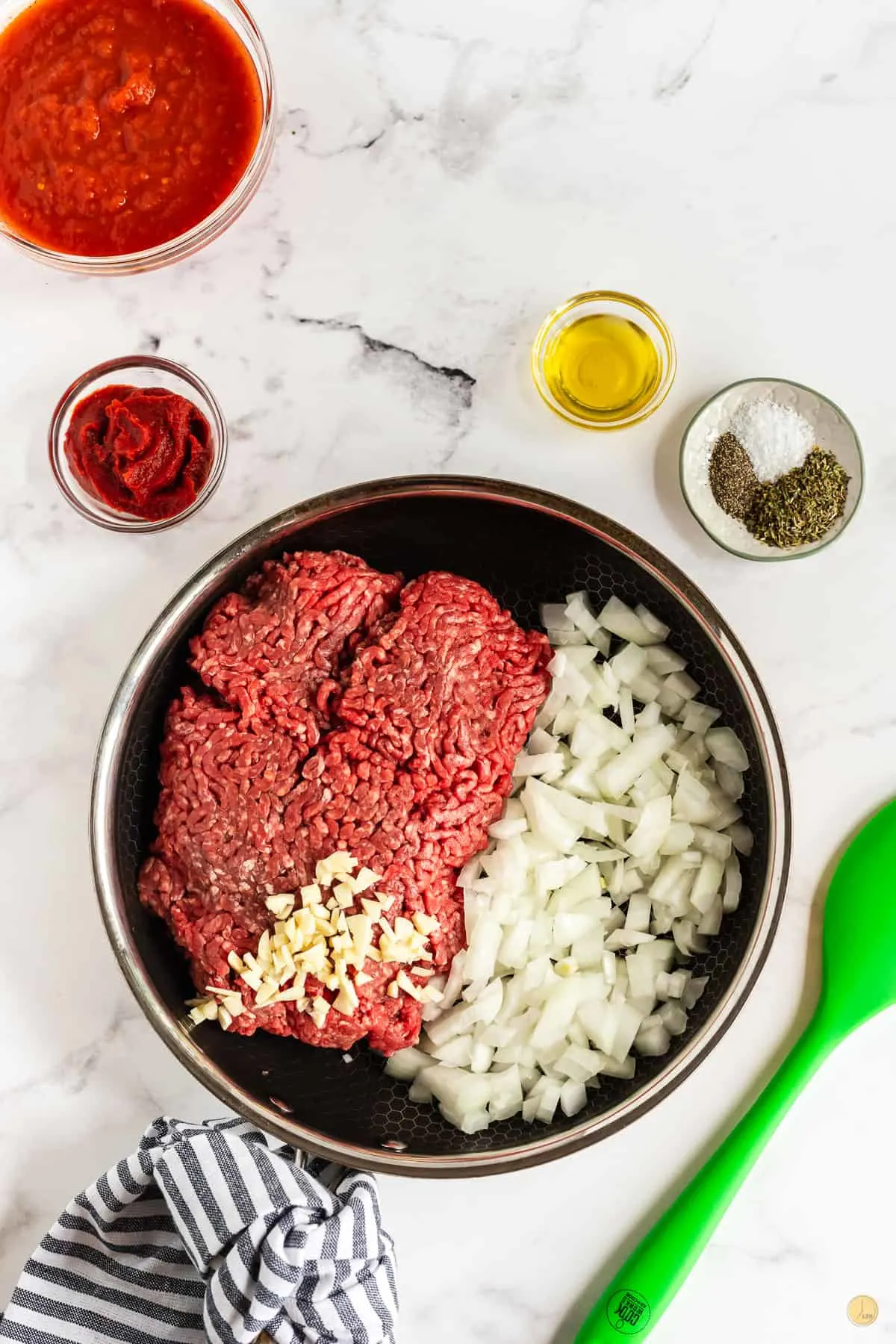 How to make Homemade Lasagna
One: Prepare the lasagna noodles by boiling them according to package directions until they are "al dente" or just slightly firm. Do not over cook! Drain, rinse, and set aside.
Two: Prepare the meat sauce by cooking the onion, garlic, and meat in a large skillet over medium heat. Add in the spices and tomato paste and cook until the meat is no longer pink.
Set aside until ready to assemble the lasagna.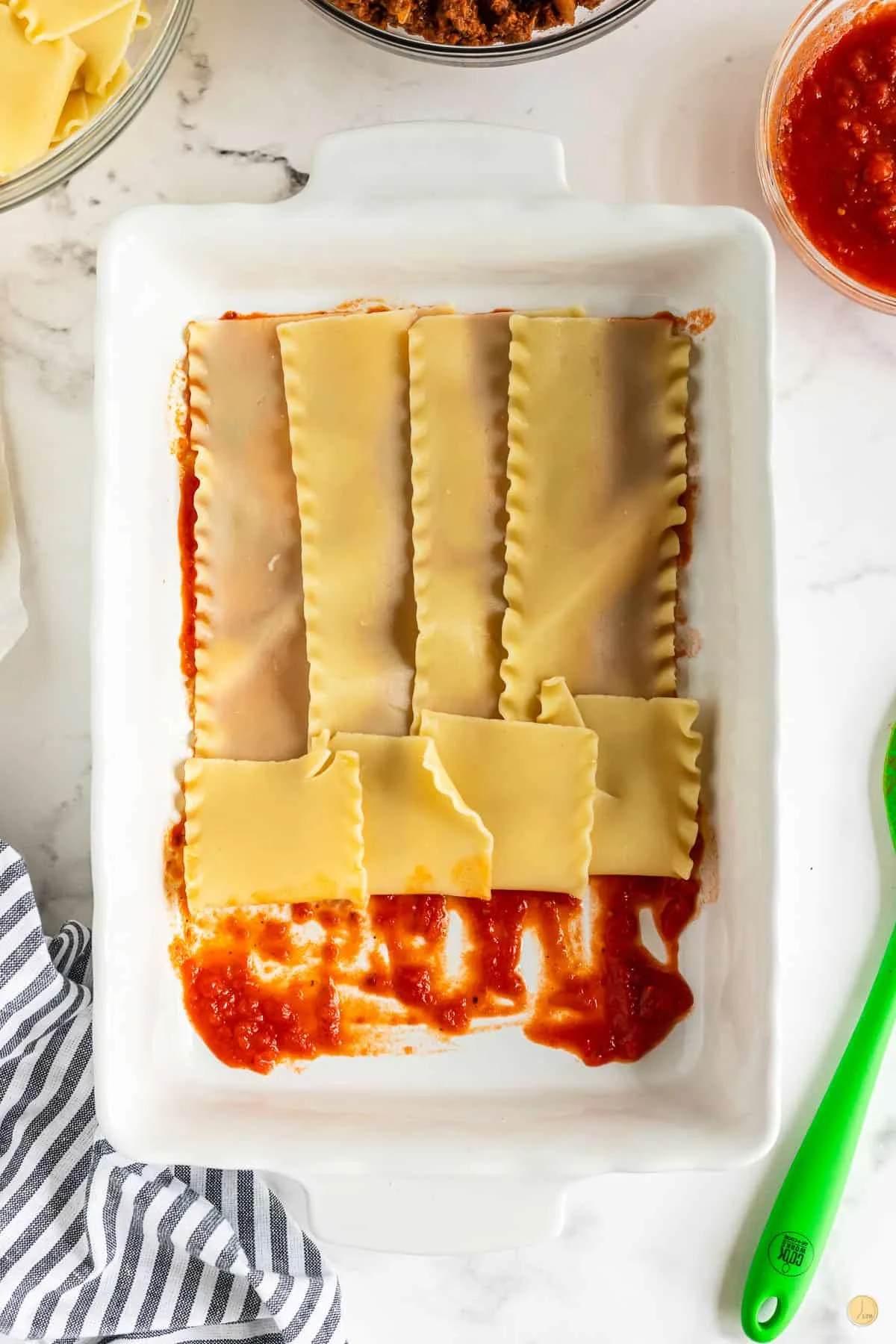 How to Layer Lasagna
Three: Assemble the lasagna by adding a small amount of sauce in the bottom of a large deep baking dish. Add a layer of noodles by slightly overlapping them.
Top with the meat mixture (minus the bay leaf) and spread evenly. Top with provolone cheese slices.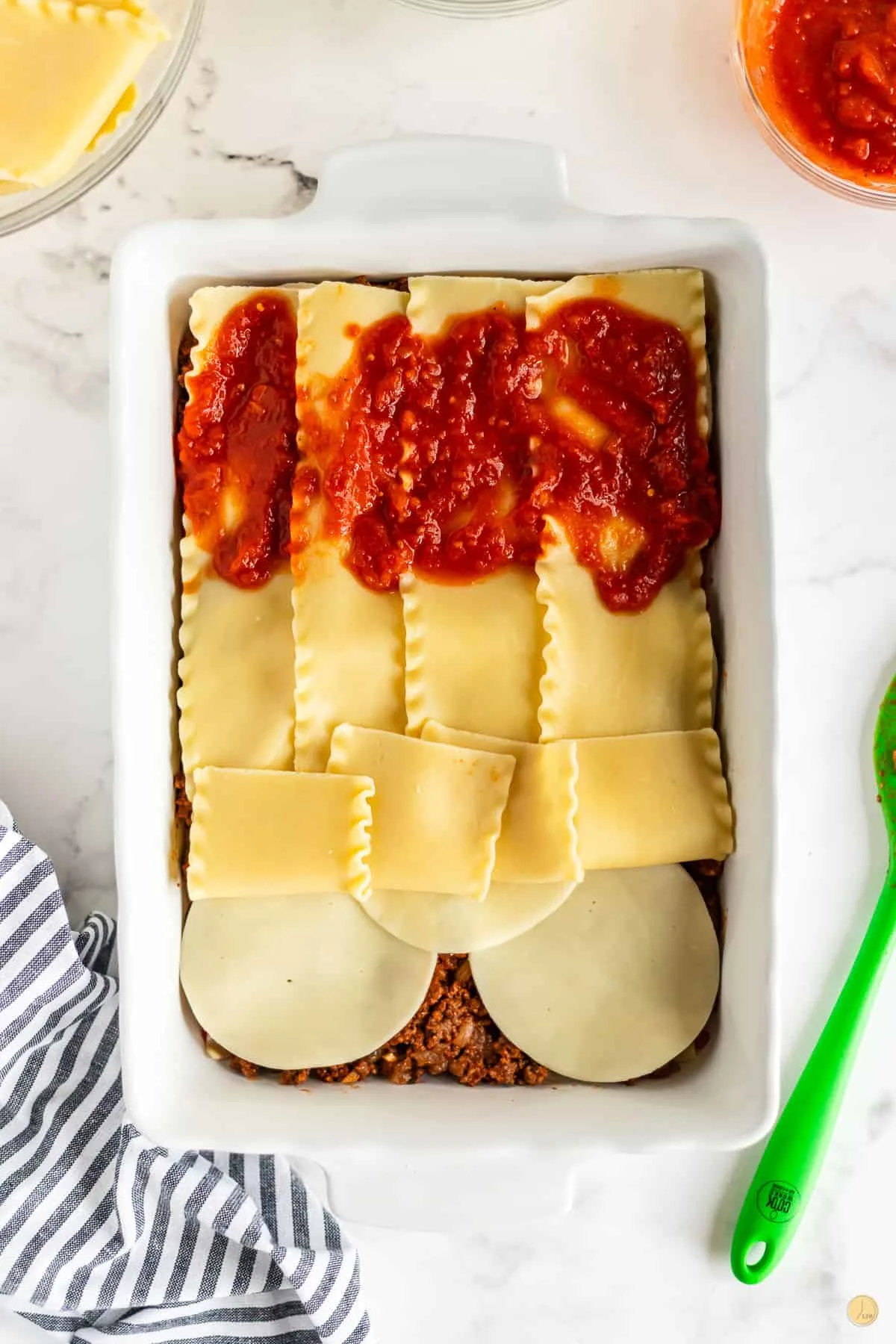 Four: Add another layer of noodles and top with more sauce. Add all the ricotta cheese, spreading it over the entire layer. Top with 1/2 the mozzarella cheese.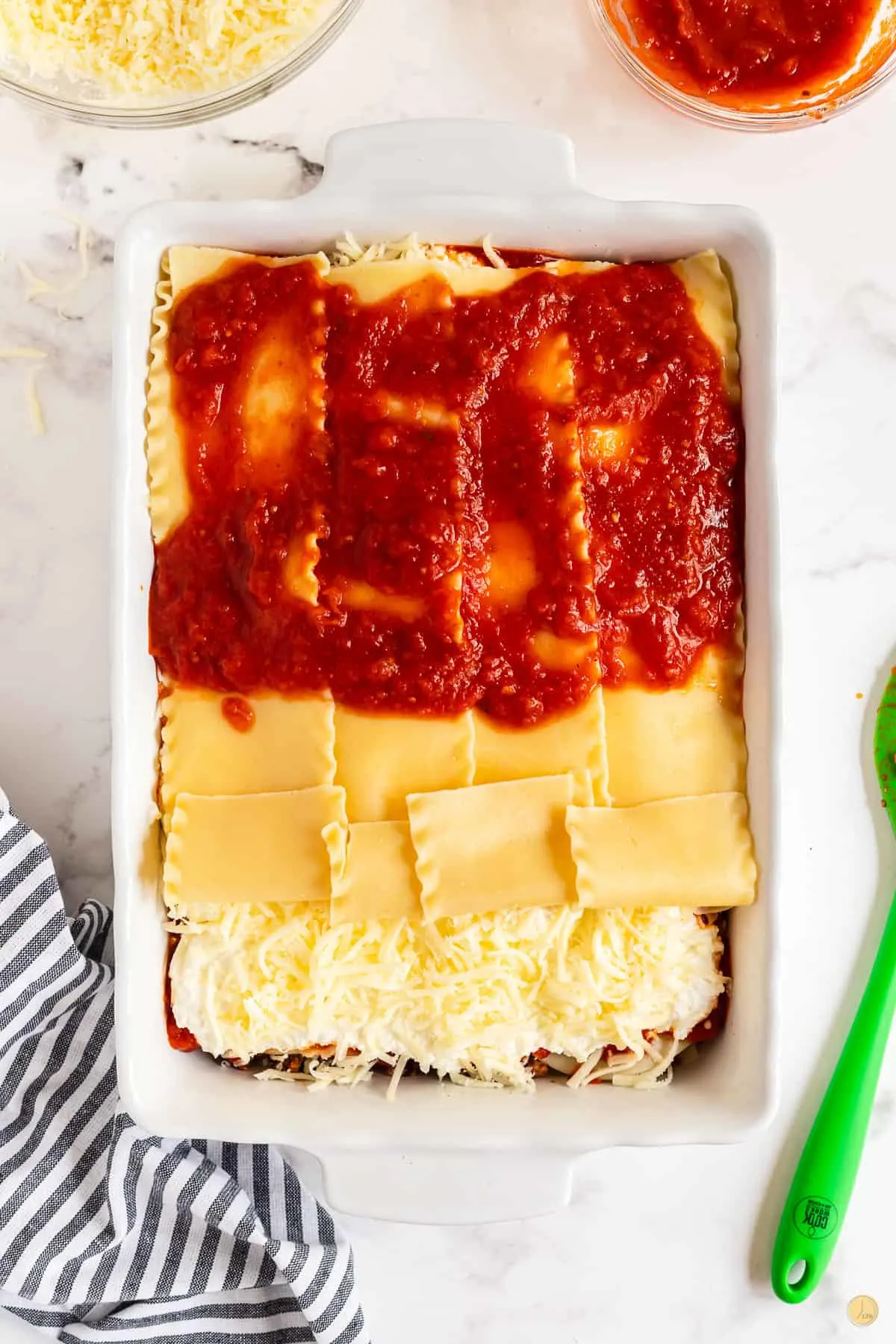 Five: Add another layer of noodles and top with the remaining sauce and mozzarella cheese. Bake at 350F for 30-40 minutes or until bubbly and the cheese is melted.
Remove the homemade lasagna from the oven and enjoy!
For the full recipe and detailed baking instructions, please see the recipe card at the end of this post.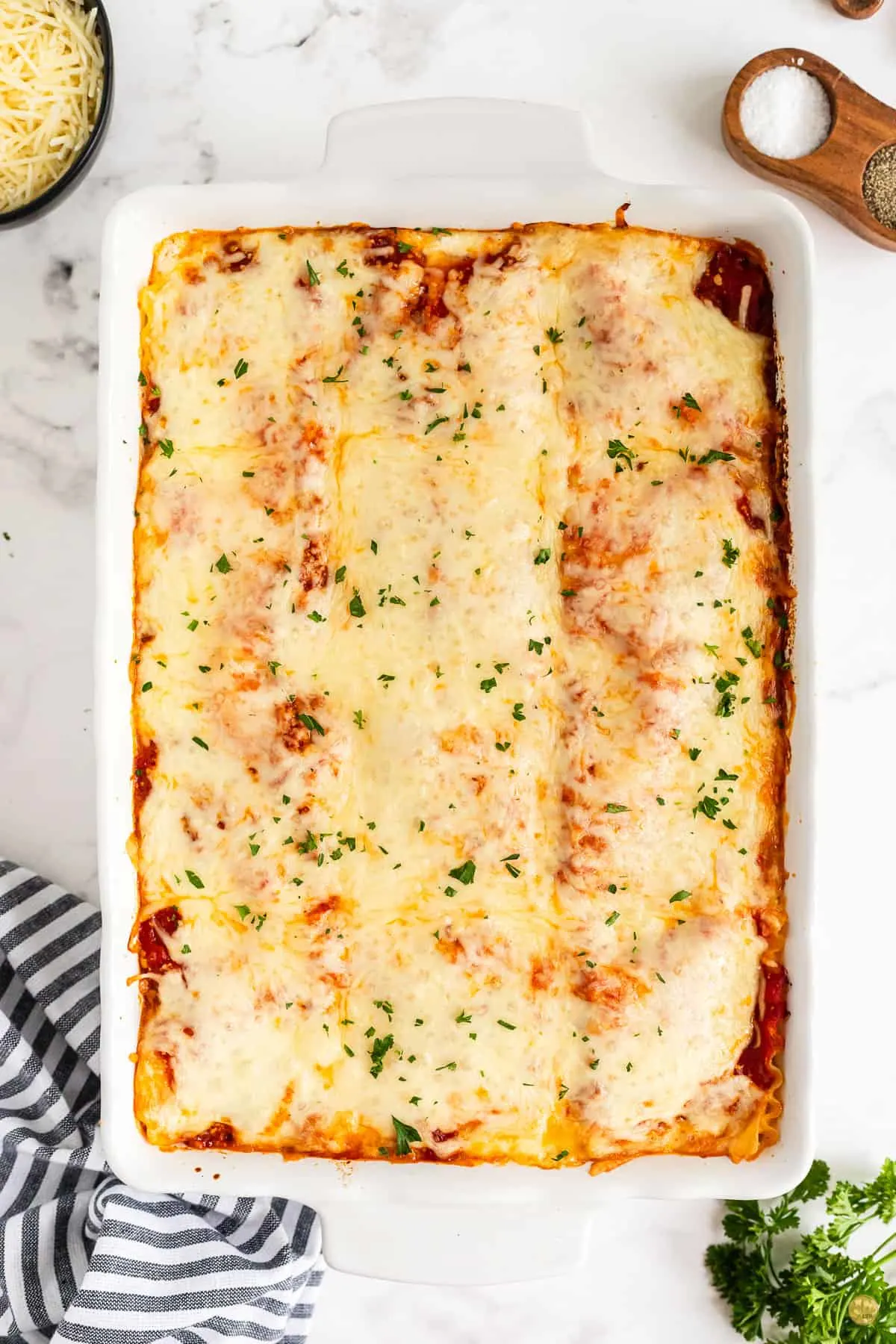 How many layers is best for lasagna?
I believe that 3 layers of noodles is best for lasagna. You want to start and end with noodles to hold everything together. That leaves one layer of noodles to separate the meat and cheese layers.
A lot of recipes will call for the same number of noodle layers but combine the meat and cheese in between them. I like to keep mine separate.
It is the way my mom used to make it for the restaurant and I think it makes a prettier presentation.
Another reason is that a box of lasagna noodles usually contains between 15-18 noodles.With 5 on each layer, you would need to make more than one box.
What is the proper way to layer lasagna?
Some like to make a meat sauce, by combining the meat and extra tomato sauce in one.
This would mean that you could add 1 cup of meat sauce and ricotta cheese in a single layer, then continue to repeat the layers until all the ingredients are used.
I believe this isn't really the issue. Have layers with ingredients that you like, but in terms of the actual layering process, here are some rules.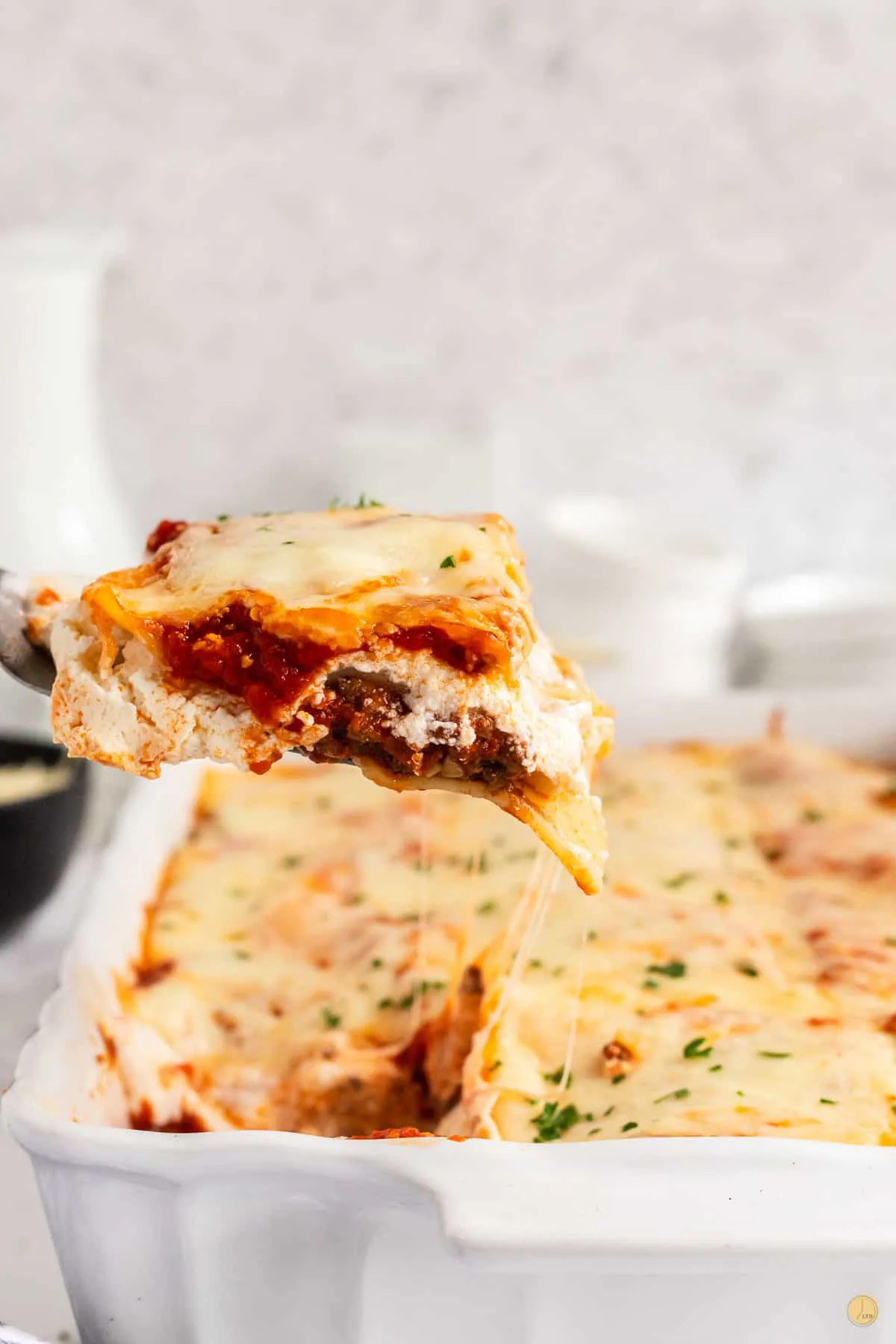 Is homemade lasagna better with cottage cheese or ricotta cheese?
If you are trying to keep it authentic to Italian style, then you definitely need to go with ricotta cheese. Ricotta cheese is creamier in texture and has less water. It also has more calories.
Cottage cheese is lighter but has a different texture. It also has more water, so be careful with too much sauce or the lasagna will be soupy.
How to store it
Store any leftovers wrapped tightly in the fridge for up to 4 days.
How to reheat it
Reheat the lasagna but heating the entire dish in a 350F oven for 15-20 minutes or until heated through.
You can also reheat slices in the microwave. You might need to add additional sauce if you like.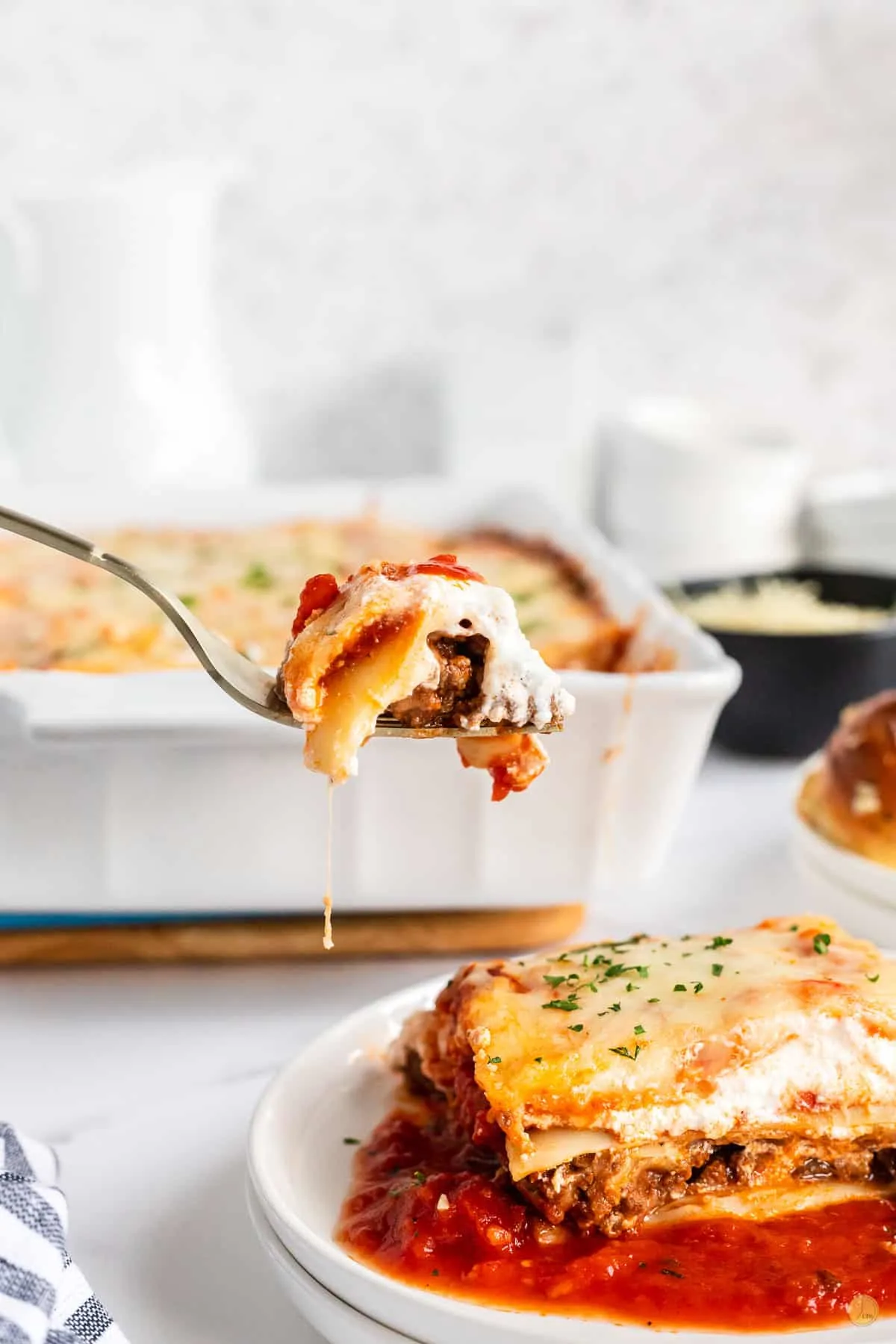 Can I make it ahead of time?
You can assemble the lasagna up to 2 days ahead of time. Just wrap the dish with plastic wrap first and then with aluminum foil tightly and store in the refrigerator until ready to bake.
You can also freeze it at this point. Thaw overnight and then bake as directed.
Can I freeze it?
Lasagna is a great freezer meal. You can assemble it and then freeze it. Or you can make it, bake it, cool it completely, wrap tightly, and freeze it for up to 3 months.
Allow it to thaw overnight in the refrigerator before reheating it.
More Easy Recipes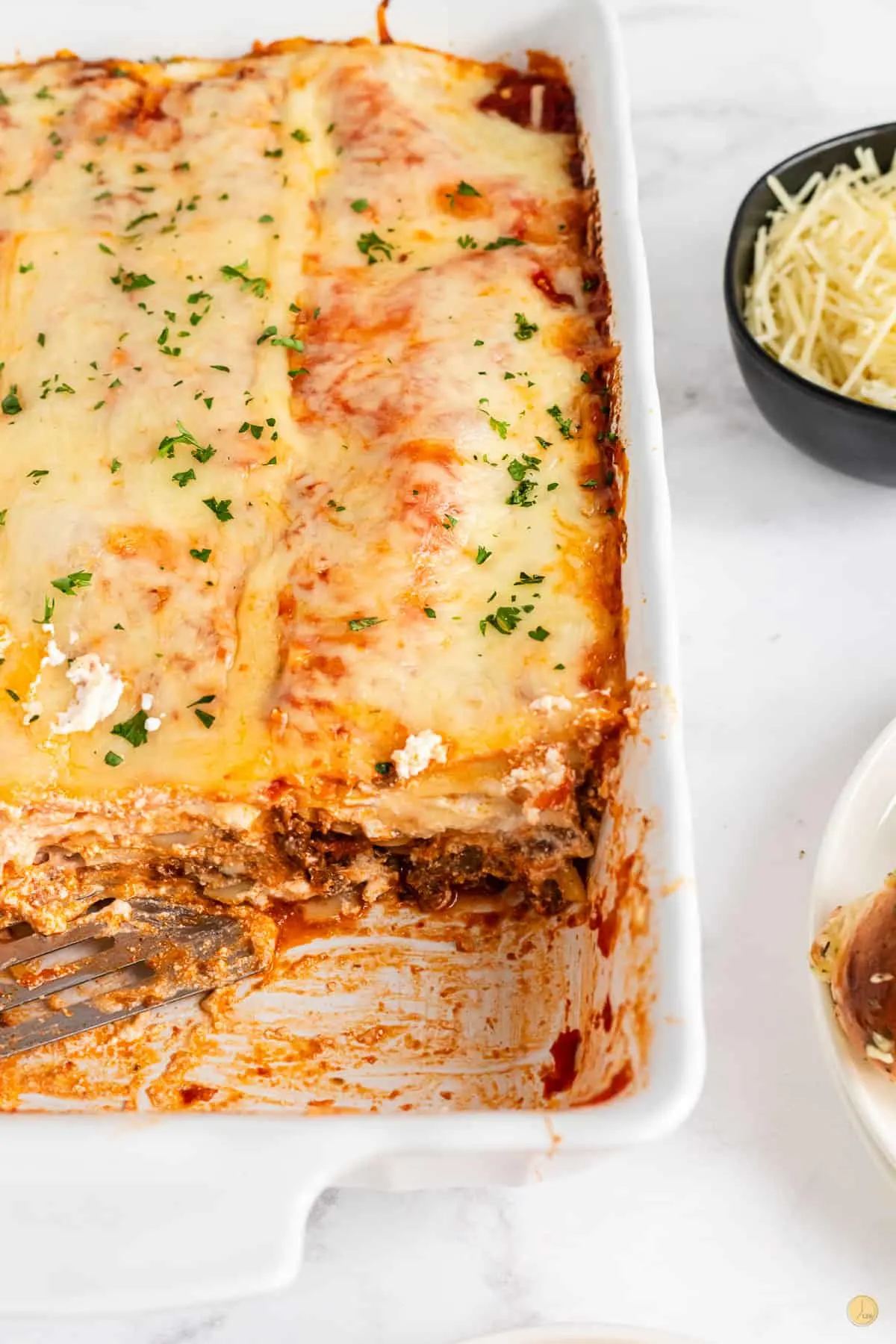 What do you bake lasagna in?
Because of the layers, you want to make sure you have a dish that is big enough, and deep enough, to hold it all in.
A traditional 9×13 pan (like you make for a cake) is not deep enough. You need one that is at least 2.5 inches deep to accommodate all the yummy layers.
I like this pan the most! Don't be tricked into buying an oversize pan because the noodles will not be long enough or wide enough and you will need to make a second box of noodles.
Why is my homemade lasagna watery?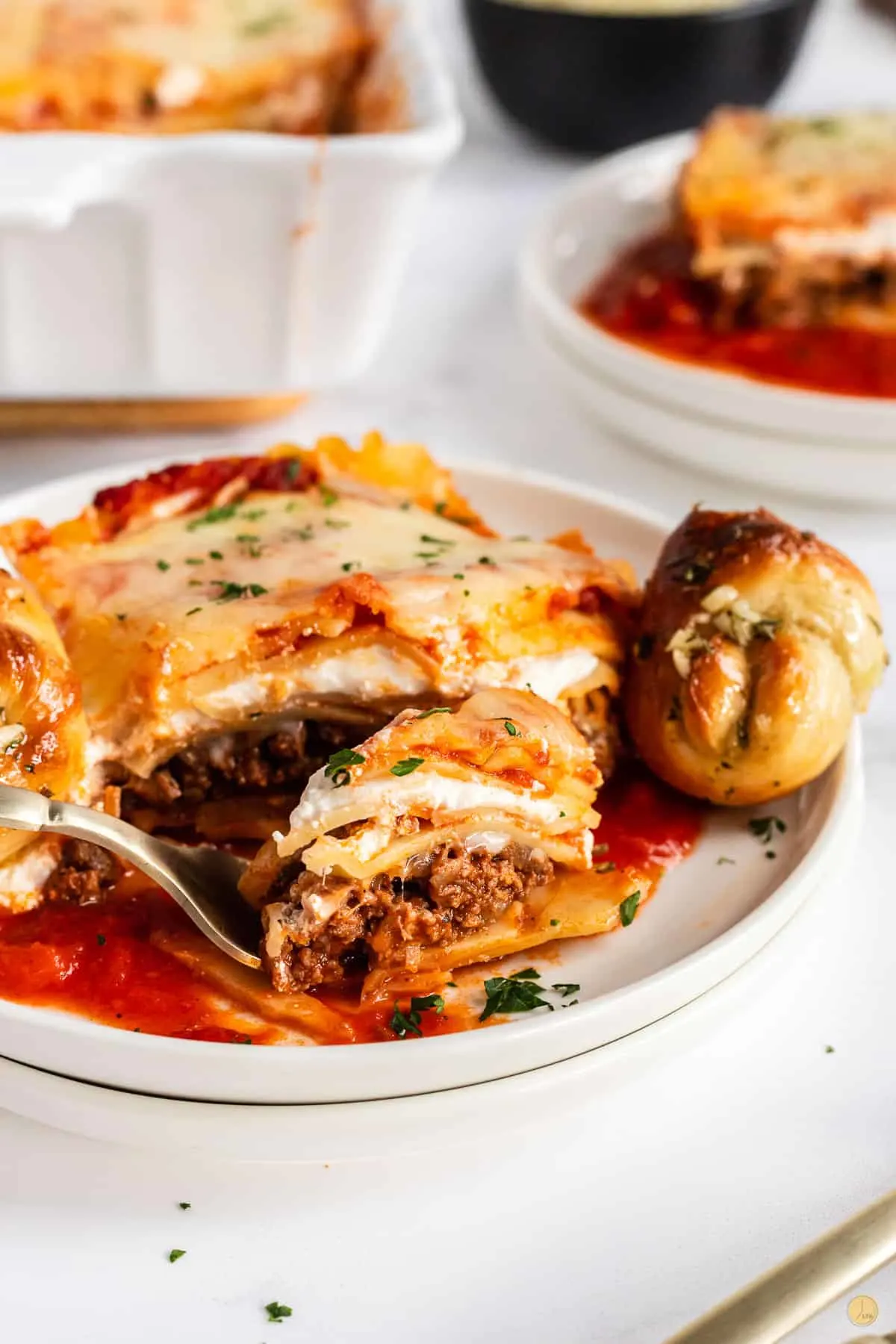 Tips for No Leftovers
If you love this recipe as much as I do, please write a five-star review in the comment section below (or on Pinterest with the "tried it" button – you can now add pictures into reviews, too!), and be sure to help me share on facebook!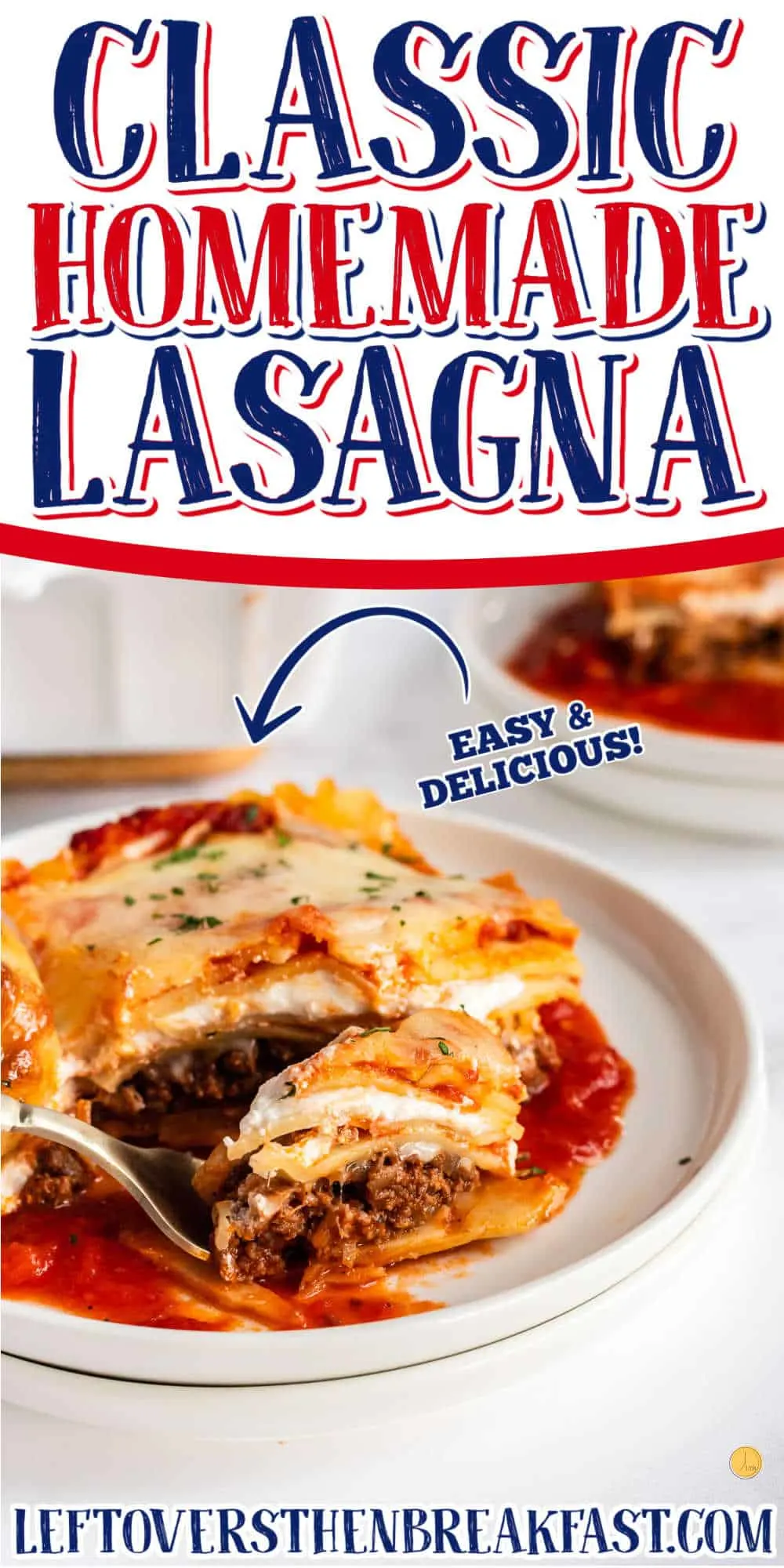 This homemade lasagna recipe is a family favorite and I know it will quickly be one of yours. Made just like my mom used to at the family restaurant, the thick layers of rich meat sauce and creamy ricotta cheese, will fill your belly and your heart!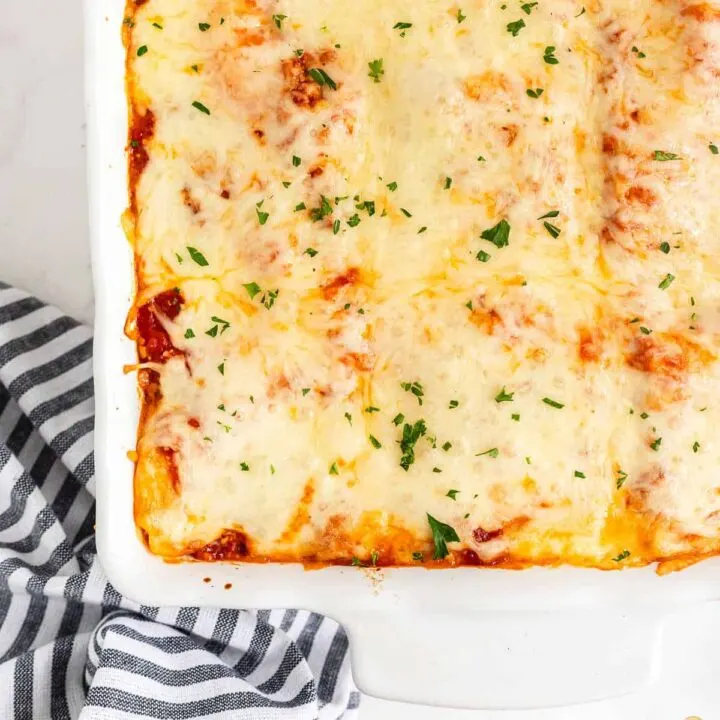 Homemade Lasagna
Homemade Lasagna is the king of pasta casseroles. The layers of noodles, the ricotta cheese, and an easy bolognese sauce, crowned with a layer of melted cheese. It never fails to please!
Ingredients
I package (16 ounces) Lasagna Noodles
2 teaspoons Olive Oil
1 medium Yellow Onion (diced)
3 cloves Garlic (minced)
1 tablespoon Italian Seasoning
1 Bay Leaf
1.5 pounds lean Ground Beef
4 tablespoons Tomato Paste
2 cups Tomato Sauce
8-10 slices Provolone Cheese (non-smoked)
4 cups shredded Mozzarella Cheese
32 ounces Ricotta Cheese
Instructions
Boil the lasagna noodles
Bring 6 quarts water to a boil in a large pot over medium high heat.
Cook noodles according to package directions, to al dente. Do not over cook.
Drain and rinse with cold water to stop the cooking process. Set aside.
Prepare the meat sauce
In a large skillet, over medium heat, heat olive oil.
Add the onions, garlic, bay leaf, and Italian seasoning. Cook until the onions are soft.
Add the ground beef. Cook until no longer pink. Drain if desired.
Return the pan to the heat and add the tomato paste. Stir to combine and heat through for 1-2 minutes. Set aside.
Assemble the lasagna
Preheat the oven to 350F.
In a deep 9x13 baking dish add 1/2 cup tomato sauce. Spread to cover the bottom of the dish.
Place a layer of lasagna noodles, slightly overlapping, over the sauce. I use 5 noodles across.
Remove the bay leaf from the meat mixture and gently spread all the meat over the noodles.
Top with the provolone slices, spreading out to cover as much of the meat as possible.
Top with another layer of noodles. Add 1/2 cup sauce and gently spread around.
Remove the ricotta cheese from the container and place on the noodles. I like to scoop or spoon it around the layer and then spread using a spatula or spoon (or my hands) to cover the layer evenly.
Top the ricotta cheese with half the shredded mozzarella cheese.
Add a final layer of lasagna noodles. Top with remaining tomato sauce, spreading to cover the noodles evenly.
Top with remaining mozzarella cheese.
Bake at 350F for 30-45 minutes or until the sides are bubbly and the cheese is melted. If the cheese starts to brown too quickly, you can cover the lasagna with aluminum foil until it is finished cooking.
Remove from the oven and let cool for a few minutes.
Slice and enjoy!
Notes
*If you love this recipe as much as I do, please leave me a comment and rate it 5 stars. Thank you!
Recommended Products
This post may contain affiliate links. As an Amazon Associate, I earn from qualifying purchases. Read my disclosure policy here.
Nutrition Information:
Yield:

12
Serving Size:

1
Amount Per Serving:
Calories:

446
Total Fat:

26g
Saturated Fat:

14g
Trans Fat:

0g
Unsaturated Fat:

9g
Cholesterol:

109mg
Sodium:

721mg
Carbohydrates:

14g
Fiber:

1g
Sugar:

4g
Protein:

39g
LeftoversThenBreakfast.com. Content and photographs are copyright protected. Sharing of this recipe is both encourages and appreciated. Copying and/or pasting full recipes to any social media is strictly prohibited.