Easy Breakfast Egg Muffins are bite-sized omelets that are loaded with flavor. Made with creamy eggs, crispy bacon, and savory cheese these hand-held muffins are tantalizing delicious, filling, and portable so you can start your busy day off right!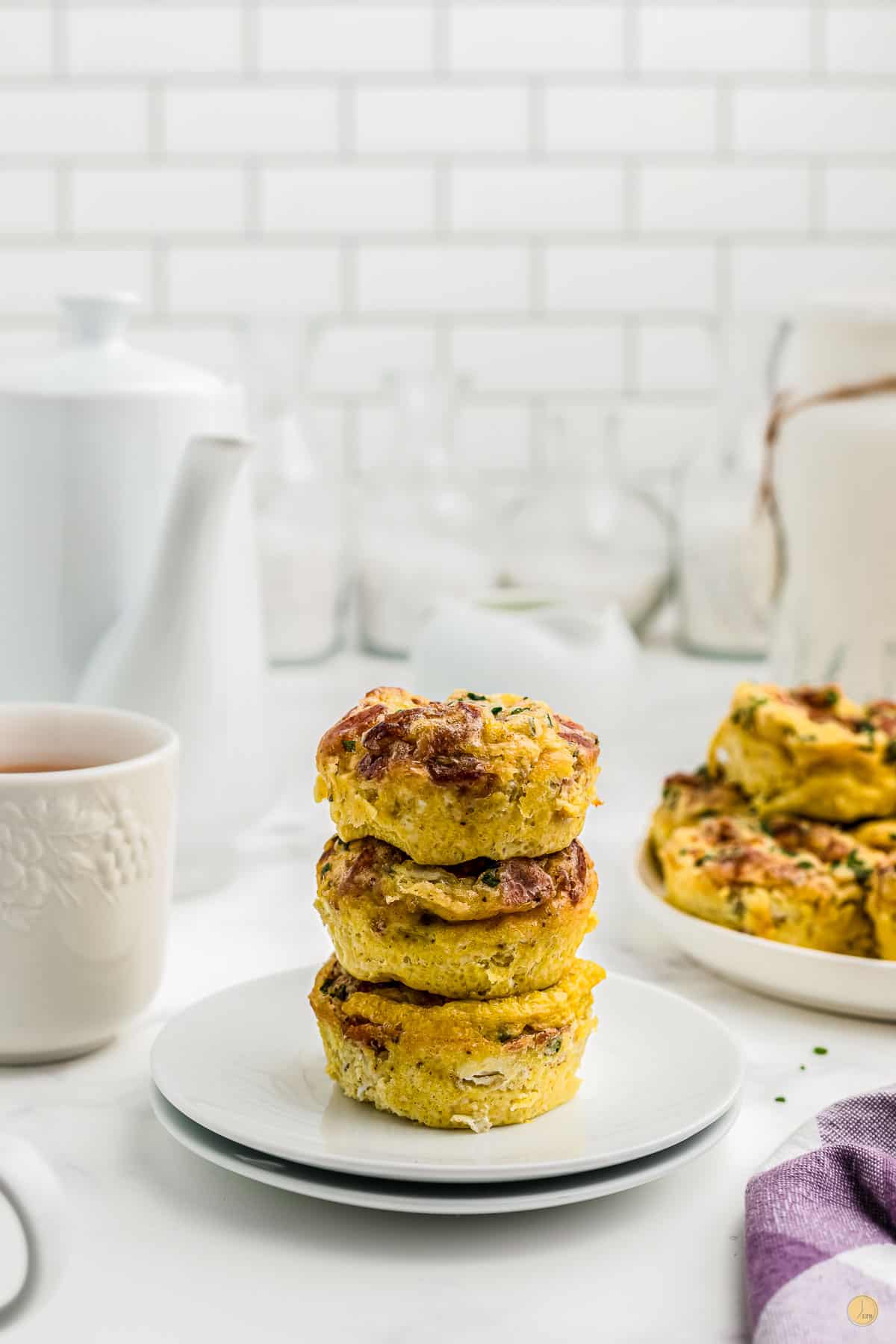 If you'd rather skip my essential cooking tips and tricks and get straight to this delicious recipe – simply scroll to the bottom of the page where you can find the printable recipe card.
BREAKFAST MUFFINS
Step aside plain old scrambled eggs!
Breakfast egg muffins, otherwise known as breakfast muffins, are a mini version of a frittata or omelet loaded with protein packed rich eggs, hearty meat, and cheese.
These on-the-go muffins can be customized to your family's tastes and dietary needs, they're kid friendly, can made ahead of time AND enjoyed as a quick breakfast later!
So, when you're looking for an amazingly quick breakfast or snack, grab some eggs and a few extra pantry staples, pour the egg mix into your handy muffin tin, pop into your oven, and viola!
In less than 30 minutes, your breakfast egg muffins will be perfectly browned on top and will have a tender and flavorful interior.
Serve with a dollop of sour cream and my copycat Cracker Barrel Hashbrown Casserole and enjoy!
This post may contain affiliate links. As an Amazon Associate, I earn from qualifying purchases. Read my disclosure policy here.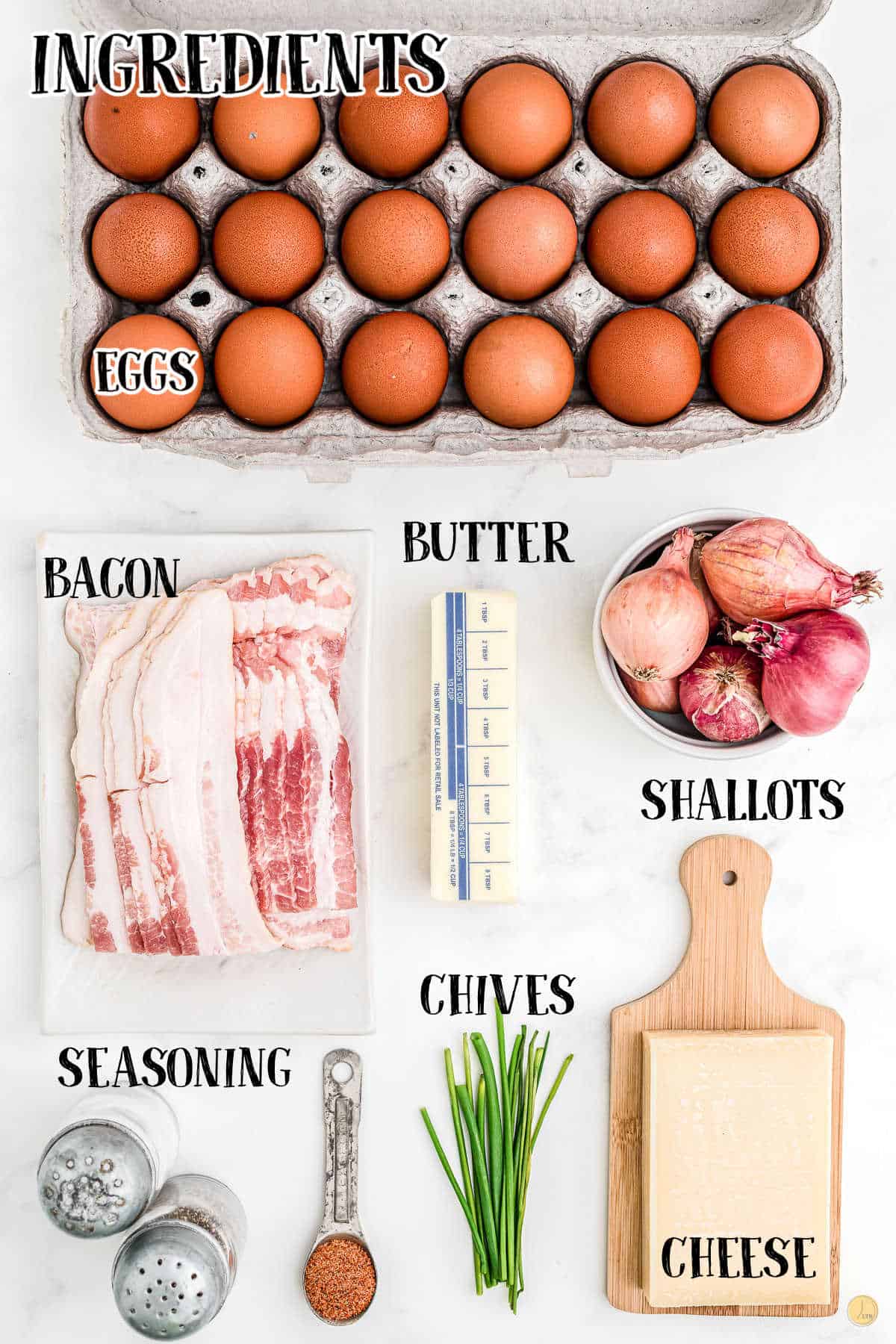 INGREDIENTS FOR BREAKFAST MUFFINS
Eggs
Butter
Bacon
Shallots
Seasoning
Chives
Cheese
Bacon: I prefer to use a low-sodium bacon to help control the salt content in these muffins but feel free to use your favorite type and brand of bacon.
Seasoning: I find making your own Creole seasoning is best, however; you can certainly use a pre-mixed Creole or Cajun seasoning that can be found down the spice aisle at your local grocery store.
Cheese: I used shredded Gruyere. But mozzarella, parmesan, pepper jack, and cheddar cheese will work well too!
Looking for more comfort food? Follow LTB on Pinterest!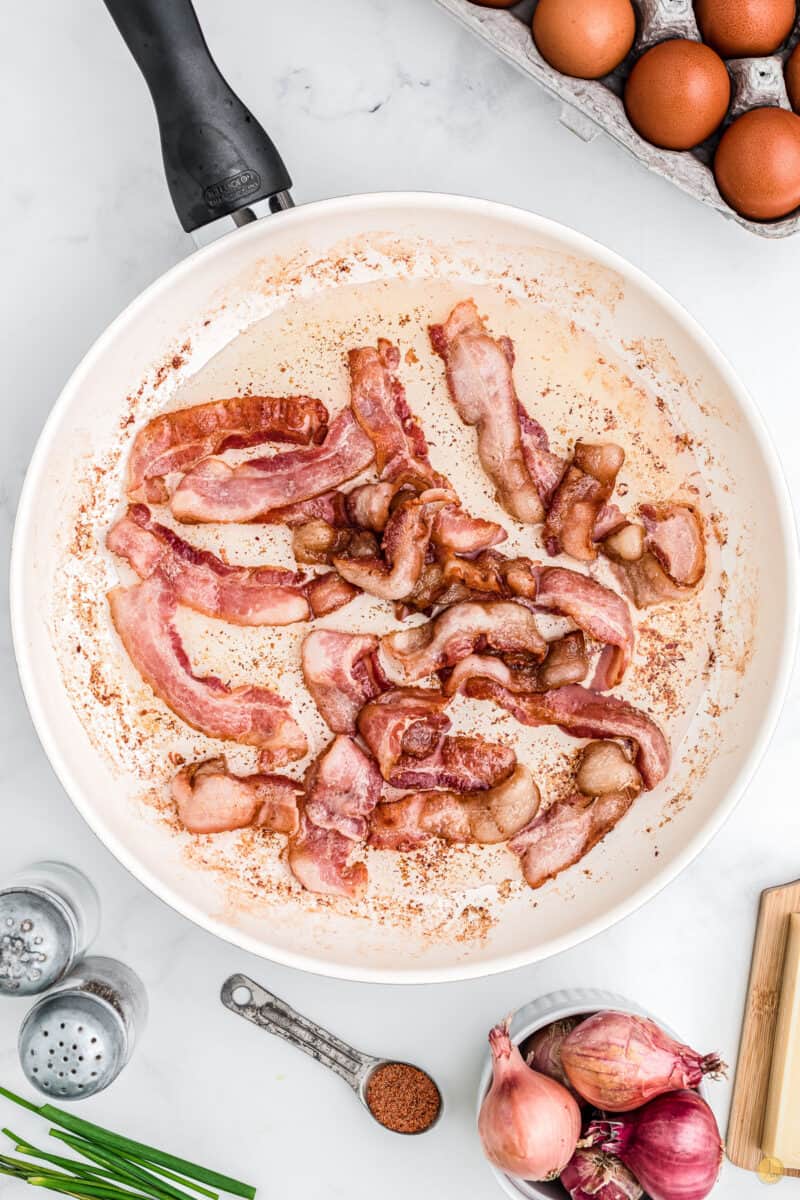 HOW TO MAKE BREAKFAST EGG MUFFINS
ONE: Preheat oven to 350°F. In a large skillet cook the bacon until almost crispy. Remove bacon, allow to cool, and then chop into small pieces once cooled.
With a pastry brush, grease muffin tins with bacon fat.
TWO: In a large bowl mix eggs. To same bowl, add the melted butter, finely chopped chives, cheese and seasoning and mix well but do not over mix.
THREE: Spoon the egg mixture, stirring in between to keep even, into the muffin pan. Fill muffin tins only 3/4 full as mixture will rise.
Add a pinch of bacon pieces into each cup, evenly. Use a fork and move the bacon around evenly in each cup.
FOUR: Bake for 15-20 minutes, until golden brown on the edges. Remove and allow to cool for 5 minutes before removing from the muffin pan.
Repeat with remaining egg mixture or use two muffin pans at one time. Enjoy!
For the full recipe and detailed baking instructions, please see the recipe card at the end of this post.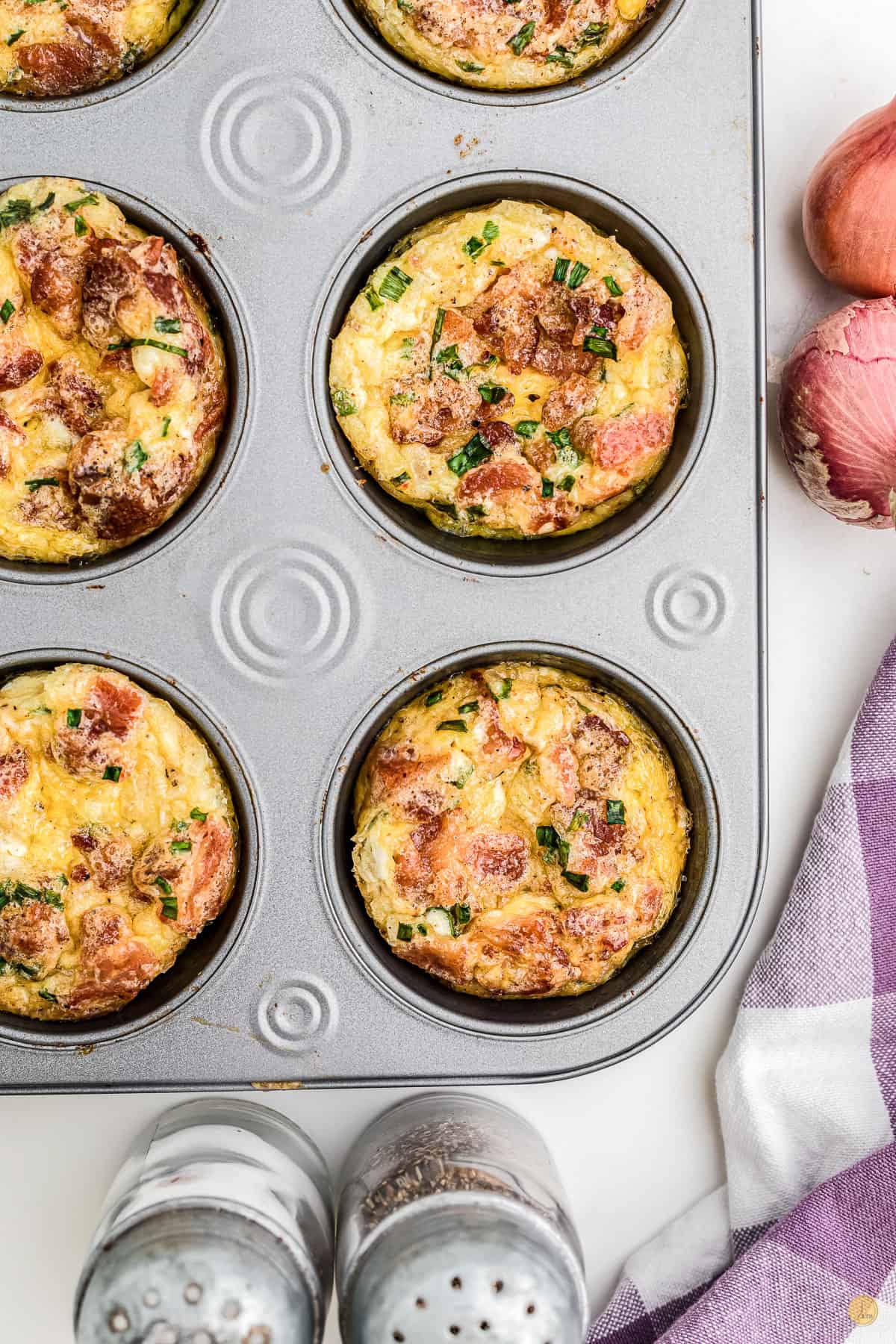 CAN I MAKE THEM IN ADVANCE?
That's the beauty of these! You can make a batch and they will keep for a few days so you can feed your family a hearty breakfast and not stress.
HOW LONG DO THEY KEEP IN THE REFRIGERATOR?
Once muffins are completely cooled, place in an airtight container line with paper towel in the fridge for up to 5 days.
CAN I FREEZE THEM?
Yes! These egg muffins freeze extremely well. Allow the egg muffins to completely cool, wrap them individually in plastic wrap, and place in a freezer safe storage container or resealable bag with paper towel.
These muffins will be good in the freezer for up to 3 months.
When ready to eat, muffins can be thawed first in the fridge overnight then reheated or reheated straight from the freezer frozen.
CAN I REHEAT THEM?
Microwave is the best and easiest way to reheat. Use medium power when microwaving and do it in 30 second intervals until hot in the middle.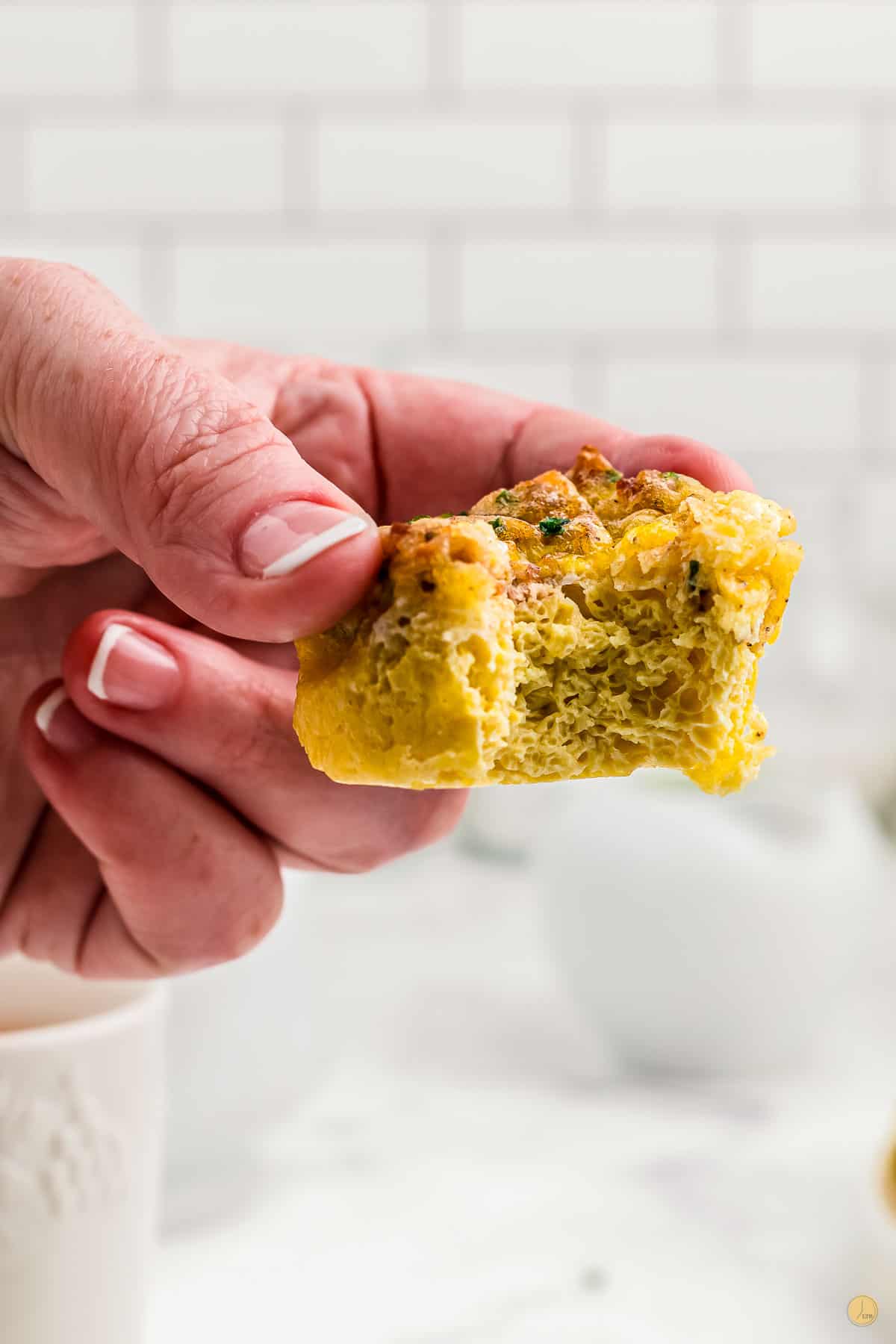 WHY ARE MY EGG MUFFINS SPONGY?
There are a couple of reasons on why your egg muffins could be spongy.
First, you could be over beating your eggs. The spongy texture arises from air getting into the batter, so try beating/stirring the egg mixture jut until the ingredients are combined.
Also, the dry heat of the oven plus over beating will almost always result in a spongy egg. Be sure to keep your oven heat low in order to help keep them light and fluffy.
FLAVOR VARIATIONS:
While these easy breakfast egg muffins are delicious just as directed. Feel free to spice up using one or a combination of the following variations:
Meat: Bacon, Ham, Chorizo, Pork Sausage, or Chicken
Veggies: Bell Peppers, Green Onions, Spinach, Mushrooms, Jalapeno/Green Chilies or Tomatoes
Cheese: Cheddar, Mozzarella, Colby Jack, Feta, or Parmesan
TOOLS YOU MIGHT NEED: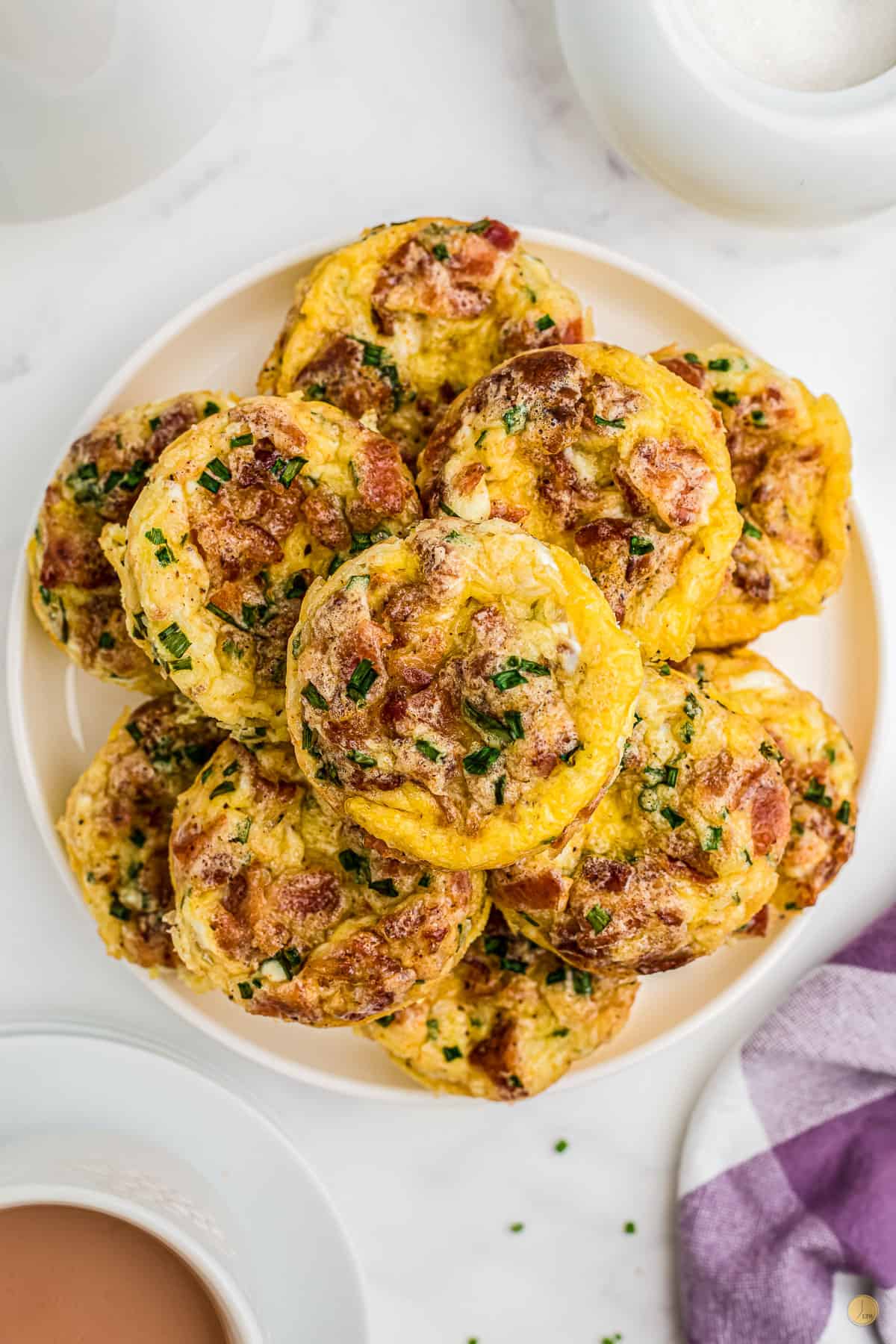 TIPS FOR NO LEFTOVERS
you can easily double the recipe if you are having extra guests!
only fill up the muffin cups 3/4 of the way as the egg cups puff up while baking and they could spill over.
be sure to grease the muffin tin really well so the muffins don't stick.
don't overstuff with too many veggies or the muffins will fall apart.
you can substitute some of the whole eggs for egg whites (but not more than half) if you are watching your cholesterol or want a healthier breakfast option.
if you try and use all egg whites, the muffins will come out spongy.
you can use a mini muffin pan to make bite sized muffins, just adjust the cooking time.
let them cool in the muffin pan for trying to remove them.
for easier removal, run a knife around the edges of the baked egg muffins to loosen them before lifting out.
If you love this recipe as much as I do, please write a five-star review in the comment section below (or on Pinterest with the "tried it" button – you can now add pictures into reviews, too!), and be sure to help me share on facebook!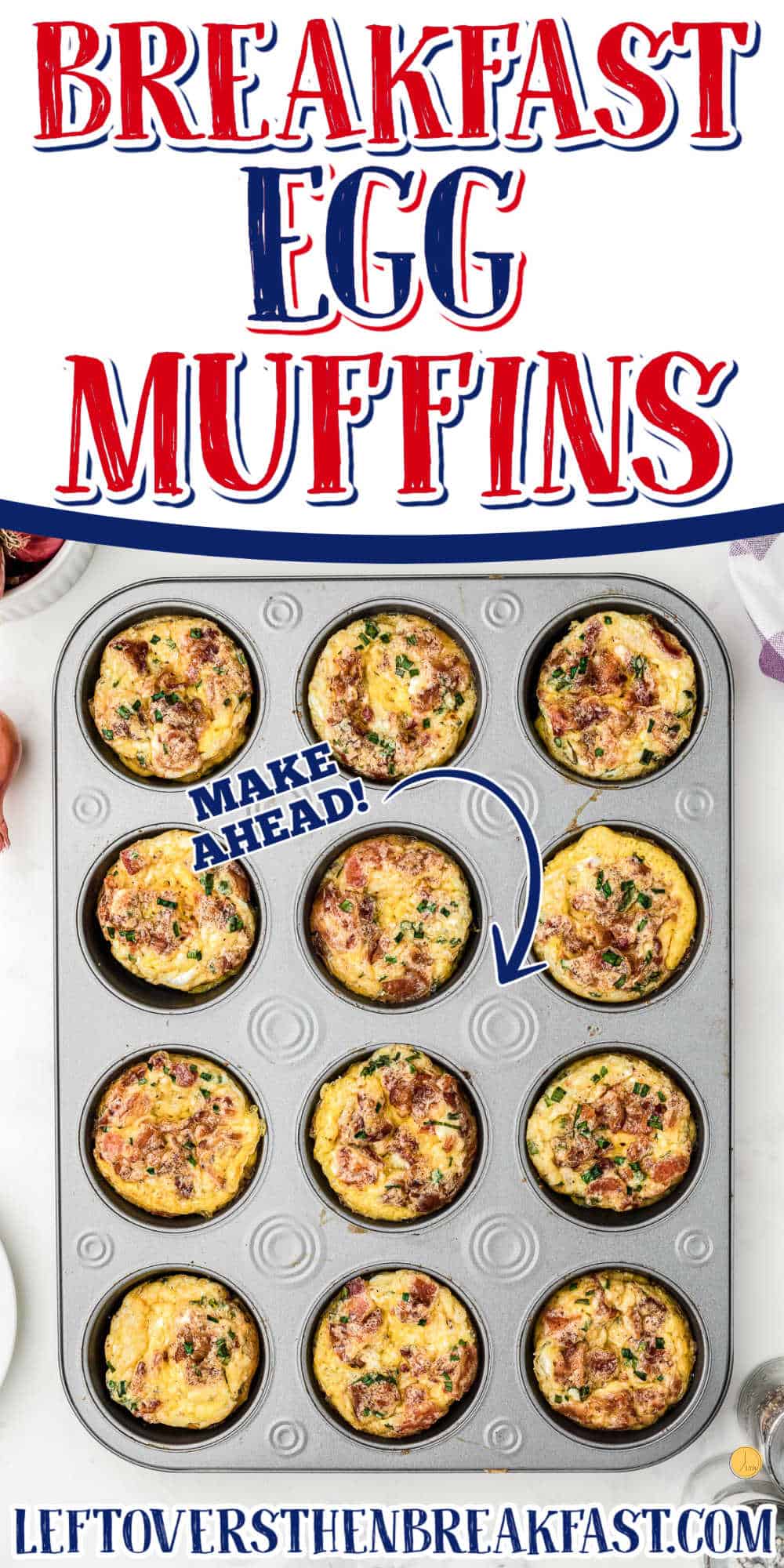 This flavorful breakfast egg muffin recipe is quick and easy to make. They are the perfect keto-friendly, kid friendly, on-the-go breakfast that can be whipped up in less than 30 minutes!
MORE DELICIOUS RECIPES
@LeftoversThenBreakfast.com. Content and photographs are copyright protected. Sharing of this recipe is both encourages and appreciated. Copying and/or pasting full recipes to any social media is strictly prohibited.