Southern Pear Salad is a vintage southern comfort food dish. Juicy canned pears topped with a light dressing, sharp cheddar cheese, and topped with a lightly-sweet maraschino cherry and crushed pecans for crunch.
This old-fashioned Southern favorite is the perfect appetizer or side for almost any meal.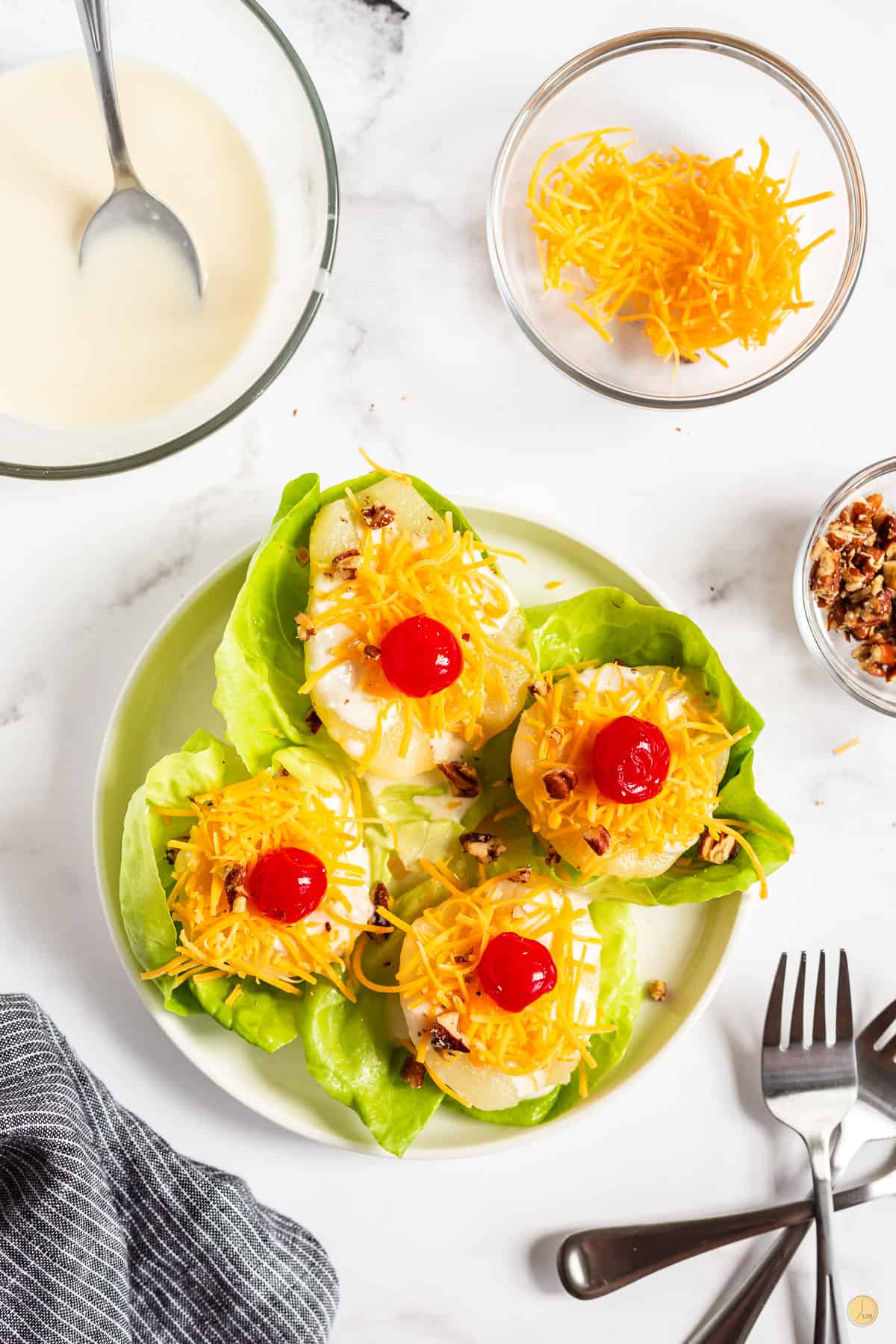 If you'd rather skip my essential cooking tips and tricks and get straight to this delicious recipe – simply scroll to the bottom of the page where you can find the printable recipe card.
WHAT IS PEAR SALAD?
While the exact origins of who invented Southern Pear Salad is unknown, we do know it started in the South. And many southerners grew up having this side served in their school cafeteria or at holiday family get-togethers.
This Southern recipe is a unique twist on a fruit salad made with canned pears, mayonnaise, and cheese.
While there is debate over if it should be topped with a cherry or served over a bed of lettuce, one thing is for sure; it brings a smile and fond memories to anyone who grew up in the South.
WHY THIS RECIPE IS AMAZING:
low cost & budget friendly
uses just a few pantry ingredients
easy to throw together
easily customizable
This post may contain affiliate links. As an Amazon Associate, I earn from qualifying purchases. Read my disclosure policy here.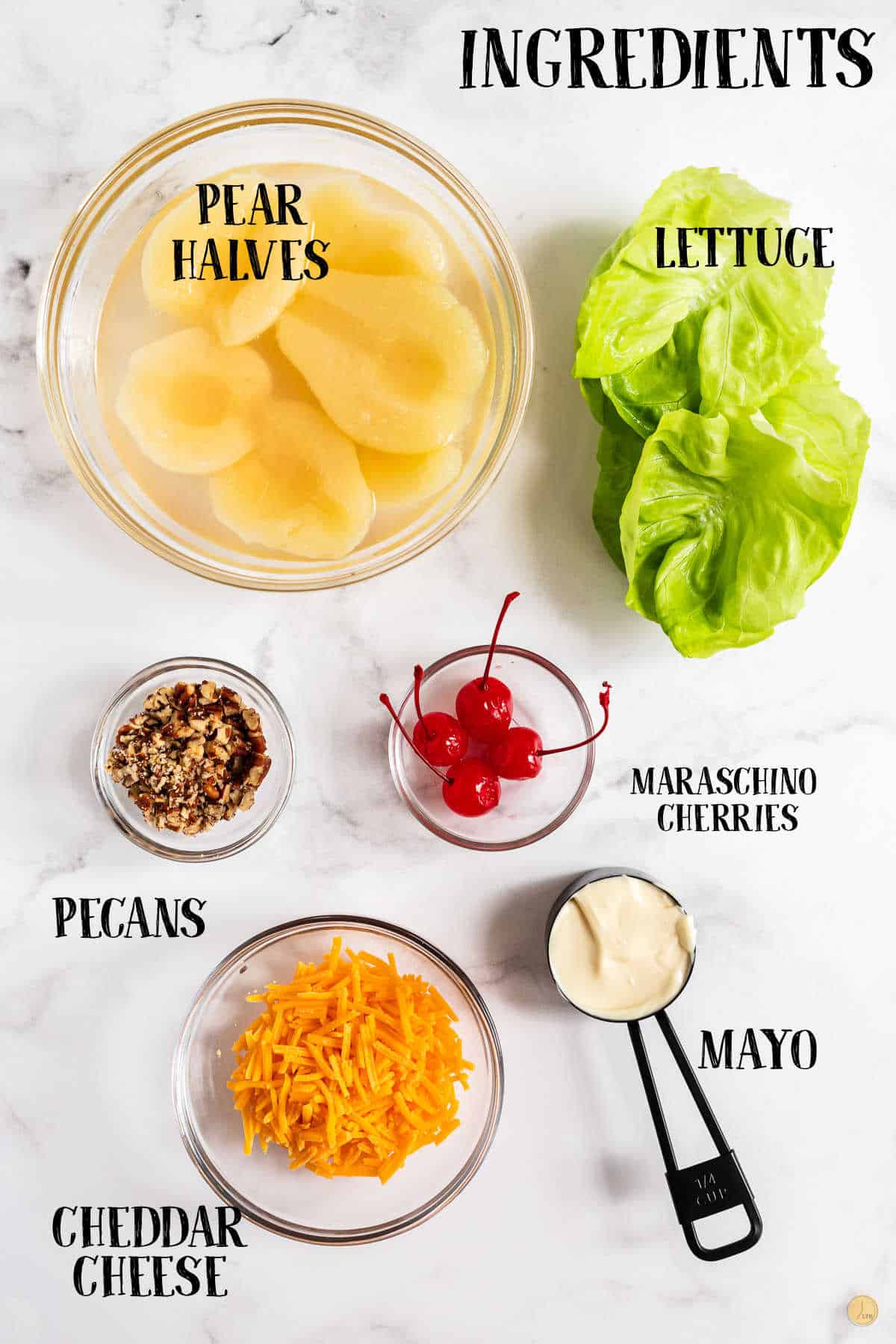 PEAR SALAD INGREDIENTS
pears
mayonnaise
cheddar cheese
cherries
pecans
Pears – The beauty of this recipe is that it uses canned peaches. A small can has 4-6 pear halves so if you need more you can get a bigger can or multiple cans.
I like to use the pears in light syrup or water.
Mayo – I like to use Duke's for this recipe. It's a southern classic. If the dressing is not sweet enough you can always sprinkle in a little sugar.
Cheese – Finely shredded cheddar is best for this recipe but you can always use your favorite.
Cherries – Maraschino cherries provide a splash of color but you can always leave them off.
Pecans – Most recipes don't even add chopped nuts but I love the crunch and nutty flavor that the toasted pecans add to this salad recipe. And what's more southern than pecans?!?
Looking for more comfort food? Follow LTB on Pinterest!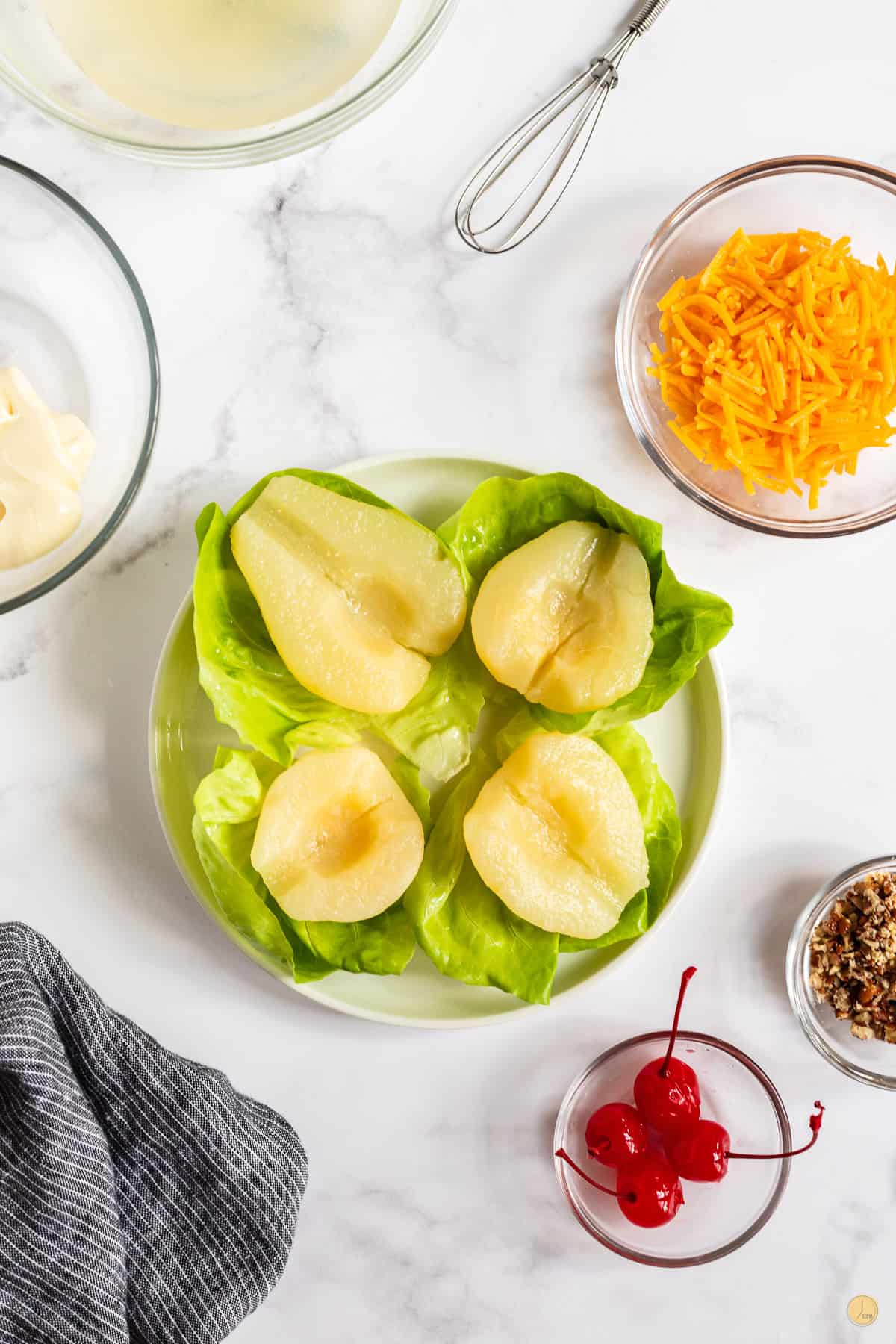 HOW TO MAKE SOUTHERN PEAR SALAD RECIPE
ONE: Drain the can of pears, reserving the juice. In a small bowl, combine the mayo and 3 tablespoons of reserved pear juice. Mix to combine.
TWO: Place lettuce on the plates and place a pear half, cut side up, on each lettuce cup. Drizzle the dressing over the pear halves.
THREE: Sprinkle the pears with the cheddar cheese. Top each one with a cherry.
FOUR: Sprinkle with toasted pecans. Serve and enjoy!
For the full recipe and detailed baking instructions, please see the recipe card at the end of this post.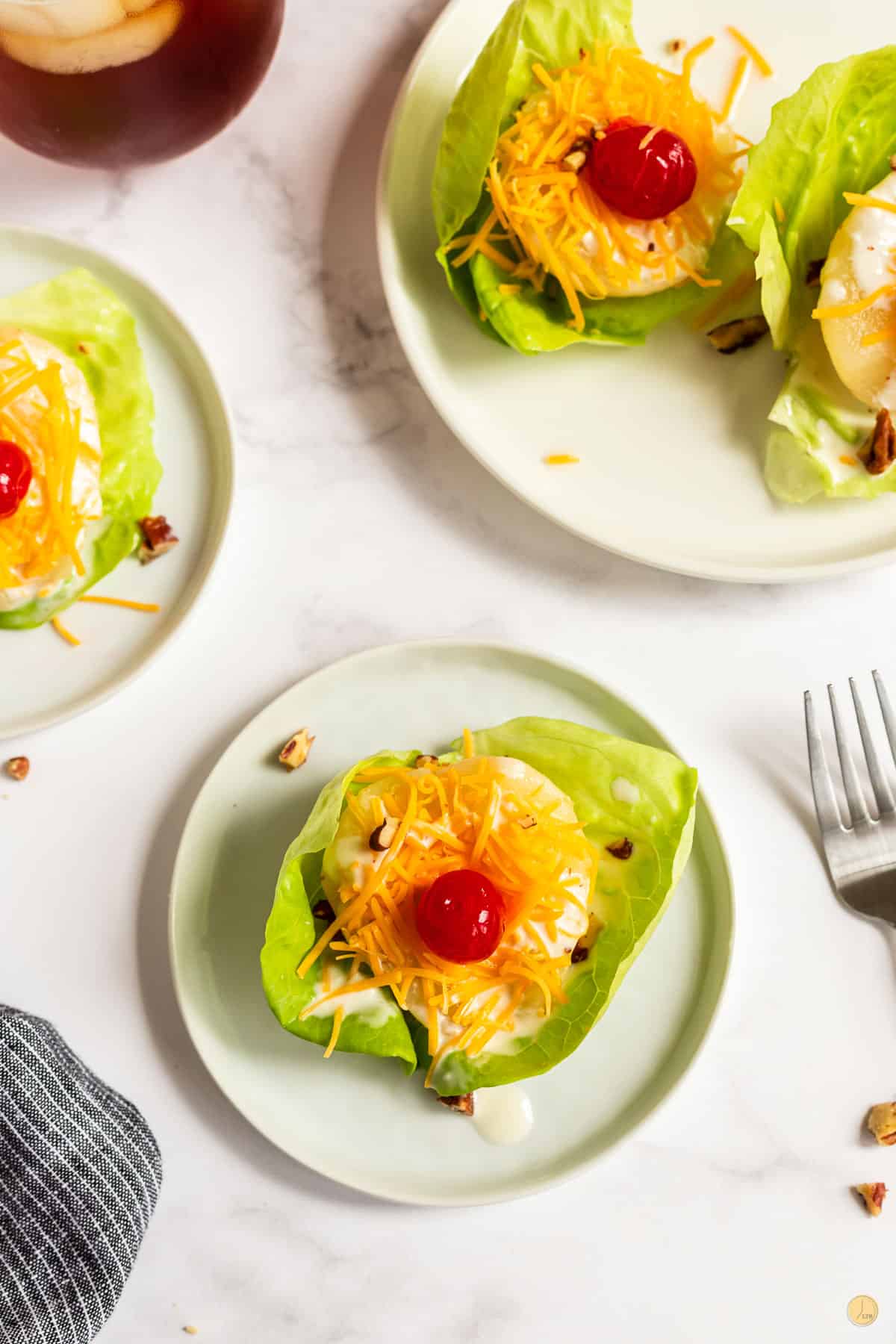 WHAT KIND OF CHEESE GOES WITH PEARS?
Pears and cheese are a classic pairing, not only for this easy southern salad, but also for an elegant cheeseboard.
Pears are known for their sweet, fruity flavor with an acidity point that helps bring out the best flavor in a variety of cheeses.
While I use a sharp cheddar in this dish, feel free to use the following for an equally delicious pairing:
Camembert
Fresh Goats Chevre
Double cream cheese
Gorgonzola
Aged cheddar
Gouda
WHAT IS THE BEST PEAR TO USE IN SALAD?
Any ripe pear can be enjoyed raw, either eaten straight from your hand or sliced and put in a salad. Some common favorites include Anjou, Bosc, Bartlett, and Comice varieties.
These pears should be readily available in the produce department at your local grocer year round.
However, the more important thing to remember is to choose pears that are ripe, yet still firm. To figure out if a pear is ripe, give the fruit a gently squeeze.
The flesh should have a bit of give but for the most part, remain firm. Avoid overly soft pears as they can get too mushy in the salad.
CAN YOU USE FRESH PEARS?
Traditional Southern Pear Salad only uses canned pears in syrup. However; if you would prefer to use fresh, I would recommend poaching them first to get a similar consistency to canned.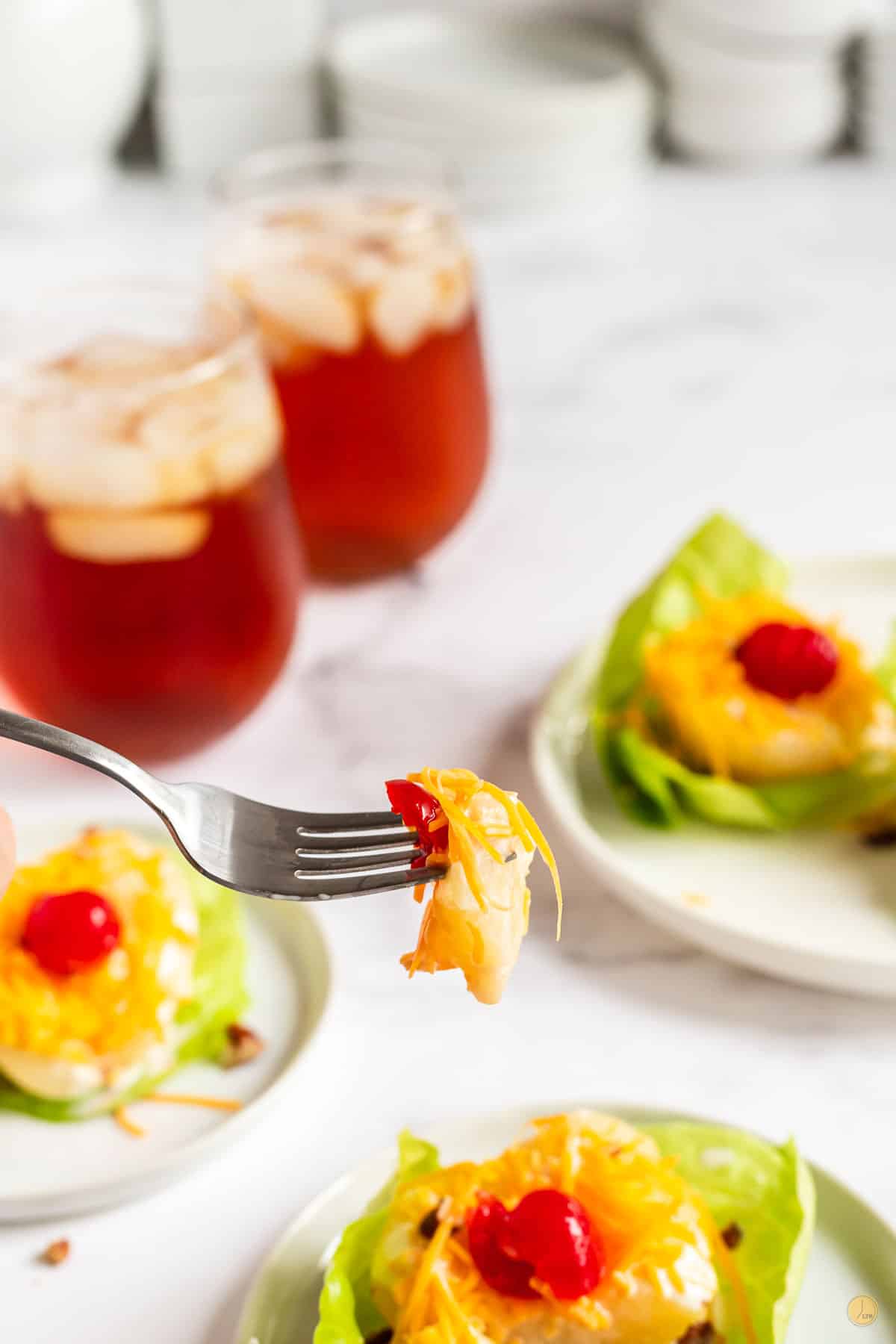 TIPS FOR NO LEFTOVERS
My grandmother added a scoop of cottage cheese to hers to add some protein to it. You can also use Greek yogurt.
Switch up the cheese. I like a sharp cheddar but feel free to use gorgonzola cheese, feta, or blue cheese.
Some prefer to serve this salad at room temperature but I think the sweet pears taste better when they are chilled.
Try a different nut like candied walnuts, candied pecans, or dried cranberries.
This recipe is gluten free:)
Skip the simple mayo dressing and try balsamic vinaigrette instead. A light dressing of olive oil and lemon juice or balsamic vinegar will work too.
More zip? Sprinkle on some thinly sliced red onions.
For serving, you can use butter lettuce cups like this recipe or you can use a small bed of shredded iceberg or romaine lettuce or even some mixed greens.
Can be made the night before and stored in an airtight container in the fridge until ready to serve.
If you love this recipe as much as I do, please write a five-star review in the comment section below (or on Pinterest with the "tried it" button – you can now add pictures into reviews, too!), and be sure to help me share on facebook!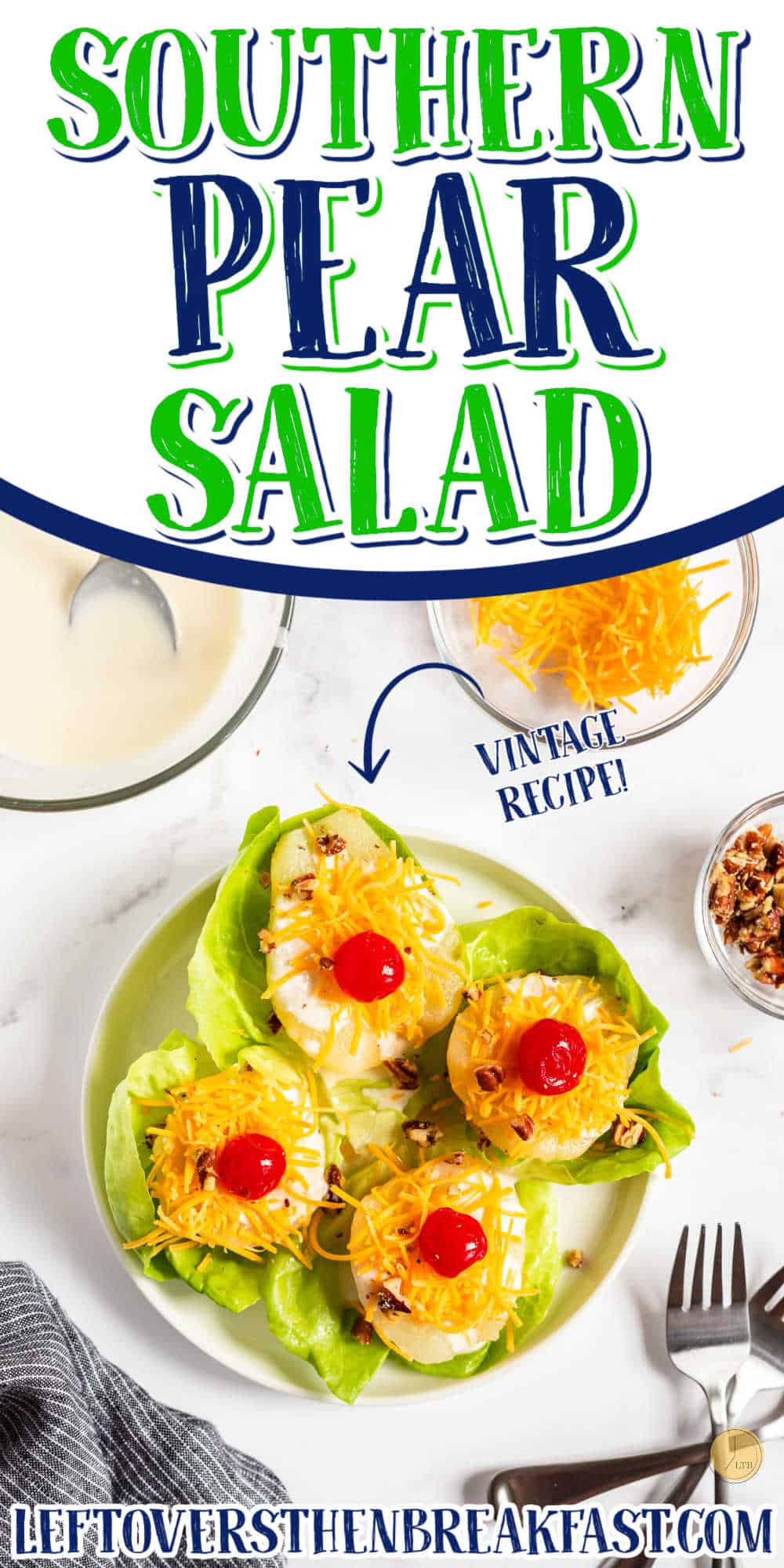 Southern Pear Salad is a classic southern dish! Whip it up in 5 minutes with only 6 pantry staples, this simple side is perfect to bring to your next holiday potluck, family get-together, or barbecue outing!
MORE EASY RECIPES
@LeftoversThenBreakfast.com. Content and photographs are copyright protected. Sharing of this recipe is both encourages and appreciated. Copying and/or pasting full recipes to any social media is strictly prohibited.