This Baked rigatoni is CLASSIC COMFORT FOOD but with a SURPRISE TWIST! Plump pasta, savory tomatoes, and tangy Swiss cheese will make this your NEW FAVORITE baked pasta recipe!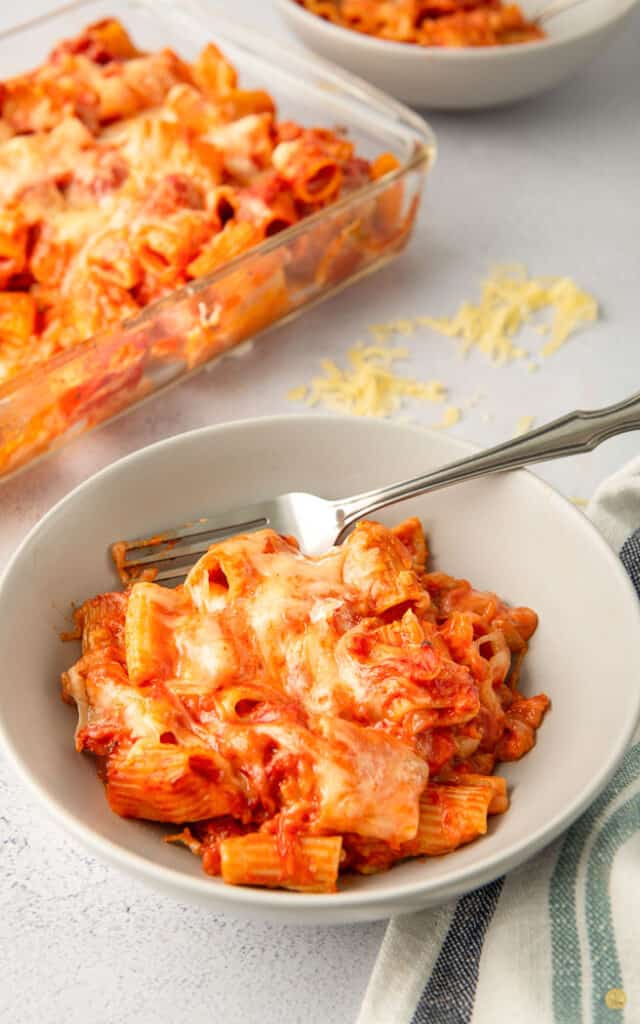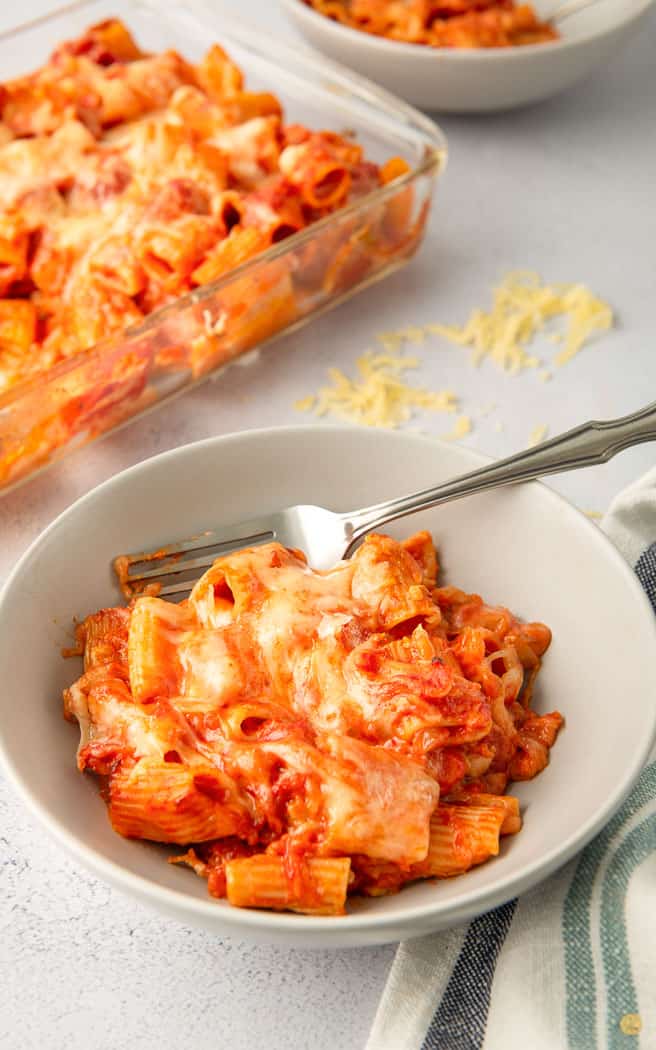 If you'd rather skip my essential cooking tips and tricks and get straight to this delicious recipe – simply scroll to the bottom of the page where you can find the printable recipe card.
Baked rigatoni is a dish that easily makes a large batch that feeds the family with plenty of leftovers to enjoy for lunch the next day!
I grew up eating my grandmother's recipe which is unlike all the other baked pasta recipes out there.
Because there is a SECRET INGREDIENT!
What is rigatoni al forno?
Rigatoni is a specific shape of pasta noodle and "al forno" simply means baked in the oven. Directly translated Baked Pasta.
Doesn't that sound yummy?!?
What is rigatoni pasta used for?
Rigatoni is a hearty tube style pasta with a bit more chew to it. Mostly used in Central and Southern Italy.
Large ridges on the outside of the noodle create a textured surface that sauce loves to cling to.
You can think of it as a penne only bigger. Either way, rigatoni is the noodle of choice when you want to satisfy some big appetites!
What's the difference between rigatoni and ziti?
Ziti is a smaller tube, more like fat spaghetti, with a smooth outside. Rigatoni noodles are usually larger and have lines or ridges on the outside.
Penne pasta is very similar to rigatoni but they are smaller and their ends are cut at an angle where the rigatoni are cut square.
This post may contain affiliate links. As an Amazon Associate, I earn from qualifying purchases. Read my disclosure policy here.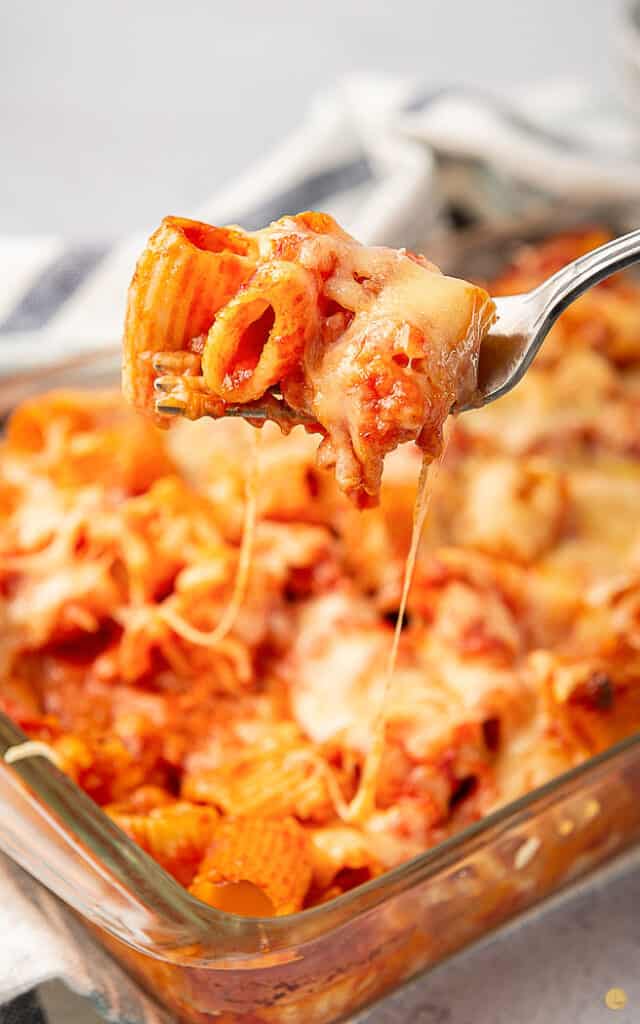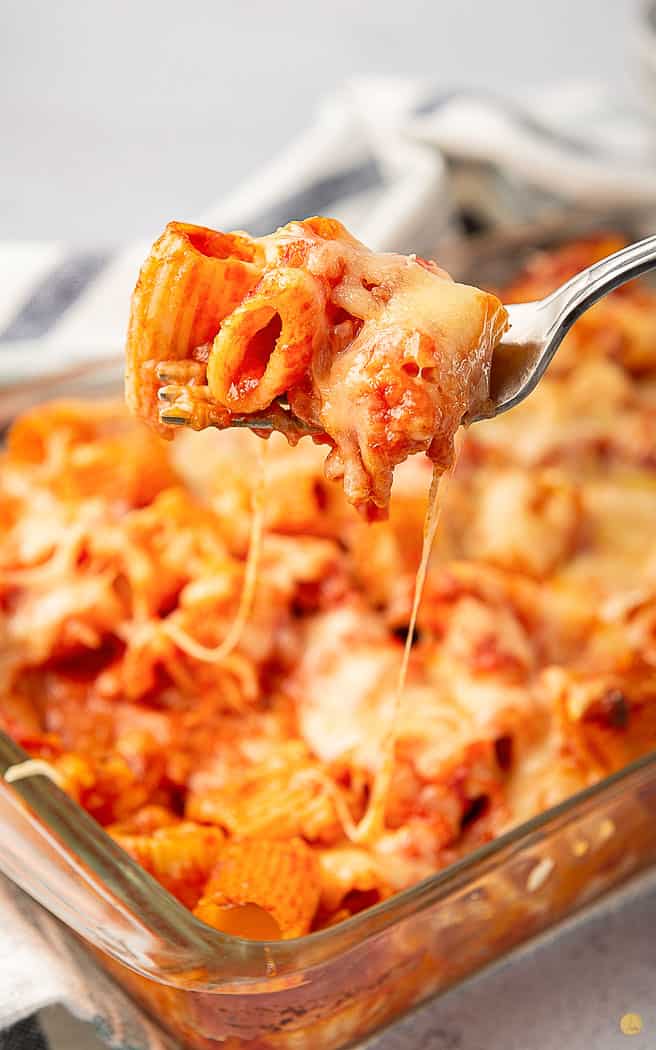 Ingredients for rigatoni al forno
Rigatoni pasta
Stewed tomatoes
Tomato sauce
Tomato paste
Onion
Garlic
Thyme
Swiss cheese – this is the secret ingredient!!
How do you make rigatoni pasta?
Before you mix everything together and bake in the oven, you need to prepare the noodles. An easy step, but don't skip the details.
STEP ONE: Bring a large pot of water (6 quarts) to a boil in a large pot over medium high heat.
STEP TWO: Before adding the noodles, salt the water. Not just a pinch, but more like 1/4 cup salt. The water should be similar to ocean water in salt level.
STEP THREE: Add the noodles and stir to make sure they don't stick together in clumps or on the bottom of the pot.
STEP FOUR: Turn the temperature to medium and continue to cook until done but still firm to the bite. This is about 2-3 minutes less than the package directions. Mine took 12 minutes.
STEP FIVE: Drain but do not rinse.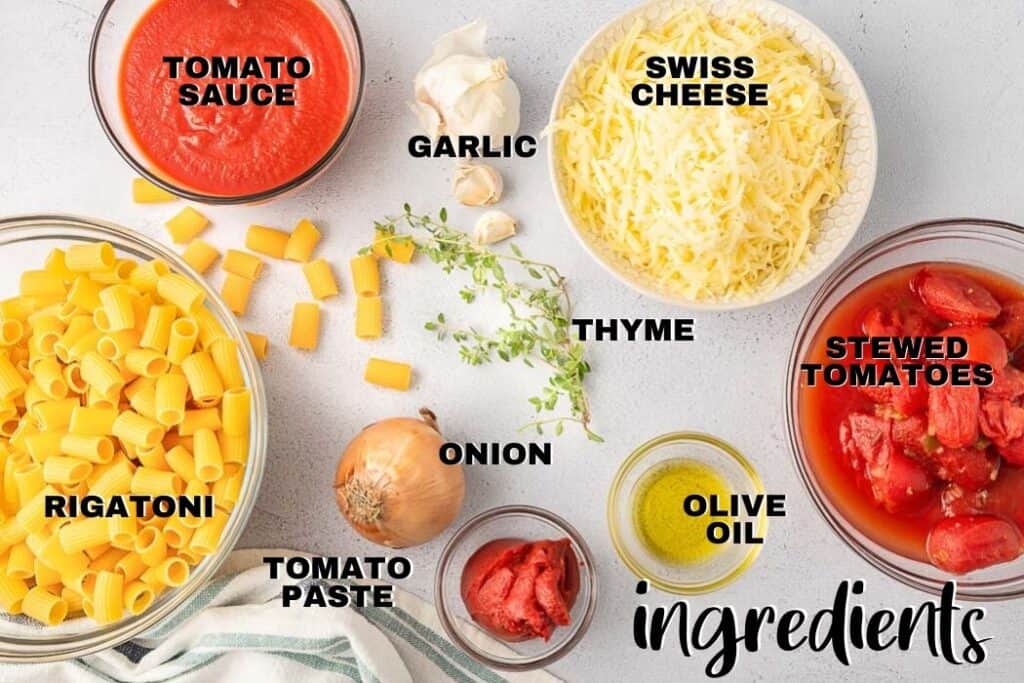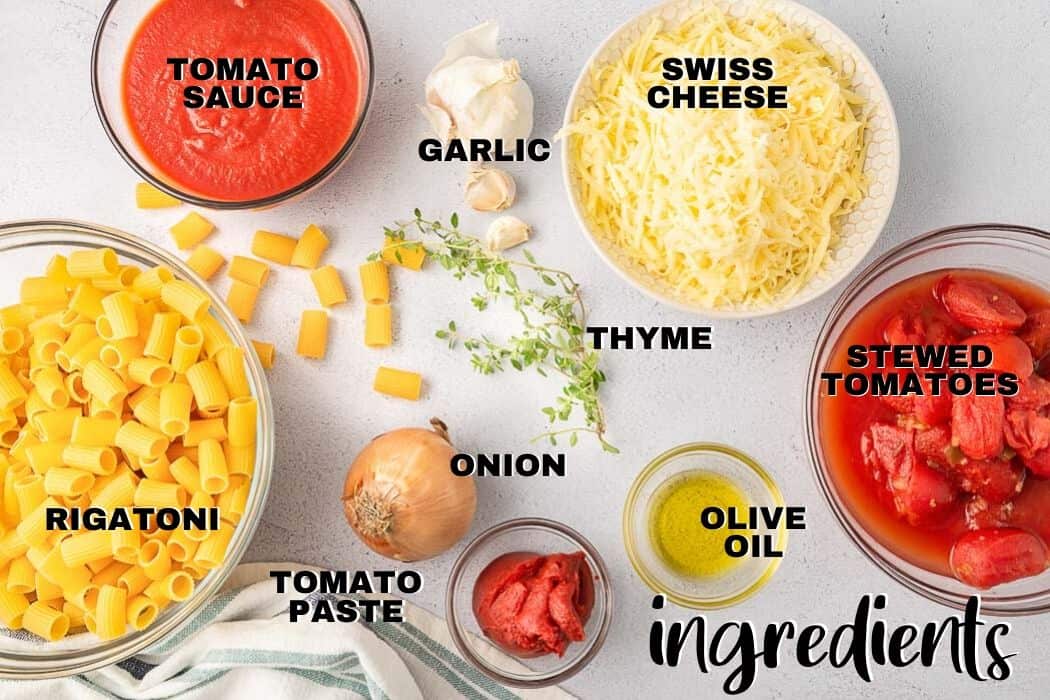 Make the sauce
While the pasta is cooking, prepare the sauce. Since it takes a while to simmer, you can make the sauce ahead of time and then prepare the pasta when you are ready to bake.
STEP ONE: Sweat the onions and garlic in olive oil.
STEP TWO: Add the tomatoes, sauce, paste, and thyme.
STEP THREE: Simmer for 1 hour.
How to make baked rigatoni
Combine the pasta, sauce, and cheese in an oven-proof baking dish.
Cover with foil and bake for 20 to 30 minutes or until bubbly and golden brown.
Different from the classic rigatoni recipe by using stewed tomatoes and Swiss cheese, this rigatoni casserole is a great alternative to the traditional.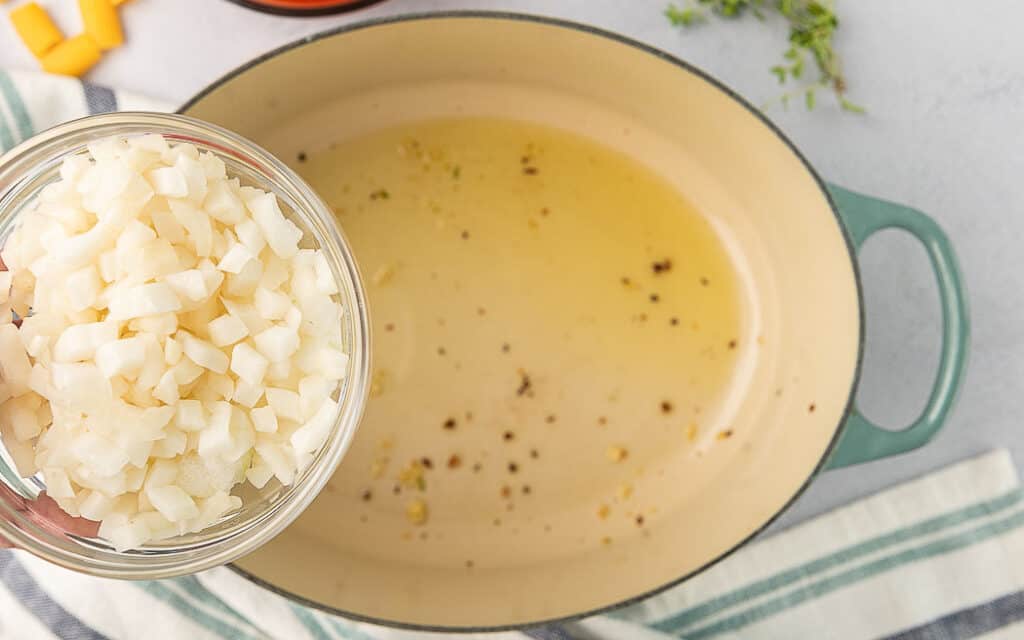 Homemade baked rigatoni tips
Be sure to salt the water correctly. The water should taste salty like sea water. Remember the pasta is plain and this is the chance to flavor the pasta
Don't overcook the noodles. The proper way to cook rigatoni noodles, or any pasta, is "al dente" which means "to the tooth." The pasta will continue to cook while baking in the sauce.
Don't rinse the pasta when you drain it. The starch on the pasta will help to thicken the sauce a little and help it cling to the noodles better.
Looking for more comfort food? Follow LTB on Pinterest!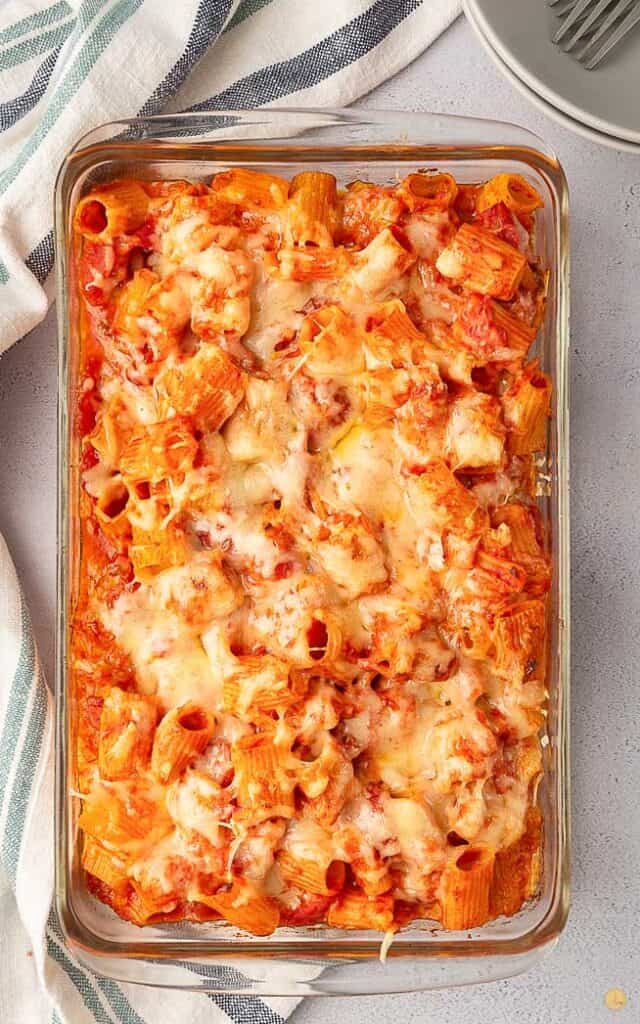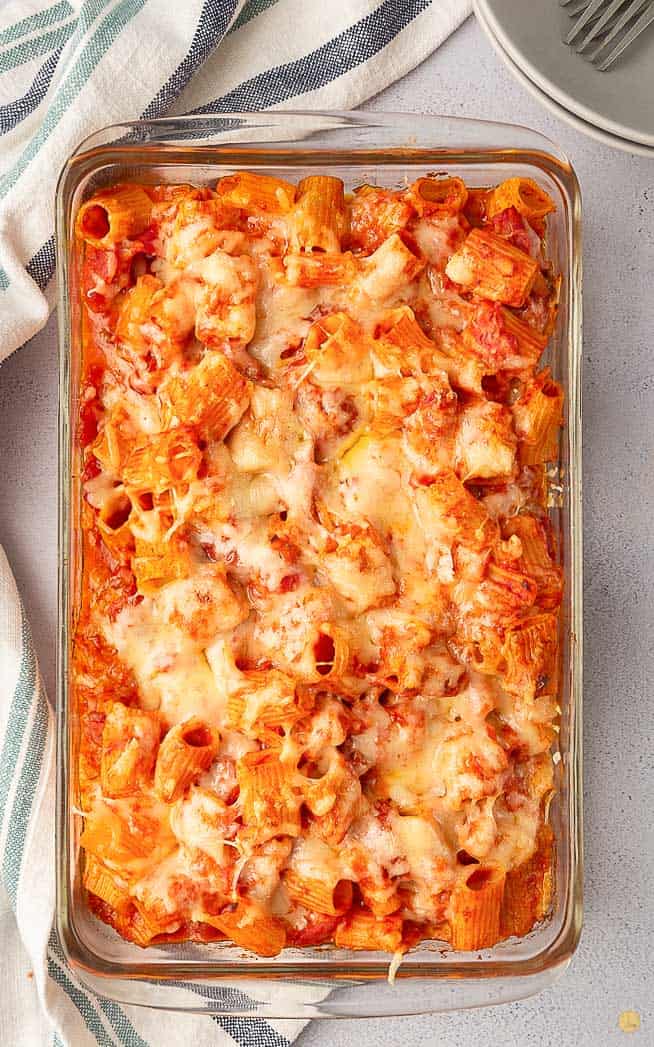 Can I freeze baked rigatoni?
Another advantage of those big rigatoni noodles, they stand up to freezing and reheating. So if you do have leftovers, you are in luck.
This is the type of pasta casserole that just gets better and better with a bit of time to bring all the flavors together.
How to store your leftovers
For leftovers, make sure to seal them tightly. If you have a freezer safe glass dish with lid, that is ideal. If not, just cover tightly with plastic wrap, then with a layer of aluminum foil.
I recommend separating it into a few portions that can be frozen individually. Not only will reheating go much faster, but you can pull it out for a quick lunch or dinner.
It will keep easily for up to two months in the freezer.
For reheating, use a microwave and warm it for a few minutes first to partially thaw, then finish on high to serving temperature.
In an oven, you can either heat it from frozen, or thaw it first. Reheat at 300F for 30-40 minutes or until heated through.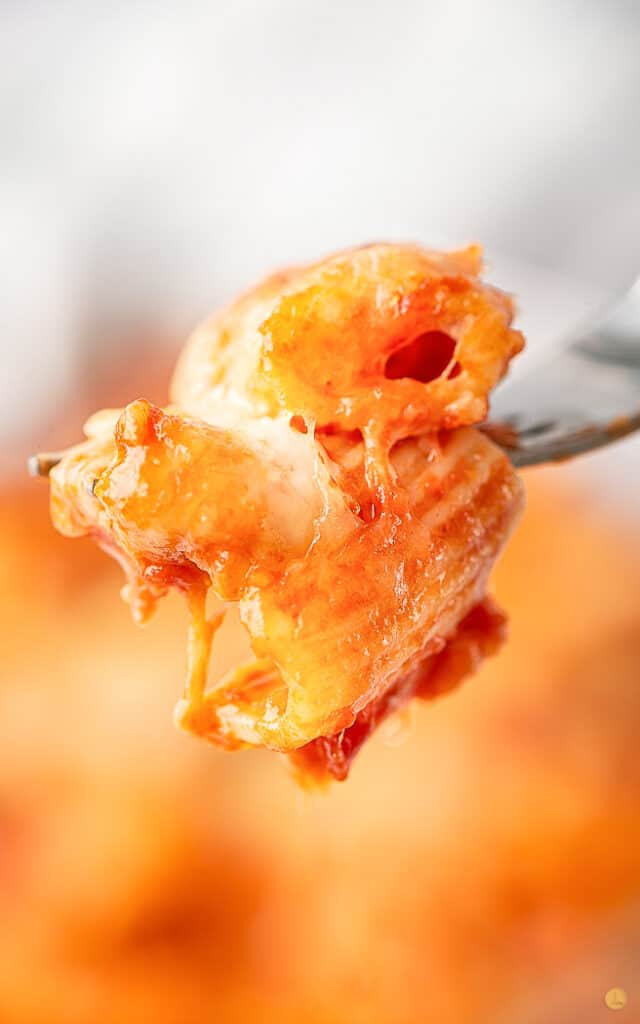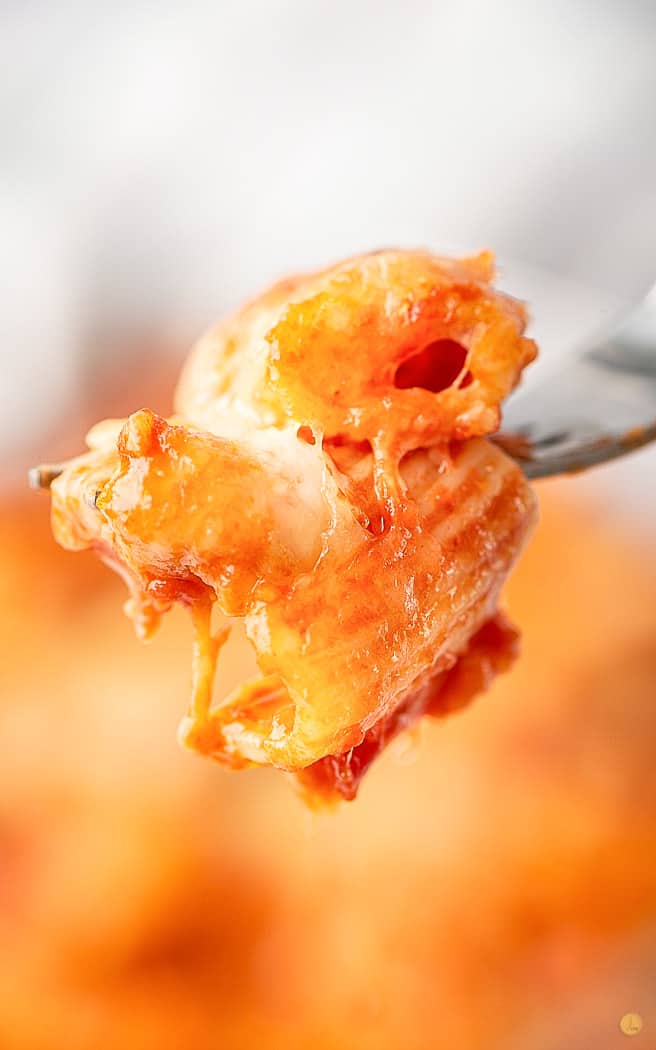 Tips for no leftovers
Make it more hearty with a meat sauce by adding Italian sausage or ground beef to it.
If you don't like the large chunks of tomatoes, feel free to puree the tomatoes before adding to the rest of the sauce.
Too much food? Make a whole batch and split it into two dishes and bake one and freeze the other.
Not a lot of time to simmer? Cut the simmer time in half by using a crushed tomatoes and add some Italian Seasoning.
Can't find Swiss cheese? Use Fontina, Jarlsberg, or Gruyere.
Switch up the pasta and use rotini or shells.
Grate or shred your own cheese. Not only is it cheaper to buy a block of cheese than a bag of shredded, the pre-shredded has anti-caking powder which stops the cheese from melting.
This Baked rigatoni is CLASSIC COMFORT FOOD but with a SURPRISE TWIST! Simple pasta, tomatoes, and Swiss cheese make this your favorite baked pasta recipe!
If you love this recipe as much as I do, please write a five-star review in the comment section below (or on Pinterest with the "tried it" button – you can now add pictures into reviews, too!), and be sure to help me share on facebook!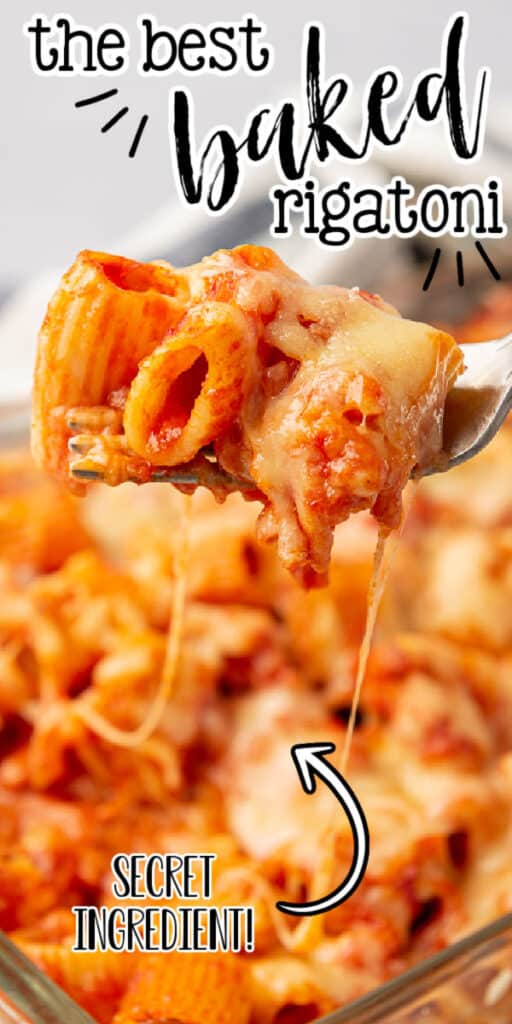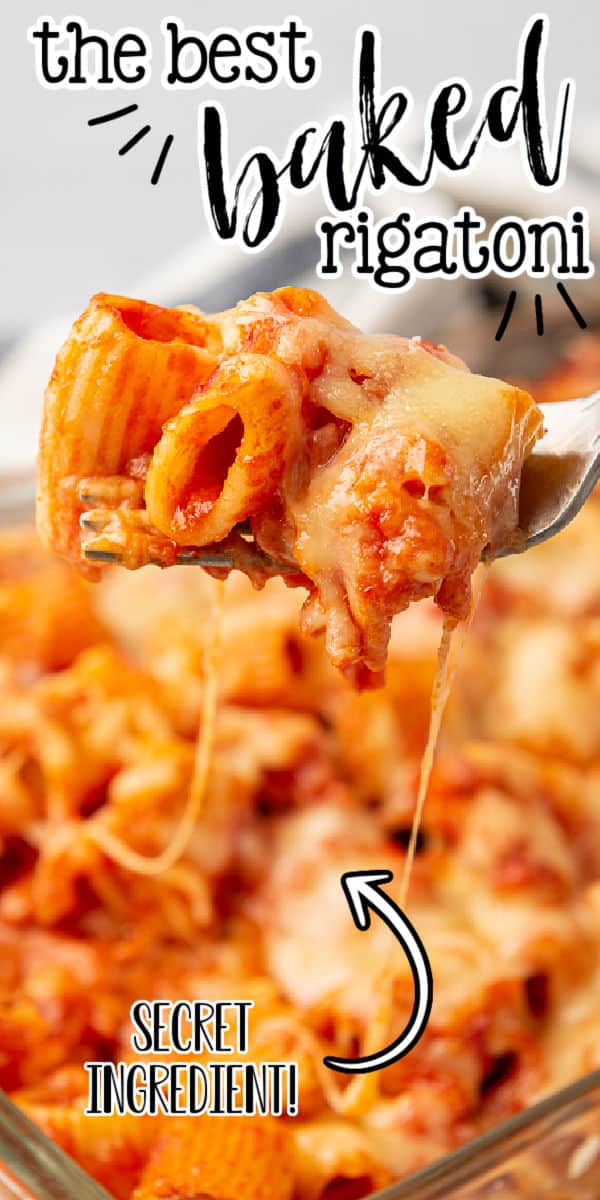 Serve with these Italian favorites
How to make baked rigatoni
@LeftoversThenBreakfast.com. Content and photographs are copyright protected. Sharing of this recipe is both encourages and appreciated. Copying and/or pasting full recipes to any social media is strictly prohibited.