Potato Leek Soup is RICH, CREAMY, COMFORT FOOD that will WARM you from the inside.
Hearty potatoes and mild green leeks slow simmered all day make a great meal to come home to.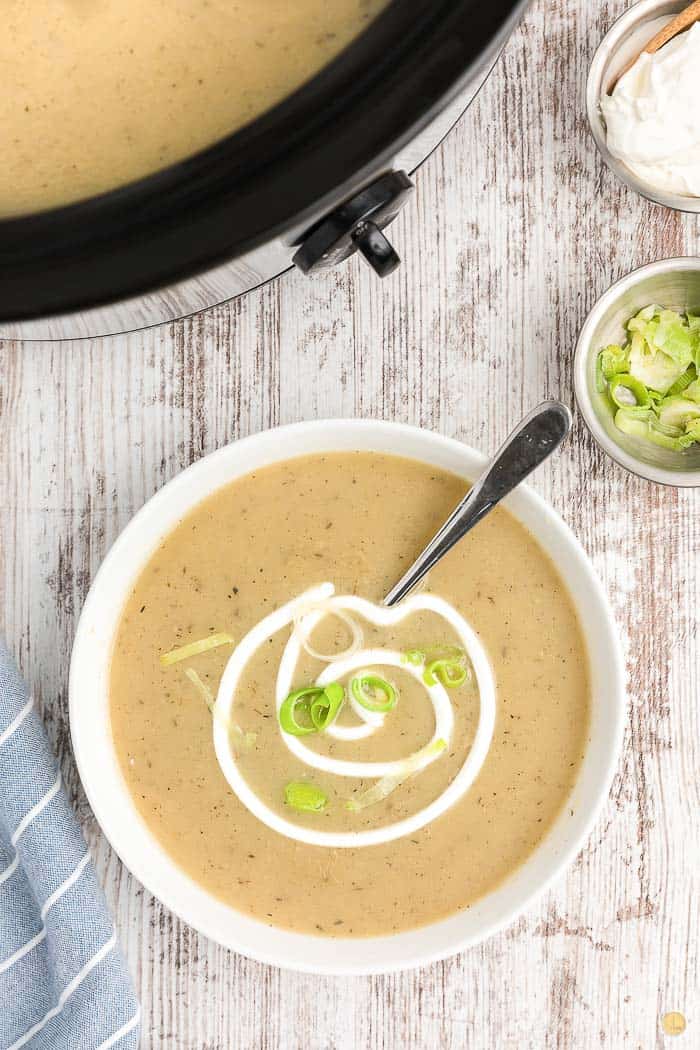 If you'd rather skip my essential cooking tips and tricks and get straight to this delicious recipe – simply scroll to the bottom of the page where you can find the printable recipe card.
HEALTHY POTATO LEEK SOUP
This creamy and silky soup is one of my favorites and also the simplest soup to make. With only 3 basic ingredients, this humble soup recipe is still the richest in my opinion.
When my son (huge potato lover) tasted it for the first time he called it runny mashed potatoes LOL.
This classic French recipe, called "Vichyssoise" if served chilled, is perfect for a comforting dinner at home or elegant enough for any fancy dinner party!
Not only is it easy, it's versatile. Think of all the delicious ways you can add flavor and texture to the base and you can have several soup variations at your fingertips.
But first things first…
WHAT ARE LEEKS?
Leeks are members of the onion family, native to the Mediterranean region. Grown in sandy soil, they are tall stalks with bright green tops and white bulbs.
They look much like your typical green onion but much larger. Though they are bigger, their flavor is milder.
Because of this, they pair perfectly with the starchy potatoes in this soup.
This post may contain affiliate links. As an Amazon Associate, I earn from qualifying purchases. Read my disclosure policy here.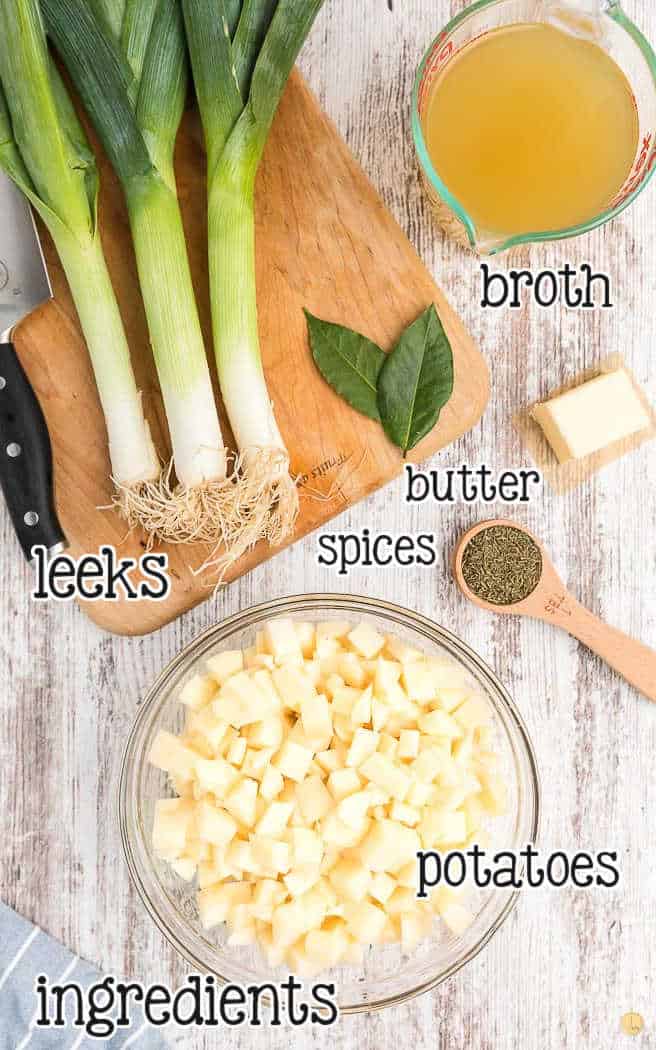 LEEK AND POTATO SOUP INGREDIENTS
butter
leeks
Russet potatoes
chicken broth
herbs & spices (bay leaf/thyme)
WHAT ARE THE BEST POTATOES TO USE FOR SOUP?
I like to use Russet potatoes because of the high starch content. This gives the soup a thick and silky texture! But feel free to use any starchy potato you like.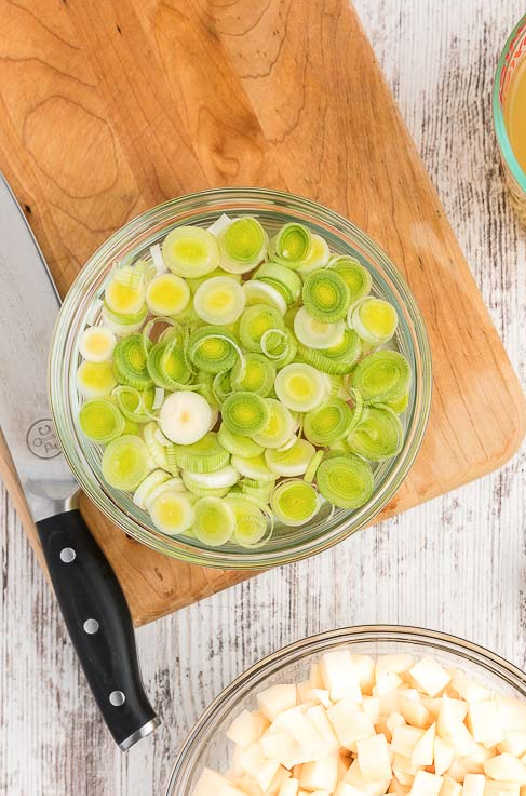 HOW DO YOU CLEAN LEEKS?
Because of the sandy soil, leeks tend to have grit or dirt inside their layers. There are a couple of ways to clean them but I have a trick that works great when you are slicing them.
trim off the roots and the dark green fibrous tops, leaving only the tender light green/white part of the stalk.
slice crosswise in 1/8 to 1/4 inch slices.
place the slices in a large bowl with plenty of water. Using your fingers, separate the "rings" of layers in the slices. (Like tiny green onion rings)
agitate and move the slices around to dislodge the dirt. Let the leeks settle in the bowl and the dirt will fall to the bottom of the bowl and the leeks will float.
gently remove just the leek slices and transfer to a paper towel to drain. Proceed with your recipe.
Alternatively, you can slice the leeks lengthwise and separate the layers and rinse/wipe off much like you would celery stalks. Either way, be sure to get all the dirt off so it doesn't end up in your soup.
Looking for more comfort food? Follow LTB on Pinterest!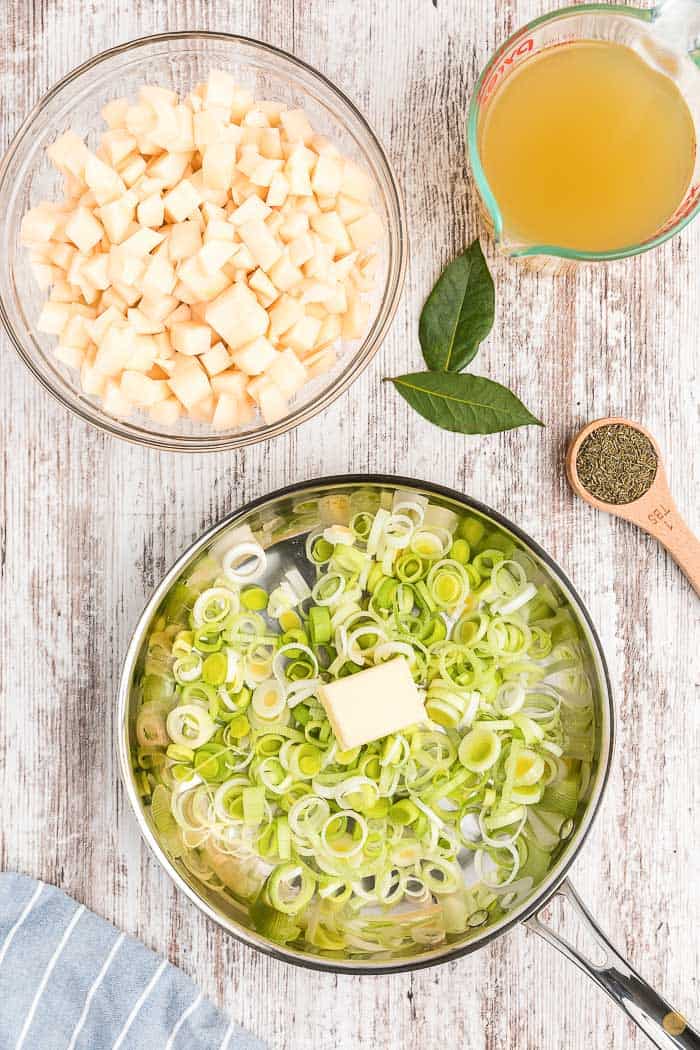 HOW TO MAKE SLOW COOKER POTATO LEEK SOUP
ONE: Peel and dice the potatoes. Clean and prep the leeks. In a skillet, melt the butter and saute the leeks until soft.
TWO: Place leeks in a crockpot with diced potatoes, broth, and spices.
THREE: Cook on low 6-8 hours or on high 2-3 hours or until the potatoes are tender.
FOUR: When ready to serve, use a hand blender or transfer soup to a blend and puree until smooth. Season with salt and pepper if desired. Garnish, serve, and enjoy!
For the full recipe and detailed baking instructions, please see the recipe card at the end of this post.
CAN YOU PUT RAW POTATOES IN THE CROCK POT?
Yes, you can. You do not need to boil the potatoes before adding them to your slow cooker. Just be sure to keep them covered in water before adding so they don't turn brown.
And make sure there is enough liquid in your slow cooker for the soup. I like to make sure once all the ingredients are in, that the liquid or broth covers the ingredients by 1/2 – 1 inch.
HOW LONG WILL POTATO LEEK SOUP LAST IN THE FRIDGE?
If you have any leftovers, you can keep them stored in the fridge in an air tight container for up to 5 days.
The soup may thicken as it sits, just add a little more broth or milk to the soup when you reheat it.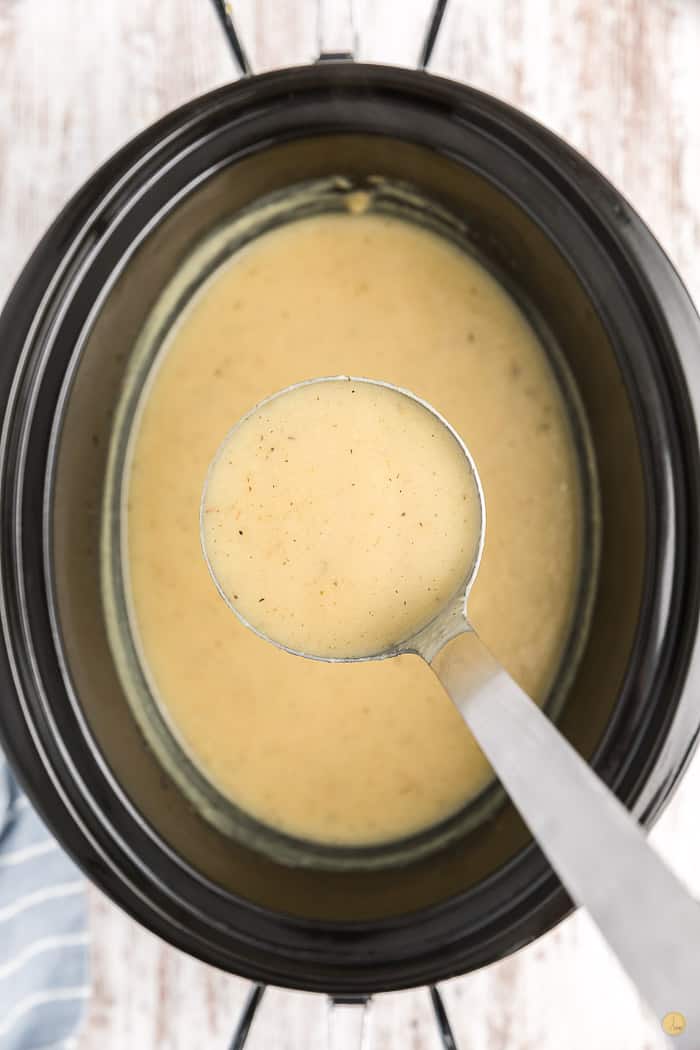 CAN I MAKE THIS IN THE INSTANT POT?
You sure can! Sauté the leeks in butter in the pot on the sauté function. Add the remaining ingredients, cook on low pressure for 7 minutes.
Let the steam release naturally for 15 minutes then do a quick release. Puree the soup and add your garnishes.
You can also make this on the stove top in a large pot or a dutch oven.
With minimal prep, let your crockpot do all the work!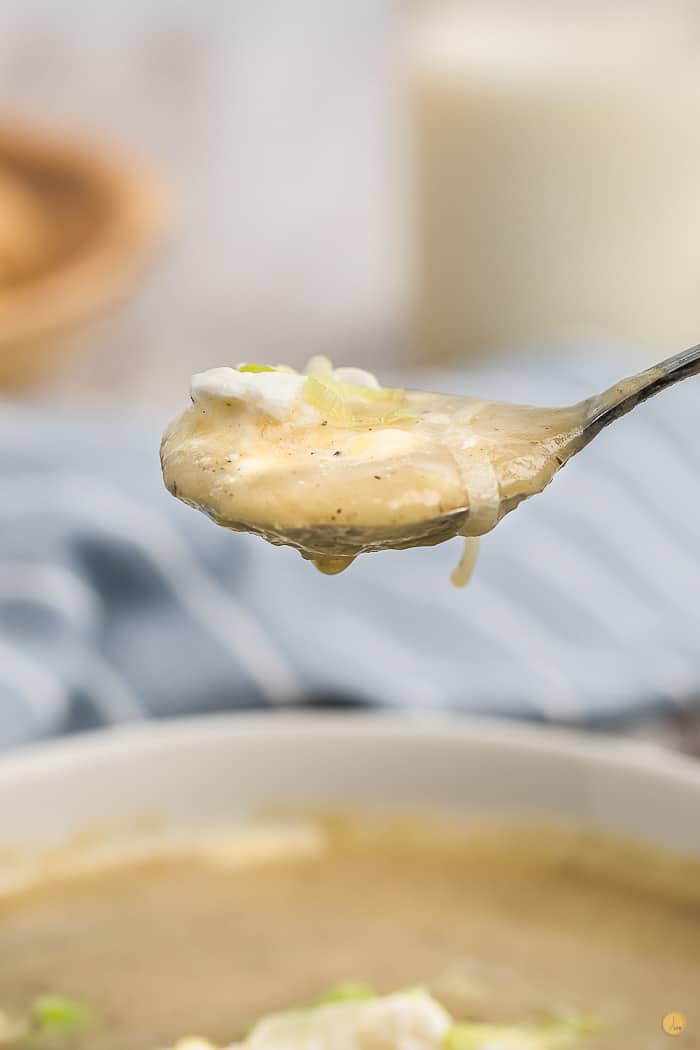 TIPS FOR NO LEFTOVERS
When prepping your potatoes, keep them in water so they don't turn brown. This will make your soup brown 🙁
Make sure your leeks are very clean or the soup will be gritty.
Save some of the cooked leeks to garnish the soup.
I like to use chicken stock but feel free to make this vegetarian by using vegetable broth.
Add 1/4 cup heavy cream just before serving to add some extra richness.
Garnish with sour cream, cheddar cheese, and/or cooked crumbled bacon for even more flavor and texture.
Add garlic to your leeks and spice it up with some chopped green chilies.
If you love this recipe as much as I do, please write a five-star review in the comment section below (or on Pinterest with the "tried it" button – you can now add pictures into reviews, too!), and be sure to help me share on facebook!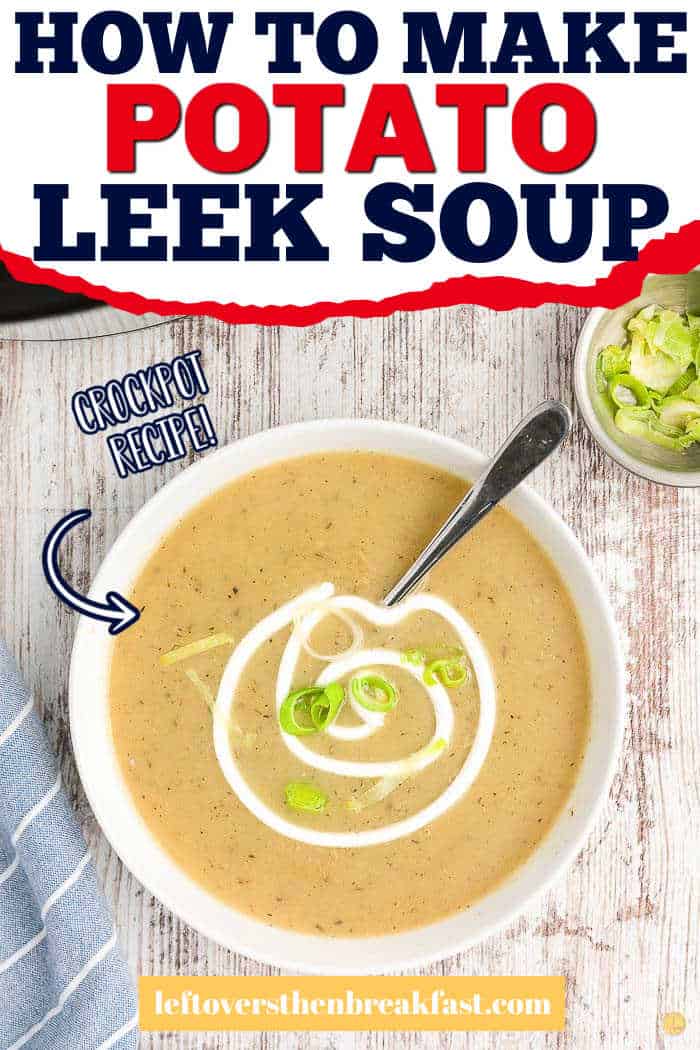 MORE EASY DINNERS
@LeftoversThenBreakfast.com. Content and photographs are copyright protected. Sharing of this recipe is both encourages and appreciated. Copying and/or pasting full recipes to any social media is strictly prohibited.