Banana Bread is a super moist quick bread that everyone will love! This vintage recipe uses ripe bananas and brown sugar for a rich caramel flavor that is perfect for breakfast or dessert.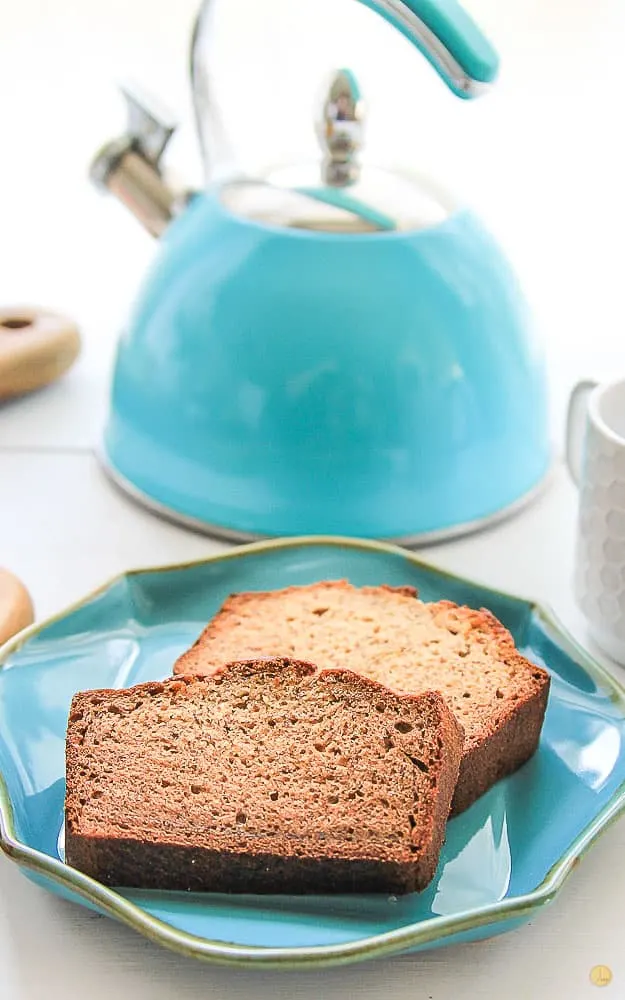 Brown Sugar Banana Bread
Can we just agree that there is nothing better than homemade banana bread? I would purposely not eat bananas so they would over ripen and my mom would make bread with them.
And that was tough because I LOVE ALL THINGS BANANA!
Most banana bread recipes out there use white or granulated sugar. This one uses light brown sugar which makes it extra special.
Brown sugar adds moisture and a molasses caramel flavor which always pairs well with bananas. Reminds me of creme brûlée or bananas foster!
Not only that but the sweet banana flavor really comes through with the hint of cinnamon.
It's a perfect storm of deliciousness!!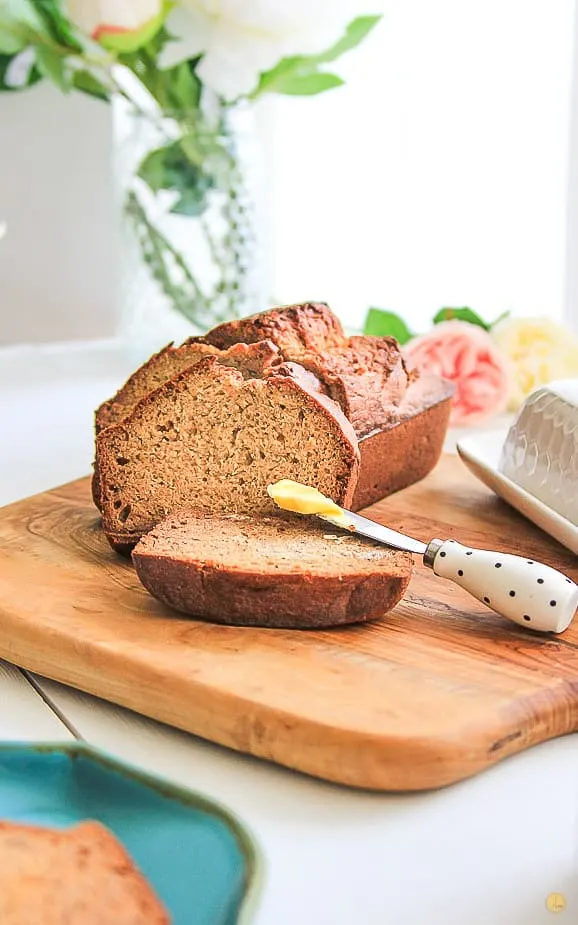 The number one question that comes up when talking about this recipe is…
How ripe should my bananas be?
If they are a light green color – NOT ready
bright yellow with no spots on the peel – NOT ready
If they are yellow with just a few small brown spots – ALMOST ready
peel is covered 1/3 or more with brown spots and they feel soft when gently pushed – READY The peel is mostly black and liquid is oozing from the peel – TOO LATE!
If you have some that are not ready but REALLY need banana bread, there are a few tricks you can do to get them ready.
Leave them in a bunch, and store in a warm spot in the house. They will ripen quicker.
Store in a brown paper bag with an apple or ripe banana and fold the top over. They should be ready in a day.
Tenderize in the microwave by peeling and cook on high for 30 seconds. Not as sweet but they will be soft.
Roast in the oven in the peel for 15 minutes at 300F. Cool and remove the sweet ripe banana and bake.
Freeze the just ripe fruit for up to a month. When you remove them from the freezer they will be mushy enough to use for baking. Or a delicious smoothie!
You can freeze in the peel but I find it easier to peel, slice, and freeze on a baking sheet. The smaller pieces make it easier to store in a bag and handle for baking.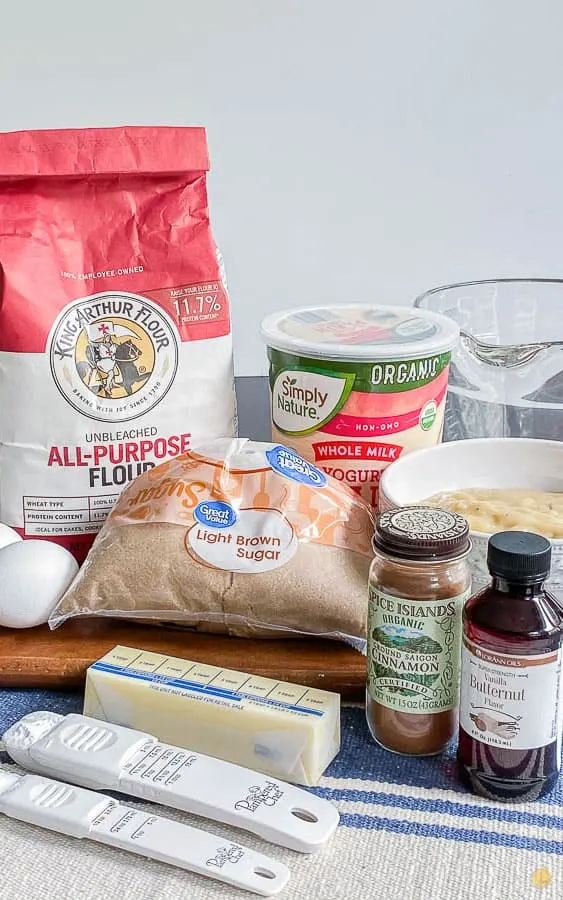 Now that we have the perfect banana mash, here is what you need to make your banana bread.
Ingredients Needed
Bananas – Be sure to use ripe bananas. Brown on the peel is best.
Brown Sugar – Light brown is best for this recipe.
Butter – Always use unsalted butter unless indicated.
Yogurt – plain Greek yogurt or substitute sour cream.
Flour – All purpose flour is best. I haven't tried this with flour alternatives.
Eggs – Large eggs, bring to room temperature first.
Baking staples – baking soda, vanilla extract, cinnamon, salt
Looking for more leftover worthy dishes? Follow LTB on Pinterest and pin to a board!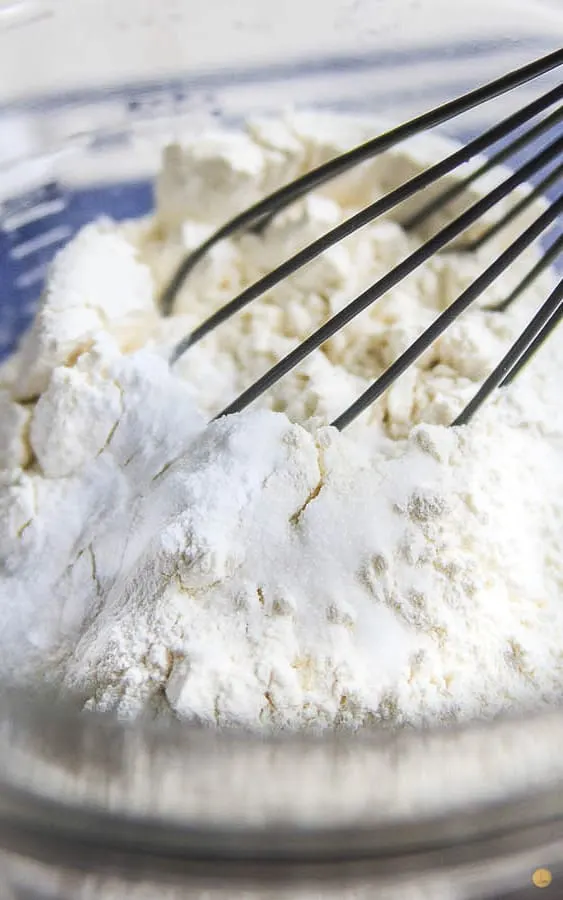 How to make Brown Sugar Banana Bread
First: Preheat the oven to 350F and mash your bananas.
Second: Mix the dry ingredients in one bowl. Cream the butter and brown sugar in another. Add the eggs, banana, yogurt, cinnamon and vanilla to the butter mixture and combine completely.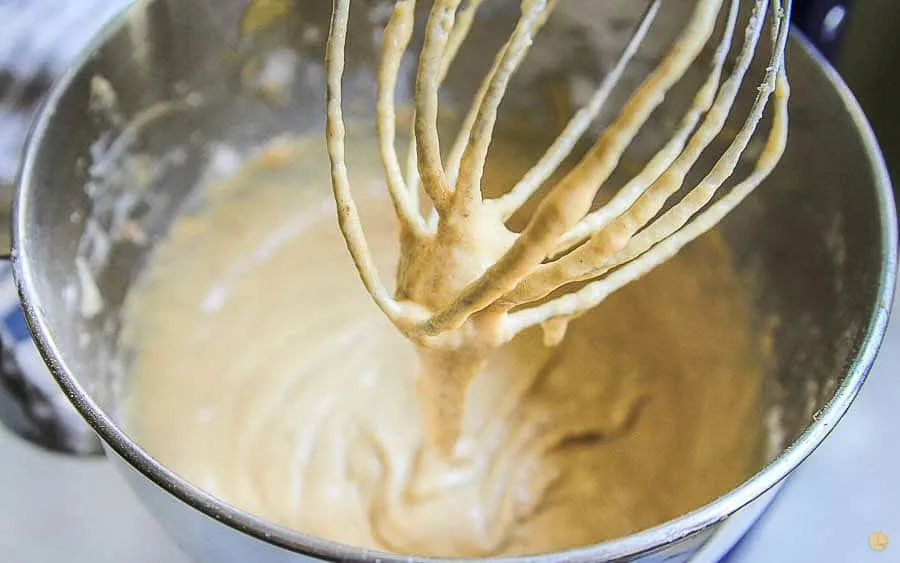 Third: Slowly add the dry ingredients to the wet, mixing only until combined. DO NOT OVER MIX.
Fourth: Pour into a greased loaf pan and bake on the lower third of your oven for 50-60 minutes or until a toothpick inserted in the center comes out clean. Cool completely before slicing.
For the full recipe and detailed baking instructions, please see the recipe card at the end of this post.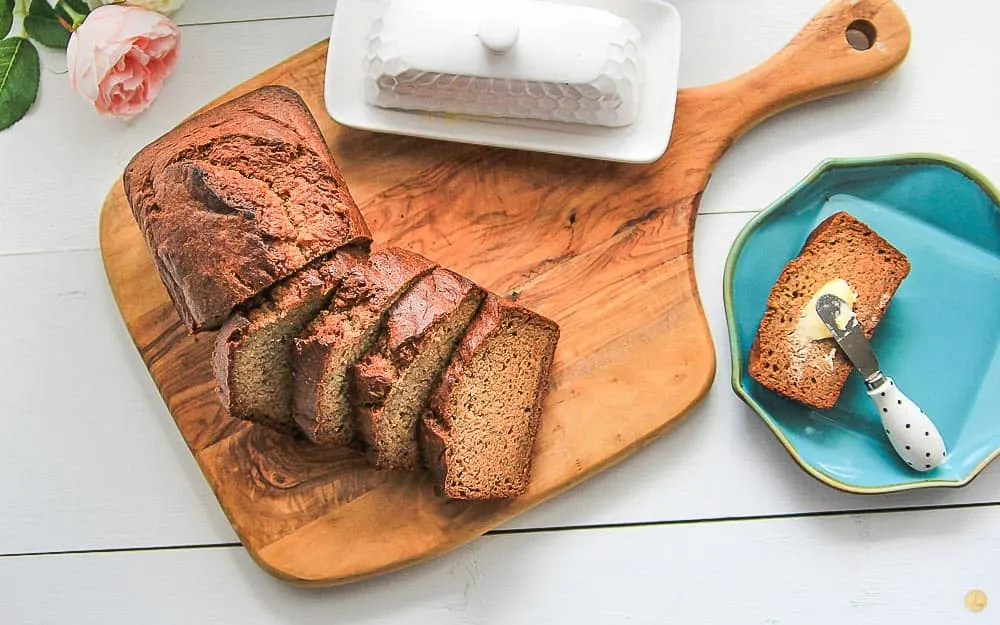 Easiest Way to Mash Bananas
Mash your bananas by hand or in mixer. They should be easy to mix but you also don't want to put them in a blender and liquify them. Closer to an applesauce consistency is what you are looking for.
What if I don't have brown sugar?
Can I use white or granulated sugar instead? Yes, you can. They are equal volume substitutions. You can also use dark brown sugar if you have that.
What is the best pan to use?
A loaf pan is best, but you can use muffin/cupcake or mini muffins. Just adjust the cooking time. I also prefer a metal loaf to get a slightly crisp underside.
Can I add things to the Brown Sugar Banana Bread?
Sure! Make it your own. Feel free to add up to 1 cup of add-ins like toasted nuts, chocolate chips, etc.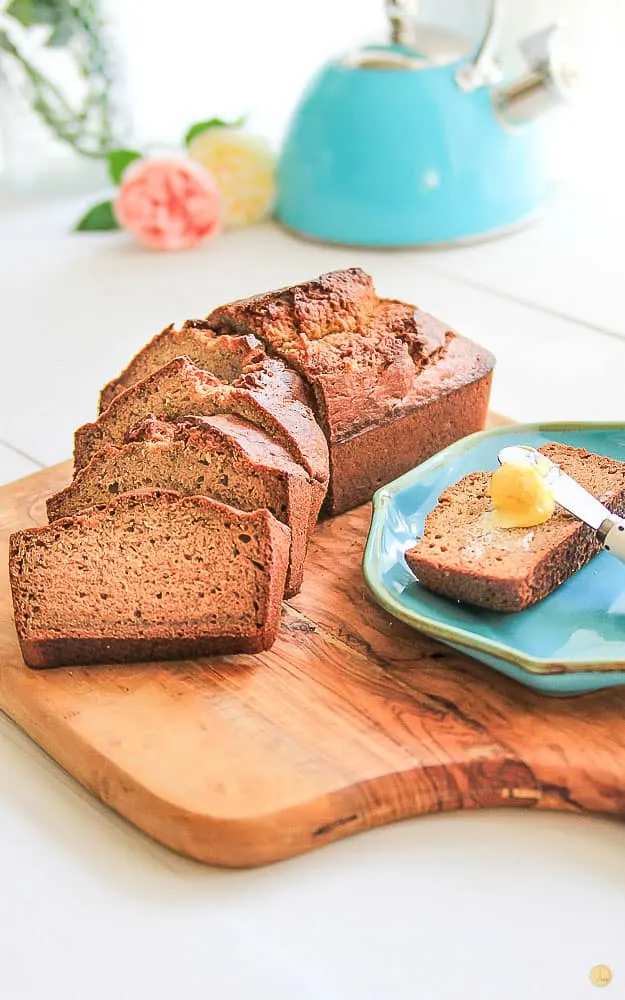 Should I use baking soda or baking powder in my banana bread?
Baking soda will create a rise if there is acid in your batter like yogurt. (Like this one) If you are not using acidic ingredients then use baking powder along with your soda to create the rise you are looking for in the bake.
Why is my banana bread dry?
There are a few reasons why your bread is dry. If the bananas are not ripe enough they won't release enough moisture into the batter.
Also, you might have too much flour. Be sure to measure it by spooning it into the measuring cup and level with a knife.
Do not scoop the cup into the bag of flour. You will smush out the air and get too much flour.
Why is it dense?
If it's moist but very dense you could have too much moisture. Or the batter was over mixed.
The excess moisture makes a heavy batter that "settles down" low in the pan removing all the air from the batter.
Too much mixing and it activates the gluten in the flour and it bakes dense.
How to freeze it
If you don't manage to finish the loaf or are making this for a future occasion, bake and cool completely.
Wrap slices or sections individually in plastic wrap, then layer of foil. Place in a freeze safe bag for up to 3 months.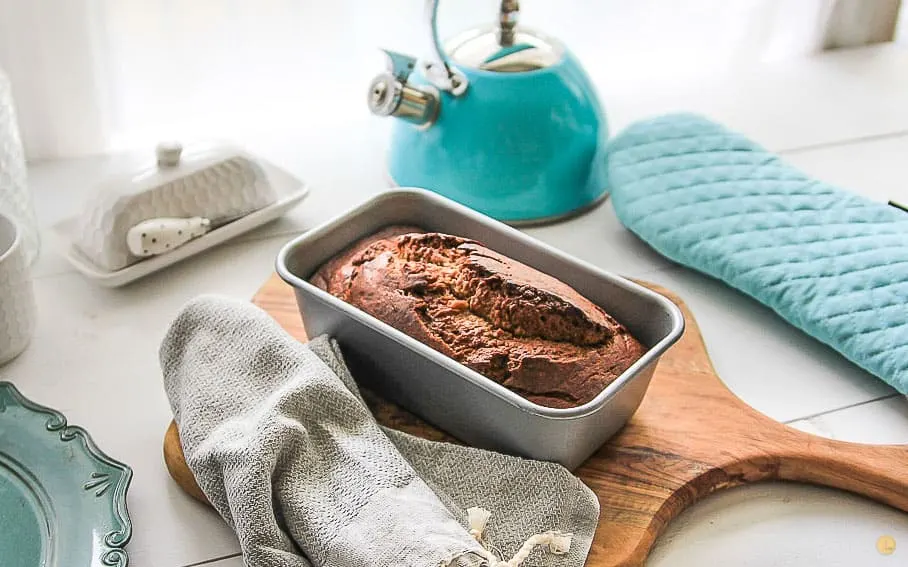 Tips for No Leftovers
if the bananas are not quite ripe use one of the tips above to get them ready to bake
the top takes a little longer to cook. If top still isn't done but the bottom is, lower temp to 325, cover with foil, and move up a rack
keep bananas in the freezer so you always have bananas that are ready when your cravings are
make ahead of time and give as gifts
use a slice or two and make french toast out of them. You won't regret it!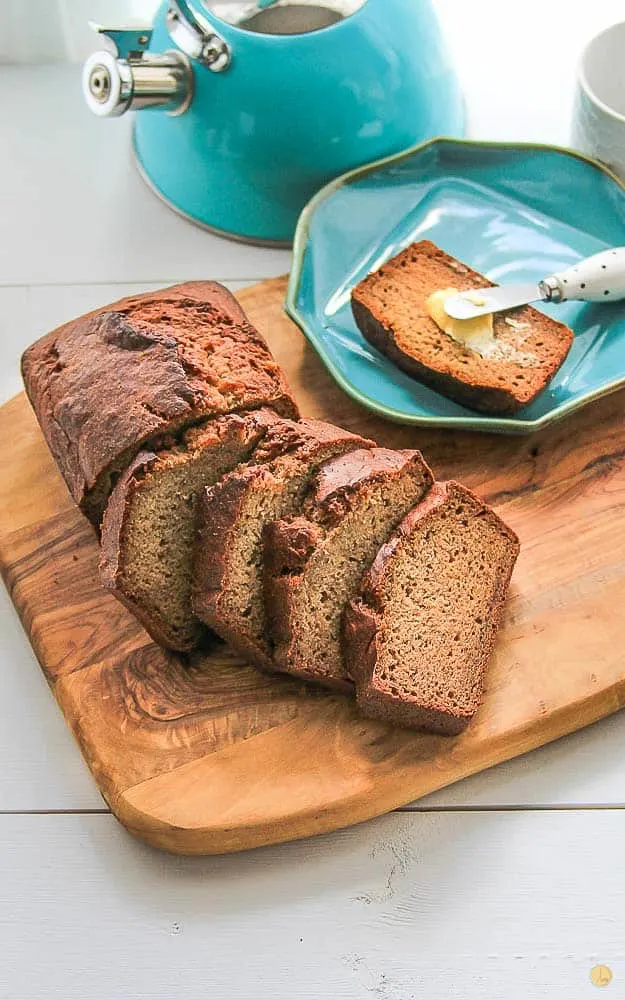 If you love this recipe as much as I do, please write a five-star review in the comment section below (or on Pinterest with the "tried it" button – you can now add pictures into reviews, too!), and be sure to help me share on facebook!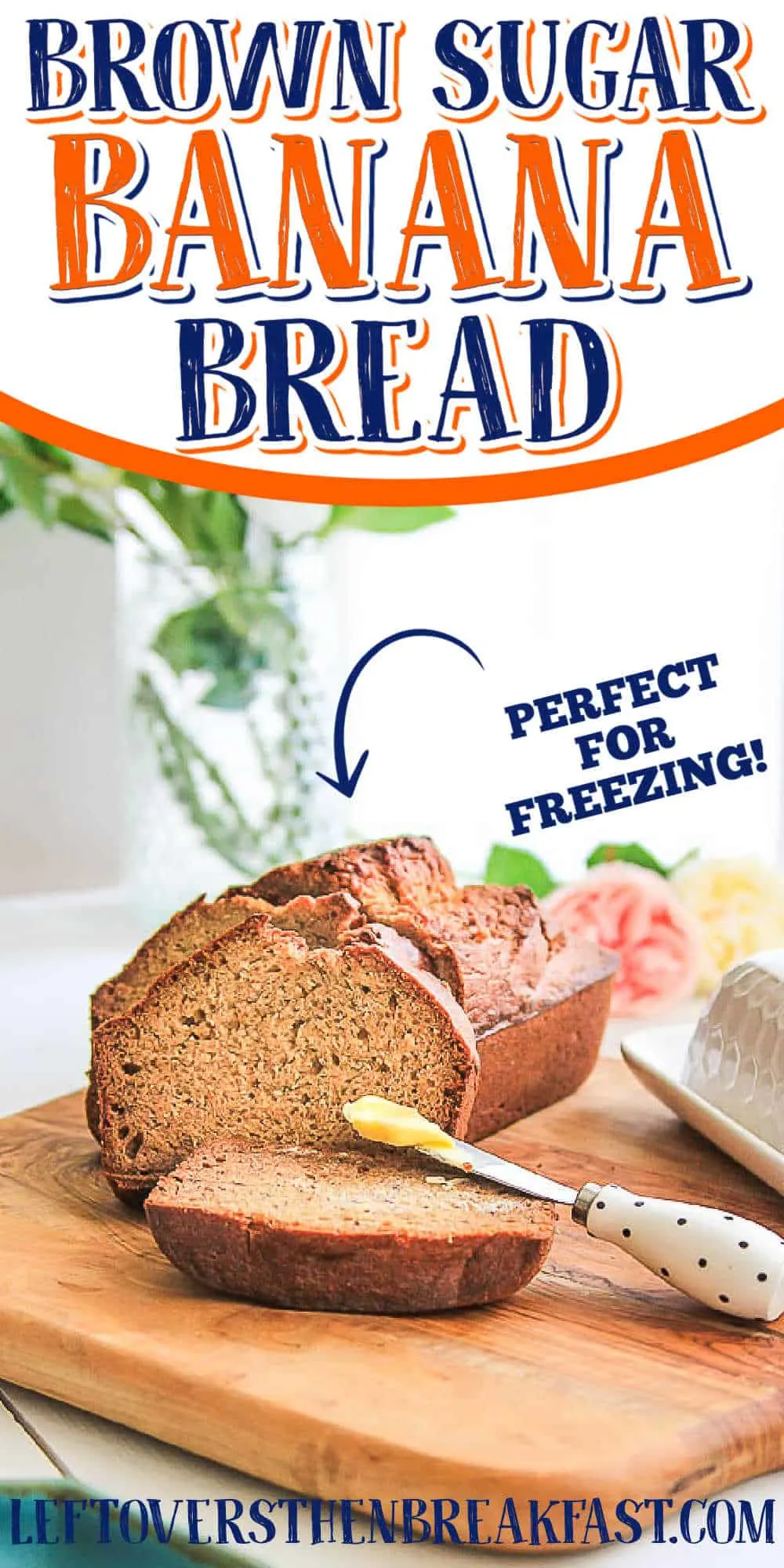 This Banana Bread recipe with brown sugar is great for making as gifts for the holidays too!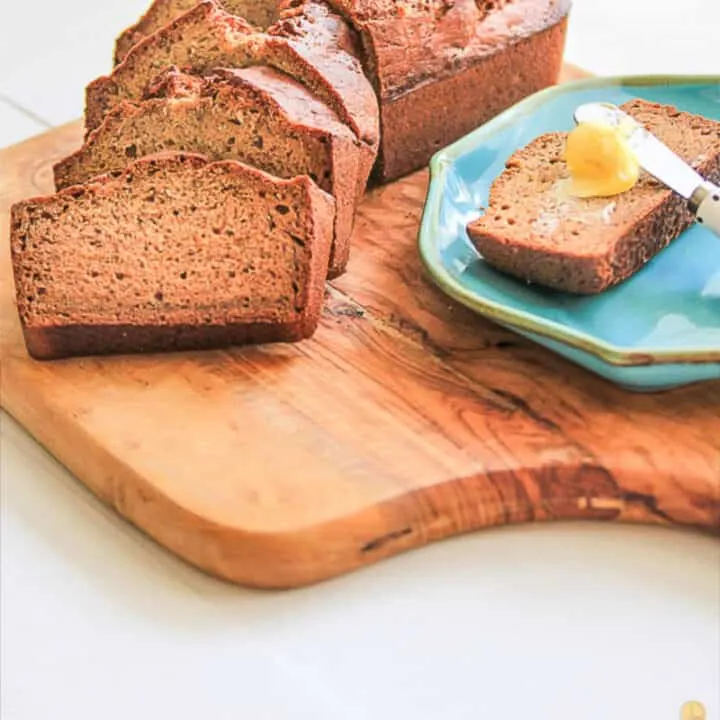 Brown Sugar Banana Bread
Total Time:
1 hour
10 minutes
Brown Sugar Banana Bread is a SUPER MOIST quick bread that everyone will love!
Ingredients
2 cups all-purpose flour
1/2 teaspoon baking soda
1/4 teaspoon salt
1/2 teaspoon cinnamon
1 teaspoon vanilla extract
4 overripe bananas, mashed
1/3 cup yogurt
2 eggs
1 stick (or 1/2 cup) butter, at room temp
3/4 cup brown sugar
Optional: chopped pecans or walnuts
Instructions
Preheat oven to 350 degrees. Mash bananas in a bowl and set aside.
Mix flour, baking soda, salt in a bowl and set aside.Cream butter and brown sugar until completely mixed together.
To the creamed butter mixture add the eggs, mashed bananas, yogurt, cinnamon and vanilla extract. Blend completely.
Mix the dry ingredients into the wet ingredients a little at a time. Blend thoroughly but don't over mix. Scrape down the sides of mixing bowl if using a stand mixer so there are no lumps of flour left.
Pour into a well-greased loaf pan. Bake on the lowest rack in your oven for 55-60 minutes. When it's done you should be able to insert a toothpick and it will come out clean. If the top is getting too burnt and the inside is not done, cover it with aluminum foil and bake another five minutes.
Let cool before cutting with a serrated bread knife.
Notes
if the bananas are not quite ripe use one of the tips above to get them ready to bake
the top takes a little longer to cook. If top still isn't done but the bottom is, lower temp to 325, cover with foil, and move up a rack
keep bananas in the freezer so you always have bananas that are ready when your cravings are
make ahead of time and give as gifts
use a slice or two and make french toast out of them. You won't regret it!
Nutrition Information:
Yield:

12
Serving Size:

1 slices
Amount Per Serving:
Calories:

235
Total Fat:

8g
Saturated Fat:

1g
Trans Fat:

0g
Unsaturated Fat:

6g
Cholesterol:

31mg
Sodium:

117mg
Carbohydrates:

38g
Fiber:

3g
Sugar:

17g
Protein:

5g
This nutrition information was generated via a third party, Nutritionix, and can not be held liable for any discrepancies in the information provided.
More Delicious Recipes
LeftoversThenBreakfast.com. Content and photographs are copyright protected. Sharing of this recipe is both encourages and appreciated. Copying and/or pasting full recipes to any social media is strictly prohibited.