Chocolate Haystack Cookies combine creamy white and semi sweet chocolate chip with crunchy chow mein noodles in this decadent treat that everyone will love!
With just 3 ingredients, and festive & fun garnishes, these reindeer snacks are a fun holiday treat for kids, and reindeer, of all ages!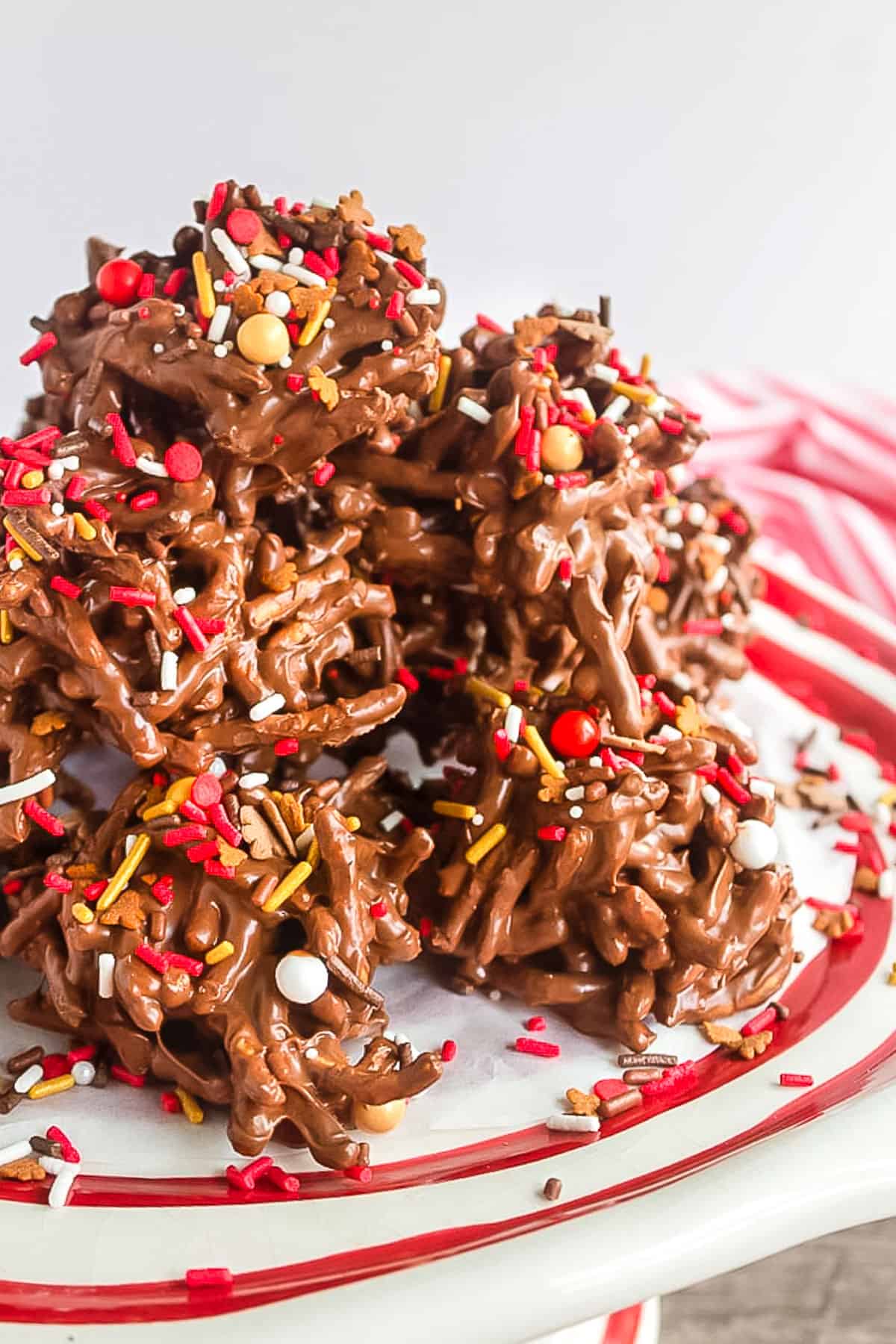 If you'd rather skip my essential cooking tips and tricks and get straight to this delicious recipe – simply scroll to the bottom of the page where you can find the printable recipe card.
This post is sponsored by Sweets & Treats. I received product in exchange. The recipe and all opinions expressed here are my own.
CHOCOLATE HAYSTACK COOKIES
This no bake treat is just what you are looking for!
Cookies are one of my favorite desserts because they are small, portable, and can pack a ton of flavor and texture into one bite.
When I think of the holidays, and cookies, I think of what would Santa want to snack on. But this year, I want to focus on the reindeer 🙂
If the reindeer aren't happy, then Santa doesn't go anywhere! So we gotta keep them happy.
I have a feeling that they like gingerbread, chocolate (because who doesn't like chocolate,) and they want something crunchy.
I immediately thought haystack cookies. Crunchy, sweet, salty, chocolate-y, and I can make them festive for holidays with the help of some bright sprinkles.
This chocolate haystack cookie recipe uses just 3 ingredients and you can dress them up any way that you want!
This post may contain affiliate links. As an Amazon Associate, I earn from qualifying purchases. Read my disclosure policy here.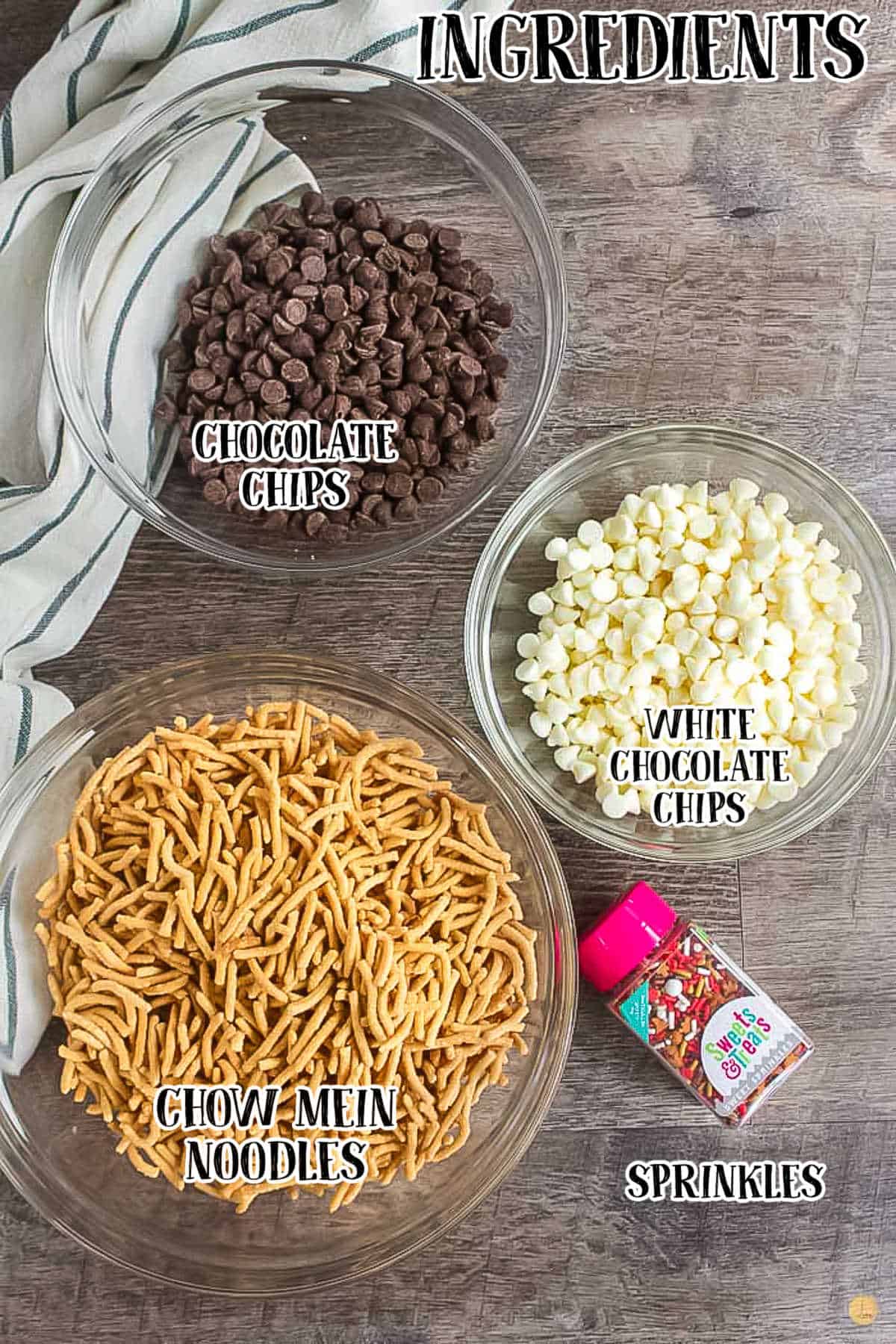 WHAT ARE HAYSTACKS MADE OF?
The beauty of these no bake haystack cookies is that they only need 3 ingredients. 2 if you use only one type of chocolate!
HAYSTACK CANDY INGREDIENTS
Looking for more comfort food? Follow LTB on Pinterest!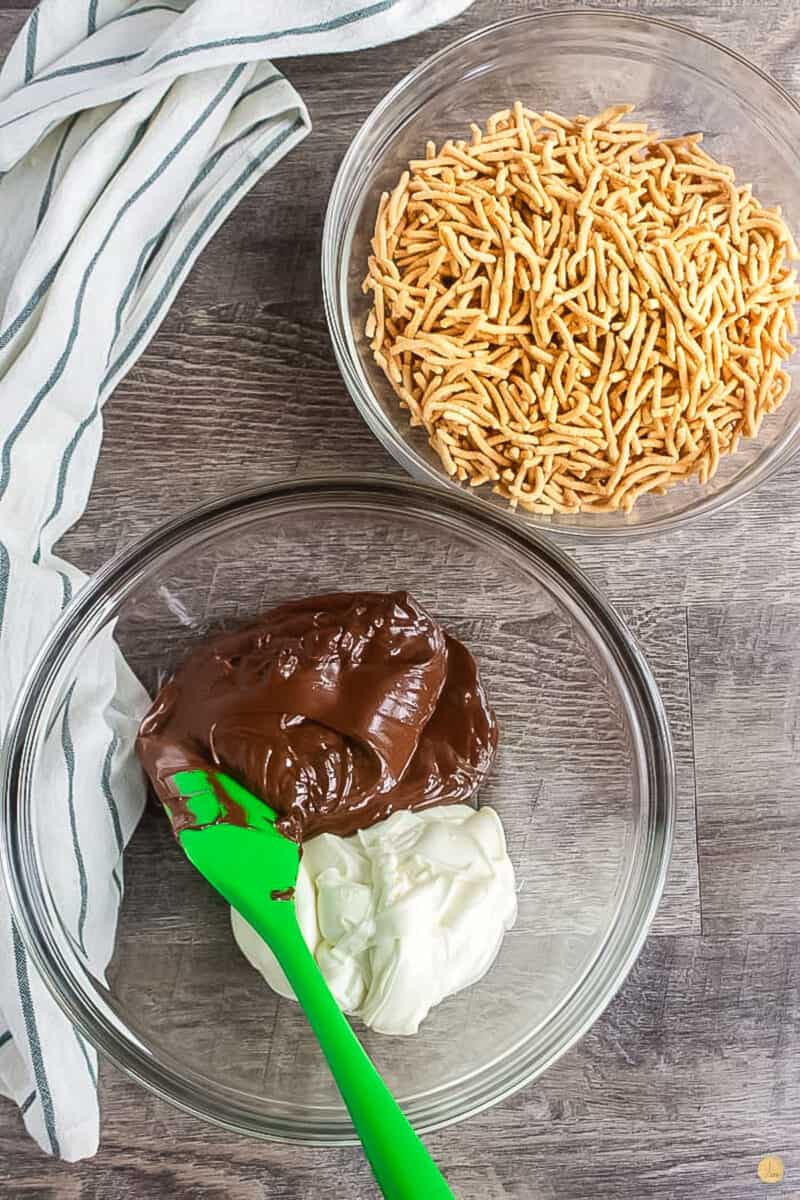 HOW TO MAKE HAYSTACK COOKIES
ONE: In a microwave safe bowl, melt the chocolate chips, in 30 second intervals. Stirring in between to ensure even melting.
TWO: In a large bowl, combine the chocolate mixture and chow mein noodles. Stir to coat evenly.
THREE: Using a scoop or spoon, drop the mixture on baking sheet lined with parchment paper. Be sure to keep them in tight piles and not let them spread too much.
FOUR: Top with sprinkles and let set until completely cooled. The chocolate will set at room temperature but you can you always place them in the fridge to speed it up.
For the full recipe and detailed baking instructions, please see the recipe card at the end of this post.
HOW BIG TO MAKE THEM
I like to make my stacks about 2 tablespoons. This is a good size and will give you 24 cookies. Use an ice cream scoop to keep them even.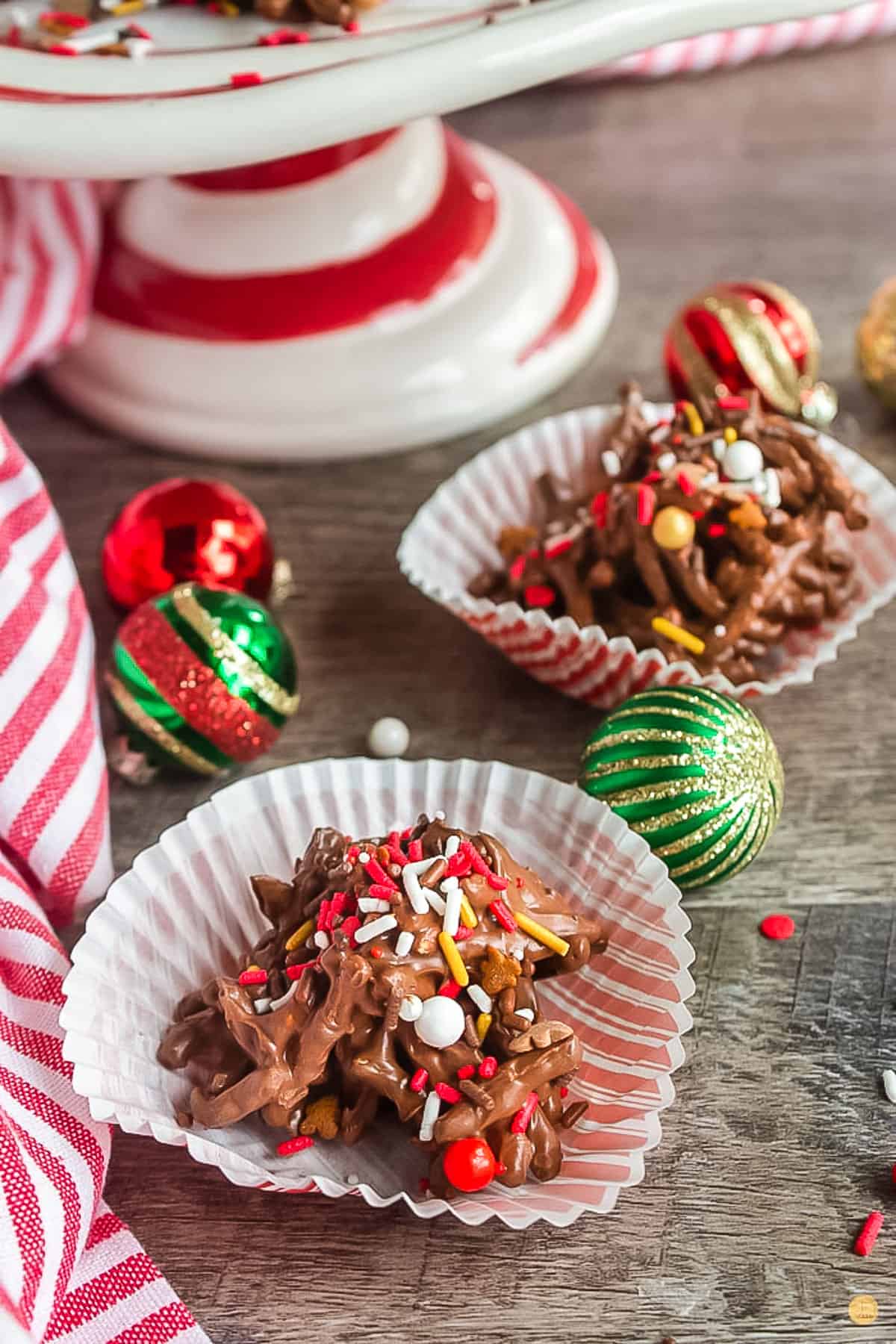 DO HAYSTACKS NEED TO BE REFRIGERATED?
These cookies can be refrigerated to speed up the chocolate setting but for long term storage, I would keep them at room temperature.
Condensation could form in the container and water will ruin the cookies.
Keep the cookies in an air tight container at room temperature for up to two weeks. If they last that long 🙂
WHY ARE MY HAYSTACK COOKIES DRY?
Sometimes the chocolate gets overheated which can cause the sugar crystals to harden and become crumbly. Make sure you start out with good quality chocolate and keep water out of the mixture!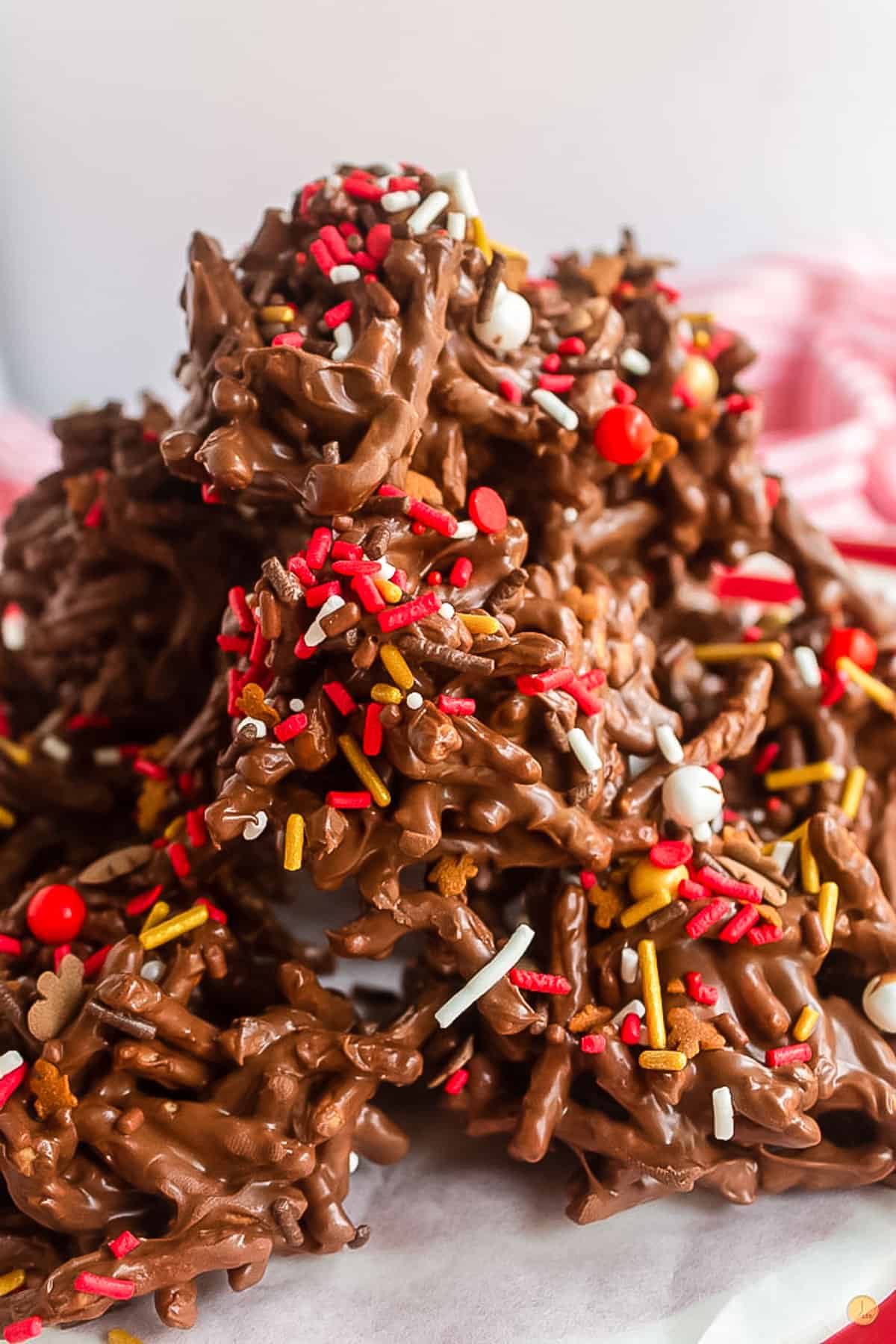 CHOW MEIN COOKIE FLAVORS VARIATIONS
NUTS: almonds, peanuts, cashews, pecans
NOODLES: pretzel sticks, potato chips, cereal, oatmeal, shredded coconut
CHOCOLATE: white, semi-sweet, dark, peanut butter chips, cinnamon chips
MIX-INS: dried cranberries, dried strawberries, toffee bits, sprinkles, M&M candies, cookies, mini marshmallows
TIPS FOR NO LEFTOVERS
start with good quality chocolate and melt carefully.
the microwave is the easiest way to melt the chocolate chips but you can use a double boiler as well.
switch up the flavor of chips you use and add in some other goodies.
use an ice cream scoop to keep the stacks uniform in shape.
once you scoop them onto the baking paper, use your fingers or hands to shape them into stacks before they solidify.
use parchment paper or a silicone baking mat to set up cookies. I wouldn't recommend wax paper as it can melt slightly with the heat of the chocolate.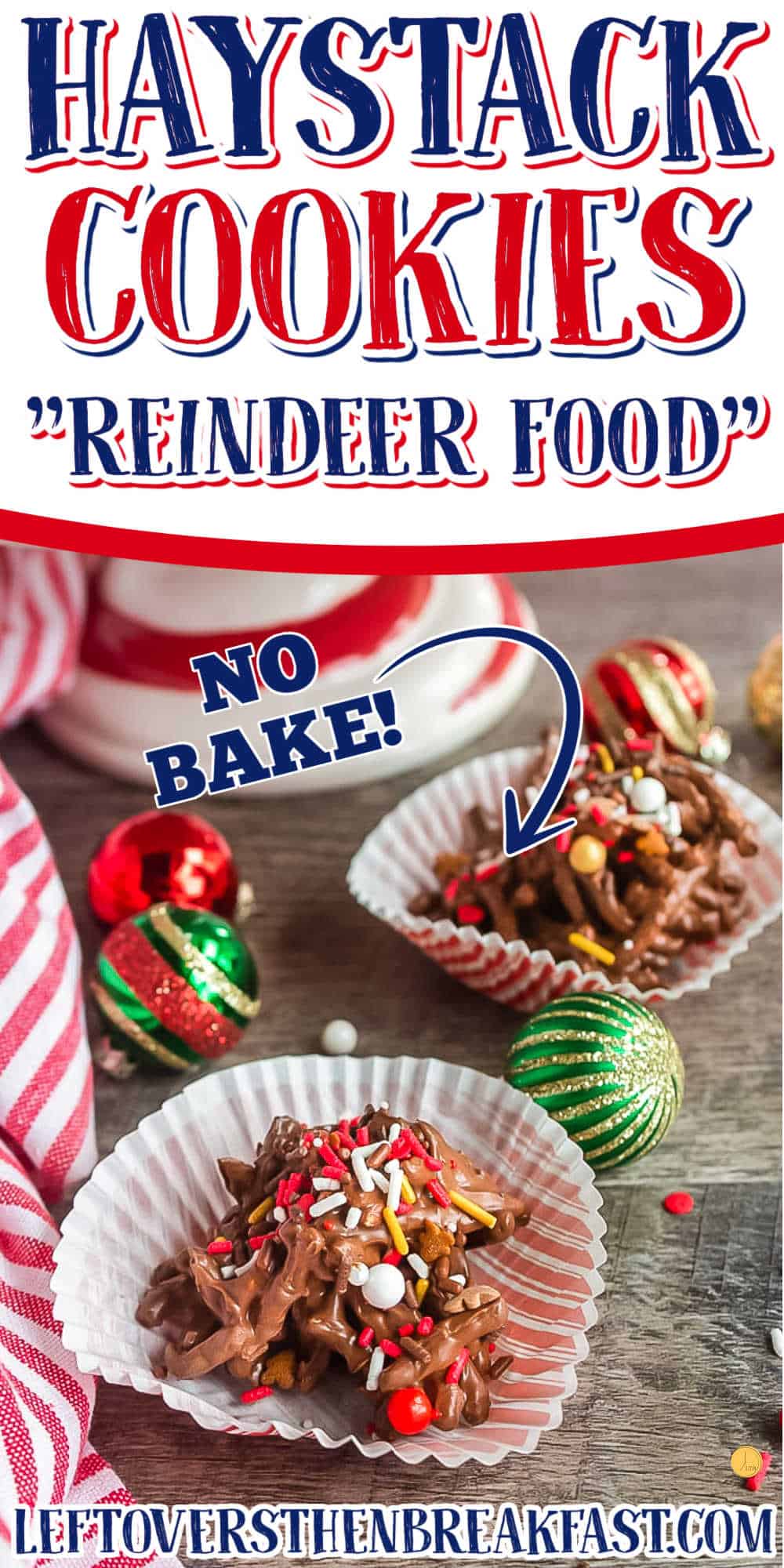 These easy no bake Haystack Cookies are made with creamy white and semi-sweet chocolate chips and crunchy Chinese chow mein noodles.
MORE EASY SWEETS
HAYSTACKS WITH CHOW MEIN NOODLES
Welcome to #ChristmasCookies week where more than 25 bloggers are sharing cookie recipes perfect for your holiday celebrations. Hosted by Ellen from Family Around the Table, Christie from A Kitchen Hoor's Adventures and Heather from Hezzi-D's Books and Cooks.
Wednesday Christmas Cookie Recipes