This homemade hot cocoa mix recipe is perfect for warming you up on a cold night. Better than store bought, make it in bulk and share with friends and family!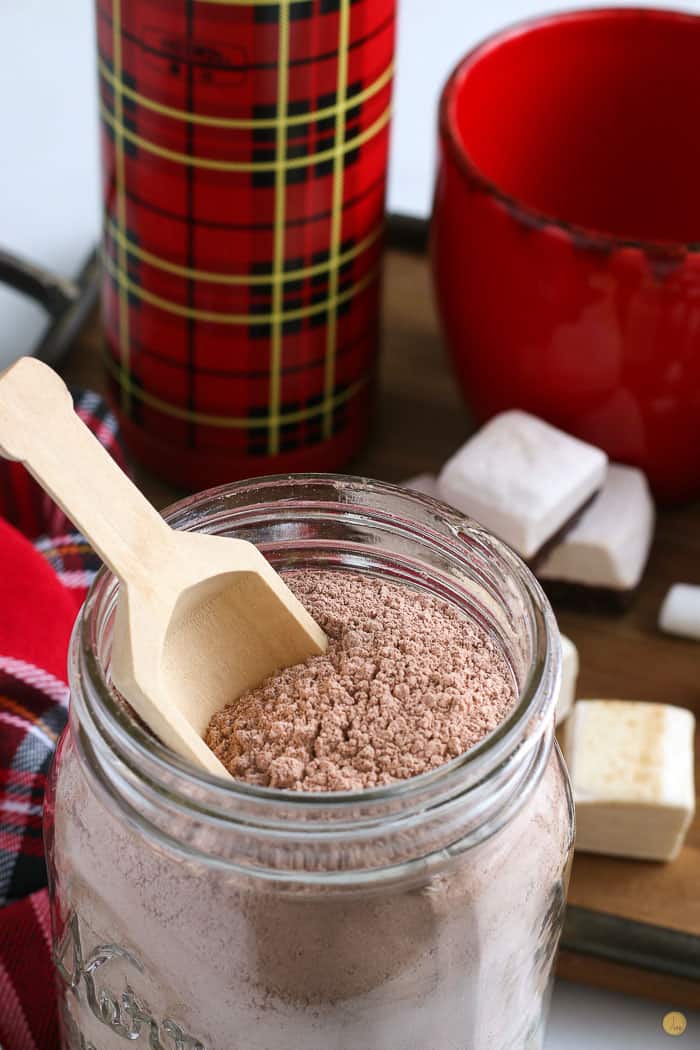 If you'd rather skip my essential cooking tips and tricks and get straight to this delicious recipe – simply scroll to the bottom of the page where you can find the printable recipe card.
Hot cocoa is a favorite of mine because I am not much of a coffee drinker. And let's be honest…
I love marshmallow and whipped cream!
The store bought nonsense is for the birds which is why I prefer to make mine homemade.
AND…This way I can make a milk chocolate or a dark chocolate version without worrying about what's available at the grocery store.
This post may contain affiliate links. As an Amazon Associate, I earn from qualifying purchases. Read my disclosure policy here.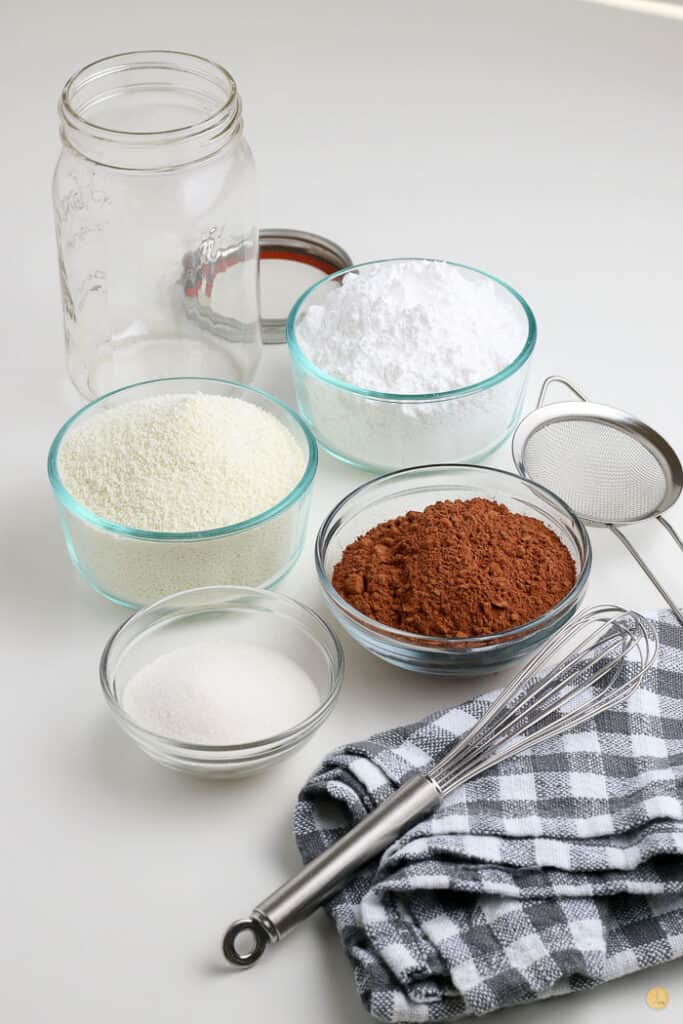 INGREDIENTS FOR HOT CHOCOLATE MIX
instant dry milk powder
powdered sugar
unsweetened cocoa powder
granulated sugar
This homemade hot chocolate mix recipe will just make a basic hot cocoa. But we all know that the real fun is in the garnishes and toppings!
Once you make your warm cup of cocoa, top it off with any of these:
chocolate chips (white, semi sweet, milk, or dark)
mini marshmallows
whipped cream
cinnamon
peppermint extract
candy canes
chocolate wafer straws (Pirouline)
sprinkles
Looking for more comfort food? Follow LTB on Pinterest!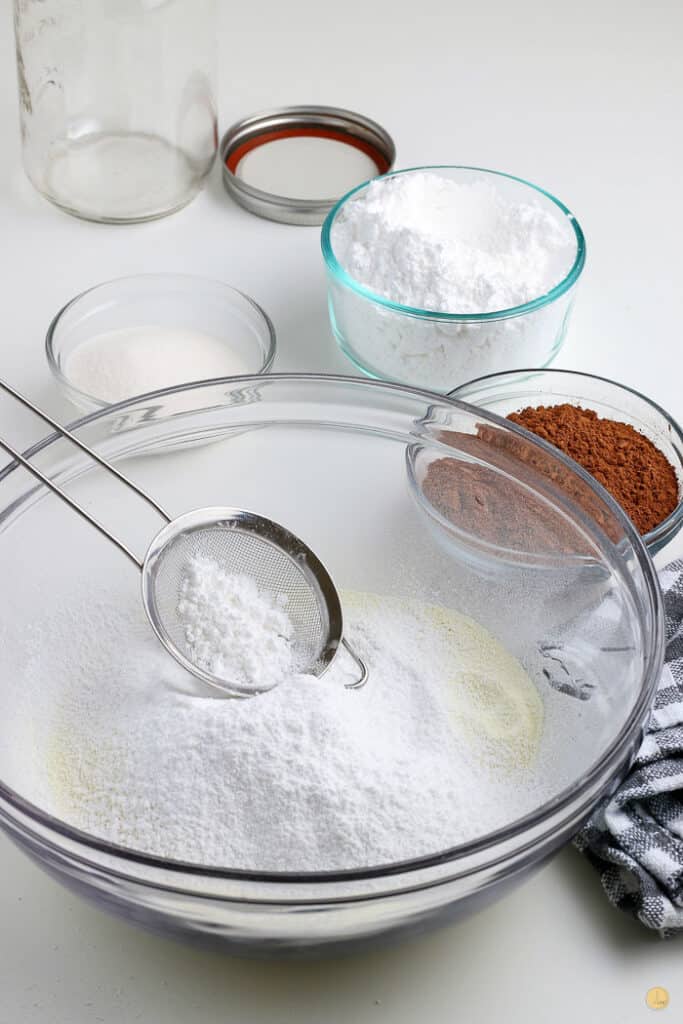 HOW TO MAKE HOT COCOA MIX
ONE: In a large bowl, sift powdered sugar and instant powdered milk together.
TWO: Sift in cocoa powder. Add granulated sugar and whisk together until evenly combined.
THREE: Store in airtight container or jar for up to 3 months
For the full recipe and detailed baking instructions, please see the recipe card at the end of this post.
This recipe is perfect for making hot cocoa mix in bulk!
I like to portion mine out in cute little mason jars with a tag and instructions. These little gifts are perfect to hand out to my neighbors!
MORE HOMEMADE MIXES TO MAKE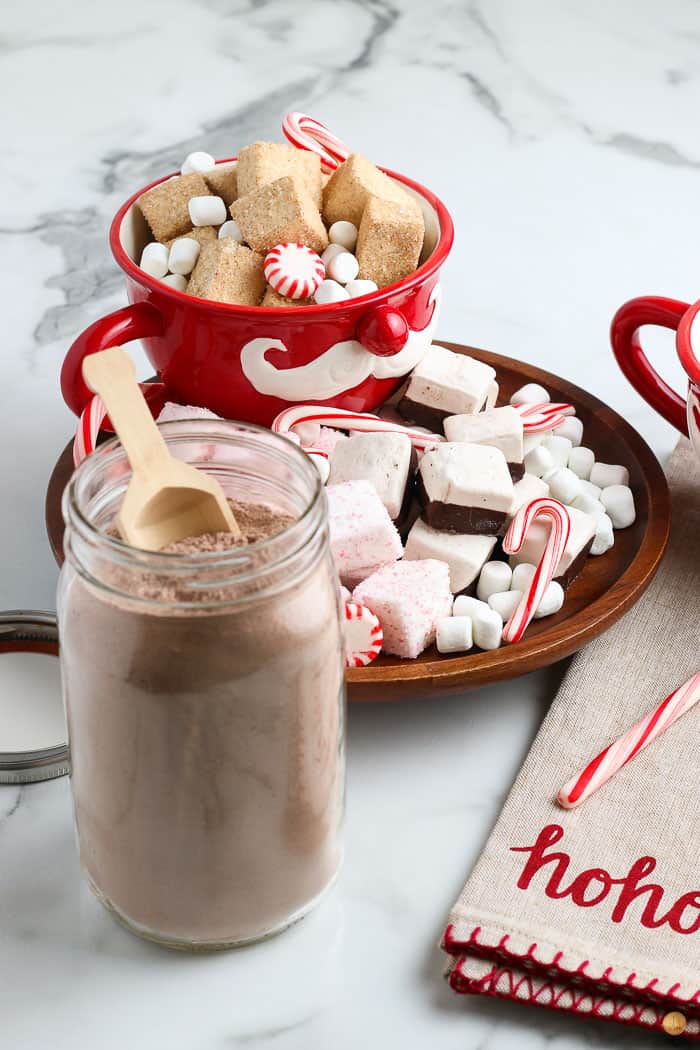 To make a mug of hot cocoa, add ⅓ cup of homemade hot cocoa mix in a mug, stir in 1 cup hot milk, and add your favorite toppings!
TIPS FOR NO LEFTOVERS
Use good quality cocoa powder. It makes all the difference.
You can use low-fat instant milk powder but I like the full fat stuff!
Measure your ingredients before sifting as it changes the volume.
Place the mix in the mug and then add the warm milk. It will keep the clumps at bay.
You can make the your hot chocolate with hot water but I prefer milk. It makes it much creamier and yummier!
To mix the ingredients, you can add them all to a food processor and pulse a few times. This will also aerate the mixture but it's not necessary.
If you love this recipe as much as I do, please write a five-star review in the comment section below (or on Pinterest with the "tried it" button – you can now add pictures into reviews, too!), and be sure to help me share on facebook!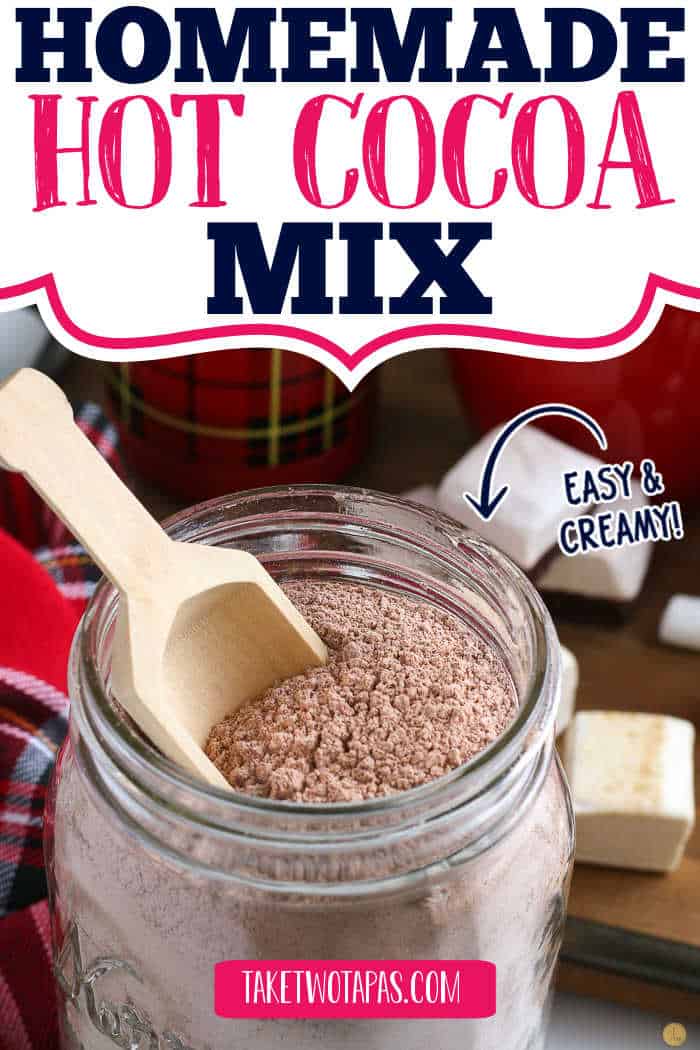 MORE EASY RECIPES
HOT COCOA MIX RECIPE