Cast Iron Chicken Pot Pie is the best way to enjoy this classic comfort food dish. A crispy, flaky, buttery crust holds tender bites of chicken and veggies and a rich cheese sauce that everyone will love!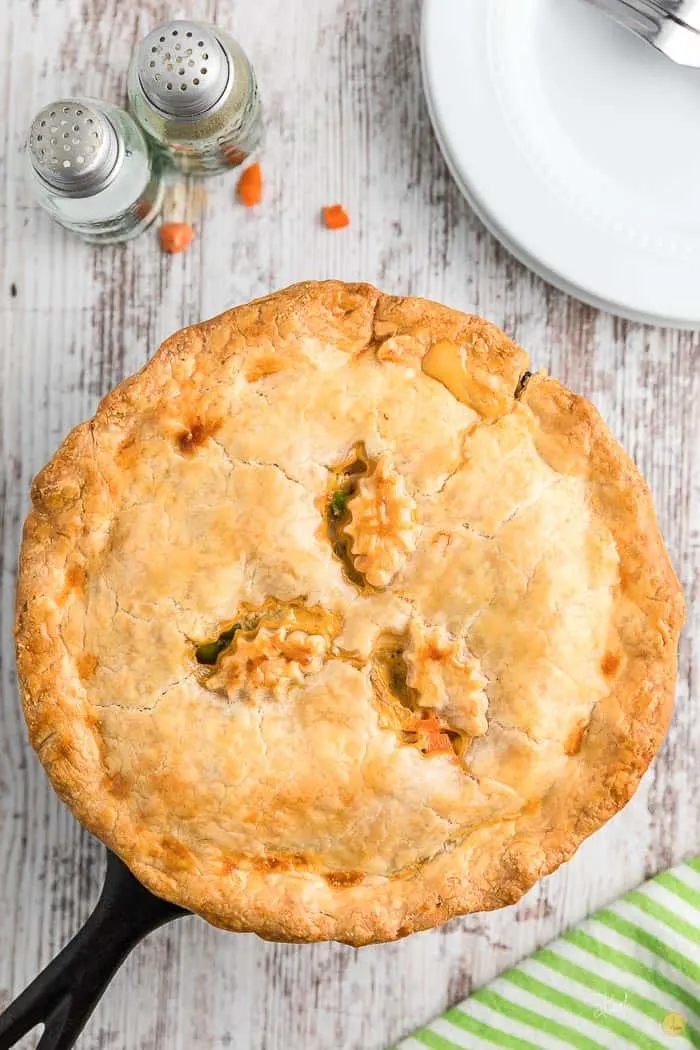 I haven't met a single person that doesn't like chicken pot pie. I'm sure they are out there, just not in my circle of trust LOL.
I LOVE it!
I mean LOVE LOVE it! So much that I would marry it if I wasn't already taken 😉
When I crave some comfort food and there is none better than a chicken pot pie. But who wants all the fuss of slow simmering the chicken, veggies, and sauce?
My mom made a killer pot pie when I was younger, but it wasn't like any other that I had before.
She was (and still is) a busy woman, so she came up with a recipe, full of amazing shortcuts, that produced a hearty and delicious pot pie.
It was, and still is, so good that I made it all the time in college. Over the years, I have tweaked it a bit, now that different ingredients are available.
It still delivers each and every time I make it. It's such a family favorite that my husband doesn't like to eat any other version of chicken pot pie. That's saying a lot!
Want me to let you in one the secrets?
The best part of this chicken pot pie recipe is that there is very little prep! No endless chopping or simmering because I use a lot of shortcuts that you will love.
And it's pretty close to being a one pot meal:)
Ingredients Needed
Chicken: I use a store bought rotisserie chicken. A little more pricey but time is valuable so I can justify it. You will need roughly 2 cups cooked chicken.
Veggies: I use frozen mixed vegetables, frozen broccoli florets in cheese sauce, a baked potato. More on these later*
Sauce: The secret is a can of Campbells condensed soup. I use broccoli cheese but my mom used plain cheddar cheese.
Crust: Nothing quicker than a refrigerated pie crust. You will need two 9 inch crusts.
Looking for more leftover worthy dishes? Follow LTB on Pinterest and pin to a board!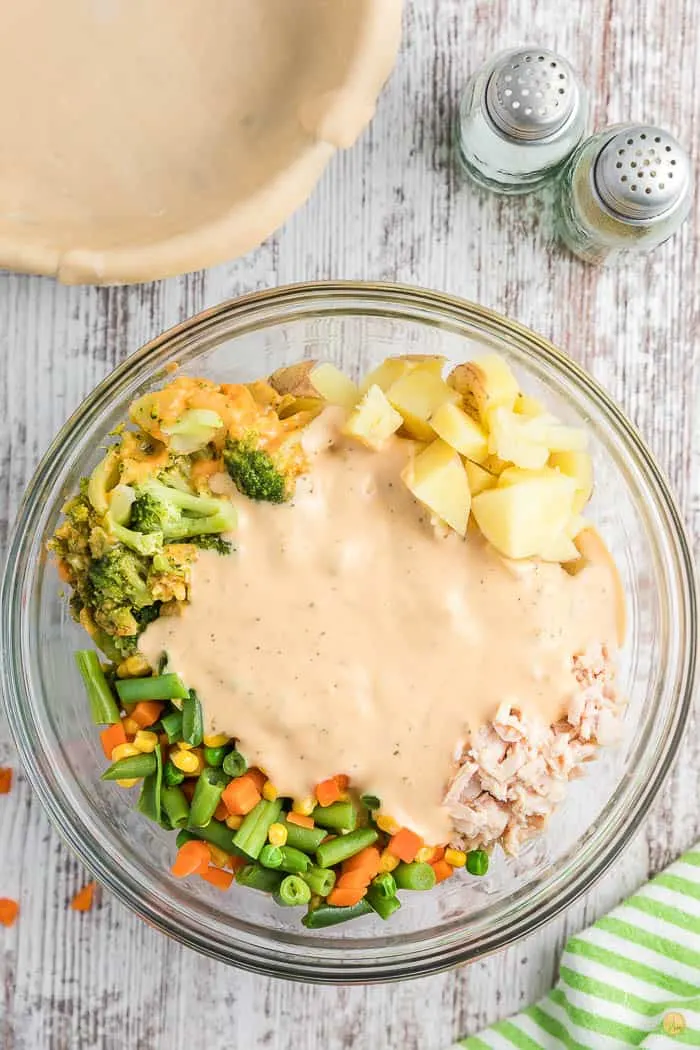 How to make chicken pot pie in cast iron
First: Preheat the oven to 350F. Cook the frozen broccoli/cheese sauce in the microwave according to package directions.
Wash and bake the potato in the microwave on the potato setting until tender and rough chop.
Second: In a large bowl, combine the cooked broccoli/cheese sauce, the chopped baked potato, the frozen mixed vegetables.
Add the chicken and the can of soup. Stir to combine. Season with salt and pepper if desired.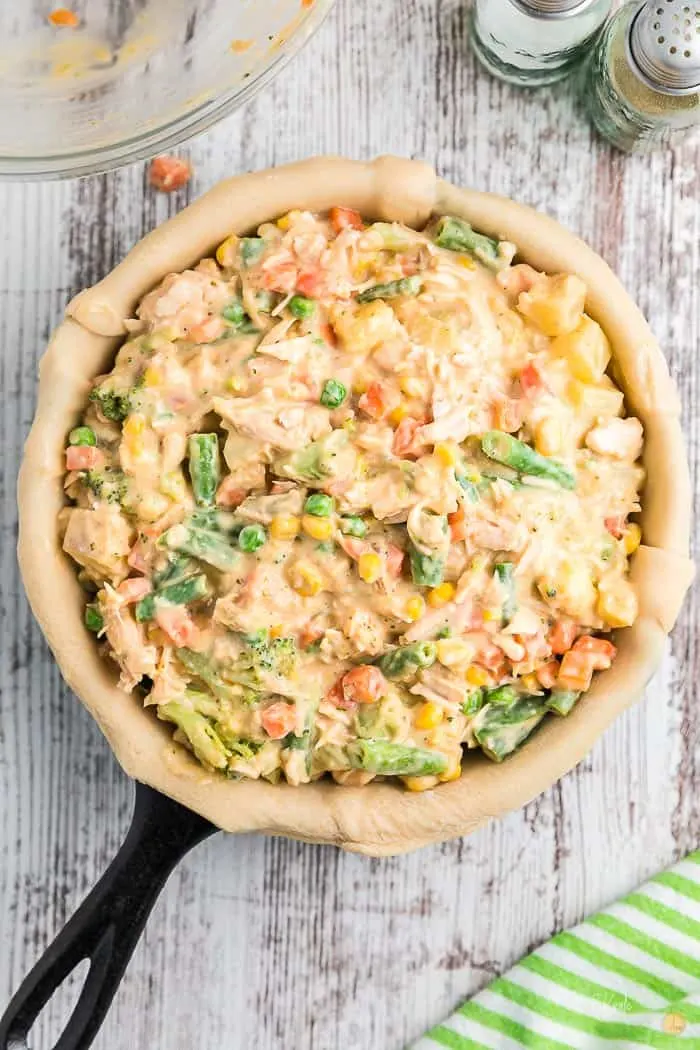 Third: Place the bottom crust in a cast iron skillet. Spread the chicken mixture in the crust, leaving a little room on the sides. Cover with the top crust, folding and crimping the edges to seal them.
Make slits or cut decorative holes in the top. Brush with egg wash if desired.
Fourth: Cook at 350F for 1 hour, rotating half way through. When the pie crust is golden brown and the filling is bubbling through the openings, remove the pot pie from the oven.
Let sit 5 minutes and cool slightly. Serve warm!
For the full recipe and detailed baking instructions, please see the recipe card at the end of this post.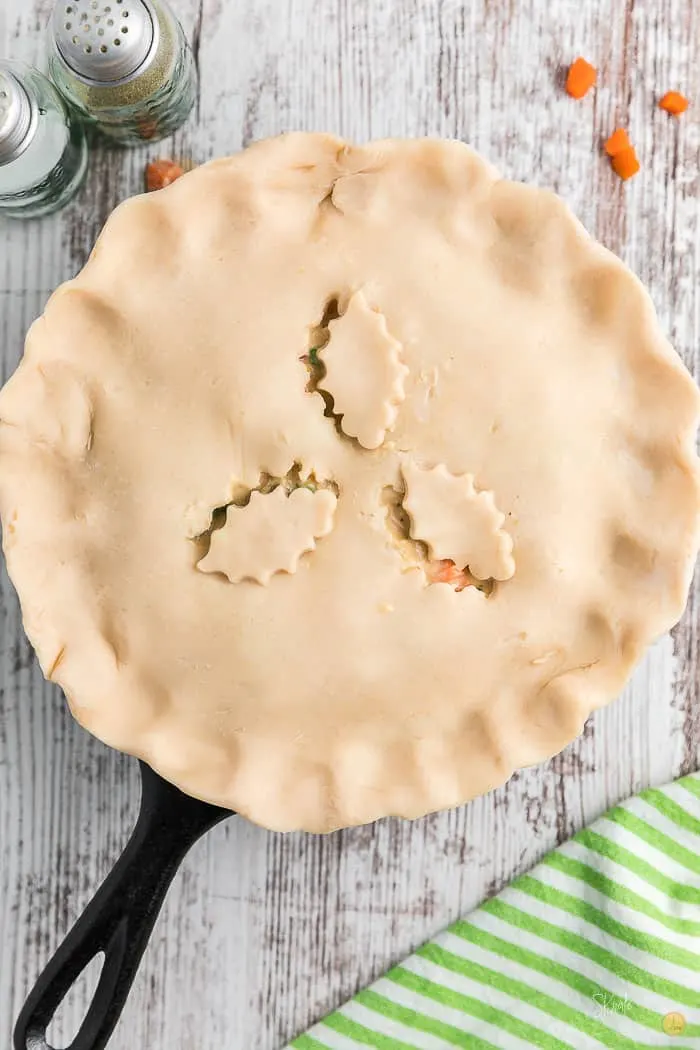 How my skillet pot pie differs from my mom's
I use rotisserie chicken or my own cooked chicken where my mom used canned chicken (12oz). You can find it in the store aisle next to the canned tuna. She bought the all white meat version but get what you love.
I use frozen mixed veggies where my mom used a can of Veg-All.
I use frozen broccoli florets with cheese where my mom left out the broccoli.
We both use a baked potato even though the Veg-All contains potatoes. Sometimes I use frozen roasted red potatoes in a garlic sauce instead of the baked potato if I can find them.
I use broccoli cheese soup where my mom used cheddar cheese soup.
I cook mine in a cast iron skillet where my mom uses a glass pie plate.
All these tweaks I have made have been to add a little more flavor to the basic ingredients and to make prep easier.
A few turns in the microwave and my ingredients are ready to bake!
I don't have time to simmer ingredients so I go for the best shortcuts!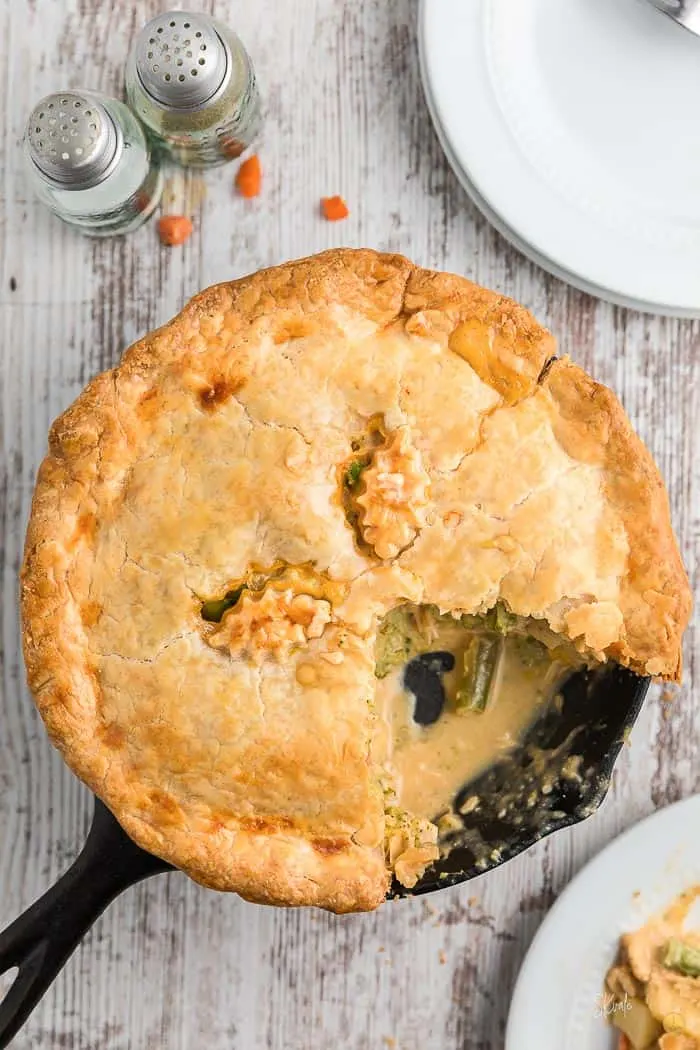 How do I keep my bottom pie crust from getting soggy?
Minimize the liquid in the pot pie ingredients but sometimes this is unavoidable so I have a trick for you.
Brush the bottom of the crust with beaten egg white. Don't use the yolk, just the egg white. It will form a seal between the crust and the filling.
Cooking this in cast iron usually allows the bottom crust to get crispy.
I have even tried preheating the skillet before putting the bottom crust in so it sort of "sears" it but it's very hard to work fast with filling and I burned my fingers pretty bad trying to get the top crust on and crimped LOL.
Don't follow my bad example!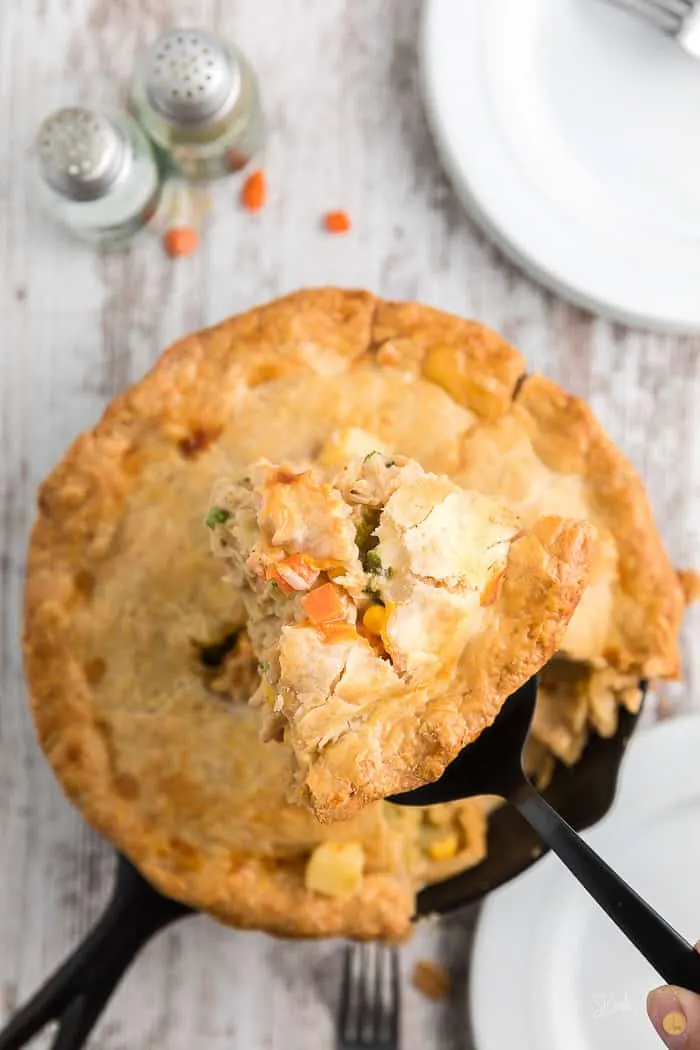 How long does it last?
Any leftovers can be store in the refrigerator for up to 3 days. But mine never lasts that long:)
How do I reheat it?
I cut a slice and reheat in the microwave for 1-2 minutes. If you want to reheat a large portion, or if it's still in the skillet, heat in a 350F oven for 10-15 minutes or until the middle is warm.
Can I freeze it?
Yes, you can! You can make it, bake it, and then freeze it for up to 3 months.
If you don't want your skillet to be in hibernation in the freezer, here is a great trick!
Line your skillet with plastic wrap, add the pie crust, assemble the pot pie like the recipe, leaving off the egg wash.
Wrap in a layer of plastic wrap, then a layer of foil. Freeze overnight.
Next day, remove the foil and plastic, lift the frozen pie out of the skillet using the bottom layer of plastic wrap. Rewrap just the pie and store in the freezer until ready to bake.
Now your skillet is free for other dishes. You could use a separate pie pan but I like knowing that my chicken pot pie is the exact shape of my cast iron skillet when I bake it:)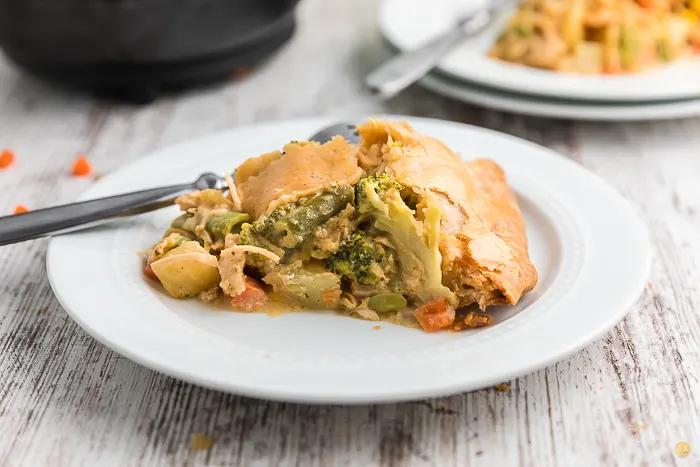 How do I bake a frozen pot pie?
To bake it from frozen, remove the chicken pot pie from the freezer, brush with an egg wash, and bake in a 350F oven for 45-60 minutes or until golden brown and the filling is bubbling.
Ever since I was a kid, I have loved this homemade double crust chicken pot pie recipe.
It's very hearty, full of protein and veggies, and topped with a flaky crust!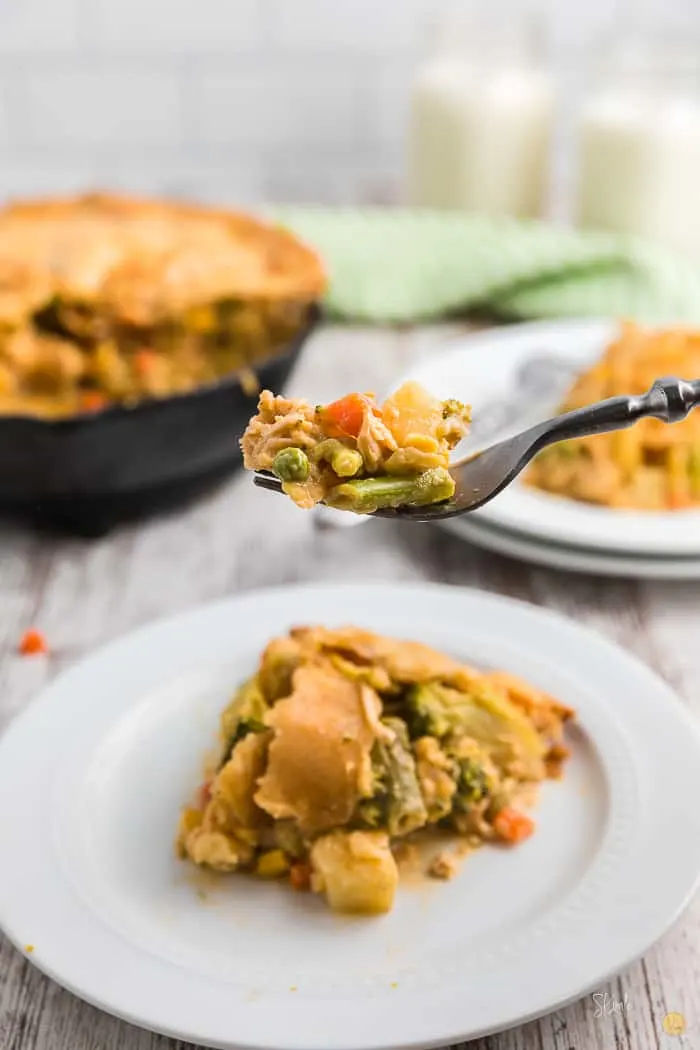 Tips for No Leftovers
Use precooked chicken from the deli. It's a life saver! I make large batches in my instant pot to have on hand for tacos, chicken salad, etc.
Pick your favorite frozen veggies to use.
Brush your bottom crust with egg whites before adding the filling to keep it from getting soggy.
Be sure to cut slits in the top crust to release the stem and avoid a soggy crust.
Feel free to make your own pie crust if you have a great recipe or some stashed in the freezer.
Don't use puff pastry, it takes too long to thaw, is square, and is too flaky to hold the filling in.
Egg wash the top crust before baking to get a golden brown color.
If the edges start to brown too early, wrap a strip of aluminum foil around the edge of the skillet.
I use an 8 inch skillet for this recipe, but you can use a 9 inch too. Anything larger and the pie will be too thin.
If you love this recipe as much as I do, please write a five-star review in the comment section below (or on Pinterest with the "tried it" button – you can now add pictures into reviews, too!), and be sure to help me share on facebook!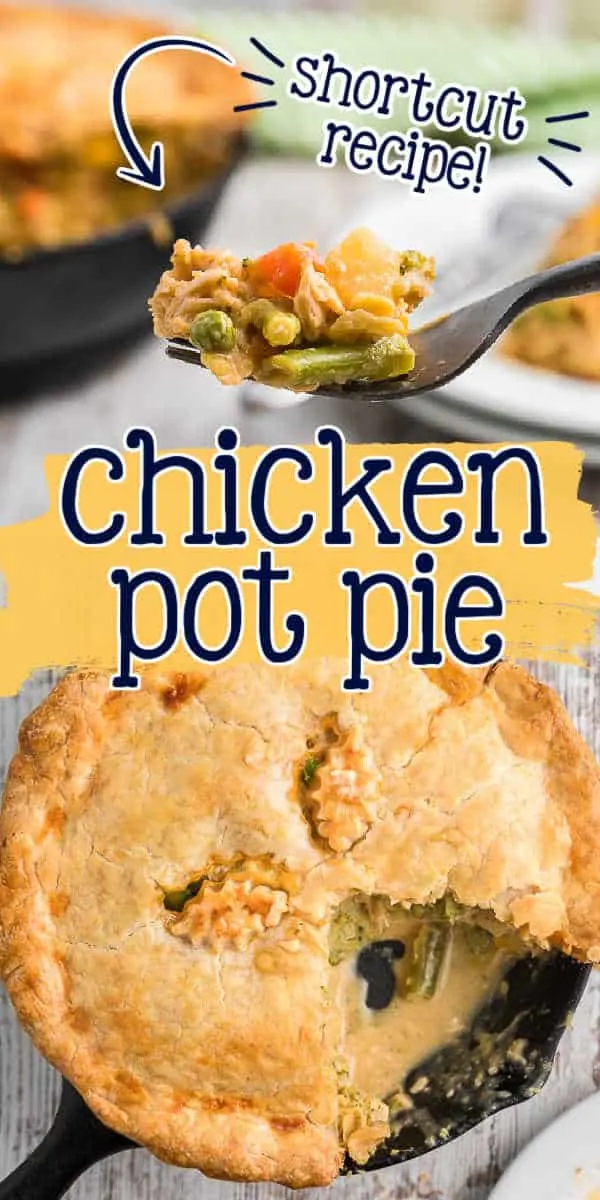 Tired of chicken? Check out these easy ground beef recipes!
More Comfort Foods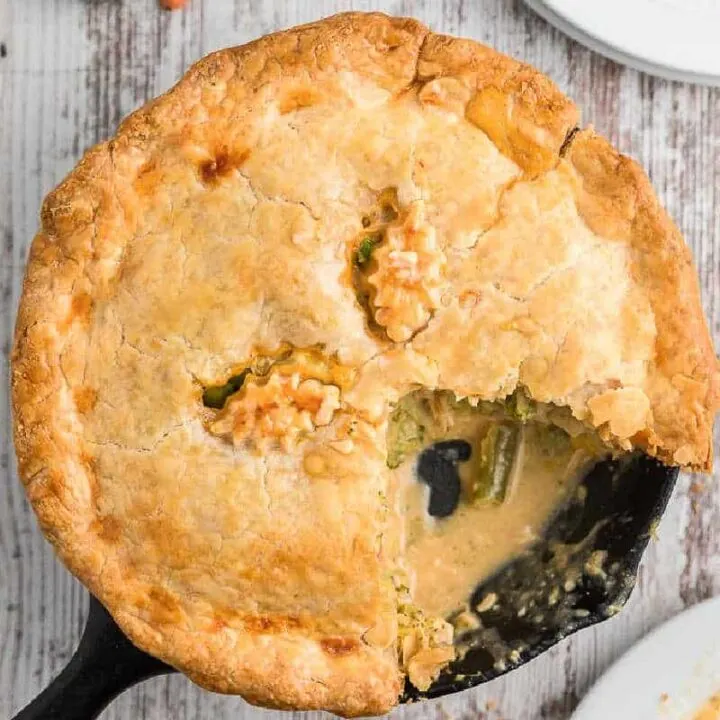 Easy Chicken Pot Pie with Pie Crust
Additional Time:
5 minutes
Total Time:
1 hour
10 minutes
Cast Iron Chicken Pot Pie is the best way to enjoy this classic comfort food dish.
Ingredients
2 cups cooked chicken
1 can broccoli cheese soup (10.5oz)
1 package frozen broccoli with cheese sauce (10 oz)
1 1/2 cups frozen vegetables
1 medium potato
1 package refrigerated pie crust (2 crusts/package)
Instructions
Preheat oven to 350F. Cook the veggies (broccoli and potatoes) per package directions.
In a large bowl, combine chicken, soup, broccoli, potato, and mixed veggies. Stir to mix and incorporate the soup with the ingredients.
Place one crust in skillet. Scoop or spoon the pot pie mix into the center of the crust. Spread out leaving a little on the edges free for crimping.
Top with second crust and fold over/crimp edges to seal the pie. Cut slits in top of crust.
Place in preheated oven and cook for one hour, rotating half way through to brown evenly. The pie is done when the top is golden brown and the sauce is bubbly through the openings.
Remove and let cool for 5 minutes to set. Serve warm.
Notes
*If you love this recipe as much as I do, please leave me a comment and rate it 5 stars. Thank you!
Nutrition Information:
Yield:

8
Serving Size:

1
Amount Per Serving:
Calories:

305
Total Fat:

16g
Saturated Fat:

6g
Trans Fat:

0g
Unsaturated Fat:

8g
Cholesterol:

48mg
Sodium:

456mg
Carbohydrates:

26g
Fiber:

4g
Sugar:

4g
Protein:

15g
This nutrition information was generated via a third party, Nutritionix, and can not be held liable for any discrepancies in the information provided.
LeftoversThenBreakfast.com. Content and photographs are copyright protected. Sharing of this recipe is both encourages and appreciated. Copying and/or pasting full recipes to any social media is strictly prohibited.