Beefaroni is a HEARTY, MEATY, SAUCY, comfort food dish that is a new take on a classic recipe. In LESS THAN 30 MINUTES, you will have a meal that the whole family will love!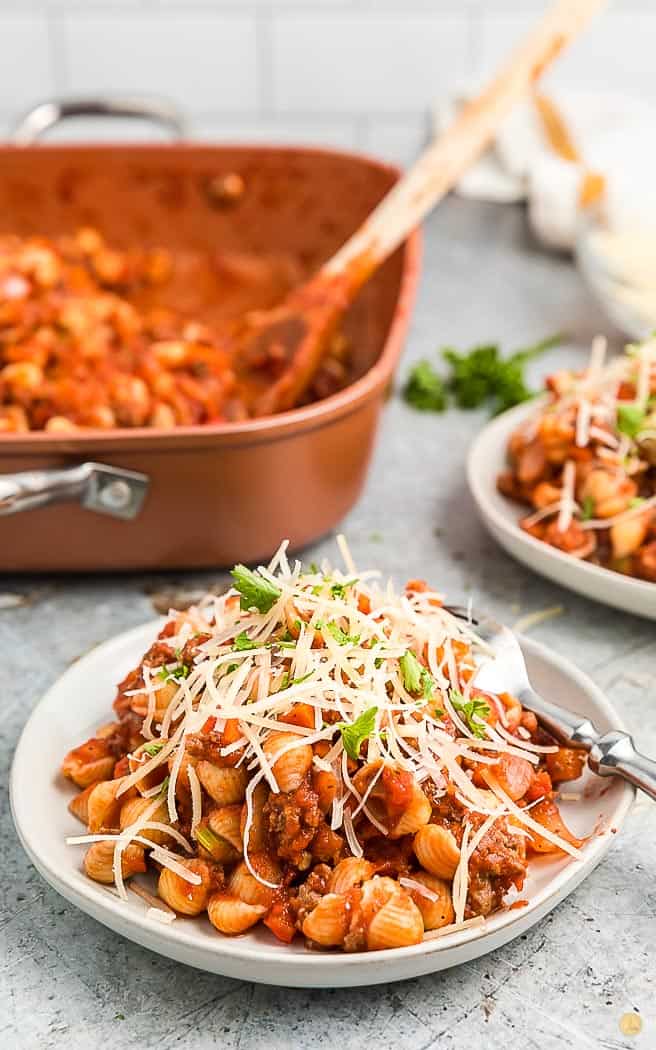 If you'd rather skip my essential cooking tips and tricks and get straight to this delicious recipe – simply scroll to the bottom of the page where you can find the printable recipe card.
There is a lot you can do with macaroni and beef!
Some of my favorite pasta dishes start with these two ingredients and there is so many different ways to elevate them.
My most favorite is this family Beefaroni recipe. I've been enjoying this homemade version for most of my life and it's comfort food at it's finest!
Ad an adult, I can honestly say I make it at least twice a month. After the initial serving, I portion out any leftovers, and hide them way back in the fridge.
I love it for breakfast the next morning!
This post may contain affiliate links. As an Amazon Associate, I earn from qualifying purchases. Read my disclosure policy here.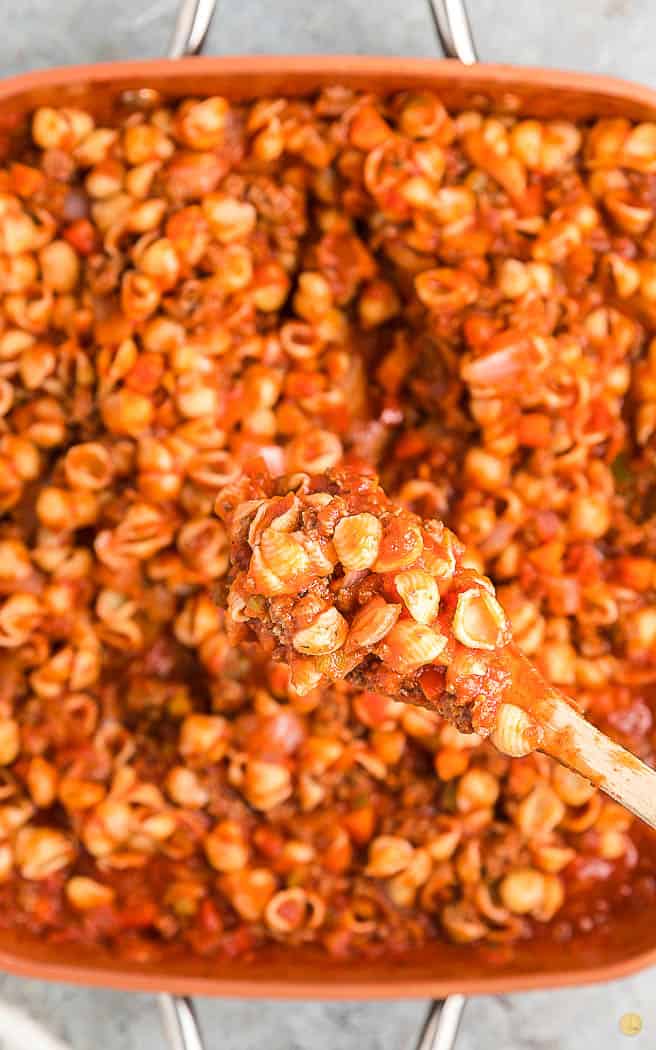 The best thing about this recipe is that it is very versatile.
Ground beef itself is a staple for a lot of recipes, but have you noticed that most of them call for 1 pound of it?
I don't know about you but when I got to the store and shop for ground beef, none of the packages are exactly one pound.
Unless you spring for the fancy vacuum sealed stuff, which I can't always afford, you get the ground beef packaged in the store's meat department.
They are 1.27 or 1.43 pounds, but never exactly 1 pound. More often than not, they are closer to 1.5 pounds.
I don't know about you, but I don't have time to weigh out my beef!
That's great for this beefaroni recipe, because you can use anywhere between 0.75 to 1.75 pounds of ground beef without drastically changing it.
That's why you will love this delicious, budget friendly, 30 minute meal as much as I do.
Looking for more comfort food? Follow LTB on Pinterest!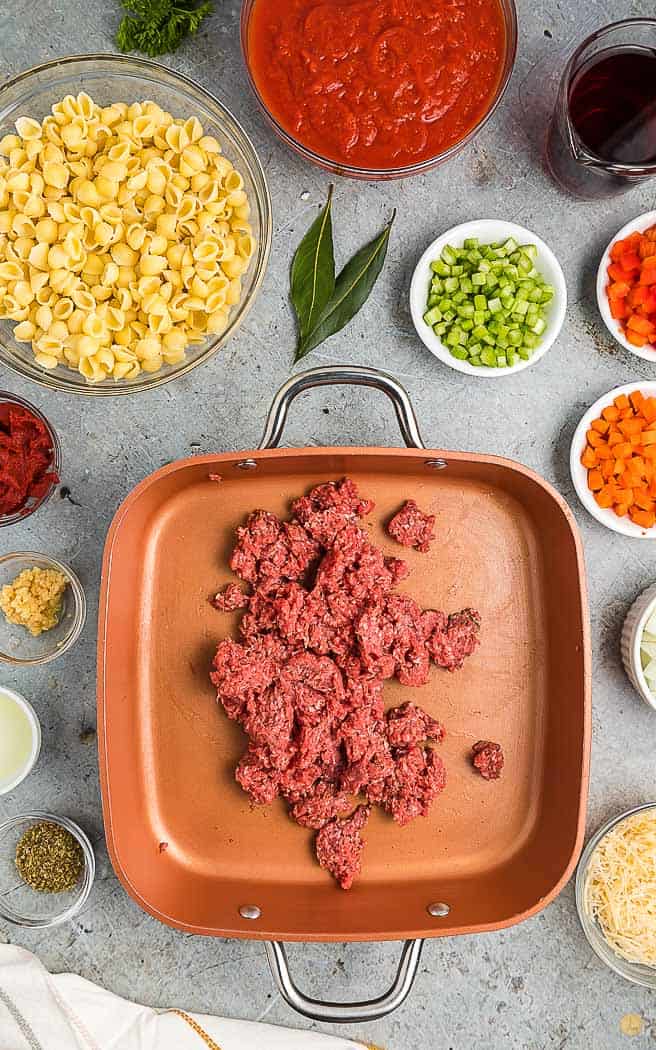 WHAT IS BEEFARONI MADE OF?
Why is this dish so good? Because it is made from simple yet delicious ingredients.
HOMEMADE BEEFARONI INGREDIENTS
ground beef
cooked macaroni noodles
aromatic veggies – onion, celery, & carrots
red bell pepper
tomatoes
spices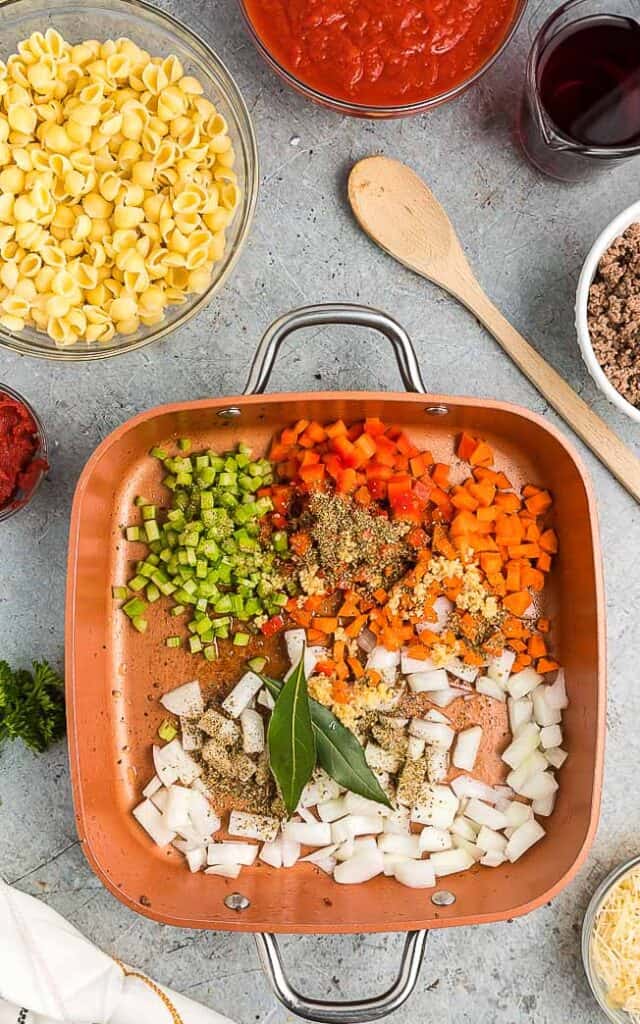 HOW TO MAKE BEEFARONI FROM SCRATCH
ONE: Cook the pasta "al dente" in salted water. In a large dutch oven, brown ground beef over medium heat, drain fat if desired.
TWO: Once you have browned the meat, add the onion, carrot, celery, bell pepper, and spices until soft.
THREE: Add crushed tomatoes, paste, and wine. Stir to combine and simmer for 5 minutes.
FOUR: Toss in the pasta and stir to combine. Season with salt and pepper, garnish with parsley if desired, and serve warm.
For the full recipe and detailed baking instructions, please see the recipe card at the end of this post.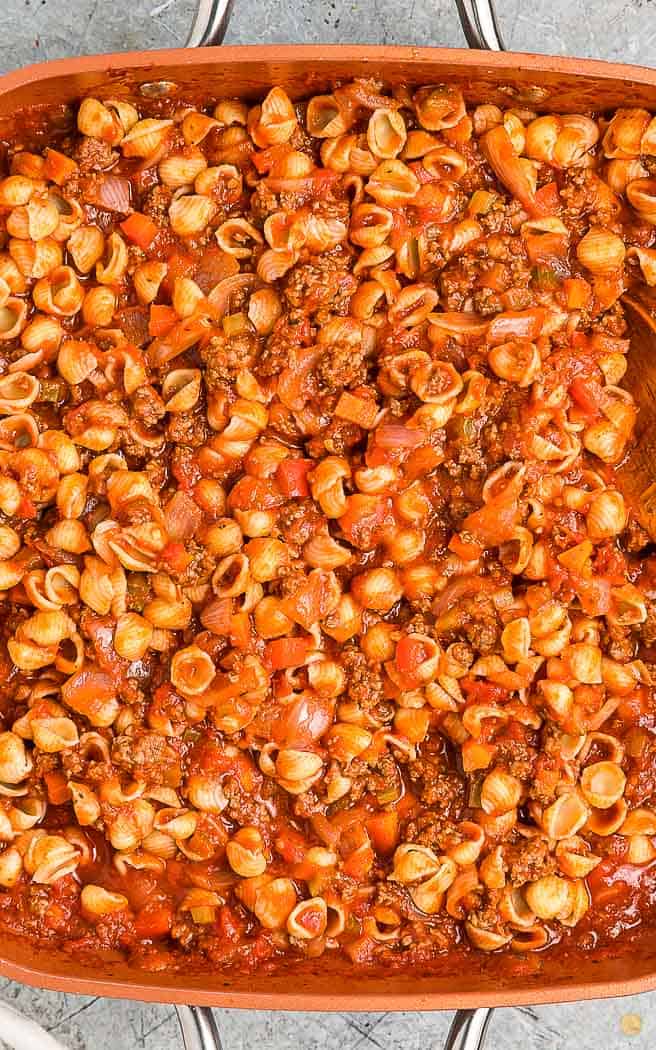 HOW LONG DOES IT LAST?
If you happen to have any leftovers you can store them in an air tight container in the refrigerator for up to 4 days.
CAN YOU FREEZE IT?
Yes, you can! If you are planning on freezing, I would leave the pasta out of the beefaroni. It will turn mushy when frozen.
Store it in a freezer/oven safe casserole dish, wrap tightly, and freeze for up to 3 months.
HOW DO I REHEAT IT?
Defrost the Beefaroni, heat in a 375F oven until warmed through, then stir in cooked pasta and cook for an additional 5-10 minutes.
WHAT CAN I ADD TO BEEFARONI?
Beefaroni is very versatile so you can add lots of things to it. Need more veggies? Add in your favorites while cooking the aromatics.
My husband loves it when I toss in some mushrooms and fresh spinach!
You can also add more/different spices! I love a pinch of chipotle or chili powder for added smokiness.
TIPS FOR NO LEFTOVERS
If you don't have crushed tomatoes, you can substitute tomato sauce for the crushed tomatoes and tomato paste.
You can substitute diced tomatoes for the crushed ones.
Don't want to use beef? Make it with ground turkey or chicken.
Elbow macaroni is fine but I like to make mine with mini shells, Cavatappi, or rotini.
Substitute Italian seasoning for the individual spices listed. If you have bay leaves, use them in addition to the spice mix.
Toss in additional veggies if you want more.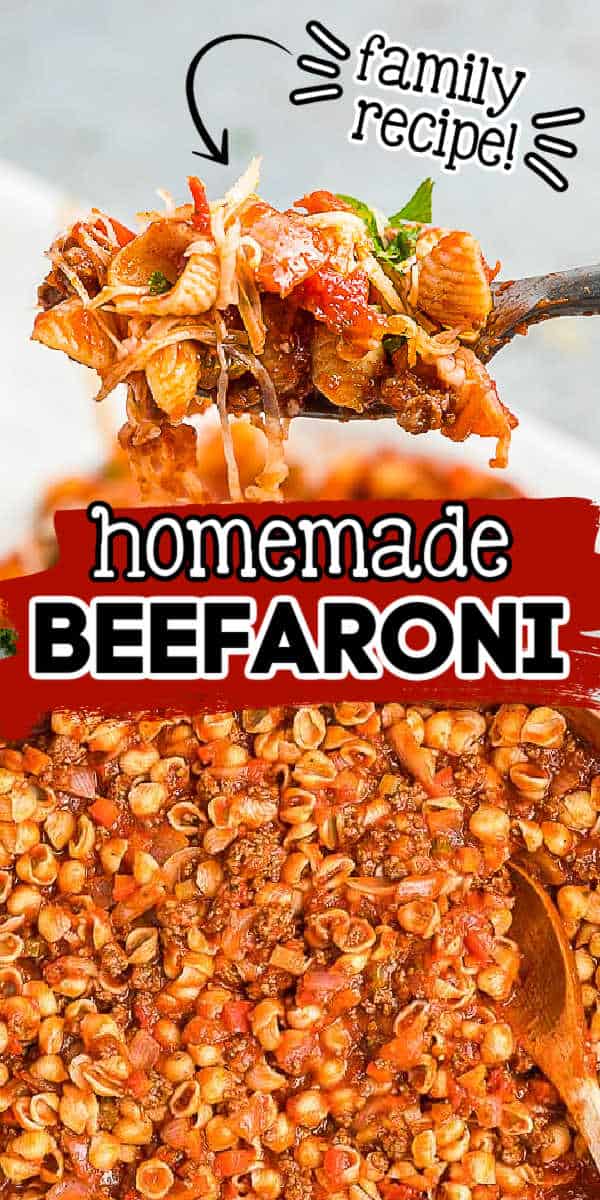 If you ate Chef Boyardee Beefaroni as a kid, you will love this homemade grown up version that is a favorite in our family!
GROUND BEEF RECIPES
HOMEMADE BEEFARONI RECIPE
@LeftoversThenBreakfast.com. Content and photographs are copyright protected. Sharing of this recipe is both encourages and appreciated. Copying and/or pasting full recipes to any social media is strictly prohibited.