If you have a pound or two of ground beef in your freezer or refrigerator and you're wondering what to do with it, you'll want to check out this collection of easy ground beef recipes.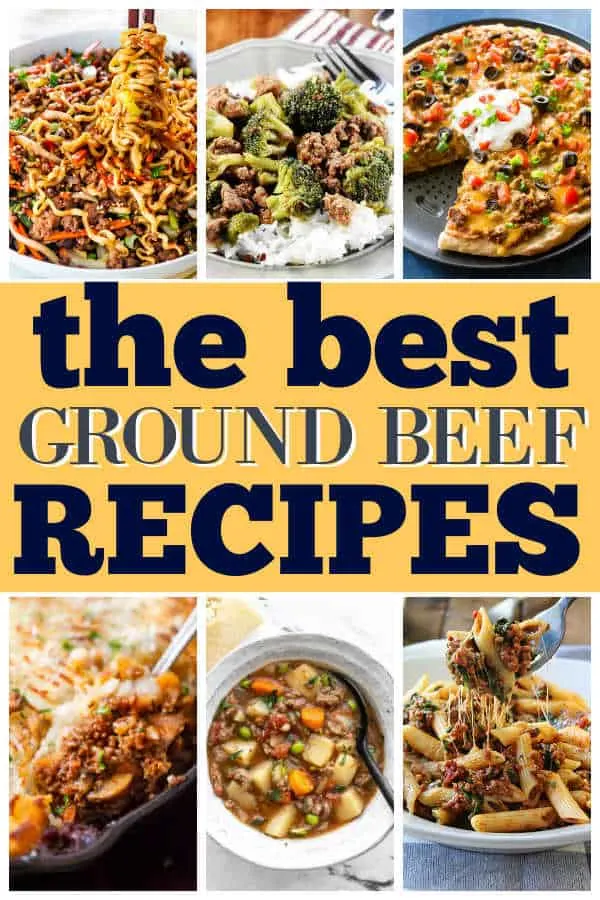 This post may contain affiliate links. As an Amazon Associate, I earn from qualifying purchases. Read my disclosure policy here.
Because ground beef is a versatile and affordable food option, it can be easily turned into a savory meal that's family approved.
From soups to noodles and from meatloafs to casseroles, these recipes get creative with how to prepare, season and cook ground beef.
Whether you're looking for a one-pot skillet meal, or using an appliance such as your pressure cooker or slow cooker, let these easy recipes help you deliver awesome beefy meals that will delight your family and save you time and effort in your kitchen.
Brown your ground beef the proper way before starting each of these recipes!
Easy Ground Beef Recipes
You'll appreciate this deconstructed stuffed bell pepper meal since it cooks up nicely right in your slow cooker. Sauté onion and ground beef before adding chopped peppers, tomato sauce, diced tomatoes, chicken broth, rice and seasonings. Slow cook for a few hours for a fuss-free tasty soup.
Slow Cooker Stuffed Pepper Soup by Leftovers Then Breakfast
Ground beef makes a tasty substitution for stew meat in this comfort food meal. Full of carrots, peas, potatoes, stewed tomatoes, onion, garlic, herbs and spices, this savory meal is a mostly hands-off endeavor thanks to your slow cooker. It's freezer-friendly, too, so leftovers are a good thing!
Easy Slow Cooker Hamburger Stew by Budget Bytes
Cabbage Roll Soup is an easy way to serve your favorite stuffed cabbage rolls but without all the fuss. Hearty and full of vegetables, this soup tastes like it's been simmering all day long but made in less than 30 minutes!
Stuffed Cabbage Soup by Leftovers Then Breakfast
Keep this recipe handy for those busy week nights! Just brown your ground beef with some yummy seasonings and sauces, add some frozen broccoli and cook until tender. Want to add other veggies. too? No problem! Serve over rice.
Ground Beef And Broccoli by Five Heart Home
Substitutions
ground turkey
ground chicken
ground sausage
impossible meat substitute
soy crumbles
Not all ground beef recipes are main dishes! This dip starts with browned beef but layered with cheese and beans. All thrown together in a cast iron skillet, you can prep this ahead of time and bake when ready to enjoy at your next gathering. Serve with corn chips for the ultimate party food!
Frito Pie Dip by Take Two Tapas
You'll love this zesty recipe that uses ground beef and a host of spicy additions to create a ramen noodle meal. Carrots and bok choy add some color and flavor, too. Asian-inspired sauces make this a quick meal that your family will rave about.
Hoisin Beef Noodles by Jo Cooks
Sauté ground beef right in your pressure cooker along with onions, sauces and seasonings. Your Instant Pot will infuse the meat with all the delicious flavors that would take hours if you did this on the stovetop. When done, serve the meat mixture on your favorite type of bun. So good!
Instant Pot Sloppy Joes by Pip And Ebby
Let your Taco Tuesday take a different form with this recipe that incorporates taco fillings on top of pizza dough. Ground beef with taco seasoning, along with refried beans, salsa and cheese make this an awesome taco meal. Add your favorite toppings and enjoy.
Taco Pizza by The Girl Who Ate Everything
Everything you love about spaghetti can be cooked in under 30 minutes in your pressure cooker. Sauté beef, onion and garlic before adding your favorite noodles. During the short cooking time, how about preparing garlic bread and a salad? It's an Italian-inspired meal made quick and easy! Pressure Cooker Spaghetti by Julie's Eats And Treats
Experience that cheeseburger taste in this creative pie version that uses a ground beef mixture full of cheese, bacon, and onion. You'll even experience a bun in the form of a tasty Bisquick batter that covers the top. Awesome!
Cheeseburger Pie by Dinner At The Zoo
Possibly the easiest way to make meatballs is with your Instant Pot. The delicious sauce infuses the ground beef with outrageous flavor. And the best part? There's no need to brown the meatballs before you cook them! Perfect for spaghetti or even as appetizers, keep this recipe handy!
Instant Pot Meatballs by A Calculated Whisk
Creamy and zesty, this easy ground beef meal incorporates mushrooms and seasonings in a beefy sauce. Stir in sour cream and cooked egg noodles for a comfort food meal that's simple, yet tasty and satisfying.
Ground Beef Stroganoff Hamburger by Spend With Pennies
Ground beef joins marinara sauce, stewed tomatoes and Italian seasoning to cook low and slow. Cook penne pasta noodles separately and add it along with Parmesan and Mozzarella cheese during the last 30 minutes of cooking. Rich and delicious!
Slow Cooker Beef Cheese Pasta by The Cooking Jar
Beefaroni is a hearty, meaty, saucy comfort food dish that is a new take on a classic recipe. In less than 30 minutes, you will have a meal that the whole family will love!
Homemade Beefaroni by Leftovers Then Breakfast
Quick and easy, this meal is perfect for lunch, dinner or meal planning freezable options. Browned ground beef, along with cans of drained black beans, corn and spicy seasonings are cooked until flavored through. Add cooked rice and cheese and roll in flour tortillas.
Crispy Southwest Wrap by Tastes Better From Scratch
Looking for more leftover worthy dishes? Follow LTB on Pinterest and pin to a board!
Skip the box and make this Homemade Hamburger Helper from scratch. Creamy, hearty, cheesy, and ready in less than 20 minutes which is perfect for a busy weeknight meal for the family!
Homemade Hamburger Helper by Leftovers Then Breakfast
Full of ground beef and bacon, add in carrots, potatoes and milk and set to cook low in your slow cooker for hours to achieve that classic cheeseburger flavor. Add in cheese during the last 20 minutes. Adults love this kid-approved meal, too!
Slow Cooker Bacon Cheeseburger Soup by Life In The Lofthouse
Perfect for busy nights, your stovetop skillet will have this macaroni pasta and ground beef meal simmering and on the table in record time. Add in canned tomatoes, beef broth and milk to thicken and flavor this simple meal. Top with shredded cheddar cheese before serving.
Easy One Pot Chili Mac by Mae Bells
Crockpot Taco Meat is a super simple way to get a family friendly dinner on the table and make everyone happy. A few pounds of ground beef and some taco seasoning and you are good to go! A delicious Family Taco Night just got easier!
Crockpot Taco Meat by Leftovers Then Breakfast
Ground beef anchors this amazing chili recipe that cooks to tender perfection in your crockpot. Canned kidney beans along with crushed tomatoes, beef stock, a host of spices and even a little beer make this a healthy choice for game days and chilly weather.
Healthy Crockpot Chili by Leftovers Then Breakfast
If you're looking for a meaty party appetizer, this is it. Slow cook ground beef with salsa and a variety of cheeses and spices for a creamy dip that your friends and family will gobble up. Hot peppers and sauces can all be customized for spiciness. Serve with thick and dippable tortillas.
Slow Cooker Beef Queso Dip by Spicy Southern Kitchen
Homemade Italian Pasta Sauce with beef is perfect for everyone's favorite pasta night dinner. Rich, hearty, and full of flavor, everyone will be asking you for this recipe! Make it over the weekend and freeze for a quick weeknight meal.
Italian Meat Sauce by Leftovers Then Breakfast
Reasons to make these recipes
easy and delicious
easy to prepare
quick weeknight meal
great for the freezer
easy dinner
Ground beef, along with riced cauliflower and a pre-made coleslaw mix will make quick work of this classic egg roll filling. Your pressure cooker will do most of the work to infuse the meat with classic Asian-inspired flavors from sauces and vinegars. Ready in about 30 minutes, top with sliced green onions and sesame seeds.
Egg Roll In A Bowl by Five Heart Home
This meal of ground beef and veggies topped with mashed potatoes can be quickly made in just one skillet. Use frozen peas, corn and green beans along with beef stock and Worcestershire sauce for awesome flavor. Use leftover mashed potatoes or make a fresh batch for the topping. Give it a session in the oven to brown the top before serving.
One Skillet Beef Shepherd's Pie by The Chunky Chef
Lasagna flavors and ingredients are all here in this skillet version of this yummy meal. Skip the layering of noodles and instead let bow tie pasta noodles soften as they cook in the beefy and cheesy tomato sauce mixture. You'll love how easy this version is to make!
Skillet Lasagna by Lil Luna
This Mexican-inspired recipe takes cooked ground beef and mixes it with corn, diced tomatoes, black beans and zesty spices before topping it with a cheesy cornbread mixture. Bake this meal and amp up the spiciness if you like it hot. So good and super easy!
Easy Tamale Pie by Tastes Of Lizzy T
If you love this recipe as much as I do, please write a five-star review in the comment section below (or on Pinterest with the "tried it" button – you can now add pictures into reviews, too!), and be sure to help me share on facebook!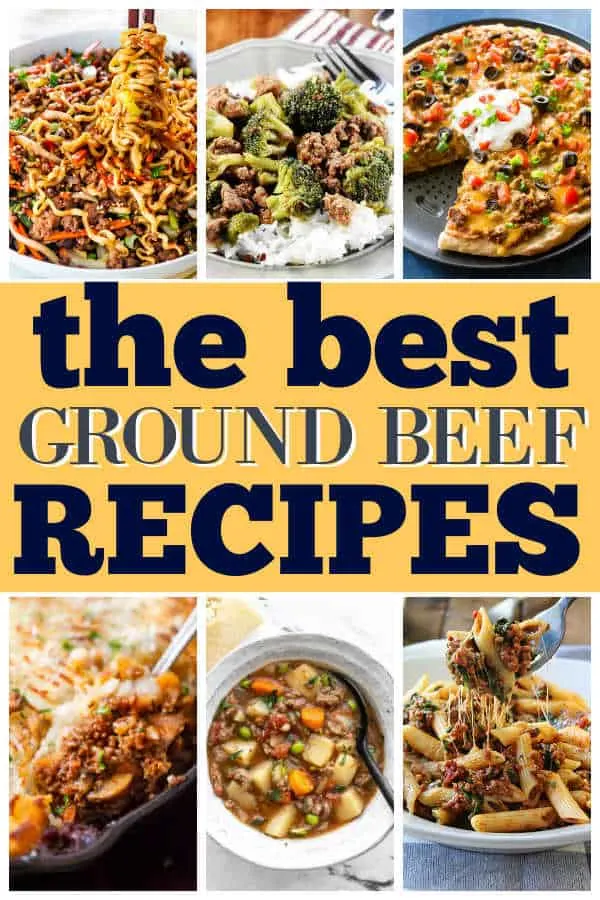 LeftoversThenBreakfast.com. Content and photographs are copyright protected. Sharing of this recipe is both encourages and appreciated. Copying and/or pasting full recipes to any social media is strictly prohibited.