Italian Minestrone Soup is a HEARTY, AFFORDABLE, bowl of comfort food full of HEALTHY veggies, RICH broth, and TENDER pasta.
Perfect for serving a crowd, freezes well, and is delicious for an easy lunch the next day.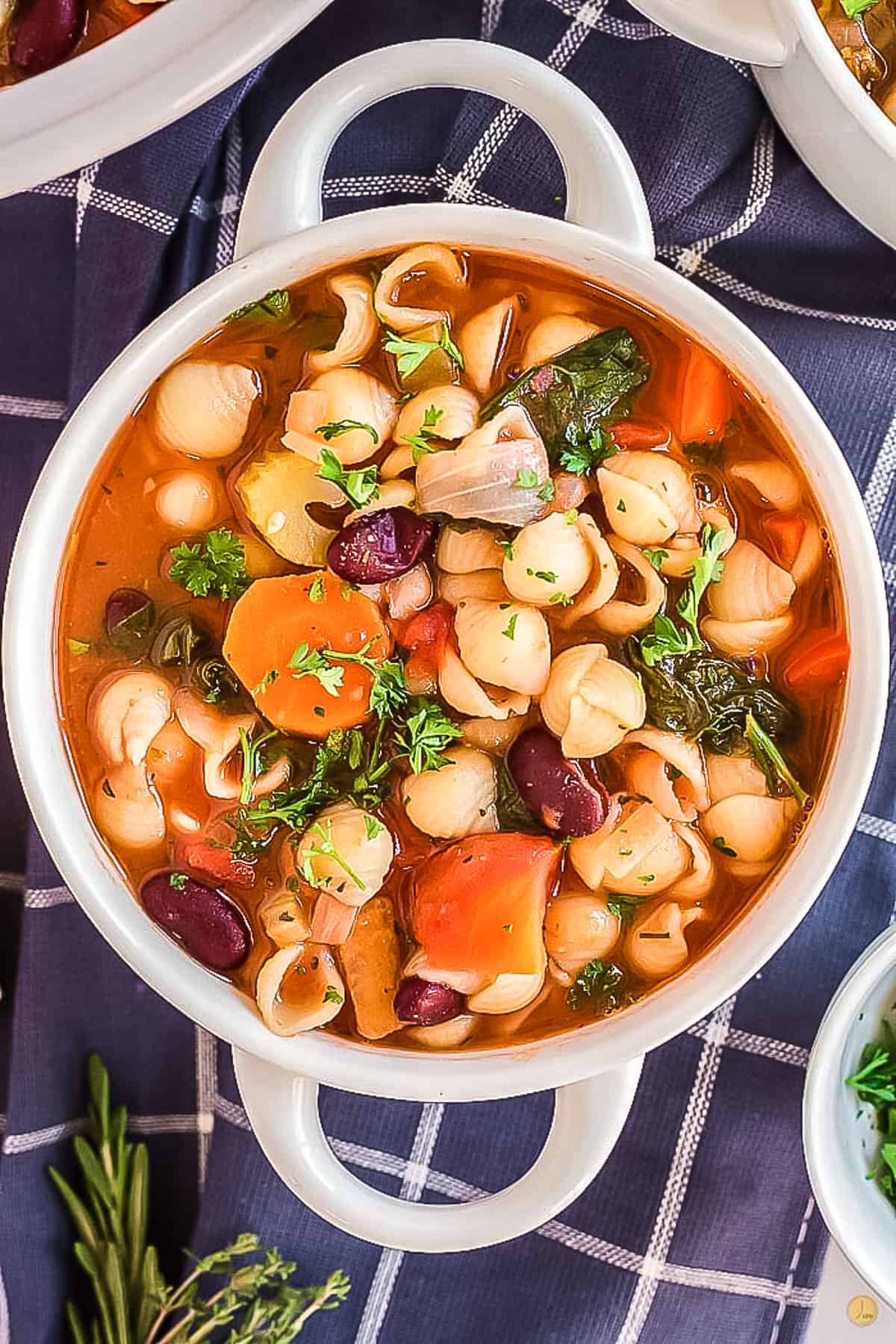 If you'd rather skip my essential cooking tips and tricks and get straight to this delicious recipe – simply scroll to the bottom of the page where you can find the printable recipe card.
Are you a soup lover like me?
I can eat soup all year round! I ate it even when we lived in Arizona and it was 120F outside.
It is hearty, filling, easy, affordable, and there are so many different soups to enjoy that you will never get bored!
The BEST thing about soup, is that it helps to use up leftovers. I hate having 1/2 cup or so of vegetables leftover with nothing to use them in.
HELLO SOUP!
This post may contain affiliate links. As an Amazon Associate, I earn from qualifying purchases. Read my disclosure policy here.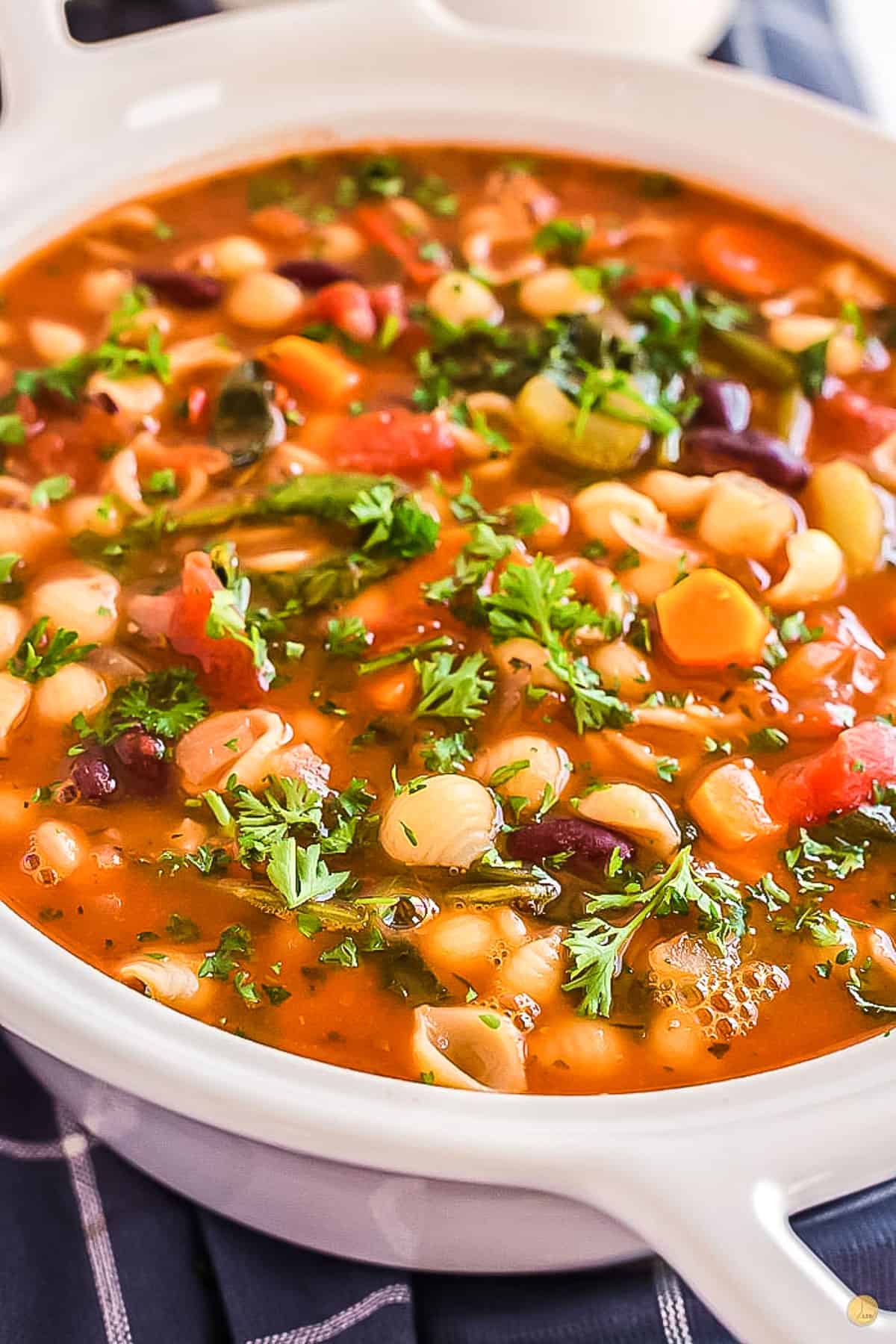 ITALIAN MINESTRONE
My all-time favorite soup is minestrone. Not just because I ate a lot of it growing up in my parent's Italian restaurant, but because of all the yummy veggies in it.
WHAT DOES MINESTRONE MEAN IN ITALIAN?
I'm paraphrasing here, and without all the translation bits, it means "to serve as a remedy." Talk about soup for the soul!
For it to be authentic, it also needs to be regional.
Usually made with leftovers because it's meant to be a humble, affordable meal, it varies with what vegetables and herbs available locally.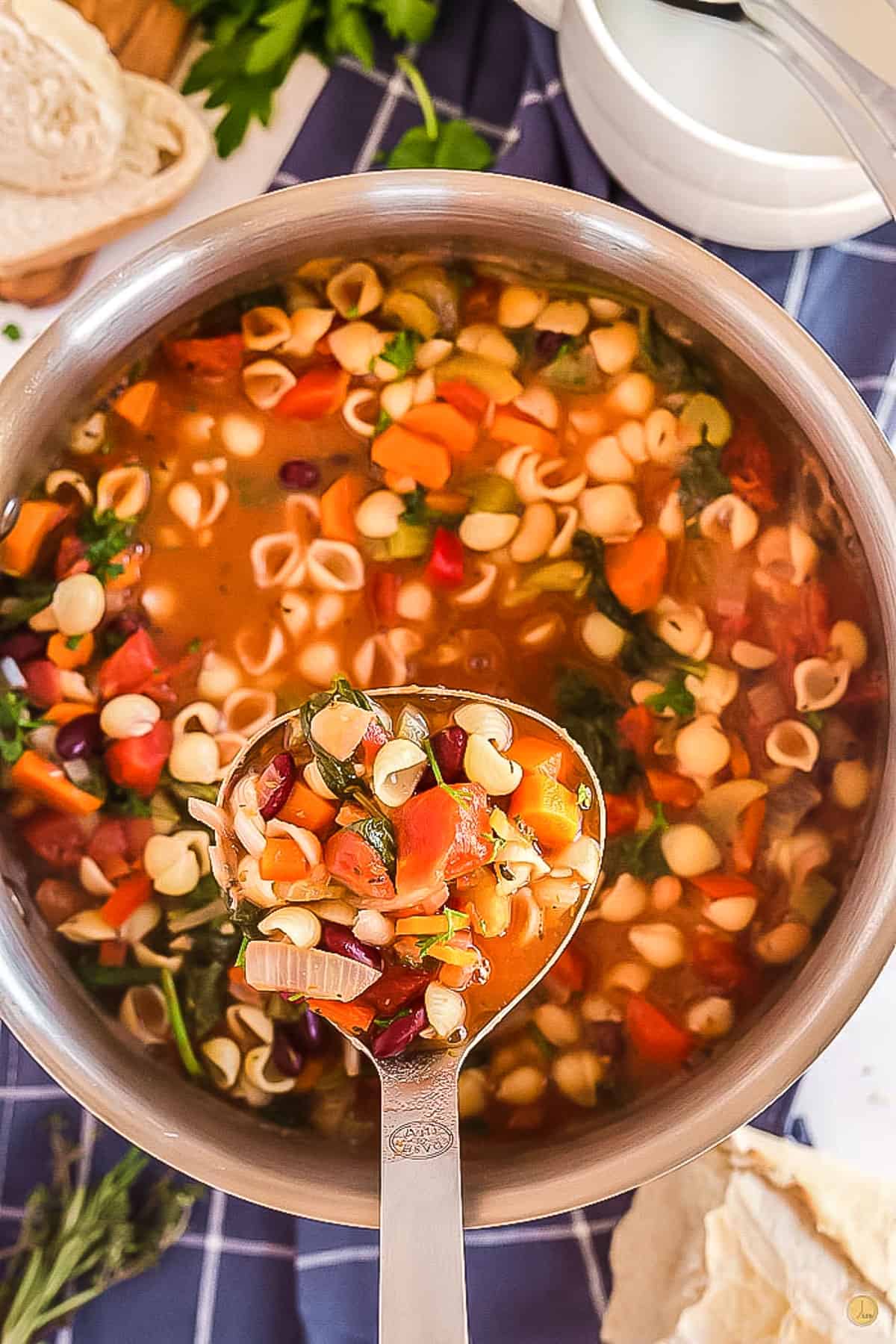 WHAT'S THE DIFFERENCE BETWEEN PASTA FAGIOLI, MINESTRONE SOUP, AND VEGETABLE SOUP?
Pasta Fagioli, literally means "pasta and beans" and is mostly that, without any other vegetables (rarely some tomato)
Vegetable soup is really just veggies with no meat, no pasta, and very little beans.
Minestrone is similar to vegetable soup but made heartier with the addition of beans AND pasta.
IS MINESTRONE GOOD FOR YOU?
With all the vegetables and the broth base, minestrone is good for you! The calories per serving is very low considering how filling it is!
When I am really trying to shed some pounds (which seems like always) I make a big pot of minestrone. I leave out the pasta, portion it out into 2 cup servings, and freeze them.
I have a healthy and filling lunch, that is more delicious and cheaper than Olive Garden, for sure!
Looking for more comfort food? Follow LTB on Pinterest!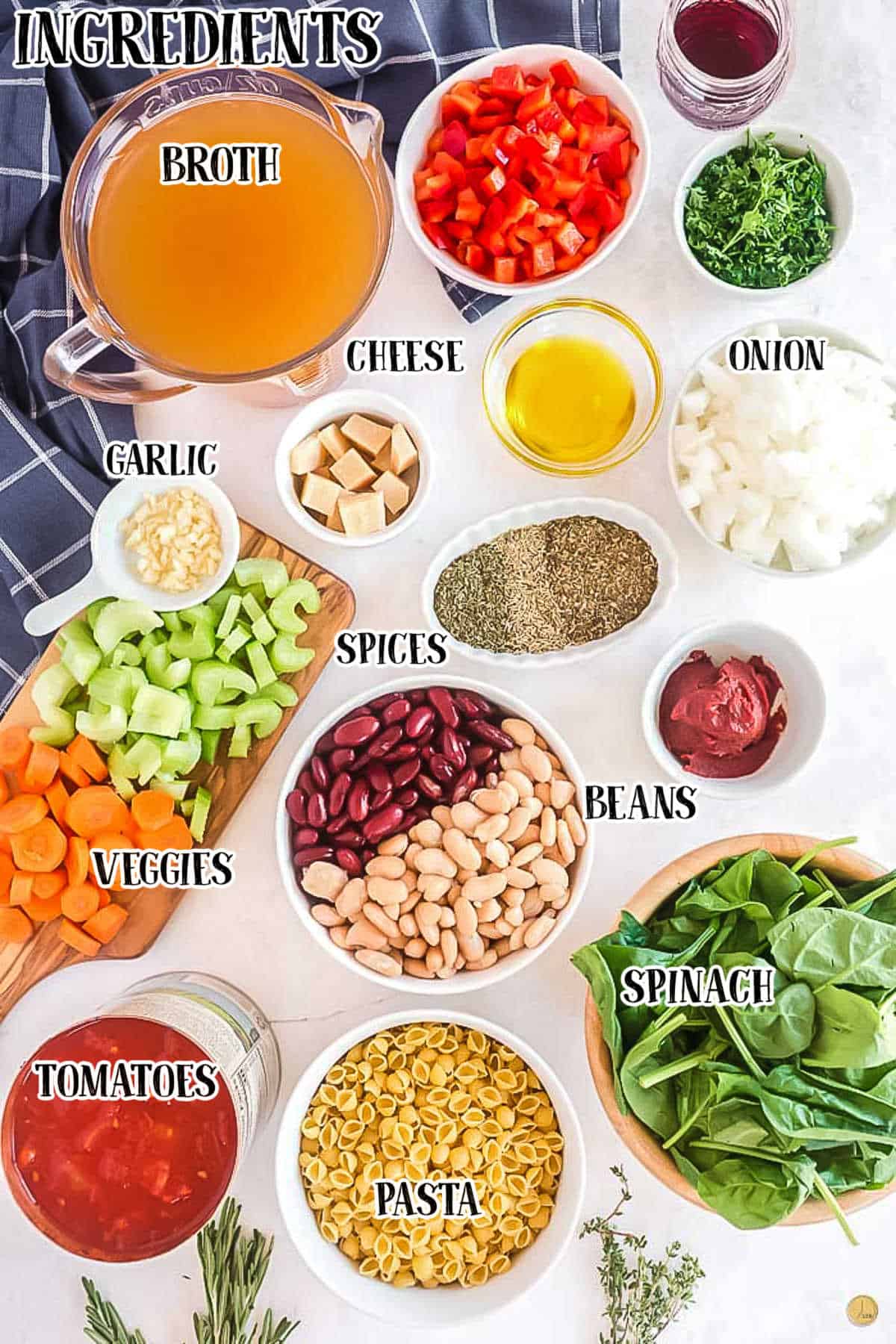 INGREDIENTS FOR HEALTHY MINESTRONE SOUP
onion
celery
carrot
garlic
kidney beans
white northern beans (Cannellini)
tomatoes
broth
spinach
pasta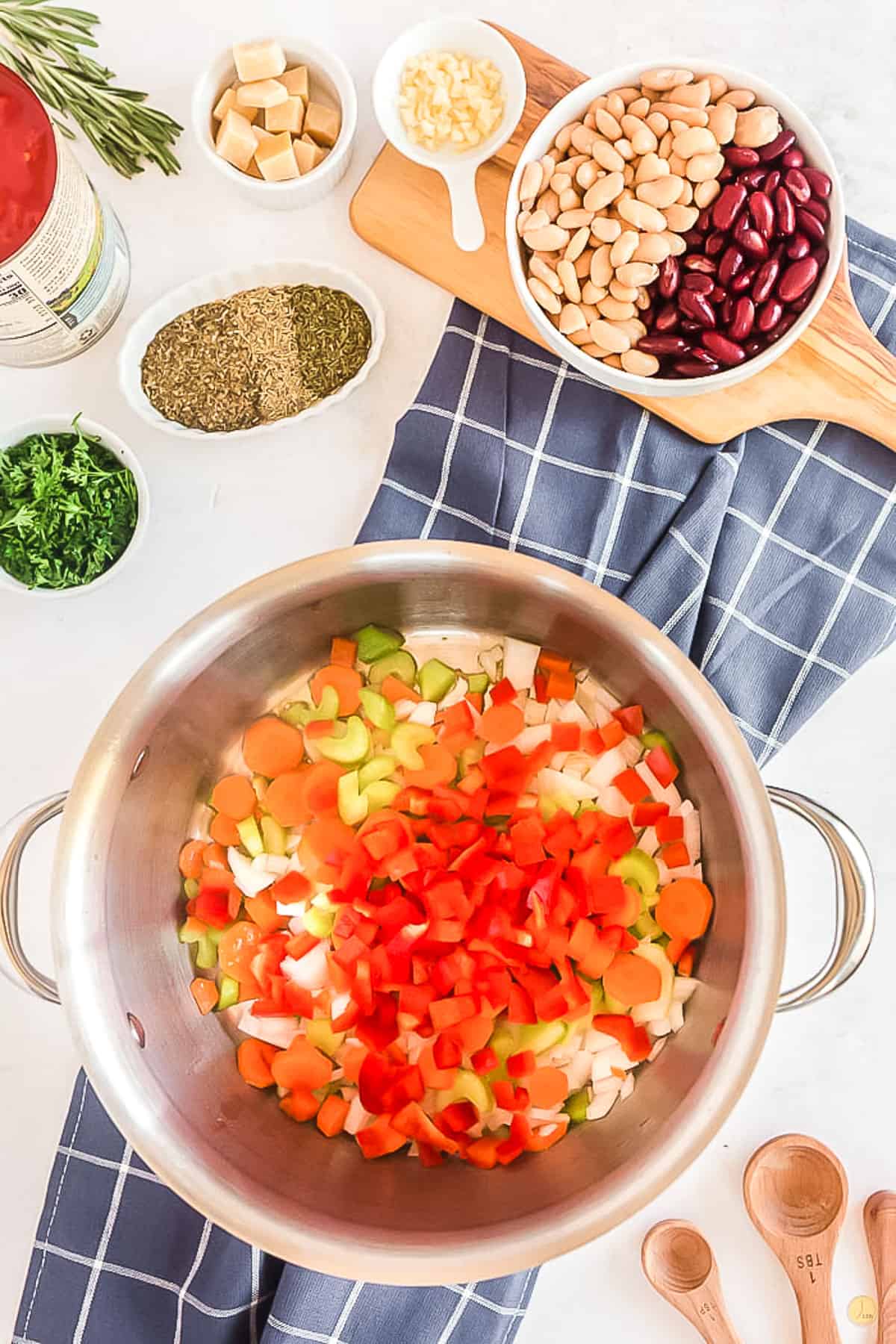 HOW TO MAKE ITALIAN MINESTRONE SOUP FROM SCRATCH
ONE: Cook the pasta to al dente, drain, and set aside.
TWO: Sauté the onions, carrots, celery, and peppers in olive oil over medium high heat. Add the spices and wine. Stir to combine.
THREE: Add the beans, tomatoes, paste, chicken broth, and cheese rind. Bring to a boil then reduce to a simmer.
FOUR: Stir in the fresh spinach and cooked pasta. Simmer for 5 – 15 minutes or until the spinach is wilted.
Season with salt and pepper and garnish with grated parmesan if desired. Serve warm!
For the full recipe and detailed baking instructions, please see the recipe card at the end of this post.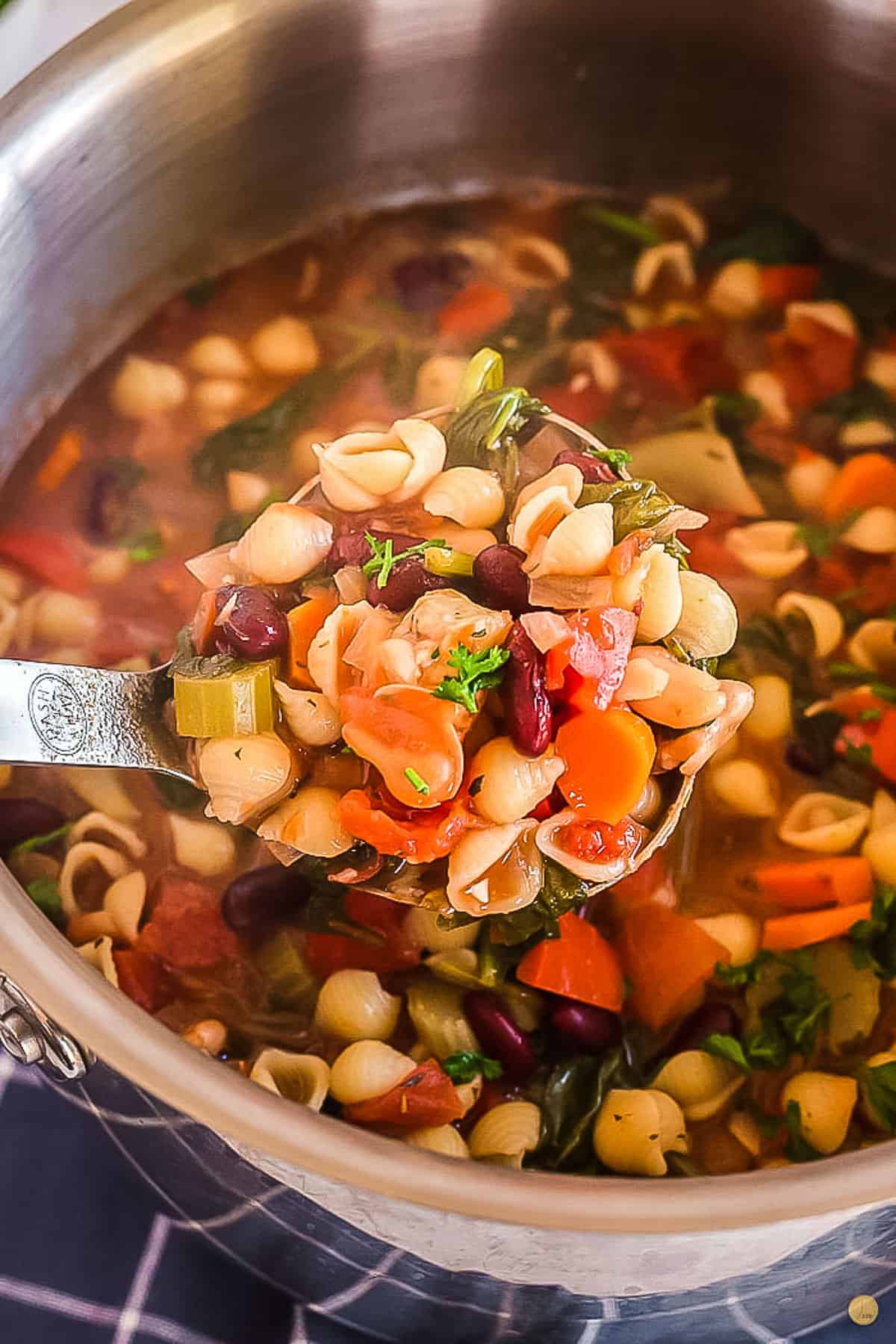 HOW DO I SPICE UP BLAND SOUP?
To add a little extra flavor to your Italian minestrone soup, you can add a bit of vinegar, sherry, or a dash of hot sauce.
I love a shot of Tabasco in mine:)
WHAT CAN YOU EAT WITH ITALIAN MINESTRONE SOUP BESIDES BREAD?
Practically everything goes with soup! But aside from a hunk of crusty bread, you can can serve salad, crackers, thin breadsticks, polenta, etc.
I love a great grilled cheese but that's just me!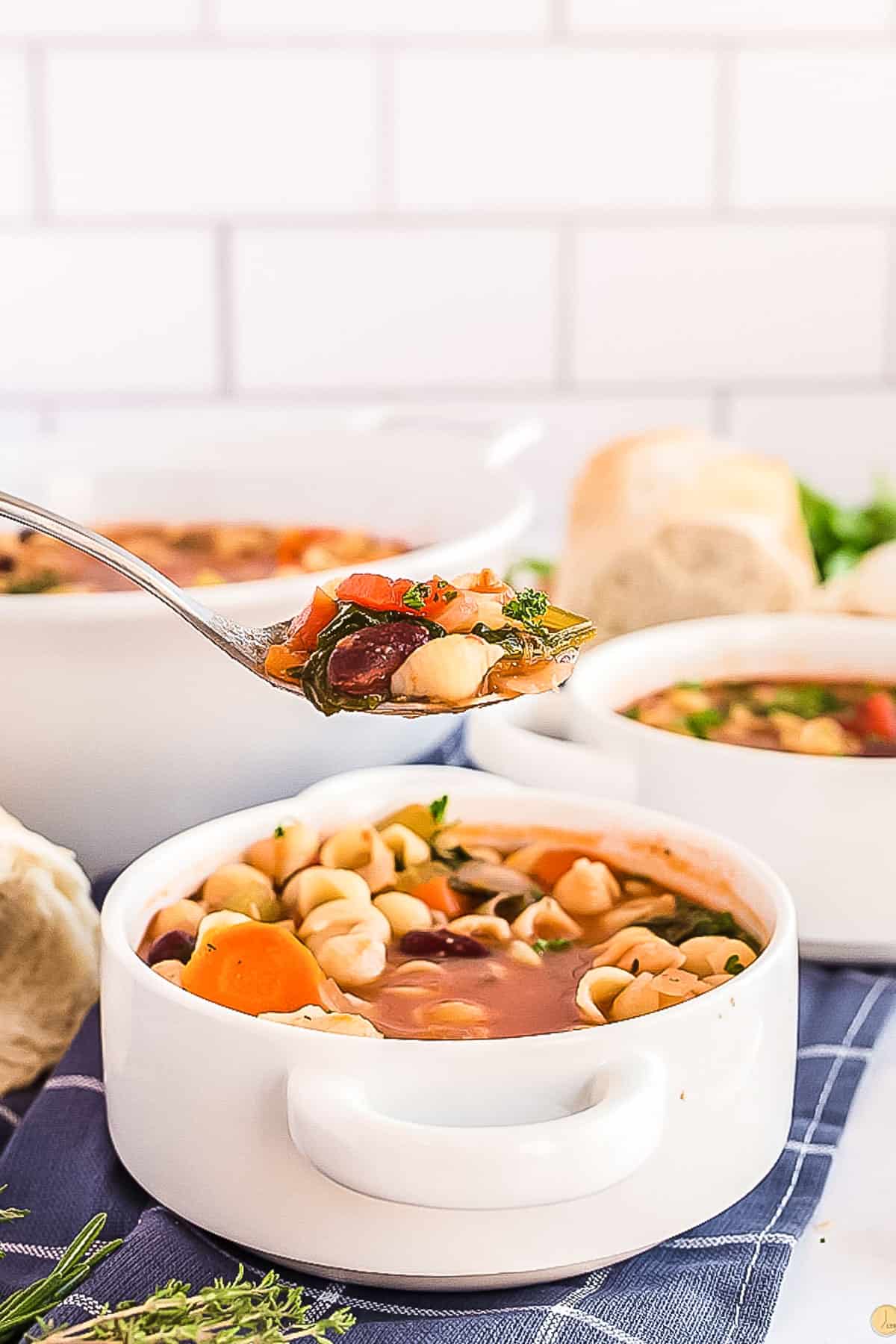 OTHER MINESTRONE SOUP SUBSTITUTIONS
I like to use whole or crushed, but feel free to add diced tomatoes if that is what you have on hand.
If you prefer other vegetables, zucchini, squash, cabbage, chard, and corn are great options!
Use vegetable broth for a vegetarian version.
For the pasta, I prefer Ditalini or small shells, but use what you have on hand. Only have large pasta? Break it into smaller pieces before you cook it.
Soup is very versatile and many recipes use slight variations. But these small changes can have big flavor impacts!
VARIATIONS ON ITALIAN MINESTRONE SOUP
Ina Garten's recipe uses Pancetta and butternut squash which screams winter Minestrone to me!
Jamie Oliver adds bacon to his and uses more seasonal greens like chard and kale.
Olive Garden's minestrone recipe includes zucchini and green beans.
Regional Italian variations like in Sardinia, use chick peas, Fava beans, and fresh fennel. Instead of pasta they use a couscous-like pasta.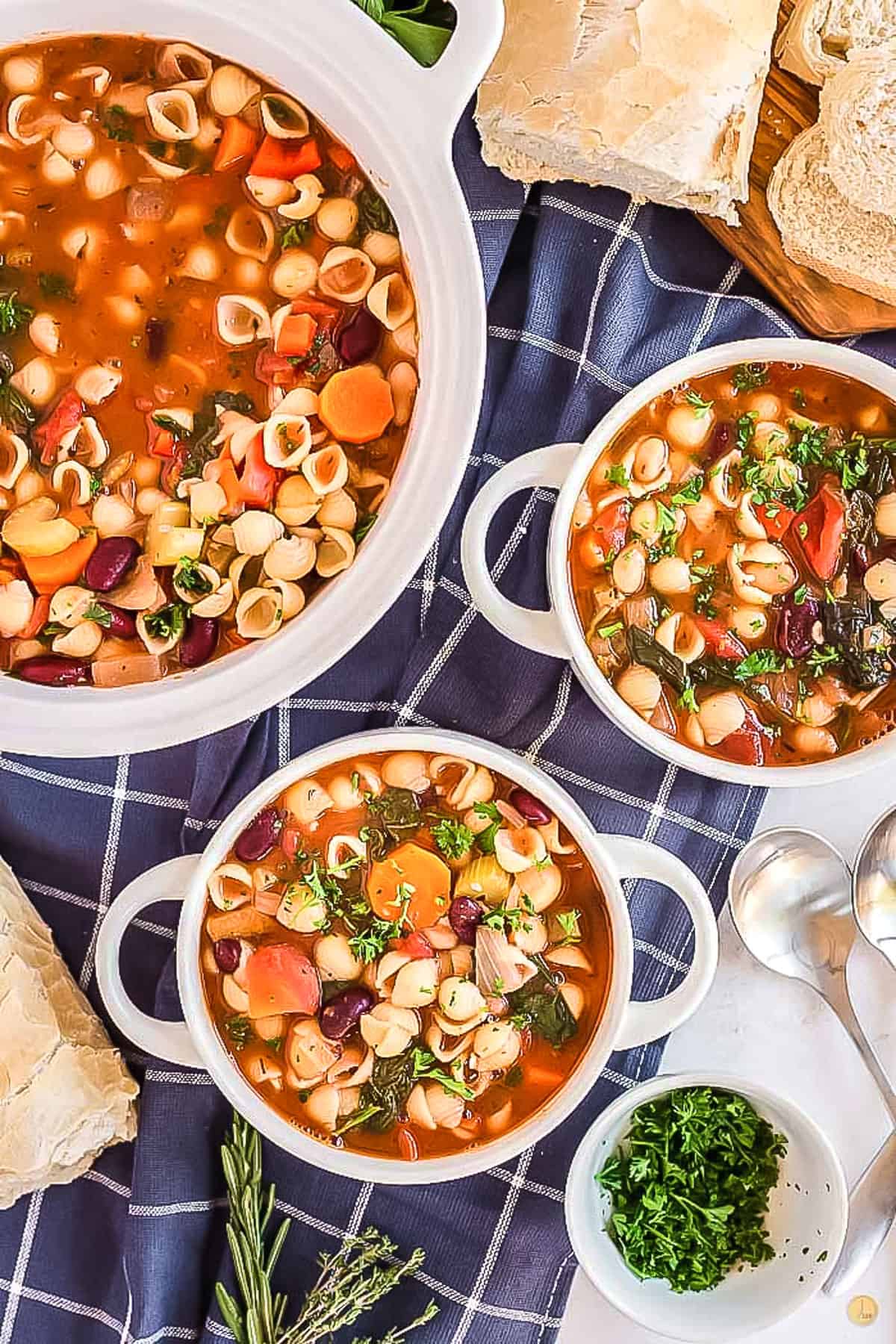 TIPS FOR NO LEFTOVERS
Dice all the veggies the same size so they cook at the same time.
To make the broth creamier, puree half the Cannellini beans with a cup of the broth before adding to the soup.
Need a Vegan version, use vegetable broth and leave out the Parmesan cheese rind. To include the nutty flavor that the cheese adds, replace it with 2 tablespoons nutritional yeast.
If you are missing one of the items, don't run to the grocery store, just use what you have on hand. That's the beauty of Italian minestrone soup!
If you love this recipe as much as I do, please write a five-star review in the comment section below (or on Pinterest with the "tried it" button – you can now add pictures into reviews, too!), and be sure to help me share on facebook!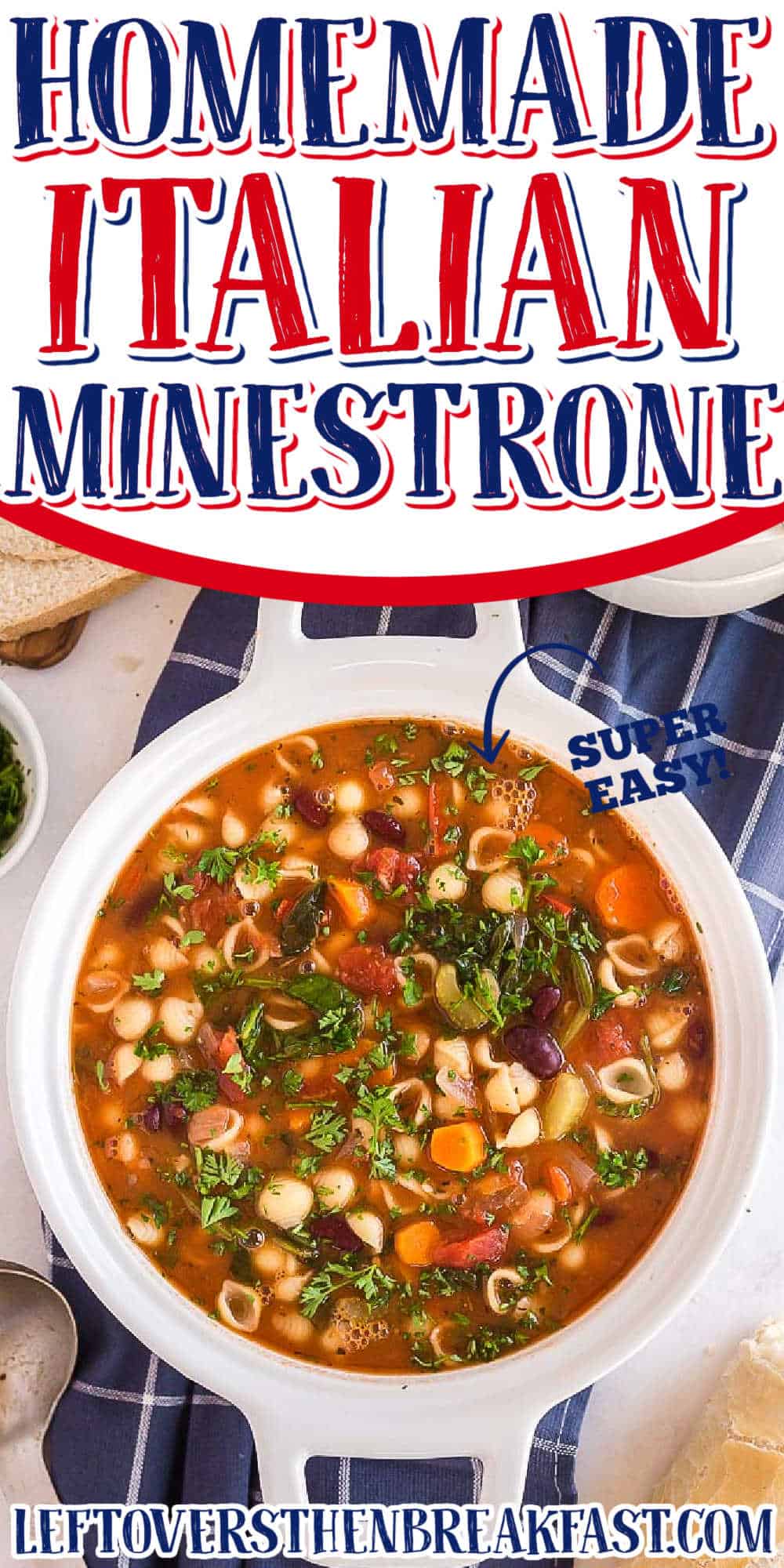 This authentic Italian Minestrone Soup recipe is not only a family favorite, but a great recipe for using up little bits of leftover veggies.
All while serving your family and friends and hearty, delicious, meal in less than 30 minutes!
MORE EASY DISHES TO TRY
@LeftoversThenBreakfast.com. Content and photographs are copyright protected. Sharing of this recipe is both encourages and appreciated. Copying and/or pasting full recipes to any social media is strictly prohibited.