This Cast Iron Skillet Cornbread is a southern staple. Soft and tender center with the coveted crispy golden edges, this recipes requires only 4 ingredients and can be whipped up in 5 minutes!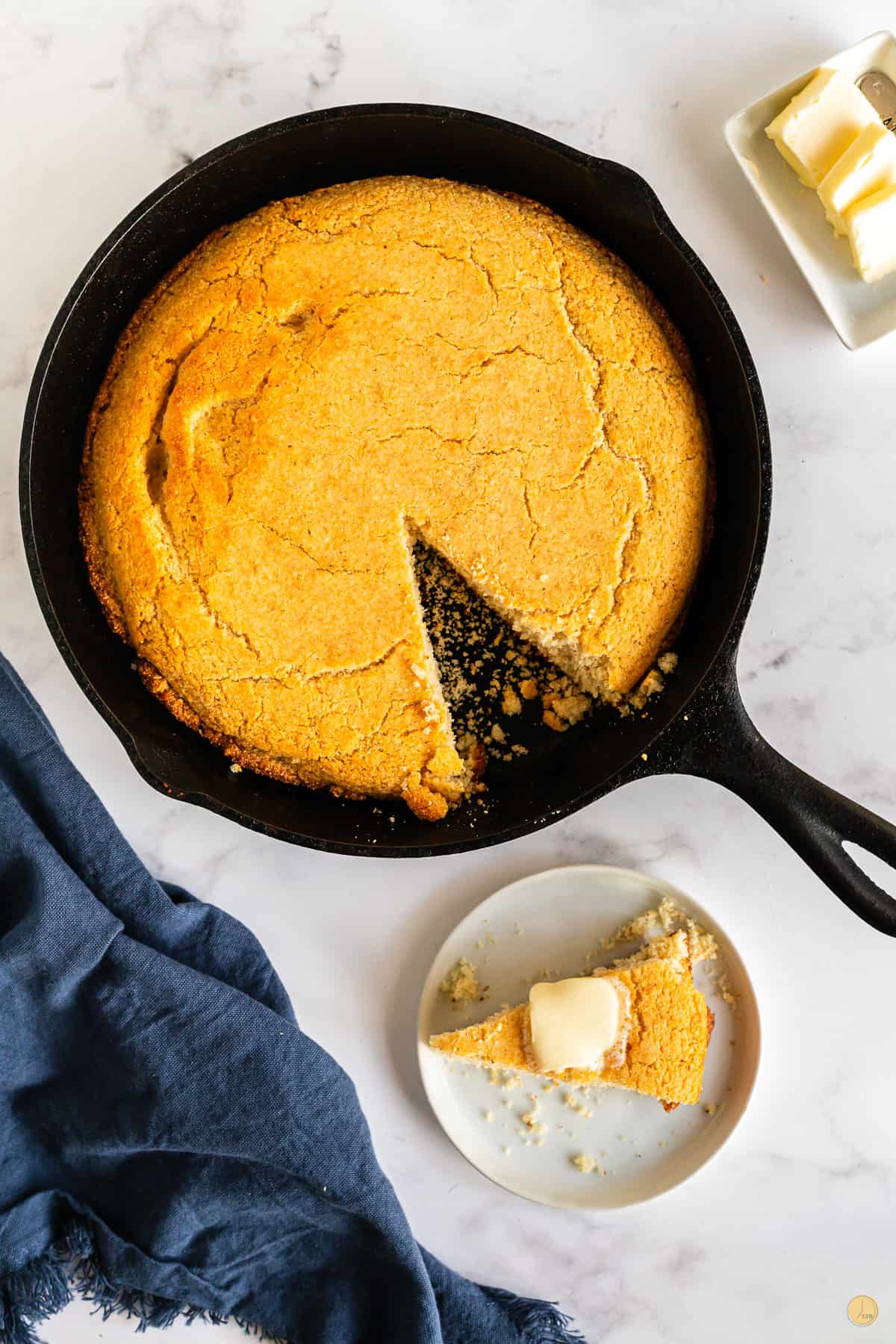 If you'd rather skip my essential cooking tips and tricks and get straight to this delicious recipe – simply scroll to the bottom of the page where you can find the printable recipe card.
Cast iron skillet cornbread is a wonderful side dish to so many meals. It pairs perfectly with everything from barbecue ribs, to soups, stews, chili, and even grilled meats!
Made with just a few simple pantry staples, be sure to keep these simple ingredients in your pantry all year round so that you can whip up this easy skillet cornbread whenever the craving hits!
And don't forget to put a large pat of butter on top!
WHAT IS SKILLET CORNBREAD?
Cornbread is any quick bread that contains cornmeal and a leavening agent – usually baking powder.
Cornmeal is dried ground corn and can be found in the baking aisle of your local grocer.
While cornbread can be baked in a traditional square or rectangular baking dish, to be truly southern, it needs to be baked in a heavy cast iron skillet.
The cast iron skillet is heated with oil or a type of fat such as lard, butter, or bacon grease. This essential step is what helps form that delicious crispy golden crust that everyone loves!
This post may contain affiliate links. As an Amazon Associate, I earn from qualifying purchases. Read my disclosure policy here.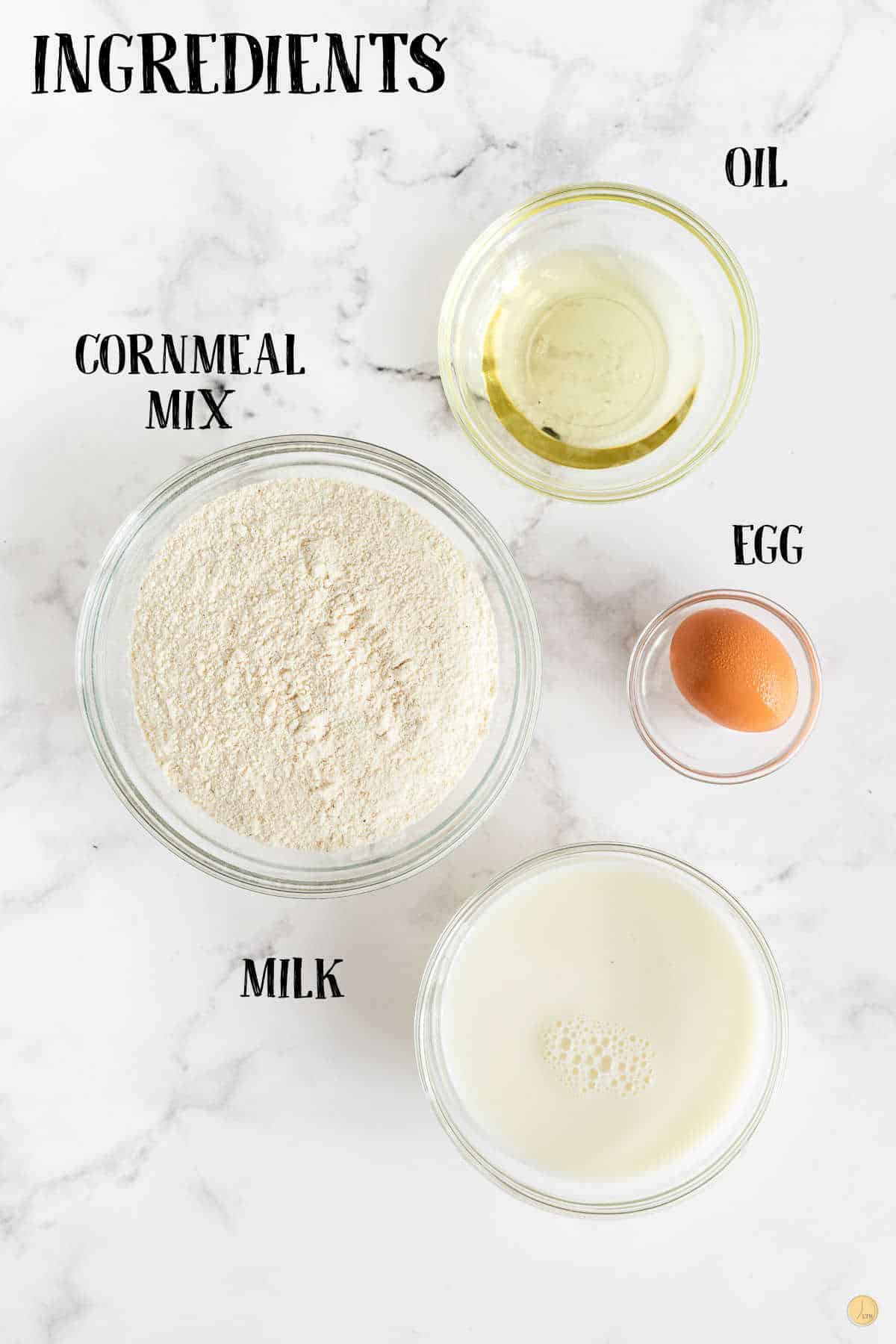 CAST IRON SKILLET CORNBREAD INGREDIENTS
cornbread mix (self-rising)
milk
vegetable oil
egg
Cornbread Mix – I like to use White Lily self rising buttermilk cornbread mix. It already contains the baking powder and baking soda that you need to make it fluffy.
Milk – Whole milk is the best but you can also use buttermilk.
Oil – Vegetable oil is the best because it has the highest smoke point and you need that for the high temperature in the oven.
Egg – 1 Large egg is all that is needed.
Looking for more comfort food? Follow LTB on Pinterest!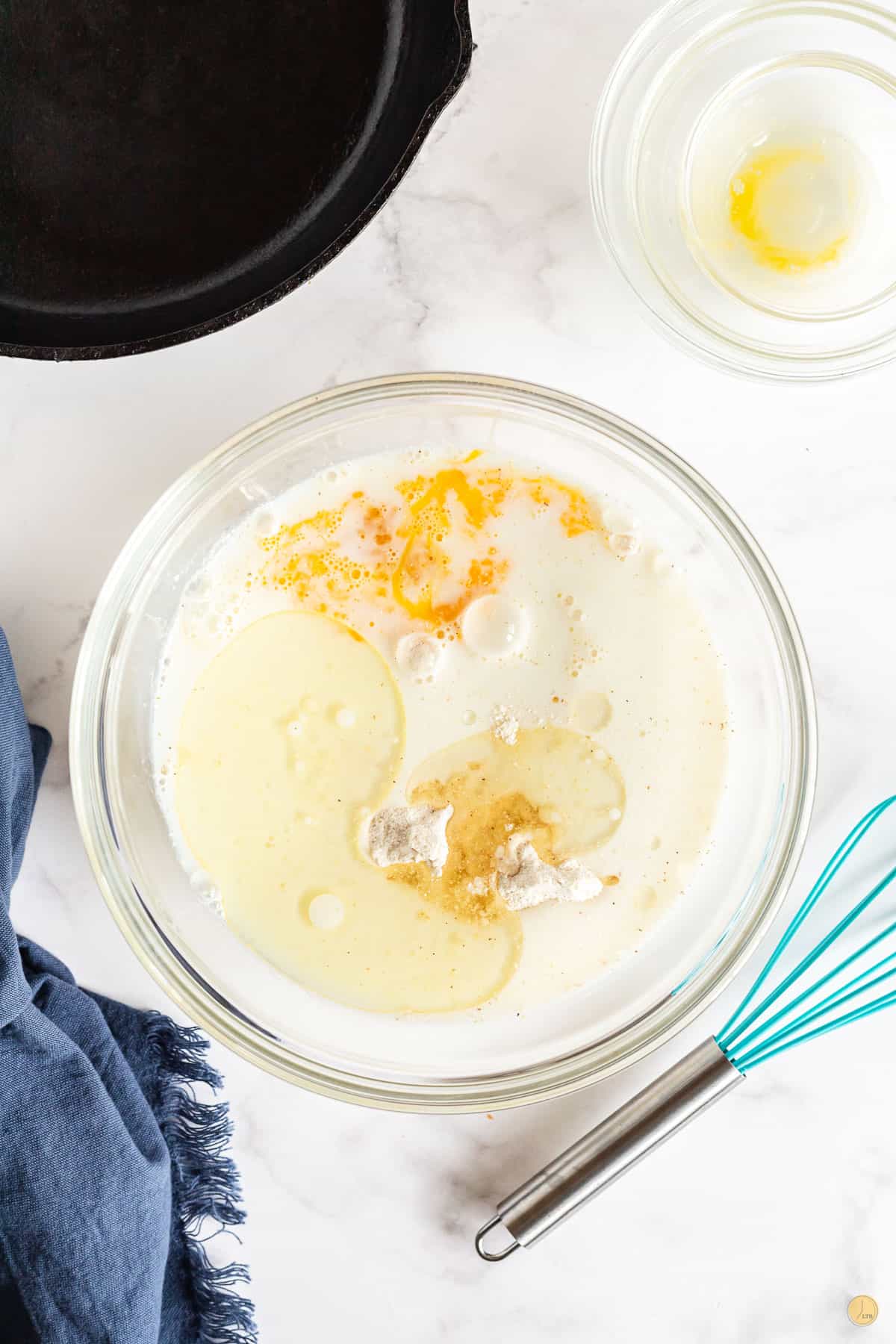 HOW TO MAKE SKILLET CORNBREAD
ONE: Preheat the oven to 425F. Place 2 tablespoons oil in the skillet, turn to coat the bottom and place in the oven.
TWO: In a large bowl, combine the cornmeal mix, vegetable oil, the milk, and the egg. Mix until just combined. Do Not Over Mix.
THREE: Carefully remove the hot skillet from the oven. Gently pour the batter into the hot cast iron pan.
FOUR: Bake the cornbread in the oven for 20 minutes or until golden brown. Remove and let cool for a few minutes. Cut into wedges and enjoy!
For the full recipe and detailed baking instructions, please see the recipe card at the end of this post.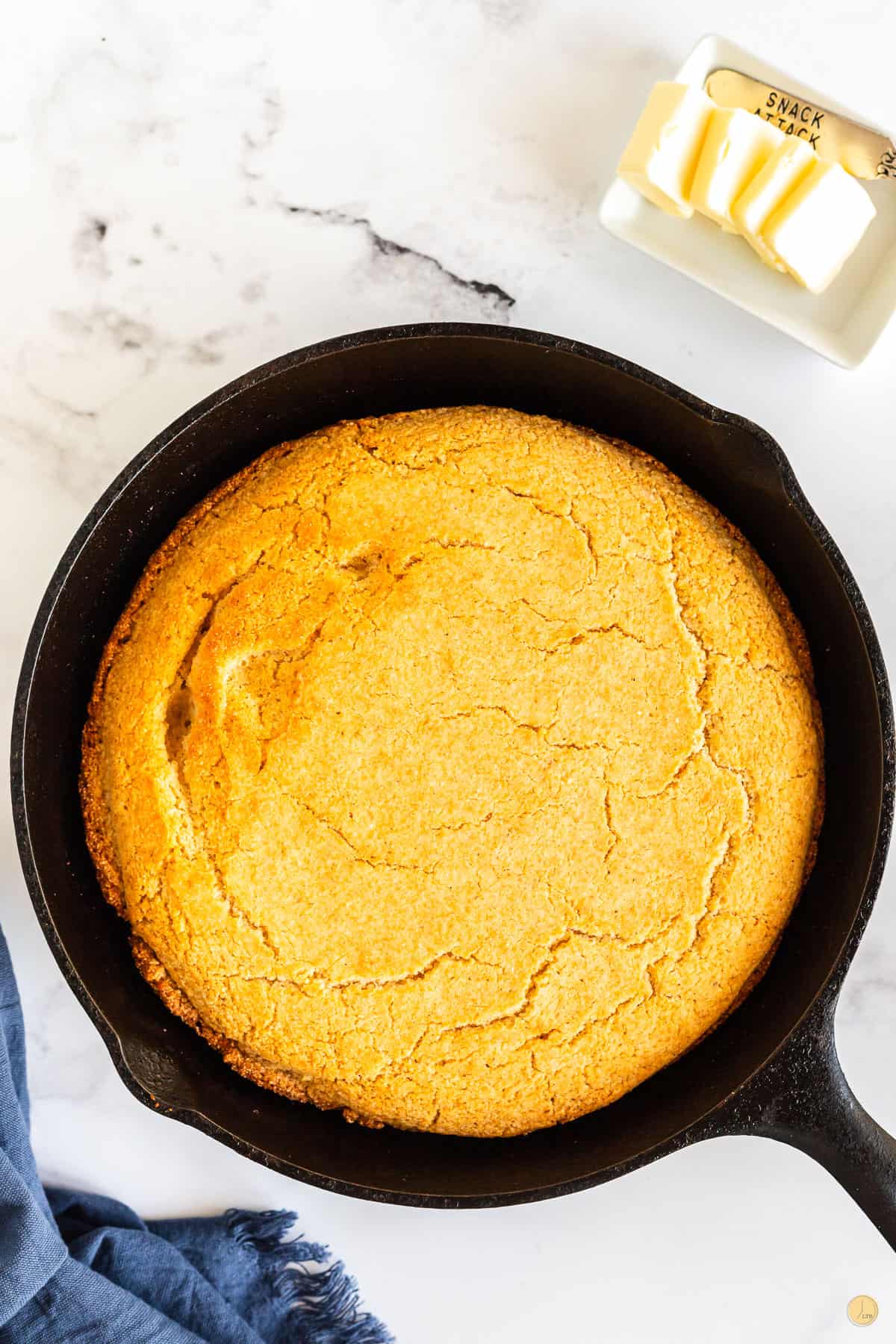 IS CORNBREAD BETTER IN CAST IRON?
It depends on who you ask. True Southern Cornbread is always made in a cast iron.
Cast iron cornbread has a perfectly tender center and gorgeous crunchy edges – and the edges are everything!
Versus a cornbread that is made in an aluminum pan which tends to be softer due to how the cooking vessel emits heat during the cooking process.
WHY DOES MY CORNBREAD STICK TO MY SKILLET?
There is nothing more frustrating than waiting to cut into your savory skillet cornbread and realizing it has stuck to the bottom of the pan since the crispy edges and crust is the best part!
However, if you find that your skillet cornbread sticking, below are a 5 things you can do to prevent this unfortunate event:
Season your cast iron skillet: Prior to your first use, your cast iron skillet needs to be seasoned. Seasoning is an easy and necessary step when using a cast iron skillet.
When you season, you wipe the skillet all over with a thin layer of oil and then bake it. This layer of oil seeps into the pores of the iron and provides a protective layer.
It is highly recommended that you season your skillet between uses but if you use it frequently, this is not necessary as the cooking oil takes care of this step.
Preheat the skillet: Preheating has a two-fold effect. It helps prevent sticking but also helps create that beautiful crispy crust.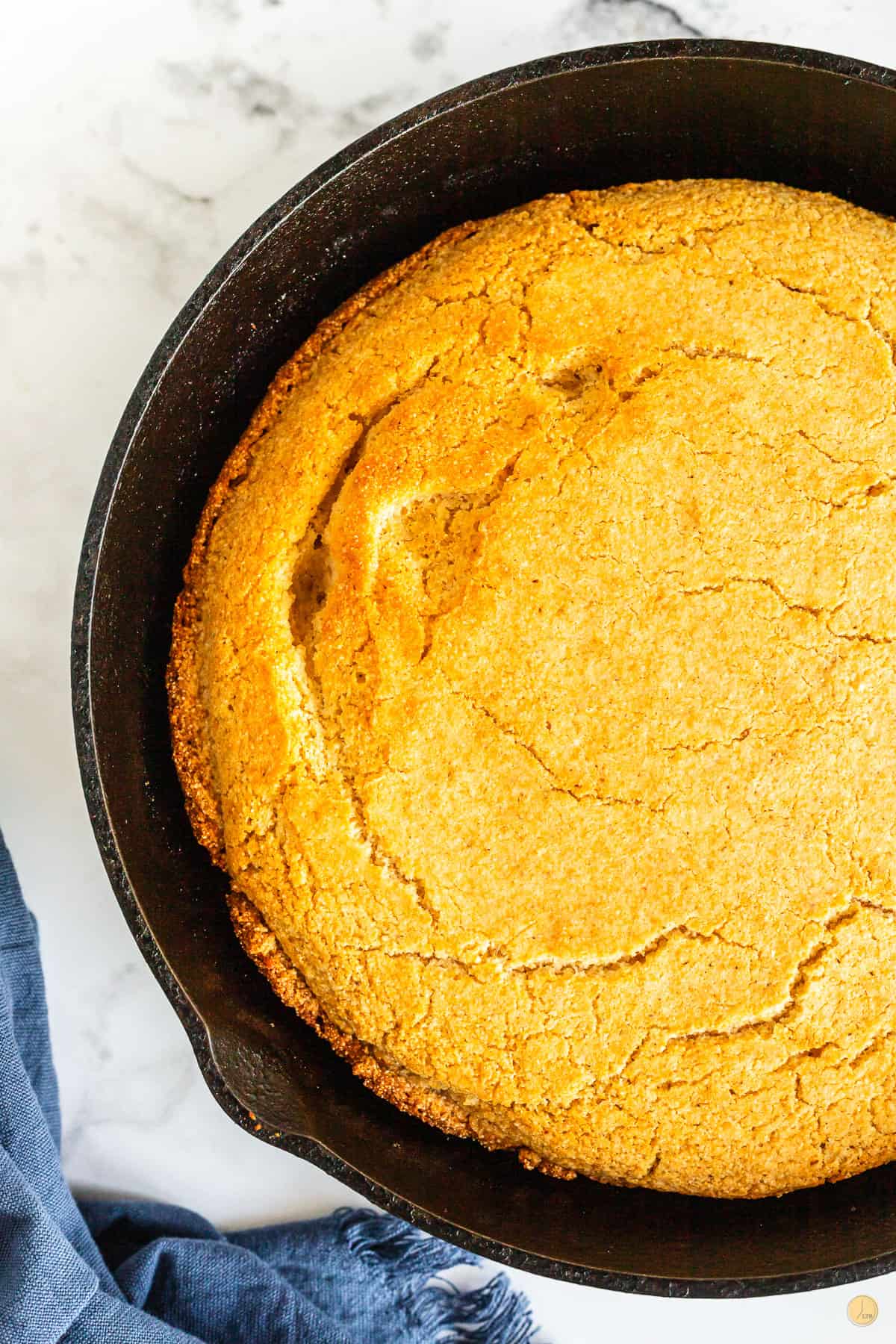 Use only real oil or fat on the skillet: While there is no true consensus on whether oil or fat is the best to use when cooking in a cast iron skillet; one thing is widely agreed upon – do not use cooking spray.
Also, the oil or fat needs to be sizzling hot prior to the batter being poured in; this extreme temperature helps prevent sticking.
Let the cornbread batter rest: Prior to heating your cast iron skillet, make the batter. While the skillet is heating to temperature in the oven, the cornbread batter needs to be resting.
The batter needs a minimum of 10-20 minutes; at the end of the rest period, the skillet should be piping hot and ready!
Allow the cornbread to cool in the pan: Cornbread should rest for approximately 10 minutes in the skillet. This allows it to continue to cook as well as cool.
Prior to removal, slide a knife or spatula around the edges to loosen in the event the sides didn't naturally pull away during the cooking process.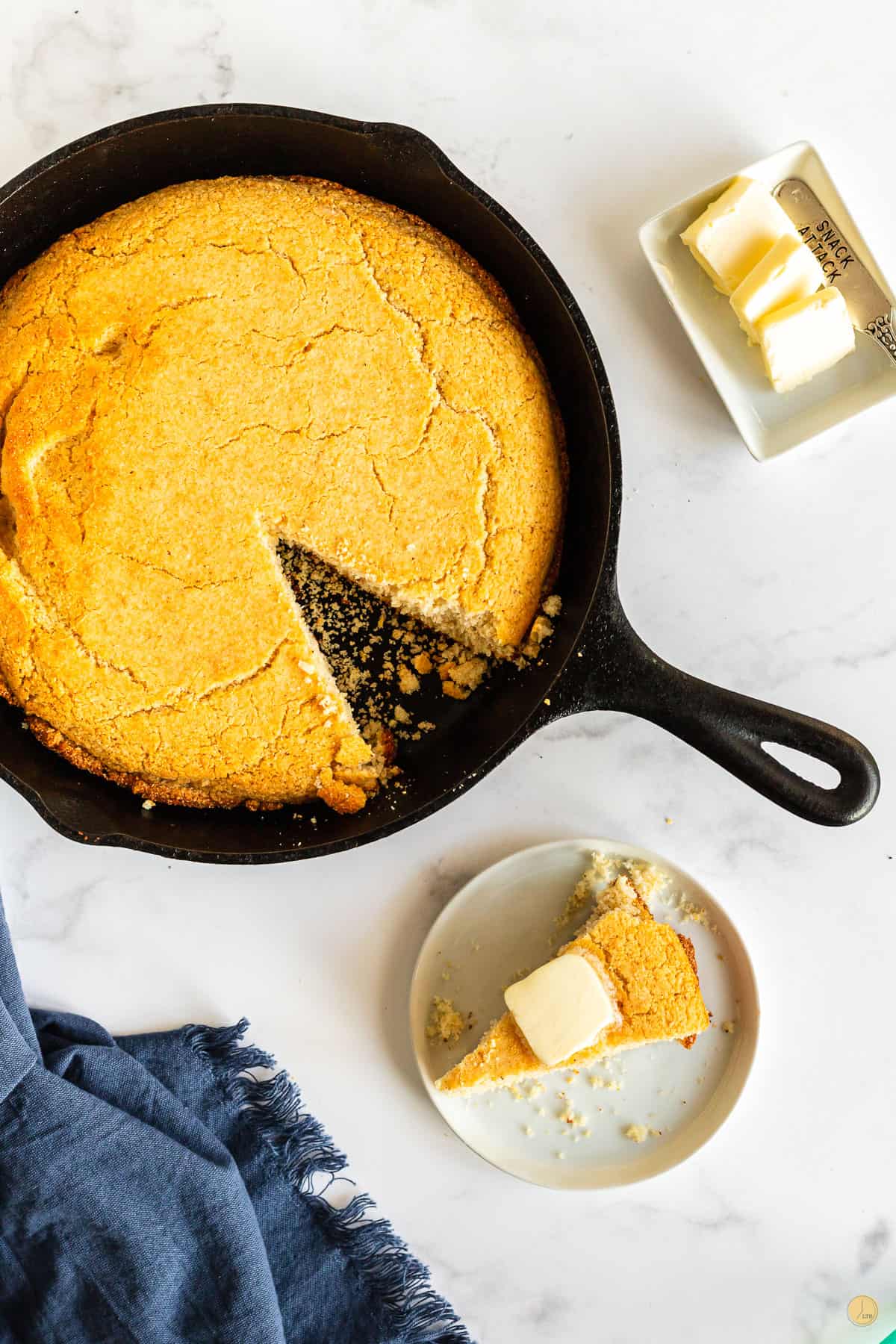 SHOULD I LET MY CORNBREAD COOL BEFORE REMOVING FROM CAST IRON?
Yes, you need to allow the cornbread to cool for a few reasons.
First, a cast iron skillet is extremely hot when removed from an oven and handling such a hot piece of equipment is not safe.
Second, the center of the cornbread will still be slightly soft. Allowing the cornbread to rest in the pan will allow the center to finish cooking as it cools off.
I DON'T HAVE A MIX CAN I MAKE IT FROM SCRATCH?
Of course! To make from scratch: use 1 cup flour, 1 cup cornmeal, 2 tablespoons sugar, 1 teaspoon salt, 1 tablespoon baking powder, 1/2 teaspoon baking soda in place of the cornbread mix.
Then add the milk, egg, and oil as directed in the recipe.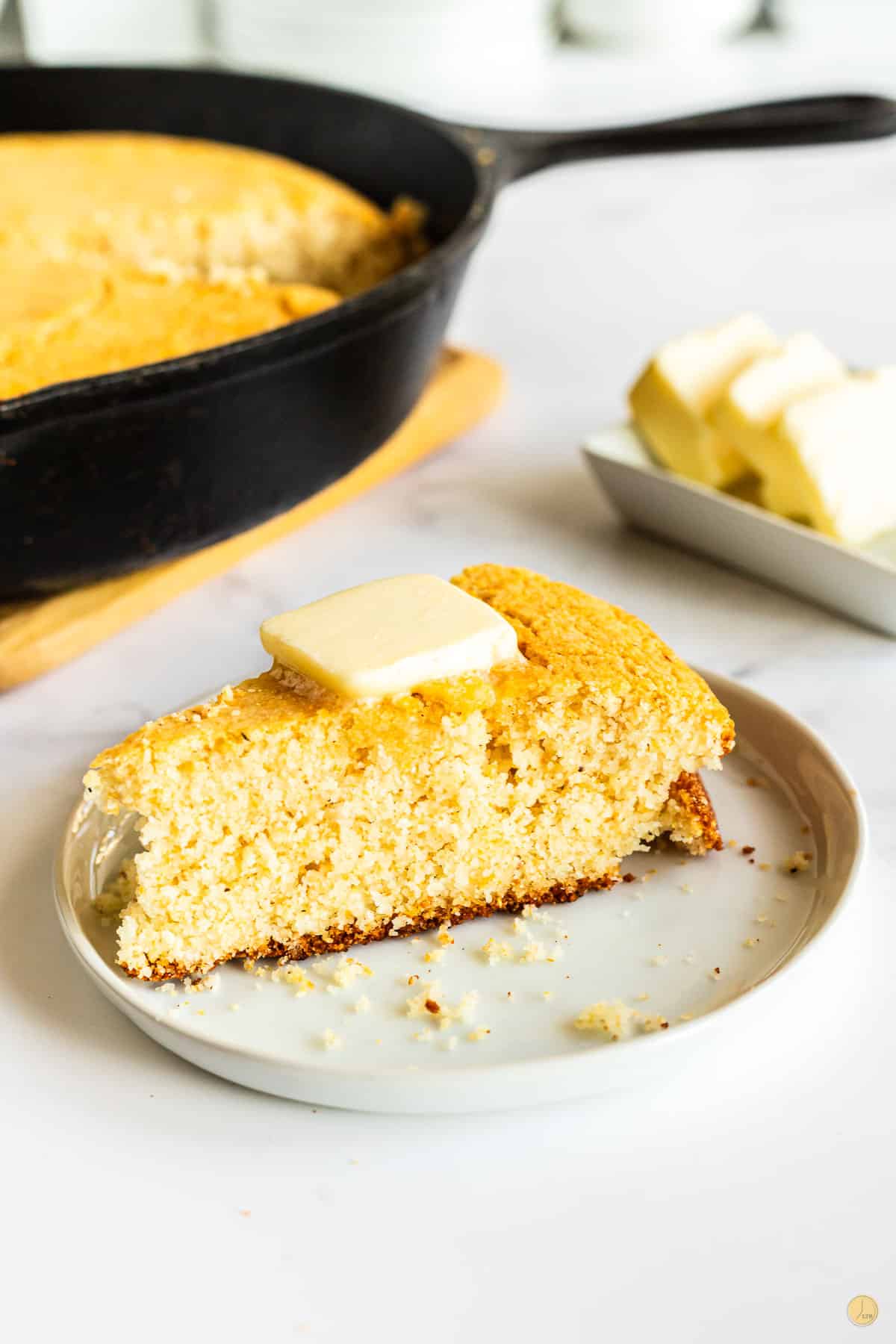 VARIATIONS ON CORNBREAD
Skillet cornbread is absolutely delicious on its own, especially when it's slathered in a pat of butter. But if you'd like to spice up this traditional recipe, feel free to try the following add-ins!
add bacon and use bacon grease when heating up the skillet
add corn, cheese, or jalapeno for more flavor
switch out the milk for buttermilk or use half sour cream and half milk
Add 1-2 tablespoons of fresh rosemary, thyme, chives, or parsley
TIPS FOR NO LEFTOVERS
Be sure the cast iron skillet is screaming hot so when you pour the corn bread batter in the skillet it makes the bottom crust extra crispy.
Using buttermilk and eggs instead of regular milk and egg gives it a great flavor.
Do not over mix the batter as it will get tough. Mix it until just combined. It might be slightly lumpy.
This recipe works best in an 8 inch skillet.
For a smoky flavor use bacon drippings in the pan when preheating.
If you love this recipe as much as I do, please write a five-star review in the comment section below (or on Pinterest with the "tried it" button – you can now add pictures into reviews, too!), and be sure to help me share on facebook!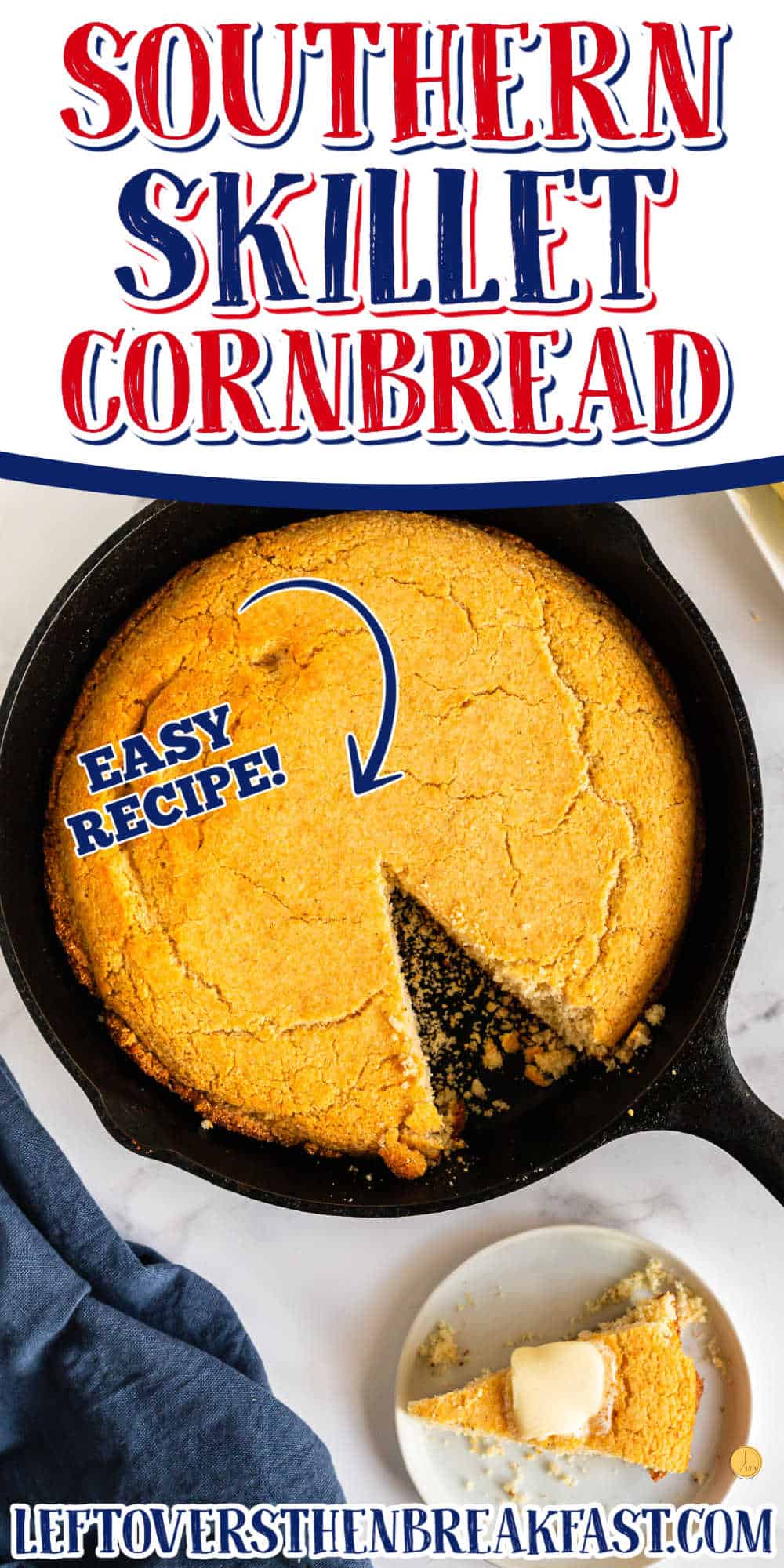 This Southern Skillet Cornbread Recipe is easy to make, requires only 4 ingredients, and is made in a cast iron skillet for those gorgeous, crunchy edges.
MORE EASY RECIPES
@LeftoversThenBreakfast.com. Content and photographs are copyright protected. Sharing of this recipe is both encourages and appreciated. Copying and/or pasting full recipes to any social media is strictly prohibited.