Collard Greens with Ham Hocks is a traditional Southern comfort food side dish. This easy-to-make recipe requires only a few simple ingredients and is packed with flavor. Serve these delicious tender greens with a rack of ribs or crispy fried chicken for the perfect soul food dinner.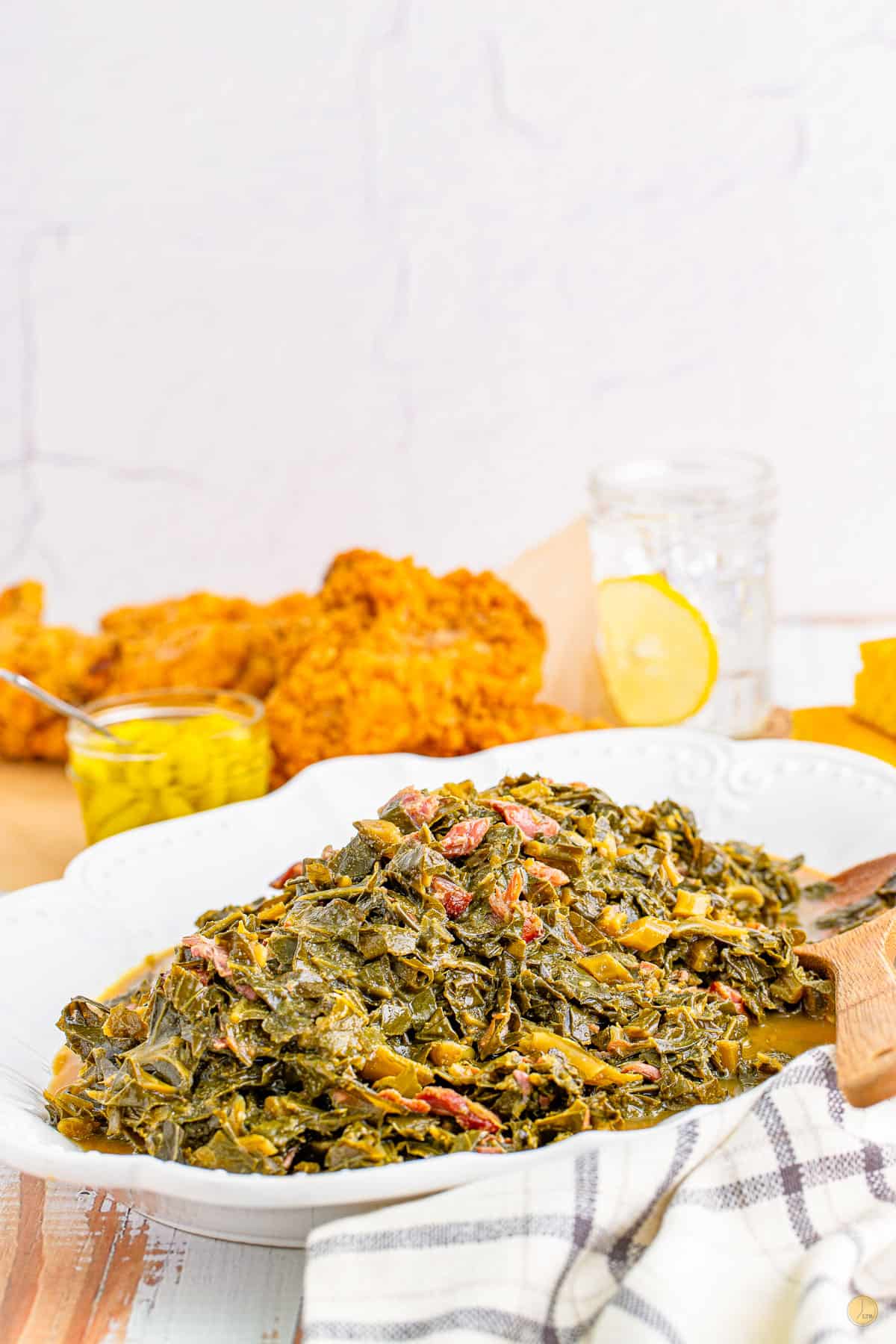 If you'd rather skip my essential cooking tips and tricks and get straight to this delicious recipe – simply scroll to the bottom of the page where you can find the printable recipe card.
SOUTHERN COLLARD GREENS
Collard greens are a large leafy green vegetable that is apart of the broccoli and cabbage family.
Technically a variety of cabbage, this vegetable has tough, bitter leaves that are made palatable by adding salt and tenderized by adding baking soda or vinegar to the liquid in the cooking pot.
While there are numerous ways to prepare collard greens, southern style collard greens is my personal favorite. Southern greens are made with chopped collard greens and cooked in a flavorful liquid that is full of spices and a meaty ham hock.
The ham hock is what makes these greens southern! It adds the most amazing smoky, salty, savory flavor you can imagine; making this dish a true classic southern comfort side.
While this dish is easy-to-make, the hardest part is the waiting once the house begins to fill with the wonderful aroma. And let me tell you, simmering collard greens smells absolutely amazing!
But the 2 hour wait is definitely worth it! Because there is nothing more comforting than a big bowl of southern greens accompanied by a hot piece of cornbread and juicy ribs or crispy chicken to make your soul happy.
This post may contain affiliate links. As an Amazon Associate, I earn from qualifying purchases. Read my disclosure policy here.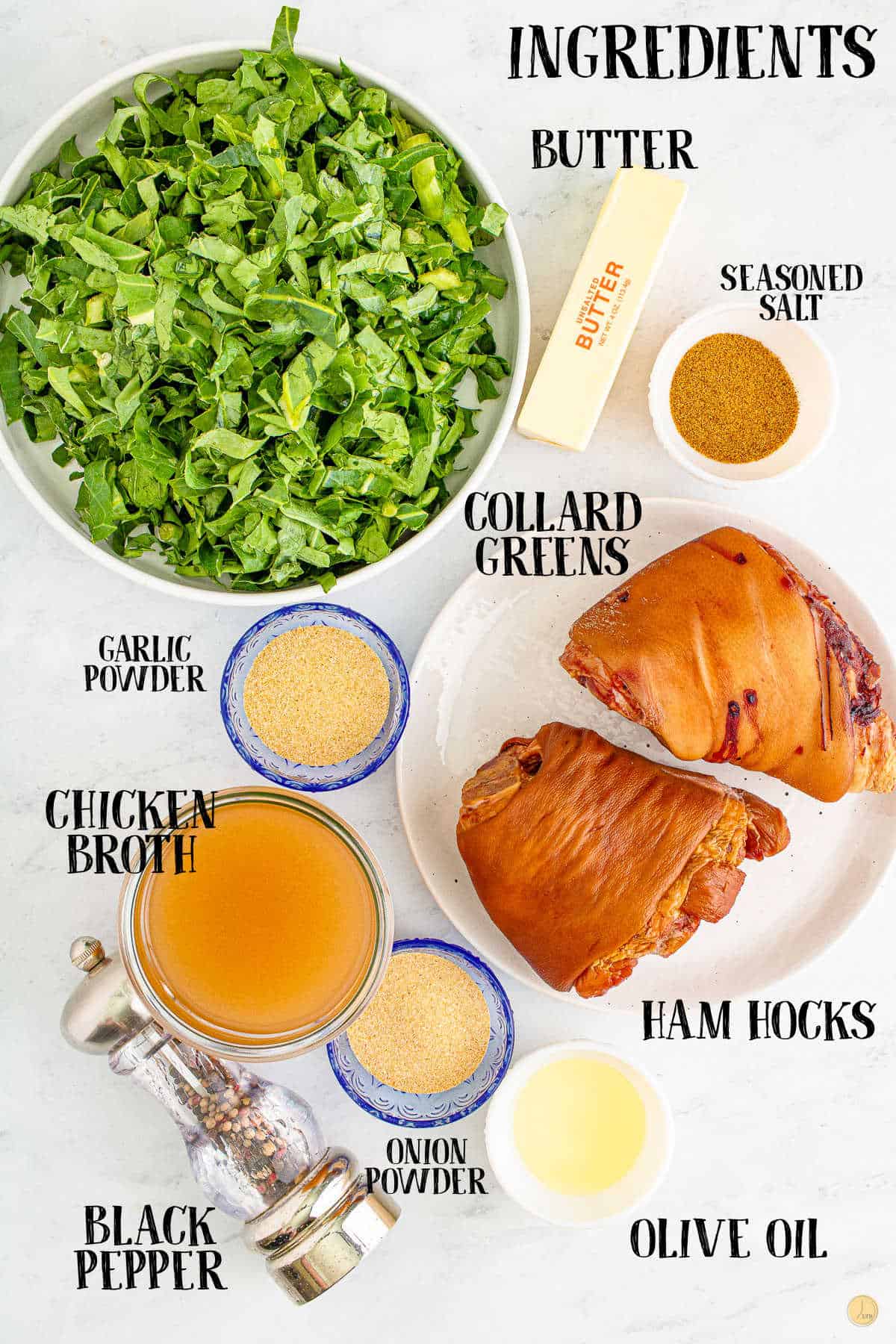 SOUTHERN STYLE COLLARD GREEN INGREDIENTS
Ham Hocks
Unsalted Chicken Stock
Collard Greens (cleaned and chopped)
Spices
Unsalted Butter
Ham Hocks – You can find these in the meat department of the grocery store. Be sure they are smoked!
Chicken Stock – Be sure to use the unsalted broth. The ham is salty enough and you don't want your greens to be too salty.
Collard Greens – Purchase them cleaned and chopped for an easier meal but if you buy them whole, check out the cleaning and chopping tips below.
Spices – This recipe uses garlic powder, onion powder, seasoned salt, and black pepper.
Butter – Make sure you use unsalted butter. If not, the recipe will be too salty. Be sure to follow the amounts exactly.
Looking for more comfort food? Follow LTB on Pinterest!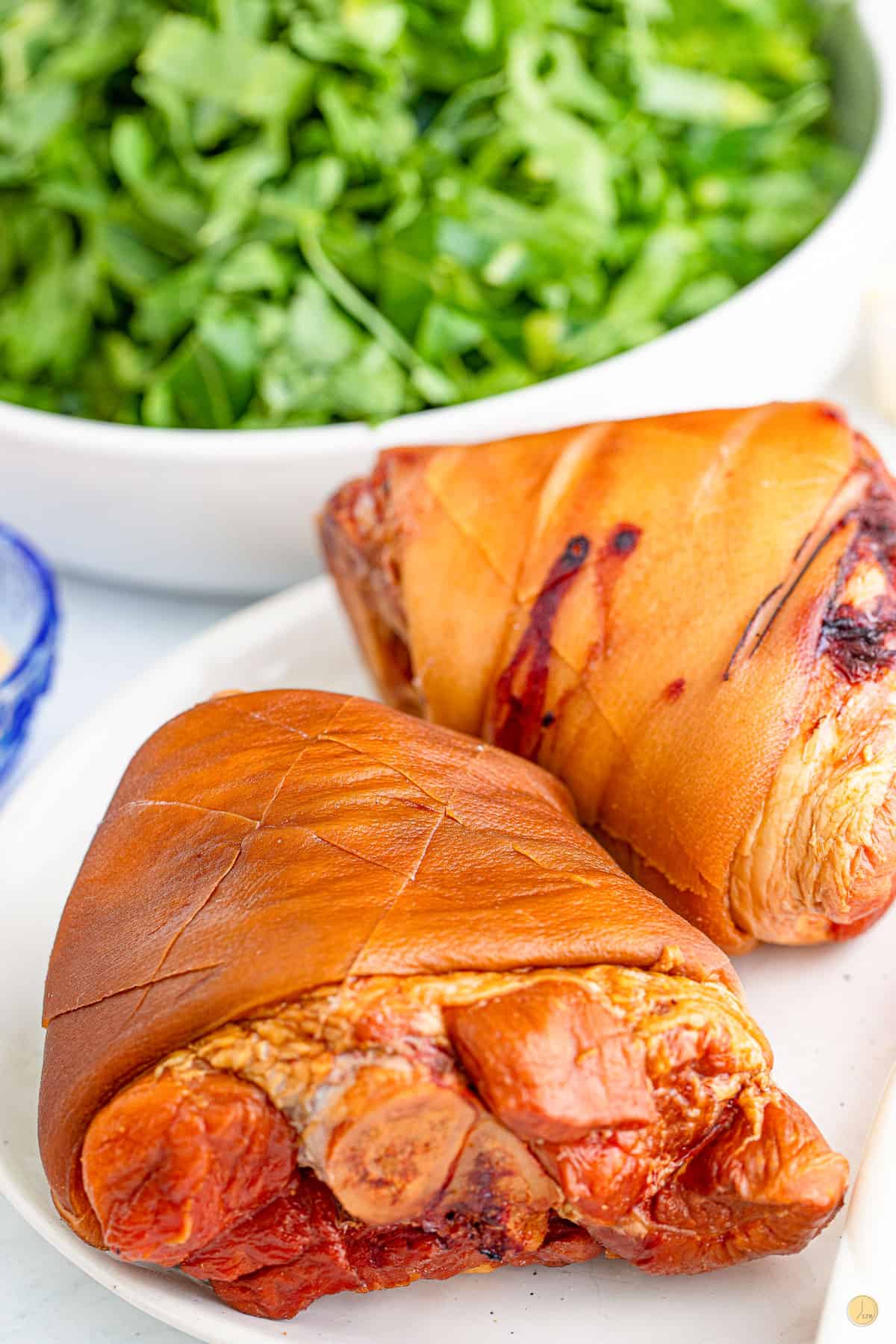 HOW TO MAKE COLLARD GREENS
ONE: Score the ham hocks in a diamond pattern, cutting through the skin to expose the meat. In a large pot or dutch oven over medium-high heat, add the oil and sear the ham hocks on all sides, about 5 minutes total.
TWO: Add the chicken stock, garlic powder, and onion powder, stir in the seasonings. Bring to a boil, reduce the heat to a simmer, cover, and simmer for 2 hours. Remove the ham hocks from the pot and place them on a plate to cool.
THREE: Add the butter and stir it in. Taste and adjust seasoning if necessary. While the ham hocks cool, add the collards to the pot. Stir in the seasoned salt and black pepper. Bring to a boil, reduce to a simmer, cover, and simmer for 2 hours, stirring occasionally.
FOUR: Once the ham hocks are cool to the touch, pick the meat from the bone. Discard the bone, skin, and gristle. Add the meat to the pot with the collards at any time. Stir and enjoy!
For the full recipe and detailed baking instructions, please see the recipe card at the end of this post.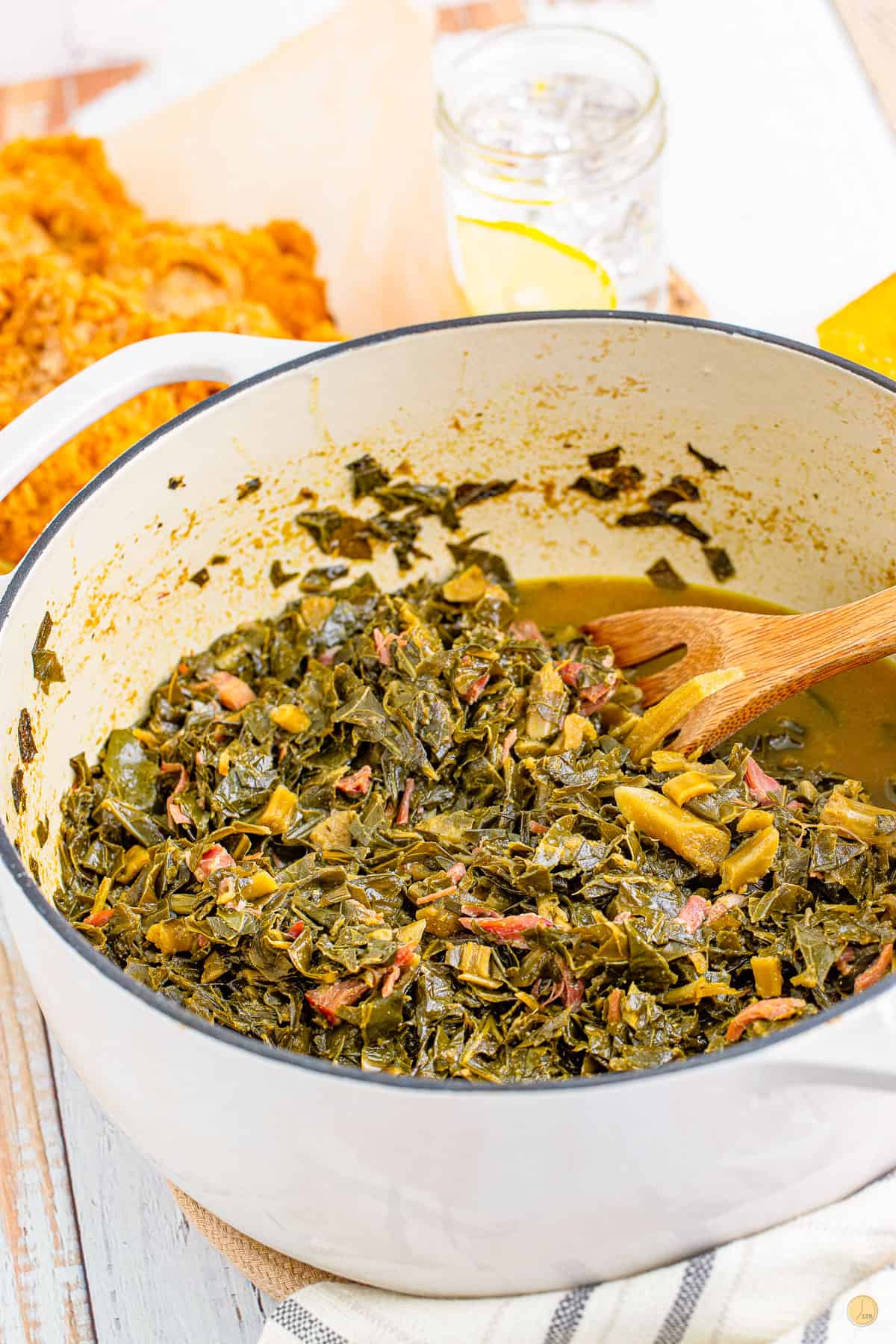 HOW DO YOU GET THE BITTERNESS OUT OF GREENS?
Salt is the easiest way to get the bitterness out of the greens. Follow the recipe and use unsalted chicken broth to avoid over salting.
WHAT MEAT GOES WITH COLLARD GREENS?
A salty pork is the best with collard greens! You can use smoked ham hocks, bacon, or smoked pork shoulder when you cook collards. Once cooked, I like to enjoy my greens with ribs or crispy fried chicken!
HOW DO YOU TENDERIZE GREENS?
You can add a 1/4 teaspoon baking soda or 1/8 cup of vinegar to the cooking liquid in the pot.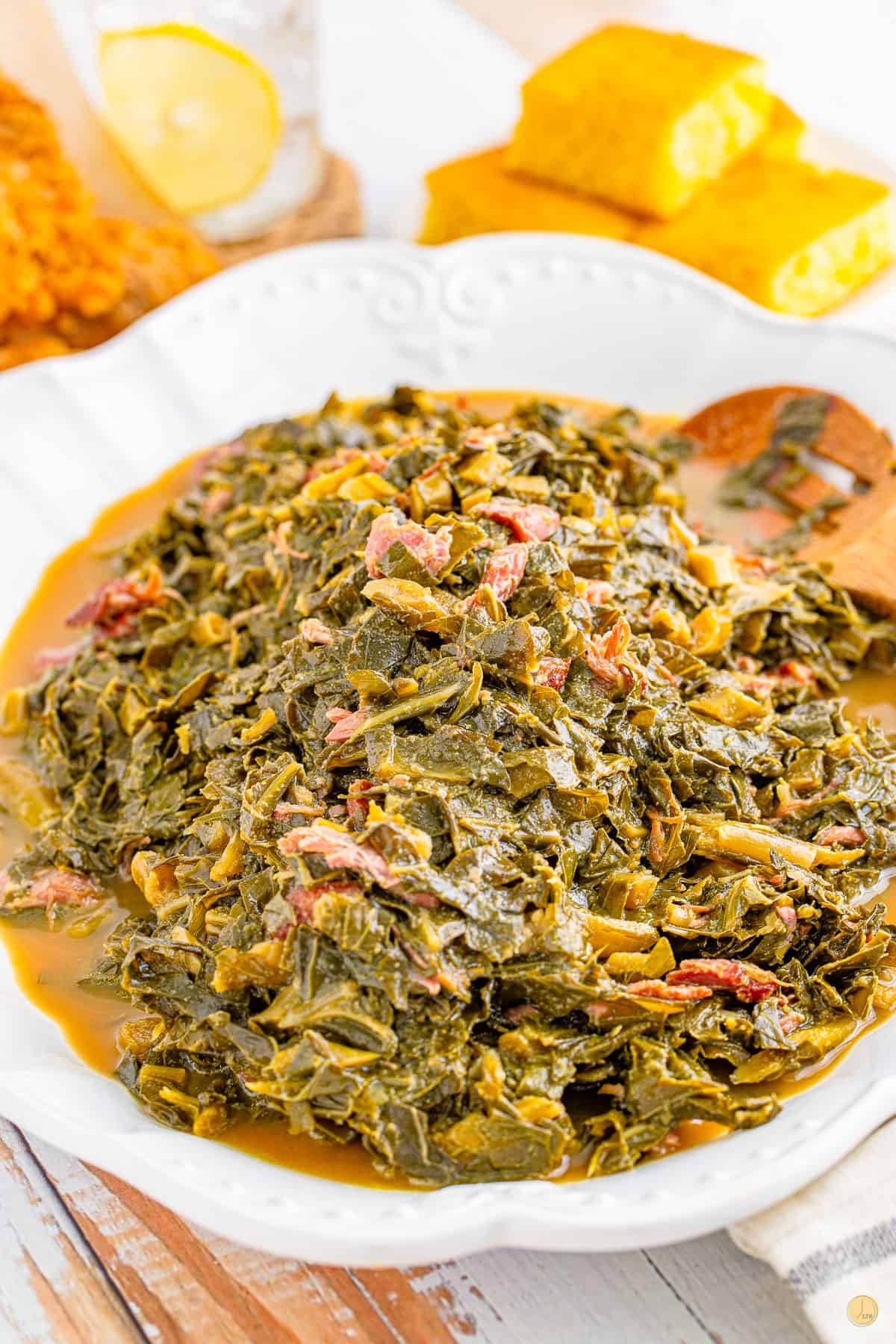 HOW LONG ARE YOU SUPPOSED TO SOAK COLLARD GREENS?
I like to use greens that are already cleaned and chopped. You can usually find them near the bags of kale in the produce department. If you are using fresh, you need to clean them properly.
Start by filling your sink or a large bowl with cold water. Soak the greens for about 10 minutes agitating the leaves every few minutes.
Remove the leaves and give them one more rinse under a running tap to dislodge any stuck on dirt. Lay flat on paper towels and dry them.
Trim the collard greens by removing the stems and chopping the leaves in thin strips. Now they are ready to use in the recipe.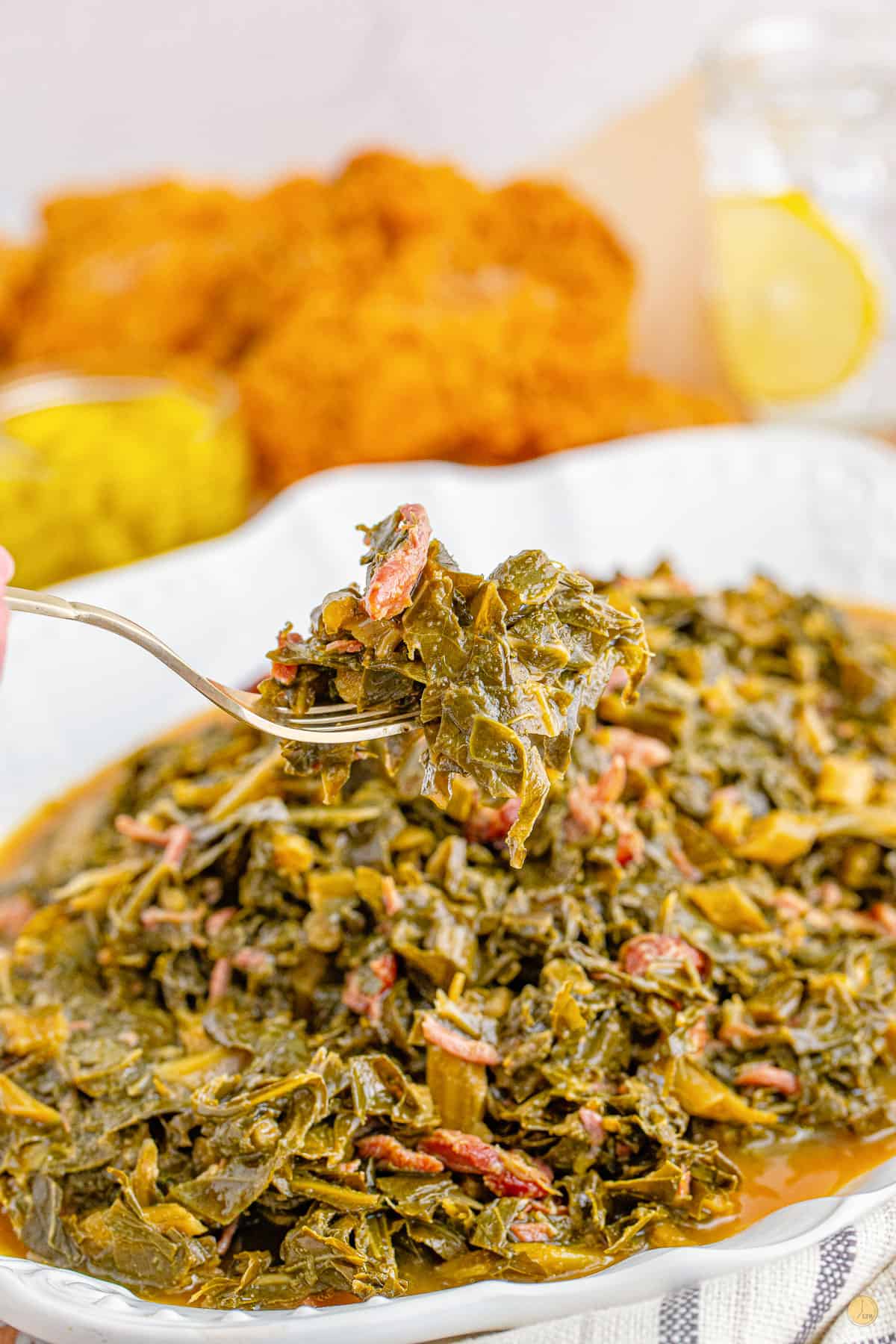 CAN YOU OVERCOOK GREENS?
Yes, you can. They should take between 1-2 hours to cook collard greens depending on the temperature. I like to start checking at 1 hour and then every 15 minutes after that to be sure.
CAN I FREEZE THEM?
Drain all the excess liquid and then freeze the cooked greens in a freezer safe container for up to 6 months.
TIPS FOR NO LEFTOVERS
Be sure to check that your greens are actually green. Don't use yellow or bruised greens that are starting to turn brown.
Only use unsalted chicken broth. If you use broth with salt it will be too salty because of the ham hocks.
If you like them spicy, add in a shot of hot sauce, hot vinegar, or crushed red pepper flakes.
If you love this recipe as much as I do, please write a five-star review in the comment section below (or on Pinterest with the "tried it" button – you can now add pictures into reviews, too!), and be sure to help me share on facebook!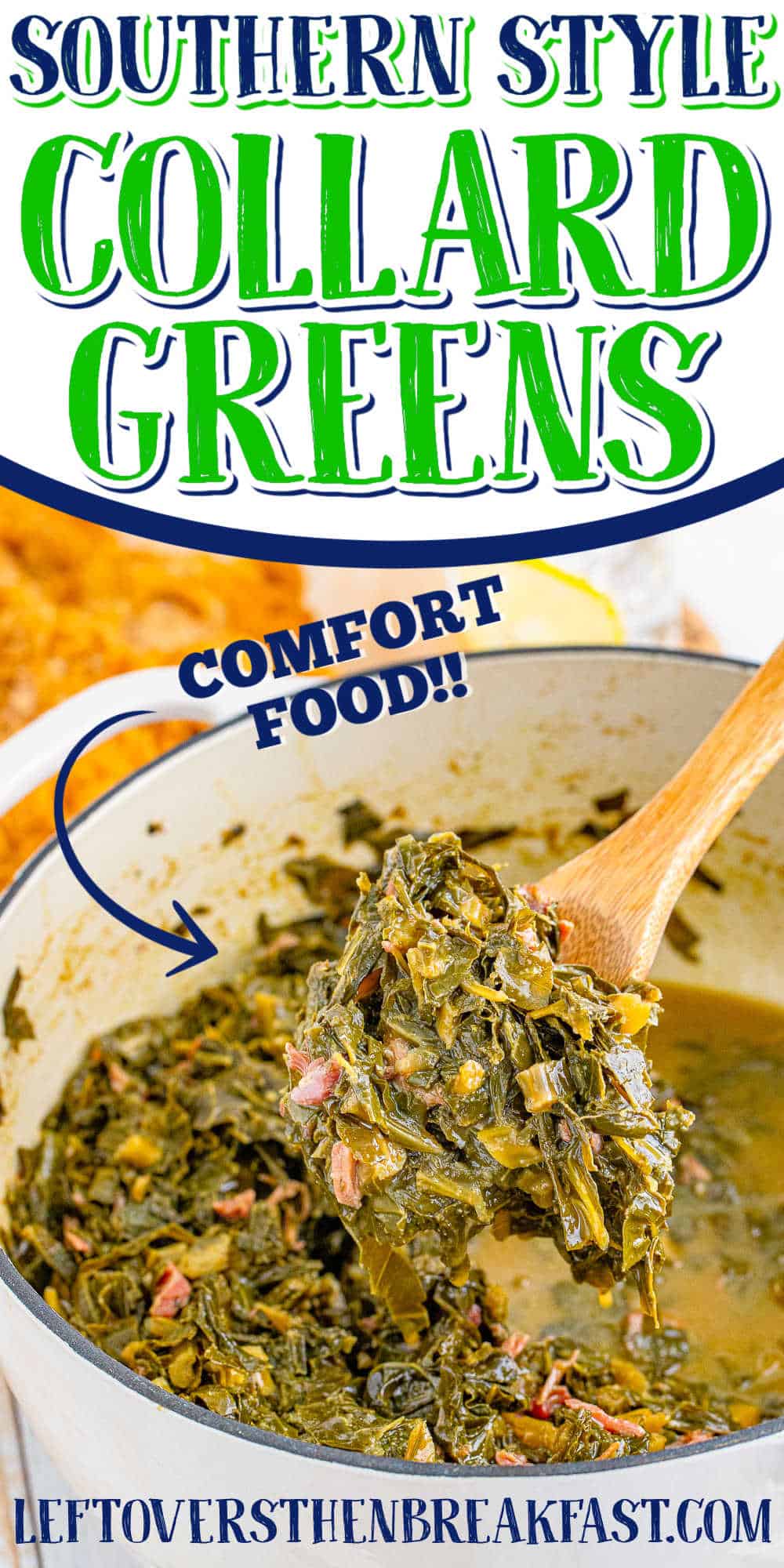 This southern collard greens recipe is simple to make and packed with smoky, savory flavors in every bite. Just combine nine key ingredients, and you will have this delicious southern southern soul food side dish on the table in no time!
MORE EASY SIDE DISHES
SOUL FOOD COLLARD GREENS WITH HAM
@LeftoversThenBreakfast.com. Content and photographs are copyright protected. Sharing of this recipe is both encourages and appreciated. Copying and/or pasting full recipes to any social media is strictly prohibited.