Green Pea Casserole is SWEET, CRUNCHY, and DELICIOUS. This easy side dish is the perfect compliment to your weeknight meal or will become your new go-to dish for the next holiday potluck!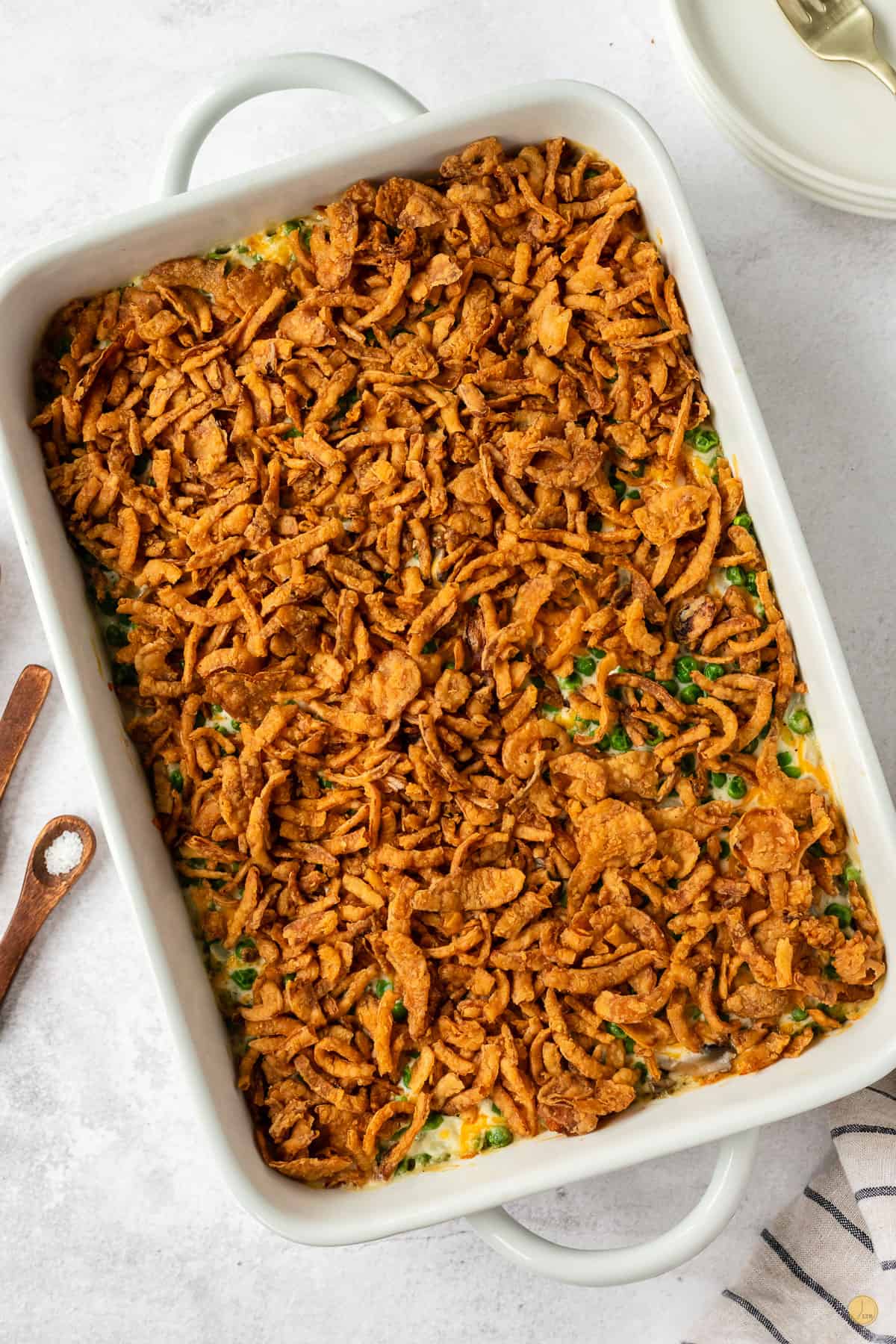 If you'd rather skip my essential cooking tips and tricks and get straight to this delicious recipe – simply scroll to the bottom of the page where you can find the printable recipe card.
Green bean casserole is a staple side dish in most southern homes. Whether it's enjoyed at a family holiday dinner or potluck, green bean casserole tends to be a sure-fire go-to dish.
However; sometimes you want something a little different than the traditional green bean casserole. My green pea casserole is just that!
A slight variation to the favorite side dish we all know and love! Made with tasty sweet peas, the traditional cream sauce, and topped with the favorite French fried onions; my casserole makes simple changes that take this dish to a whole new level!
This post may contain affiliate links. As an Amazon Associate, I earn from qualifying purchases. Read my disclosure policy here.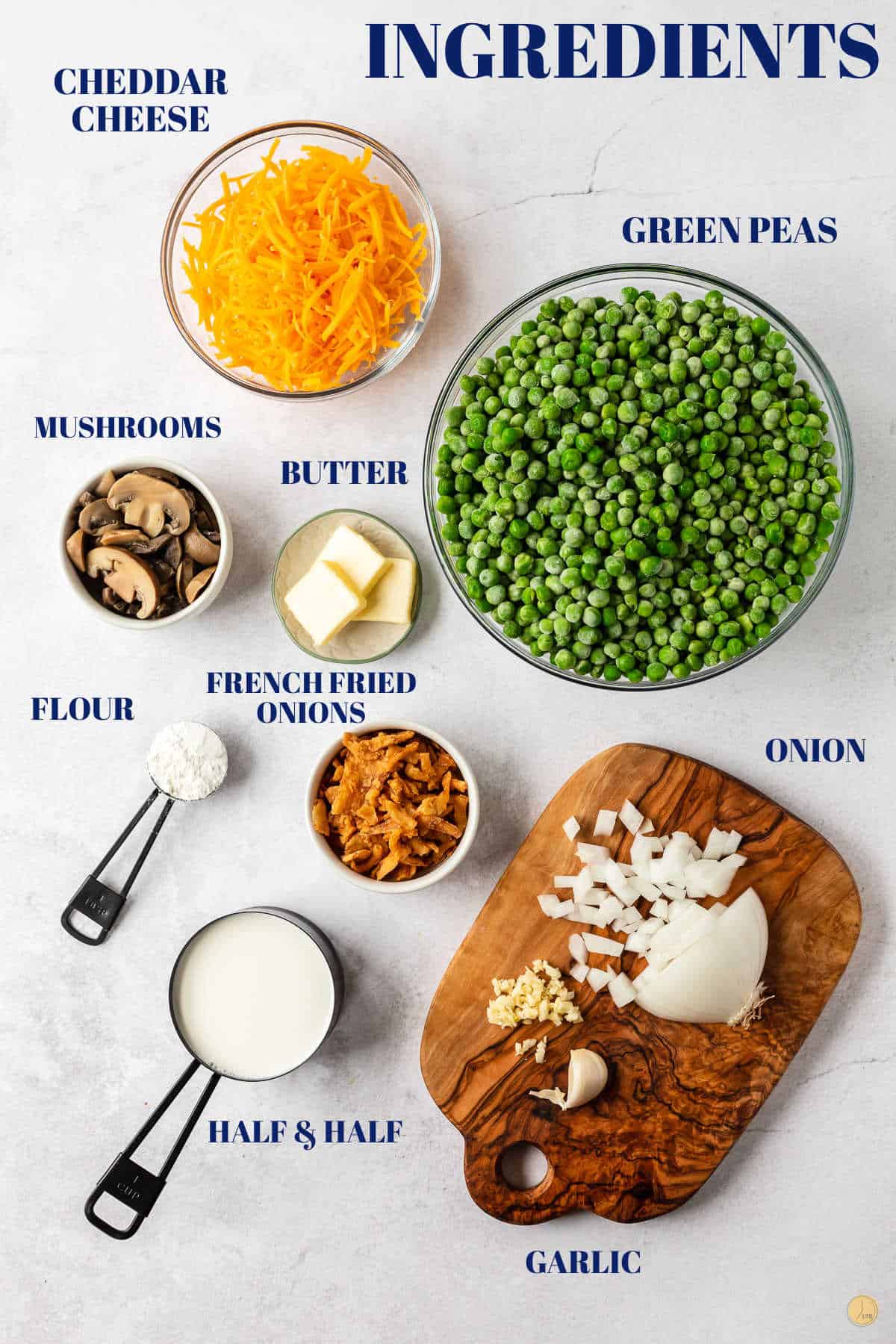 GREEN PEA CASSEROLE INGREDIENTS
green peas
flour
butter
onion
half & half
cheddar cheese
mushrooms
french fried onion
Green Peas – I like to use frozen peas but you can use canned. They just might be a little softer once cooked. LeSeur peas are also tasty in this casserole.
Half & Half – You can also use milk to make the roux. If you want it extra creamy, you can use heavy cream. If you need to lighten it up a bit, substitute chicken or vegetable broth.
Cheese – A medium or mild cheddar works great with this but you can feel free to use your favorite cheese.
Mushrooms – To make it easy, I use sliced canned mushrooms. If you have fresh mushrooms, cook them in the pan with the onions before making the cream sauce.
French Fried Onions – These are a fan favorite for casserole toppings but you can also use corn flakes (not frosted), cracker crumbs, or even Panko. A little sprinkle of Parmesan cheese with these adds even more flavor.
Looking for more comfort food? Follow LTB on Pinterest!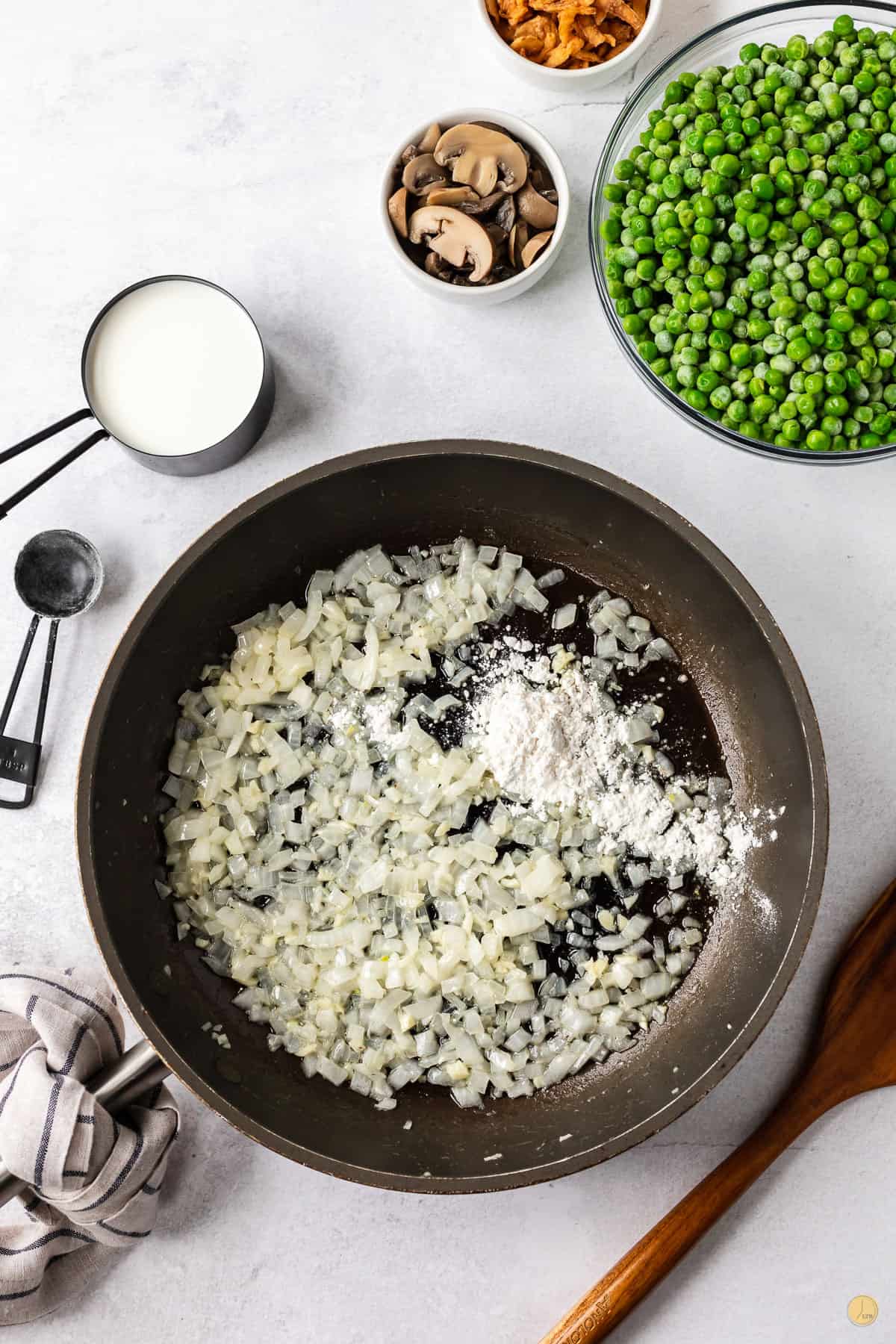 HOW TO MAKE GREEN PEA CASSEROLE
ONE: Preheat oven to 350F. Remove peas from the freezer and thaw. In a medium skillet, melt the butter over medium heat. Add the onion and garlic to the butter and cook for 1-2 minutes or until the onion softens and the garlic is fragrant.
TWO: Add the flour and whisk to combine. Cook for 1-2 minutes or until the raw flour flavor is gone. While whisking, add the half & half. Continue whisking in the pan until it thickens and coats the back of a spoon. Remove from the heat.
THREE: Prepare an 8×8 baking dish with nonstick cooking spray.In a large bowl, combine the thawed peas, the drained mushrooms, the shredded cheese, and the thickened onion/garlic mixture. Stir to combine.Pour into the prepared baking dish and spread evenly.
FOUR: Bake at 350F for 20 minutes. Remove and spread the fried onions over the top evenly. Bake for an additional 5 minutes. Remove from the oven and enjoy!
For the full recipe and detailed baking instructions, please see the recipe card at the end of this post.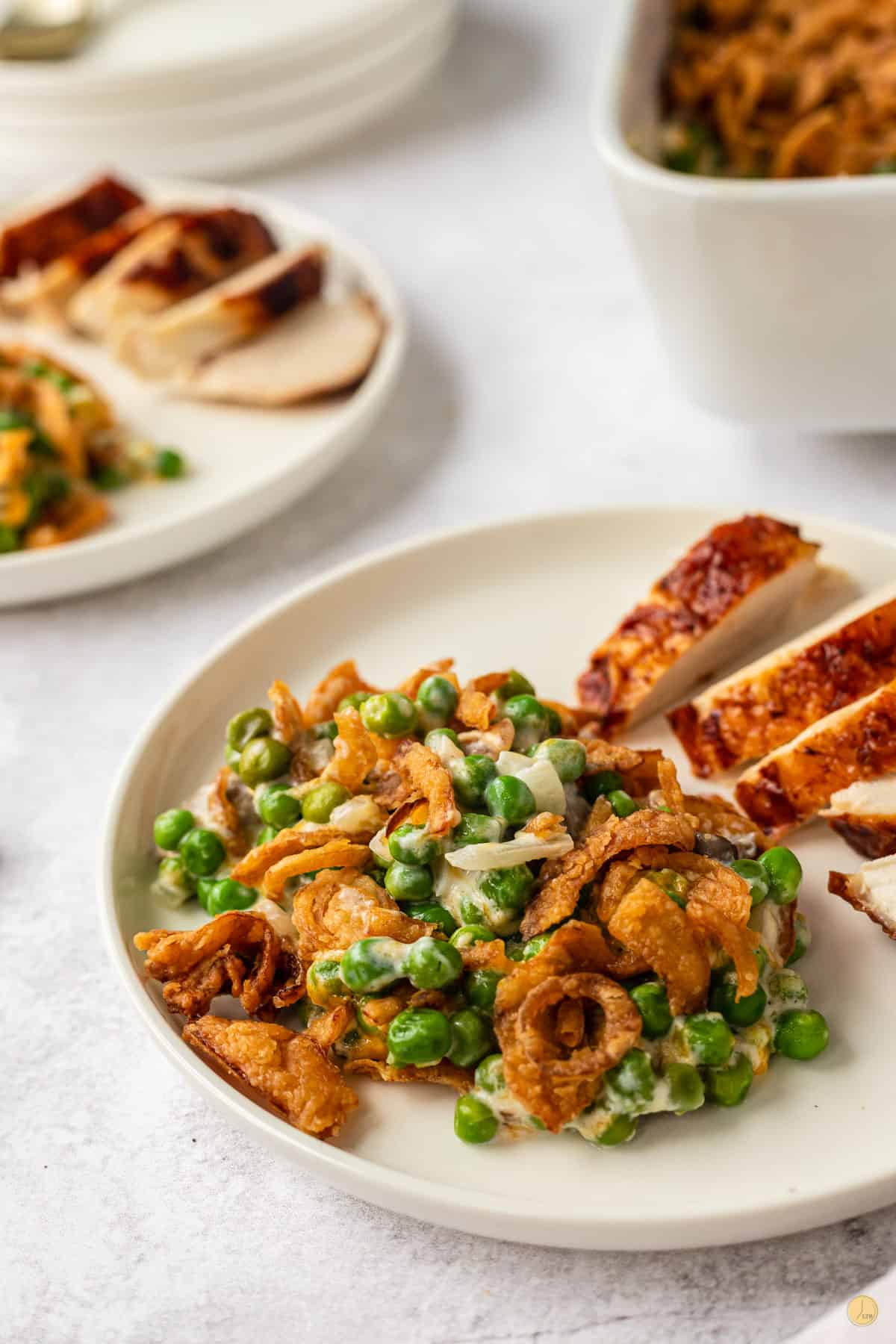 VARIATIONS:
Putting your own personal touch on this green pea casserole is easy to do! There are SO many different ways you can make slight changes to really make this casserole your own.
Below are a few simple ways you can change this super easy side dish to give it a different feel:
Use Ritz crackers, corn flakes (not frosted), or Panko instead of the fried onions.
Don't like mushrooms? Leave 'em out!
Prefer the taste of pearl onions? Add those in!
Lover of bacon? Cook some to the crispness of your choosing, chop up, and throw in!
Add in pimentos for a pop of color.
Don't have time (or don't want to) make the roux? Just use cream condensed soup.
CAN I MAKE IT AHEAD OF TIME?
Yes, you can make the casserole FILLING about 1 day in advance. Do NOT put the crunchy topping on as it tends to get soggy while sitting in the fridge.
Tightly cover casserole dish prior to putting in the fridge. Tightly covering ensures that no smells or tastes make their way into your casserole and will keep it as fresh as possible.
Prior to baking, remove from the fridge and let it come to room temperature; about 15 minutes. Letting food come to room temperature prior to putting in the oven will allow the casserole to cook in the appropriate amount of time and will ensure it doesn't dry out.
Once at room temperature, bake in oven at 350 degrees for 20 minutes. After 20 minutes, remove and add on the French fried onions or crispy topping of your choice and bake for another 5 minutes. Remove from oven and enjoy!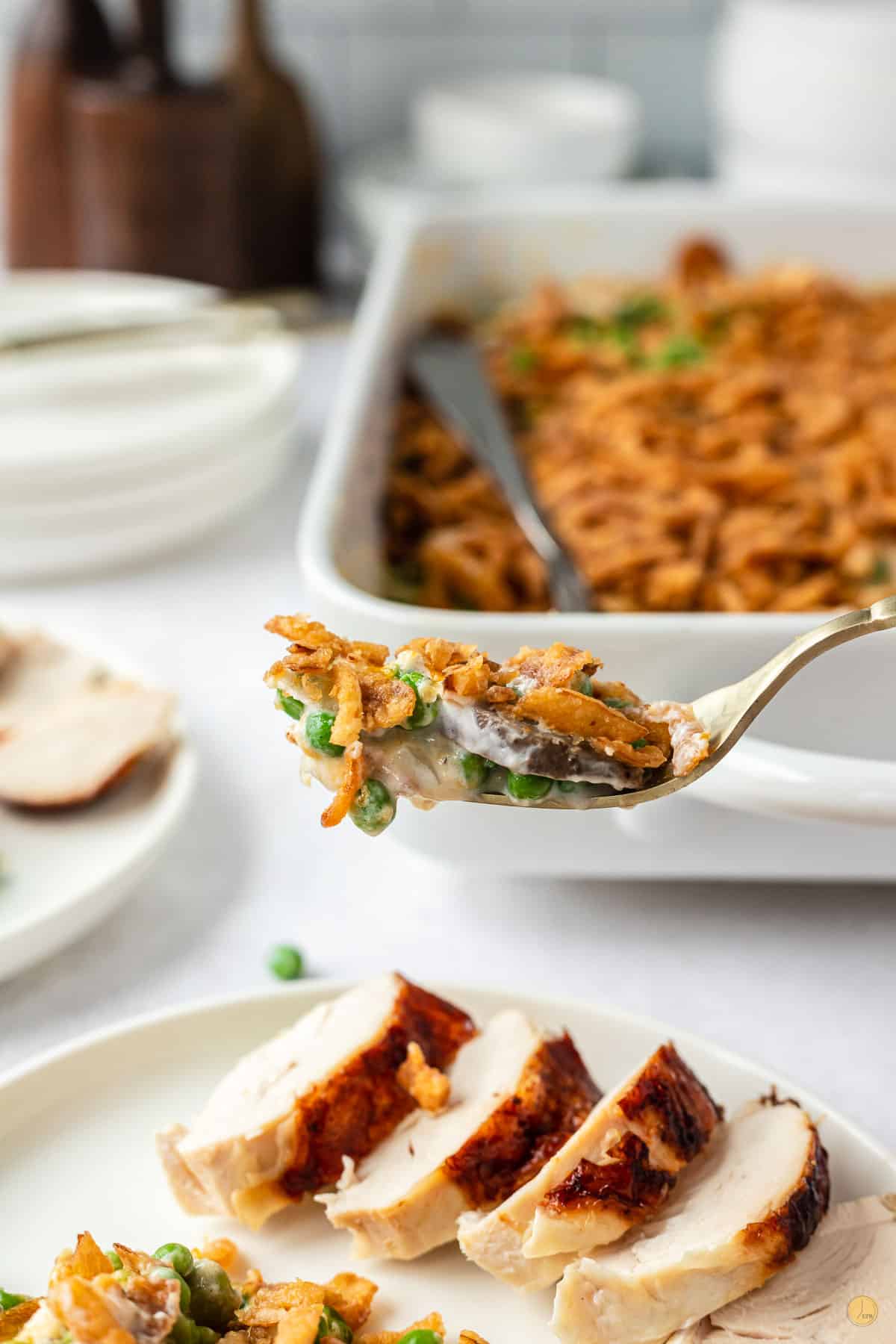 CAN I FREEZE IT?
Green pea casserole is best frozen WITHOUT the crunchy topping, however; if it's already on there, do not worry! You can still freeze it!
Prior to putting in the freezer, let the casserole come to room temperature. If possible, scrap off the French fried onion topping (this should come off pretty easy!)
Then wrap your casserole dish with plastic wrap. Once wrapped, cover tightly with foil. On the foil label, date, and place in freezer. Casserole should last up to 6-months in freezer.
TIPS FOR NO LEFTOVERS
If your roux appears too "soupy"; this is usually caused by too much milk. To fix this, add in a little more cornstarch or flour and mix well. This should help thicken up your sauce!
If using a canned cream soup; any cream soup will work if you are not a fan of cream of mushroom soup.
Not interested in freezing leftovers? Use leftovers and create a new dish! Some examples are: pot pie, stuffed mushrooms, create a hash, or add to pasta for a green pea pasta salad!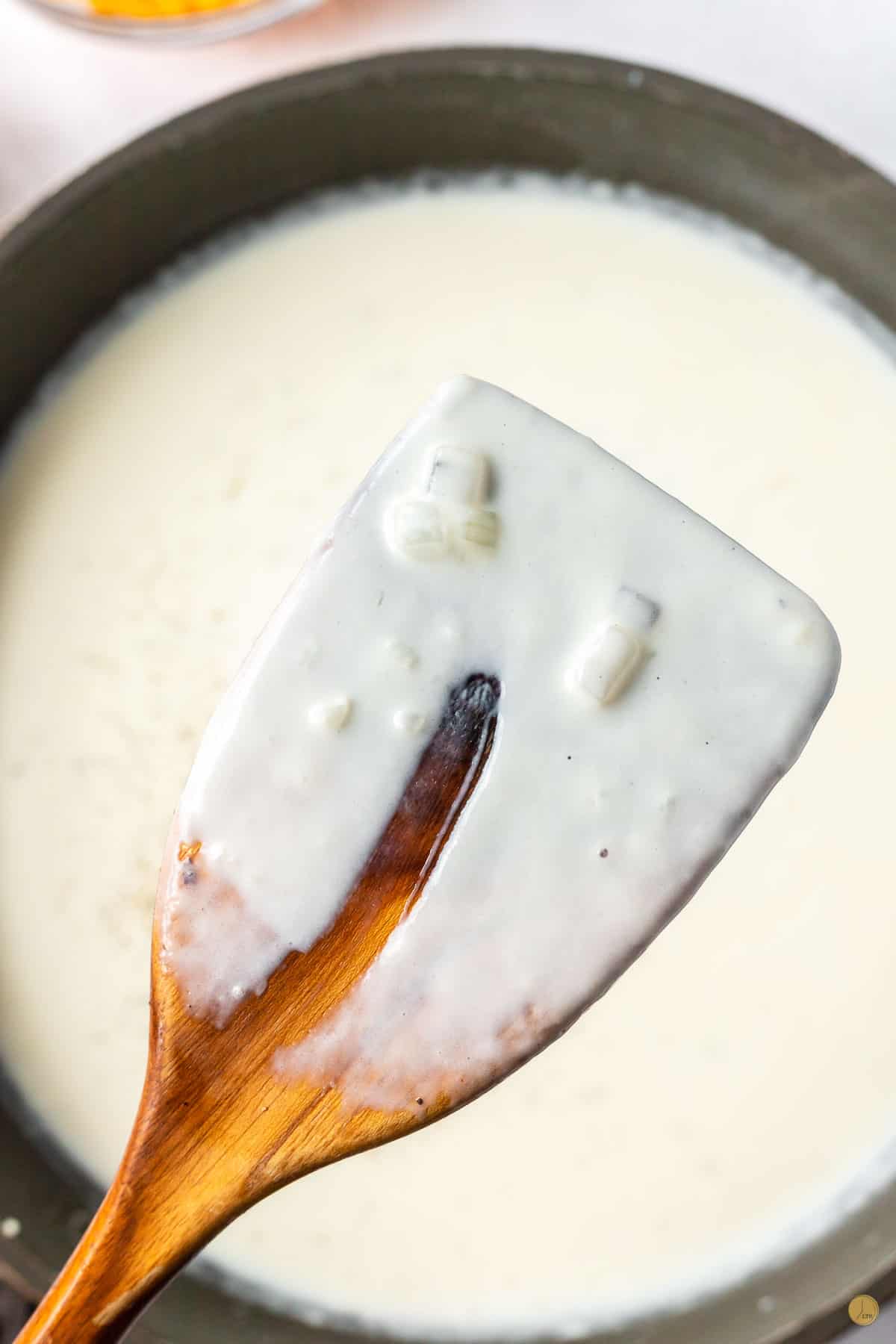 MAKING HOMEMADE CREAM SAUCE
When making the cream base for the casserole, start with the pan over medium heat. Once you melt the butter and sweat the onions and garlic, sprinkle in the flour.
Stir, or I like to use a whisk, and stir the flour around to coat the onions. Then let it cook for a minute or two.
It will start to get "foamy" while it cooks. This is to remove the raw flour taste. After a minute or two (don't let it burn) whisk in the half & half.
Keep stirring to incorporate it with the flour and other ingredients. Keep the heat on medium and stir constantly until the sauce thickens and starts to bubble. Do not bring to a rolling boil.
Once you can run a line through the sauce and it doesn't run back together (see picture above) then the sauce is ready. Making a homemade roux or sauce is super easy!
If you don't want to go through this process, feel free to use a condensed soup🙂
If you love this recipe as much as I do, please write a five-star review in the comment section below (or on Pinterest with the "tried it" button – you can now add pictures into reviews, too!), and be sure to help me share on facebook!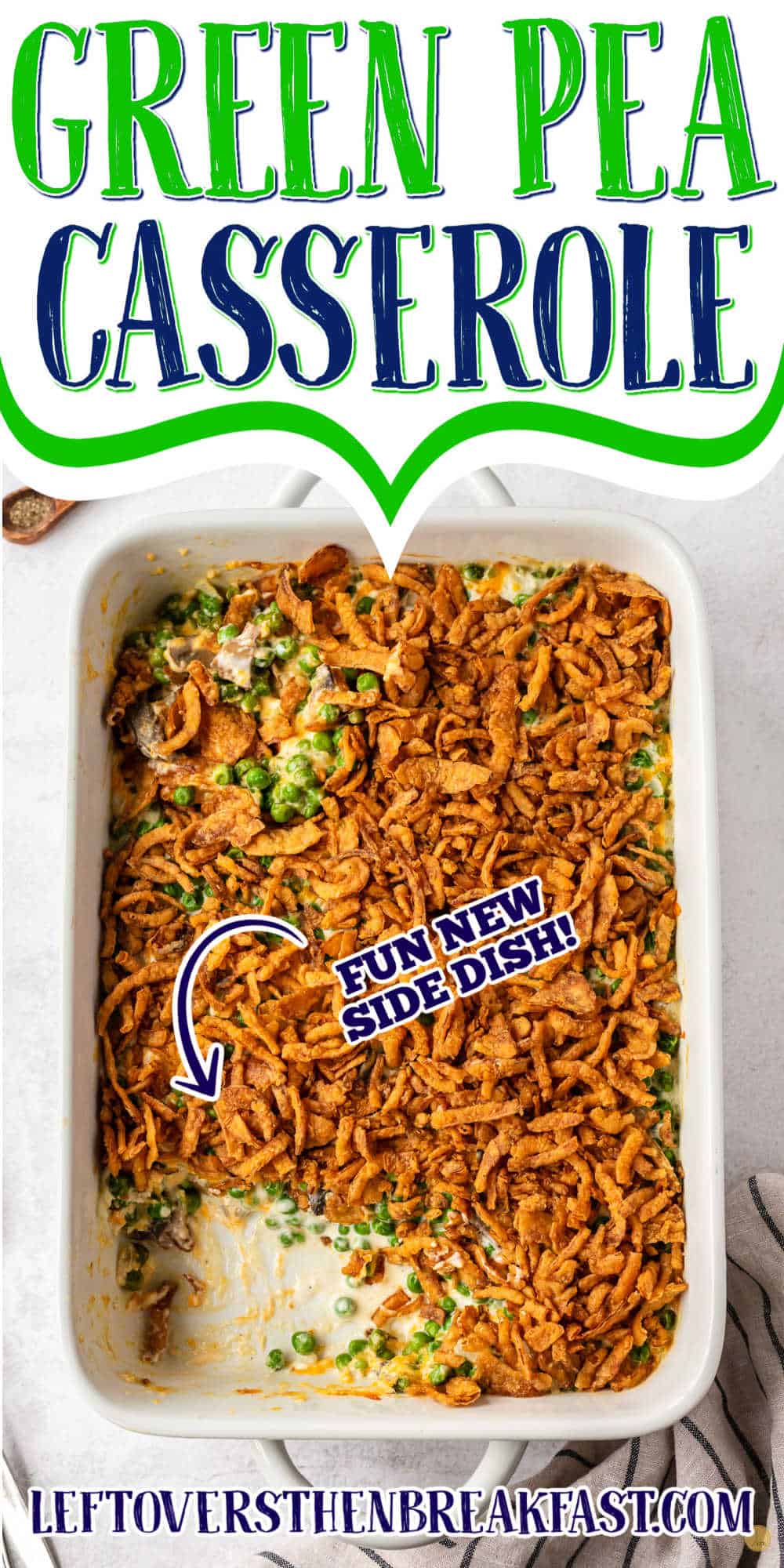 Green pea casserole is a simple spin on the classic southern side-dish, green bean casserole. Comment down below on how you created this casserole and made it your own!
MORE EASY RECIPES
SOUTHERN SWEET PEA CASSEROLE RECIPE
@LeftoversThenBreakfast.com. Content and photographs are copyright protected. Sharing of this recipe is both encourages and appreciated. Copying and/or pasting full recipes to any social media is strictly prohibited.