Slow Cooker Cincinnati Chili is one of those easy to make, hearty, flavorful dishes that has to work it's way into your recipe rotation.
Served over spaghetti or a hot dog, this delicious meat sauce topping can be served 5 different ways and will quickly become one of your family favorites!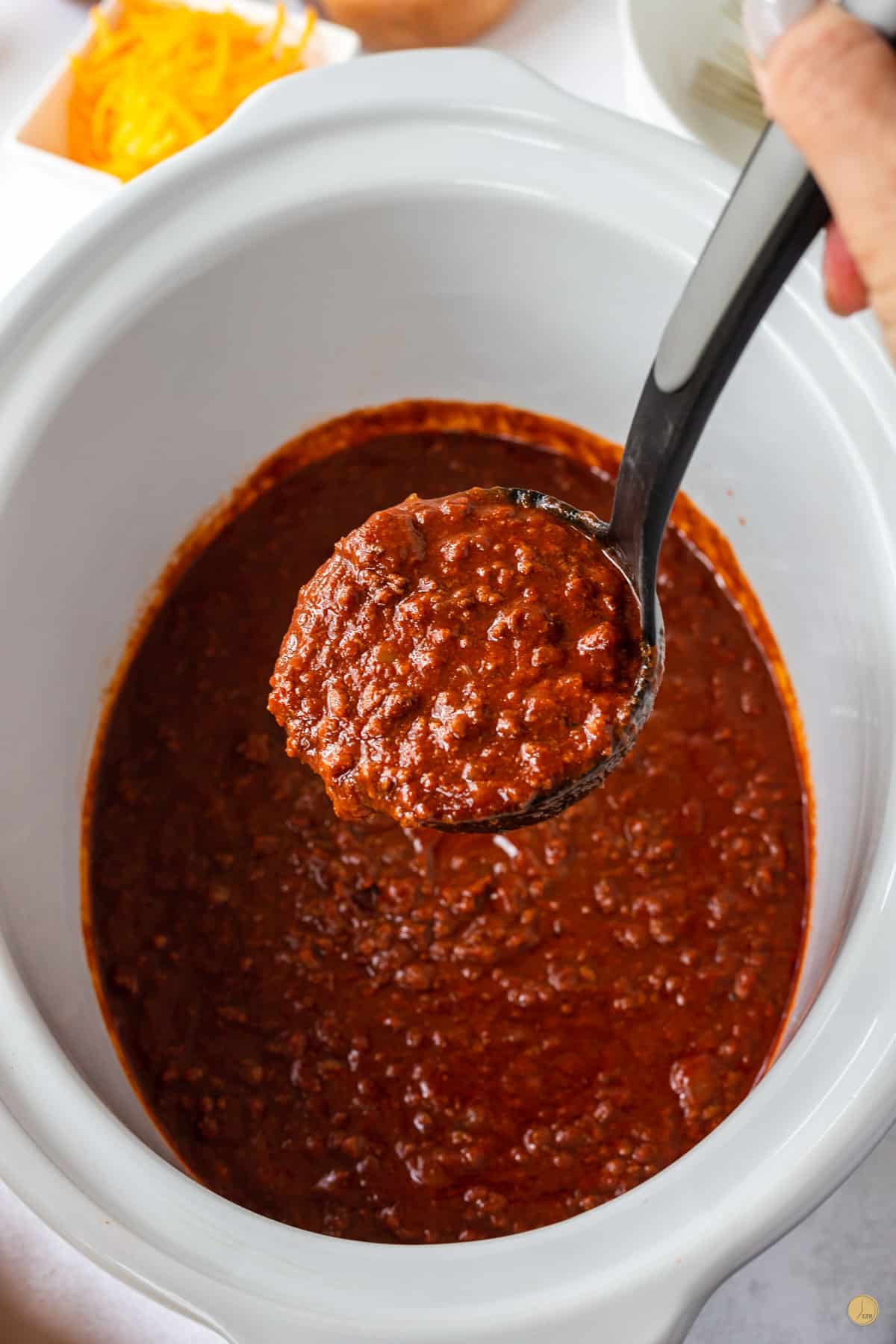 Cincinnati Skyline Chili
Slow cooker Cincinnati chili, also known as Skyline chili, is a staple amongst Cincinnatians. Originating in the 1920s by Mediterranean immigrant restaurateurs, this tasty meat sauce is used as a spaghetti or hotdog topping.
While most Cincinnatians will have a definite restaurant favorite, all will agree that this delicious, hearty chili must be topped with A LOT of shredded cheddar cheese, a touch of white onions, and possibly a side of oyster crackers.
And if you don't have the opportunity to make your way to Cincinnati to try their iconic chili, let me tell you, this crockpot Cincinnati Chili is hands-down a must try (and keep!) recipe!
Chocked full of hearty pieces of ground beef, an explosion of bold flavors, and underlying notes of chocolate and cinnamon, this topping will make your senses dance!
Perfect for a cold winter day or spicing up those summer hotdogs, this Cincinnati chili is easy to throw together and can be served any of the 5 ways you choose!
This post may contain affiliate links. As an Amazon Associate, I earn from qualifying purchases. Read my disclosure policy here.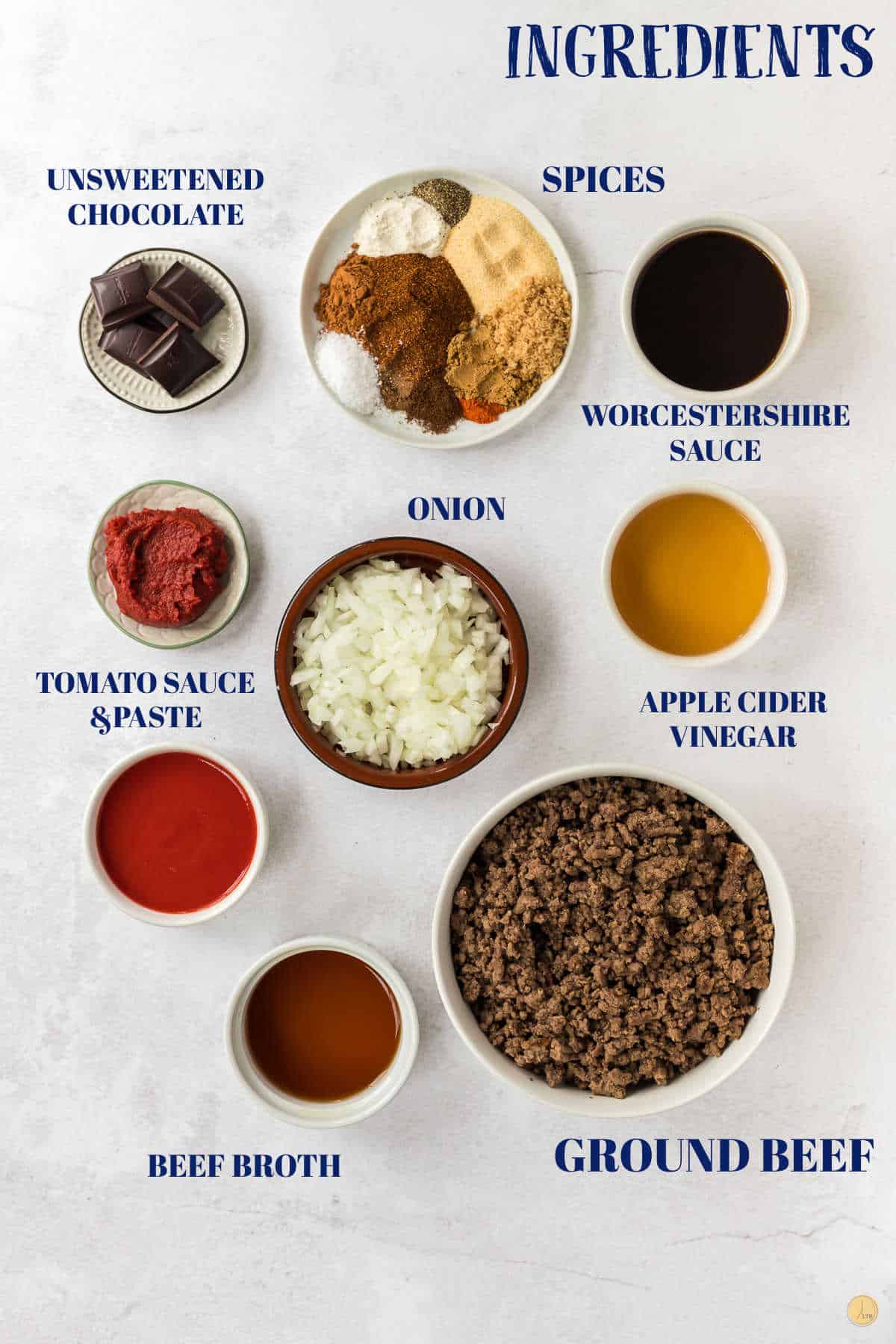 What makes this chili recipe unique is the combination of spices included. And the secret ingredient!
Skyline Chili Ingredients
ground beef
beef broth
tomato paste & sauce
brown sugar
spices
Worcestershire sauce
apple cider vinegar
unsweetened chocolate (secret ingredient)
Ground beef – It's chili and you want the best quality beef you can get. And because this is a crock pot recipe everything will stay in the pot. I recommend using 90/10 or 85/15 lean beef.
You will be browning the ground beef before adding to the crockpot so you can drain off a little of the fat. This also works well with ground turkey!
Beef broth – I think this adds more flavor to the chili but you can also use water if you prefer or don't have any beef broth on hand.
Tomato – This recipe uses a combination of paste and tomato sauce. Some like to toast or cook the paste and spices in a pan before adding the ground beef as it adds a little smoky flavor to the final product. This step is not necessary so don't feel like you have to do it.
Spices – This is really where the magic happens for this recipe. The spices hit all the right flavor spots. For this recipe I used the following: onion powder, garlic powder, chili powder, cumin, cinnamon (yes, you read that right), allspice, cayenne pepper, and cloves.
I don't recommend using chipotle chili powder as it will drastically change the flavor from the original.
Chocolate – This is the secret ingredient! A little chocolate pairs well with the cayenne pepper in the recipe and actually enhances the flavor.
Garnishes – To serve the chili in the iconic different ways, you will need chopped onion, shredded cheddar cheese, kidney beans, and cooked spaghetti noodles.
Looking for more comfort food? Follow LTB on Pinterest!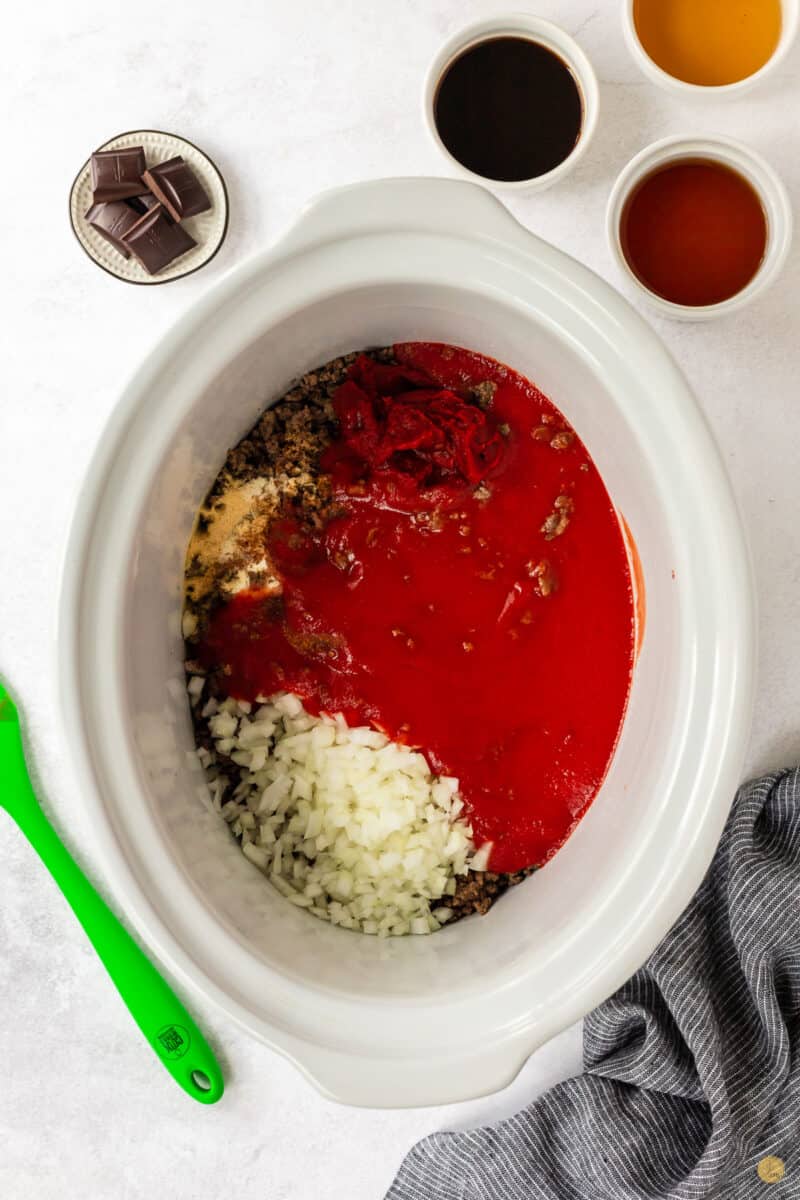 How to make Cincinnati Chili from scratch
ONE: Brown the meat in a skillet over medium heat and drain. Add to a slow cooker.
TWO: Add the tomato sauce, tomato paste, beef broth, spices, vinegar, Worcestershire sauce, brown sugar, and chocolate.
THREE: Stir to combine. Cover and cook on high for 2-3 hours or low for 4-5 hours.
FOUR: Keep warm until ready to serve it 1,2,3,4, or 5 way! Enjoy!
For the full recipe and detailed baking instructions, please see the recipe card at the end of this post.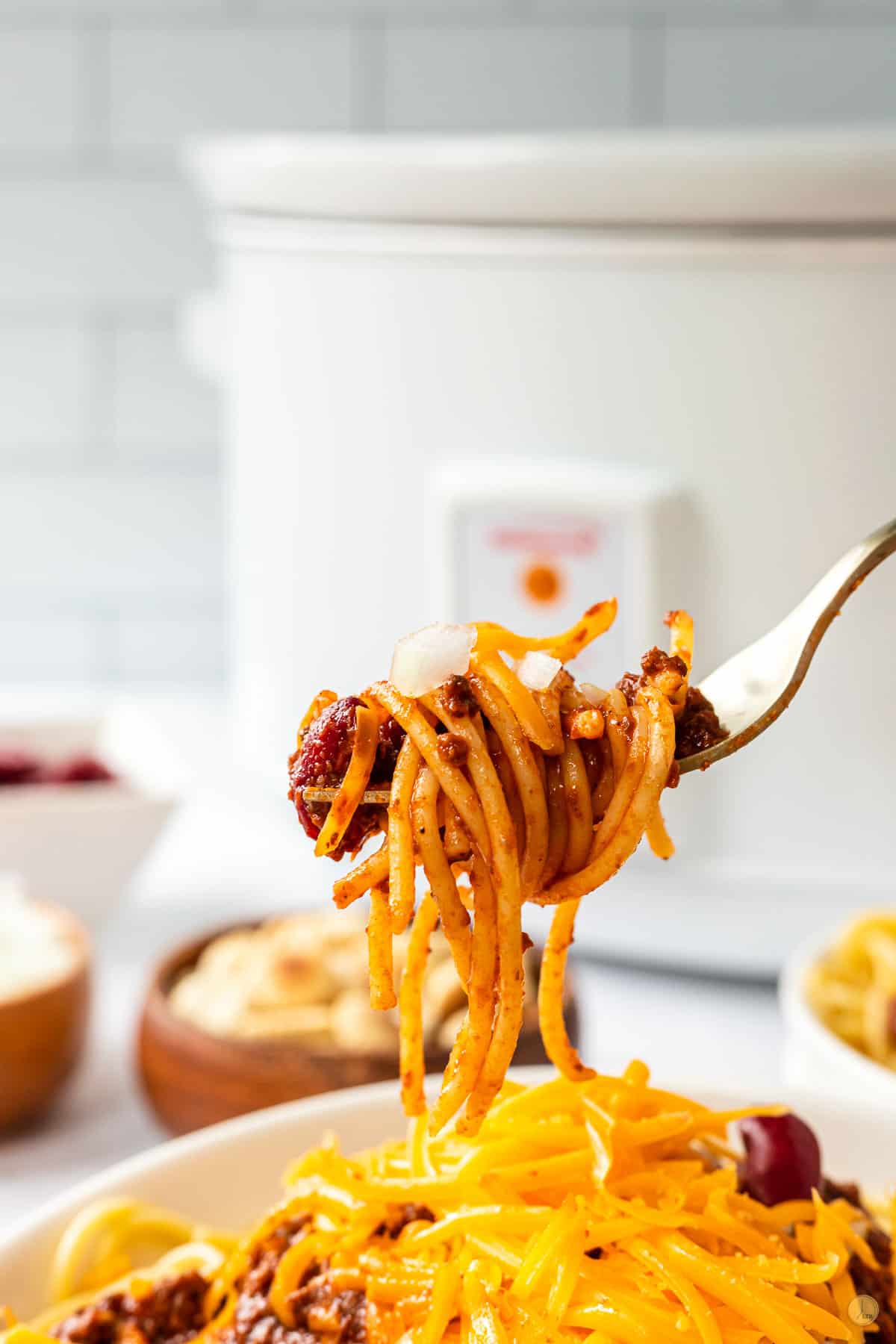 What makes Cincinnati Chili different?
Cincinnati Chili takes your basic chili base and elevates it to another level. The main elevator of this special chili is the rich, bold, flavorful spices that include chocolate, cinnamon, all spice, and Worcestershire sauce.
Once the chili has marinated, it is topped over pasta, specifically spaghetti and sometimes a hot dog! And any true chili lover knows that the toppings make the chili.
Cincinnati Chili is topped with a pile of shredded cheddar cheese, a smattering of onion, a few kidney beans, and a side of oyster crackers.
Oh, and the most unique part? It can be served 5 different ways which means every one in your family will be pleased!
Slow Cooker Cincinnati Chili 5 Ways
There are no beans in the actual chili but you can serve it with a variety of different extras. At a chili parlor, these are called "ways." Here are the different ways to enjoy your Cincinnati Chili.
1 Way: Just eat the chili right out of the bowl with nothing else. I include this even though no one orders their chili "1 way."
2 Way: Chili served over spaghetti noodles.
3 Way: Chili over spaghetti covered in shredded cheddar cheese.
4 Way: Chili over spaghetti with finely diced onion or beans and topped with shredded cheddar.
5 Way: Chili served over spaghetti, topped with dark red kidney beans, diced onion, and topped with cheddar cheese.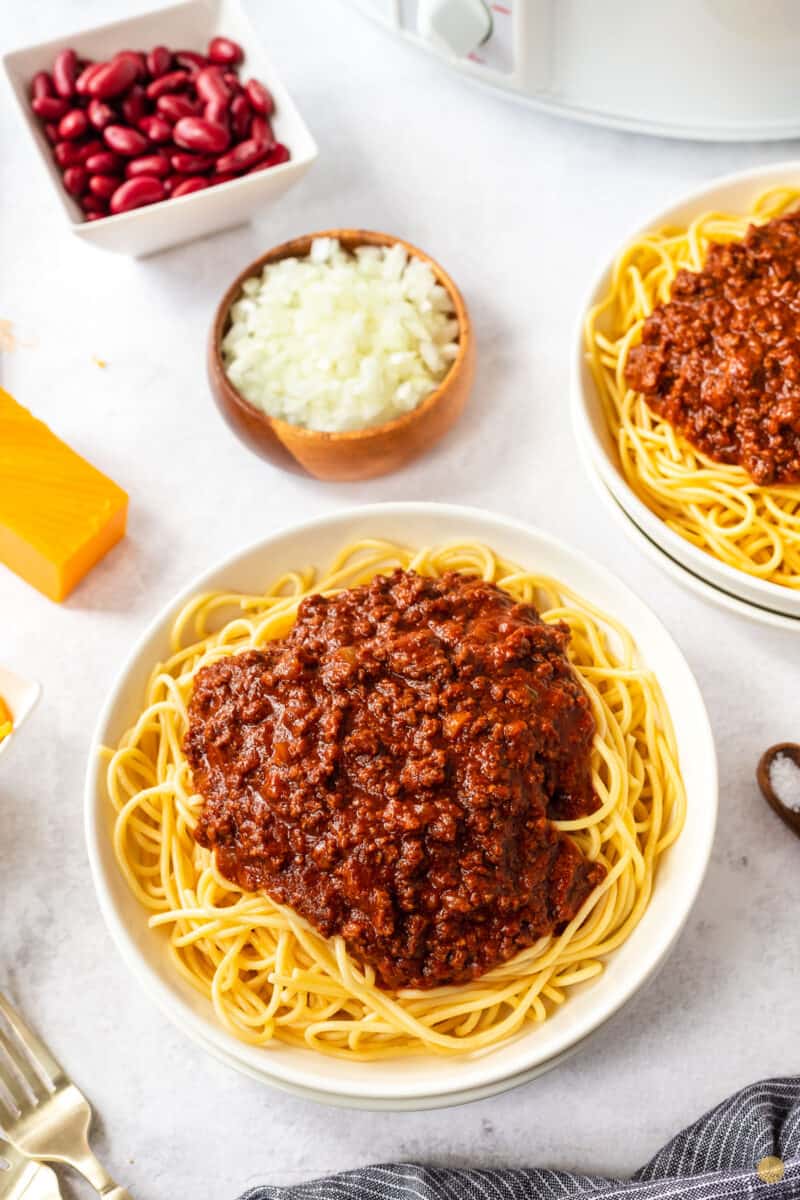 Other ways to enjoy this chili
Enjoy this on a hot dog, in a bowl (or 1 Way) or grab a plate and start layering all the ways!
This is a "complete meal" in my opinion but some like crackers crushed on their chili (like my husband). If you are cracker person, then the appropriate ones to use are oyster crackers.
How to store any leftovers
Let chili cool to room temperature then store in an air tight container and put in fridge! Chili also freezes beautifully! Just cool completely and store in freezer sage containers for up to 3 months.
Just thaw and reheat when you are craving chili again!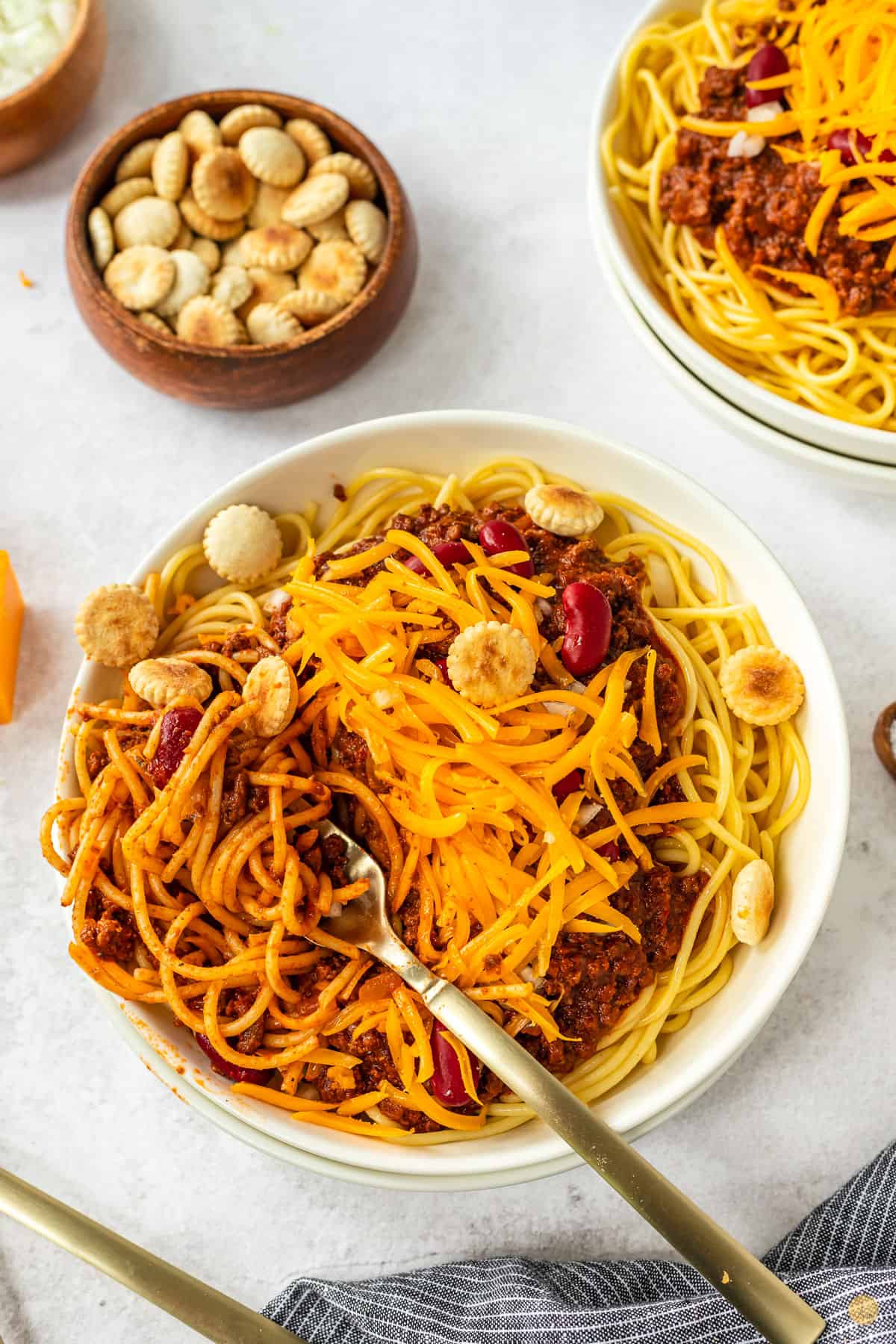 Tips for No Leftovers
Some recipes call for a bay leaf but I left it out.
For the spices, make sure you use ground allspice and ground cloves.
Tight on time? Brown the beef a day before and store in an air-tight container in the fridge until you are ready to combine with the other ingredients in the slow cooker.
If you love this recipe as much as I do, please write a five-star review in the comment section below (or on Pinterest with the "tried it" button – you can now add pictures into reviews, too!), and be sure to help me share on facebook!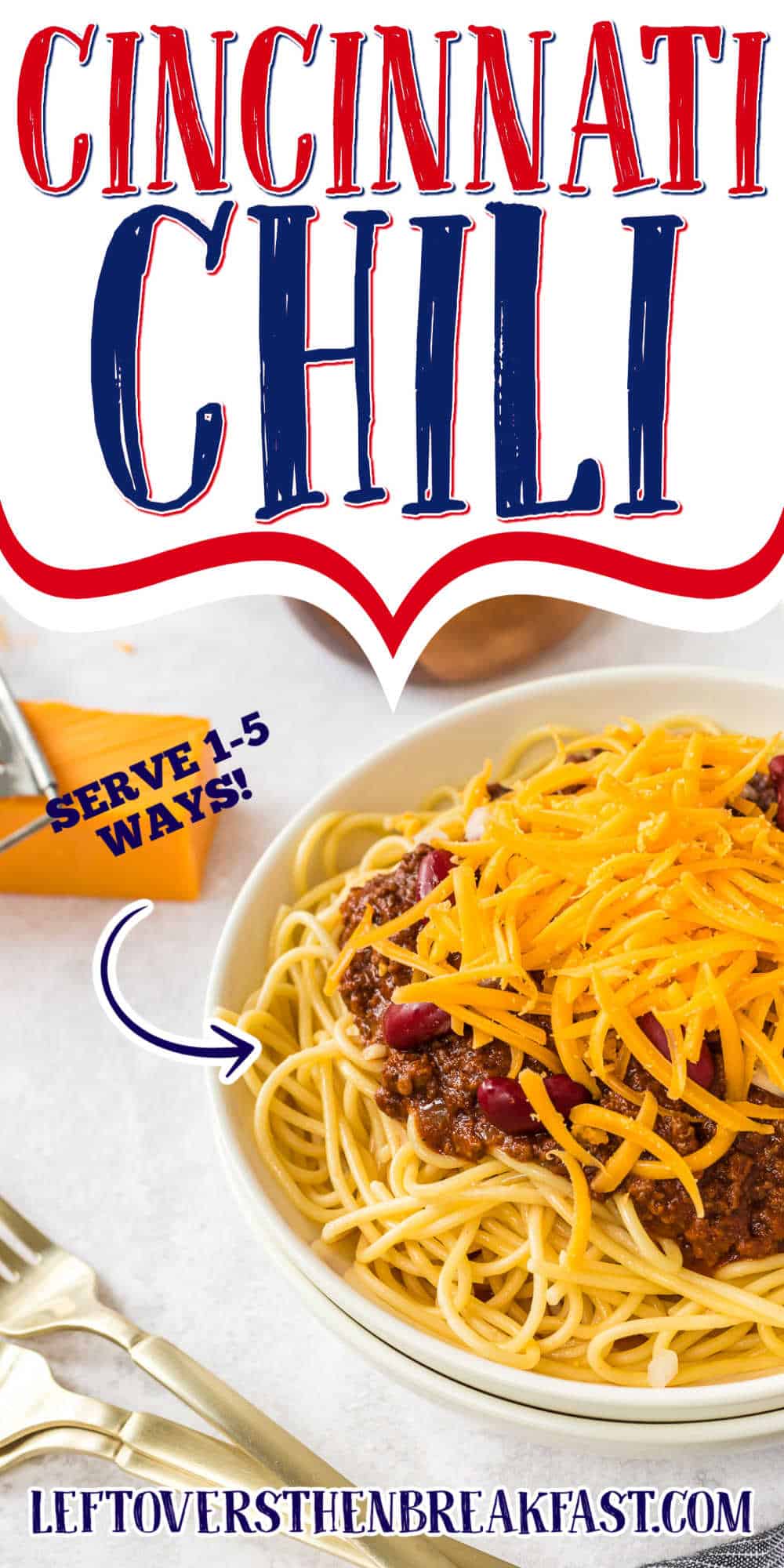 Tried this slow cooker Cincinnati Chili? Comment down below and let me know which "way" you had it. I love mine 5 ways with extra beans!
Easy Dinner Recipes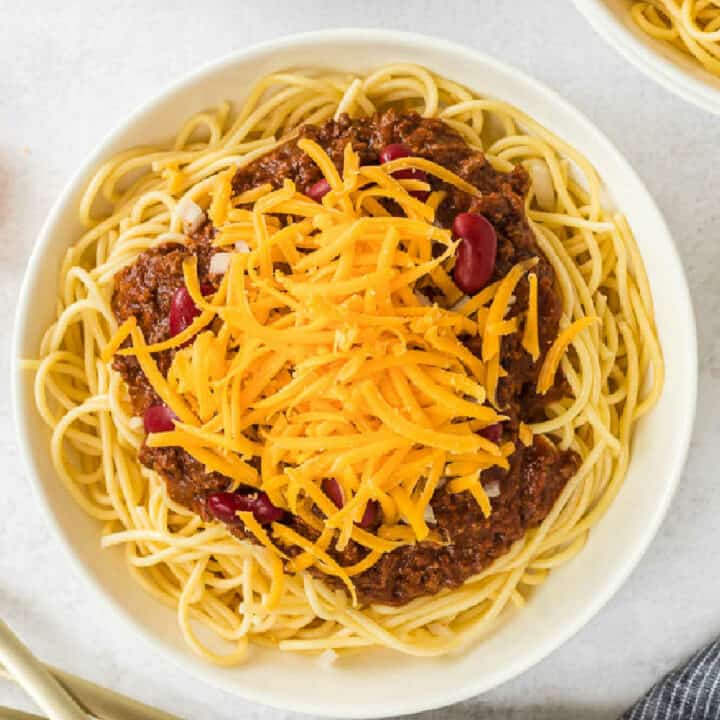 Slow Cooker Cincinnati Chili
Total Time:
3 hours
10 minutes
Slow Cooker Cincinnati Chili is one of those easy to make, hearty, flavorful dishes that has to work it's way into your recipe rotation!
Ingredients
Skyline Chili
2 pounds ground beef (85/15, browned, drained)
1 medium onion (chopped fine/separated)
6 ounces tomato paste
15 ounces tomato sauce
1 teaspoon onion powder
2 teaspoons garlic powder
1 teaspoon cumin
1 teaspoon cinnamon
2 tablespoons chili powder
1/4 teaspoon allspice (ground)
1/4 teaspoon cloves (ground)
1/8 teaspoon cayenne pepper
2 teaspoons brown sugar
2 teaspoons salt
1 teaspoon black pepper
2 cups beef broth (or water)
2 tablespoons Worcestershire sauce
2 tablespoons apple cider vinegar
1 ounce unsweetened chocolate
For Serving
16 ounces cooked spaghetti
2 cups shredded cheddar cheese
1 can (15.5 ounces) dark red kidney beans (rinsed, warmed)
reserved chopped onion
Instructions
Brown the ground beef with half the onion and drain. Add to a crockpot.
Add the tomato paste, tomato sauce, spices, beef broth, Worcestershire sauce, apple cider vinegar, brown sugar, and chocolate.
Cook on low 4-5 hours or high 2-3 hours.
Keep warm and serve your favorite way!
Enjoy!
Notes
*If you love this recipe as much as I do, please leave me a comment and rate it 5 stars. Thank you!
Recommended Products
This post may contain affiliate links. As an Amazon Associate, I earn from qualifying purchases. Read my disclosure policy here.
Nutrition Information:
Yield:

8
Serving Size:

1
Amount Per Serving:
Calories:

624
Total Fat:

32g
Saturated Fat:

14g
Trans Fat:

1g
Unsaturated Fat:

14g
Cholesterol:

129mg
Sodium:

1430mg
Carbohydrates:

38g
Fiber:

6g
Sugar:

8g
Protein:

46g
This nutrition information was generated via a third party, Nutritionix, and can not be held liable for any discrepancies in the information provided.
LeftoversThenBreakfast.com. Content and photographs are copyright protected. Sharing of this recipe is both encourages and appreciated. Copying and/or pasting full recipes to any social media is strictly prohibited.