Classic Pecan Snowball Cookies get a boost of HOLIDAY SPIRIT with a hint of bourbon. This CROWD FAVORITE is easy to make with just 5 INGREDIENTS and perfect for any holiday gathering.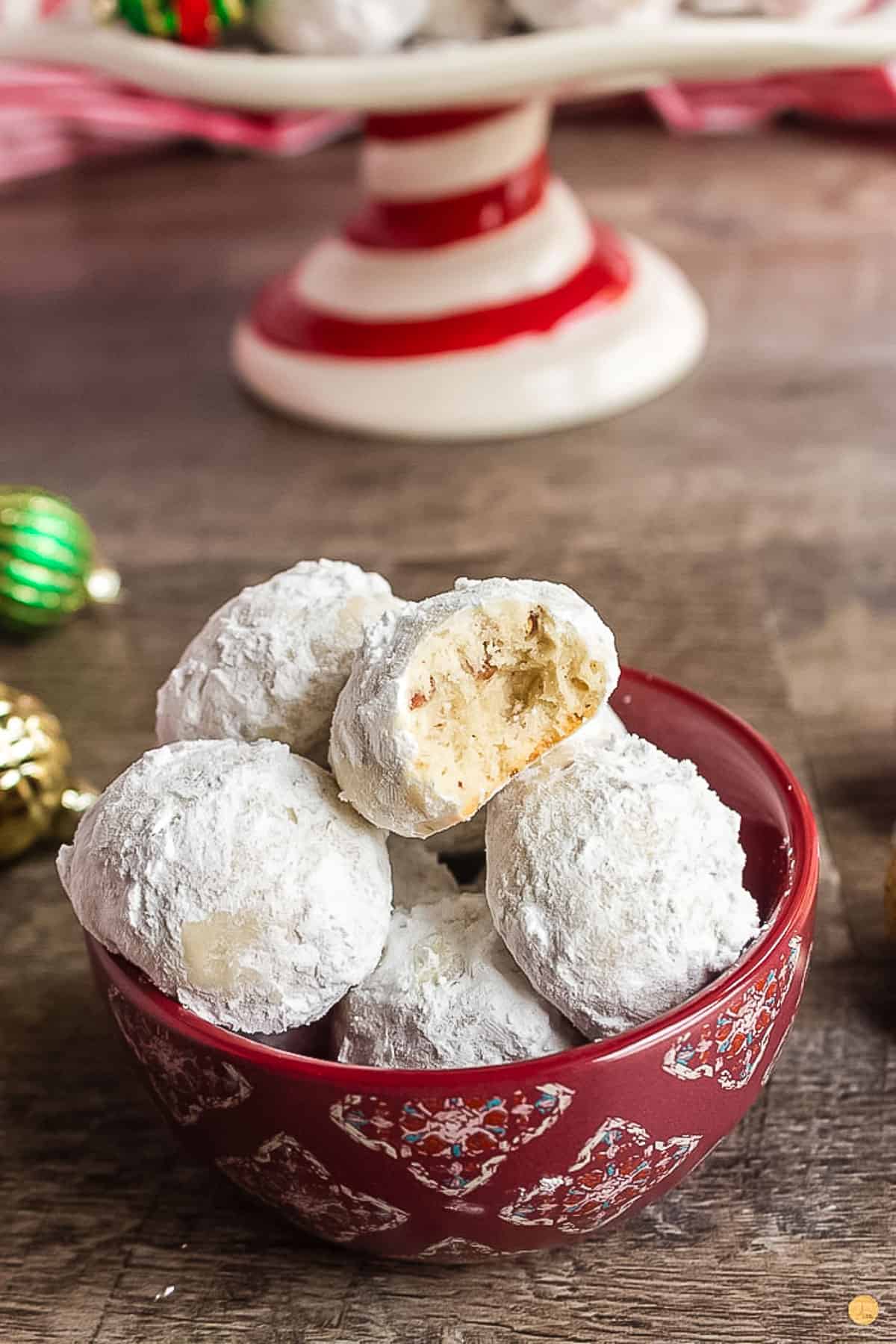 If you'd rather skip my essential cooking tips and tricks and get straight to this delicious recipe – simply scroll to the bottom of the page where you can find the printable recipe card.
This post sponsored by Millican Pecan Company. I received product in exchange for this recipe/post. Recipe and all opinions expressed here are my own.
BOURBON PECAN SNOW BALLS
It's time to bake some cookies!
I love to make cookies year round but the holidays are when I really crank up the oven and get rolling.
Cookies are a great way to experiment with flavors and textures, but I do love the classics. Like these pecan snowball cookies.
WHAT ARE SNOWBALL COOKIES?
You might know them by some other names like Russian tea cakes, Mexican wedding cookies, or Russian tea cookies.
They are melt in your mouth balls of goodness that's what they are!
Imagine a 1 bowl cookie recipe that ends with a shortbread cookie, studded with toasted pecans, a hint of spirit, all rolled in powdered sugar to balance it out!
Not only that, but they need just 5 ingredients!!
This post may contain affiliate links. As an Amazon Associate, I earn from qualifying purchases. Read my disclosure policy here.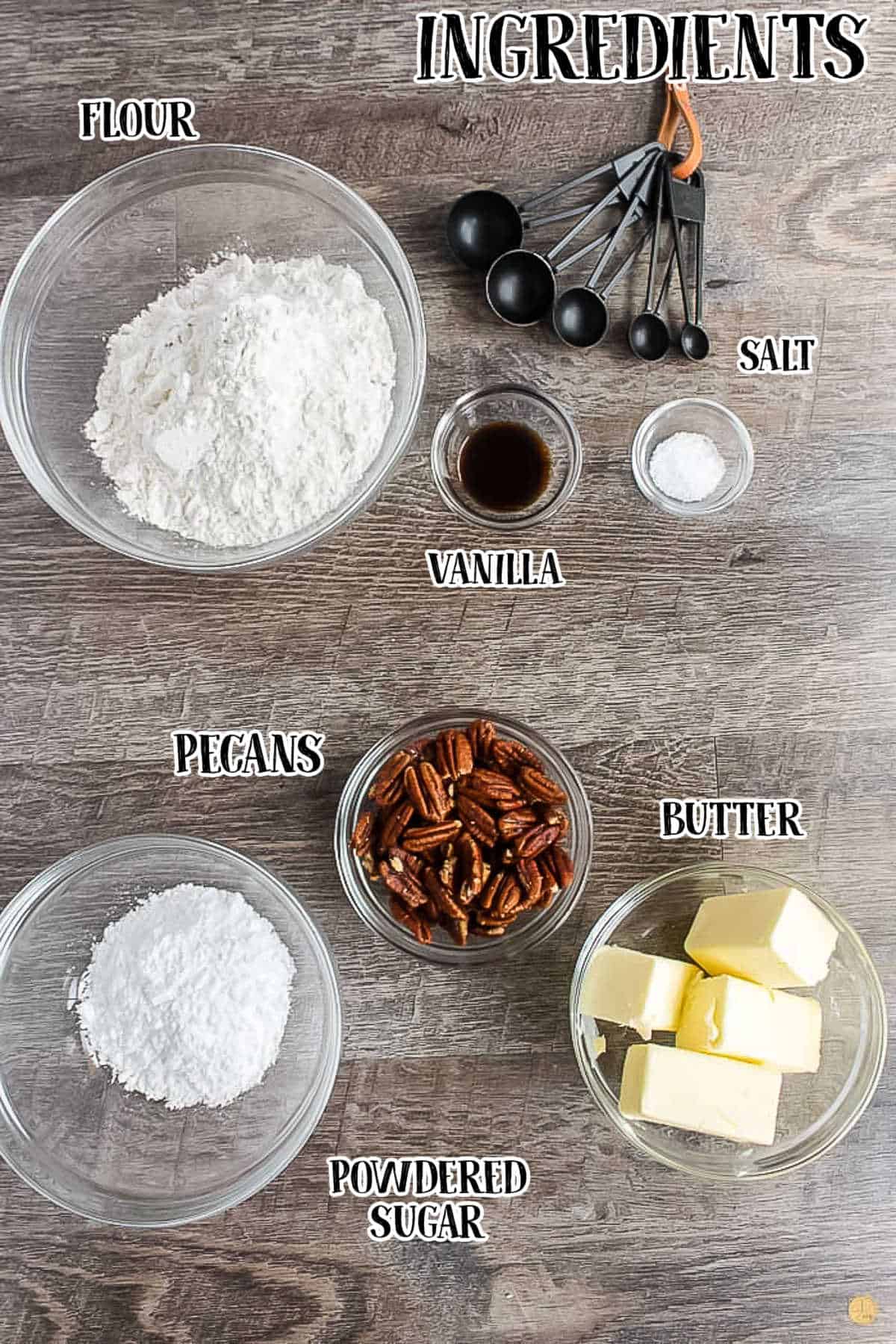 INGREDIENTS FOR PECAN BALL COOKIES
butter
powdered sugar
flour
vanilla extract
Butter – Use unsalted butter for this recipe. If you only have salted butter then leave out the salt in the rest of the recipe.
Powdered Sugar – It's best to sift the powdered sugar before measuring it to remove any lumps.
Flour – Use all purpose flour for these cookies. I have not tested this recipe with other flours.
Vanilla – I love clear vanilla extract so it doesn't alter the color but use what you have. You can also use vanilla bean paste.
Pecans – I like to toast my pecans in butter with a little salt before adding to the cookies. It brings out their flavor.
Looking for more comfort food? Follow LTB on Pinterest!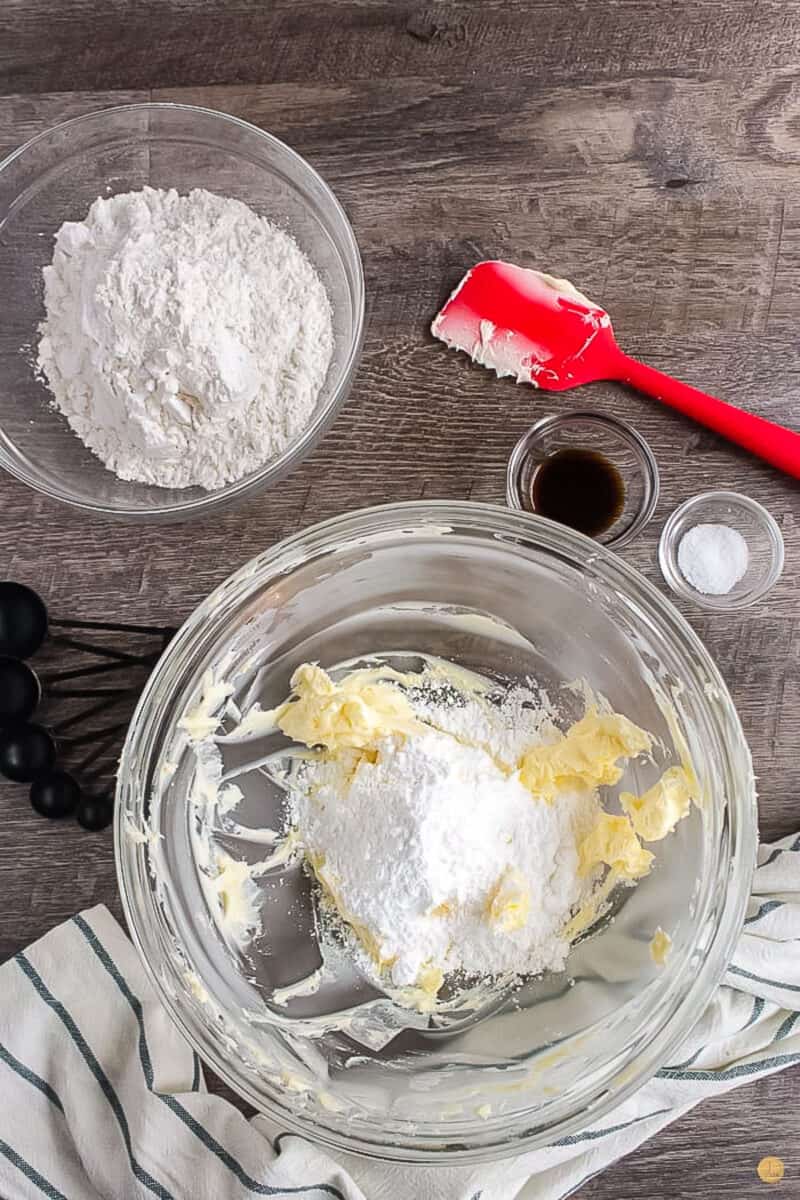 HOW TO MAKE PECAN SNOWBALLS
ONE: Preheat oven to 350 degrees F. In a large bowl, combine butter, salt, 1/2 cup powdered sugar and vanilla (or bourbon). Cream/whip with hand or stand mixer for 1-2 minutes.
TWO: Add in chopped pecans. Mix to combine. Slowing add in flour in a few batches, mixing between additions until fully combined. Do not over mix!
THREE: Scoop into 1 inch balls and roll to smooth out. Place on a baking sheet with parchment paper and chill for 30 minutes. Remove from the fridge and bake for 13 – 15 minutes or until the edges just start to lightly brown.
FOUR: While the cookies are baking, place remaining powdered sugar in a bowl. When the cookies are finished baking, remove from the oven and let sit 1-2 minutes on the baking sheet. Do not try to move as they will be soft.
FIVE: After the 1-2 minutes, after the cookies have cooled enough to handle (but not completely cooled)and still a little warm roll them one at a time in the bowl of powdered sugar to get an initial coating. Place cookies on a cool baking sheet or plate. Cool completely and roll in the powdered sugar again, to ensure they are completely coated. Enjoy!
For the full recipe and detailed baking instructions, please see the recipe card at the end of this post.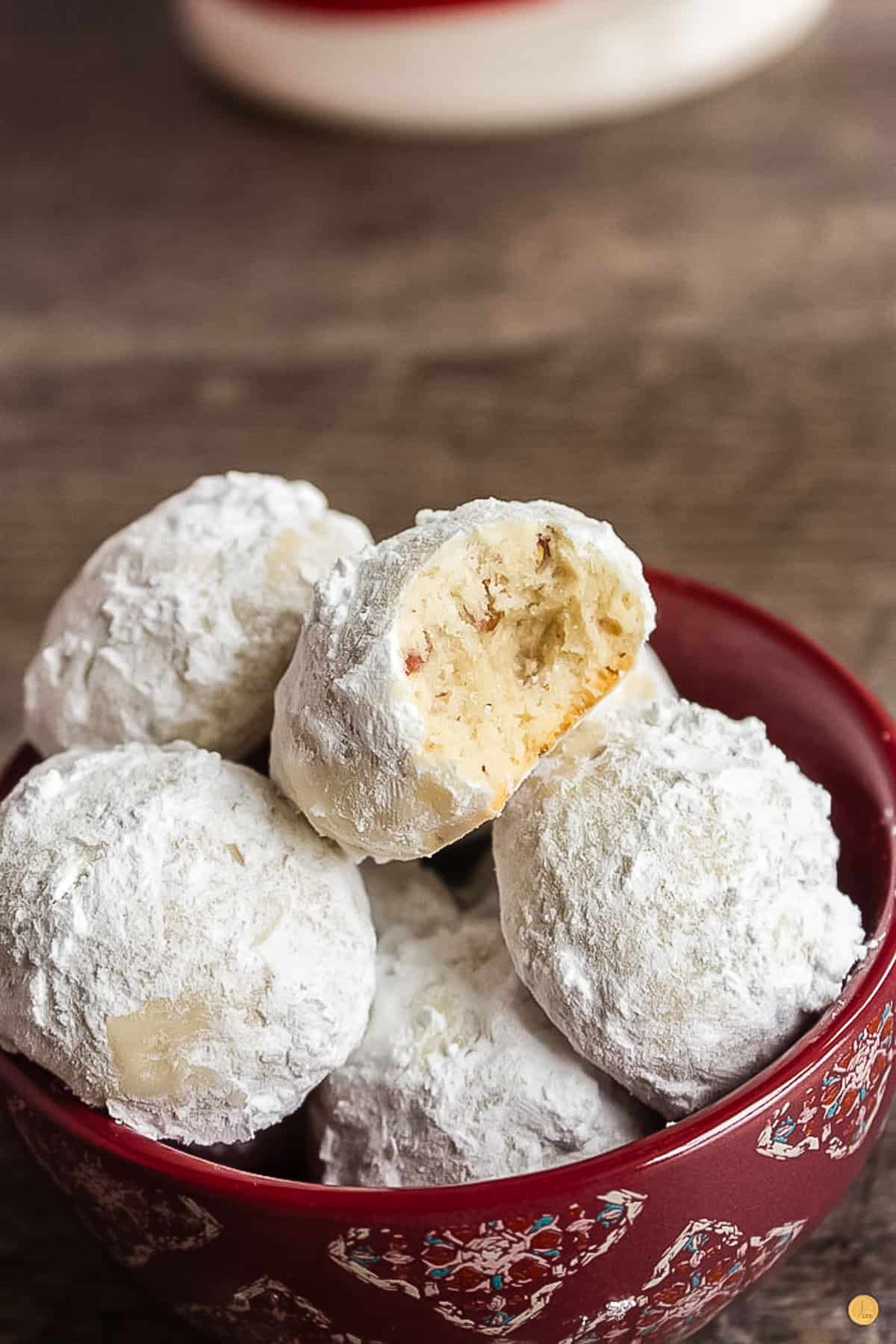 HOW LONG DO PECAN BALLS LAST?
These cookies will last up to 1 week at room temperature. Store them in an airtight container for best results. I wouldn't store them in the refrigerator as the condensation will make them sticky.
The longer the cookies sit, the more powdered sugar will be absorbed. You might need to gently roll the cookies in additional powdered sugar before serving.
CAN I FREEZE PECAN POWDERED SUGAR COOKIES?
These delicious cookies can be baked and frozen ahead of time, which will save you stress later.
Once baked, cooled, and coated, place the cookies in freezer storage bags. Freeze for up to 3 months.
To thaw, take them out of the freezer bags/container and thaw on an open plate. Closed containers will cause condensation which will ruin the cookies.
You can also freeze the dough!
Roll into balls and place on a parchment peper lined baking sheet where they are not touching. Place in the freezer until frozen. Transfer to freezer storage until ready to bake.
When ready to bake, place cookie dough balls on a parchment lined baking sheet and thaw for 5 minutes. Bake in preheated oven as listed in recipe. frozen cookies may require 1-2 additional minutes baking.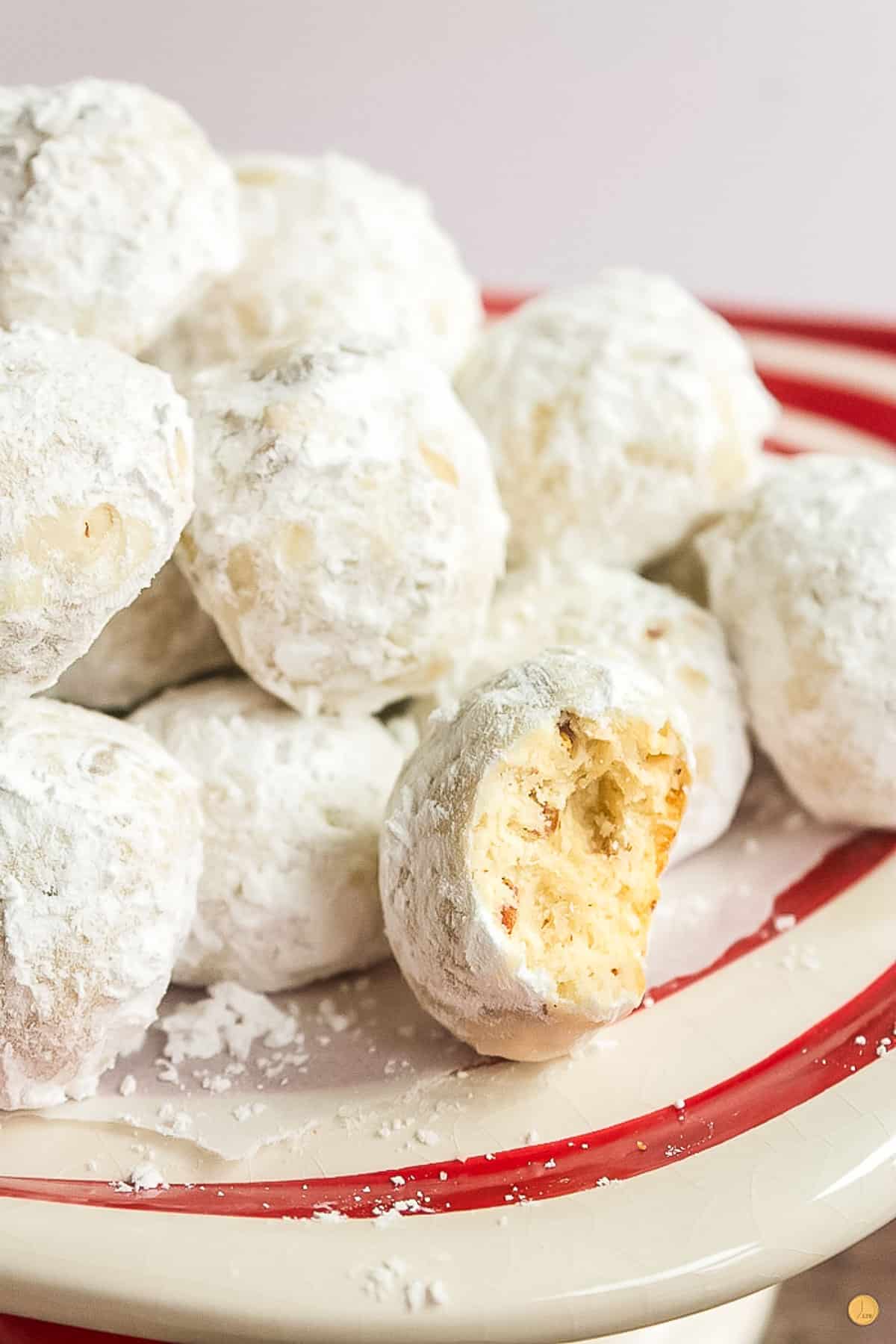 TIPS FOR NO LEFTOVERS
use the best butter you can find so they taste extra buttery!
toast your pecans before you add them to the cookies. It adds the most amazing butty flavor. Make sure you cool them before adding to the dough or it will melt it.
finely chop the nuts in even shapes. Don't add the "dust" that's left after you chop them. I would not use a food processor or you will get all dust.
use parchment paper or silicone baking mats so they don't stick to the pan.
do not over bake. Cook just until the edges start to brown.
don't try to remove the cookies from the baking sheet too soon, let them cool slightly. They are soft and will smash easily.
some like to coat their cookies by adding powdered sugar to a bag and tossing in the cookies. I don't recommend this as the cookies are delicate and will smash. Gently roll them in a bowl with a fork to coat them.
DO I HAVE TO USE PECANS?
Pecans are the best for these cookies but feel free to try others. Check out these combinations!
PECAN BALLS FLVOR VARIATIONS
Extracts: almond, mint, coffee, lemon, orange
Nuts: pecans, almonds, walnuts
Candies: peppermint, sprinkles, min chocolate chips, toffee bits
If you love this recipe as much as I do, please write a five-star review in the comment section below (or on Pinterest with the "tried it" button – you can now add pictures into reviews, too!), and be sure to help me share on facebook!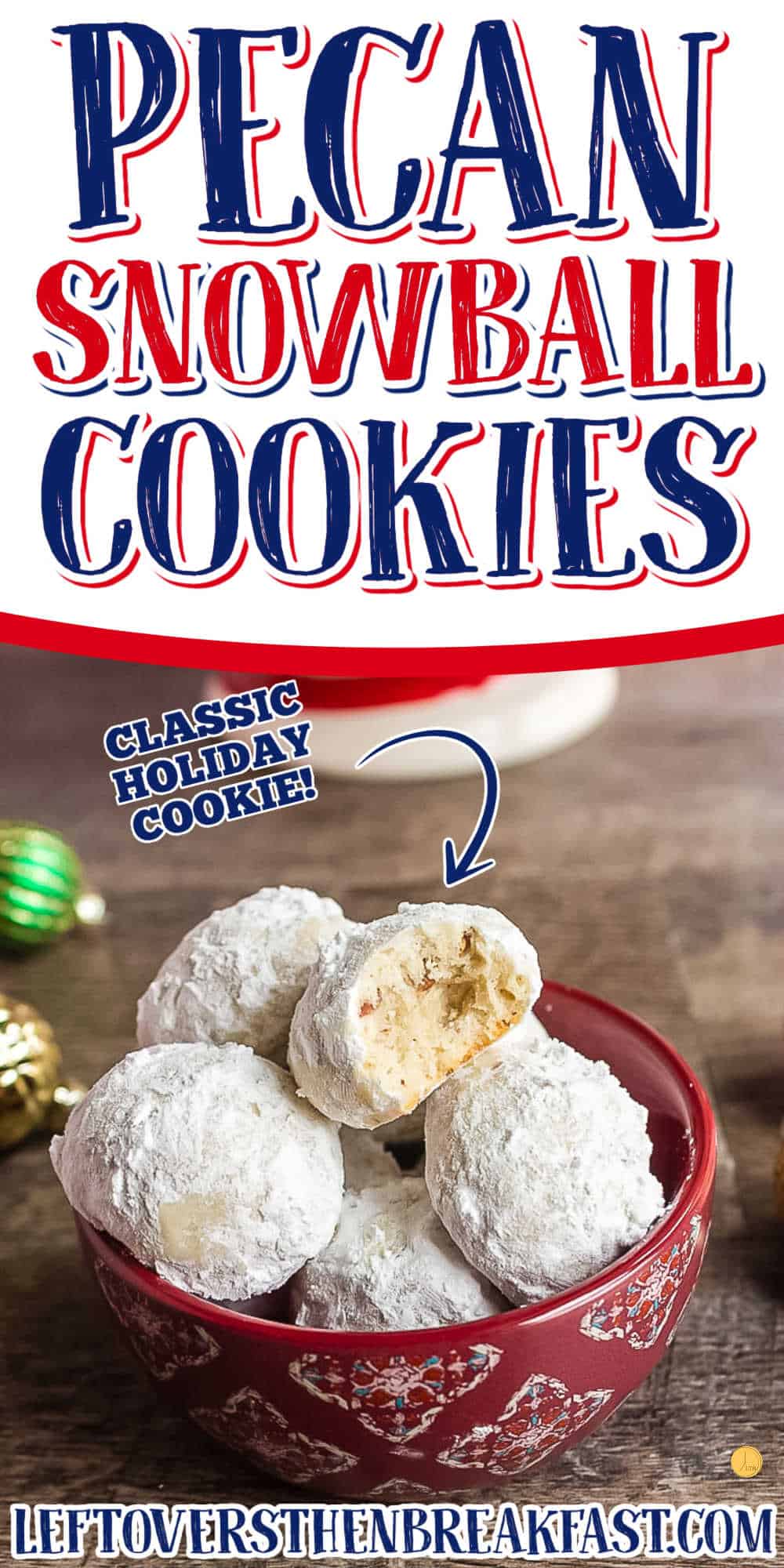 These melt in your mouth pecan snowball cookies, easily made in 1 bowl with just 5 ingredients, will be the hit of your cookie tray.
They make the perfect edible gift for friends, neighbors, coworkers, and family!
MORE EASY RECIPES
PECAN BUTTER BALLS RECIPE
Welcome to #ChristmasCookies week where more than 25 bloggers are sharing cookie recipes perfect for your holiday celebrations. Hosted by Ellen from Family Around the Table, Christie from A Kitchen Hoor's Adventures and Heather from Hezzi-D's Books and Cooks.
Monday Christmas Cookie Recipes